Welcome to the world of 25 jaw-dropping men's bedroom ideas where style and comfort are a priority. This list of 25 bedroom ideas will help you understand what's currently in trend and what you could do with your bedroom. If you are someone tired of looking for creative ideas, then you're exactly where you need to be.
Gone are the days of boring bedrooms; now, we want to have a room that motivates us or keeps us going in some way or the other. This blog is about that; it sure gives you ideas but will also help you to combine them with your creativity and bring something inspiring. Grab a drink and prepare to show some amazing creativity in your bedroom.
Let's start with this journey of 25 mind-blowing men's bedroom ideas.
1. The Charcoal Lover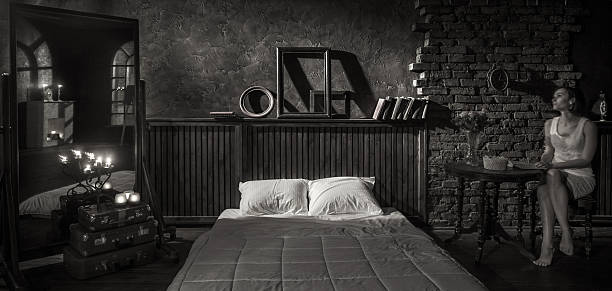 Men and charcoal have been a great combo. Do you also fall in love with anything charcoal? Then we guess this one from Men's bedroom ideas could be a great fit for your bedroom. Charcoal lover bedroom is a place where you can have a smoky theme. It's a place to flaunt your smokey-themed art, such as floors, furniture, and other accessories.
You could imagine a room with a black metal bed covered with charcoal or a black bed set that perfectly creates the smoky look you desired at the start. Try to add art related to black or grey color to match the theme. Your bedroom would welcome you after a tiring day at work.
2. Potterhead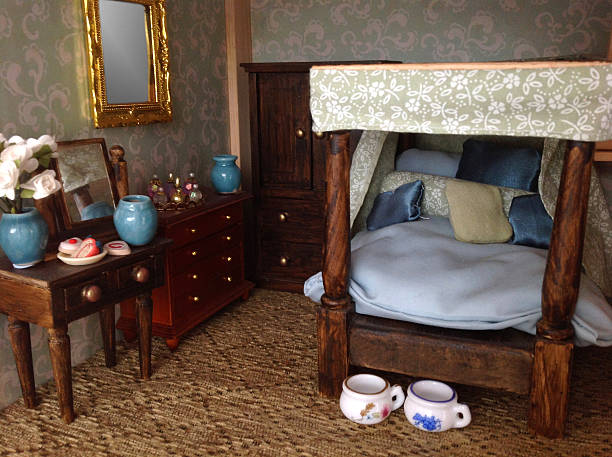 Are you also a big fan of harry potter? You can create a bedroom with a magical and whimsical theme. Yes, that might sound a bit childish at first, but if you combine it with a touch of class, it's perfect.
Let's create a Harry potter themed bedroom together, sounds exciting? The first thing, obviously, is to add Hogwarts banners, wands, owls, and books. Your bedroom will have a colorful and enchanting color scheme, such as purple, blue, red, or yellow. Finally, spice up your room by adding wooden or metal furniture and accessories like beds and lamps.We'll let your creativity do the rest.
3. Platform Beds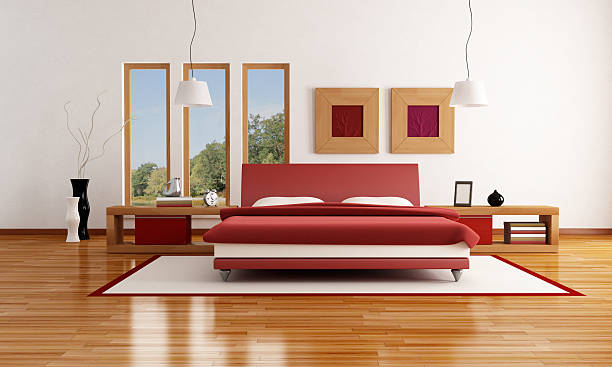 Platform beds are a real solution when it comes to men's bedroom ideas because of their amazing benefits and the fact that they are welcoming and attractive. We have a few reasons why men should consider platform beds.
The first is they are spacious, they don't cover as much space as a normal bed would do, and hence you could utilize that space for storage, making your room look less messy. It also offers modern aesthetics; its clean line and minimalist looks will definitely add class to your men's bedroom. Finally, platform beds are much more durable than normal beds.
4. For The Movie Buff's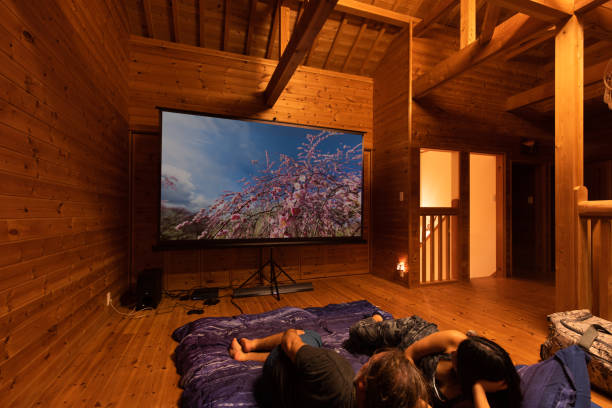 This one's for all the movie lovers out there. Have you thought of all your favorite movies yet? Then let's decorate your room with all your fav movies. This would be a hell of an experience. We guess this one is our favorite on the list of men's bedroom ideas.
This room will have a cinematic and entertaining theme where you can have posters of all your favorite movies. You can even customize your bed sheets according to the movies, add elements that were present in the movies, such as photo frames, or maybe some iconic scene that gets your spirits high. The possibilities are endless. Welcome yourself to your world of movies.
5. Style it Bohemian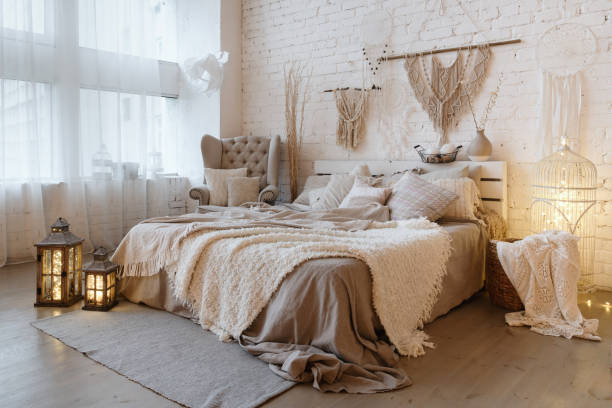 Do you have a free spirit and a sense of adventure? Then these bohemian-styled rooms could be the best from the list of men's bedroom ideas. Here's your chance to bring out the exotic in you. This would be a place where you can fashion bright colors, fabrics, and accessories, such as rugs, pillows, blankets, and curtains.
Keep an eclectic color theme that includes vibrant colors such as turquoise, magenta, and orange. You will also have to match the furniture to your theme to complete the look of your bedroom. A bohemian-style bedroom is genuinely a statement piece of art; it defines your personality and your openness to cultures. Are you ready to go boho?
6. Urban Rustic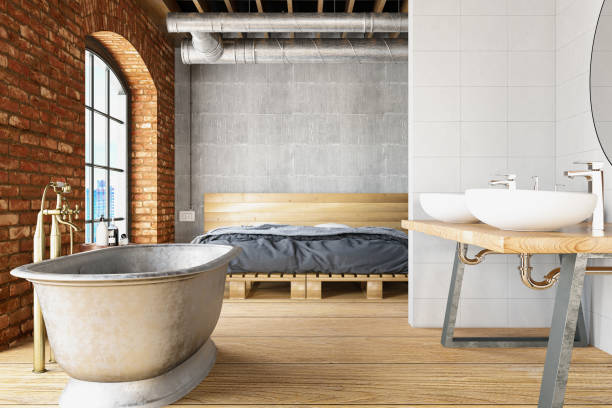 Most men think that their room should have a dark theme, but the truth is even mild and bright colors can make your room look manly and bold. This one from the list of men's bedroom ideas is a great choice for men who like being a bit out of the league. Your room will not be just a simple bed with boring colors and some basic decor. Instead, it will have wood, stone, leather, and fur textures.
This room will have a warm and earthy color scheme, including brown, green, orange, and yellow colors. Having organic furniture and accessories will be a great add-on to the look. This way, you can even feel connected with nature. Let's get rustic!
7. Hustler's Den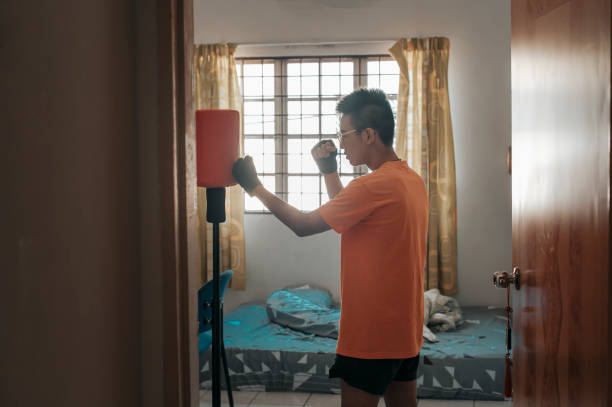 For all those who love the hustle. This room can be your biggest motivator; from the time you wake up to the time you go back to sleep, this room will keep your spirits high. You can add motivational quotes in your room that get you going.
Create your own little workspace with enough storage to keep it tidy at all times. A little gym space can also be a great idea for this room, where you add a few basic gym stuff. Although if you have a bigger space then obviously you could go big.
8. The Leather Lover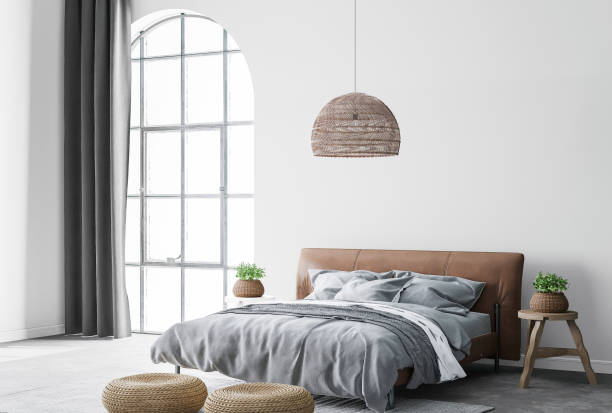 Have you always wanted a room filled with leather stuff? Here's your chance. Make the best out of this men's bedroom idea and create an amazing bedroom to welcome yourself each day.
Get yourself a beautiful and comfortable leather chair and a luxurious leather statement table. You can also add a few other elements, such as a bed or a lamp that matches the theme of your room. This will definitely help you get started with your leather lover's bedroom.
9. Bold Paint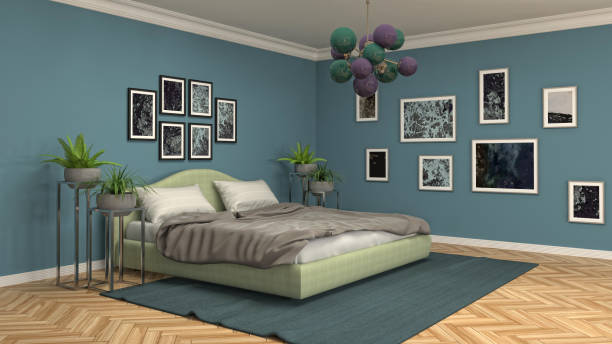 Basic can be boring at times, right? So here we have an amazing thing to add to the list of Men's bedroom ideas. This one's the most effortless when it comes to planning your room. Just find out bold colors that match your personality and go for it.
This will be a bold move indeed, but a wild one as well. You can even have a textured wall using the contrast color; that's trendy. Most times, you sit back thinking that you can't paint your whole room red, but yes, you can, and it'll look lovely. The hack is to pair it with things that match the vibe.
10. All Black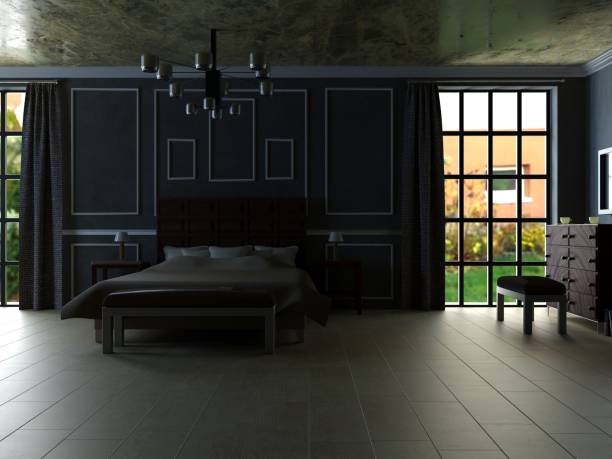 There are always black kinda people who just want anything and everything to be black. Now you can do that to your room, do you think it's a bad idea, and your room will be dark and boring?? No, this would be an amazing opportunity for you to explore the shades of black. You can even add a touch of charcoal or grey.
Having black paintings, a black table, and even a black bed, can all be great decor with the right planning. You definitely don't have to be an interior designer just follow your instincts and go for all the black stuff that attracts you (not everything, obviously!).
11. The Bare Minimalist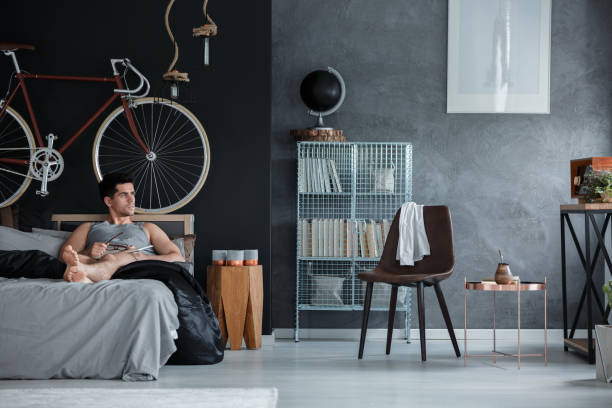 Do you like things simple and neat? Then a minimalist bedroom could be your best bet. A minimalist bedroom is a place where you can focus on what matters and declutter yourself after a tiring day of hard work. It's a place where everything has a purpose.
It usually has neutral colors, not too bold, not too mild. It also has minimalist furniture that looks light and breathy but is great in functionality. Remember, this bedroom won't have too much decor, just basic, simple, and neat.
12. Travel Freak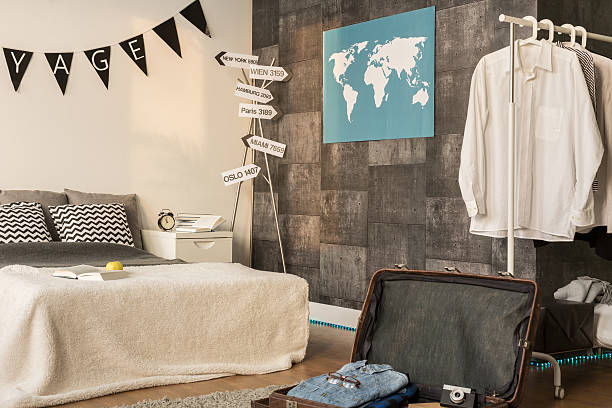 Are you a travel freak? Do you have a bucket list of places you want to visit? Then this room can be the perfect choice for you. Here we bring another addition to our list of men's bedroom ideas. This room can become a place where you relive your memories and plan for the upcoming ones. In this list of Men's bedroom ideas, the travel bedroom has to be the one with the most creativity and emotions.
Here you can showcase your souvenirs, maps, and posters. You can also create a memory wall where you attach all your images from past travels. For decor, you could go for customized tables with maps or compasses. That's how you could start creating your travel freak bedroom.
13. Game Zone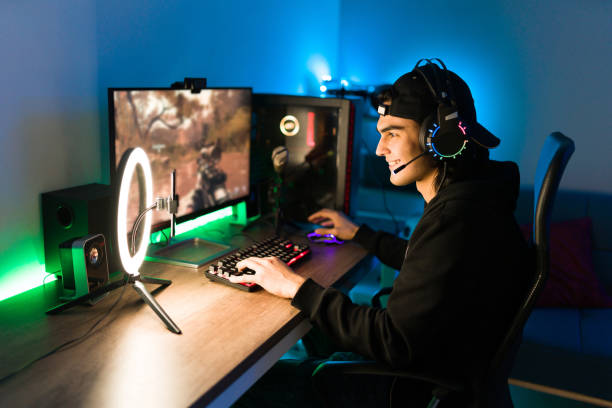 Men and games are an unbreakable combo, right? Want to enjoy your favorite video game and relax in your own space? This bedroom will be designed for exactly that. Here you can have fun and immerse yourself in the games. It's a place where you can have gaming consoles, accessories, posters, and LED lighting.
Talking about the color theme, it's usually fin and vibrant, but most men are choosing a darker theme as gamers now. So, choose what bring out the best in you. This room will need comfortable furniture to make sure your gaming experience is comfortable.
14. Dramatic Lighting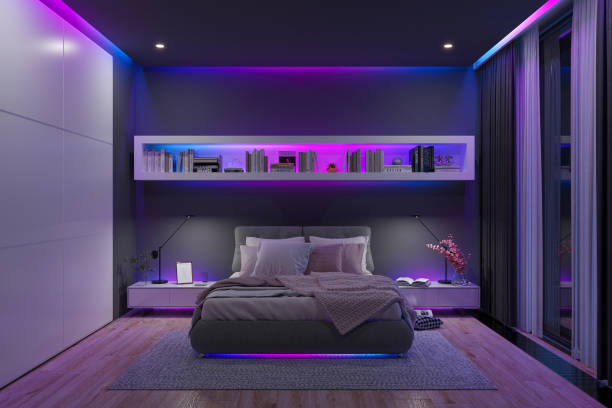 This one is another addition to men's bedroom ideas. A dramatic lighting bedroom is a great way to add personality and intrigue to your room. This room is all about the lighting game. However, you can also redo the decor but try just playing with the light adjustments.
You can always go for LED lighting, or in today's era, smart lighting, where you can tell your mood and the lights will adjust to it; amazing, right? Smart lighting could be the easiest way to create a heavenly room for yourself.
15. Embrace the Metallics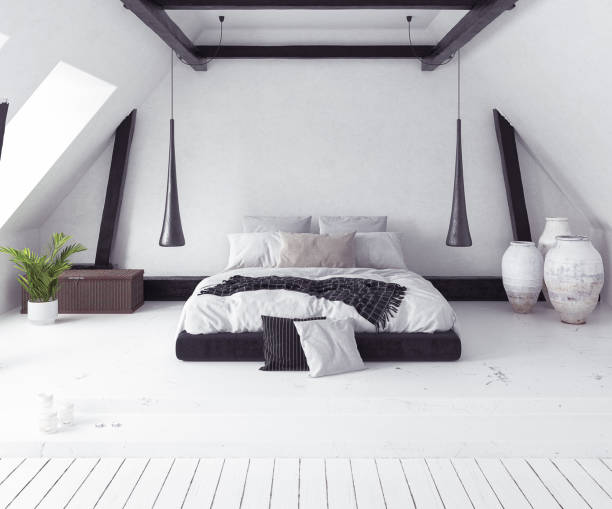 Metallics are in trend currently, and as far as we know, they will be for a long time. Men can literally create a bedroom from scratch to sass with just metallic decor. The room could have a dark and moody color theme, and you will definitely find matching furniture.
To literally embrace the metallics find pieces that might be antique or something that is extraordinary. Whenever you enter your room, you should feel the class and luxury of the vibe you've created with your bedroom.
16. Dark Wood Desire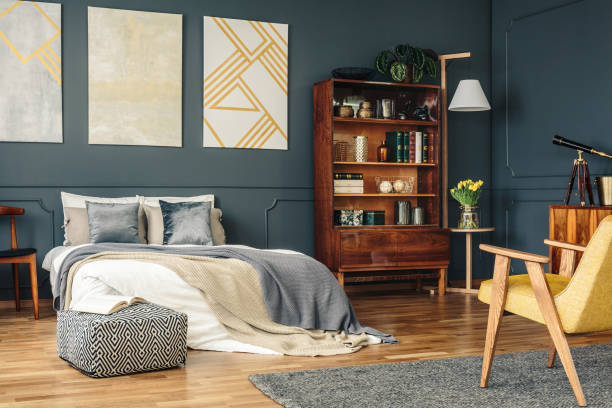 For men who like to be a little old-fashioned, this bedroom idea could be the one for you. If you are a fan of old-school thoughts, you can easily showcase your personality with this dark wood desire-themed bedroom.
As the name says, you'll have all dark wood furniture. If you genuinely take time to look for furniture around your area or online, there's definitely a lot of amazing stuff waiting for you to add to this room.
17. Overhead Storage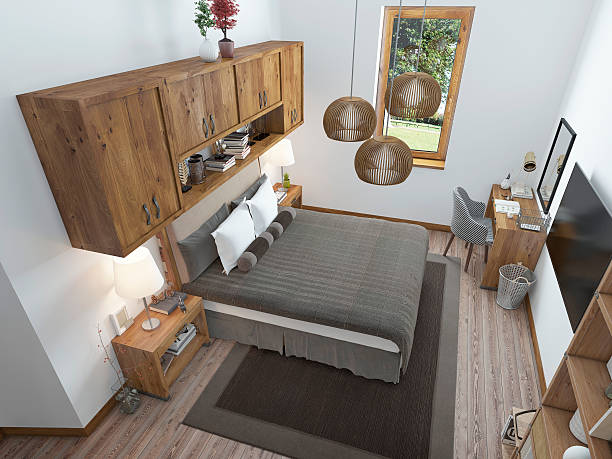 This one's kind of interesting as you really get a lot of storage space. Men actually need a lot of storage space and the fact that it should be easily accessible. This overhead storage bedroom idea is perfect for literally each and every man out there.
This will enable you to create cabinets over your bed, in which you can store all your bedding and things other things of use. You can even create one small section as a library where you can keep your books.
18. Luxury Lust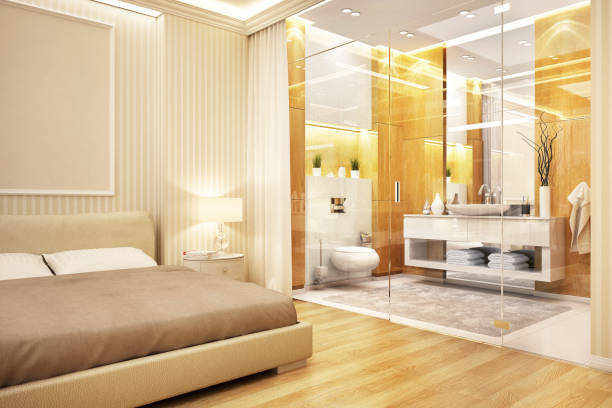 Men like having a high-class feel to their home, and this one ought to bring that to you. A luxury bedroom is almost a dream for every man. Where they literally have everything they need.
You could add a classy shower with glass and curtains and add a super comfortable sofa that feels luxurious. This isn't it. There is a lot more you could do with your room to feel the luxury. Let that imagination roll in from here.
19. Art Addict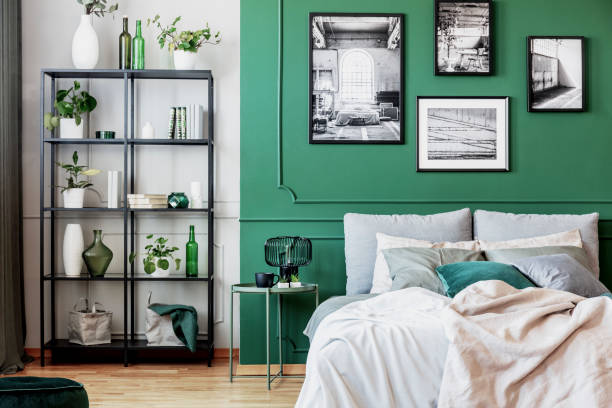 Do you find your living space small to showcase the art you love? Then let's turn your bedroom into one with the most creative one in the list of men's bedroom ideas. We know you're excited about this one; it'll be an amazing experience indeed.
Let's start with a huge portrait just above your bed, something that is close to your heart, something that will push you to your limits when you see it. Then you can always add other pieces of art to your bedroom, like some unique lamp or a handcrafted coffee table.
20. Brick Wall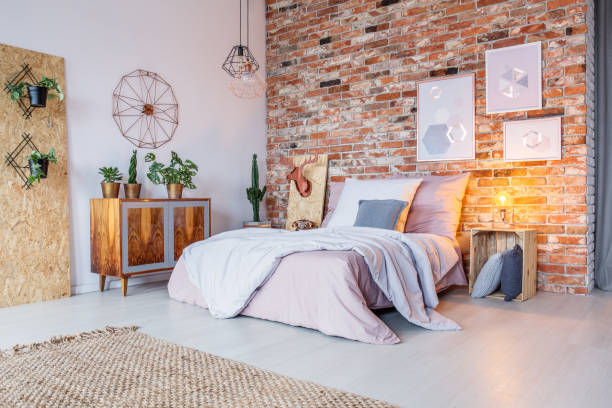 Yes, you might think of a brick wall in a bedroom. But with a little creativity, you can actually have an amazing bedroom look with this brick wall.
The very first step would be to select the right wall, then you can proceed to add bricks to it. Did you know this wall could be your memory map, where you could place all your beautiful pictures? But that's our creativity. You could always do something more creative to induce your personality in the room.
21. Big Glass Window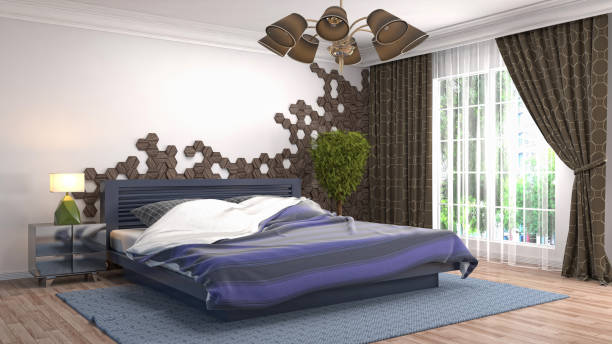 Get the movie look for your bedroom. Having a big glass window in the bedroom has been a dream for many. This could be your sign to get that now.
There's always scope for adding your personal touch to the look but imagine waking up with a beautiful view of the bright shiny son. Imagine sitting at this window in a rainy season and sipping coffee. You can also get to feel the same with just a few adjustments.
22. The Closet Style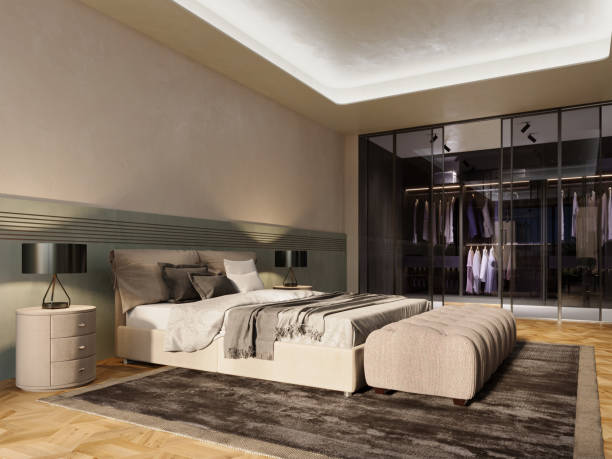 Does anyone here deny the fact that they'd love to have a closet in their bedroom? We don't think so, you can always go for a small closet if you don't actually have the space for a walk-in closet, and it still looks pretty amazing.
Adding a closet to your bedroom is a great way to save storage. It also enhances the overall look of your bedroom. These types of men's bedroom ideas are not something everybody can try, but yet a small closet is definitely doable.
23. Bold Curtains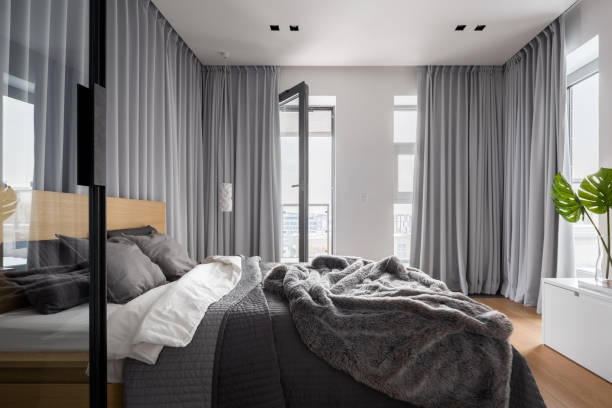 People sometimes take curtains for granted when thinking about men's bedroom ideas, but the fact is they play an equally essential role in creating the desired look for your bedroom. Here you have the opportunity to work on your curtains and, without investing much, change the overall look of your bedroom.
Bold curtains can be just plain solid color, or you can even go for curtains with geometric designs that are quite a trend lately. The important part if you will have to invest time and figure out what will suit your bedroom and help you enhance the aesthetics of the room.
24. Pallet Parade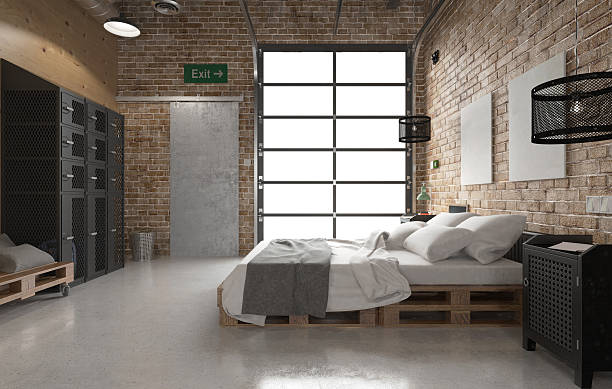 Pallets are literally the most useful things that you could get in your home. They are firstly very cost-effective, and second, they can have multiple uses. If in case you want to change the setting later, you can easily dismantle them to create something unique.
With pallets, you have numerous options to choose from; create a pallet bed, sofa, coffee table, lamp, and whatnot. This way, you will be saving on costs and redecorating your bedroom with more efficient furniture.
25. Plant Geek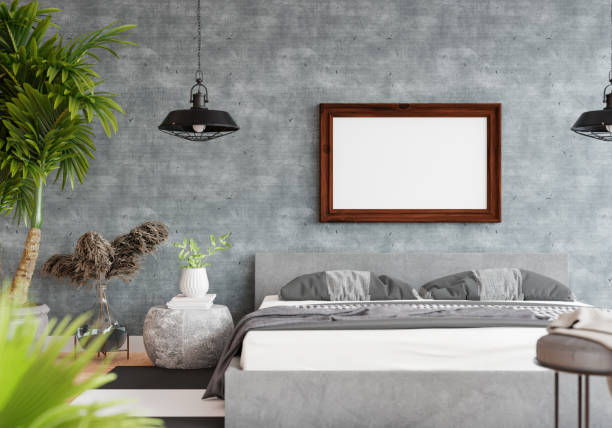 Having plants in your bedroom has been proven to be of great health benefits, not only physically but mentally. Keeping plants in your bedroom improves your sleep quality and the quality of the air you breathe.
There are special plants that are suggested to keep at home as they improve a lot of things in the environment and help you lead a better life. You should always create a small space to keep plants. But in this case, you could create a whole lot of space and add nature to your room.
Conclusion
All in all, here we have curated a list of 25 men's bedroom ideas; if you're someone bored with your regular boring bedroom, this one's the best to bring out your personality and creativity all at once. We have listed some of the most exciting ideas that you could add to your bedroom and welcome yourself like a king.
All you would need is this guide and a bit of imagination to create the room of your dreams. Men usually find it hard to get ideas for their room but worry not. You can create your room with minimal effort. Enjoy the process, and again, let the creativity run wild!
Hope you were able to find great ideas to redo your bedroom and add a masculine touch to it.
Frequently Asked Questions
How Should a Man Decorate His Room?
Some of the trendy decor ideas for men include elements like exposed brick walls and metal accents, artwork that justifies their personality. A man's room should feel like a den when anyone enters. INcorporate classy beds that are bold and strong. Anything that could be a part of your personality and maybe things that enhance your personality should be part of your bedroom. Don't forget to make it welcoming!
What Should Men Include in Their Bedrooms?
You should focus on incorporating elements such as sleek and modern furniture, a neutral color pallet, ample storage solutions, and comfortable bedding. There's one more thing you should add, which is personalized artwork or decor that instantly makes you feel at home.
How Can I Create Aesthetic Rooms without Being Too Cliche?
The simple hack to create a masculine aesthetic room without being cliche is t focus on sleep and minimalistic things and designs. Try arranging your room with a combination of dark and neutral colors. Incorporate natural materials such as wood and leather, and use subtle patterns and textures.