Are you tired of old-fashioned front yards at home? Then it is high time you give it a new look with modern landscaping designs. The days are gone when people used to install voluminous designs and divergent colors for the front yard landscaping. Today people prefer a modern style that displays a sharp and clean, neat look.
Your front yard reflects your taste. The front yard will welcome your guests when they visit your place. That is why thoughtfully designed front yard landscapes can create an impactful impression and impress your guests at first glance.
Also, a well-maintained and manicured garden looks gorgeous and adds to your status. So, keep reading if you want some innovative and modern landscaping designs for your front yard that will stun your guests.
Here we will explore 30 modern front yard landscaping ideas to enhance the overall beauty of your house.
Modern Front Yard Landscaping Ideas
You can design your front yard landscapes in various unique ways and improve the look of your house. Modern landscaping designs help you incorporate trees, hedges, stones, and artificial water spaces in a way that gives your landscape a minimalist design.
1. Supremacy of Symmetry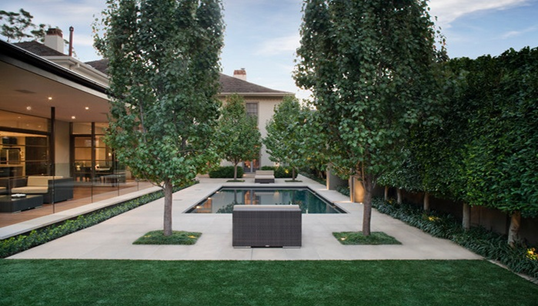 Creating a symmetrical space in your front yard is a great way to enhance the beauty of your front yard. This modern front yard landscaping idea is easy to incorporate and can create an elegant look irrespective of the size and type of space you have. Also, when you set your front yard in a symmetrical design, you can create a beautiful, minimalist look. For example, setting up a stone sitting space at the center of your garden surrounded by clean pavement and hedges or trees will give it a minimalist, symmetrical design.
2. Add a Conversation Pit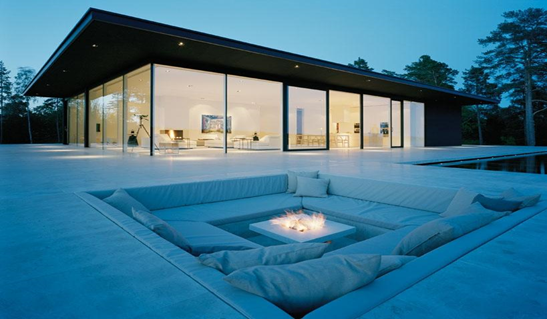 Another brilliant way to design your front yard is by adding a conversation pit in your front yard. A conversation pit is both decorative and functional. It helps you create a modern setup for your front yard. Also, you can chat with family and friends around the pit. If you want a fast remodeling, you can buy a Lviden Conversation Pit for your front yard instead of building one. Also, you can add a calming stone waterfall to your conversation pit and surround it with shady trees for a serene environment.
3. Create a Grass Inset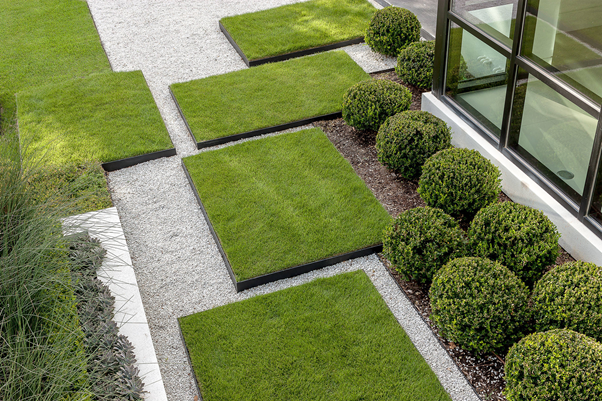 Want something minimalist and simple for your front yard? You can try the grass inset setup for your front yard landscaping. The grass inset setup creates an edgy look with a clean and organized sight. The spaced stone pavement allows clean grassy patches to grow in between and create a natural look with a minimalist design. You can also add some ornamental palm trees or succulent patches at the edge of the front yard. Creating a green inset is a cost-effective modern front yard landscaping solution.
4. Go for Pavers and Stepping Stones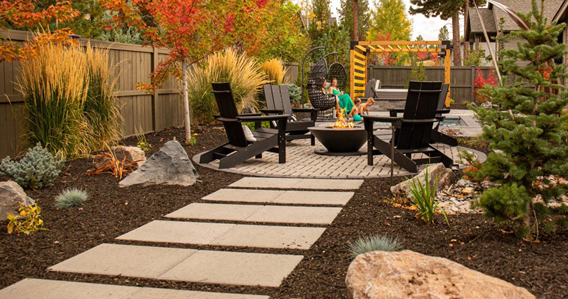 Your home front yard can look more interesting and stylish with some pavers and stepping stones. Pavers and stepping stones are easy to install, and you can arrange them in any type of space (small or large). If you have extra river stones and stone slabs, you can utilize them to make your front yard walkway interesting. You can also buy Gardien 15.5" Decorative Stepping Stones online to build your pavers and stepping stone walkway in the front yard. They look elegant and last longer.
5. Add Horizontal Fencing with Hedges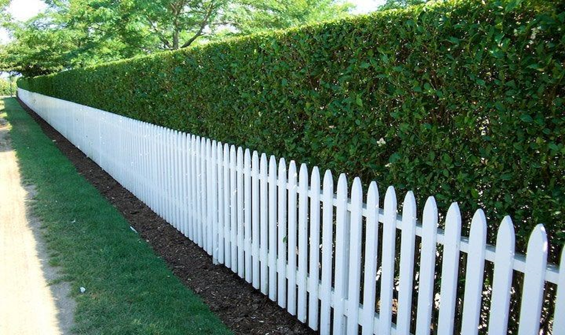 You can also add horizontal fencing with hedges inside for a clean and simple front yard design. The horizontal fencing with hedges is a modern front yard landscaping idea suitable for both small and big-sized spaces. It creates a clean and neat look without many hazards. If you want a formal or no-mess front yard landscaping design, you must try this. You can use both full bamboo or wood lumber for fencing and place the same length of hedges inside the fencing. You can also try AGPL Upgraded Artificial Boxwood Hedge to place behind the fence.
6. Metal Gate No. or Written Surname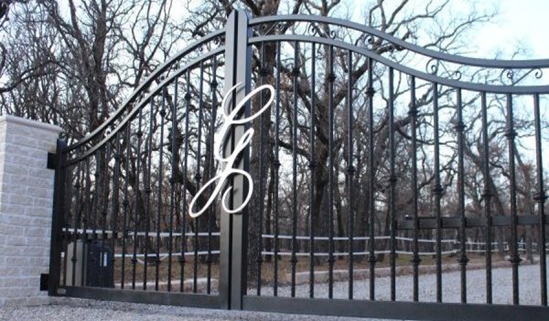 When you have a broad or solid gate in front of your front yard, you can utilize them to create a statement look. Metal gate numbers and surname plates (like Smiths' or Williams') are some popular choices to adorn house gates. The simple and clear fonts of metallic house numbers can be ideal for modern house designs. You can also keep this aspect in mind while choosing your surname plate cause you sure would not want them to look out of place. You can try Modern Metallic House Numbers by Generic.
7. Large Planters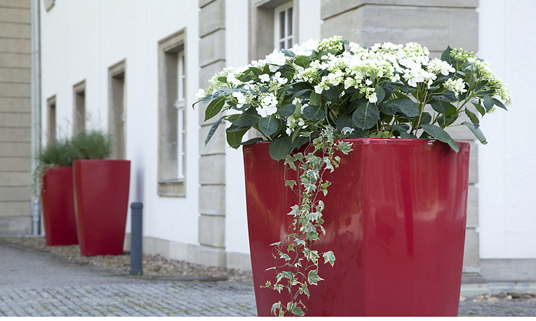 Large planters are also great options for your front yard revamping. It is one of the most popular modern front yard landscaping designs that a lot of people like to install these days. The main logic of this front yard design is the bigger, the better. It means the bigger planters you install, the better impact you will get. Large planters' front yard ideas include basic shapes like square, round, cylinder, etc. Try Tusco CT22BK Cosmo Square Planter for high-quality and durable outdoor planters.
8. Wall Garden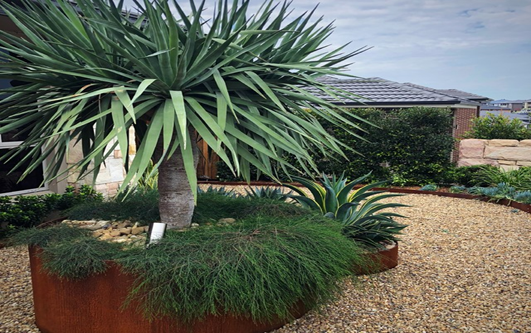 Our next modern front yard landscaping idea will win your heart, especially if you love innovative gardening. Wall Garden is a unique way to upscale the front yard that looks stunning and gives you additional space to keep more plants in your front yard. With this front yard landscaping idea, you can expand your garden from the ground to the walls. You can create attractive and decorative features for your front yard by playing with colors and patterns for your wall garden.
9. Lighted Pathways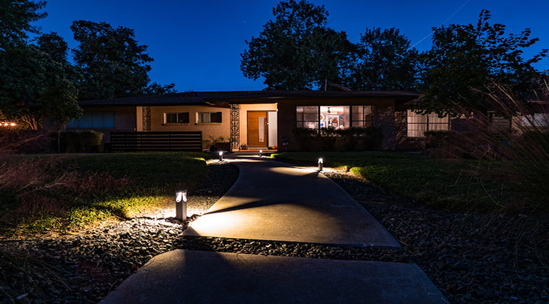 A lighted Pathway is also an excellent option for your front yard decoration that can add a new dimension to the place. It is also one of the easiest and most effective ways to remodel your front. If you like to keep it casual and enhance the structure of your front yard, you must try this. It is also very simple to do and does not need a high budget to accomplish. INCX Solar Lights Outdoor is suitable for lighting front yard pathways and adds an alluring touch to the place.
10. Modern Pergola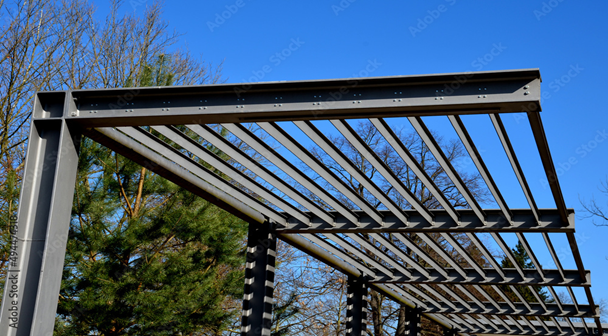 Pergolas are always beautiful and add to the aesthetics of the place. Instead of voluminous and extravagant pergolas, you can opt for a modern pergola for a simple yet elegant look. Modern pergolas look excellent in city home front yards and give a minimalist vibe. PURPLE LEAF outdoor pergolas with adjustable sunshade canopy covers are an ideal option to brighten up your front yard and give it a clean and organized look. Also, if you wish, you can surround the edges of your pergola with stone or tall plant-carrying planters.
11. Horsetail Hedges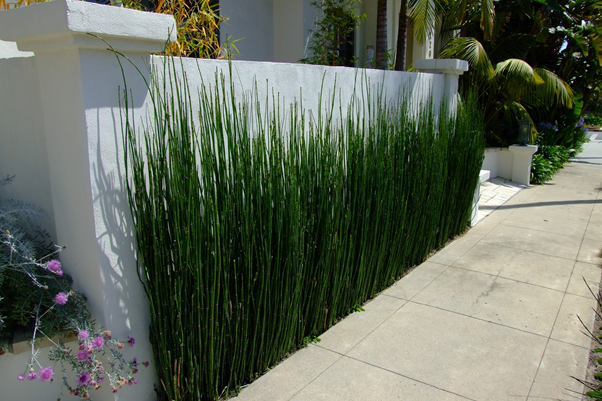 Horsetail Hedges are perfect for modern front yard landscaping. They have vibrant shades with a detailed structure that makes them a perfect match for outdoor hedging and create a beautiful minimalist look. The green stocks with black details look stunning and natural. If you want something minimal and classy, then you must try horsetail Hedges in your front yard. You can get Eunivus 10 x Horsetail Reed for your front yard decoration, which is both available online and offline in stores.
12. Wood and Succulents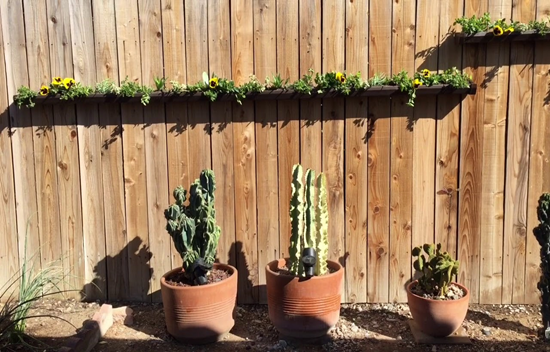 Wooden fences are always a popular choice for front and back yards. And adding another element to this already existing popular choice for your garden makes it more beautiful and eye-catchy. The dark brown/black texture of the wood with bright green succulent creates a beautiful contrast and gives your front yard a vibrant and minimalist look. You can DIY a wood fence with succulents or hire professionals to help you build one.
13. Stone and Succulents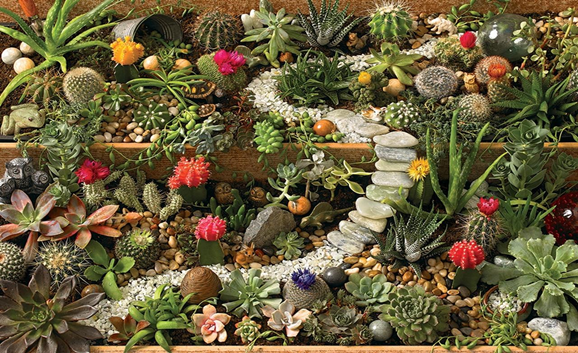 Just like wood and succulent, stone and succulent is also popular for modern front yard landscaping solutions. In modern front yard landscapes, the use of rocks or stones is prevalent. And adding succulents into them gives a minimalist and clean look. Also, the distinct structures and vibrant color of the succulent create a beautiful contrast and bring a detailed look. Try Costa Farms Mini Succulents Collection to decorate your front yard with stones.
14. Cinder Block Garden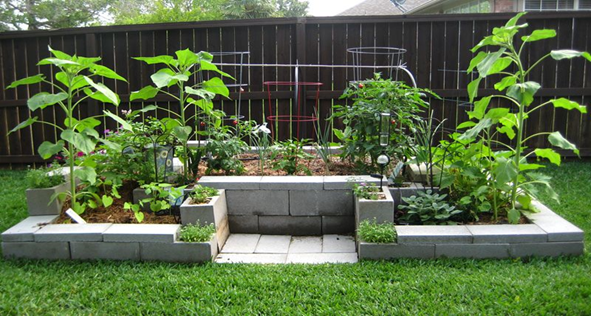 Cinder blocks are also common in modern household setups. They look great with concrete walls and add a new dimension to your place. Today most people prefer to use cinder blocks. If you want to upgrade your front yard and make it more stylish, you can install a cinder block garden. Using cinder blocks in your garden also allows you to explain your garden to the front yard walls and explore unconventional techniques of gardening. You can plant succulents on the blocks to get a simple and elegant look.
15. Fence with Seat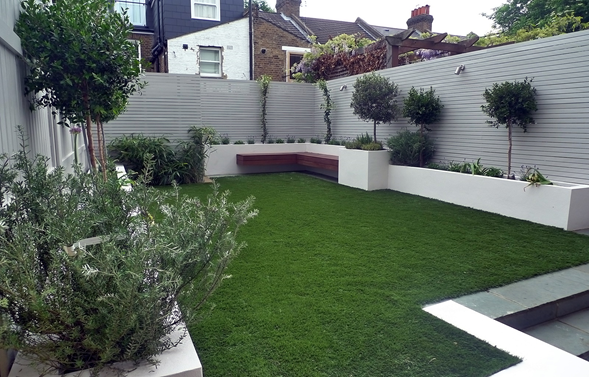 Adding a seat in your front yard fence makes it a perfect place to sit and spend time outdoors. The fence and seat combo is a functional installation that also brings an attractive look to the place. Also, when your guests see a fence seat with some comfy cushions, they will love your place and prefer to spend time outdoors. You can also incorporate a river stone floor for your fence seats to distinguish the space from the rest of the front yard.
16. Lighted Plants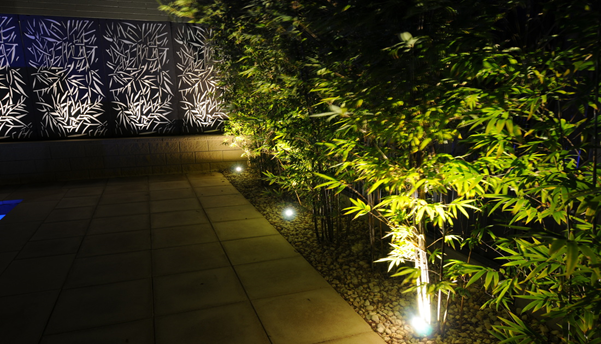 Lighted Plants can be another stunning way to style up your front yard landscape without spending much time or money. Lights can be a great tool to highlight the prominent parts of your garden and give an illuminating vibe to your front yard. If you have a spacious front yard installed with various ornamental plants and rocks, you can use lights to highlight the main parts of the yard and guide your guests on their way. Try INCX Solar Outdoor Lights for soft and smooth illumination.
17. Step Lights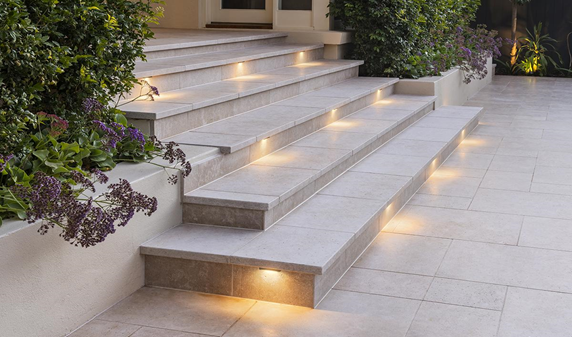 Like to play with lights and create illuminating outdoors? Then you can try step lights in your front yard. Also, nothing can be better than installing step lights if you have unique steps in your front yard that you want to display to your visitors. Adding step lights with pathway and plant lights can create an all-illuminating outdoor environment for your house and attract the attention of your guests. VOLISUN Outdoor stairs light can be ideal for your front yard.
18. Corner Gardening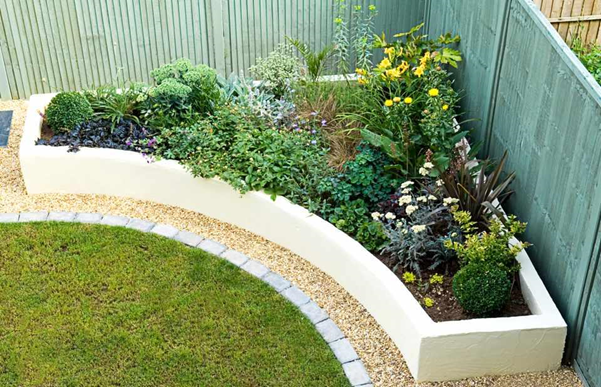 Corner Gardening is another interesting method to style up your front yard garden and make it look attractive. It is an innovative and modern front yard landscaping idea that helps you keep your front yard landscape clutter-free. Corner gardens can also help you create a statement for your front yard, and you can use the opportunity to display your artist's soul. For instance, you can install vibrant plants with metal or rock structures to light up your front yard garden space.
19. Garden Water Feature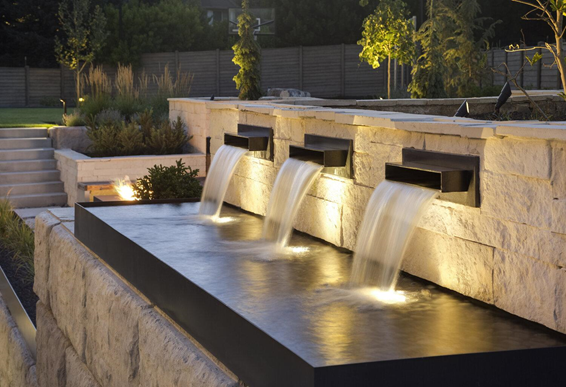 Our next modern front yard landscaping solution is an innovative piece that can light up any dull garden or front yard space. It is a cost-effective solution to make your front yard more attractive and alluring. The water feature is an absolute ornament for your front yard that you can make by transforming an old faucet. It will also give a new dimension to the place and enhance the aesthetics of the place. Also, a water feature can create a statement for your front yard without spending much money.
20. Creative Centrepieces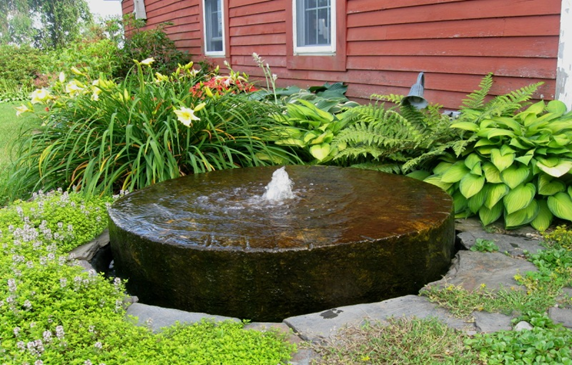 Love miniature gardening? Then you must not limit it to your indoors or balcony gardening. Now, you can even include them in your front yard and improve the aesthetics of the place. Adding a creative centerpiece of a miniature garden will light up your front yard landscape and improve the look. You can use a bowl planter with some stones, water, and water plants will create a serene and peaceful environment. PSW Centrepiece bowl planters are great for creating miniature water gardens.
21. Wispy Plants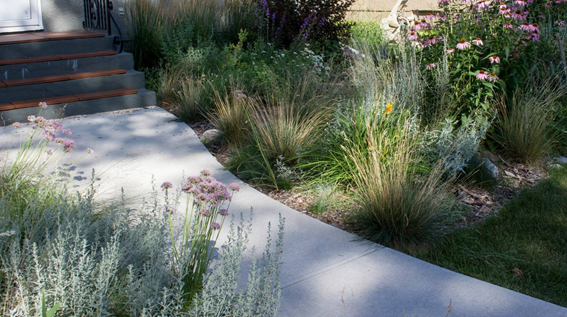 The use of wispy plants in modern front yard landscaping is pretty popular, and many people like their texture and style. Wispy plants are those bushy and feathery plants (mostly weeds) that create a uniform texture and look great at the edges of the garden, besides the fence or pathways. You can install wispy plants inside your front yard to soften the sharp edges of modern architecture and create an urban household ambiance.
22. No-Flower Garden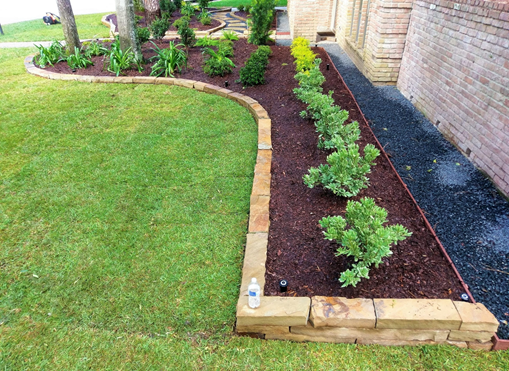 The most common trait of modern front yard landscaping designs is non-flowering plants or no plants at all. So, if you have modern house architecture, you can make the most of a no-flower garden. A no-flower garden complements the architecture of your house. Also, a no-flower garden gives a minimalist vibe and matches well with modern architecture. Add some green grasses, ornamental plants, and succulents (all non-flowering), and your no-flower front yard garden is ready. You can also add stoned walkways and pavers to complete the look.
23. Creative Lights
Another illuminating solution in our list for redesigning your front yard is creative lights. This is also a crucial feature of modern front yard landscaping designs that you can find in various modern households. Gone are the days when people used to install poles or spotlights to light the outdoors. Nowadays, people love to use lights that are innovative and unique. Creative lights can work as a center of attraction in your front yard. They are quite popular, and you can try AIINY Solar Firefly Light for an alluring effect.
24. Bamboo Groove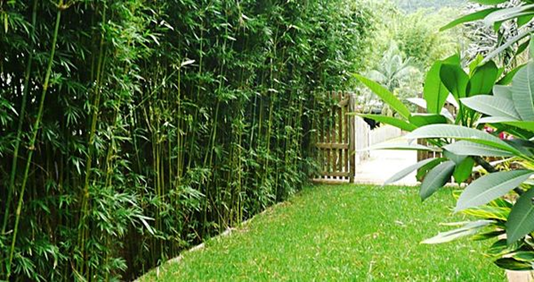 Bamboo grooves are also an inevitable part of modern architecture and design. They can also be an ideal fit for your front yard. It is a low-cost and full-of-greenery modern front yard landscaping solution that will add a deep green patch to the place. Installing a bamboo groove on the side of your front yard and against a sitting corner will help to enhance privacy and create a peaceful outdoor environment. You can try Dichmag Exotic Black Bamboo Seeds for faster-growing bamboo.
25. Bring Some Colours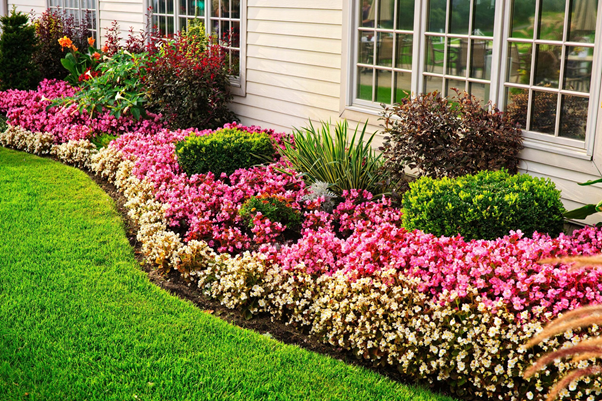 Bringing some vibrant colors to your front yard is a great way to make it lively and fresh. Also, when you want to introduce colors to a space like a garden or front yard, nothing can do better than a bunch of flowers. You can add vibrant flowering bushes along the pathway or the edges of the fence to introduce colors without losing balance. You can even install hanging flower plants on the sides of the gates and pergolas to maximize the effect.
26. Big Flowering Trees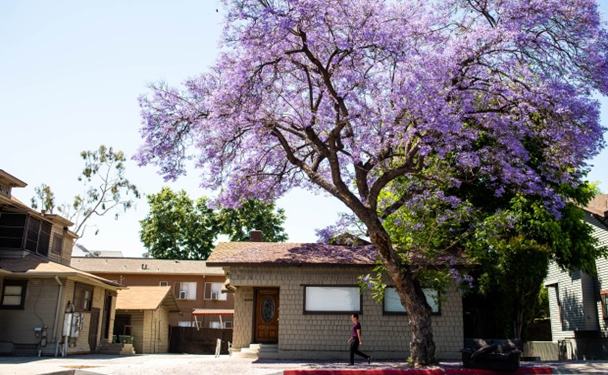 Installing big flowering trees also does well for modern front yard landscaping designs. When you install large flowering plants like Jacaranda or Juneberry trees in your front yard, they can create a gorgeous canopy. Also, Jacaranda plants add a vibrant touch with their bursting purple flowers, white white, and stary Juneberry flowers giving a soft and serene environment to the place. You can install those plants in a wood structure to get a minimalist and modern look for your front yard.
27. Outdoor Dining Table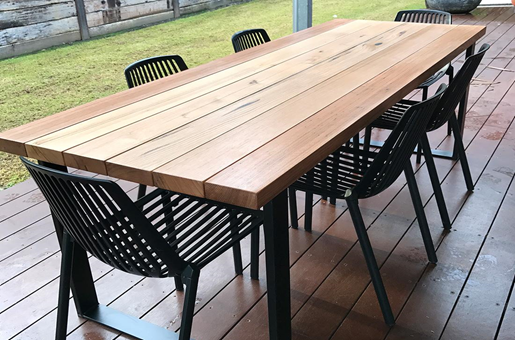 If you are looking for some modern front yard landscaping ideas that are both functional and appealing to the eyes, you can install an outdoor dining table. Adding an outdoor dining table in your front yard helps to enhance the aesthetics of the place with a solid structure. Also, you can use the place to enjoy your night meals with family and friends on summer days. You can install Sophia & William's outdoor dining table for a clean and classy look.
28. Garden Pond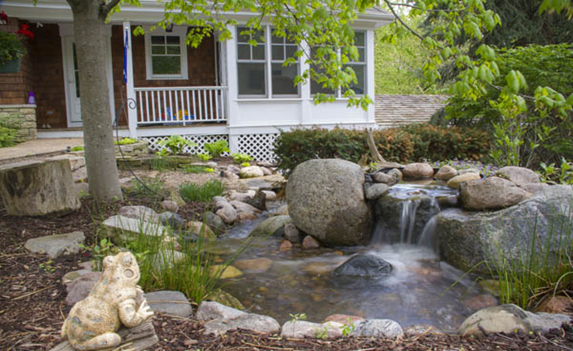 Adding a garden pond in your front yard is also a creative way to redesign your front yard and make your place more beautiful. Also, when you install a garden pond in your front yard, it helps to create a serene environment that also looks natural. You can even place small hedges and bushes around your pond or add some water plants to make the space more enticing and natural. For example, you can grow water lilies in your front yard pond to spice up your space ambiance.
29. Garden Bench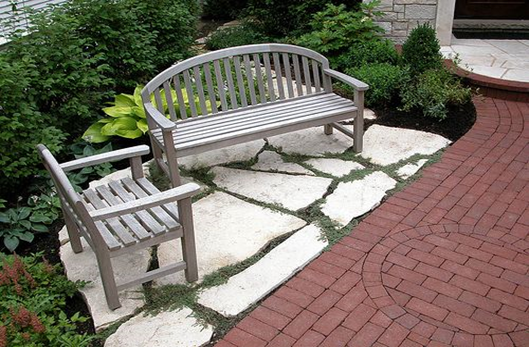 Modern front yard landscaping needs minimal decoration and something functional instead of only decoration. Garden benches are great for decorating the front yard, which helps you improve your garden and create a beautiful space for sitting outdoors. You can build stone garden benches against the hedge or fence. But if you prefer fast and hassle-free installation, you can purchase a garden bench. Try ACUEL Garden Bench for a sturdy and durable structure.
30. A Touch of Japan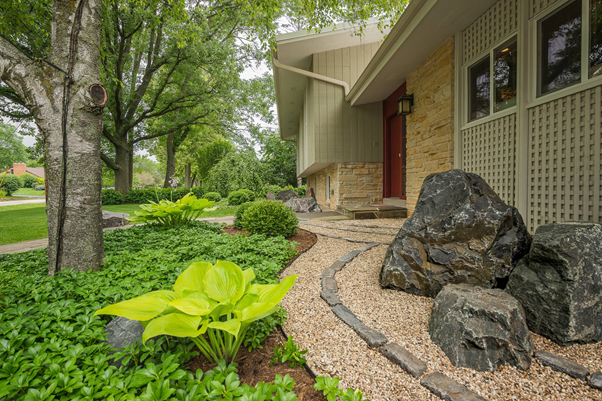 Japanese gardening style has become popular worldwide, and many people love to incorporate it in their modern front yard landscaping design and architecture. Japanese gardens have a serene environment and create a soothing visual effect. Installing some moss, wood, ornamental stones, paved garden beds, and a water body can help to create a serene Japanese-style garden for your front yard landscape. You can install OwMell Miniature Japanese Style Pagoda Lantern for your front yard Japanese garden.
Conclusion
All in all, the front yard space is an essential part of any modern house architecture. It is the face of your house and reflects your aesthetics and choice. You can reconstruct your front yard landscape according to modern designs to complement your house architecture and make the most of your front yard remodeling. To create a beautiful minimalist front yard, you can install large planters, water features, conversation pits, etc.
In simple words, the list of modern front yard landscaping ideas is endless, and with a little creativity, you can build your unique front yard. Above, we have explored 30 top ideas to decorate your front yard in a modern style.
Still not sure how to begin with your front yard revamping project? Pick any of these ideas for modern front yard design to begin your journey.
Frequently Asked Questions
Which Type of Landscape is the Cheapest for a Modern Front Yard?
Modern front yard designs often come in low-budget and need a little bit of creativity to solve the problem. Mulching and paving are some of the most low-cost front yard landscaping ideas. For instance, digging the soil around the patio and spreading the mulch can enhance the beauty of your front yard. Also, you can install paved beds or rock pathways to style up your front yard at a low cost.
Which is the Best Way to Decorate My Front Yard?
The best way to decorate your front yard can vary depending on your budget and the look you want. If you want a natural and serene environment, you can install hedges, flowering plants, garden ponds, miniature gardens, or Japanese-style gardens in your front yard. But if you want a clean and classy look, you can try pathways, stairs, and plant lights, an outdoor dining table, or a dripped patio.
How to Create a Low-Maintenance Front Yard Landscape?
You can find several options to create a low-maintenance front yard landscape that does not consume your time and energy for maintenance. For instance, you can opt for a no-flower or no-plant garden where you do not need to spend your money and time on pruning, fertilizing, or for pest control. Also, you can install a water feature to enhance the beauty of your front yard that also does not need any maintenance.