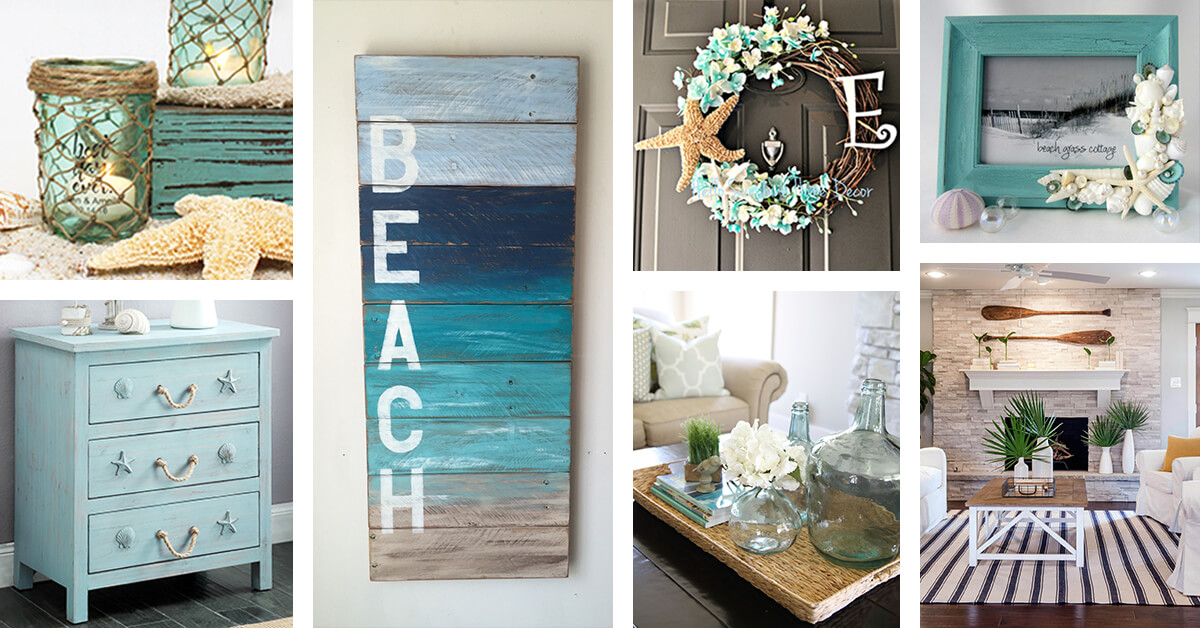 Are you looking for coastal bedroom ideas? Don't you think ocean-based bedroom themes can be fun and exciting? Well, Yes! Recreate the effect of allowing your family members to stay at a beach house.
Along with that, you look for trendy themes and ideas that can be put up inside your bedrooms. While doing so, you need not burn a hole into your wallets after all.
Use wallpaper accents and fabric sheets and source simple stuff to recreate a coastal bedroom you had always dreamt of living in.
Use lovely DIY themes to execute your coastal bedroom ideas to a perfect level of expertise. Feel free to include sea animals as stuffed toys too.
Try mermaids and other interesting caricatures from the oceanic world.
Kids and parents can help each other in sprucing up their bedrooms using fun-filled sea collectibles.
Allow your daughter or son to draw Mermaid or sea cartoon portraits to recreate themes that are inviting and invigorating.
Let us unveil 25 exotic coastal bedroom ideas that can be done from start to finish.
1. A Simple Oceanic theme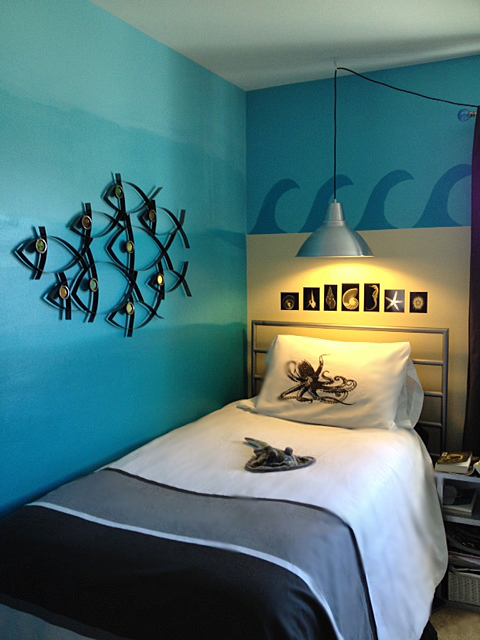 Getting the walls painted deep blue is the first step that needs to be done. A wall hanger has been pinned up. A cluster of five to six fishes forms a great pattern for the theme.
The bedspreads are shaded grey and white. The starfish embossed on the bedspread, and the pillow cover looks eye-catching indeed.
The side wall comprising starfish and other sea animals is lovely to look at. With a few accessories, you have a perfect ocean theme that is done in your bedrooms.
Sea souvenirs well distributed inside this bedroom add to a perfect oceanic style look.
2. Pretty Looking Disney Theme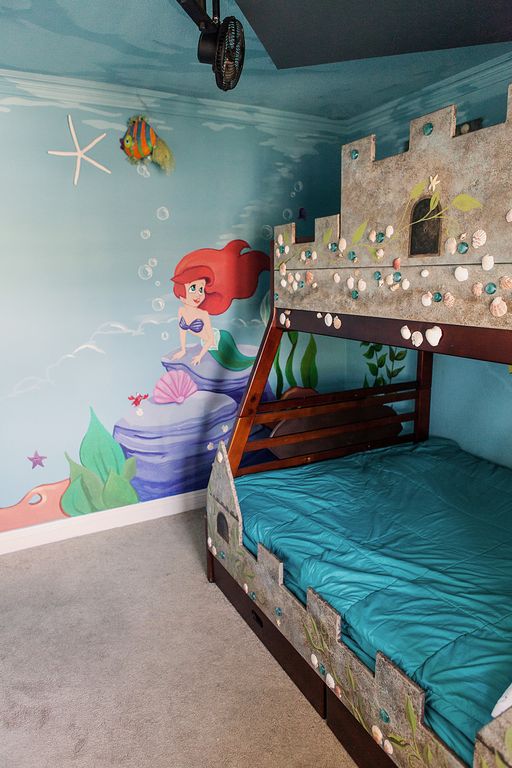 Bring the Disney Princess story to life with this oceanic bedroom idea you would love planning out for your kids.
The wall is engraved with a pretty-looking sea Disney Mermaid princess who swims underwater.  Have a reputed interior designer or an established painter do the job for you.
The sea palace has been put up using the upper deck of the bunk bed as the props. Having the entire space decorated with sea shells lends beach-style vibes in style.
Try to include hues as you find them in your Disney Princess storybook. This way, you bring the larger-than-life characters to execution.
3. Inviting Decor Using Oceanic Colors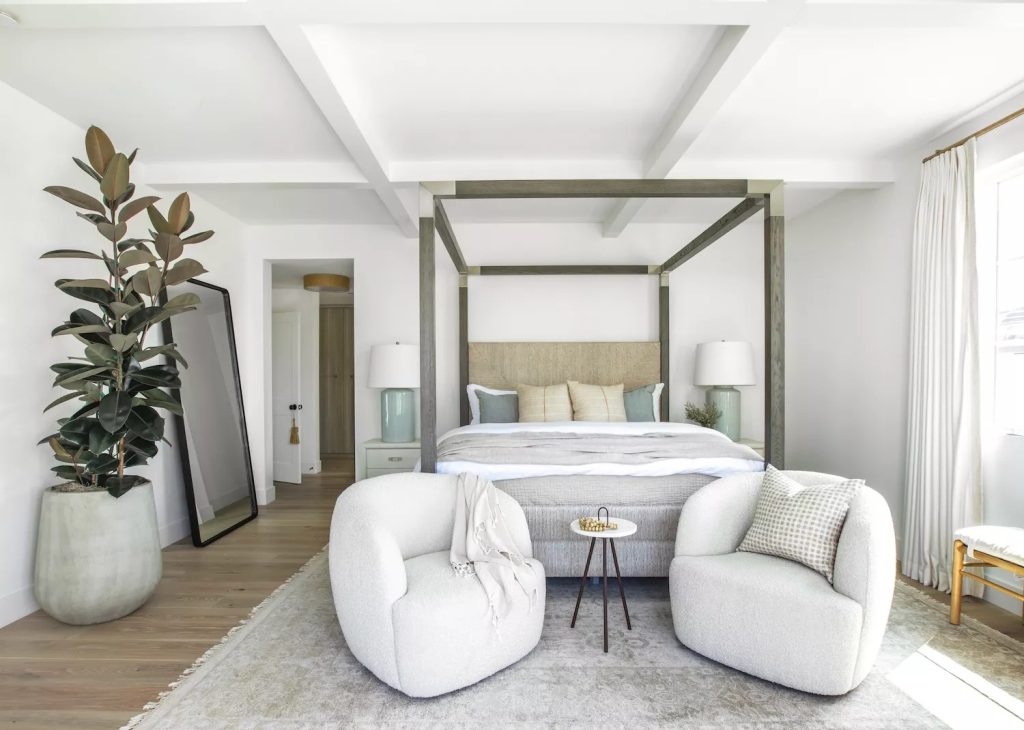 Using soft hues like pastel blue and creme represents the sea and sand on the whole. Make sure you spruce up cushions, bedspreads, and sofa decor this way.
By including natural potted plants, you lend earthy vibes to your beach-style bedrooms. With such simple set ideas, you can show off your beach-style theme bedroom in style.
Again, you look for wood that suits a beach-style bedroom. To revamp charm and attitude, the wood and rattan replicate a seaside look in a classy manner.
The bedrooms are spacious and well-ventilated, and the accessories are done in an affordable price range. These are breezy rooms you can plan for!
4. A Netted Frame Decor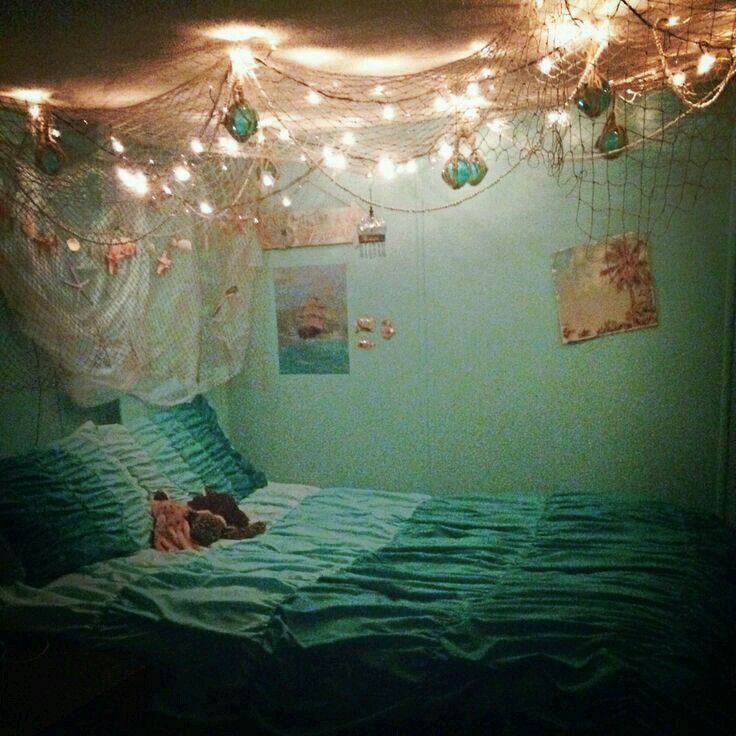 Here, you find a pretty-looking net-style bedroom with oceanic-colored bedspreads and pillow covers. The netted design replicates fishing nets that remind us of sea fishing people love doing.
The lighting work adds a magical glow to the ambiance. The bedroom decor further has the walls painted blue.
There are seaside photo frames that are hung on the walls, with some shell necklaces put up on display too. The golden blue chandeliers remind me of sunsets at the beach area.
This is one of the best coastal bedroom ideas you can go for!
5. A Beach Fabric Picture Frame Does It All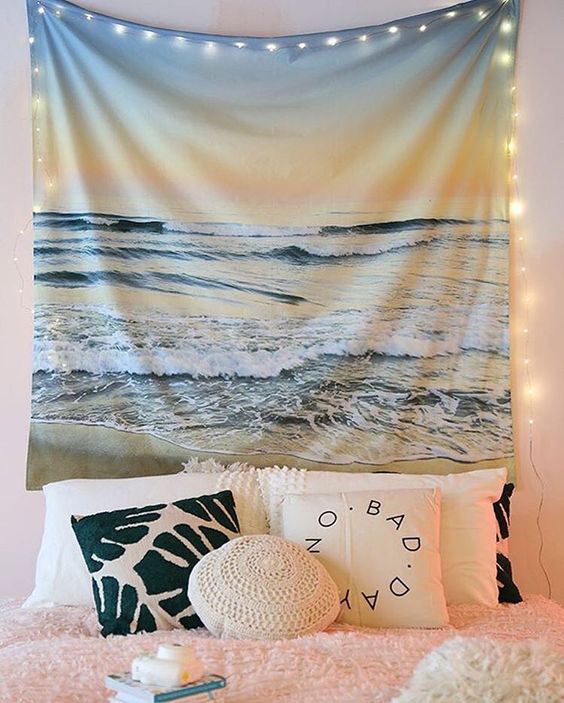 By hanging up a perfect portrait of the beach with its set of waves meandering back and forth, you bring a magical effect into your beach-themed bedrooms. It is one of best coastal bedroom ideas.
The fabric portrait can be bought online or from a retail establishment to make things easier. Get a sea picture painted on a canvas cloth to make it extremely creative, and above all, it is DIY.
Pillow covers, cushion rugs, bedspreads, and accessories must be allowed to match the photo portrait.
All you need is to rearrange the props in such a way that they complement the sea portrait that is hung above. This is a neatly decked sea idea you incorporate inside your bedrooms effortlessly.
6. Reinvent Sea Accessories with Cushions and Rugs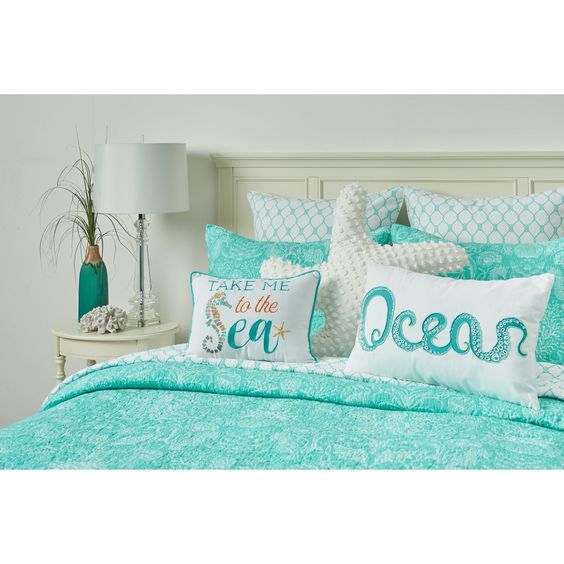 This is one of the innovative coastal bedroom ideas you can try incorporating fabulously indeed. The bedspreads have a fascinating mix of oceanic blue and white.
The cushion covers have attractive slogans added to them. You have a pillow resembling a starfish. The eclectic mix of pastel blues and white adds pleasing looks to your ocean-themed bedrooms.
The flower vase that is turquoise-shaded is too good to miss out on. You, therefore, find all the elements you would need for a perfect beach theme decor.
7. For The Classic Sea Design Lovers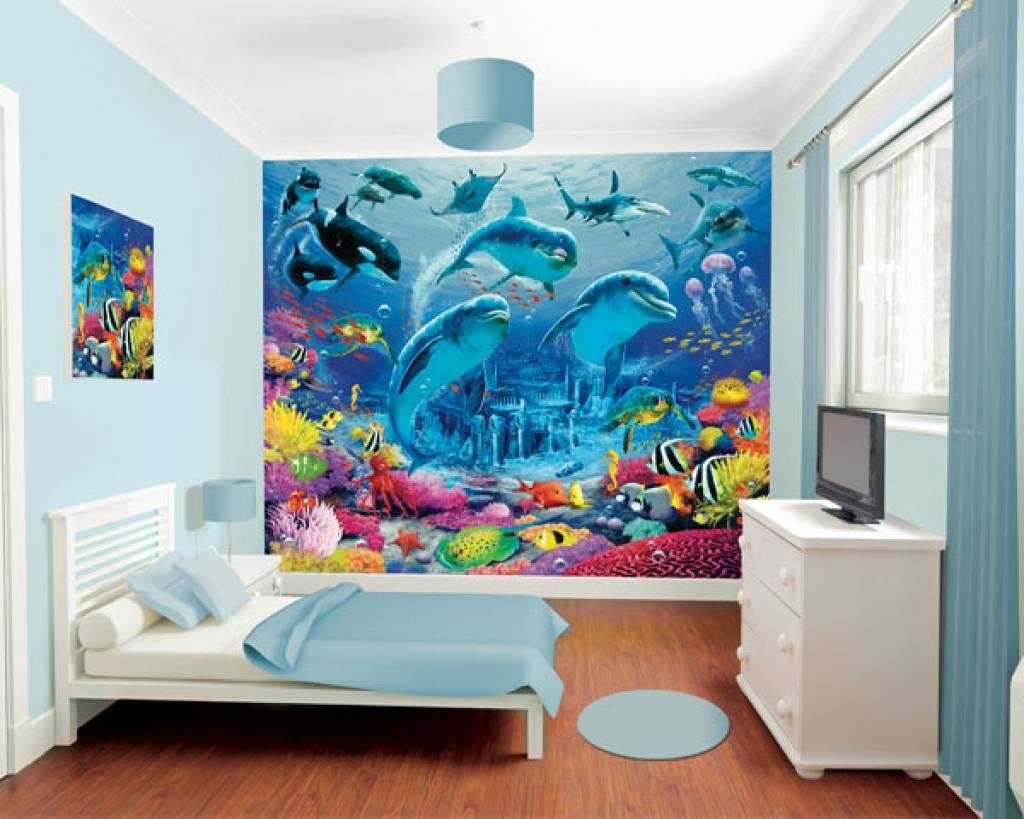 The classy picture in the form of dolphins floating under the sea looks fabulous indeed. The pictorial portrait makes the oceanic design realistic too.
The larger-than-life portrait gives you an underwater feel inside your very own bedrooms. You discover another photo that has been stuck on the other side of the wall.
The pastel blues and whites effortlessly add classic vibes. The woody flooring complements the room decor in a picture-perfect manner.
There is a small LCD and a compact cupboard where you can place your things. The French window that is placed inside gives light and ventilation to the room.
8. Neutral Sea Themes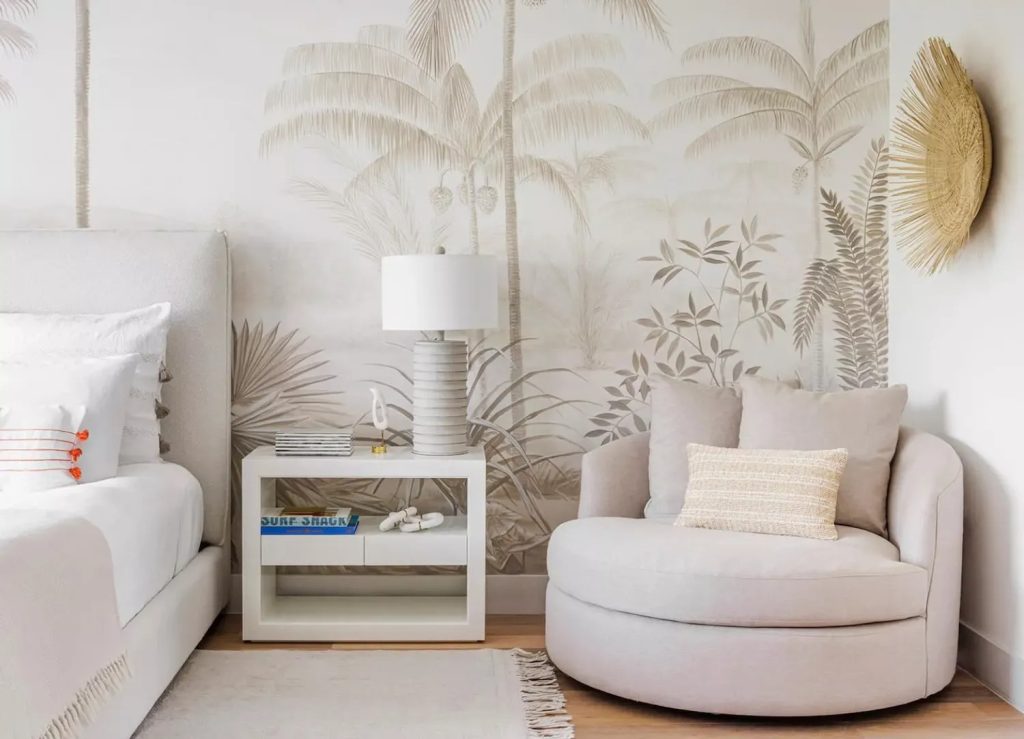 This is a neutral theme you will surely fall in love with. The seaside theme has been pencil-shaded so beautifully. The sofa decor is grey, and the cushion rugs are off-white.
There is this table lamp that looks pleasing to the eye. Explore the lovely basket that is hung up here on display. The accessories compliment the decor of the room quite naturally.
For those of you who like keeping things organized, this is a beach theme idea you can precisely go in for.
9. Fall in Love with Bold Accent Bedrooms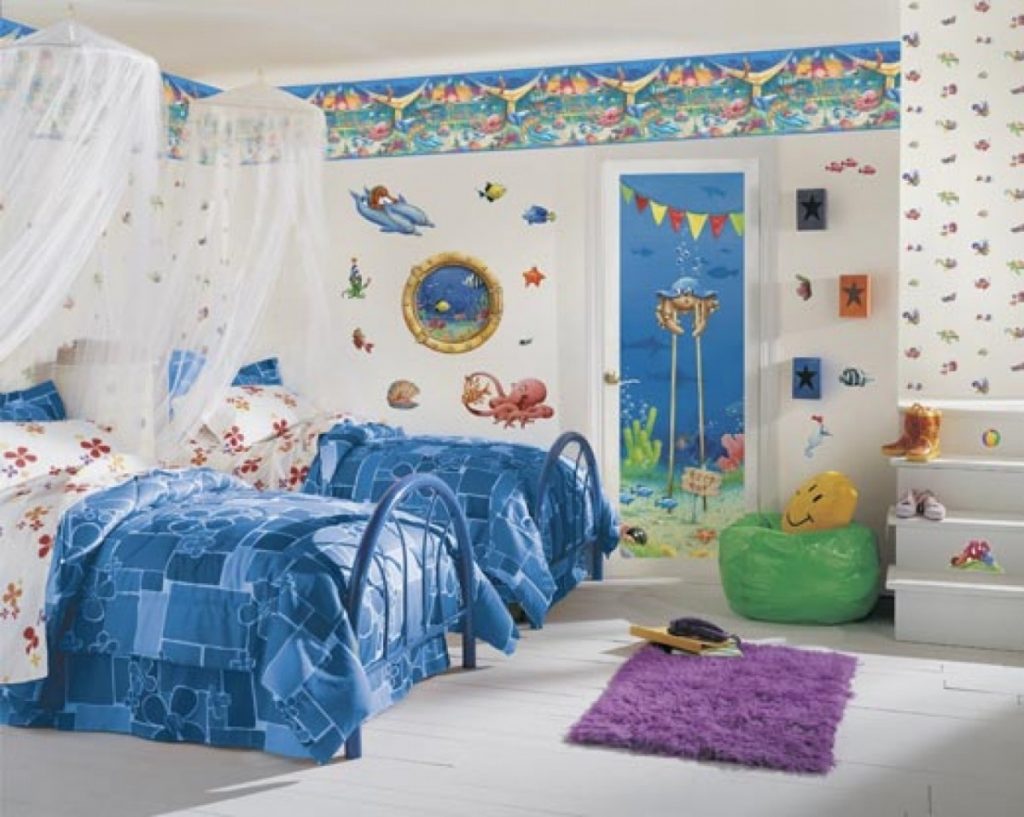 Bold accent bedrooms can be inviting and grand. The bedspreads have a mix of pastel blues and navy.
The white pillow covered with a mahogany red flower design is a contrasting color combination that looks terrific indeed. You have plenty of sea-loving caricatures put up on the wall.
The underground seawater pic looks stunning indeed. This is a perfect theme for your kids' bedroom. They can play and cuddle inside the rooms.
The netted curtain drapes add a breezy feel to the room. This bold accent theme is one of the best coastal bedroom ideas you can choose.
10. Stripes and Streaks Inside Your Bedrooms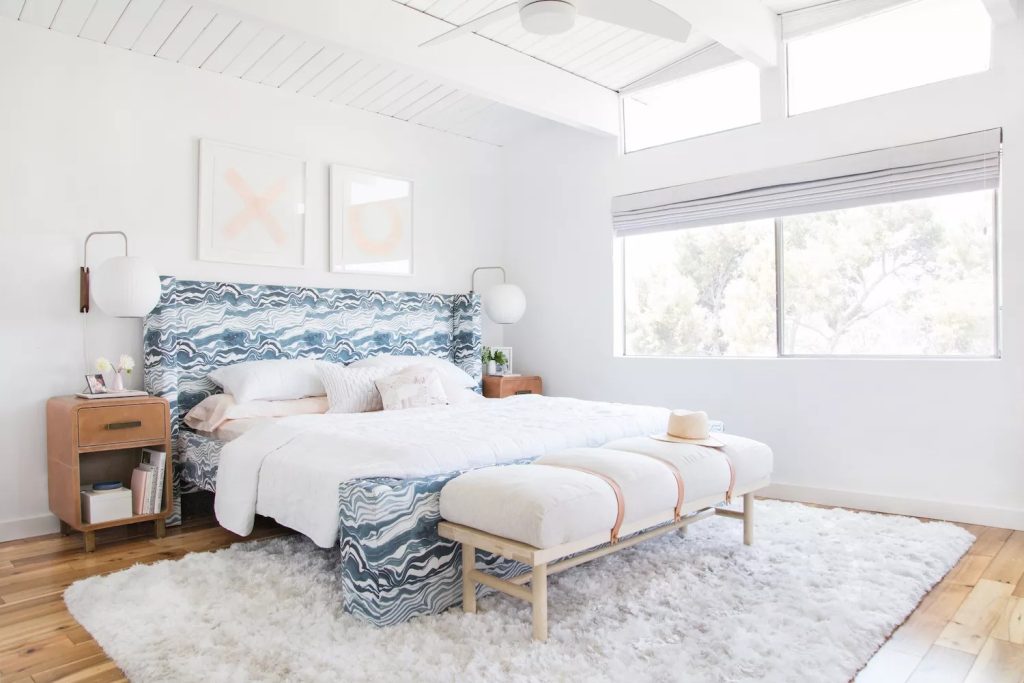 Include an oceanic theme bedspread that has stripes and streaks on it. The printed design is a simple way to have your beach room decor organized.
The white bedspreads and cushion rugs add pretty-looking vibes to the overall decor. The French window inside the room is lavish and allows plenty of natural light to penetrate through.
The all-white carpeted rug adds a comfy feel to people who stay inside their bedrooms. The stained wallpaper accents wooden flooring, which makes the space even more sturdy.
The table lamps on either side of your bed add to the glam.
11. White Sand Design Is a Classy Design Indeed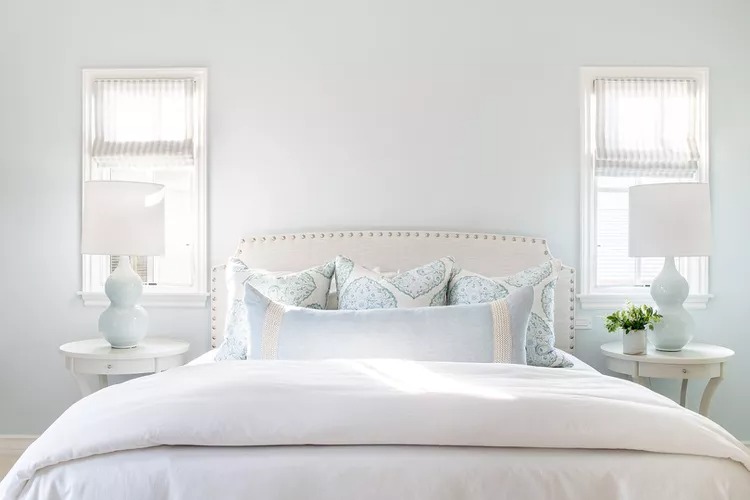 This is an all-white bedroom decor that adds a cloud-like feel to your bedroom spaces. These mildly blue pastel hues lend a classy appeal to your beach-themed bedrooms.
The cloud lighting adds further glow to the all-white bedroom. This is a wonderful beach room idea for those of you who love something posh and elegant.
The plant pot is kept on the other side of the bedroom and looks tiny to the eye. You get a feel of floating clouds making this a decor idea for classic lovers.
12. Fish Floating Inside Your Bedroom Theme
This is a 3D painting of fishes and underwater sea animals floating and swimming merrily. The 3D effect gives you a real-time feel of staying inside the ocean.
The portrait has been designed on such an intricate pattern, after all. For completely contrasting vibes, you have the bed and the sofa set that is all pink in color.
The neutrally designed beige rug complements the shade of the flooring. This is a beautiful oceanic theme idea your kids and family would love you for.
13. Nautical Hideaway for Yourselves Is on The Cards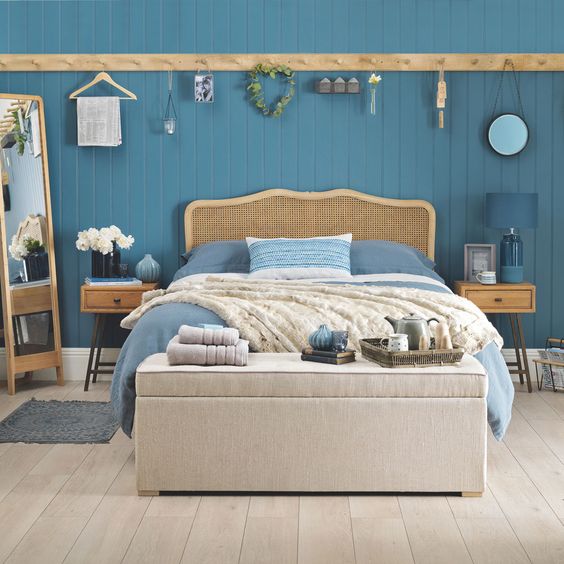 This is a nautical hideaway spot you get for yourself on the whole. The bedspreads are navy blue, and the sheets are all white.
The highlighting factor is the feature wall that has been painted all blue. The bedrooms are also spacious and nice.
The table lamp that has been painted navy blue gives an enigmatic feel to your beach-themed bedroom. The accessories are positioned in a visually pleasing manner.
The furniture pieces have also been neatly arranged inside the room. In totality, this nautical hideaway design is a real-time stunner indeed. This is also one of the best coastal bedroom ideas.
14. Bring the Water Inside Your Bedroom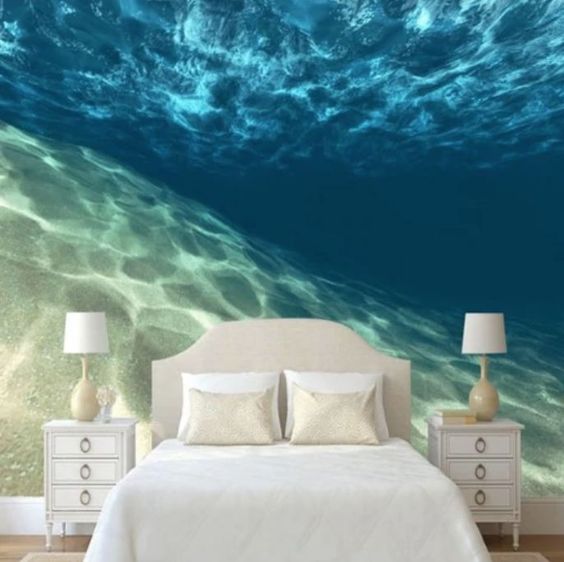 This is a wallpaper idea that can let the water come inside your bedrooms. The 3D style water wallpaper looks lends a larger-than-life effect to the oceanic theme bedroom design.
The all-white drapes for the cushions and bedspread resemble floating cloud effects indeed.
The wallpapers can be availed at an online establishment. This is, therefore, a bedroom idea that works easily on your pockets too.
The all-white table lamps kept on either side of the bedspread add a floating feel to the room. The cupboards are well-decked to complement the overall decor of the beach-styled bedroom.
15. Adding to The Hawaiian Touch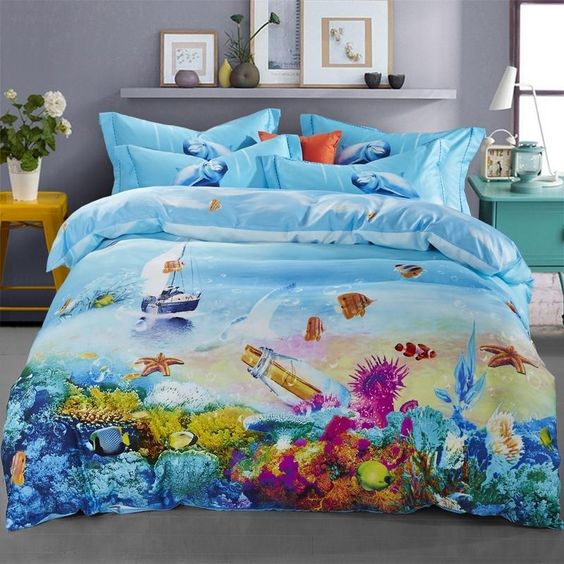 Include bright floral shades for your bedspreads and pillow covers. This way, you bring a Hawaiian touch to your bedrooms. The coastal bedroom idea is easy to incorporate.
Try painting an island theme on fabrics using your paint palette of acrylic colors. The pillow covers have dolphins and fish in each of them.
Arrange accessories in an even-toned manner. A pocket-sized table lamp finds its place in one corner of the bedroom, while you have a potted plant at the other end.
The floral design of the bedspread is the highlighting tint for giving the bedroom decor idea a try.
16. Ocean-Themed Bedspreads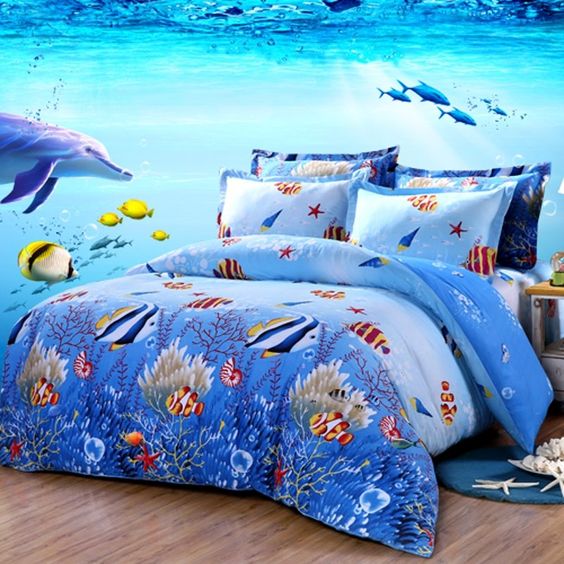 This is another intriguing oceanic bedroom design idea you can notch to perfection.
Discover underground sea fishes and animals designed on the lavish bedspread and pillow covers, after all. You get the entire bedroom accessories as a set.
The decor has a painted sea theme wallpaper that has been put up on display. You get a rave feel of staying under the ocean with the styling technique that has been used here.
Go DIY if you want to paint the sea world on fabrics. This way, you take your level of creativity to an all-new dimension.
17. Discover Underwater Coverage via Painted Walls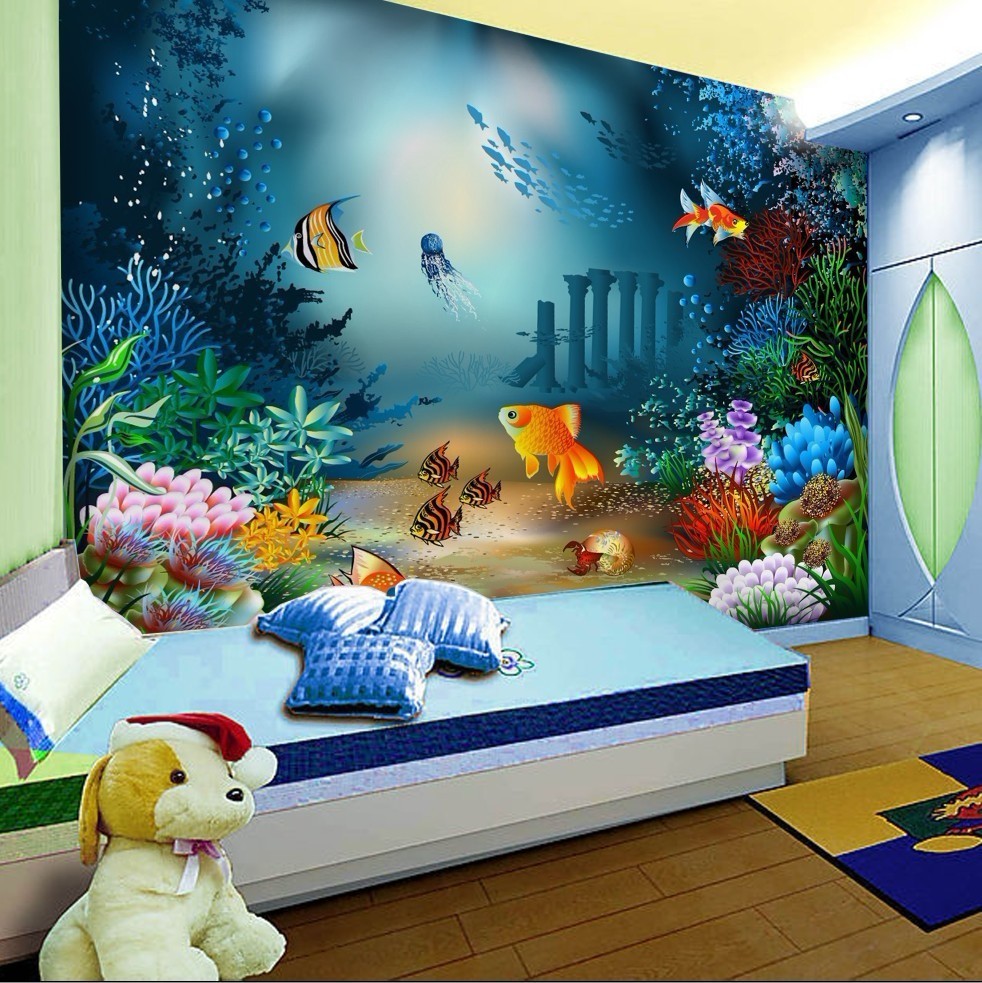 Having your walls painted using an underwater theme can be a splendid idea indeed. You include plants that grow under the sea beds, and you have that lovely array of fishes floating inside the waters.
Have a painter design your walls this way. The pillow covers are sky bluish, adding to pleasing oceanic vibes. A soft doll has been placed inside the bedroom that can be pretty looking too.
Inside the ocean-themed bedroom lies a carpet having a mix of blue, creme, and green hues. The accent walls add a realistic feel of family members living inside the ocean. This is a theme you cannot miss out on.
18. A Simple Design With An Oceanic Touch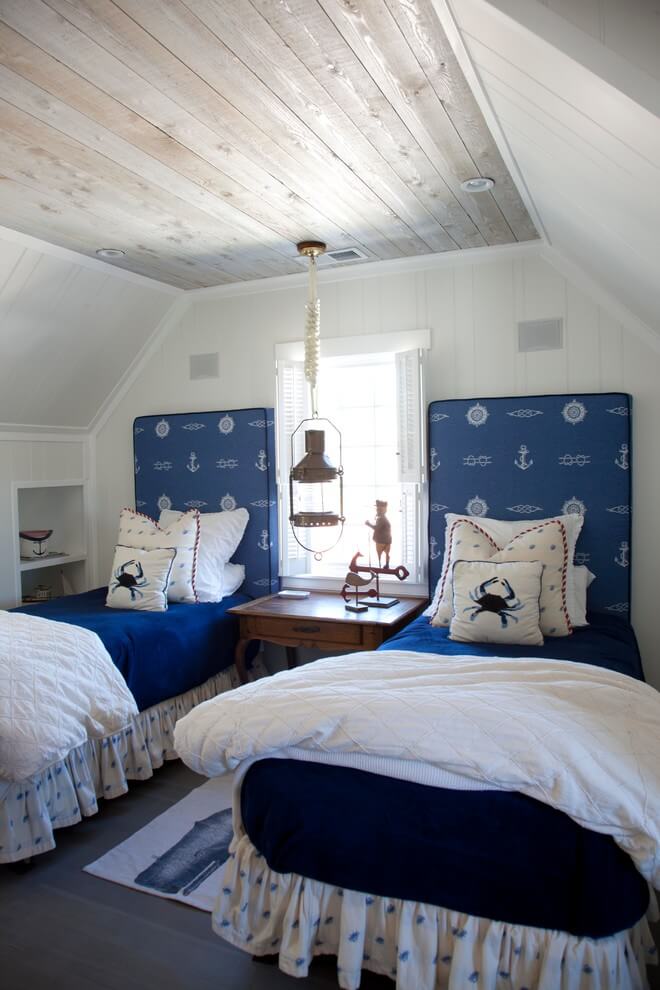 This is a simple design on oceanic theme decorating. You have pastel blues and whites, providing the perfect ambiance for beach-styled living.
These are the bedspreads and cushion covers that are placed inside the room. You can find designer crabs that are caricatured on the cushion covers.
The anchor design to the back walls adds a ship theme to the whole decor. Simple accessories are kept inside the bedroom, resonating with poshness and sophistication for a great living ambiance.
19. Colorful Theme In Vogue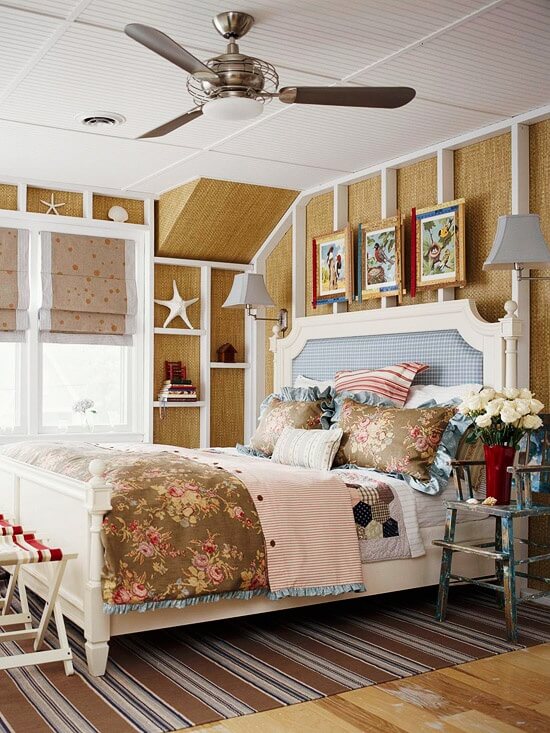 This is a colorful oceanic theme you simply cannot get enough of. You have contrasting hues of beige, white, creme, brown, and tinges of black.
A starfish occupies the curio display while you have other artifacts decked up in style.
This is a retro theme, the more colors, the better it is a concept indeed. The flower vase with lovely white roses looks attractive to the eye. 
Adding sea shell dolls and trendy accessories can add to a superlative feel of being at the seaside. You must keep stuffed sea animal toys for a more realistic feel of staying under the ocean.
20. Swimming Tubs and Floral Bedspreads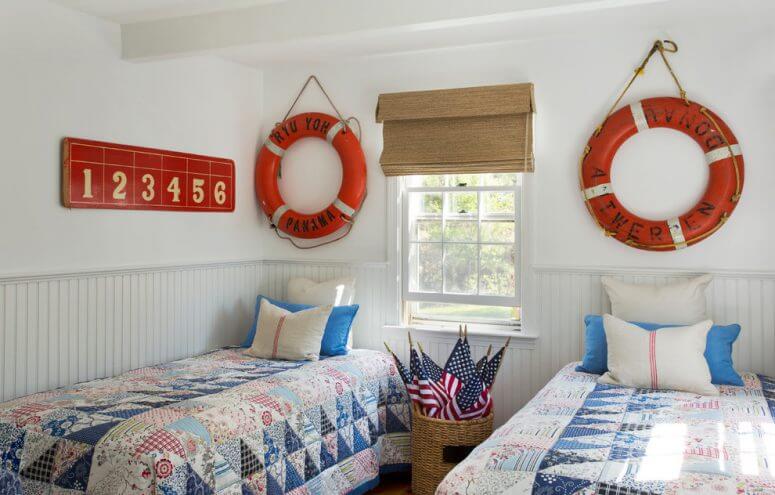 The swimming tubs that are pinned up on the walls for display make the perfect ambiance for beach-styled decor.
There are floral hues comprising blue, white, and other sandy colors covering the bedspreads. The pillow cover is a combination of white and blue.
There is a window that allows light and natural ventilation to penetrate the bedrooms. US flags cover the basket for a more patriotic flavor at sea.
With simple accessories styled right, this is a beach-themed design idea that fits into your bedrooms quite easily.
21. Wallpapers Styled Up Right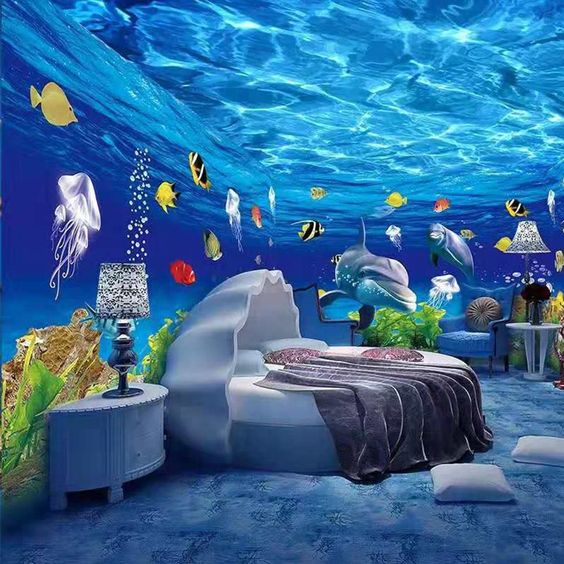 Here the wallpaper design has been done to a near level of precision. You have an underwater feel with the wallpaper decor.
Talk to an interior decorator or designer about how the theme can be worked out. You can discover a variety of pretty-looking fishes floating inside the water.
The bed has been redesigned into a mermaid-style shell bed. You can sleep on it like a Mermaid Princess. It looks as though drops of water are falling into the night lamp.
Kids will enjoy re-living their fairy tale characters inside this theme-based bedroom.
22. Sea Animal-Shaped Candles Inside Your Bedrooms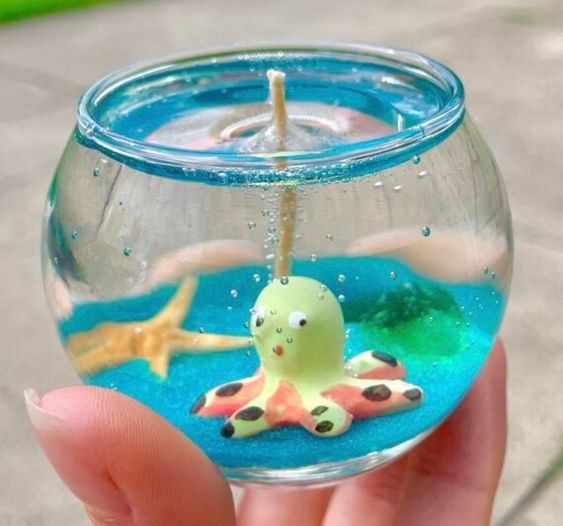 You recreate gel candles that resemble sea animals. Try shaping candles like starfish, turtles, sea horses, fishes, and dolphins. You place them into the corners of your existing bedrooms.
This way, you bring real-life characters inside your bedrooms. When you light them up, the glow will change the look of your bedrooms.
You must allow your kids to get super creative by getting them to make these candles. Buy materials with which they can create gel candles with the oceanic theme in mind.
Decorate these masterpieces throughout your bedroom. The DIY-style oceanic theme idea is for the world to see.
23. Sea Animals Through Wall Paintings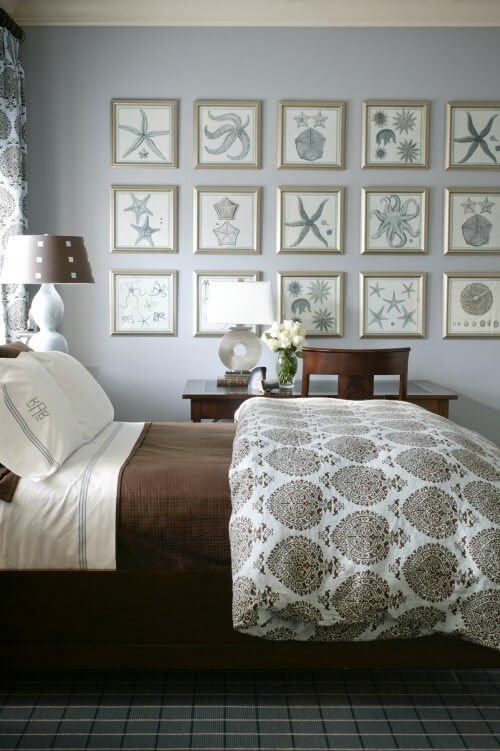 Try hanging pictures of sea animals through wall hangings or paint portraits.
These include sea creatures like starfish, octopuses, fishes, sea horses, fishes, dolphins, and other schools of animals belonging to the ocean.
Paint them on a canvas and get the pictures framed. Or, you can look for wall paintings from a store. The brown foam has a contrasting white-brown bedspread added to it.
The table lamp also takes a shade of brown. In total, the accessories complement the overall decor of the bedroom.
24. Create Comfy Bedrooms with Subtle Oceanic Patterns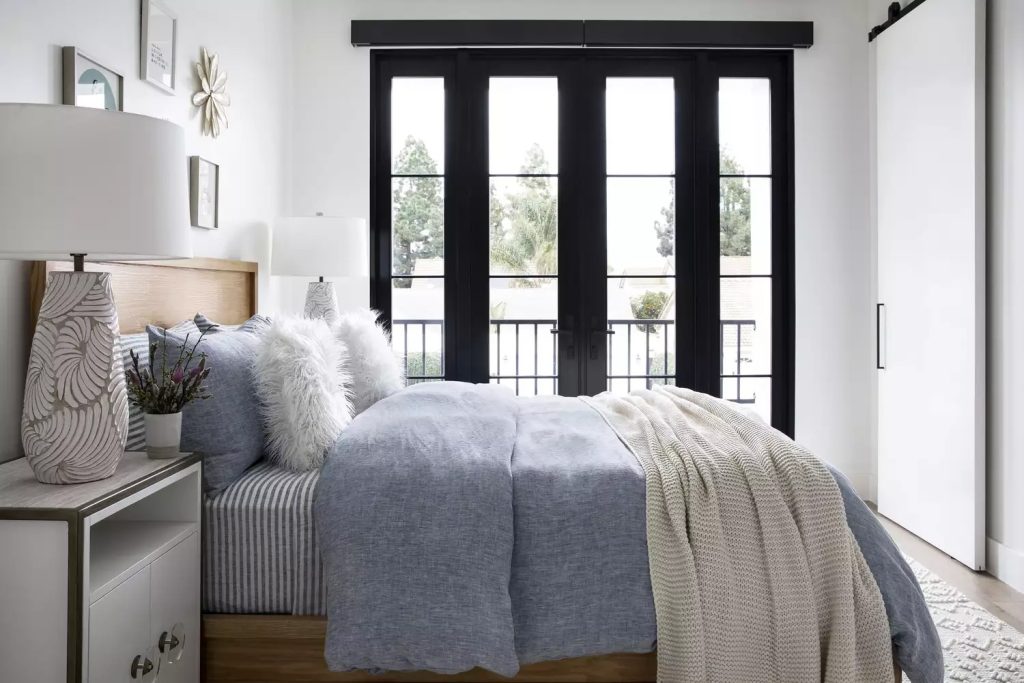 You have softer hues like pastel blues, whites, and creams added to bedspreads, cushions, and pillow covers. The table lamp looks trend-setting with its creme and off-white hues.
The window pane is generously spaced to allow plenty of natural light into the bedroom. The beach vibes are created with sea and sand colors on the whole.
A simple yet glamorous idea for a beach theme design. You either add accessories or decide to keep things this way.
25. Geometric Patterns Inside a Beach Bedroom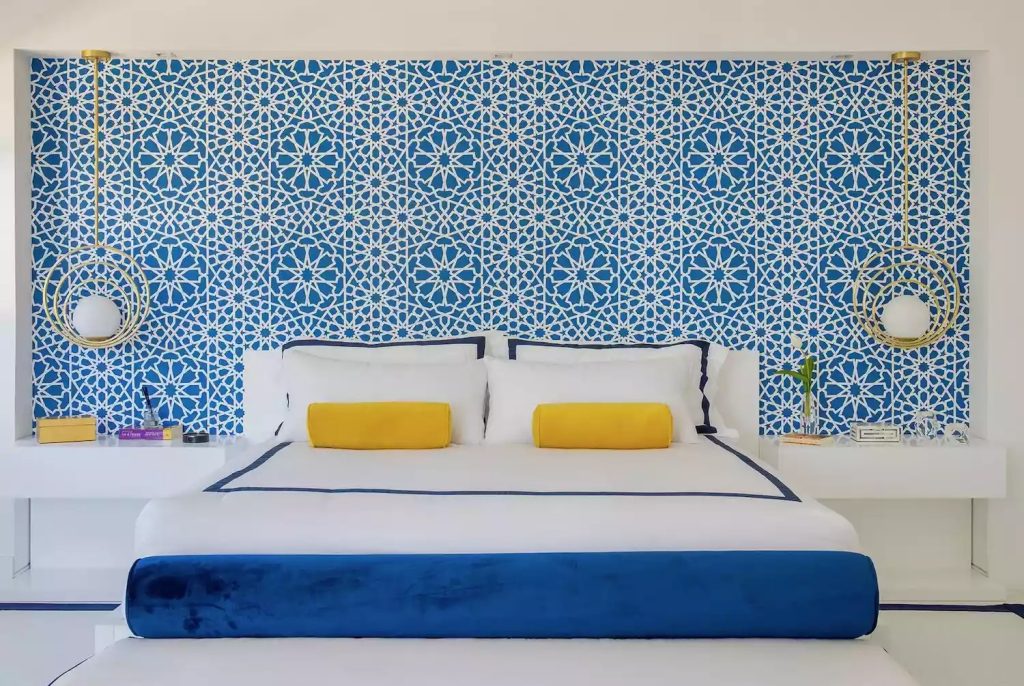 Geometric patterns always catch the looks of any room. Don't you love the geometric pattern covering the bedroom wall with hues of blue and white?
So, the oceanic bedrooms remind us of the sea and the sand. The pillow rugs are yellow. You find contemporary-styled night lamps put up on each side of the bedroom.
The classic lovers would love the beach theme idea, after all. You add sparkles or sea caricatures that overlap the geometric patterns. Stickers can be pinned up on the walls too.
Likewise, you discover plenty of ideas you work around with.
Summing It Up
All in all, you have seen 25 coastal bedroom ideas that look pretty and are easy to execute too. DIY styles or wallpapers can bring the oceans to your very own bedroom spaces.
Using sea shells or decorative decals, beautify the sea-based bedrooms. Allow your kids to help you with painting bedroom walls or helping them decorate accessories inside the room.
Stuffed dolls can also enliven your spaces in an incredible manner. Engaging the whole family can help you complete DIY projects sooner than you had imagined.
You can also spend quality moments with each other inside the sea bedrooms. Beach house trends prove to be way more inexpensive than going for a real beach holiday.
Allow plenty of light to enter the bedrooms for that cozy and comfortable feel. Oceanic vibes in bedrooms unveil a magical touch to the art of designing your spaces.
Which is going to be the styling idea you would love to incorporate right away?