Are you looking for modern backyard ideas? The term "Modern" in the context of architecture is often used interchangeably with "Contemporary." This is, of course, an incorrect practice as both are two very different styles of architecture.
This is, however, not entirely baseless, as both types use many similar elements. Some of those elements are a clean and decluttered layout, strategic use of geometric shapes, symmetry, and consistency.
Opting for modern landscaping is becoming an increasingly popular practice. More and more homeowners want backyard spaces that are designed in a non-traditional manner that is also functional.
Patios and hardscaped backyards are more popular these days as people wish to have an equally well-decorated outdoor space.
And if you, too, are on the lookout for some inspiration regarding your garden or some modern backyard ideas, then here is your chance to seize it.
Modern landscaping ideas may feel like its too difficult to execute. The reason behind this is that the look of a modern garden is much different from the usual decor that we are used to seeing.
However, as long as we stick to the basic rules of this architectural style, it can be pulled off easily.
Modern Garden Design & Backyard Landscaping Ideas
Here are 20 modern backyard ideas for landscaping that you should check out.
1. Get a Pool In Your Backyard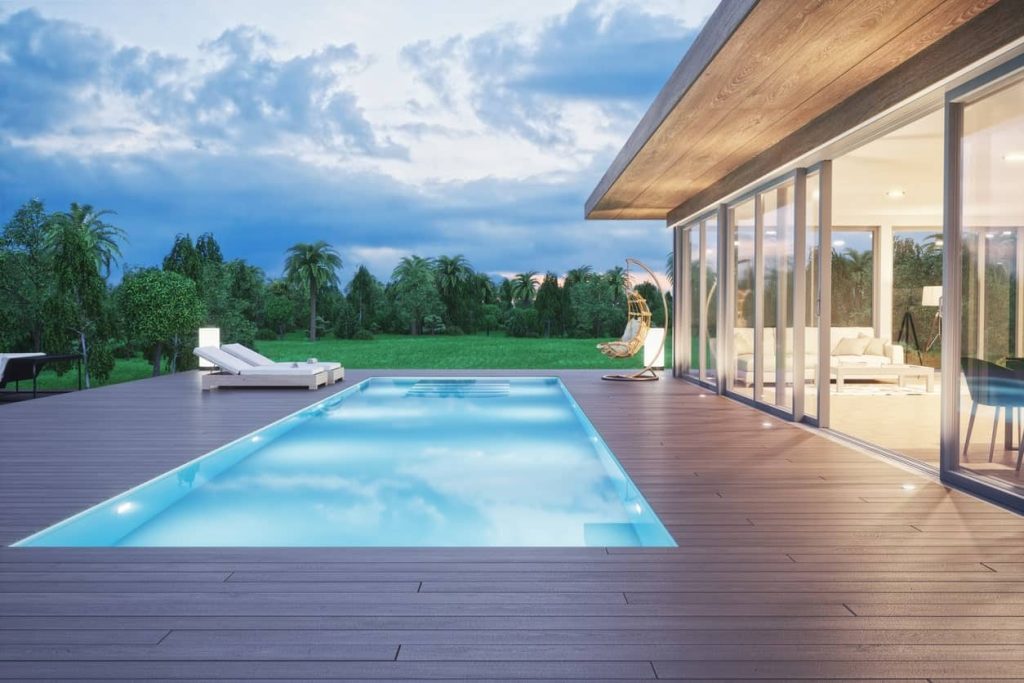 Let us start with something timeless. Having a pool in the backyard is not a new idea at all. But the result depends on how you execute the idea.
In this one, the details are kept as minimal as possible. The huge space is utilized to build a natural wood deck that surrounds the sleek rectangular pool.
The floor and pool level are kept the same to bring about consistency in the look, and the only other addition to the backyard deck is a pair of beach lounge chairs and a swing egg chair with a stand.
2. Garden with Square Pavers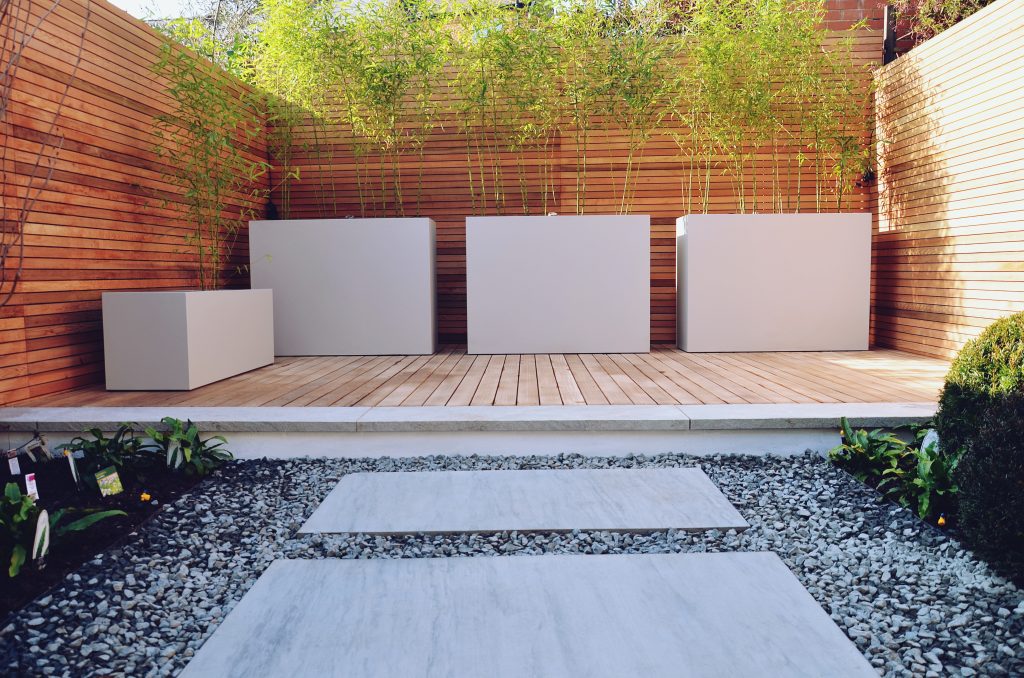 While we are on the topic of making use of geometric shapes in modern backyard ideas, have a look at this backyard garden with square-centric landscaping.
While a decluttered look has been maintained, it is also visible that much attention to detail has been paid.
The ground has been kept simple with gravel, and a walkway with square pavers has been built in the center. The walkway is flanked on both sides, with rounded edges and smaller shrubs.
The central focus, however, is the raised deck which houses the concrete square planters for taller plants while the walls around the deck have been covered with wooden logs.
This is a put-together and unique idea that can be executed in a small space.
3. Backyard with Border Garden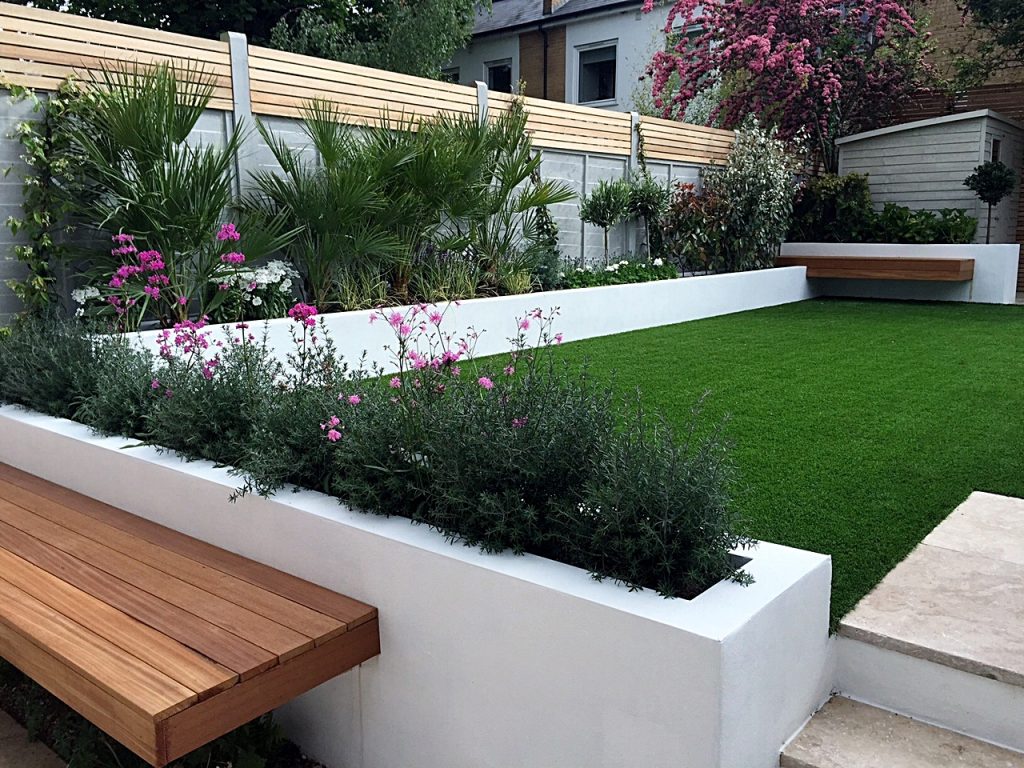 The best part about a backyard with a lot of space is that you can apply many ideas to it.
If you wish to have some garden space but also want a backyard with an open plan, then this idea is perfect for you. Here an artificial lawn has been built on a raised deck made of concrete.
Concrete planters are built along the borders of the lawn to accommodate the plants. Elements of natural wood are also included on the backyard wall and on the floating shelves that are installed as additional space for housing individual tubs.
4. Modern Grassless Backyard Idea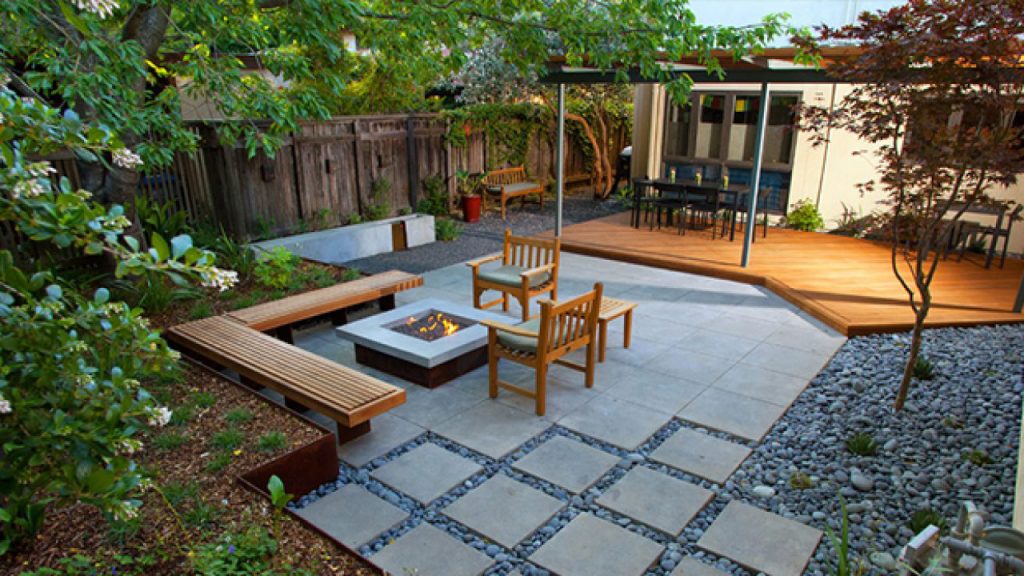 It is not a hard and fast rule that all backyard spaces with gardens have to include grass, but most seem to adhere to it.
You can choose to opt out of it and go for a combination of solid concrete flooring and square tiles or pavers. The rest of the area is filled with gravel or rounded stone chips.
A portion of the space is sectioned off for exclusive gardening purposes while the other end is utilized to build a wooden patio with a roofed seating area that can be treated as an outdoor breakfast nook.
The unique thing about this landscaping idea is the inclusion of a firepit with seating around, making it perfect for gatherings around a bonfire and intimate house parties.
5. Outdoor Seating Area
Couches are not a common sight in a backyard, but they add character to the set-up.
In this idea, you have a neat compact space surrounded by a high fence with vertical wood paneling while the ground is sectioned into a lawn and a concrete seating area that houses a low back couch with sectional seating on one side and a couple of white Skarpo chairs from Ikea.
Add additional seating to fill up the space or a table in the center to make it an outdoor dining spot.
6. A Unique Walkway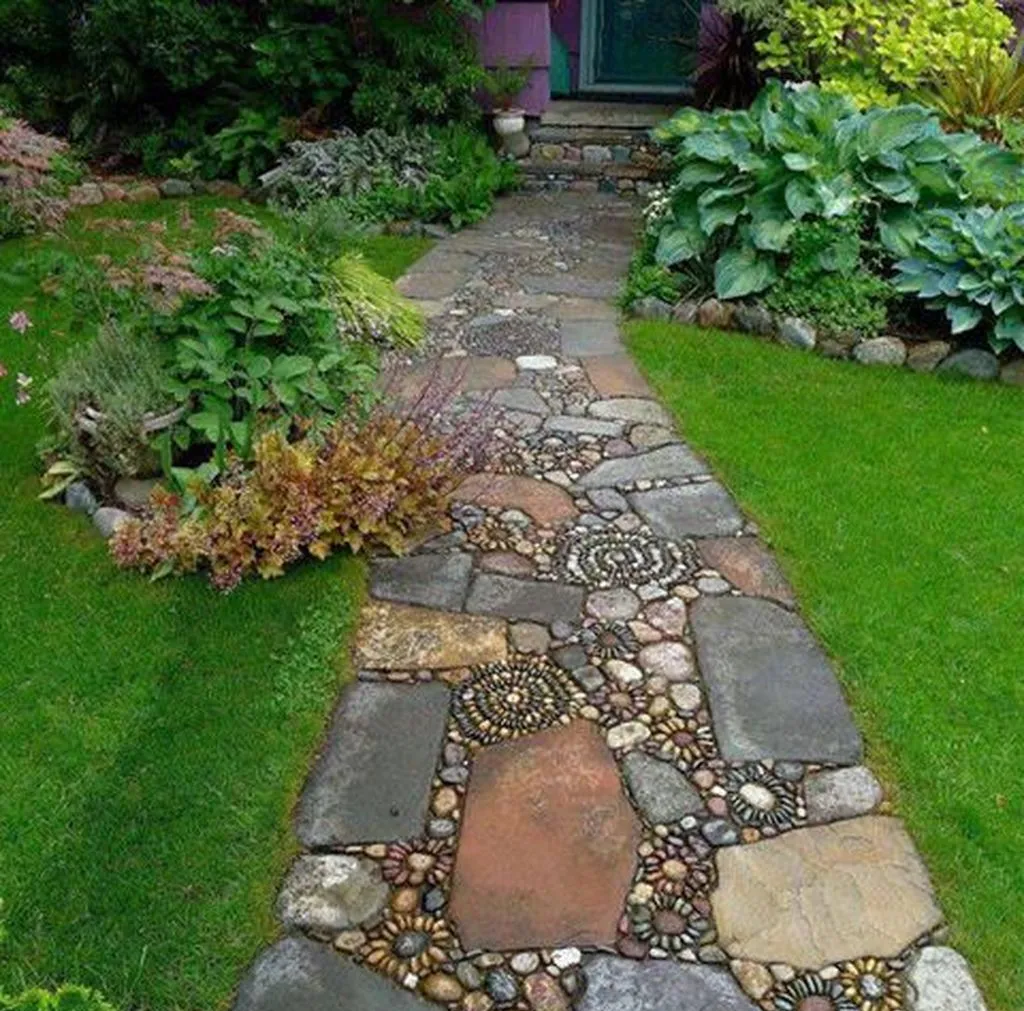 Looking for modern backyard ideas that will preserve the essence of a natural landscape artistically? Then you should check this one out.
A beautiful walkway is built in the center of the backyard, which is flanked on both sides by lush green grass and short shrubs.
The use of multiple geometric-shaped rocks that are carved on the ground is what makes this walkway unique.
It is a welcome variation in the monotonous usage of any one shape found in most modern decors.
7. Backyard Waterfall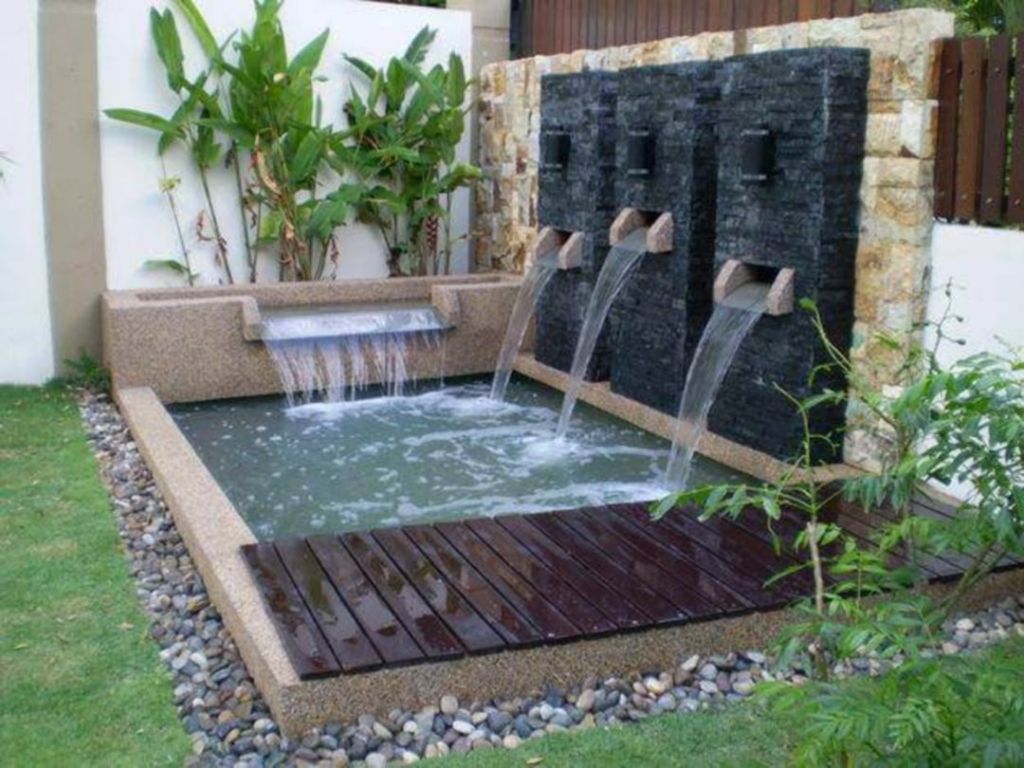 A clever way to buffer outdoor noises from road traffic or neighbors is to add a water fountain or an artificial waterfall to your backyard.
This is a functional addition that can also be the focal point of your backyard and also serves as a repurposed water supply for the garden you have.
In this particular idea, the water fountain resides at the very edge of the backyard, where granite columns are built along the wall to let in the water into a small pool built at the foot of the columns.
This a simple but elegant idea to execute that is sure to elevate the visual appeal of your backyard.
8. Go for All-White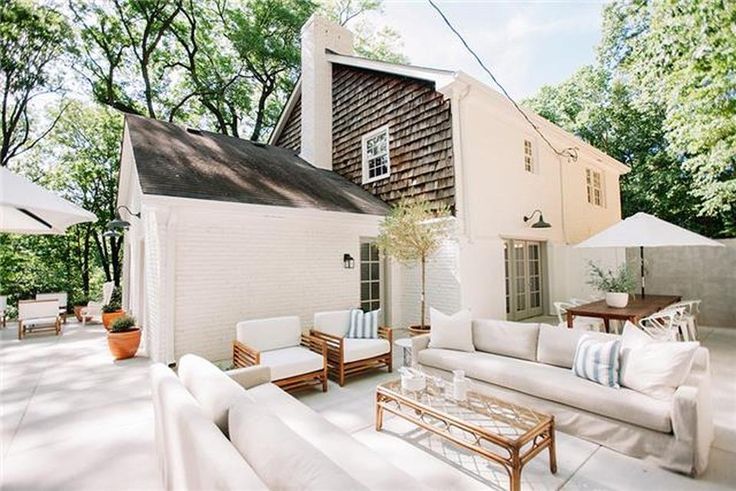 White is the color of elegance, as is clear from this modern backyard idea that keeps the main decor completely white.
The radiance of the backyard also complements the adjacent white house, but you can also choose white for your backyard landscaping, even if your house is not white.
The outdoor furniture has also been kept mostly white, with just a little contrast in the brown frames of the tables and chairs.
This simplified color palette offers tranquility to the place as well as makes it appear compact.
9. A Combination of Hardscape and Natural Elements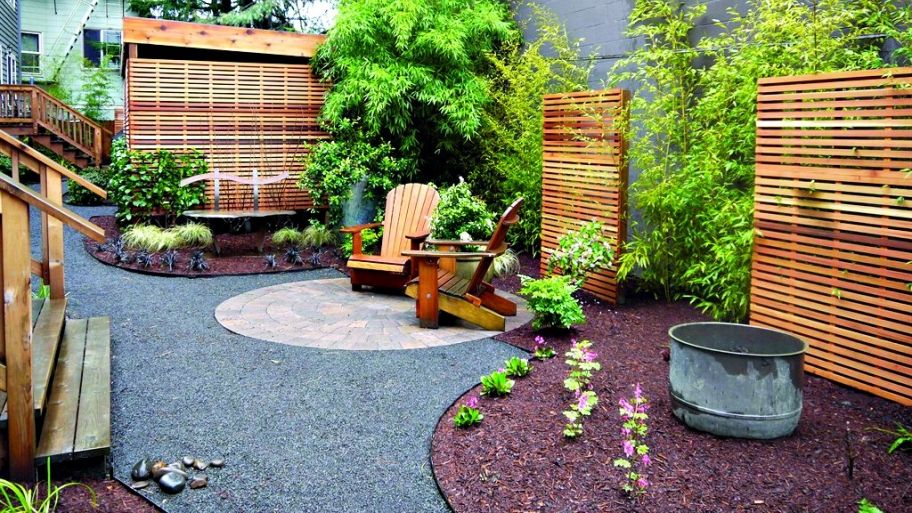 Hardscaping is a common practice to avoid the monotony of a backyard with simple greenery that has no interesting details.
Backyards are also transformed into hardscapes because they are easier to maintain. That said, opting for a total concrete design can make the decor look too stern and formal.
This sternness can be softened by keeping some natural elements of the garden intact. A proportionate balance between greenery and hard concrete is ideal.
Here the hardscaped patio includes patches of natural soil and green shrubbery to go with the wood paneling on the wall and a dark concrete floor.
10. Split-Level Garden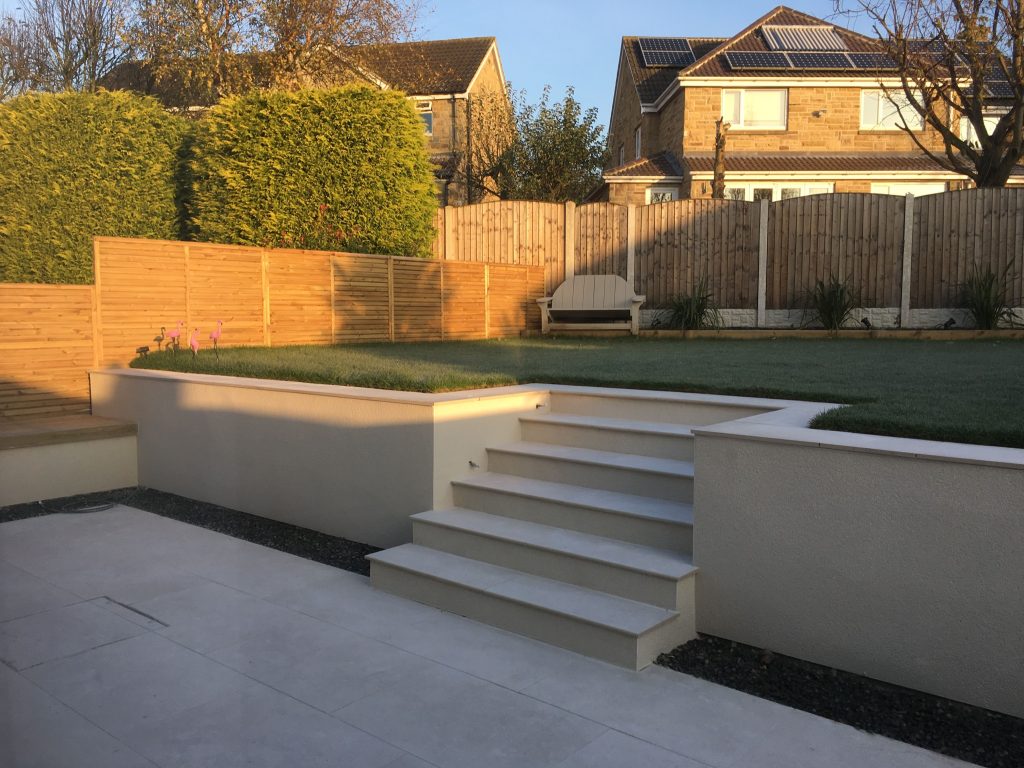 An interesting way to add dimension to your backyard would be to make two separate levels of habitable space. Narrow geometric stairs connect the two levels.
This not only breaks the repetitiveness of a flat landscape but also makes the place look more open.
The raised portion of the backyard that houses the lawn creates an illusion of more space than there is.
To make the place more intimate, high hedges are planted on the sides, while a combination of horizontal and vertical wood paneling is used on the main walls.
11. Backyard Deck with Lime Green Accents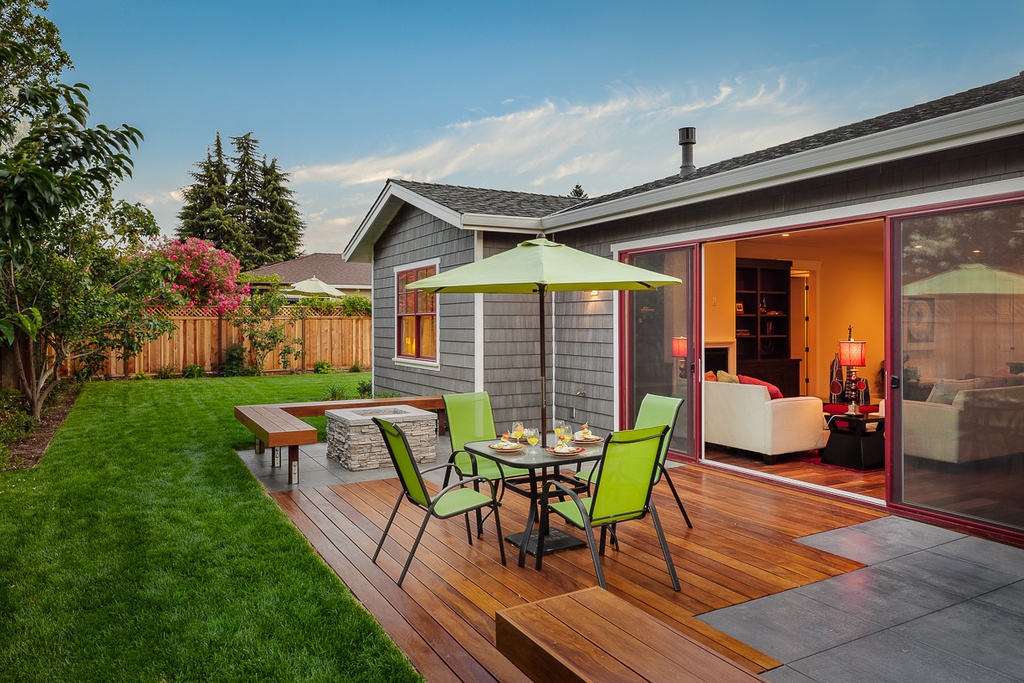 The most common alternative to a hardscape backyard is a deck that extends from the main house and ends before a dense green garden area.
This way, the backyard feels like an extension of your home and not a separate space. The usual material used for building a deck is hardwood, and this idea stays faithful to that.
However, an accent of lime green added to the deck makes the visual appeal more fun and inviting.
The items in the picture are a patio dining set with a pole umbrella in between to build the perfect little spot for casual meals.
12. Get Statement Planters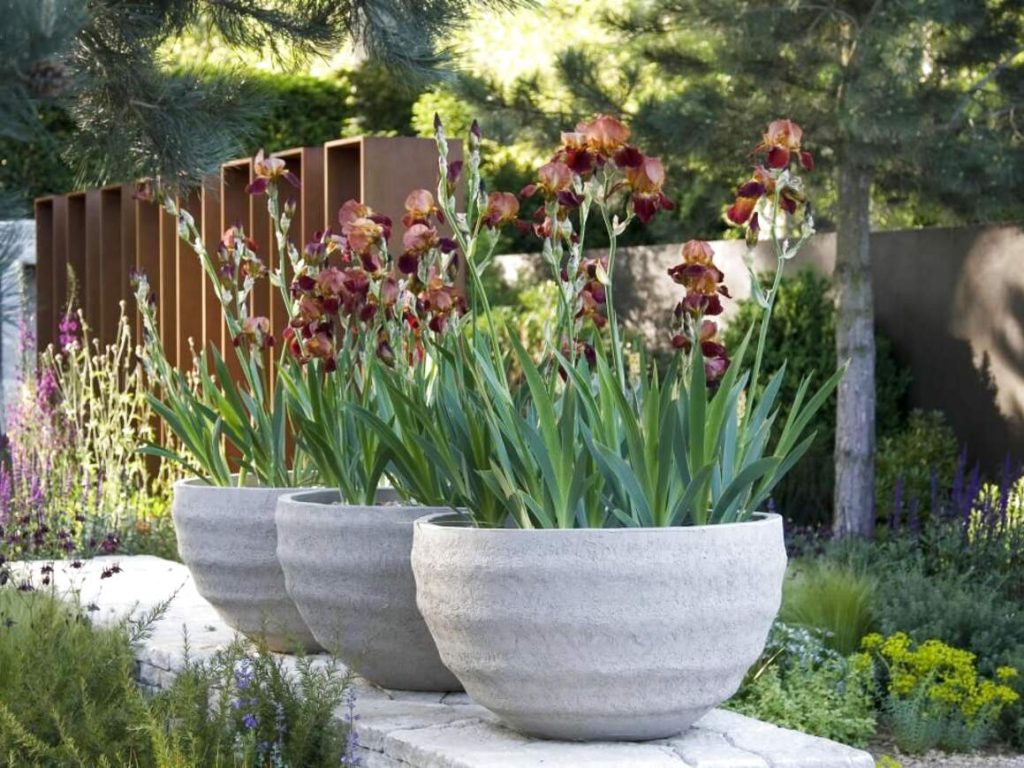 For your garden space, get large planters that make a statement in your backyard.
These are also perfect for getting a modern and contemporary look for your garden as these are simple in structure but also eye-catching.
For a consistent and uniform aesthetic, go for planters of any one shape, specifically squares, and rectangles, but you can also opt for softer shapes such as oval for a more homely appeal.
13. Go for a Black and White Color Pallete
The combination of black and white may be termed bland, but in terms of home decor and landscaping, this duo is quite popular because of the modern or contemporary feel that it has.
The same goes for your garden design; we're going for a black-and-white color palette that will instantly add a classy touch to the space.
The featured idea shows a backyard with three different levels, one of which has a charcoal-colored composite deck which is also the seating area.
14. Add a Low-Seater Sofa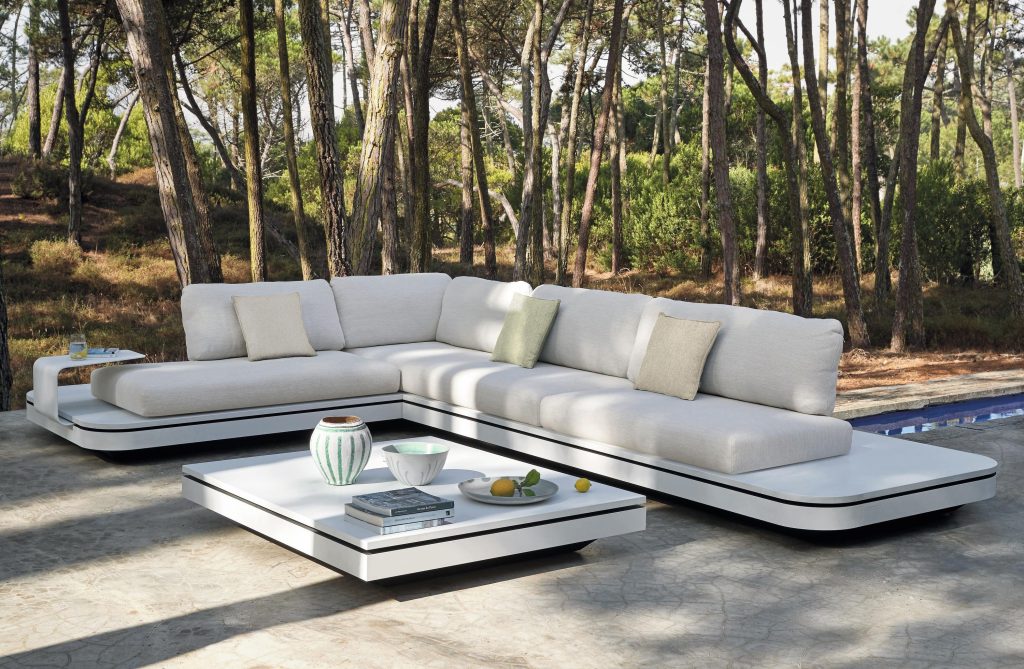 Low-seater sofas are a common sight in modern and contemporary decor ideas. The low height of the seats helps a place to feel more open and have a clean and decluttered look.
This is why you should consider such a sofa as the main seating option in your hardscape backyard. Go for an all-white low seater for the ultimate classy modern look, and pair it with a white low coffee table.
15. Keep the Decor Minimal and Low-Key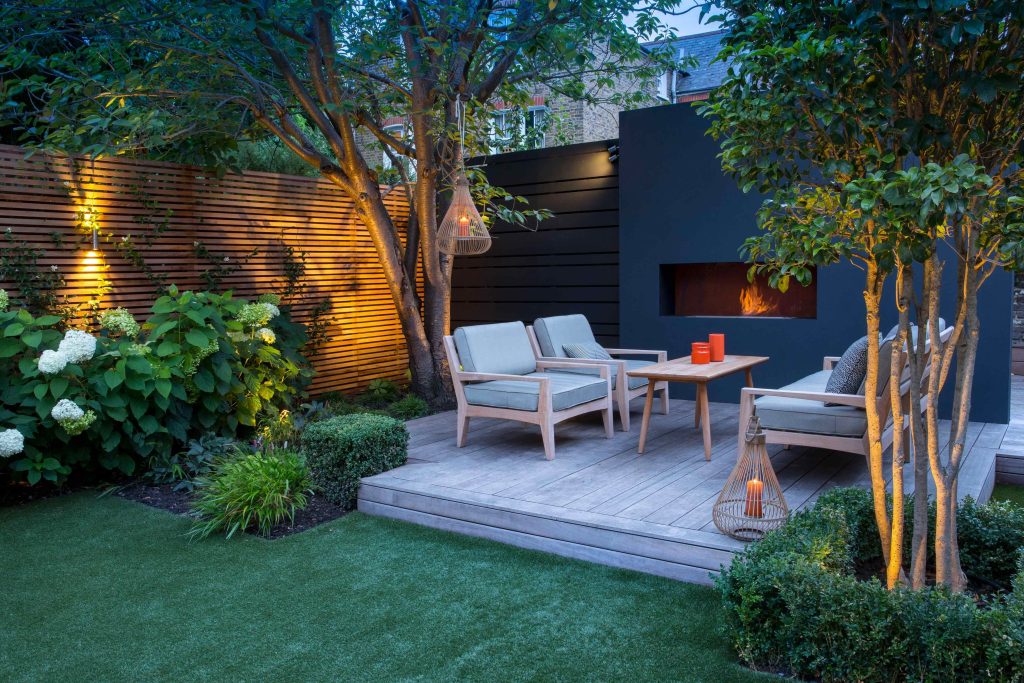 One of the things that is most noticeable about modern landscaping is its simplicity. There is no need to go overboard with the decor and add items that have no practical function.
In essence, avoiding loud things is the key to a successful modern garden. Saving the practical things, the place should be kept as open as possible. Chic and classy is the goal.
16. Try a White Fence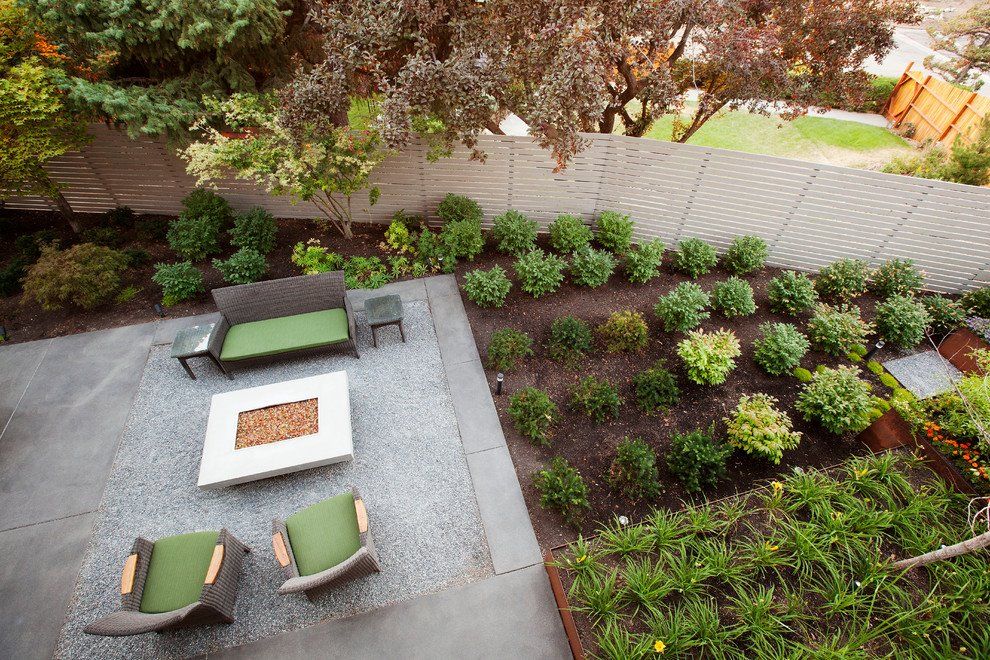 It is quite common to install fences in a modern backyard design, but in most cases, you will see the fences are of natural wooden color. Why not get creative and paint the fence over into an elegant white? By now, there's no need to convince you further how sophisticated white looks. If you indeed are opting for a neutral white color palette for your backyard, the most suitable option will be to add a white horizontal fence.
17. Add Multiple Textures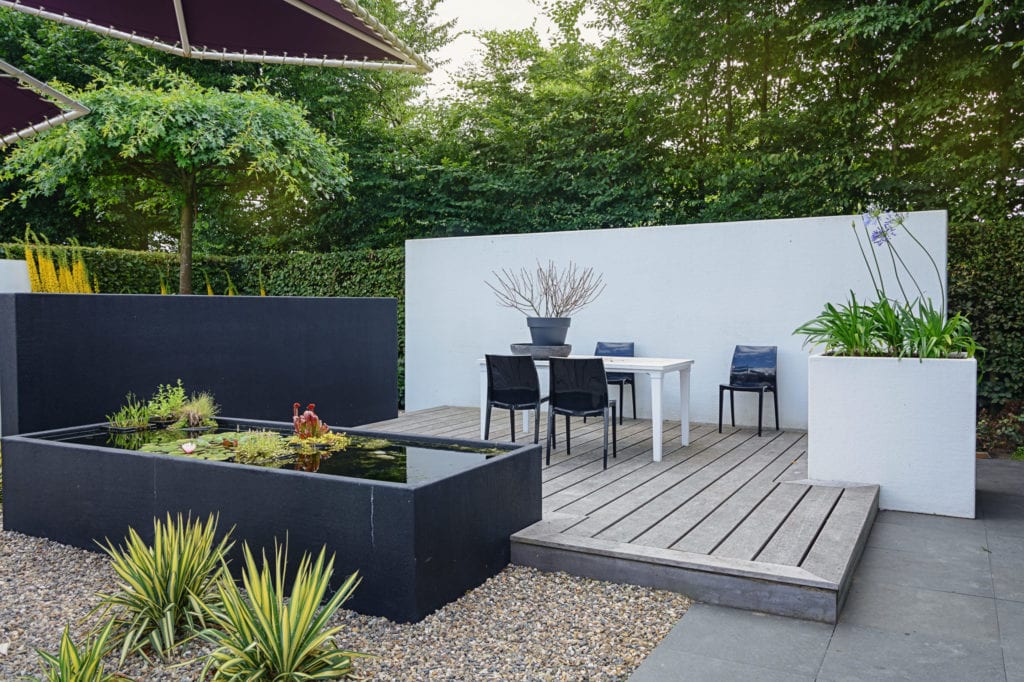 Playing with textures is a vital element of modern landscape designs. Because the decor is kept minimal, interesting details are added by using different materials with varying textures.
This is also a good way to break the monotony that might occur due to the usage of any one material. Here, wood, porcelain, and concrete have been used, and the multiple textures add on to make the space more luxurious and innovative.
18. Consider Adding a Pergola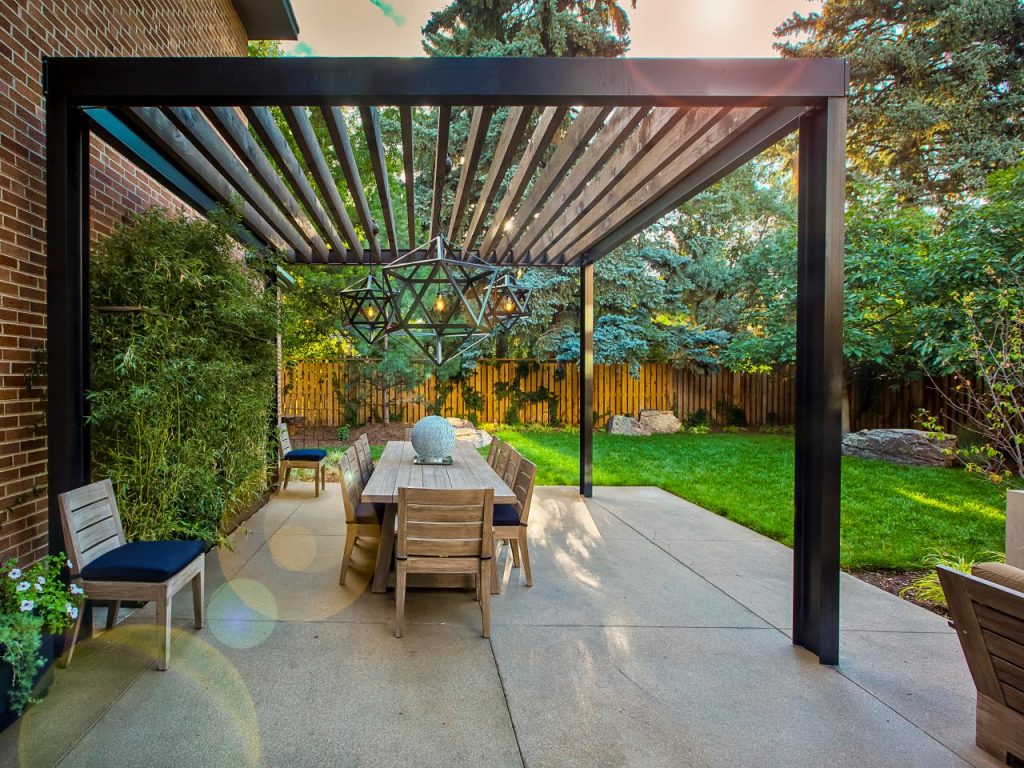 Pergolas are a very creative way to create a shaded spot without spending too much effort. The space it occupies is also quite minimal.
Overall, they are fashionable and sleek structures that are perfect for a modern backyard. Depending on how much space you are working with, you can build the pergola accordingly.
This will essentially be a secondary living hub and can be your shelter for when the sun gets too much to bear or when it rains.
19. Add a Modern Firetable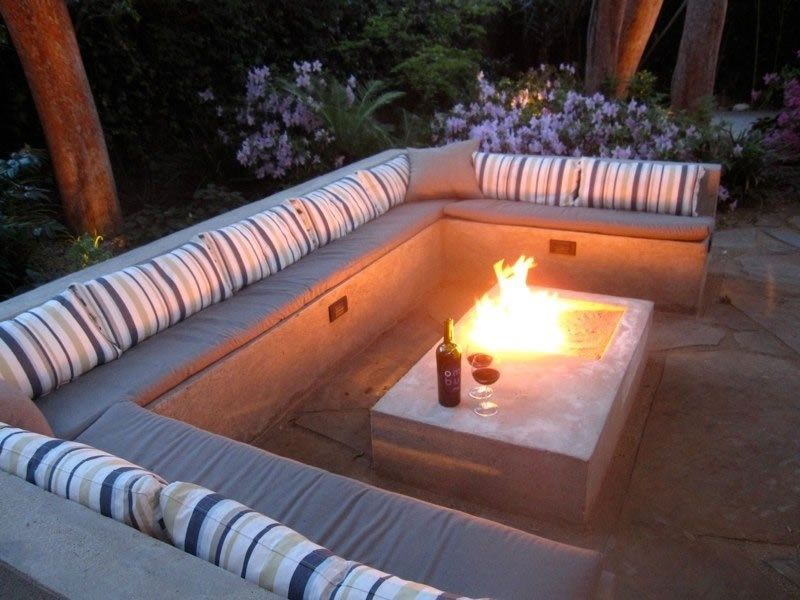 If you are on the lookout for modern backyard ideas that also have a functional aspect, then consider getting a fire table for your outdoor space.
Fire tables have the same purpose as a firepit, but they are classier in design and pose fewer risks in general.
Go for ones that have a minimal design and structure to get the modern or contemporary visual appeal.
Fire tables are stylish and trendy and are perfect for when you want to host outdoor house parties or have an intimate bonfire gathering.
20. Choose the Right Plants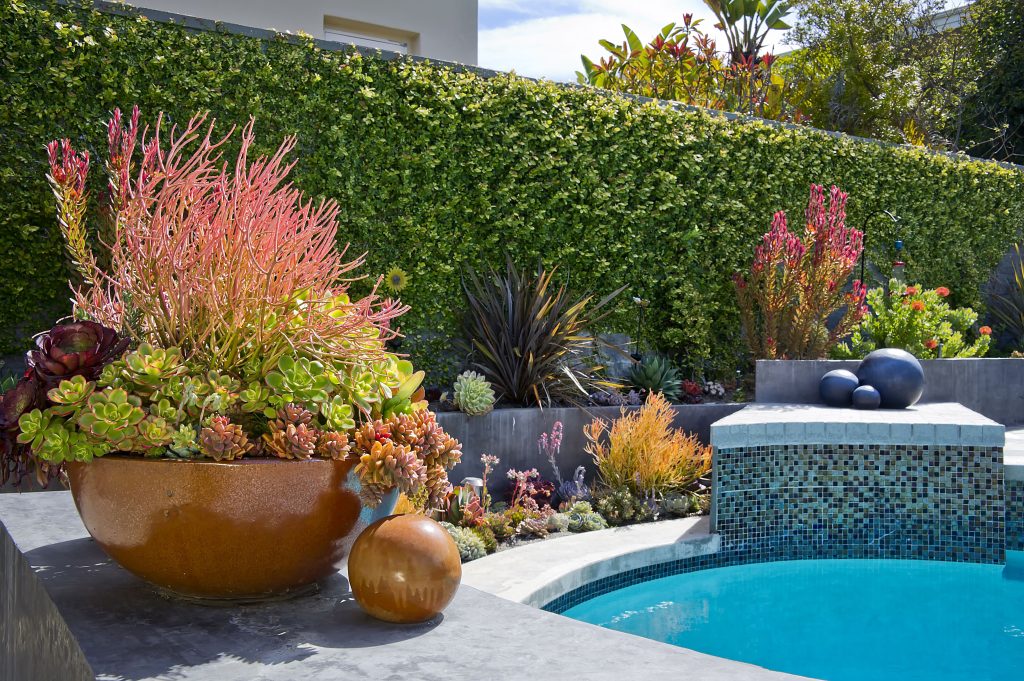 What plants you choose to add to your backyard garden also plays a big role in the decor.
While bright and vibrant foliage is the usual type of foliage that people prefer, they have to be left behind for modern backyard ideas and designs.
Tall sculpted plants that are also vibrantly colored fit best with this architectural style. Examples of such plants are Succulents, Cacti, Allium, Ornamental Grass, and Japanese maple.
These plants, with their compact growth patterns, blend in with the decor without affecting the organization.
Summing It Up
All in all, the bottom line is that the modern style of architecture focuses on organization, simplicity, and functionality above everything.
The open planning and layout of modern spaces might make them look empty and scarcely furnished, but in reality, they are just perfectly designed spaces that cater to all possible needs of those inhabiting them.
Space is not a constraint as most of these ideas can be executed in both backyards that are vast and expansive, as well as ones that have limited space. So, what more are you waiting for?
Start using these new ideas for the best backyard space ever!