Do you love gardening but hate the stress of digging and drilling? Worry no more! You can enjoy the ease of gardening without digging up the soil. Raised garden beds are ideal for those who do not want the hazards of digging garden beds to plant flowers or veggies.
Also, raised garden beds can be set up anywhere, making them ideal for seasonal gardening. You can even place raised beds on your patio, porch, or balcony. So, when you lack garden space, you can utilize them to grow your favorite plants or herbs.
The best part of raised garden beds is they are inexpensive, and you prepare them on a DIY budget. Also, doing it yourself and preparing the garden bed is a fun project you can do on weekends. So, keep reading if you want to know some creative and cost-effective raised garden bed ideas.
Here we will share some inexpensive raised garden bed ideas to try this year.
Easy and Inexpensive Raised Garden Bed Ideas
Raised garden beds help grow plants, veggies, and flowers without digging the ground and weeding. Also, you can buy soil instead of preparing it at home. Wakefield Biochar is premium quality garden bed soil for your raised garden bed.
Following is a list of 15 cheap and effective raised garden beds.
1. Use Plastic Carts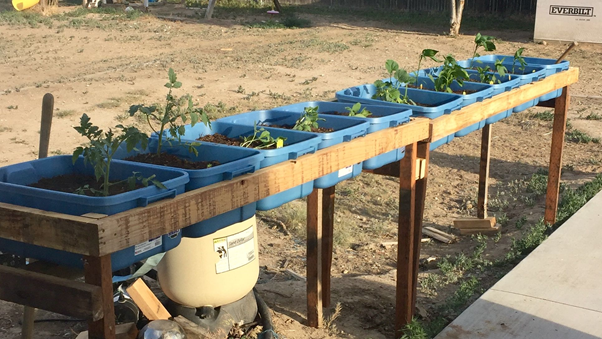 Recycling plastic is essential to reduce pollution and promote green earth. Plastic carts are easy to find and, most of the time, dumped outside once used. These plastic carts can make an excellent option for inexpensive raised garden bed ideas, as you can collect them from a local shop or online with small expenses. Also, you can use your plastic carts like garage carts or used plastic box organizers to transform them into cheap and beautiful raised garden beds. Just pour some compost soil and place them in a suitable place, and they are ready to grow plants. You can also plant climbing veggies and remove them later (off-season).
2. Repurpose Wood Pallets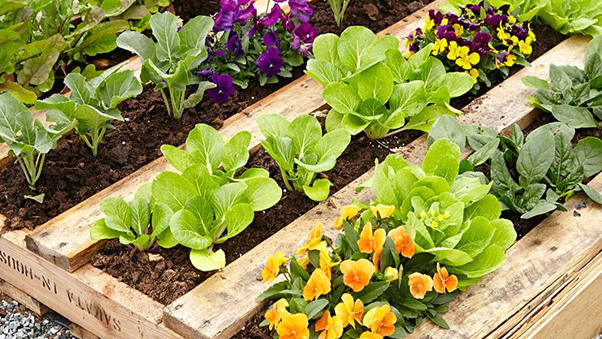 Wood pallets are another attractive option you can try when searching for some inexpensive raised garden bed ideas. Wood pallets are used for commercial purposes, and you can get old pallets from local stores for a minimal or no price. You can stack up the pallets or use them to build a barrier for a raised garden bed. Along with that, you can also get wood pallets online at cost-effective prices. Just try Teak Tuning Wooden Fingerboard Pallet, which is cheap and durable. All you need to do is to arrange them in a suitable manner to add soil and plant your favorite veggies or flowers.
3. Make a Raised Bed with Local Lumber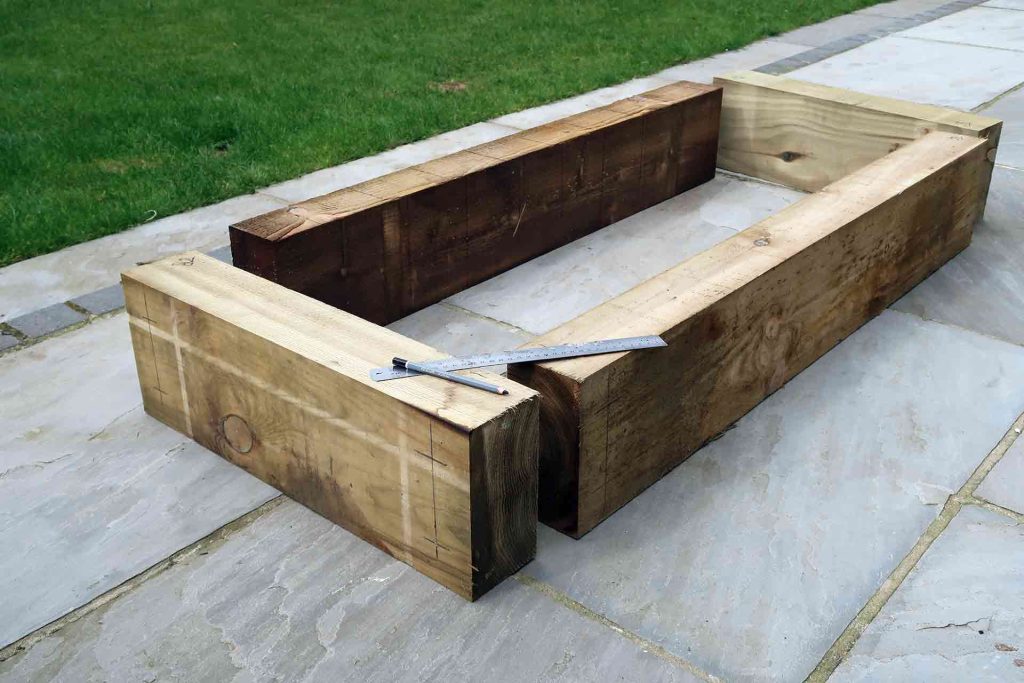 Local lumbers can also make a brilliant option for your inexpensive raised garden bed ideas. They are easy to find in local hardware stores and do not cost much. You can also purchase lumber stocks online for raised garden bed DIY projects. BILLIOTEAM unfinished lumber stocks are quality wood for woodworking and come at low prices. Attach lumber one by one with kneels and hammers, design your unique garden bed structure, and place them in your garden or outdoor patio. Also, you can even customize the shape and size according to your needs.
4. Use Planters for Raised Garden Beds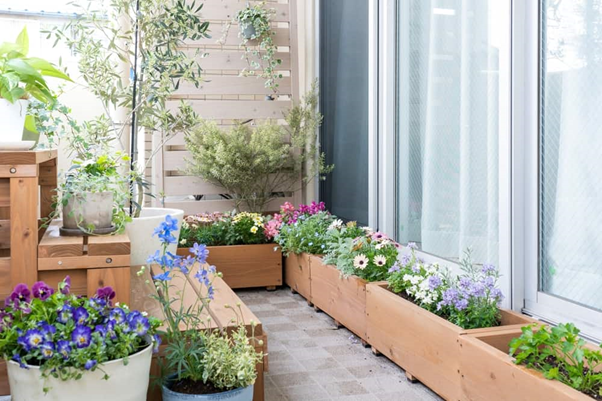 Many people use planters, especially tall planters, for ornamental plants. But you can use tall planters for vegetable plants like tomatoes with a deep root system. Planting such plants in tall planters will make them robust and bear more fruits than plants in a shallow garden bed. You can buy tall planters or repurpose them if you have old ones to create inexpensive raised garden beds. This hassle-free gardening method can benefit people who cannot afford strenuous physical labor to plant some seeds, care for the plant, or during harvest. Also, who would want to be on their hands and knees whenever they need to pluck a ripe tomato?
5. Try a Table-Raised Garden Bed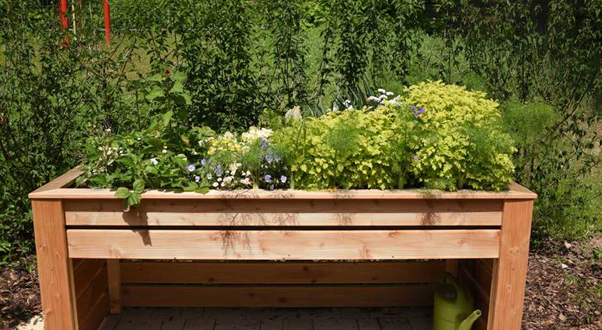 Table-style raised garden beds are popular nowadays, and you can find thousands of online tutorials on DIY table-style raised garden beds. This DIY project involves repurposing old table legs or entire tables. They also look gorgeous in the garden or patio and can control bushy and dwarf plants. You can install them on your patio or garden sides and plant your favorite flowers or herbs. So, if you have any old tables or table legs, repurpose them and make beautiful raised garden beds for your home. You can ask someone to help you with woodworking and make raised garden beds at home.
6. Opt for Tiered Raised Beds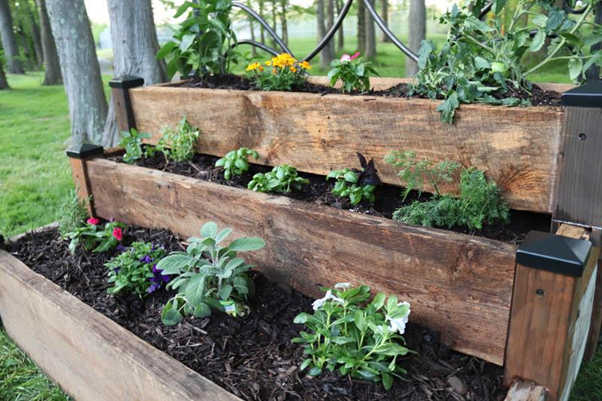 If you are searching for some inexpensive raised garden bed ideas that are appealing and decorative, you can opt for the tiered raised garden beds. Tiered raised garden beds can take your raised garden beds to another level and add a creative touch to the place. Also, creating tiered raised garden beds is easy and does not require much money or tool. For instance, if you have small wooden raised garden beds, do not line them up in your garden; instead, stack them up with a bit of creativity and see the magic. You can stake them in stairs or try star or abstract style staking.
7. Repurpose Wooden Cabinets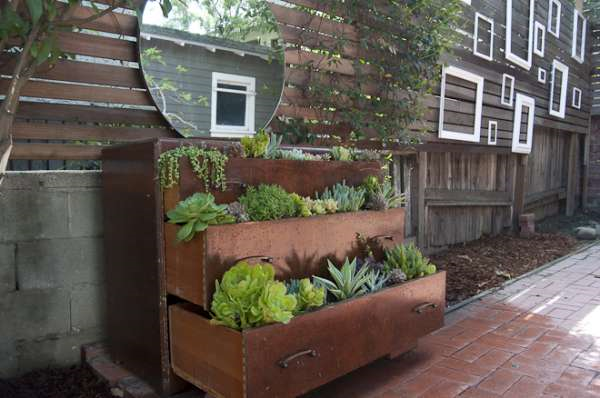 Wood furniture is common in households, and if you have some old wooden cabinets, you no longer use them. Then you can repurpose them to create a beautiful raised cabinet-style garden bed. The cabinet-style raised garden beds are durable and can create a rustic look. It is one of the most popular inexpensive raised garden bed ideas that use repurposed furniture to make raised garden beds. The best part of cabinet-raised garden beds is that you can place them anywhere, like, a porch, balcony, etc. Also, you can install a repurposed cabinet-raised garden bed inside your bedroom or living room to give your interior a fresh touch.
8. Try Budget-Friendly Cinder Block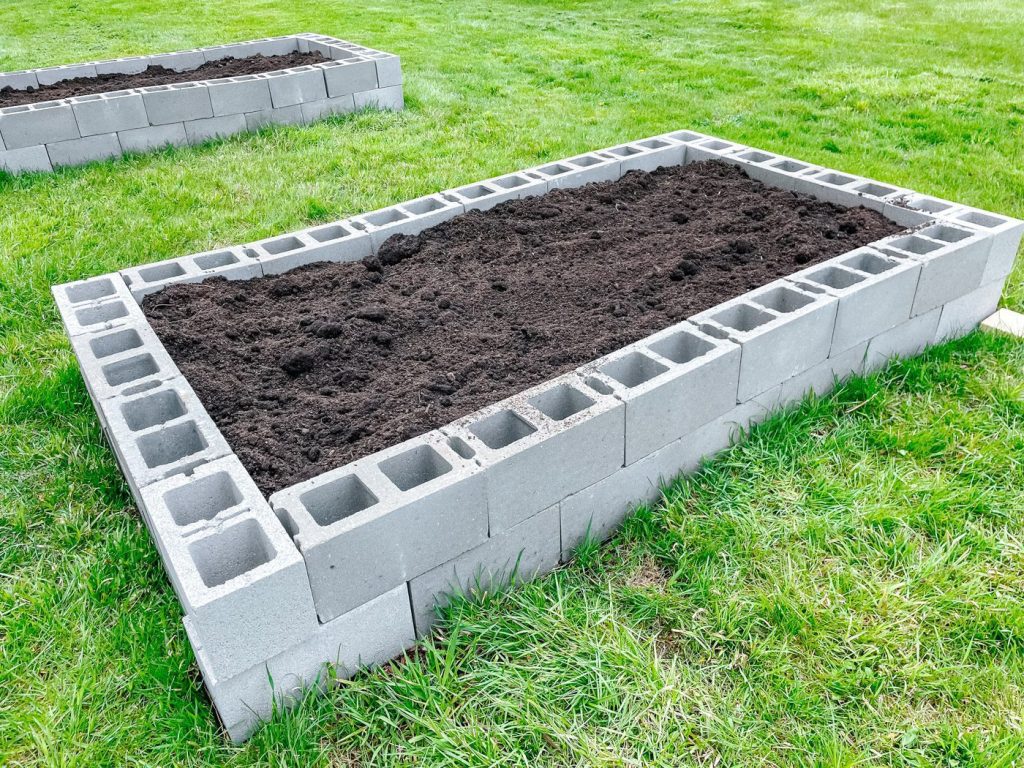 Cinder Blocks are readily available material you can find in your local store or online. They are also cheap compared to concrete garden beds but work similarly in terms of durability or sturdy nature. You can also collect them from friends or neighbors who have leftover blocks for housework. You can line them up in your garden or create beautiful shapes and fill them with compost soil to plant flowers, veggies, or herbs. But if you do not have anyone to ask for cinder blocks, you can use a concrete mold and some cement to make your Cinder blocks on a cost-effective budget.
9. Repurpose Garden Wheelbarrow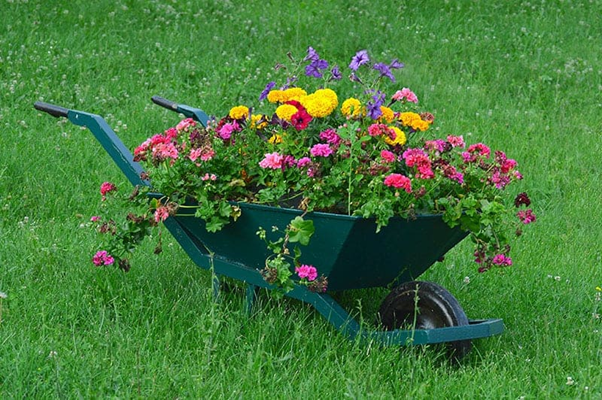 Most of us have garden wheelbarrows to carry garden waste, soil, and sometimes plants while transplanting them to a new place. Once the garden barrow becomes old and rusty, we dump them outside or put them in the corner of the backyard. But do you know old wheelbarrows can become beautiful raised garden beds for your new batch of plants? All you need to do is to be a little creative. If you do not have a garden wheelbarrow, you can purchase a DIY repurposed wheelbarrow or wagon to grow beautiful plants and flowers. Try Collections Etc Amish WagonCollections garden decorative planter for a cost-effective yet beautiful raised garden bed.
10. Repupose Metal Tables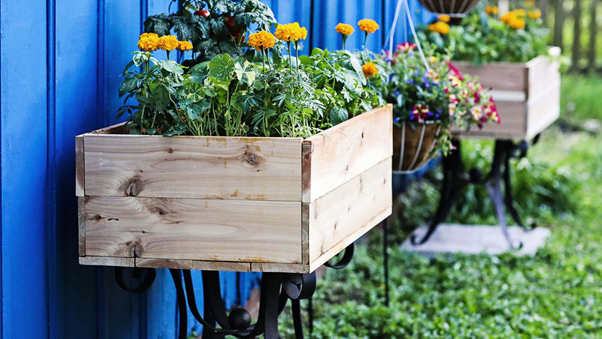 Searching for some inexpensive raised garden bed ideas that are sustainable and stylish? You can transform your metal tables into a beautiful raised garden bed for indoor/outdoor usage. Most of us think that our metal tables on the patio are for serving drinks or keeping small things. But if you think out-of-the-box, you can use them as house or garden planters to display greenery. For instance, paint them in vibrant colors or plant bright flowers and place them in your garden or outside your patio. But you can also use Giantex Raised Garden Bed for your plants that work similarly to a metal table and come at a low price.
11. Use a Ladder with Pots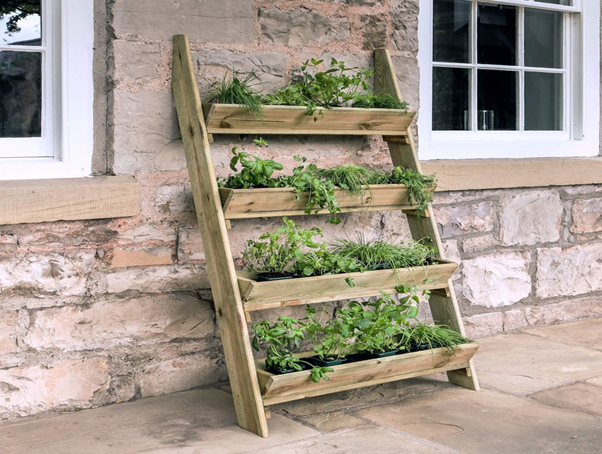 Try the ladder with pots if you want cost-effective raised garden bed ideas that take up little pots. It is a straightforward yet effective method to keep many plants in a small space. If you have old metal or wood ladders at home, place them against your room or garden wall and fill them with your favorite plant pots. It can store many plants in a small space using the ladder steps. Also, you can find similar products in online stores that are cheap and functional. Mederla Foldable Ladder Plant Stand is an ideal option for inexpensive plant storage.
12. Repurpose a Vintage Bathtub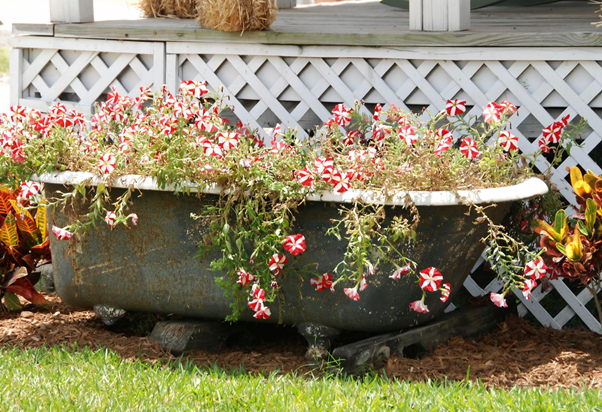 Some people love vintage setups, and if you, too, have a vintage soul, you will love our next raised garden bed idea. Repurposing a vintage bathtub into a beautiful raised garden bed can give your space a rustic, vintage look. Bring your old bathtub and place it in your garden, then pour the soil, and it's ready to grow your vegetables, herbs, and more. Also, if you want inexpensive raised garden bed ideas, try this no-dig raised garden bed and grow your plants. It will help grow without digging and preparing soil every time you want to plant.
13. Stitch a Cloth Bag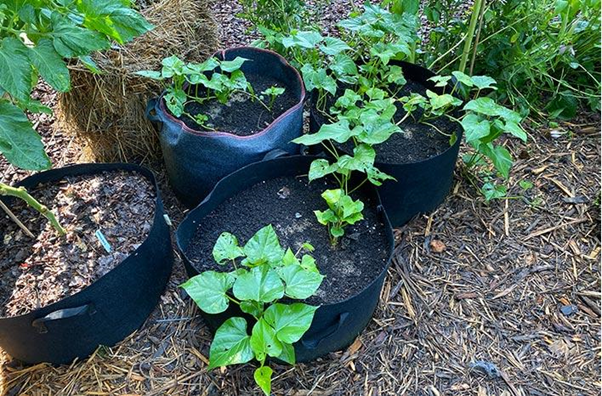 Stitching a cloth grow bag is an excellent alternative to the traditional raised garden beds. It is one of the most inexpensive raised garden bed ideas that are also safe for the environment. It does not use plastic or non-biodegradable materials; you can make them independently. Use cloth grow bags; they are durable, light, and suitable for planting seasonal and perennial plants. You can make them large or small according to your need. Then fill them with soil and plant flowers, veggies, or any medium size plant you want to keep in your garden.
14. Build a Raised Bed Above the Dog House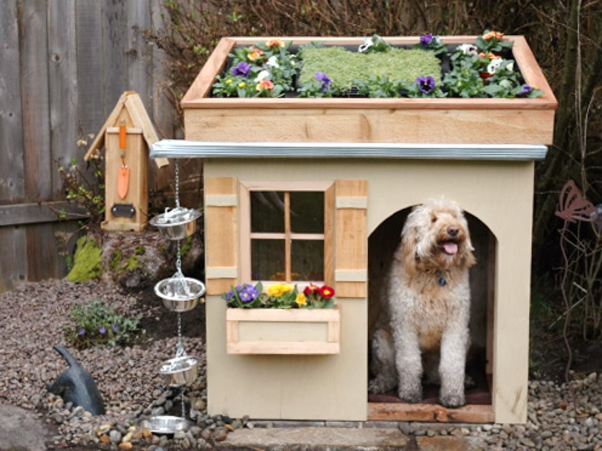 Do you have a dog house in your garden or backyard? Well, you can turn it into an extendable raised garden bed. It is a cost-effective solution that does not need much money to build a raised garden bed. You may need wood or metal planks to transform your doghouse's roof into a beautiful raised garden bed. Try Cregugua Rustic Reclaimed Wood Bundle for quality wood for your raised garden bed. Once you prepare the box, fill it with soil and compost to start planting.
15. Try a Green Roof for Your Chicken Coop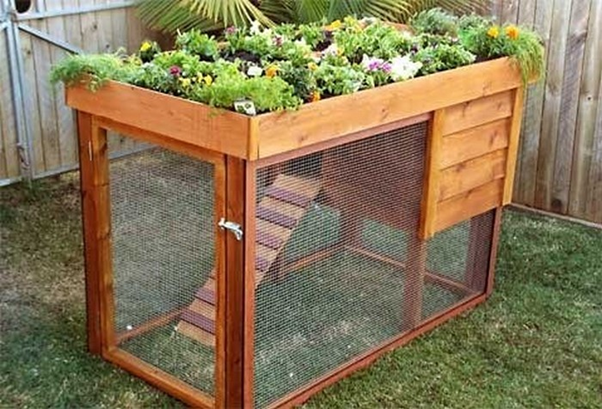 If you have a chicken coop in your backyard, you can utilize it to create a beautiful raised garden bed. Building a raised garden bed on your chicken coop's roof helps you keep plants without digging the ground. Also, when you transform the top of your chicken coop into a raised garden bed, you get the opportunity to beautify your chicken coop. You can use the leftover lumber to build your chicken coop or buy reclaimed wood to make the box over the coop's roof.
Summing It Up
All in all, planting your vegetables or flowers in the garden soil is a common way to grow them outdoors. But it is not possible to keep your plants on the ground. You may lack time and energy to dig up the soil and create a garden bed to grow your favorite plants.
Raised garden beds are ideal for people who want a light and easy gardening experience. Besides ready-made raised garden beds, you can also DIY various types of raised garden beds using common materials and repurposing old furniture.
Above, we have shared the top 15 inexpensive raised garden bed ideas. If you are interested in growing plants on raised garden beds, you will love them.
So, why waste time? Pick an idea you like and start the good work today.