Are you looking for cheap Thanksgiving table decor ideas? The best part of this holiday is the Thanksgiving feast; everything around the same is so beautiful and jovial.
During this festive season, everything is taken care of with ultimate care and precision.
Thanksgiving is also considered yet another opportunity to unleash your creativity and decorate your interior space for a happy feast and gathering of friends and family.
On this occasion of happiness and togetherness, you don't want to compromise on your home decorations, especially on your Thanksgiving table decor.
These warm and bright decors not only add beauty but also bring warmth and a homely feel to your celebrations.
Dwelving into fall-inspired or your favorite season-inspired decor with a bit of your signature style takes the decor game of Thanksgiving a notch higher.
In this article, we shall look at some of the best and cheapest Thanksgiving table decor. From color balls to flower rolls, let's have a detailed look at these stunning decor elements and ideas.
1. Everything that of Cozy Winter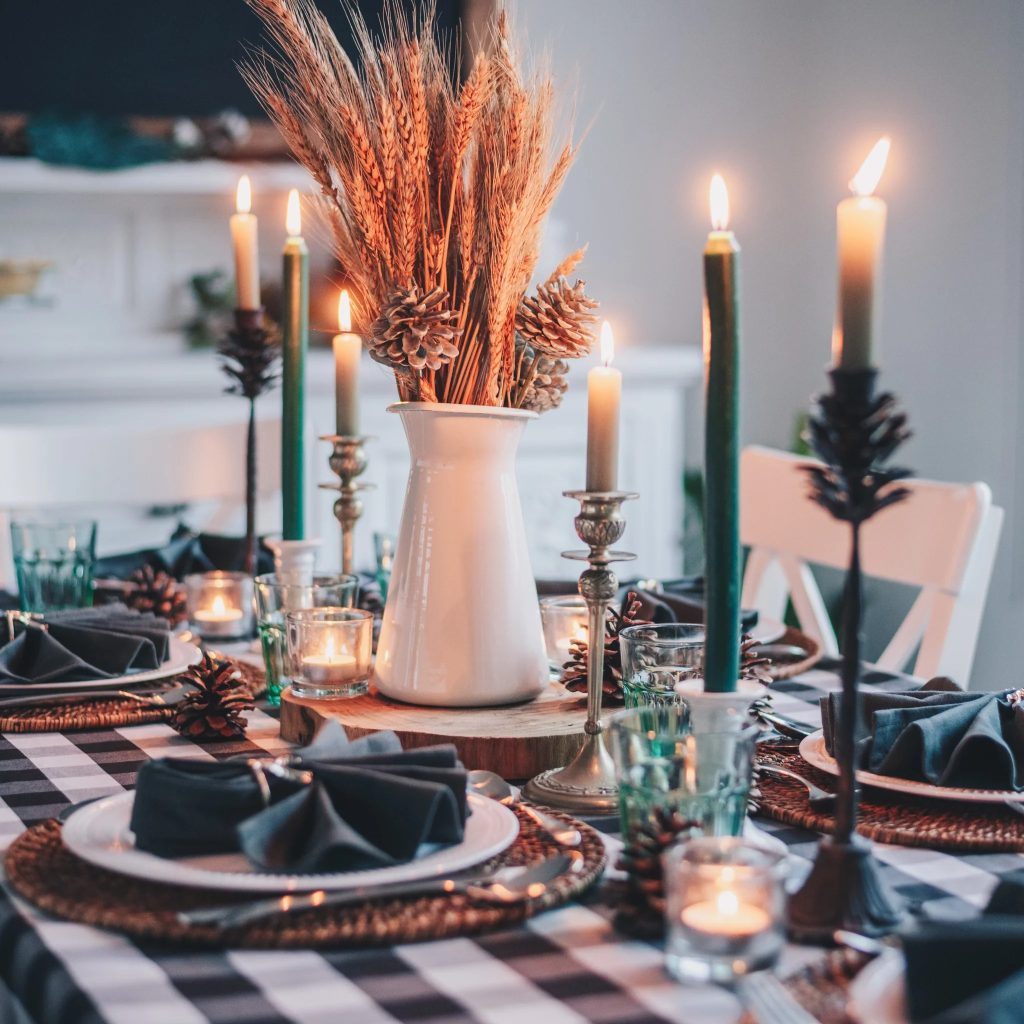 Thanksgiving falls in November, the winter season, so bringing the seasonal nature inside is always a great idea with adequate lighting and warmth.
Setting your feast table with white flowers (representing snow) with greens from cone trees along with pinecone fruits and seeds is a pretty sight without a doubt.
Additionally, a center decor piece for candle holders with a golden polished rim will do the job effortlessly and elegantly.
2. Foolproof White and Greens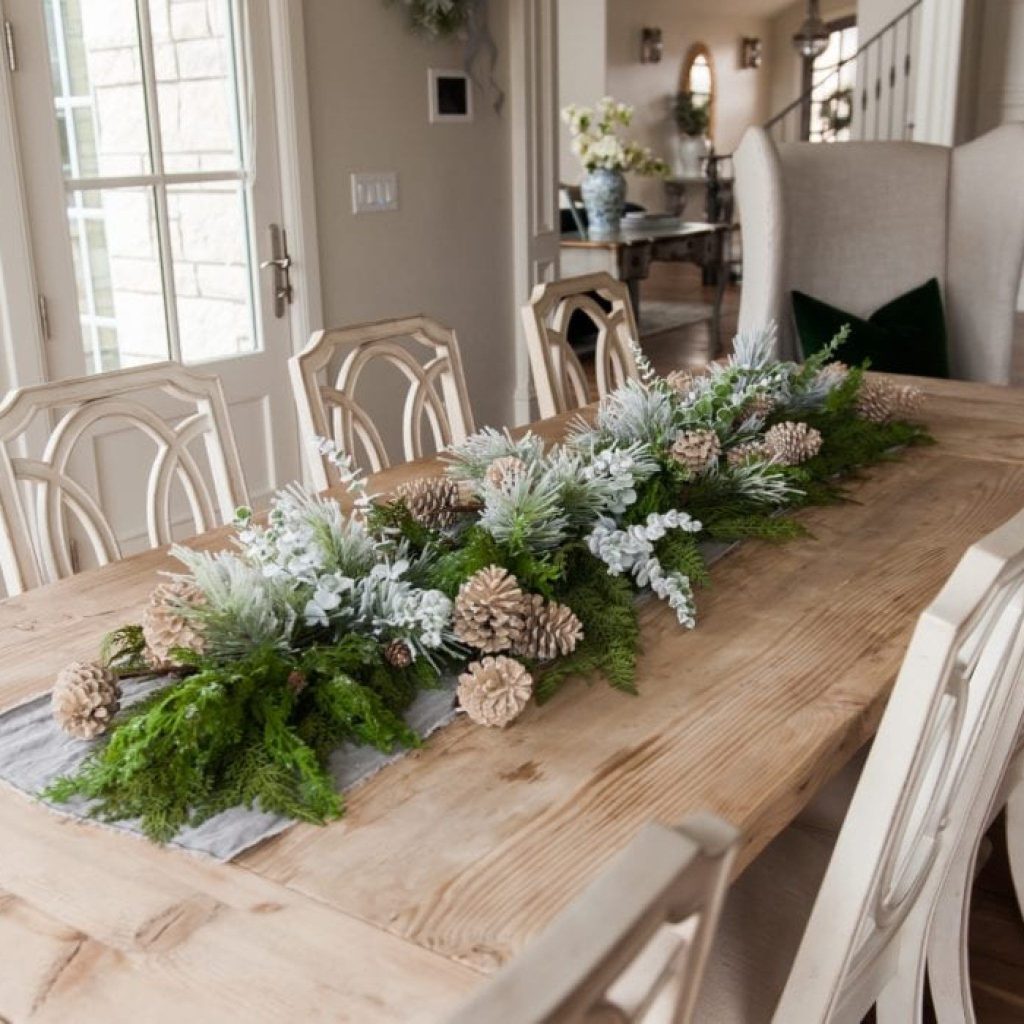 Any color paired with white is a brilliant combo, and so is the case with greens too.
Natural white flowers and other decor elements in white colors with green leafy plants, when pulled off neatly, can bring in the best decor for your Thanksgiving table.
Additionally, a silver lining around and candles and green bunches can take the whole setting to stunning in no time.
This look can easily be achieved by picking fresh flowers or flowers made of white cloth along with garden-plucked greens.
These cheap Thanksgiving table decor ideas are here to make you a star amongst your guests.
3. Pine Cones, Candles, and Ribbons
Is there any better and more beautiful combo for cheap Thanksgiving table decor other than pinecones, candles, and ribbons?
All three are very much available and inexpensive to buy, and the best part is that the candle (as it gets used up ) can be stored for coming years to celebrate and can be used for multiple occasions.
A simple red shaded ribbon, along with candles and pinecones, can get the job done in no time with promising beauty and elegance for your Thanksgiving table decor.
4. Refurbished Home Decor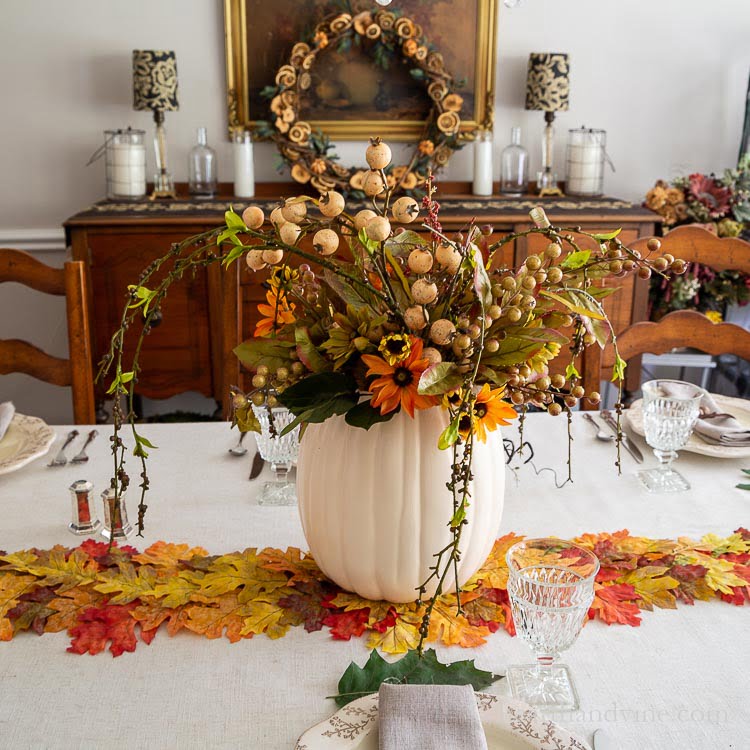 Are you a sustainability enthusiast? Then this is for you. If the word sustainability energizes you unconditionally, then these refurbished table decor items are your star materials for your cheap Thanksgiving table decor ideas.
These ideas are further enhanced by the right kind of execution. In this idea, everything runs with your eye for creativity; it is in your ideas and creative mindset.
The most common example of this would be a wreath made of dried leaves, and it can easily be used as the centerpiece decor for your Thanksgiving table.
5. Pumpkin Arts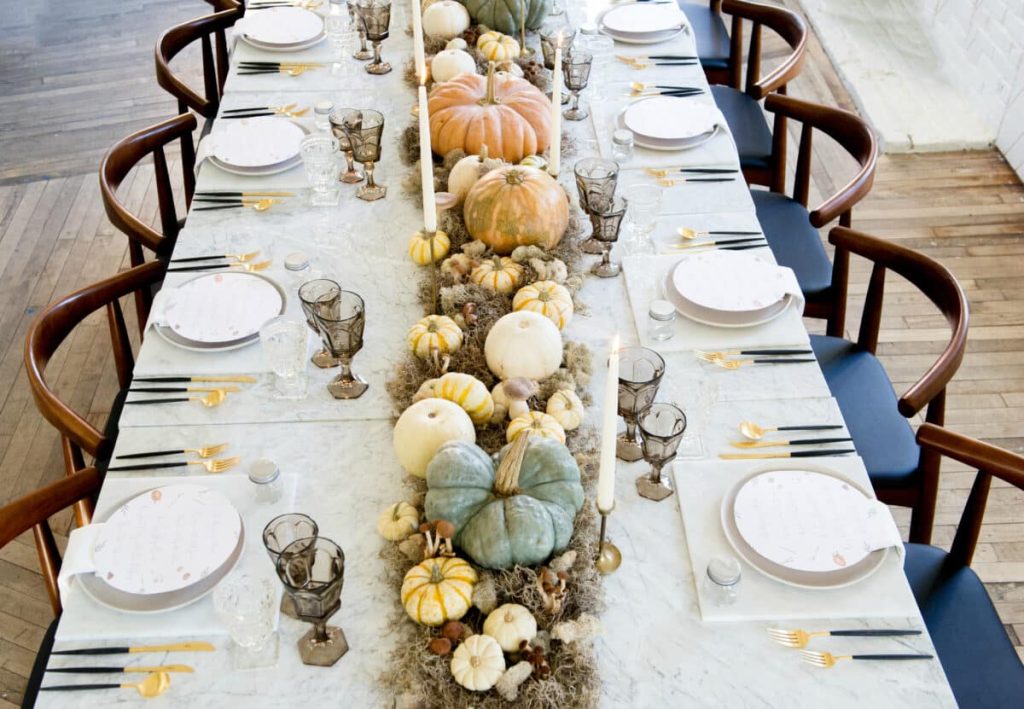 Pumpkins are not just for Halloween but also Thanksgiving. Pumpkins of different kinds and sizes can be used for efficiently decorating your Thanksgiving table decor.
Also, as per the need, the same can be painted or adorned with lights as a part of executing your cheap Thanksgiving table decor ideas.
Moreover, pumpkins are easily and well available throughout the season, thus making it even easier for you to consider this idea for your Thanksgiving table decor.
6. Dried Flowers and Fruits
Dried flowers showcase winter nature accurately with their cozy aesthetics. Well, can you believe that just like these dried flowers, dry fruits can also be a great means of table decor items?
Dry fruits, when packed and kept in statement crockeries like stunning bowls, the same can also be used as a centerpiece decor element for the beauty and rustic nature it effortlessly brings in.
7. Everything Red and Merry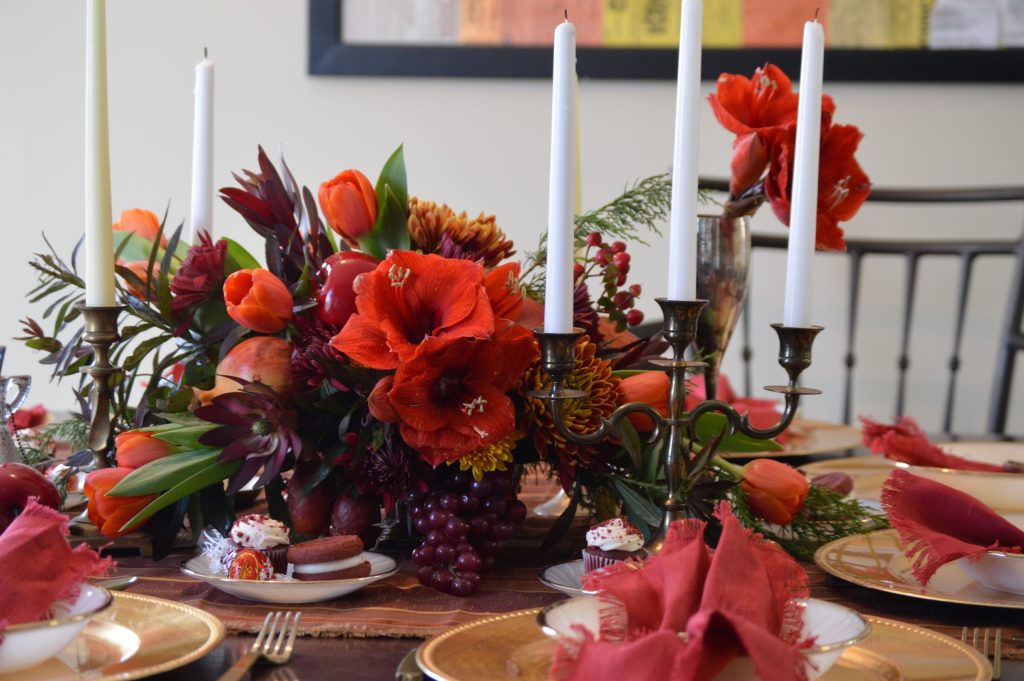 Red is a color of joy, and so is Thanksgiving table decor. It's so rich and bright in color is sure to bring a bright smile to your guest's face.
Red ribbons, balls, and flowers, with red napkins and mats, can efficiently brighten the space with beauty. Lamplights and candlelights can also be used with this type of setting for the best outlook.
8. One with The Designer Cutlery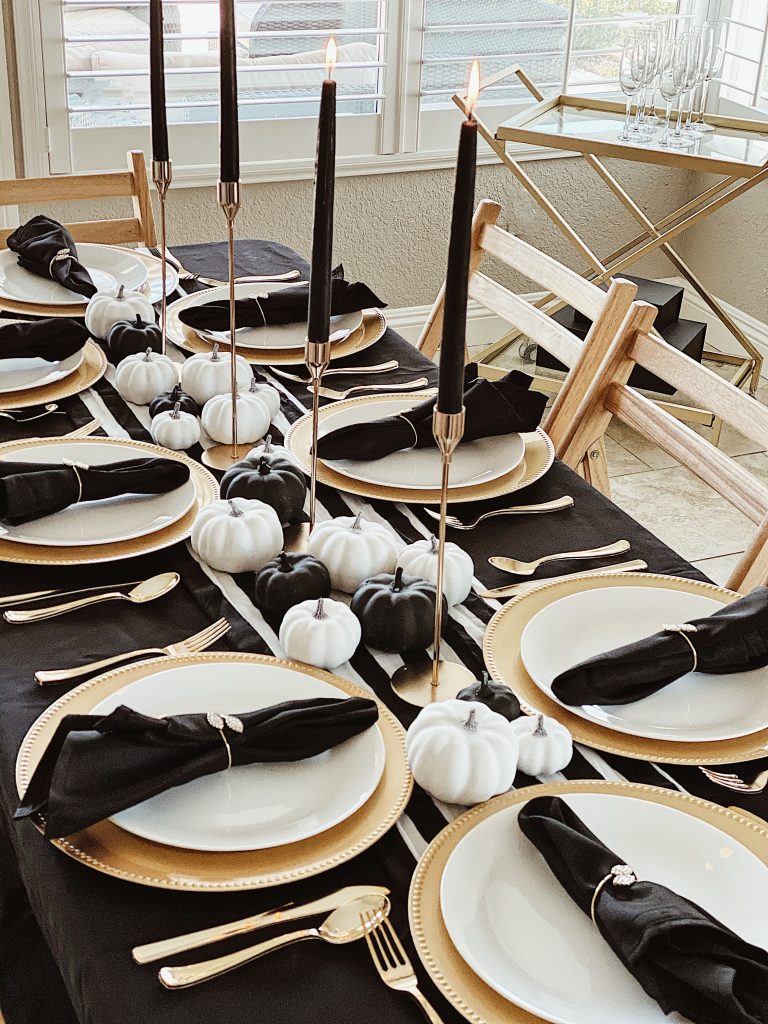 There is never a thing like cutlery that can steal the show for table decor. For this Thanksgiving, let's showcase the best and chic designer cutlery with all its shine and glow kept intact.
A proper exhibit of the cutlery with additional supportive accessories like flowers and candles can bring out the best and cheapest Thanksgiving table decor in no time.
9. Pastel Supremacy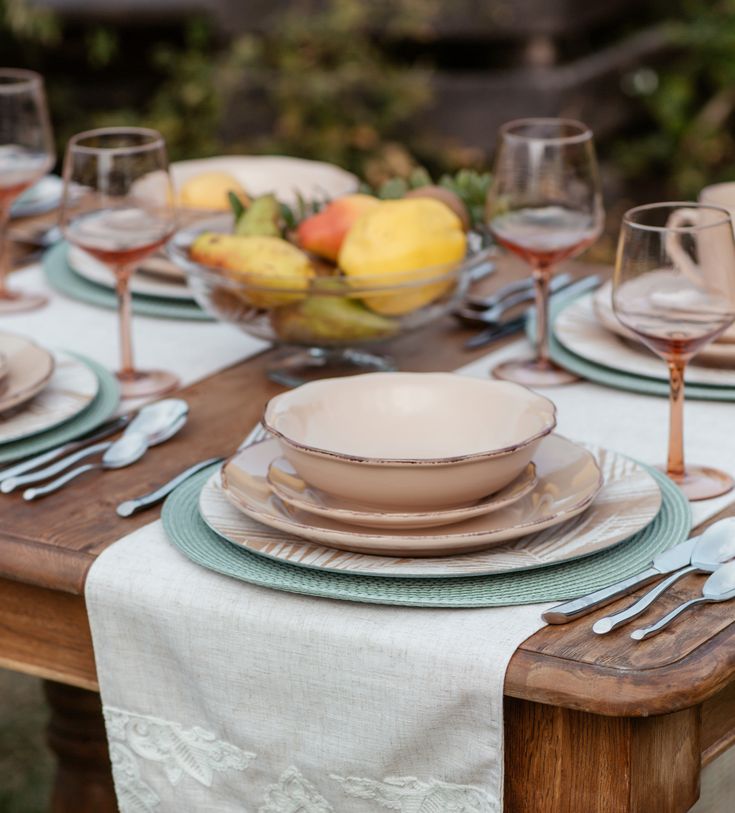 Just like how pastel shades always set the tone and mood right, pastel shade table decor ideas also prevail with the best in the city.
Stand out this Thanksgiving season by decorating and adorning pastel-shaded elements for your Thanksgiving table decor, right from your crockery set to flowers candles, and more.
10. One with The Fresh Fruits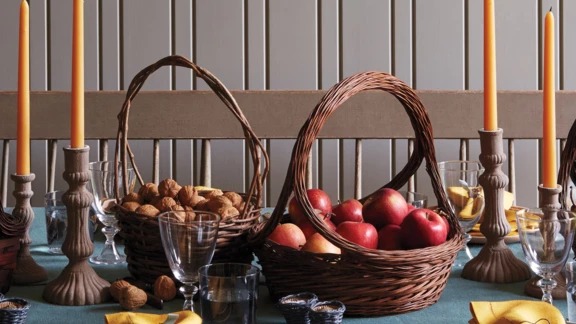 It a never a bad idea to consider your food item as a table decor accessory. Fresh fruits are a great source of natural colors, and a splash of colors can never go wrong.
These fresh fruits on the table not only just bring a fresh feel but also keep your gut and palette happy with the healthiest food savories.
11. For The Ice, Cakes, and Tea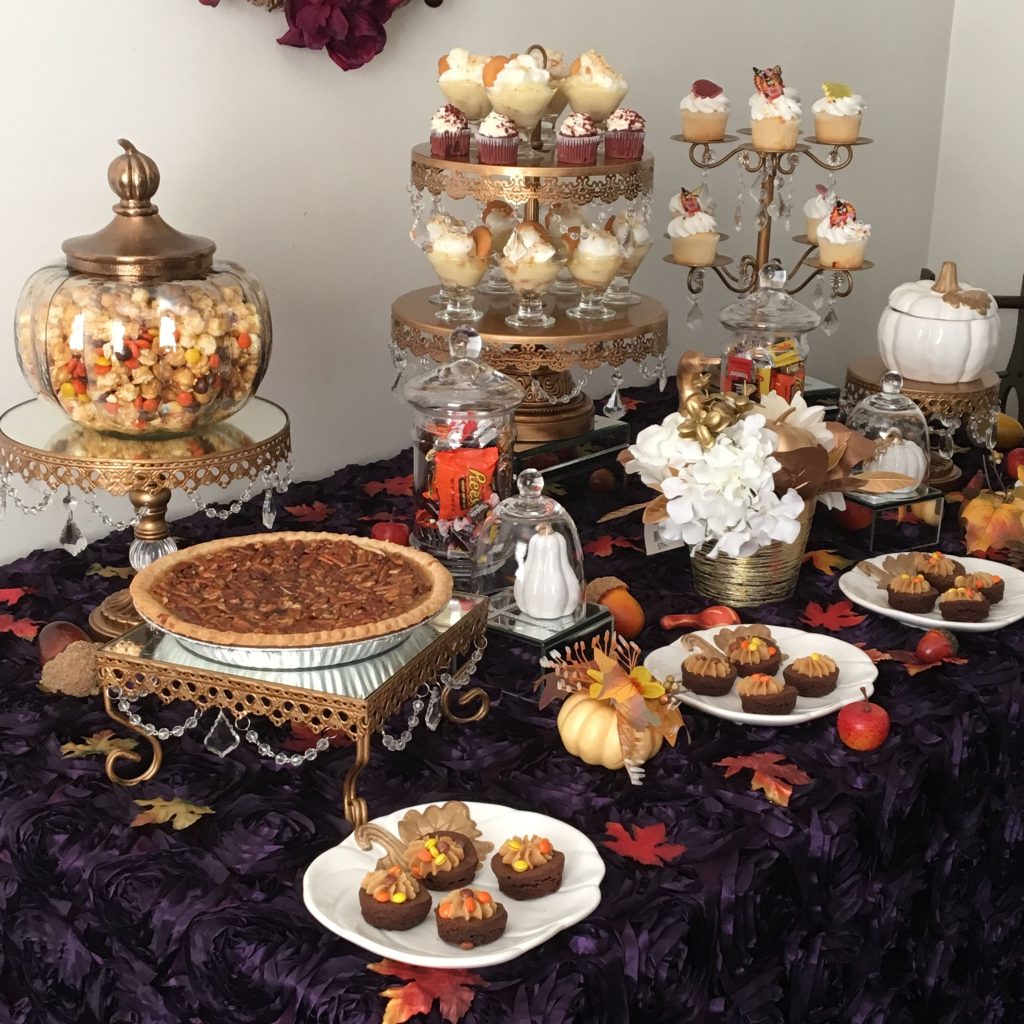 Just like how ice, cakes, and tea sound like that of high tea, this cheap Thanksgiving table decor idea is all about adorning and making good use of all the crockeries and all the fancy ice buckets and cake trays you have already got.
This table decor can easily be executed by showcasing every other mouthwatering and good-looking cake with hot sipping tea and fresh juices in statemental pieces of plates, cups, and quarter bowls.
12. Scented Candles and Patterned Napkins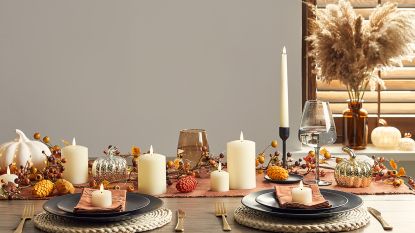 Such candles are loved by many for various reasons, including the pleasant fragrance and the cozy feeling they carry along.
Scented candles stored in crystal jars and tumblers are a great source of table decor accessories, along with napkin holders.
Even the napkins can be used as decor with cheek and sleek prints, patterns, and textures.
13. Timeless Brassware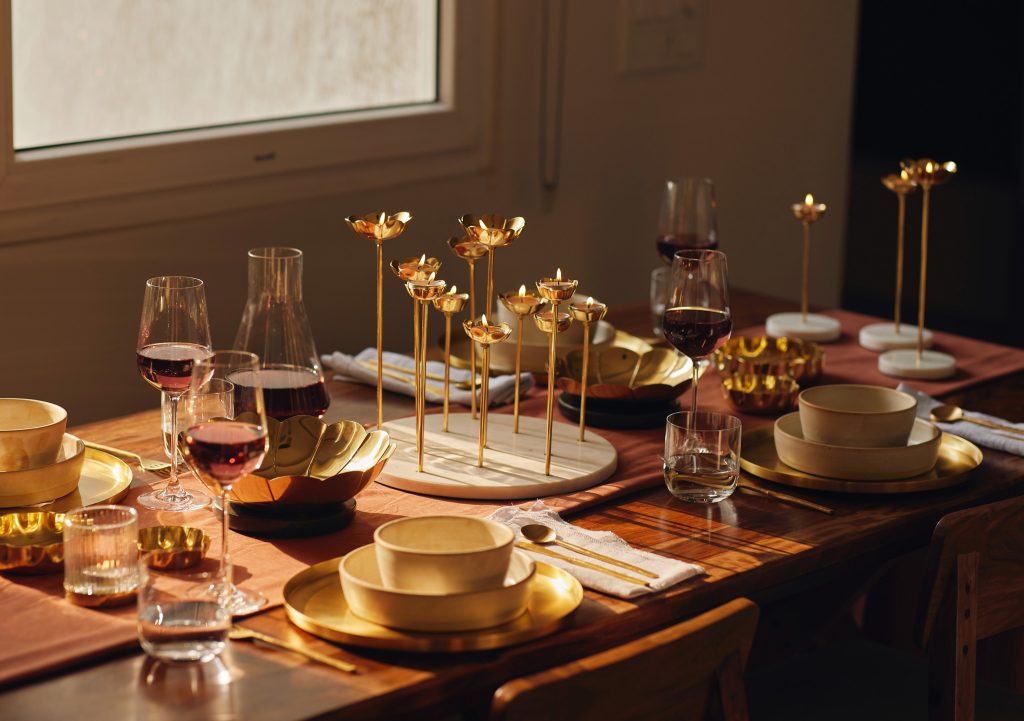 Brassware is timeless; be it any era, brassware has a separate fan base. These brasswares are rich and put forth the outlook of a lavish dinner space and time with family and friends.
If you are so stuck with what idea to choose from, then brassware is the table decor you can go for; as the name suggests, they are timelessly classic.
14. Chic and Sleek Minimalism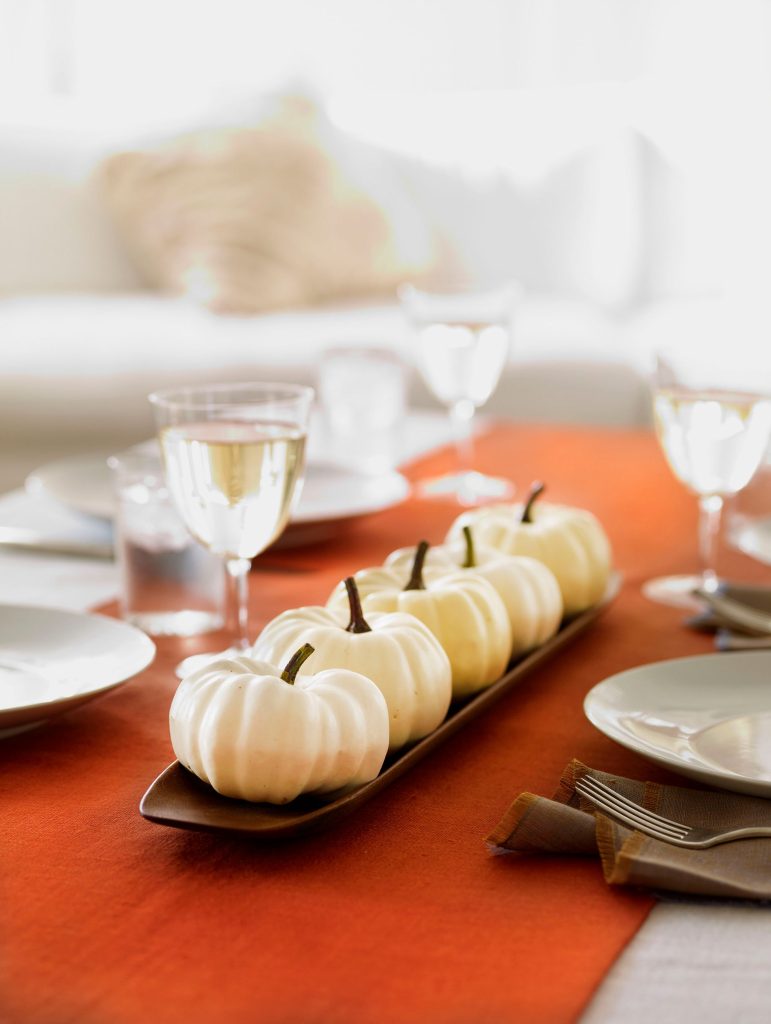 Most of the Thanksgiving table decor that we see these days is full and rich with decor elements and food items. Well, there isn't any strict rule as to what these table decor ideas need to follow.
They can be as simple and minimal as it is. It is quite easy to achieve a minimalistic overall look with minimal elements. Here the key is not to overdo the table but just to exhibit only the required and right amount of materials.
15. Wooden Surprise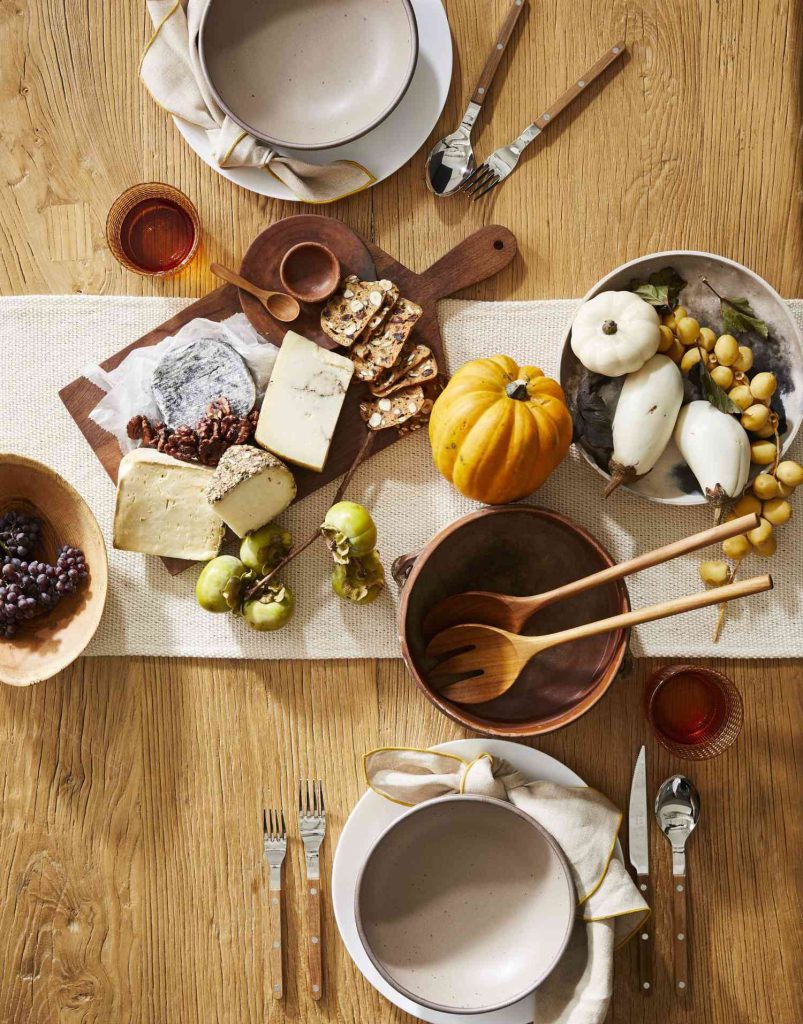 Thanksgiving table decor ideas can also be inclusive of wooden materials. It need not always be made of glassware and other expensive materials, but it can also be simple wooden materials.
Wooden candle sticks and crockeries are still a joy of sight and class, and this wooden surprise is going to be loved by your guests.
Additionally, it can be paired well with greens and pinecones and the all-time favorite candles.
16. A Personal Signature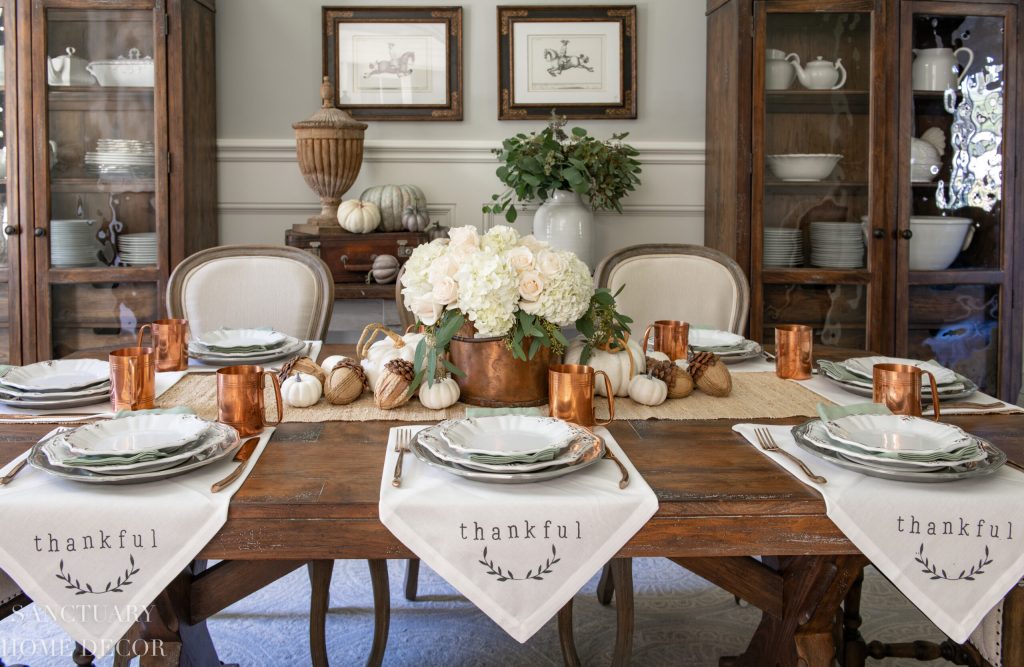 It would be quite impressive if you could bring an element of yours to your Thanksgiving table decor elements and accessories.
It can be as small as a painted table mat to a crochet glass cover, and it is indeed one of the best ways to make your guests feel at home in no time.
In the end, there is nothing that can beat the shine and glow of a handmade craft.
17. Everything Golden and Glowing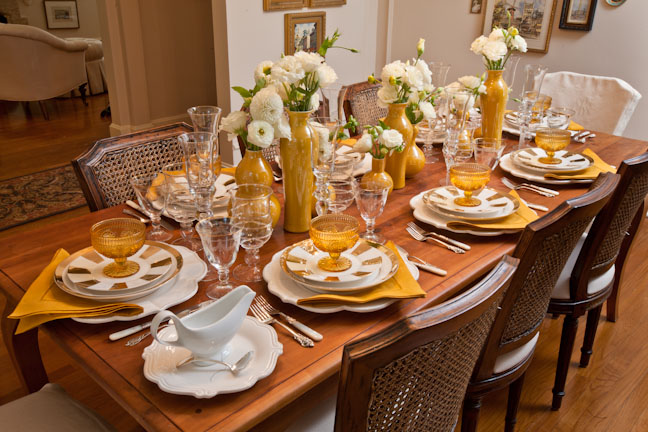 Thanksgiving is full of laughter and happiness, so why not some golden glow?
Golden Glow need not always be expensive, as it might just need a small brush and polish to your already existing crockeries and decor elements thereby making it still the best and cheapest Thanksgiving table decor idea.
18. Let It Spring Inside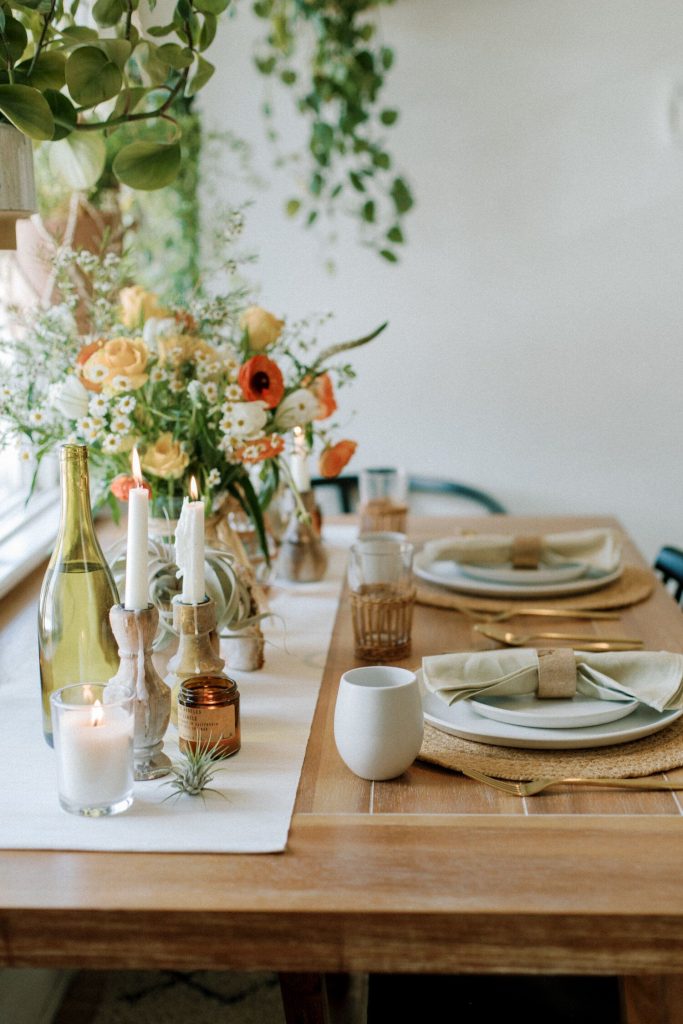 Thanksgiving might be in the winter season, but there is no harm in trying to bring the spring season to your tables.
This is all about adding fresh flowers, fruits, bright-colored tablecloths, and mats, along with bright lamps and green leaves.
The spring season represents happiness, and Thanksgiving is yet another perfect season for showing gratitude for all your prosperity and springs in life.
19. One from The Summer School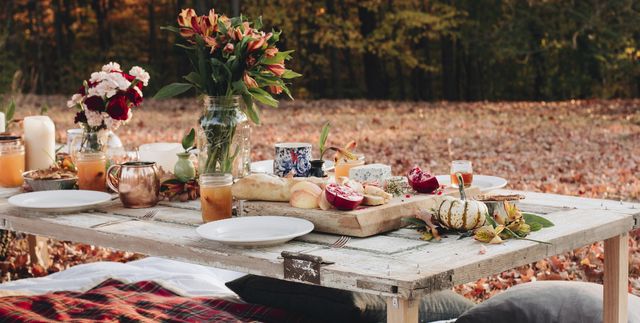 The summer school camp and the diaries of Archies had always been a great theme, and this summer school-themed cheap Thanksgiving table decor is nothing but a brilliant way to showcase your creativity and brighten up the already cold winter season.
From bright juice jars to colorful fresh flowers and more, the summer school-themed table decor is a happy sight of joy.
20. Simple yet Elegant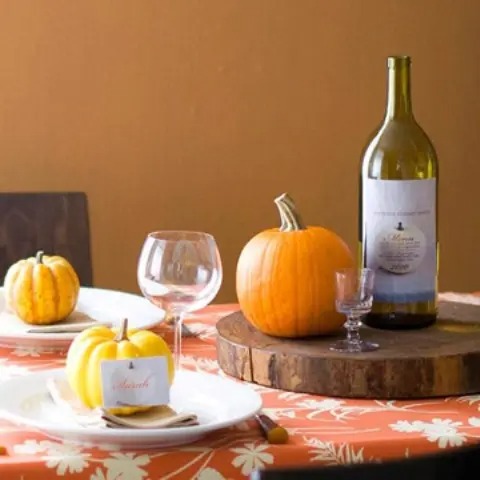 Keeping it simple never runs out of style, and the same is the case when it comes to setting up your whole Thanksgiving table for dinner.
This cheap idea of Thanksgiving table decor setting is all about following the principles of minimalism and choosing a single solid shade theme over multiple.
Always remember never to overdo the table to achieve your elegant table decor outlook.
Summing It Up
All in all, Thanksgiving is undeniably one of the biggest occasions and a much-loved season.
Feast tables and interior spaces are decorated so well and amazing this season for the joy it brings out and as a way of saying thanks for all that we have got.
At this merrier occasion, why not let your creativity flow and customize the entire set with a personal touch of your signature element?
We have discussed over 20 best ideas for decorating your Thanksgiving table, and there can be even more if you let your creative brain wild.
Let's get ready to celebrate this Thanksgiving season with the best table decor for your feast with friends and family.