Looking for balcony decor ideas? The balcony is everyone's favorite corner of the house, and it is also a window to the outside world too. Apartment balconies provide a perfect skyline view, especially from the higher floors.
They come in all shapes and sizes, a cramped little corner or extravagantly spacious; you can design it your way to make it more useful and pleasant.
It doesn't matter what shape or size it is; you can turn it into something you like by designing it right. For some, it is just a place to relax and enjoy the climate, while some use their balcony for all sorts of things.
If you are looking for inspiration on how to design your apartment balcony, we have some creative ideas on how you can use that pretty space of yours.
Here are 22 apartment balcony decor ideas for all shapes and sizes to show you different ways in which your space can be designed.
1. Create a Reading Corner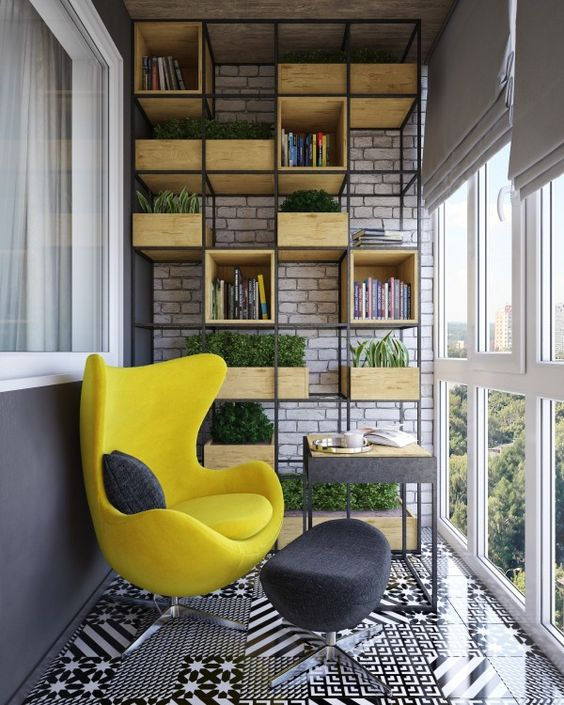 If you are someone who loves reading, the balcony works as a perfect spot to snuggle in there with your books.
A comfortable chair, a leg rest, a side table, and minimally styled shelves for your books can curate a perfect reading nook for you.
You can change your flooring, or you can add a carpet. Here, this yellow reading chair and the black and white geometric floor make a beautiful contrast.
2. Turn Your Balcony Into a Mini Bar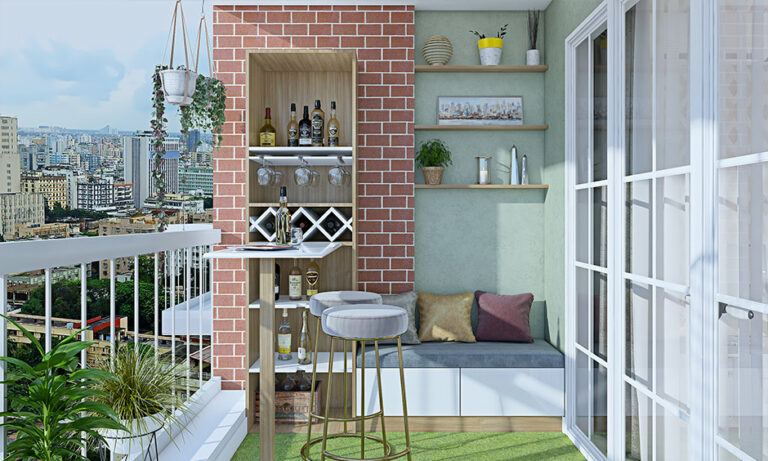 If your balcony is spacious enough, then a bar on a balcony is a fabulous idea. Chilling with your friends while the sun is setting on the horizon is the best way to utilize your balcony.
Here, the bar is minimally designed with some high stools, a high table as a bar, and open shelves as a display. You can also make a cellar at the end of this open cabinet for your sunlight-sensitive alcohol collection.
3. Use Your Balcony as An Extended Room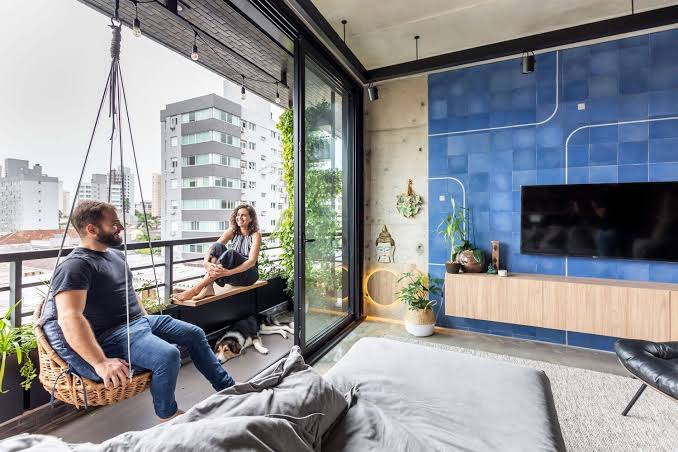 If you have a compact living room that is attached to a balcony, you can extend it. You can keep a sliding partition between both of them to get the best of both worlds.
An enlarged living room can be quite useful when guests come over, and you also get plenty of ventilation.
Here, the area is designed in a manner where the balcony can be used as a separate area or as a part of the living space.
4. Bohemian Style Balcony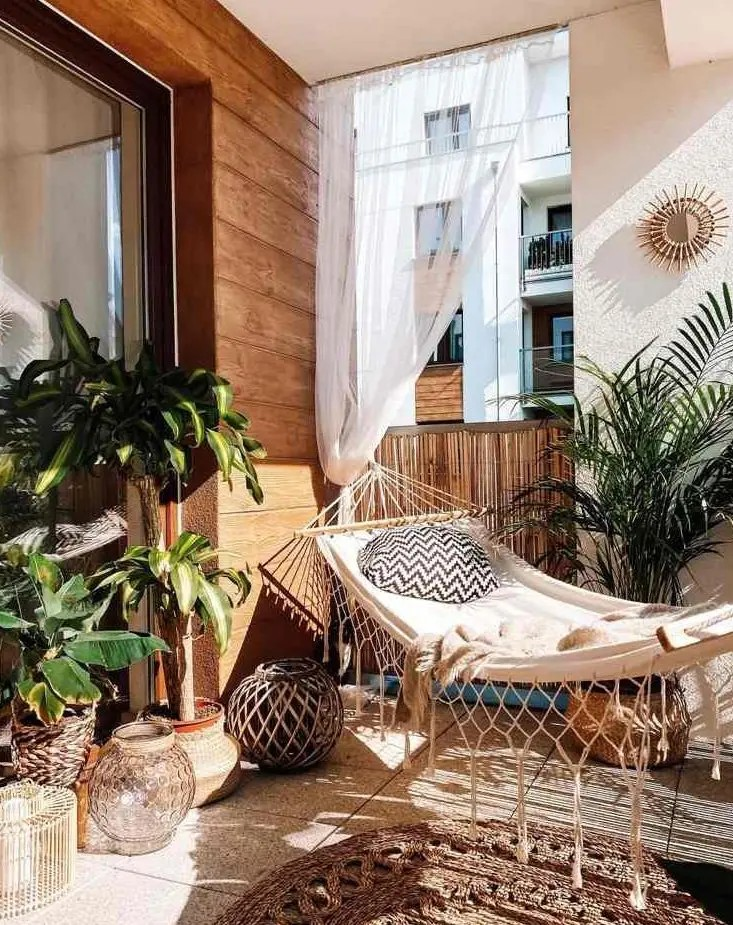 Bohemian aesthetics are so much in trend these days. A neutral-toned bohemian balcony is ideal for keeping things bright and light.It is one of the trendiest balcony decor ideas.
Design your balcony very contemporarily with rugs, pillows, macrame hangings, lanterns, and wicker furniture. Here, the designer has taken it a step ahead by adding a hammock.
If you have more space, you can add a cozy sitting on the opposite side with rugs and pillows to complete the look.
5. Black and White Balcony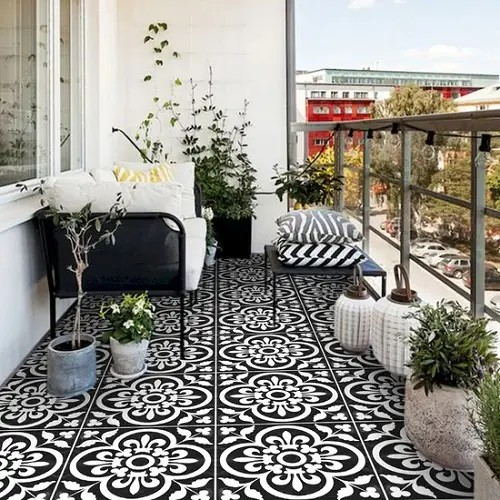 The classic duo of black and white works like magic while designing your balcony. It promotes a sophisticated and simple look.
You can either go for black and white tiles or just throw in a patterned rug to create a look. Go neutral with the furniture when following this theme because we do not want too much going on.
You can create a boho look with this mix by adding a lot of patterns or keeping it simple for a modern touch.
6. Turn Your Balcony Into a Kid's Play Area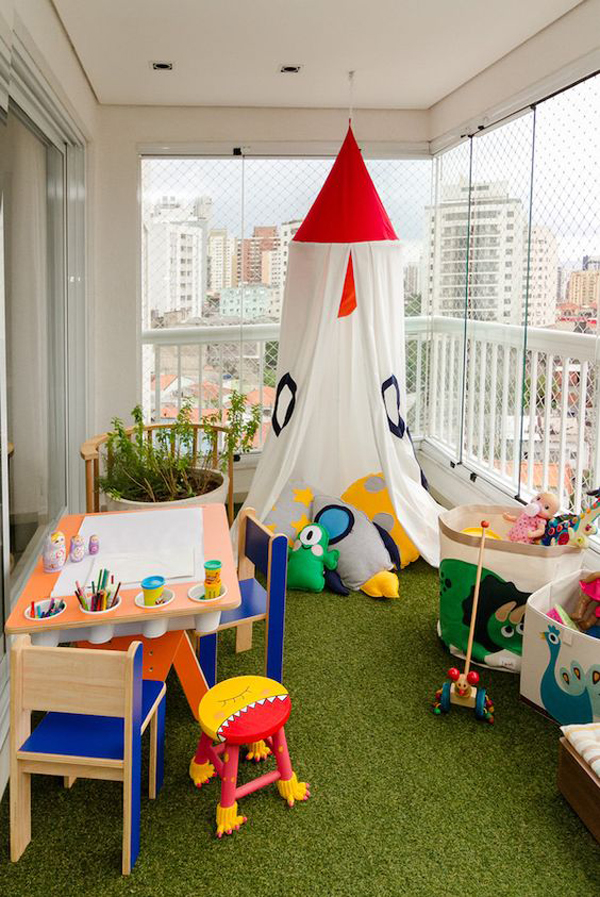 If you do not want your living to be cluttered with toys all day, it's a brilliant idea to turn your balcony into a play area for your kids.
It is a safe space where kids can get a lot of light and fresh air to let their energy out. Make your space cute and colorful by adding a tent house while also making it safe for your child.
A designated playing area will keep the rest of the house free of clutter. This is one of the best balcony decor ideas if you have kids.
7. A Herb Garden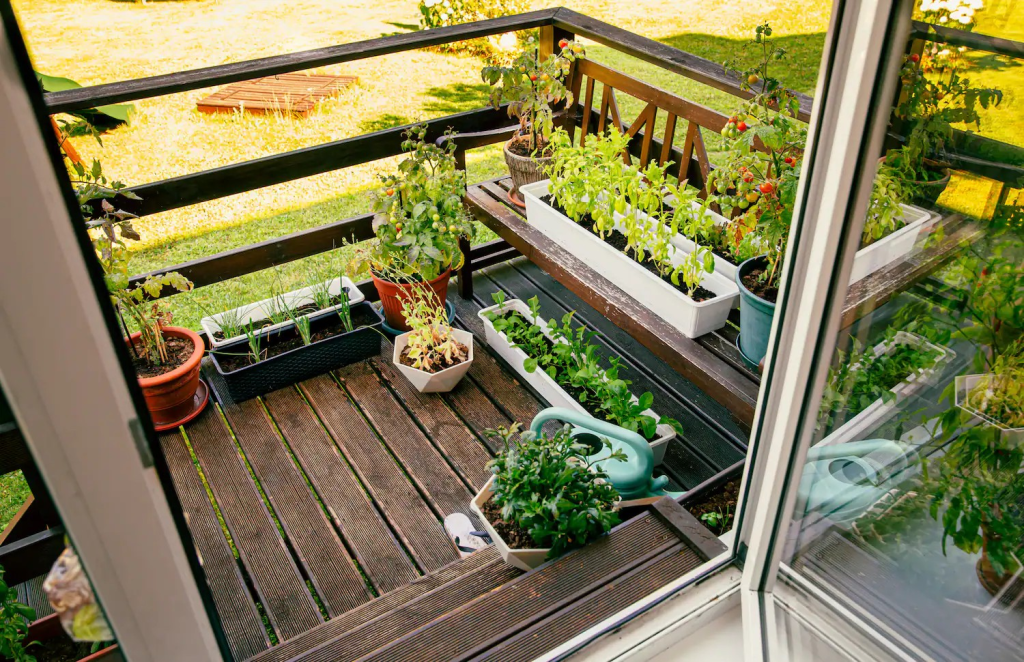 Are you someone who loves growing veggies for the kitchen on your own? Turn your balcony into a herb garden to get fresh produce every day.
Small balconies are perfect for herb gardening because they are easy to grow, take less space, and produce a very quick harvest. You do not need much space as they can be planted in small herb pots.
Balconies also provide the required air and light for the plantation. So if you have a small circular balcony or a grand one, do not wait to turn it into your personal herb garden.
8. An Outdoor Living Room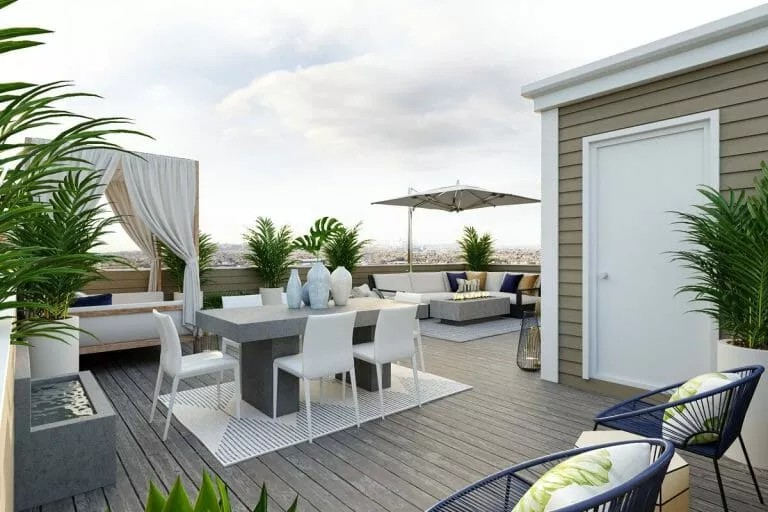 If you are blessed with a spacious balcony, you can turn it into a living room, and trust us; you will want to spend all your time there.
Plan for all the things you can accommodate in the space, like a dining table, a relaxed lounging sofa space, or a summer home cinema.
Throw in cushions and some chairs to make it more comfortable for your guests; you can even install a gazebo for some shade.
9. Take Advantage of The View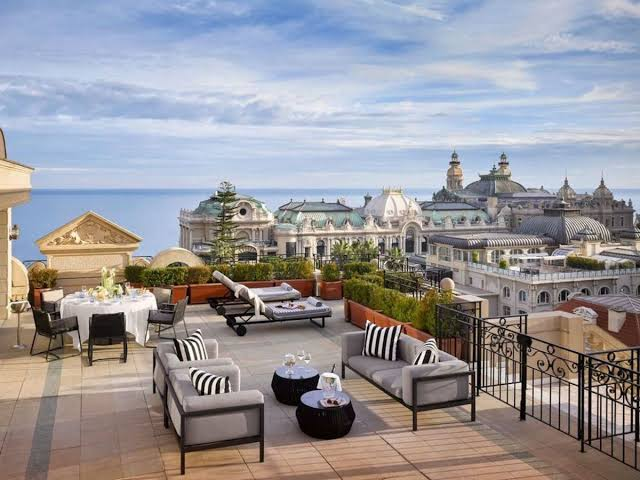 There is nothing better than a grand balcony with a view. If you live in a beachside apartment or your balcony has the best sunset view, you can plan your balcony design around it.
For example, arrange some of your sitting on the side of the balcony that provides the best view of the landscape.
A high-rise apartment balcony in the middle of the city may not have much space for luxury sitting, but you can enjoy the perfect evening skyline sitting on a chair.
10. A Cosy Dining Area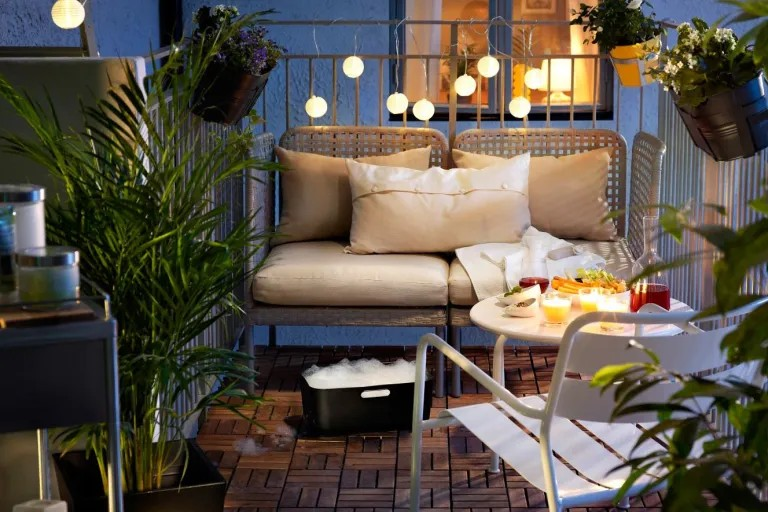 You do not need a large space to set up a cozy dining area where you can unwind after a long day with your partner while having a meal.
If you live in an urban-style apartment, just a shelf facing the view and two comfortable chairs should be enough.
But if you have a large space go all out with an open kitchen and a grand dining setup to invite guests over for a party.
11. Transform Your Balcony Into an Urban Garden
Indulge in the joy of gardening by turning your balcony into an urban jungle. Cover the space with natural decorative plants and seasonal flowers.
You can install railing boxes for plants and even get some hanging plants that cover much less space. And you can even put in a large umbrella and a chair, as shown in the design above, to sit and enjoy the greenery you created.
12. A Pet-Friendly Balcony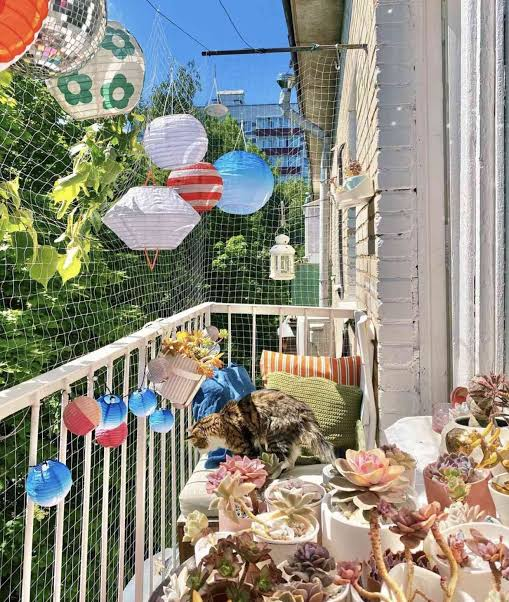 Make your balcony pet friendly if you have a pet because you will want to sit there and cuddle with your furry buddy.
The typical pre-installed fences will not be enough; you will have to cover it all with a mesh wire fence or with glass railings.
You can further use that mesh to hang paper lanterns hanging pots to keep things from feeling too contained. Add a chair or sofa with comfy pillows for both of you or a pet house if you have extra space.
13. A Relaxing Space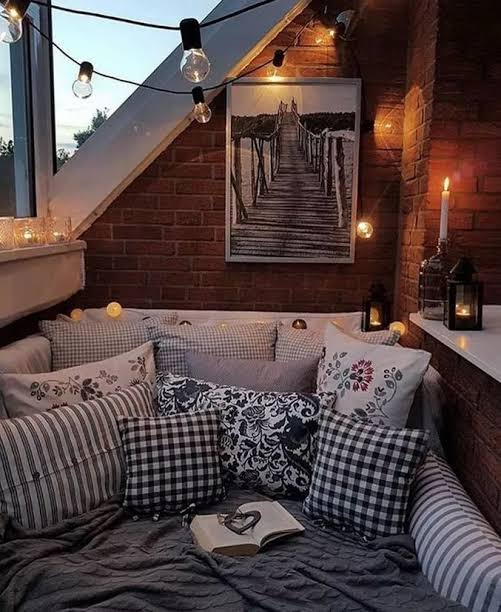 Nothing is more relaxing than a comfortable bed. Add bedding in your favorite spot if you are a fan of spending nights under the star. You can make it extra cozy with fairy lights and candles.
This New York-style balcony is covered in glass, which is the biggest advantage here as it protects the bedding from climate and also gives some privacy. The small space makes it even more pretty and inviting.
14. Make Your Balcony Private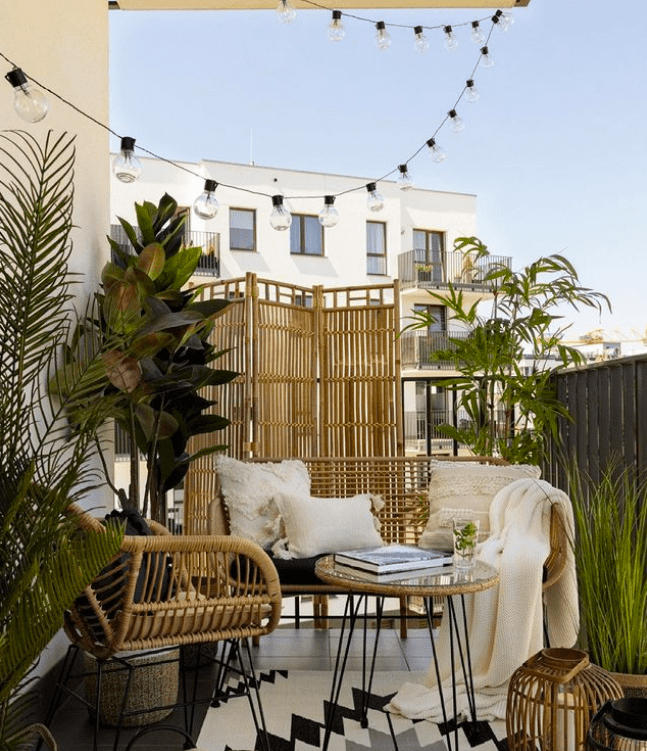 If you are bothered by prying neighbors, or you just cannot relax in someone else's presence, design your balcony in a way that provides privacy.
Installing privacy screens is one of the best ways to do so, but curtains, plants, canopies, and umbrellas are famously used in balconies to create privacy.
Here, a bamboo room divider is smartly used and also goes very much with the overall theme of the balcony.
15. Balcony Art Studio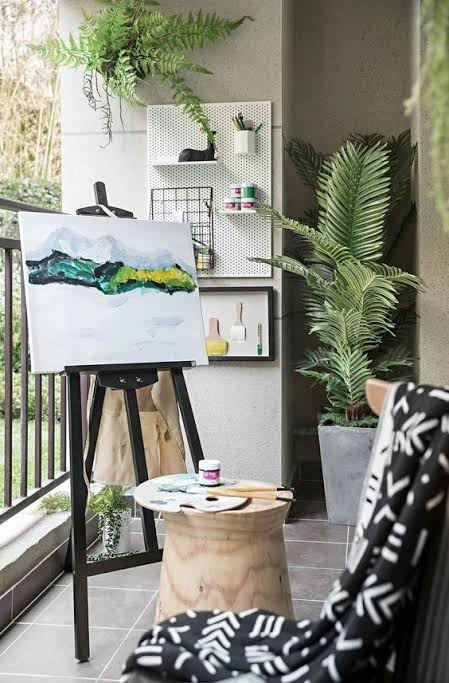 With some inspiration and little creativity, you can design a personal art studio on your balcony. It can be a perfect spot for artists with all the natural light and air to let the creativity flow.
Make an art corner by using wired shelves for your supplies and a comfortable sitting. You can even accommodate an end table along with your easel to keep all your things handy.
16. A Vertical Garden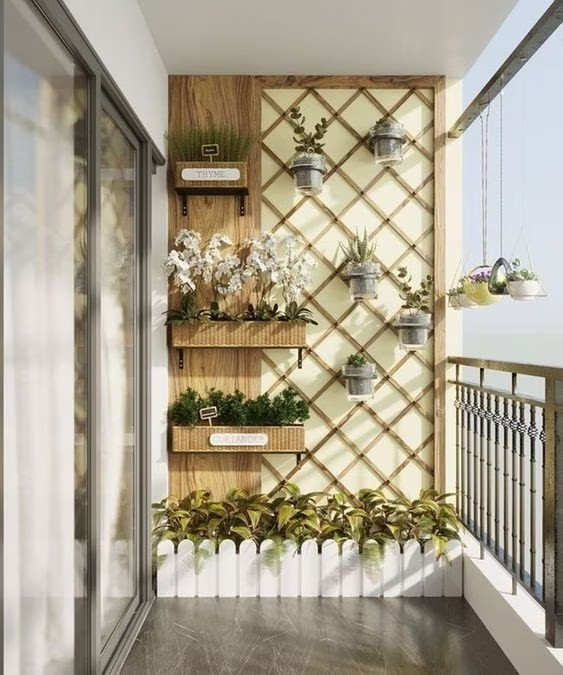 If you are short of floor space, use your wall to create a garden. This balcony design is perfect for people who love gardening but are living in urban homes.
A vertically styled garden does not occupy any extra space while making your balcony look very beautiful.
A vertical garden also works as a privacy screen for your space, and it also does not interfere with your balcony floor plan.
17. Workout on Your Balcony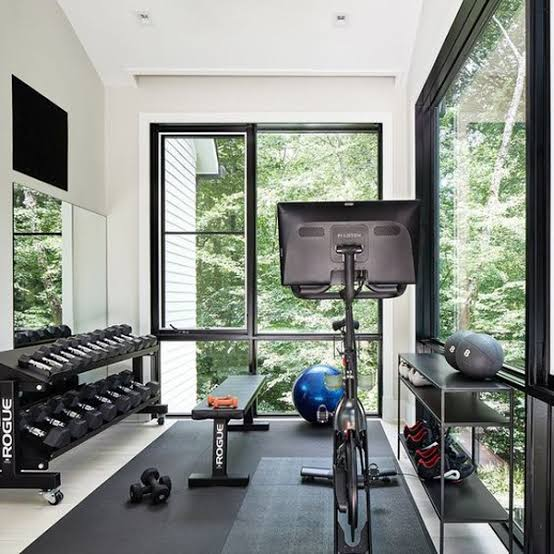 If you love working out at home, this is one of the best balcony decor ideas for you.
A balcony gym is a great way to use your balcony space. Design it minimally with the equipment you like working with, and you can create a perfect setup for you to work out at your home.
Due to limited space, you cannot have an extensive setup, but you can accommodate your favorite cardio and weight equipment. This will save you a lot of time and money and also give you the joy of working out in fresh air and light.
18. Keep It Simple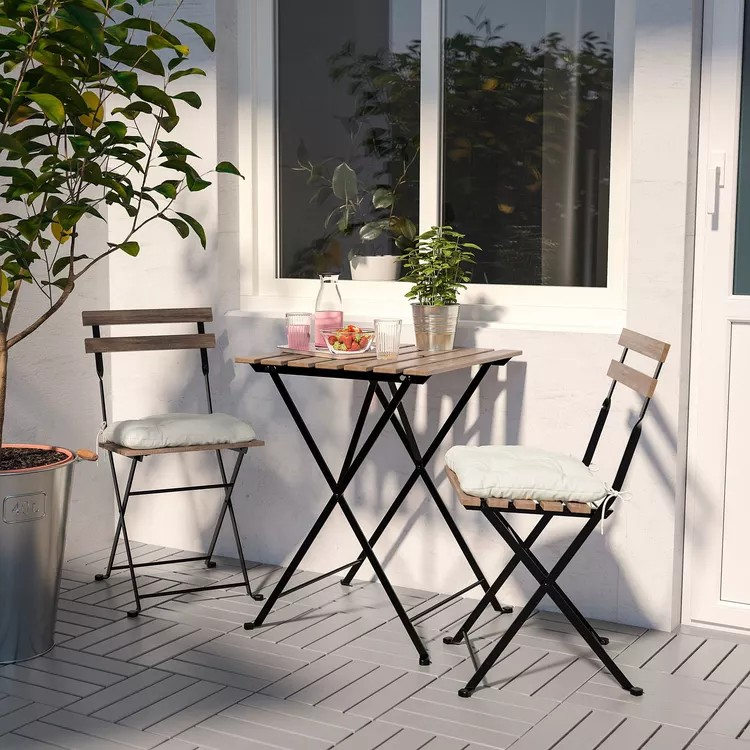 Following a minimalistic style while designing your small-spaced balcony is the safest way. Minimalistic is a very modern way to design your space; it will make your balcony look clutter free and organized.
Do not use a lot of colors or a lot of things on your balcony, and you are good to go. Here, a simple table and chairs with cushions are used for sitting, and some potted plants are for decorating, which look effortlessly good.
19. A Party Deck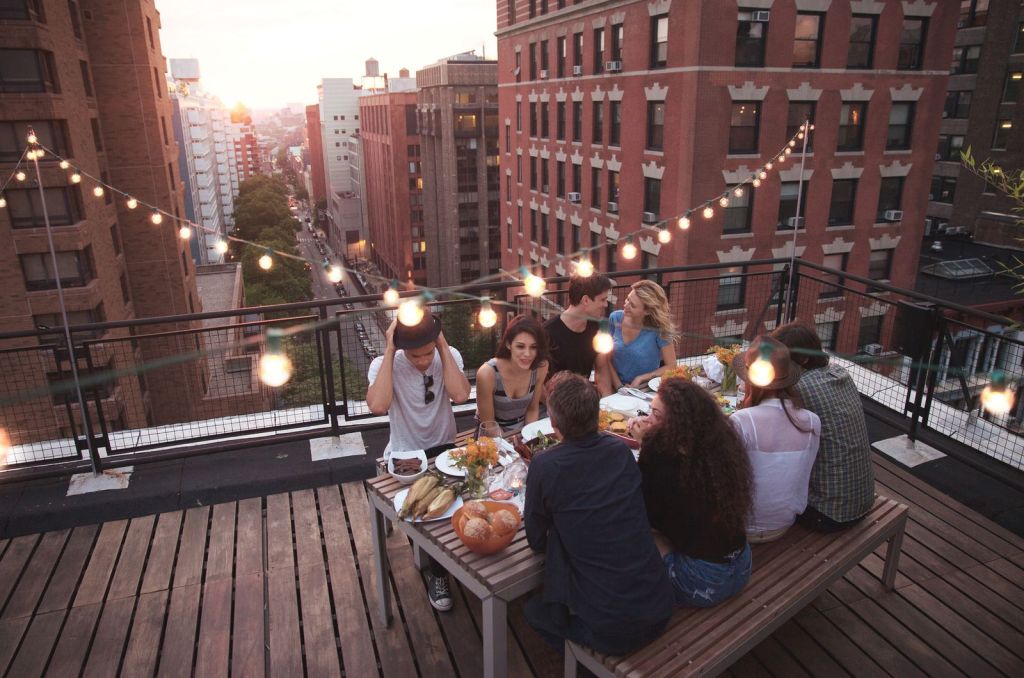 Do you love having friends and family over for a sundowner party? Turn your balcony into a party deck.
You can arrange a movie night there with a low-sitting area or a dinner party with a proper dining set to accommodate all your guests.
Balconies are a great place to chill because it creates a very mellow and natural vibe. Here a heightened wooden deck is installed with fairy lights and dining to create a proper party environment
20. A Cafe Style Balcony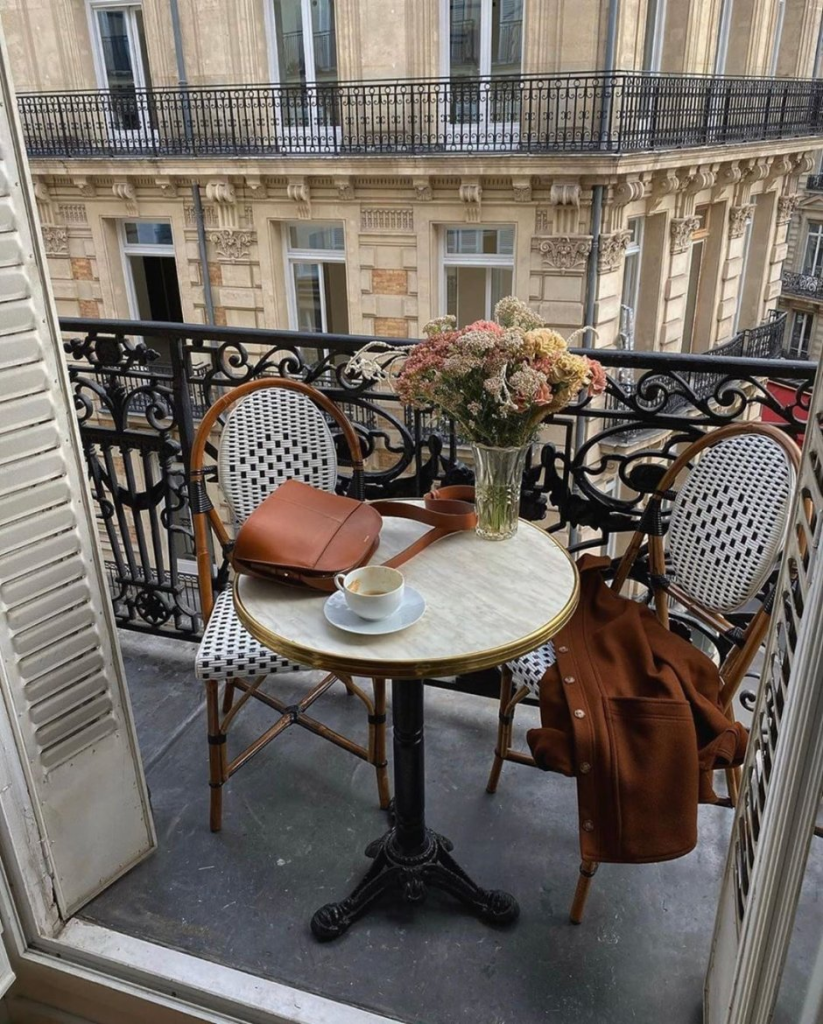 Design your balcony cafe style to create a perfect coffee spot in your home. Indulge yourself in a long conversation over coffee or a quick breakfast before you start your day ahead on your balcony by styling it just as you like.
Keep it minimal with a table and chair sitting; you can even put up an umbrella to get shade in the afternoons. Here, vintage-style wooden furniture is used, and a flower vase is used to add a fresh vibe to the setting.
21. Balcony as Storage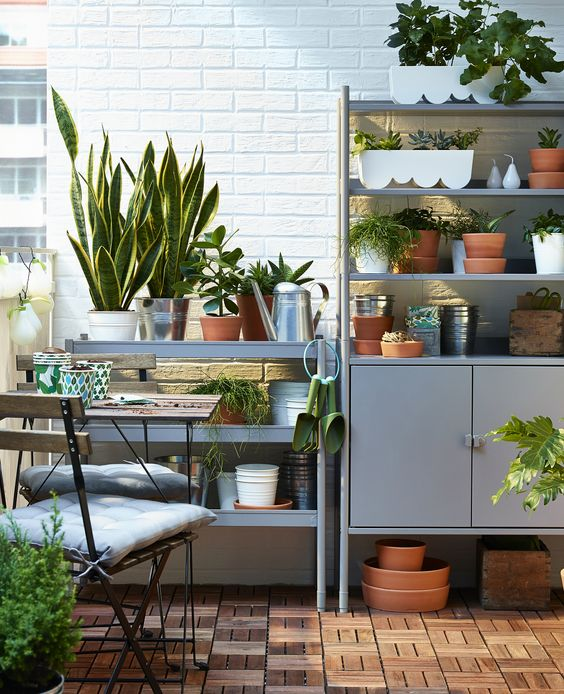 If your rooms do not have enough storage space, you can use your balcony as storage. Low storage space is a very common issue in urban-styled homes, and that is where your balcony comes in handy.
Fit all your extra chests of drawers or your side cabinets on your balcony and use them to store your belongings. You can also use multipurpose furniture like benches with storage or tables with under storage to make your space functional.
It is one of the best balcony decor ideas for utilising space.
22. A Balcony Office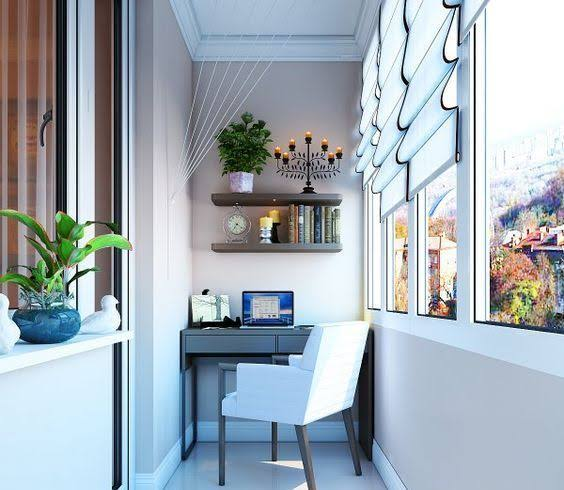 You can set up a balcony office If you work from home and you need a place all to yourself, without anyone disturbing you. Install a working desk and a comfortable chair, and you are good to go.
You may have to install some shade to get some shade. Avoid cluttering your space with unnecessary things to avoid distractions. The natural light and beautiful view will help you keep fresh and energetic all day long.
Conclusion
All in all, design your balcony according to what kind of space you will like to create for yourself. You surely might have got an idea about all the things you can do with that pretty space.
Keep in mind your purpose, the area, and the kind of environment you want to create before picking and deciding which balcony decor idea you want to follow.
You do not even need a big budget; most of these ideas are pocket friendly. If you are into DIY, you can take up your balcony as your new project and transform its look.
There are no bo rules to be followed; build it according to your taste and style. You can even repurpose and reuse what you already have to add to your balcony design.
Take inspiration from these 22 balcony decor ideas to design your favorite corner!