When searching for an idea to recreate your small bathrooms, you should listen to your inner voice, and that will help you make the right decision.
You can decide from choosing the right color to choosing the right materials to make your bathroom look spacious.
Your bathroom will start looking amazing when there is creative flooring, organic colors, or even low-maintenance materials.
You can totally transform your bathroom into a comfortable space, customize it according to your preferences, and also enhance the overall experience.
You can explore various stylish options, be it a flooring idea, storage idea, or window idea. Either use a modern furniture item or even give your bathroom a vintage look.
You have all the options open for you. What else you can do is, refer to the ideas of some interior designers. It would help you gain some inspiration as to how you can renovate your bathroom the way you want.
Create a chic heaven in your compact bathroom by letting your imagination run wild with some small bathroom trends.
1. Choose a Mirror with a Backlight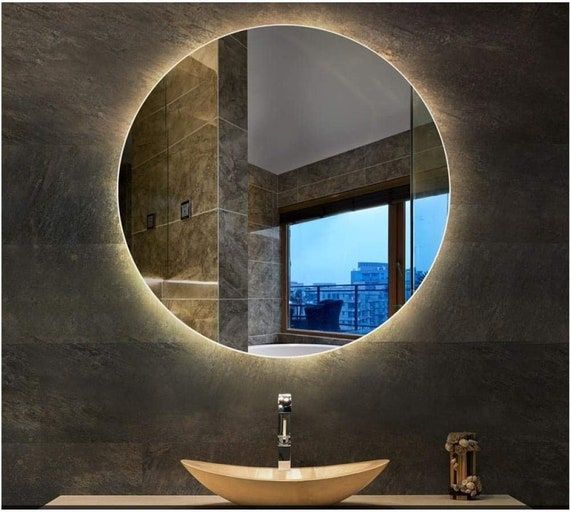 It's difficult to understand the creativity of 2023's beautiful bathroom trends. These bathroom trends would help you renovate your space and make it as comfortable as you need it to be.
Get ready to reveal the aura of stylish mirrors with built-in lighting that will make you feel like a designer yourself.
These outstanding works of art come in various shapes, sizes, and designs. You can also consider combining aesthetic appeals with helpful functionalities.
2. Give Your Bathroom a White Effect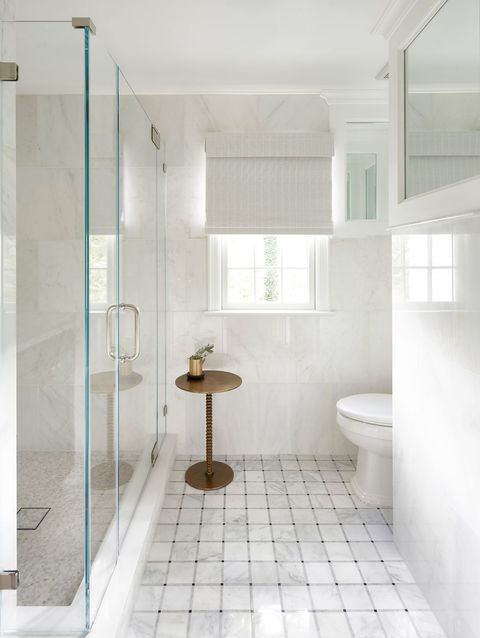 One way to make your bathroom look spacious and big is to add color of light tones. Adding white furnishings will help you create an easily spacious atmosphere.
The benefit is further reinforced by the abundance of bathroom ceramic and sanitary ware items that are readily available in different hues of white, making your decision-making process simple.
This could be one of the small bathroom trends in 2023.
3. Include a Shower as a Small Bathroom Trend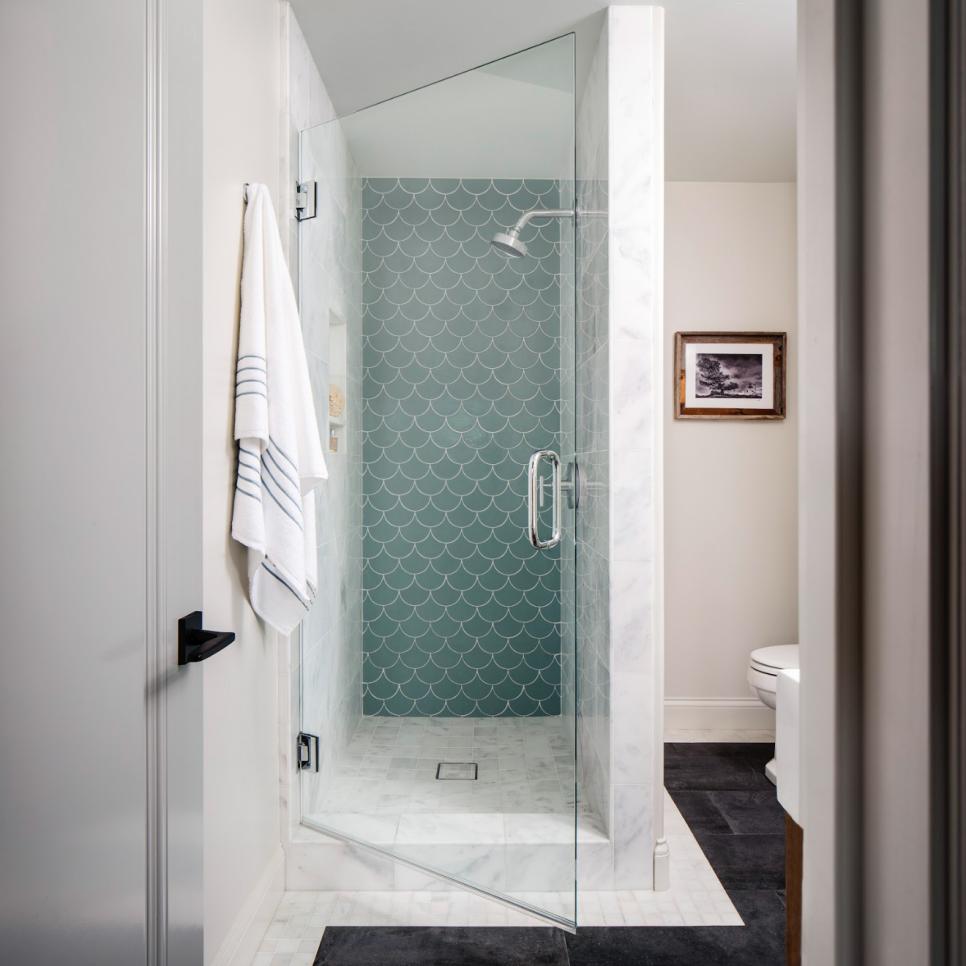 Take advantage of the fish scale tile trend to add some refinement to your bathroom, especially on the accent wall of your tiny shower. 
The overall look of your bathroom can be improved with this little touch.
Add a stylish glass shower door to complete the aesthetic and show off the updated design of your bathroom as small bathroom trends 2023.
4. Indulge In Natural Elements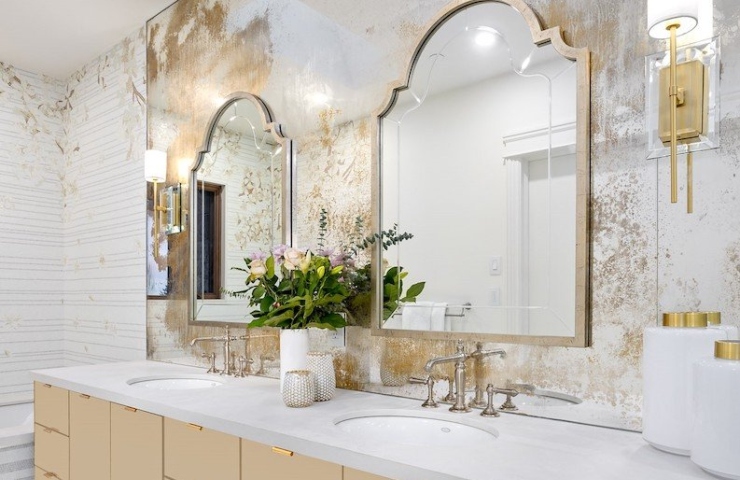 Incorporate the idea of introducing natural elements in your bathroom to give it the overall space for relaxation.
If the brick and stone in your house are of natural materials, appreciate their beauty and use them to your advantage.
Alternatively, if certain components are not already there, strategically add them. As shown in this design, the textures of brick and stone may lend depth and character to your space.
In one instance, the floor-to-ceiling stone and mirror produce a mesmerizing atmosphere.
5. Use Some Lightening for Bathroom Decorations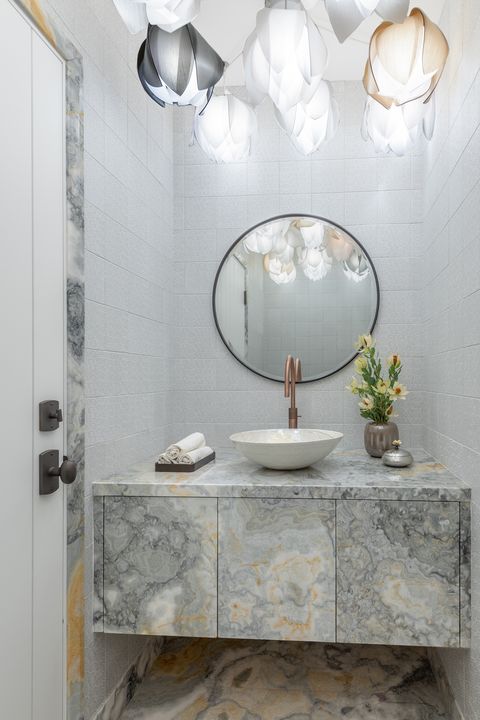 Bathrooms have evolved into popular spots for showcasing ornaments and lighting, including scones, elaborated ceiling lights, and attractive pendants.
These lovely lighting fixtures not only improve the room's aesthetic appeal but also help to create a relaxing mood.
They help maintain the calmness in the surrounding space, as the lighting plays a significant role when you are considering renovating or recreating your small bathroom.
6. Go for Geometric Pattern Tiles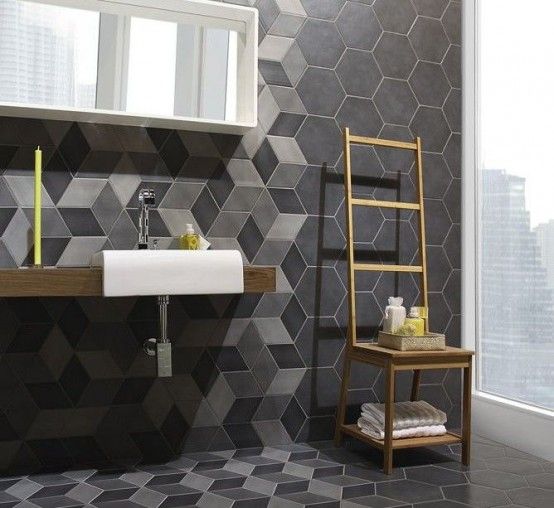 In your bathroom, have a look at the amazing results of blending textured tiles with a smooth, flat surface.
This approach produces an intriguing contrast whether it is used on the walls, the floor, or both.
You may create a stylish, personalized look without spending extra money by combining geometric patterns that gradually give way to a solid design.
With this alluring blend of textures and patterns, your bathroom will have a distinctive look that is quite expensive.
7. A Small Bathtub Can Be Used in a Small Bathroom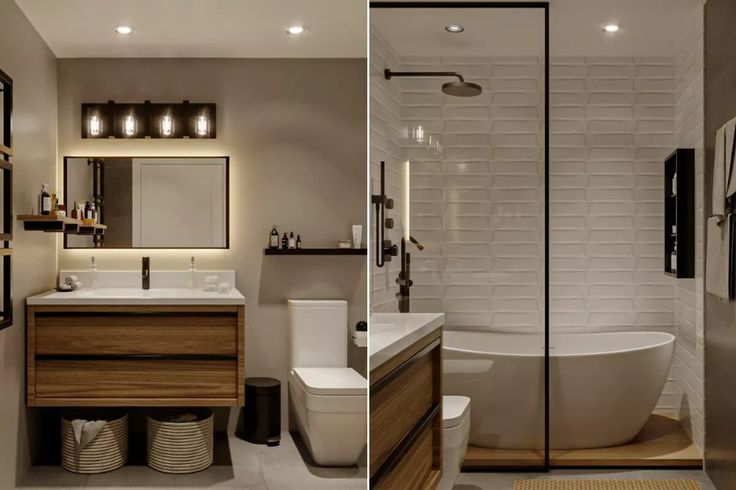 Contrary to popular opinion, a bathtub can fit in a little bathroom. Even in a tiny area, a little soaking tub can find the ideal location.
Every aspect has been carefully thought out, from the floor's vivid tribal pattern to the towel hook's creative design that creates a look of the art.
This bathroom, despite its small size, beautifully combines usefulness and aesthetics, demonstrating how a little space can be used efficiently.
And still can give the reflection of a lovely charm.
8. Give Your Bathroom a Spa Touch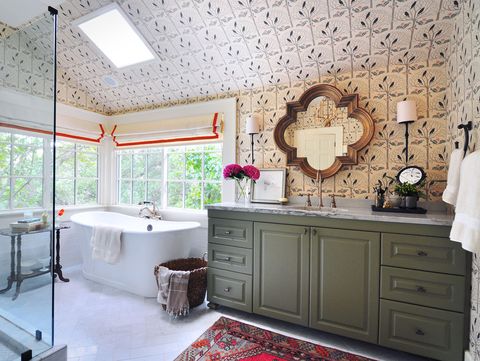 Bathrooms should also be considered a space for comfort rather than only functional areas. Although recent trends favor showers over bathtubs, the emphasis in bathroom design for 2023 is on customization.
According to each person's taste, this entails adding features like rainfall showers soaking baths, or even both. The popularity of steam showers with built-in chairs or sitting is also rising.
The use of natural dim lights to create a relaxing atmosphere, as well as the introduction of more plants to bring a bit of natural touch indoors, are examples of trends that are spa-inspired.
9. No More Swinging Doors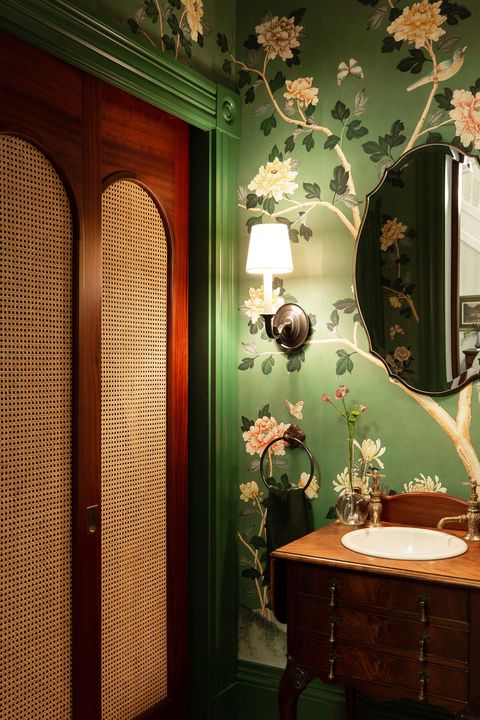 The ambient lighting in the space gives a delicate, soft glow, and the warm wood finishes produce a welcoming ambiance.
The brilliant green floral wallpaper gives the room a lively touch and liveliness. Together these components produce a hiding effect that envelopes you in an atmosphere of pace.
Additionally, the bathroom makes creative use of the concept of pocket doors in place of hooks to maximize space utilization. This creative idea can be thought of as to be the small bathroom trend of 2023.
10. Use of Textured Tiles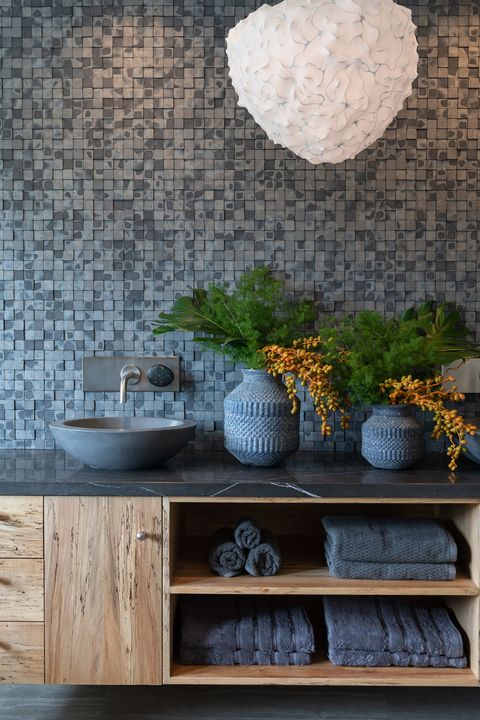 These tiles give every room a sense of creative flair and dimension thanks to their distinctive visual appeal.
These tiles' unique textures can play with the shadows and reflect light, affecting the atmosphere of the space when the lighting is slowly changed.
The use of these textured tiles is anticipated to increase as they offer a chance to give places personality and enhance the aesthetic effect through their visual and tactile attributes.
11. Terrazzo Style Small Bathroom Trends 2023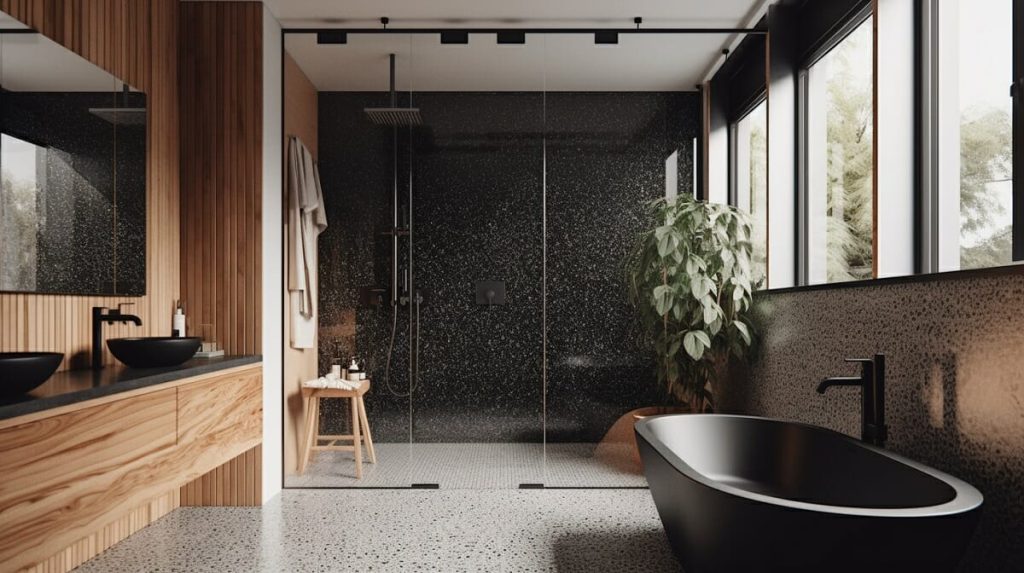 One of the small bathroom trends in 2023 is terrazzo, which keeps making a fantastic comeback.
Its adaptability is demonstrated by the variety of colors that are offered and the size variations of the stone that give it its distinctive appearance.
Even though each terrazzo style is unique, they all share a certain charm. Its resilience and ease of upkeep confirm its status as a top bathroom tile concept.
In addition, terrazzo's appeal goes beyond tiles, as evidenced by the growing popularity of terrazzo-inspired design.
12. The Rich Style of Earthy Colors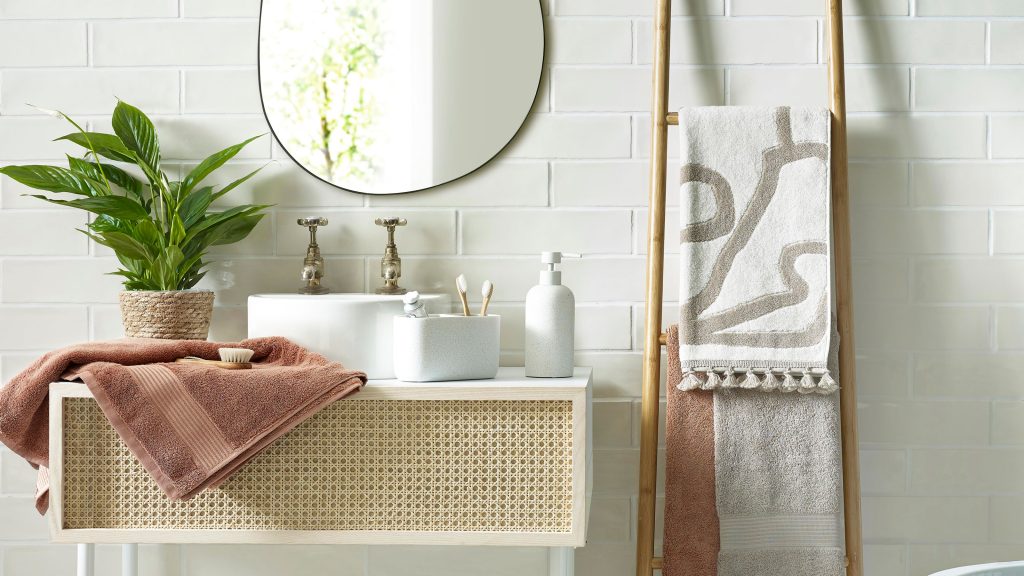 As timeless and traditional small bathroom trends in 2023, earthy colors like sandy beiges, warm ochres, and dusky browns steal the show.
Explore the variety of tones of a single color or combine multiple colors to create shades that could give you natural inspiration.
Whatever strategy you choose, the result will undoubtedly be breathtaking and serene. By combining these earthy hues, you can give your interior space a straightforward but powerful connection to nature.
These natural colors induce a feeling of harmony and tranquility in your bathroom, which further enhances its ambiance with the natural beauty altogether.
13. Paint It Sea Blue or Sea Green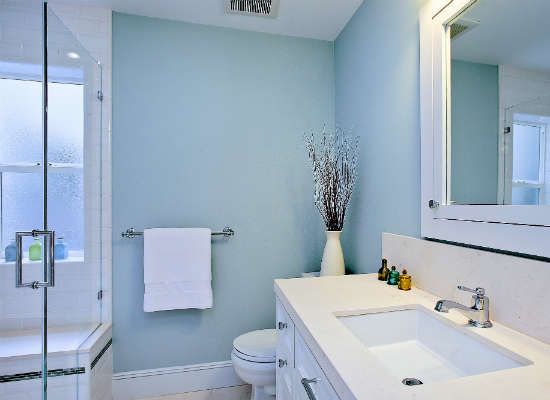 Shades of blue and sea green are also popular bathroom color choices in 2023, in addition to these earthy tones.
The deep and rich jewel tones of the ocean come to mind when blues and teals are mixed. Pastel colors and their freshness can also be utilized, which could remind you of a cool sea breeze.
Your bathroom will have a relaxing ambiance thanks to the use of these colors, which will evoke a result and energizing beach environment.
14. Select Olive Green for Small Bathroom Trends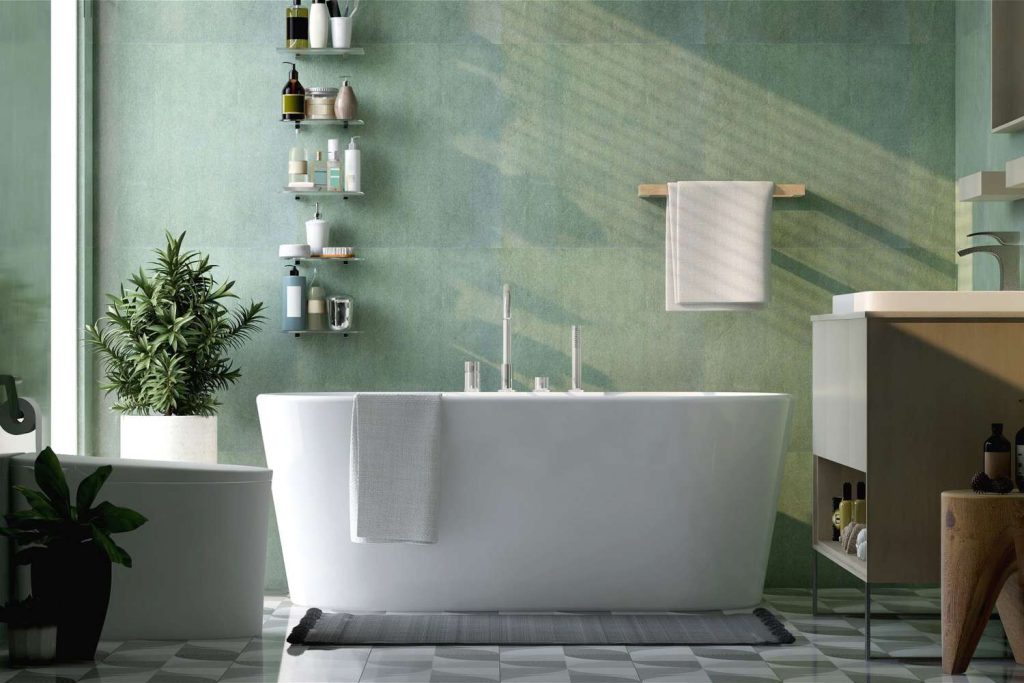 The idea of going through or exploring the variety of tones and textures of any color scheme is currently in trend.
There are various interior designs of a bathroom all over the world, which have shades of olive. In the coming future, new colors are likely to take the lead.
Also, there are numerous options of shades, particularly of Olive color, which would help in making a more novel and exciting approach toward the renovation of your bathroom.
It would embrace the properties of this beautiful and calming color.
15. Deselect the Hardware in Your Bathroom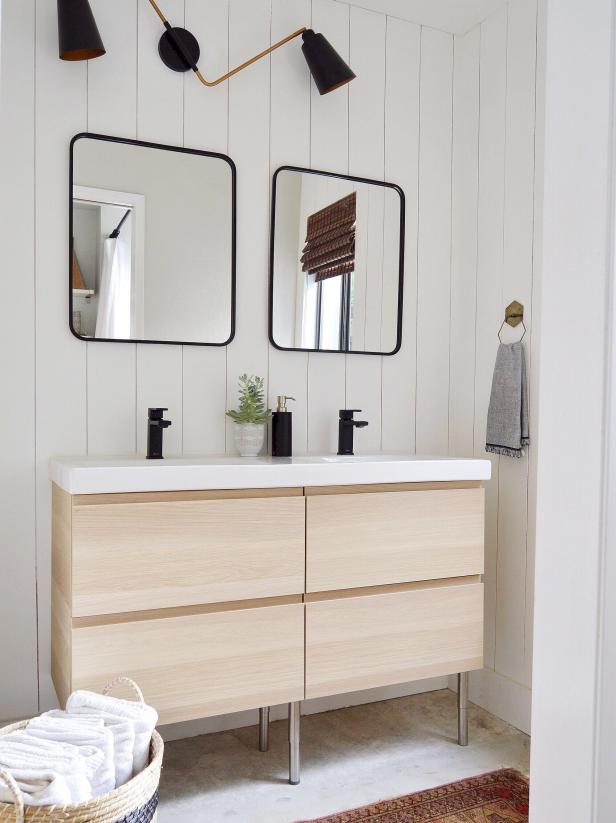 Consider utilizing drawers and cabinets with spring open mechanisms or integrated pulls that merge smoothly with the material of the unit to maximize functionality and create a streamlined appearance.
The space of the room is improved by using a cabinet with clean lines and uninterrupted surfaces, which may create an impression that the room is larger and uncluttered.
This design decision enhances functionality in constrained spaces and adds to the overall sleek and modern appearance.
16. Try Converting Your Bathroom Wall Into a Gallery Wall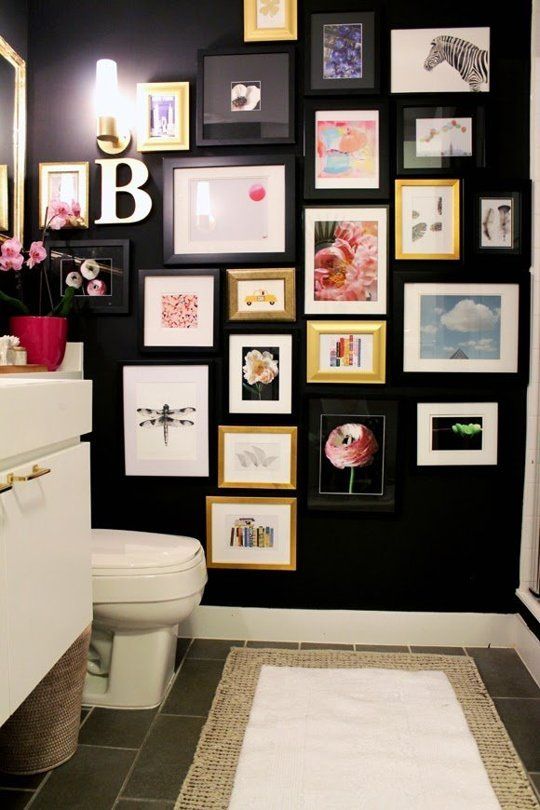 Making a gallery wall is simple to give a tiny space a lively personality. Select and introduce the unique and surprising work of art in your bathroom to create a quality display.
It adds a sense of personality without even taking up any space. Make sure the pieces you choose for your bathroom gallery wall are water-resistant or are correctly framed to prevent moisture damage.
You can enjoy a visually attractive display by picking art that can tolerate the bathroom climate with care.
17. Use a Hanging Mirror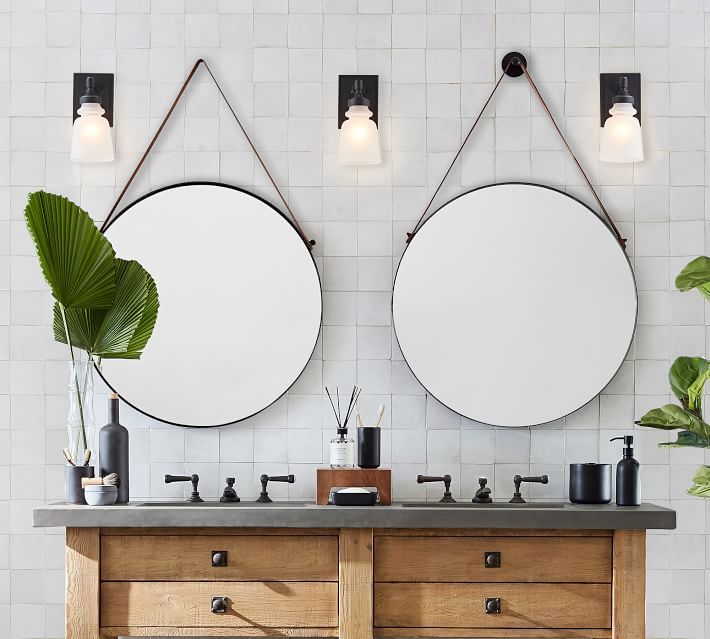 Place the spherical mirror at eye level to create the greatest elongating effect, and use straps to draw attention to the high ceilings.
While brown leather or sailor rope straps are frequently used on hanging mirrors of this type, choosing white straps in your bathroom is a good decision to increase the feeling of openness in the small area.
The bathroom appears larger and more inviting thanks to the reflective surface of the mirror, which not only provides depth and dimension but also amplifies natural light.
18. Think of Breaking All the Rules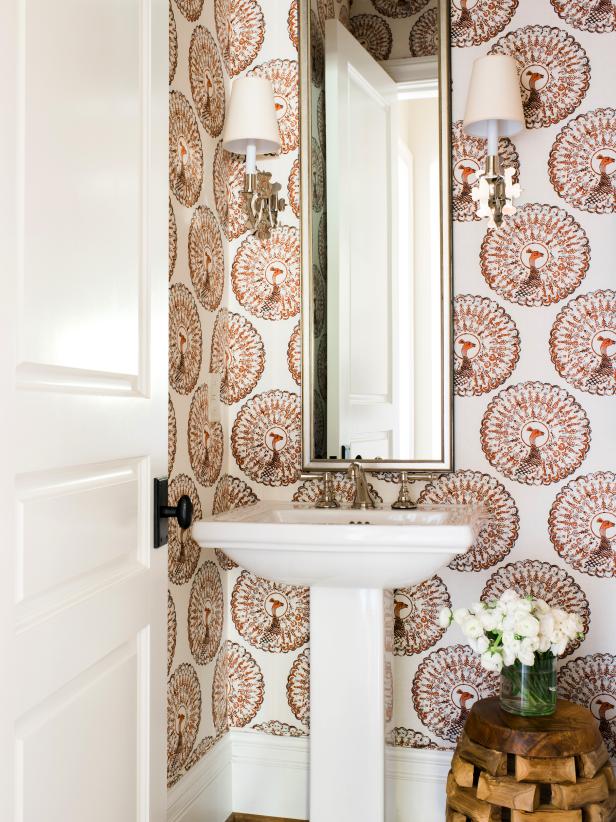 Wallpaper patterns of different sizes, whether small, medium, or large, can be successfully used in small bathrooms like the one seen. However, it is vital to use caution when choosing wall coverings with small designs in larger bathrooms and powder rooms because they can give the impression that the space is cluttered. A bathroom is a space where you can have your artistic freedom to inculcate. You can experiment with various patterns and unusual materials, with the help of which you can create a lasting experience of designing.
19. Color Your Bathroom Peachy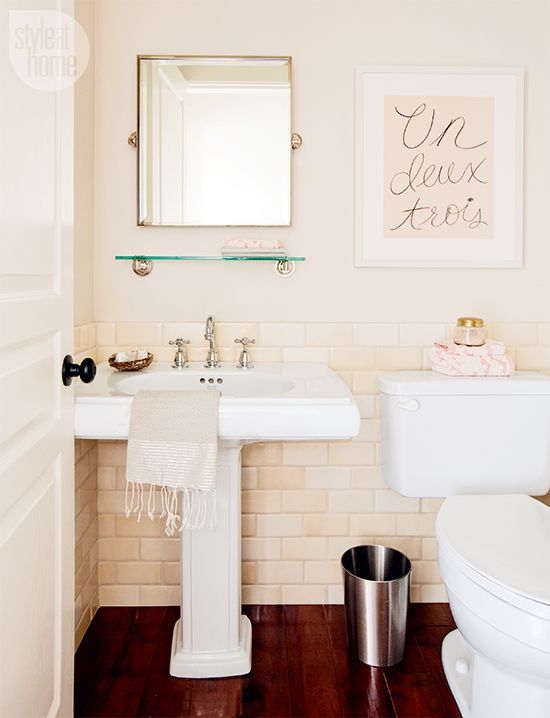 Neutral natural colors take the stage as the organic small bathroom trends of 2023 pick up steam and eclipse synthetic alternatives.
Peachy pink stands out among these peaceful tones as a tranquil color that warms up bathroom rooms. It provides a soft rosy undertone while changing slightly away from the blush and neon pinks.
With its ability to complement both feminine and masculine aesthetics, this natural color provides a warm backdrop for a variety of home design trends.
20. Keep Your Bathroom Glossy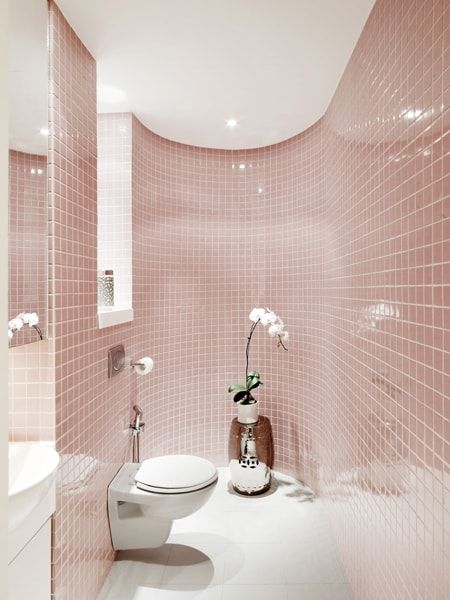 When working with limited spaces, it is important to provide the impression of greater space, and including mirrored surfaces that optically enlarge the space is one efficient way to do this.
It can be especially effective to use a huge mirror that spans a full wall behind the basin. Additionally, 2023 bathroom tile trends like glossy tiles, which reflect light, might be helpful because they increase the appearance of space in the bathroom.
Summing It Up
All in all, the small Bathroom Trends 2023 provides a creative solution to make the most of tiny spaces while striking the ideal mix between elegance and functionality.
The focus is on decorative lighting, which provides a calming atmosphere and a sculpture element that improves the room's usability.
However, the popularity of gallery walls and hanging mirrors makes it possible to add a feeling of artistic expression and personal style without taking up valuable floor space.
The color schemes for 2023 feature classic earth tones as well as the ever-popular blues, sea green, and other green tones.
The entire focus on personalization and customization enables homeowners to design bathrooms that are both aesthetically attractive and specifically fitted to their needs and tastes.
Frequently Asked Questions
Which Color is Trending for The Bathrooms in 2023?
Colors that are trending in 2023 are various, like peachy, sea green, or sea blue. You can select any color that gives vibrant as well as calming surroundings to your bathroom.
Your choice of color will give you joy and a feel of elegance not only to you but to your bathroom as well.
How Should I Decorate My Small Bathroom?
To provide the appearance of more space, choose light colors when decorating a small bathroom. Use mirrors to increase the room's appearance of size.
Pick storage and fixtures that conserve space. To add visual appeal, use ornamental or textured tiles. To keep the space looking neat and uncluttered, keep the decor simple and harmonious.
Can I Use Pink for My Bathroom Design?
Yes, pink may make a beautiful design decision; for a tranquil and beautiful appearance, take into account employing calming hues like blush or peachy pink.
For a clean and well-balanced look, use it with white or neutral tones. Pink may offer coziness and a hint of femininity, giving your bathroom a distinctive and warm ambiance.