In our fast-paced society, staying physically fit and having a good lifestyle is a key priority for many people. Their regular gym membership gives them access to various classes and equipment but still has several limitations, like crowded rooms and hectic operating hours.
This is where the idea of a home gym comes in, as it enables people to work out at their convenience, on their own time, and in the comfort of their own house. But establishing a well-designed home gym with all necessities is challenging as it requires a lot of preparations.
So here we bring you the concept of designing the home gym ideas for transforming your space per your comfort and preferences. Take advantage of the faqs; otherwise, you'll be concerned about creating your ideal fitness hideaway.
So let's move ahead and have a good understanding of what a home gym setup looks like.
What Exactly Does a Home Gym Design Look Like?
Home gym design is a space within your house that is dedicated and created just for fitness activities.
While you create a home gym design, you need to carefully select the location, choose necessary accessories and equipment as per your workout routines, and arrange all of it in a way that can enhance your workout experience.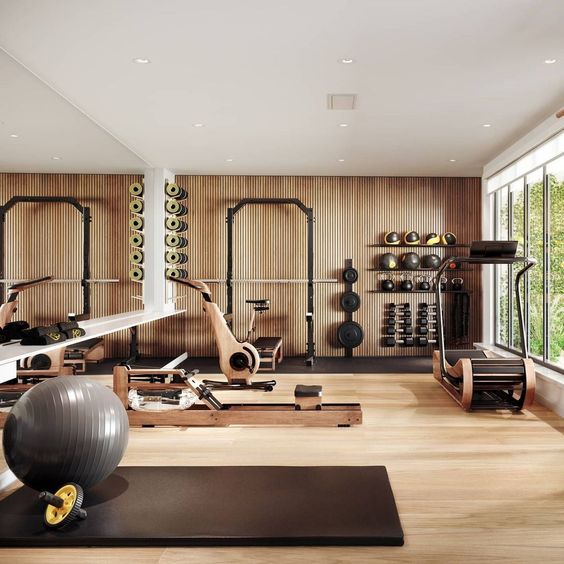 Suppose you design the gym at your home nicely and appropriately. In that case, it can activate, inspire and motivate you to do physical activity with full privacy, convenience and as per your reference.
Now that we have understood the basics, let's move ahead and see how you can design your own with some home gym ideas.
Designs of Home Gym Ideas
To have a better understanding of home gym design, let's have a look at these top 10 inspirations for generating ideas.
1. Versatile Fitness Studio: Finest of All
A versatile fitness studio is something that combines all the various types of exercises in a particular area. It also has elements like ballet bare, suspended Yoga mats, and mirrored walls to perform activities like yoga, dance, cardio, and weight lifting.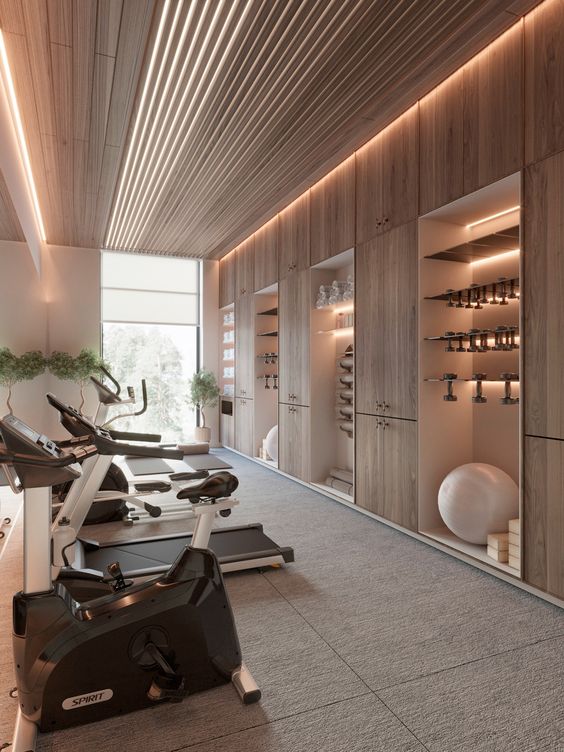 To make it the best and most versatile, one can first add storage for organizing all the equipment and install shock-absorbing floors where you can engage in all sorts of workouts without needing specific rooms.
2. Bring Nature's Essence Indoor: Organic Atmosphere
Another great home gym idea one can incorporate is adding natural elements to create an earthy atmosphere. By this, you can create an eco-friendly place; instead of some heavy materials, you can use bamboo flooring, wood, and stones.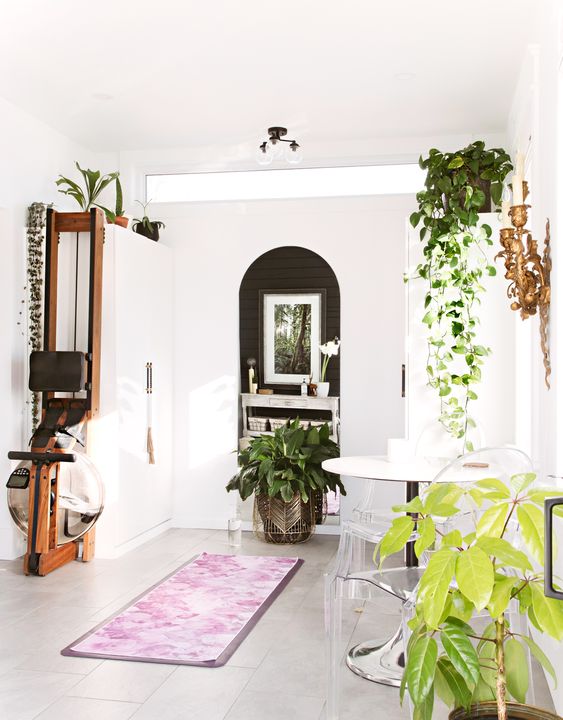 Incorporate large windows to see scenic views while working out to give it a more natural touch. Add some potted plants to make it look more green and improve the space's air quality. Implementing a home gym idea like this can bring a connection with nature.
3. Tech Forward Haven: Advancement of Fitness
This kind of design of a home gym idea that caters to tech enthusiasts and can embrace the future of fitness is a great experience. To give a suitable ambiance to the gym, you have to equip it with virtual devices, fitness mirrors, and fitness tracking systems.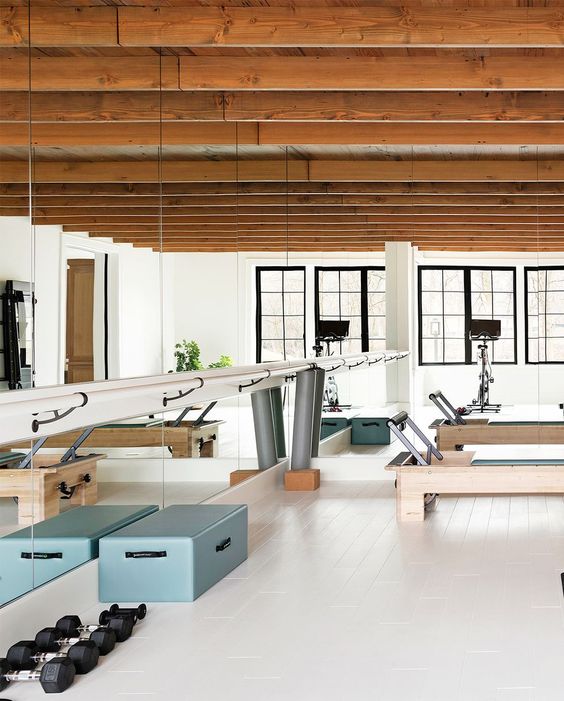 Not just this, you also need to add a sound system at the gym for a great audio experience, a futuristic venture, and a good elevated workout.
4. Make Use of Unused Space: Convert Garage
To make the most of your existing space, convert your garage into a beautiful home gym. Install durable flooring, remove all the clutter, and ensure the space is well-ventilated; otherwise, you might feel suffocated.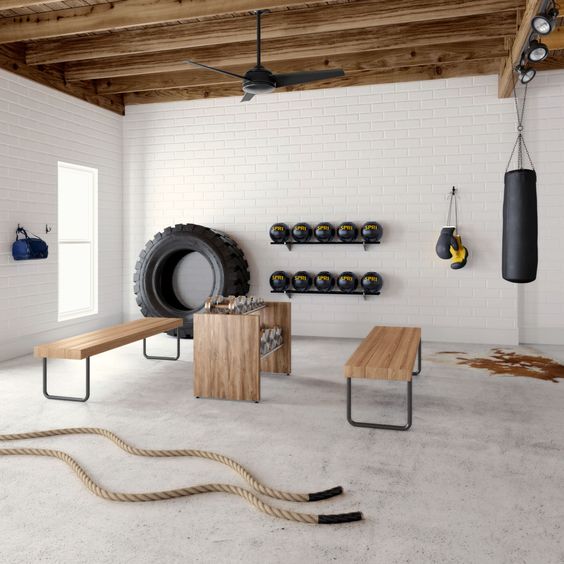 To make it look more organized, install storage shelves that are wall mounted. You can also invest in equipment like a power rack, resistance band, and adjustable benches to maximize your limited space. This home gym design can help you create a dedicated fitness zone without investing much.
5. Find Balance and Harmony: Zen-Inspired Gym
To incorporate a zen-inspired home gym, you need components that bring peace and calm. And to keep the space comforting, use colors that are soft and neutral. Install lighting that is dimmable to maintain the atmosphere.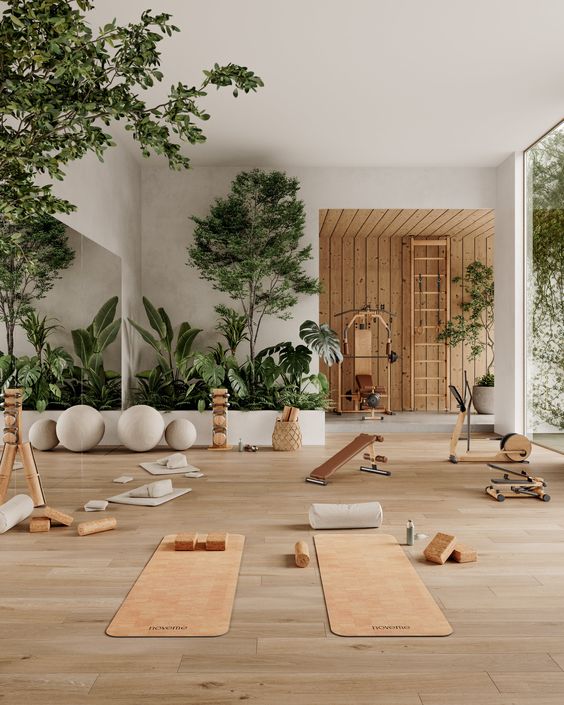 Create a specific area for meditation and Add items like a yoga mat, foam roller, and balance ball for performing such exercises. Add a little waterfall to create a sense of calm while you work out and enhance your well-being.
6. Industrial Inspired Gym: Raw and Edgy
To incorporate such a design, you need to embrace the industrial vibe. Add brick walls, hard floorings, and metal accents to keep that industrial vibe. To maintain the atmosphere, Highlight the space with some industrial-style light fixtures.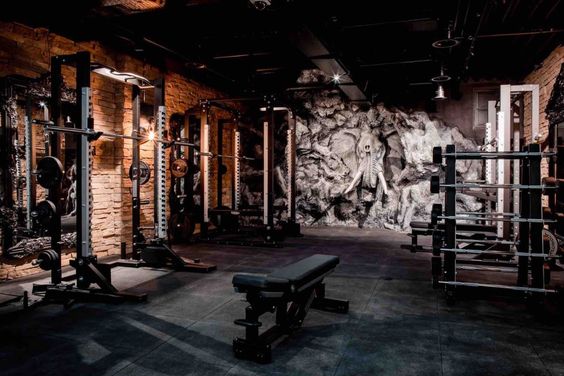 Incorporate heavy-duty equipment like a power cage and punching bag to fit the rough tone. You can also enhance the mood by adding vintage gym posters and graffiti. This home gym idea is distinct and gives you an urban atmosphere.
7. Compact Corner Home Gym: Perfect for Limited Space
Suppose you do not own a big house and are worried about space. Don't worry; a compact corner gym is ideal for you. To incorporate this design of the home gym idea, you can install space-saving equipment, for example, foldable treadmills, elliptical machines, etc.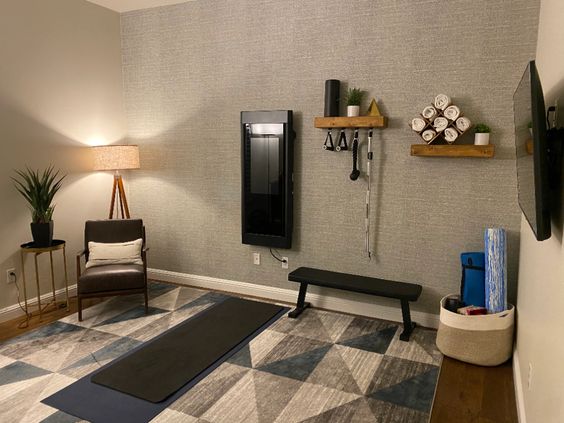 Add a wall-mounted shelf to store dumbbells, resistance bands, and other small equipment. Try to add a full-size mirror to give you the illusion of more space and to improve functionality. This home gym idea can be transformed into a usable and effective fitness zone.
8. Outdoor Oasis: Immerse Yourself In Nature
If your love for nature is endless, then this design of home gym idea is perfect for you. Create a particular workout space in your backyard or patio. Choose materials like rubber tiles for the flooring. Invest in outdoor dumbbells, pull-up bars, and resistance bands for weatherproof fitness.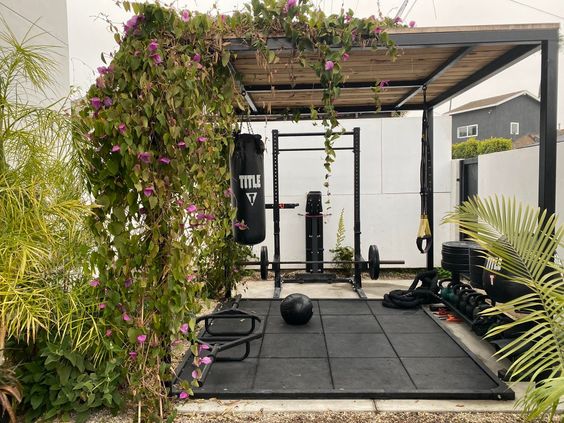 Add natural elements like landscapes and tranquil waterfalls to enhance the atmosphere of the space. While you work out outside, you can also take advantage of the serene and relaxing training environment.
9. Simplicity and Clean Lines: Minimalist Elegance
For home gym ideas like these, you must incorporate a neutral color palette with some shades of white and grey to achieve a sleek and sophisticated look.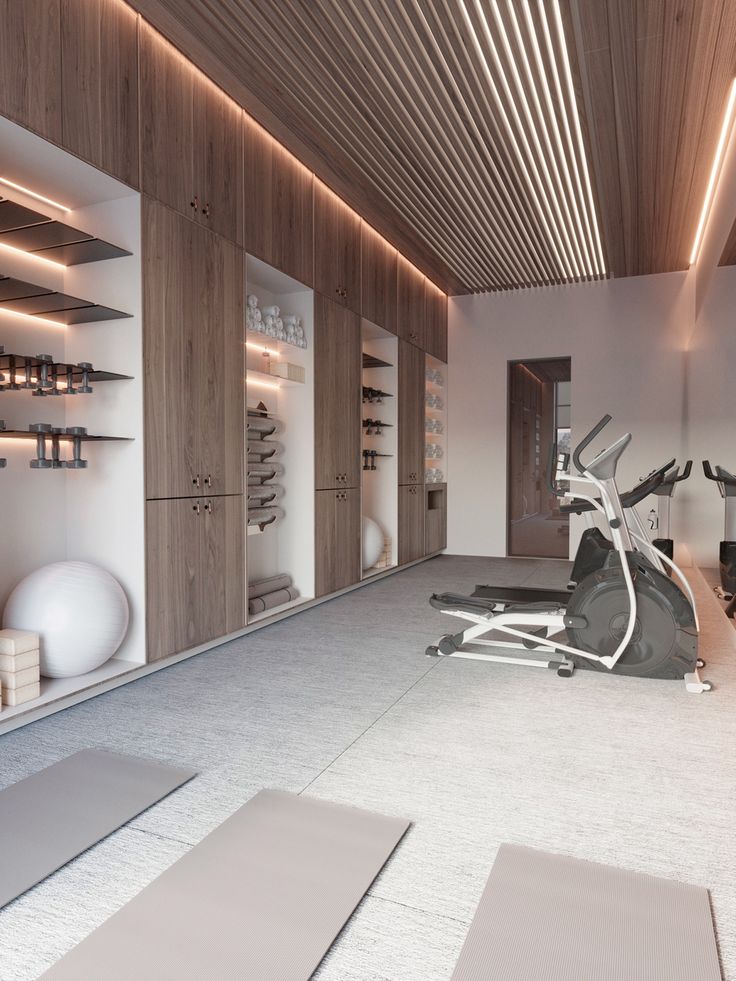 Then add minimal equipment like adjustable weights, cardio machines, and suspended TRX systems. To make it look simple and clean, utilize inbuilt storage. Home gym Designs promote a sense of calm and allow people to focus on their workout entirely. It also creates an atmosphere perfect for all gym freaks.
10. Merge Fitness and Wellness: Home Spa Retreat
To incorporate home gym ideas like a home spa retreat, you must add some luxurious amenities like a sauna or steam room. Adding these to your home gym will enhance your post-workout recovery and help you relax and rejuvenate.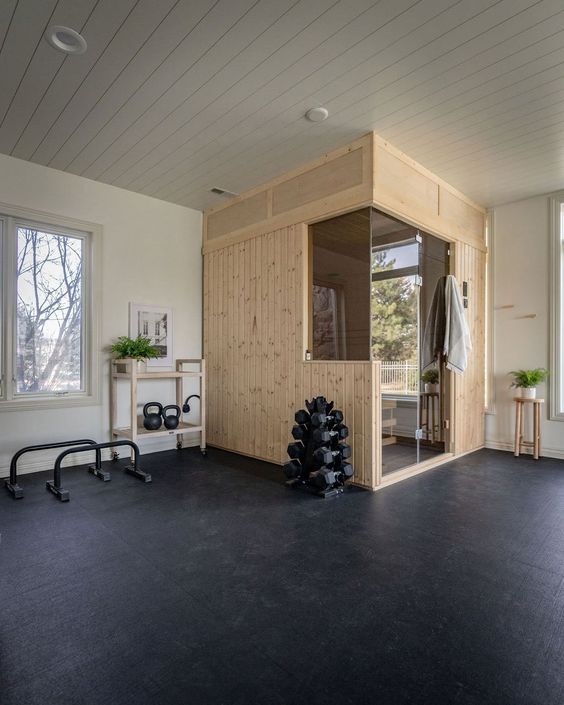 To enjoy this experience thoroughly, create a soothing experience with soft lighting, aromatic diffusers, and therapeutic music. Create a dedicated space for yoga, dance, and Zumba with comfortable mats and seating. If you're planning to create a space like this, do not think twice because this home gym design embraces both physical and mental well-being within the serene environment of your home.
Final Thoughts
All in all, creating a home gym room that reflects your fitness goals and flairs is not easy, but possible. There are numerous home gym ideas to make your home gym into a personalized fitness zone, whether you like a versatile fitness studio, outdoor oasis, or spa retreat.
Just consider your space size, budget, and exercise needs while selecting a design that speaks for you. Remember to add aspects that inspire you to stick to your training plan.
So what are you waiting for? Get some inspiration for constructing a home gym that represents your convenience, comfort, privacy, and interest.
Frequently Asked Questions
What Are the Advantages of Having a Home Gym?
A home gym has many advantages, like convenience, privacy, customization, comfort, and time efficiency. Not just these, it even allows you to work out without distractions.
How to Choose the Ideal Space for a Home Gym?
When choosing a location for your home gym, consider factors like adequate space, ventilation, lighting, and accessibility. Please select any of the areas in your home, whether it's your garage, basement, backyard, or any other corner of the room. Make sure the area you're selecting has sufficient lighting and proper ventilation. Make sure your chosen area is easily accessible and convenient for regular use.
How to Make the Most out Of Limited Space for a Home Gym?
Even if you've limited space in the room, you can still set up a fantastic home gym. To incorporate this kind of design of the home gym idea, you can install space-saving equipment, for example, foldable treadmills, elliptical machines, etc.
What Are Some Budget-Friendly Options for Establishing a New Home Gym?
While setting up a new home gym, you can save a lot of money using second-hand equipment. Skipping ropes, resistance bands, and body weight exercise machines are expensive, so instead of investing in them, go for options that can be reused.
Do We Need to Maintain Safety Precautions While Creating a New Home Gym?
Yes, ensure you have proper flooring so there is no risk of falling. Allow enough space around equipment for safe movement. And make sure you consult a professional to ensure proper installation and usage of equipment to prevent injuries. If you have an extra vacant room, a corner, an outdoor location, or even a basement, you can easily convert it by trying these home gym ideas.