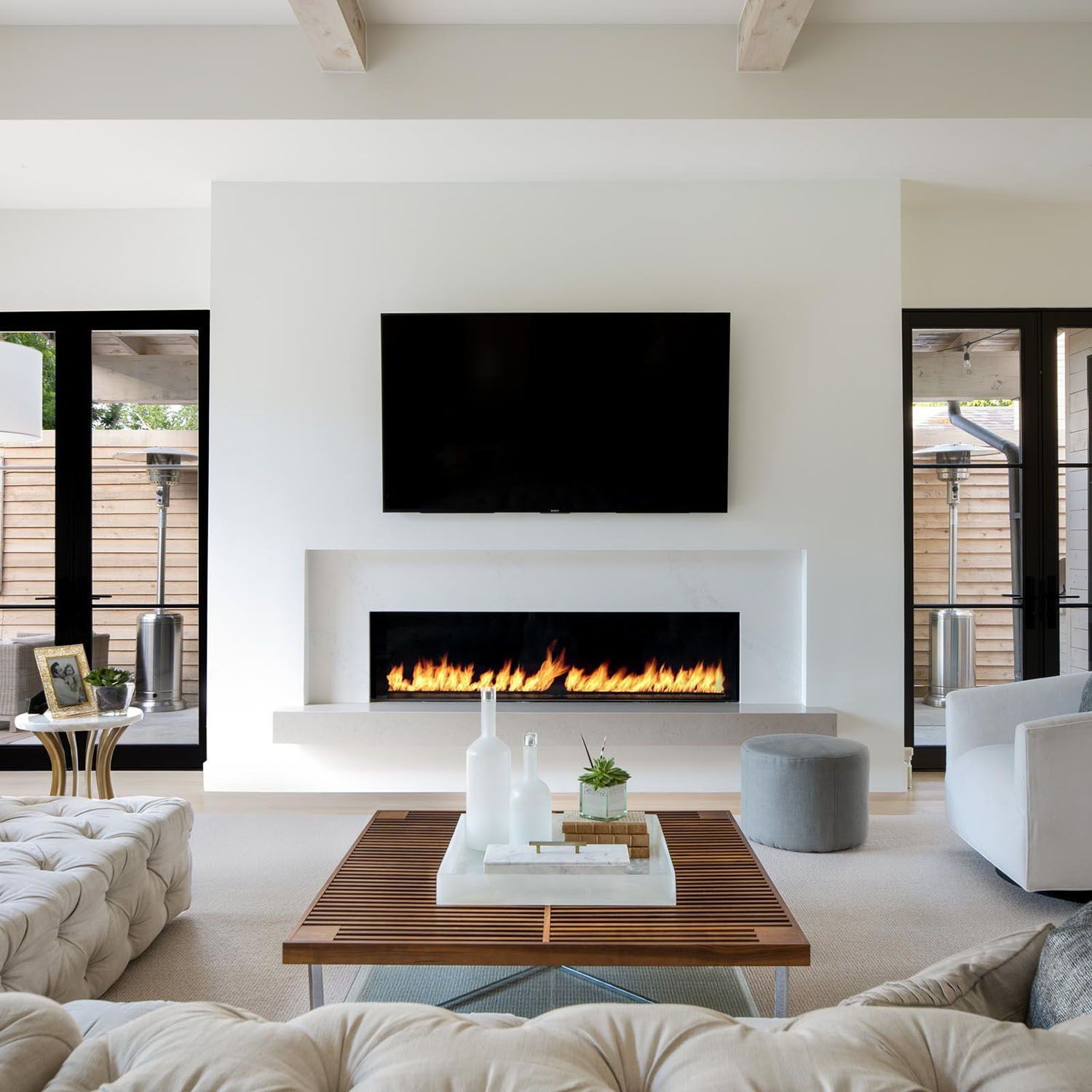 As we are almost marking the half year, winter's season is not too far. However, the winter season is more about wearing warm clothes and celebrating festivals.
It comes with goof-up family time and vacations, and when we talk about family time, nothing beats a good fireplace setup. Enjoying a cup of hot chocolate and taking warmness from the modern fireplace is just the cherry on top.
Suppose you want to build something similar for your house and spend some quality time. If you want to renovate your old fireplace area, then we are here for you. We have created a list of 24 modern fireplace ideas that will not only give you warm hugs but also looks stylish.
Stick till the end with us and find your best bait for the same.
Modern Fireplace Design Ideas 2023
Whether you like something basic or just out of the box, we have everything. Without any further wait, let's get into the list and find a good modern fireplace idea for you.
1. Innovative Tiles Modern Fireplace Idea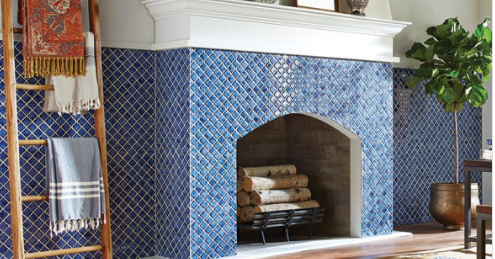 Boring bricks are not your type? We have the first one for you that is unique and not so essential. You can elevate your living room fireplace with this modern fireplace idea that involves tiles. Rather than an option for bricks, you can go for tiles in variations. You can pick a theme like jungle or geometric shapes and build your fireplace according to that. Explore the market and find tiles that fit your style and concept.
2. Angular Modern Fireplace Idea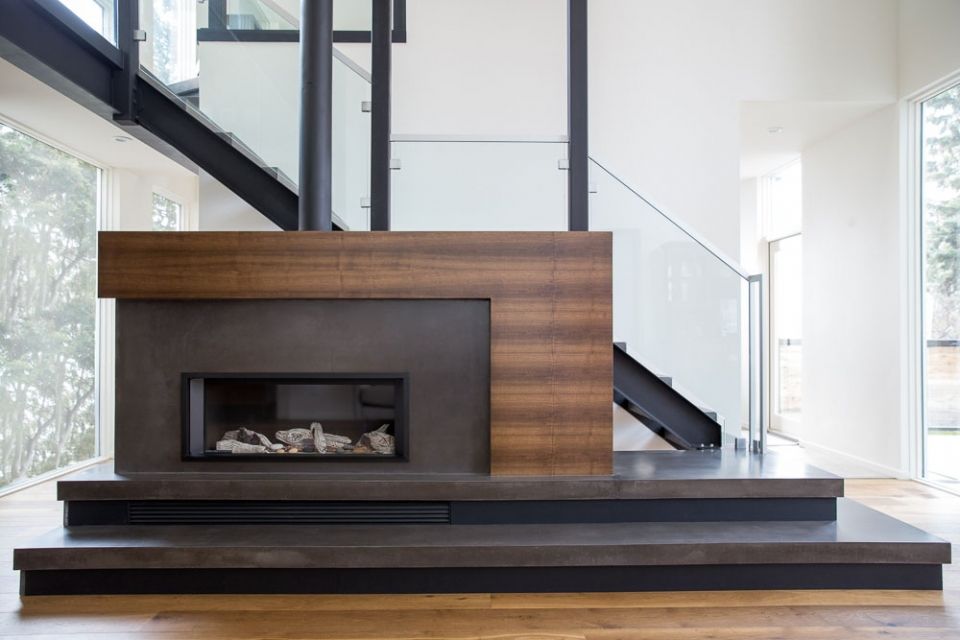 Usually, fireplaces are in regular shapes like squares or rectangles. However, getting something in a unique shape or size can make your living room light up. If you are into shapes, then opt for an angular modern fireplace idea. You can either get it constructed by a furniture vendor, or you can shop for modern fireplaces online as per your need.
3. Minimalist Modern Fireplace Idea
Minimal is modern, and when we talk about a fireplace, the minimal modern fireplace idea is perfect for you. Many people like to choose options that are not overpowering and look decent. You can opt for something in a classic black or brown shade. The white wooden fireplace is the least chosen because it can get easily dark through heat and ashes. Hence, if you want a minimalist modern fireplace idea, then opt for a classic that looks stylish yet effortless.
4. Mirrored Modern Fireplace Idea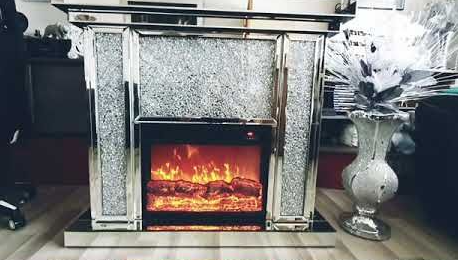 Mirrors are a great way to make your house look beautiful and modern. If you also like placing extra mirrors as a piece of interior, this one on our list is perfect for you. This category of modern fireplace ideas offers you nothing but reflecting materials in different shapes, sizes, and colors. This is one of the best options on the list and looks nothing but a treat to the eye. You can shop for this one easily by choosing reflecting wall sheets, tiles, or something different.
5. Traditional Modern Fireplace Idea
Traditional things never go out of style. Be it your room, decor, furniture, or fireplace, everything that has a traditional touch looks modern and chic. Hence, finding the right modern fireplace idea is relatively easy if you are into traditional things. Opt for a fireplace idea that has a traditional touch to it and elements in your room that complement the overall persona. Don't go for more structural pieces, and keep it a little spacious too.
6. Black Modern Fireplace Idea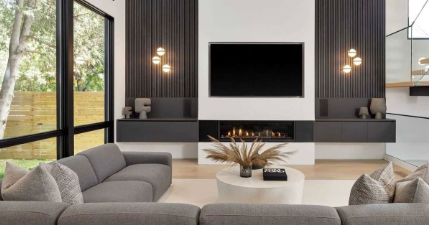 Black is a classic element for every house. Some people don't go for black as an interior because they find it too shady and dark. They also find it negative as a color, but if you ask us, then black is one of the best shades to choose as an interior piece. You can easily get a black color modern fireplace mantel and improvise your living room to the next level.
7. Bookshelf Modern Fireplace Idea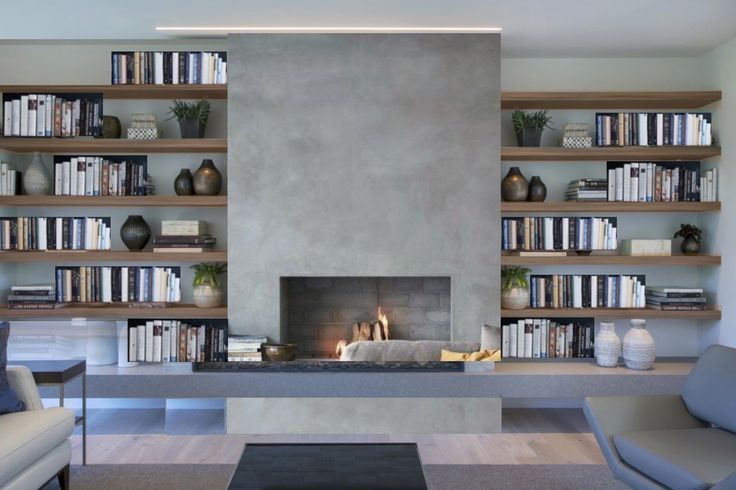 If you are also a bookworm and like to display that personality everywhere around you, then this one on our modern fireplace idea list is perfect for you. Get yourself a fireplace that has elements of your favorite books and looks stylish. You can also customize one by adding books around it. This will not only look modern but will make your personality outshine thoroughly through your house.
8. English Country Modern Fireplace Idea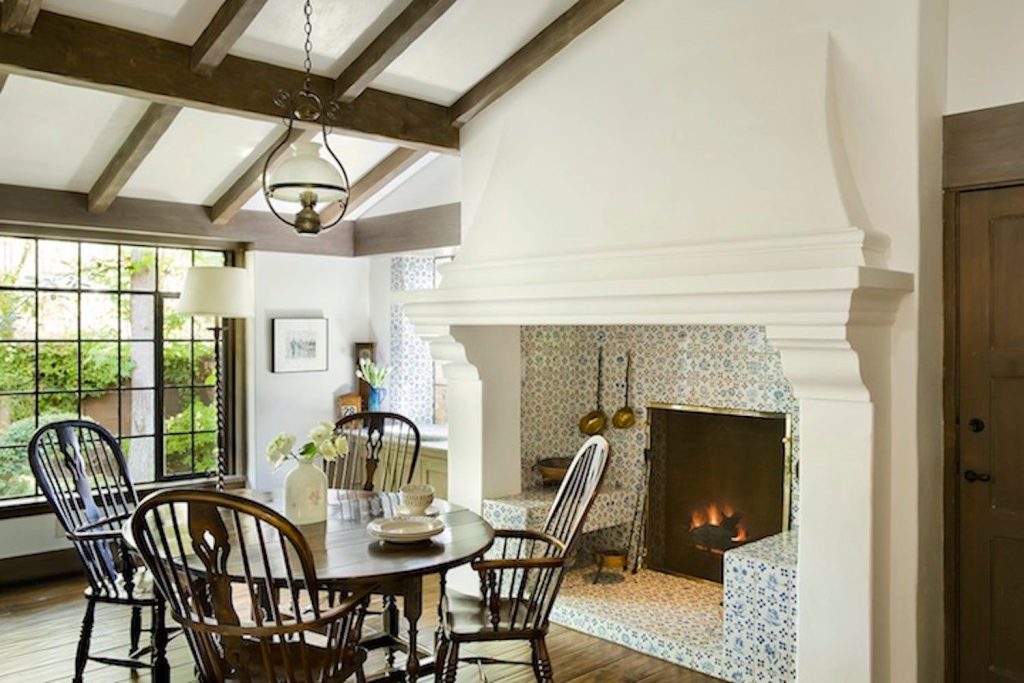 When everything is mostly British around us, why not add another piece like that to our living room? Get an English country modern fireplace idea for your interiors and see how it actually lives up to your life. It will mostly be in white color, and you have to keep it extra maintained, but other than that, it will look stylish and classy. It is going to be quite easy to work with other elements of your look.
9. Unique Limestone Modern Fireplace Idea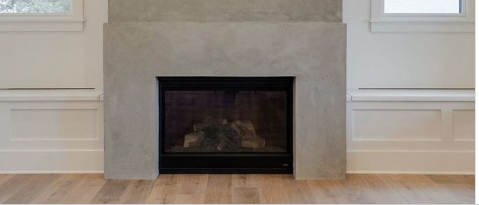 Limestone is often used in furniture and housework. It is a great stone to add texture to your house and make it look better than ever before. If you are planning for a modern fireplace idea, then getting something in Limestone can be your pick. You can get a modern fireplace that has limestone over it. It will be durable and make your living room look beautiful all season.
10. Weaved Texture Modern Fireplace Idea

You also don't want to go for something basic and add texture in every way possible. Don't look far; the next option on our list is weaved modern texture fireplace idea. It is not going to be basic or plain, but the outer area will have a woven texture all over it. This is perfect for any house and adds minimalist elements to your living space.
11. Dual-Tone Modern Fireplace Idea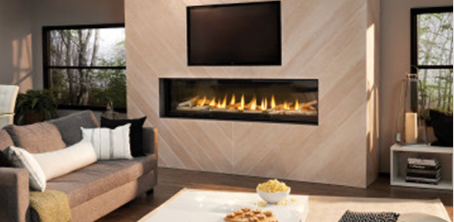 If you want to add depth to your room and make it look stylish and beautiful, invest in a dual-tone modern fireplace idea. A dual-toned modern fireplace will be perfect for your house. Go ahead and choose a combination of light and warm shades that will complement your house beautifully. You can go for brown and white shades or black and beige shades. Apart from this, you can add rugs and carpets in warmer tones.
12. Geometric Modern Fireplace Idea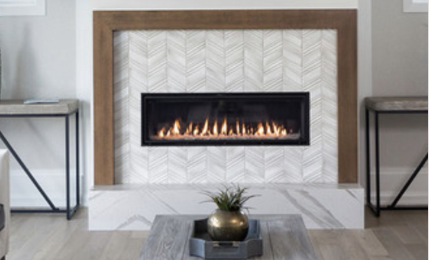 Getting a tile-made modern fireplace can be a little unique for a living room. Go for tiles that have geometric patterns all over them. You can either pick neutral colors like black and white, or you can invest in colors. A person into geometric shapes and textures will surely go for this modern fireplace idea because it is not only easy but also adds the right amount of texture to your room.
13. Grey-Toned Modern Fireplace Idea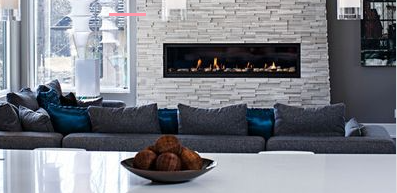 Gray is a classic color, and every house has some or the other elements that are usually grey color. Be it your bed, sofa, furniture, or walls, something in gray is always there. Go ahead and choose a grey-toned modern fireplace for your living room this year. It is modern and balances out the patterns and colors in a subtle room. You don't have to think much while choosing this modern fireplace idea as it is quite easily available.
14. Modern Fireplace Idea With Wall Accent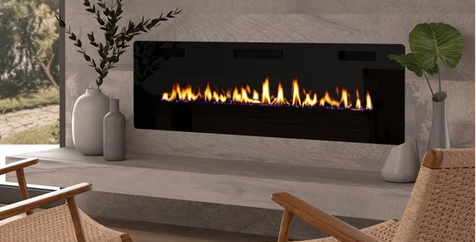 An additional shiplap wall can add more visuality to your room, and this one is of the unique modern fireplace idea. It will make your room look more open and ceiling tall. You can get an additional wall in some sort of color or print, or you can simply add a white-colored extra fall ceiling to it.
15. Stone and Wood Modern Fireplace Idea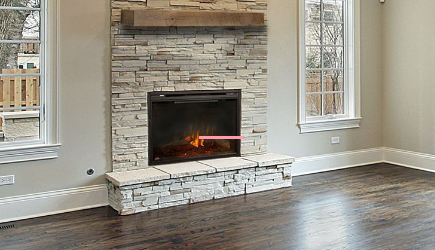 Who does not love a combination of wooden and stone elements? They are not only different in texture but also in color. Opt for a grey-colored stone and wooden outer side. It will add minimal aesthetics. You can also add a little more visuality by hanging frames and artwork that represent your personality and love for art. It will be more on the neutral palette, and colors will fall into the same category; you can go ahead and add colors in other ways.
16. Layered Modern Fireplace Idea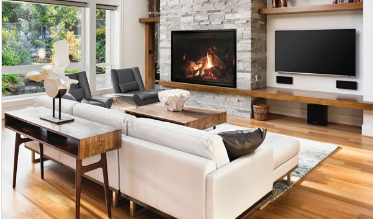 These days layering has been in trend. Whether it is clothes or house layering can make a lot of difference. You can easily choose a basic fireplace idea that has upper space for layering. A basic combination of marble tiles, concrete, and wood can make your room look more cohesive. The only thing you have to keep in check while following this modern fireplace idea is to choose simple and clean designs and patterns. Also, make sure to go on a limited palette for extensive color.
17. Wall-Mounted Modern Fireplace Idea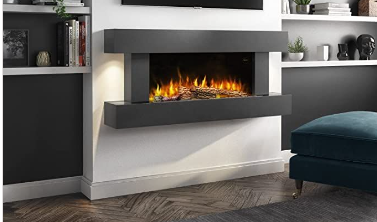 Wall-mounted modern fireplaces can be a head-turner in your house. If you are planning to get something that fits under this category, then look for simpler wall-mounted fireplaces and designs. You can add wooden elements around it to add more warmth and depth. You can go for overall cooler tones in your room with this beautiful modern fireplace idea.
18. Modern Fireplace With Black Tiles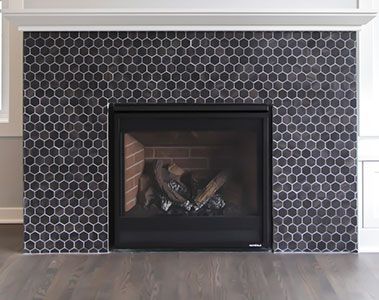 Black is the color of modern rooms; you can add black shades in your living room by adding easy equipment like a modern fireplace. Choosing a modern fireplace with black-colored tiles is the easiest option and looks stunning to the eye. It is easy to maintain as it has a darker shade. Without any doubt, invest in modern fireplace ideas with black tiles and revamp your room like never before.
19. Modern Fireplace Idea with Moldings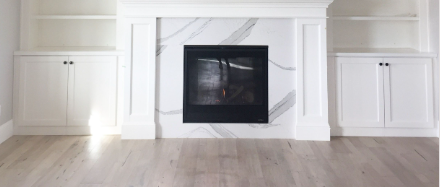 Just like a beautiful dress adds beauty to the woman. Similarly, good moldings around the fireplace can make it look beautiful. It is a simple yet elegant way of adding more charm to your living room. Additionally, you can play with more materials like wood and bricks and paint them in similar shades. This will add texture and make your room still look put-together and clean.
20. Rustic Modern Fireplace Idea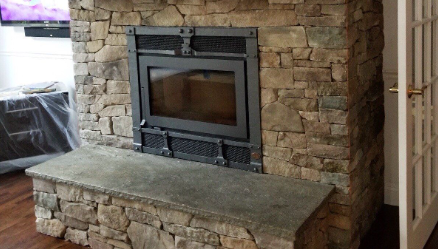 A modern rustic fireplace place idea is one of the simplest and most classy takes. It is minimal yet adds enough texture to your living space. You can start by adding white-colored paint all over your room and then adding a fireplace element that has a rustic touch to it. You can play along the same color palette all over your space and keep it spacious and clean.
21. Gray Bricked Modern Fireplace Idea
If you want to try something falling under this category, then start by painting your room and surroundings in similar light-toned color. It will add the right amount of uniformity to your room. Once you do that, add a modern fireplace in grey color and brick shape. It will break the uniformity in your room and will offer the right amount of texture and color.
22. Modern Fireplace Idea with Paintings All-Around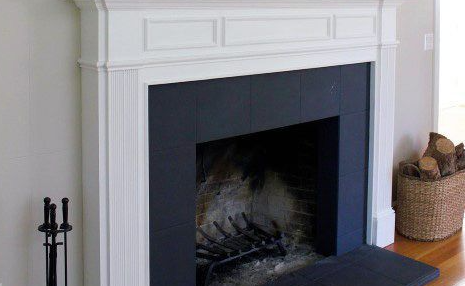 Paintings are a great way to add artwork to your room. They not only add color but also beautiful shade to your room. You can have a whole minimalistic vibe in your room and then add a fireplace with paintings all around. You can also elevate the overall room look by adding a different color to your fireplace. Additionally, millwork can be added with little detailing to make it visually pop out.
23. Modern Fireplace Idea for Bedroom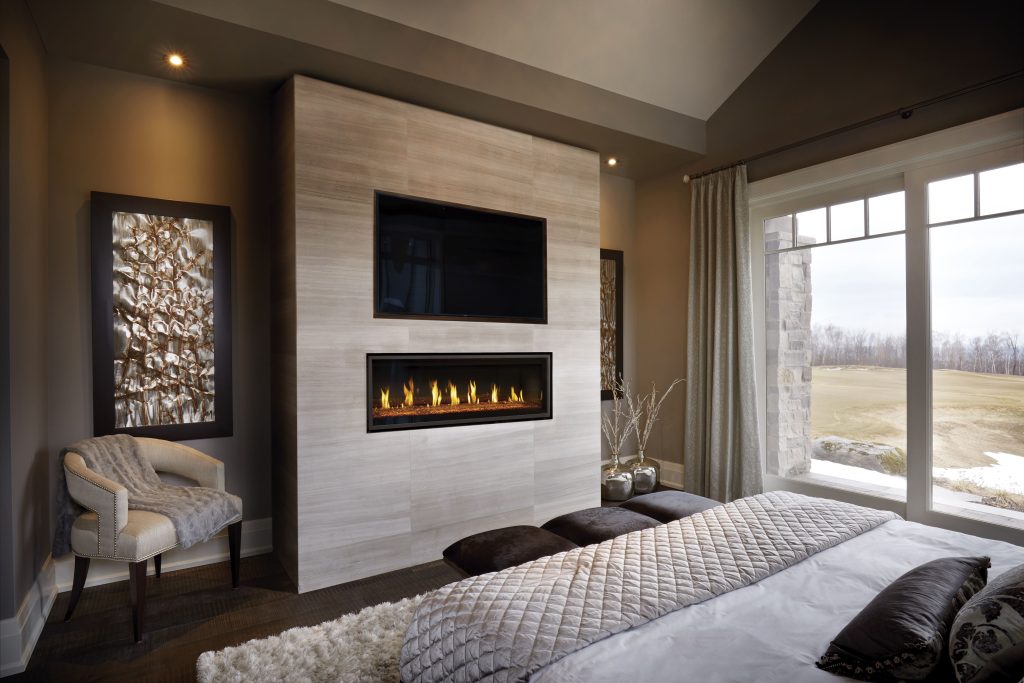 Fireplaces are usually preferred for living room areas, but you can play a little off-the-ground and add it to your bedroom. Go ahead and add a modern yet aesthetic vibe to your bedroom. This artwork will make your bedroom look a little different and out of the box. In the winter season, it will give you a cozy bedroom feel and warmer nights.
24. Hanging Modern Fireplace Idea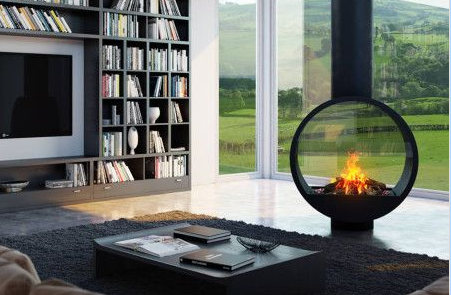 If you don't want to invest in something huge or bulky, then you can invest in a simpler and smaller version of the modern fireplace idea. Get a modern hanging fireplace that will take up little space in your room and will work best. You don't have to invest a lot of space or money to get this piece for your living room.
Summing It Up
All in all, after looking at the options, you might have gotten an idea about how people can have different needs and requirements when it comes to modern fireplace ideas. Some want minimal and small, while some require bold and classy. A good modern fireplace idea can revamp your living room from basic to something sightful.
No matter if you have a small living room or bedroom, you can find something that fits in your area. You can also play with colors and textures as per your need. Lastly, if you want something little customized, then you get them built as well for your house.
We hope these ideas might have helped you and given you something to take forward.