Whenever it comes to interior design, the ceiling should be addressed. People must learn that the ceiling can elevate the room's aesthetics. Incorporating new, quirky, and different ceiling ideas can turn an ordinary room into a beautiful masterpiece.
Most of the time, the ceiling in our living rooms is overlooked, but it holds so much importance that if it is taken care of, it will change the whole appearance of the room. It acts as a blank canvas that holds endless possibilities, which can change the whole ambiance and aesthetics of the house.
So here we are with 9 such eye-catching ceiling ideas that can significantly impact your home decor.
But before we move ahead, let's understand the importance of a good ceiling.
What is the Significance of a Good Ceiling?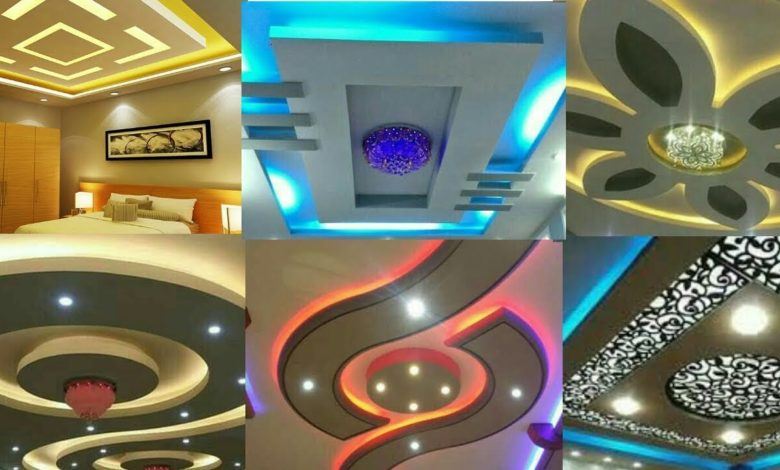 The primary significance of the ceiling is that it has a profound impact on the house's overall design when given proper attention. You can change the whole look of your house and make it captivating just by adding some existing ceiling ideas.
In this article, we will help you with impactful ceiling ideas that will not only improve your interior design but also show why it is essential to pay attention to the most overlooked component of home decor. Along with that, these ceilings will also show you the power they hold while they are in your room and make it look more charming and beautiful.
So let's look at them and see how an appropriate ceiling design can improve the looks and feel of your house.
Best Ceiling Ideas For Your House Makeover
Uplift your home decor game this coming season by trying these unique ceiling ideas.
1. Add Statement Lighting Pieces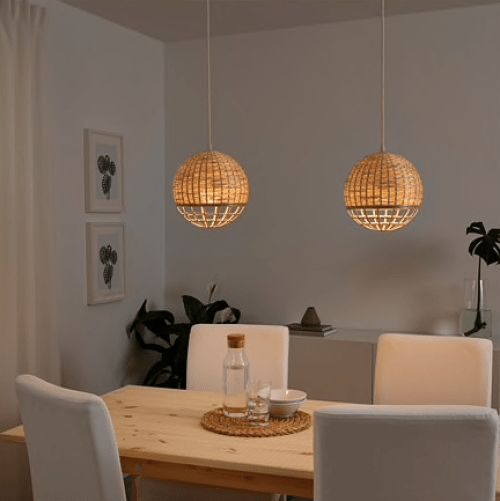 By adding some lighting statements, you can quickly raise your ceiling. Add a big chandelier as a centerpiece that oozes sophistication and style to transform the look. It not only uplifts the look of the room, but it also pulls attention upward and sets the tone of the entire space. If not a giant chandelier, you can also consider sleek pendant lights for a minimal yet modern look. Or add some lights strategically across the ceiling to create an atmospheric glow. It will highlight crucial areas and create an engaging ambiance.
2. Exposed Beams Add Charm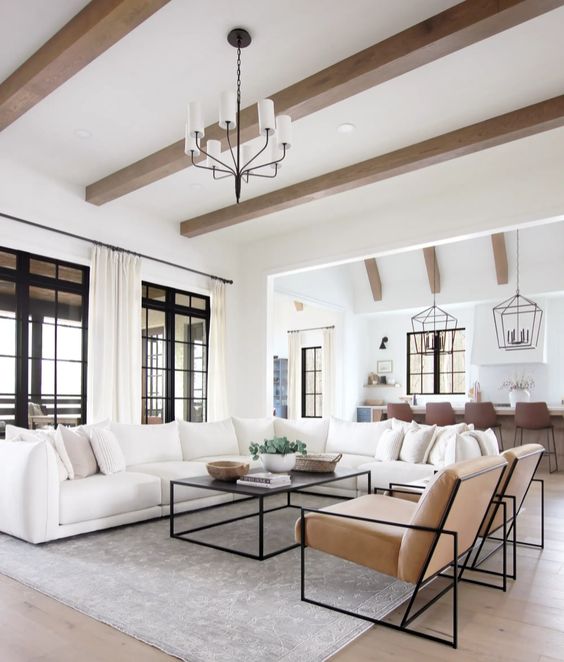 Exposed beams can add a lot of charm to your ceiling because they give it a more rustic and industrial look. You can also expose your structural beans, giving the space a feeling of authenticity. Whether the beans are made up of wood or repurposed material, they can be kept natural to complement the room's aesthetic and color scheme. They add a vibe to the space and look fabulous in living areas, kitchens, and bedrooms. They provide a friendly and warm atmosphere, which is ideal for individuals who want a more rustic style.
3. Coffered Ceilings Offering Depth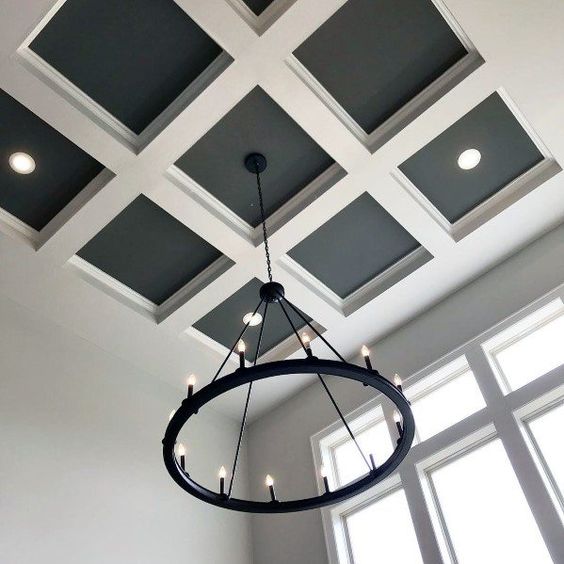 Another classic and beautiful design alternative is a coffered ceiling. If you want architectural interest or depth in some area, this can be your ideal design. That's because these ceilings hold many panels divided by beams, so they generally give a square or rectangular shape to the wall. They can quickly be composed with various materials like wood and foam and can be painted in any contrasting shade of the space. Not only this, but they also have different patterns and symmetrical designs, which provide a remarkable aesthetic impression. Once you try these, these will be your favorite choice for formal house areas like dining rooms and libraries.
4. Vaulted Ceilings for a Spacious Look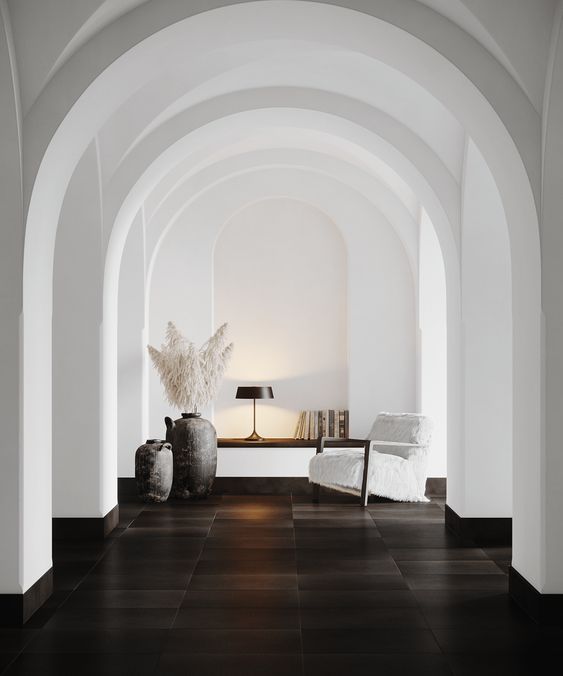 Another great design to make a room feel big and spacious is vaulted ceilings. They slope down towards the wall as they have a high point in the center. This concept of architecture provides visual interest and helps in natural lighting and cross ventilation. They also offer a sense of openness to living areas and dining rooms which gives people an excellent opportunity to add necessary decorative items like lighting and art pieces to highlight and get greater attention.
5. Use Stencils and Wallpaper for Decor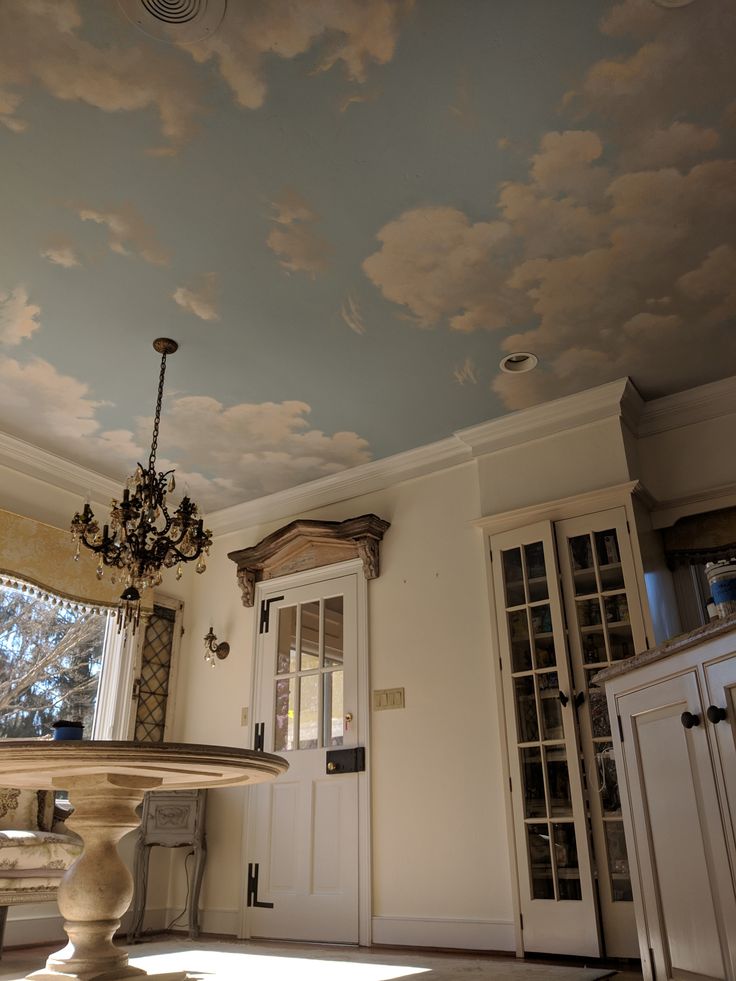 Decorating your ceiling is another fun way to add color, patterns, and visual appeal to the area. Stencils allow you to play around with patterns, while wallpapers give you texture, making your work easy. Go for a wallpaper with intricate patterns and texture to add drama and charm to the space. The options range between subtle patterns and robust designs. With a stencil, you can make one of a kind piece of the ceiling, allowing you to experiment with unique patterns and prints like floral designs and quirky forms. These creative ceiling ideas add beauty to your space and create a striking vocal point.
6. Make It Look Extravagant with Medallions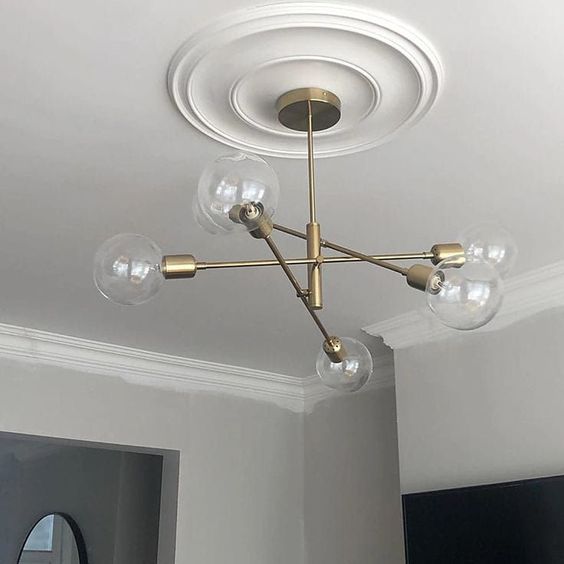 Ceiling Medallions are decorative items that can be used in place of lighting to create a focal point of the space. These are traditionally made of wood and plaster and come with many varieties and designs. Adding medallions lets you get extravagant yet classy ceiling designs quickly. The best part about these is that they can be painted with colors as per the room's contrast. They are ideal for rooms like dining spaces and bedrooms. It also adds a classy touch to the entire design, creating an exceptionally aesthetic perception.
7. Add Texture with Wood Panelling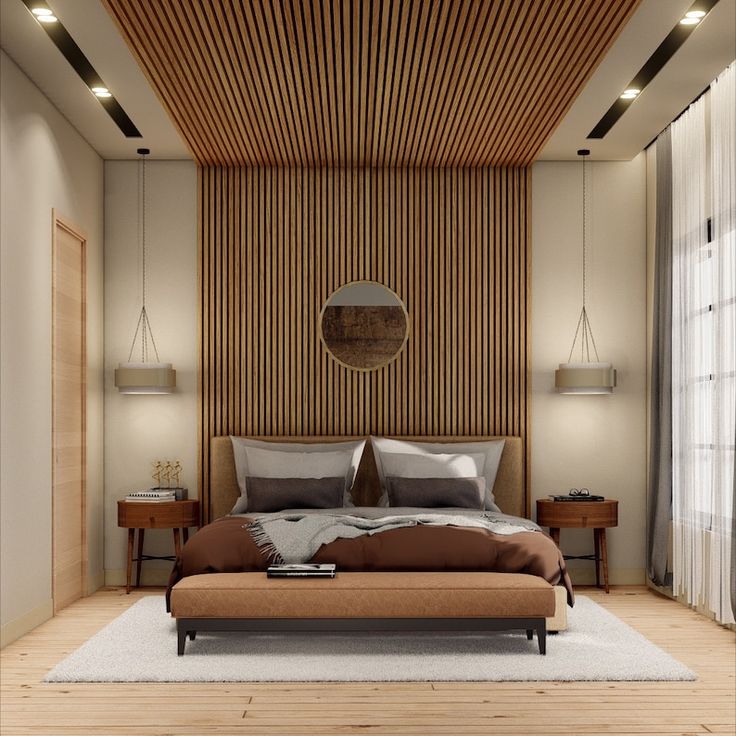 One of the best ceiling ideas one can quickly try to create a lovely room is adding texture and warmth with the help of wood paneling. Wooden ceilings provide a great rustic and perfect ambiance. One can easily experiment with the color of the wood by either keeping it natural or painting it with a color that goes with the house's aesthetic. Whenever wood panellings are used in the design, they look amazing in living rooms, kitchens, and bedrooms. They also add a sense of relaxation and natural charm to the atmosphere of the space.
8. Give a Bold Touch with a Mirror Ceiling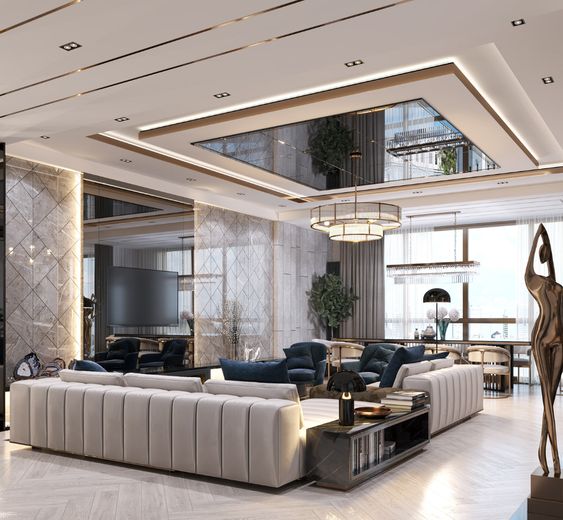 For those looking to create a sense of power and extravagance, the mirrored ceiling is an ideal option for you. For rooms with a small area, this kind of ceiling design is best as it gives you the sense of additional space with the help of reflecting lights. Not just small rooms, these look great in bathrooms, dressing areas, and areas like cinemas and bars. Ceilings like these add elegance to the atmosphere by creating a beautiful, attractive appearance. One drawback of this ceiling is that we need to ensure that we use them properly whenever we use them, as they'll give overloaded reflections in the room. Use a balanced design, or consider using them on a piece of the ceiling or in combination with other materials.
9. Fiber Optic Celestial Ceiling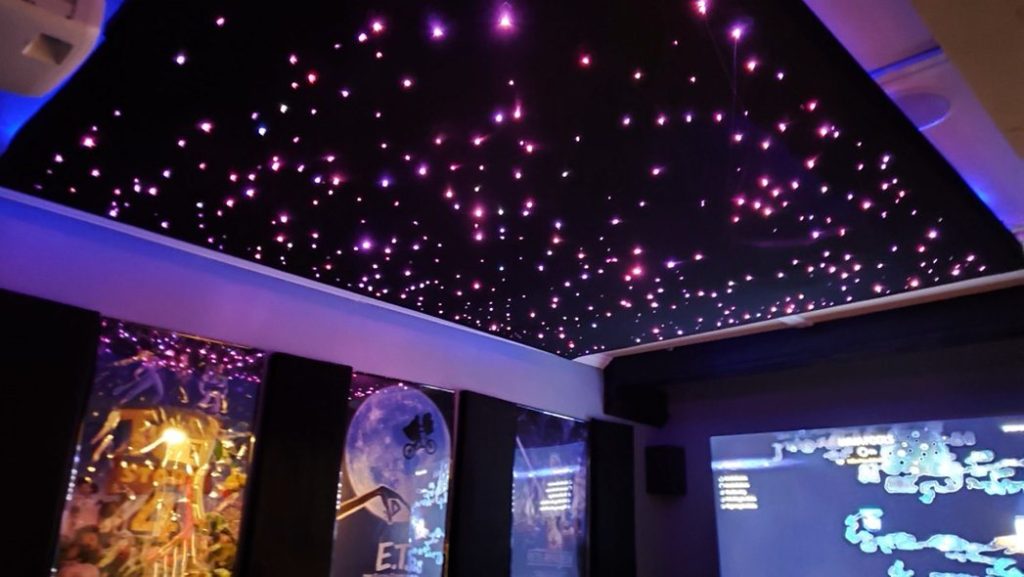 Not only do they look fabulous, but they also create a fascinating atmosphere in the room. The lights in the ceiling are set to change hues and twinkle, which looks enormous and acts as a visual treat for the eyes. These lights can easily be used in bedrooms, nurseries, and home theatres to maintain the vibe and aesthetic of the place. They also add a very captivating touch to space, which takes you to a peaceful place under the stars. By incorporating these ceiling ideas, you can improve your living areas and leave a lasting impression on guests. One of the most incredible ceiling ideas is to create a ceiling that gives you a heavenly feeling in your home. Ceilings like these have tiny optic lights that look exactly like stars in the night sky.
Summing It Up
All in all, you can quickly construct a room that expresses your comfort, personality, and style by incorporating these ceilings as a blank canvas. Whether you decide to incorporate the rustic charm of exposed beams or the beauty of a fiber-optic starry ceiling, remember that each idea can create a visual masterpiece that has enduring impressions.
So from now on, please do not underestimate the power of a designed ceiling, as it plays a significant role in your home's design and atmosphere. Make sure your ceiling is the real showcase of the entire space and has all the attention to detail.
So what are you waiting for? Let your creativity come out, and use the potential of your ceiling with any of these ideas.
Frequently Asked Questions
Are There Any Restrictions While Implementing Ceiling Ideas?
There are no restrictions as such, but you need to be crucial while considering the height of the room and the space available because few designs, like vaulted ceilings or lighting fixtures, require vertical space.
How to Pick the Perfect Ceiling-Mounted Lighting Fixture?
To choose the perfect ceiling-mounted lighting fixture, you need first to consider the mood, then design, size, and all over the area of the room. If you have a smaller room, then it might benefit you from recessed lighting. Ensure the aesthetic and utility balance perfectly to achieve the best results.
Can We Use Ceiling Ideas for Spaces with a Low Ceiling?
Absolutely! You can incorporate these ideas in any space with a low ceiling. Make sure it looks excellent with space available in the area and its appearance. If you want to throw an impact on the ceiling, use recessed lighting, it will increase aesthetics.
How to Maintain Unique Ceiling Designs?
Maintenance of the ceiling difference as per their designs. So make sure you opt for the ceiling suitable for your house. If you want your ceiling to remain clean, maintain its beauty, or else use some wallpaper or stencils to prevent it from damage. Always remember to take help from experts while selecting the best ceiling ideas for your space; this will help you get the result as per your desired outcome.