Get ready to raise your glass and turn your home into the ultimate happy hour destination with the collection of 12 Best Home Bar Ideas at Home! Say goodbye to crowded bars and expensive drinks as you'll now arrange your own party. From classic elegance to modern flair, we've curated a variety of bar styles that will suit your taste and upgrade your home entertainment experience.
Create a cozy corner for your personal oasis with diverse bar designs, ranging from sleep modern to rustic and charming. Impress friends with your amazing cocktails at your new bar. Get inspiring and practical tips to transform any space into the perfect spot for happy hour!
Now let's raise a toast and dive into the world of home bars where the only limit is your imagination!
1. Classic Cocktail Bar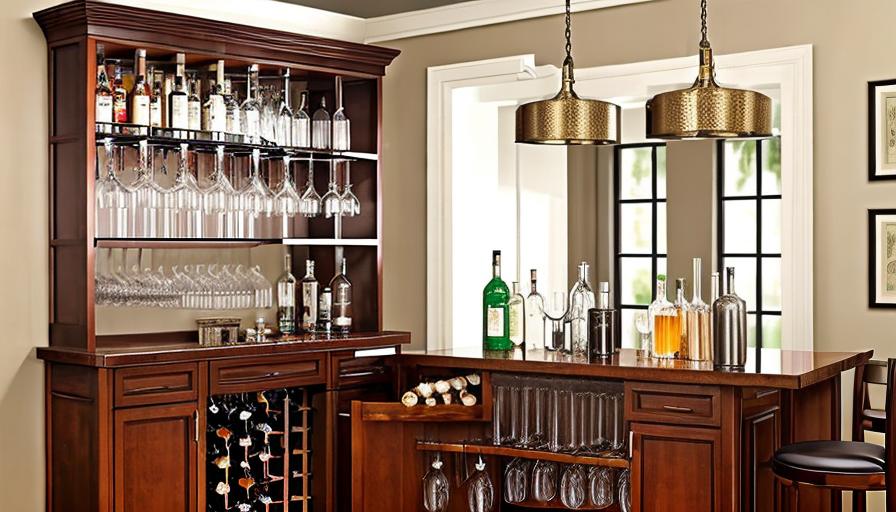 Step into cocktail paradise with your own classic cocktail bar. It's time to bring out the bartender in you and create yourself amazing drinks in your own classy and sexy home bar. Just imagine having a well-stocked liquor cabinet filled with your favorite spirits, a variety of bar tools at your fingertips, and gleaming glassware that begs to be filled.
Display your premium collection with pride, flaunting the bright colors and amazing flavors. With each shake and stir, you'll feel like a master of this art. Get ready to mingle, mix, and take happy hour to new heights!
2. Wine Bar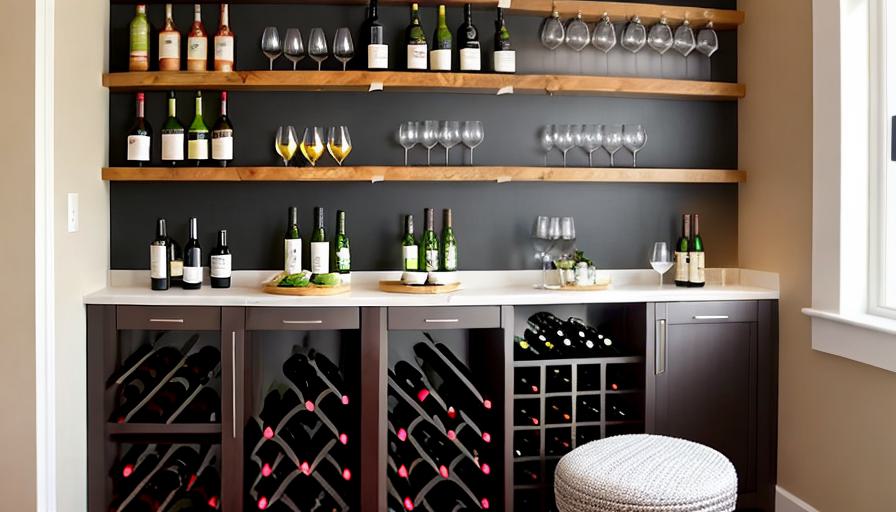 Welcome to your very own wine bar, where the joy of wine takes center stage! Step into the enchanting haven designed to captivate your senses and delight your palate. This wine-centric space is adorned with a stunning wine rack, housing an exquisite array of red, white, and sparkling wines. From velvety merlots to crispy chardonnays, create a collection that will transport you to vineyards around the globe.
Enhance your experience with the wine accessories, including trusty corkscrews and aerators, ensuring every sip is a moment to cherish. Create a fun and engaging wine-tasting journey where laughter and great convos flow as smoothly as the wines poured. Cheers to unforgettable moments and endless wine adventures at your wine home bar!
3. Egyptian Energy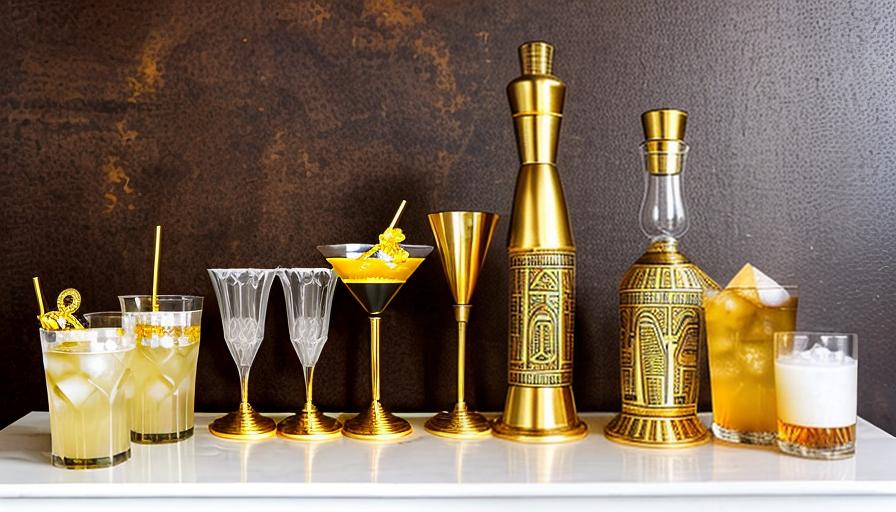 Enter the mystical world of Egyptian energy, where the ancient world collides with modern mixology! Allow the hypnotic patterns and gleaming gold accent to transport you to the land of the legends. Welcome your guests with an amazing Egyptian-inspired bar ambiance that will definitely captivate them.
Explore and create one-of-a-kind Egyptian cocktails in the comfort of your home, inspired by the flavors and ingredients of Egypt. Enjoy the refreshing flavor of Cleopatra's chalice. Create an unforgettable evening as the spirit of Egypt come to life at your bar.
4. Industrial Style Bar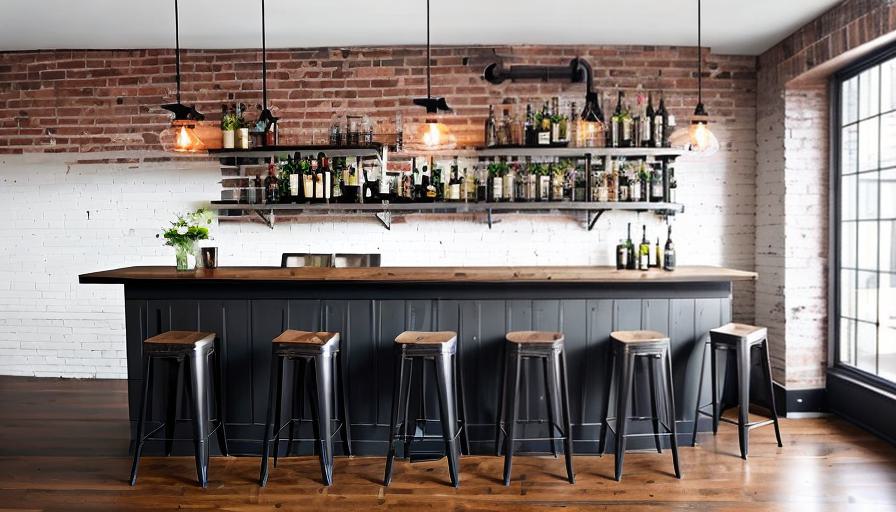 Presenting an industrial-style bar where raw charm meets contemporary coolness! Immerse yourself in the edgy ambiance of this sleek and urban space with an industrial metal accent and minimalist decor. Curate innovative cocktails with a modern twist that will ignite your taste buds and leave you craving for more. Sip on the perfect blend of tradition and experimentation as classic flavors dance with bold new ingredients at your very new and classic home bar.
If you are looking to create happy hours at home, this might be a great option for most modern households. Bring on the cheers with your new industrial-style bar!
5. Retro Bar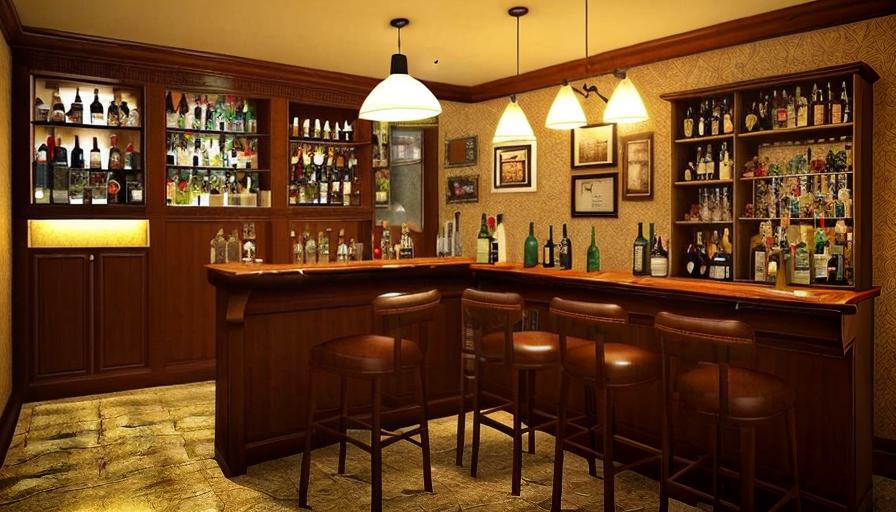 Step into the time machine and relish the nostalgia of a bygone era at your own retro home bar! Get ready to groove to the beat of vinyl records as the warm tune of the past envelops your senses. Sink into your vintage bar stools and let neon lights transport you to a world of retro glamour.
Sip on a perfectly mixed old-fashioned or seductive martini, and feel the spirit of the golden age come alive. Create this retro bar for a fun-filled experience journey down memory lane, where the drinks are timeless and the memories are unforgettable!
6. Library Bar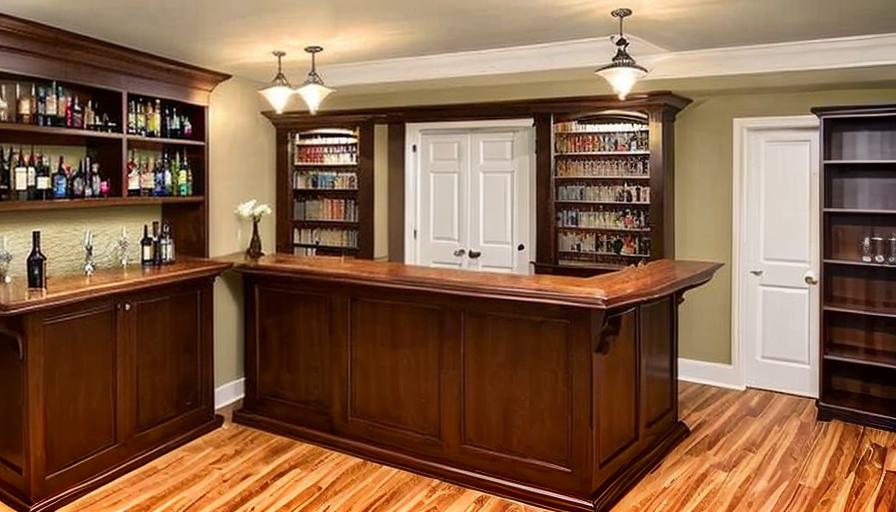 Indulge in the ultimate fusion of literary escape and a classic drink delight at your new library home bar! Surround yourself with the comforting embrace of bookshelves, where tales of adventure and imagination await your discovery. Sink into the plush leather armchairs, bask in the warm glow of dim lighting, and embark on a journey through both literature and mixology.
Just sip on literary-themed cocktails that pay homage to believe characters and timeless tales as you lose yourself in the captivating pages of your favorite books. Create your own haven of intellectual indulgence, where the words come alive, and the drinks transport you to the literary realms. Unwind, sip, and get lost in the magic of your library bar!
7. Mixology Bar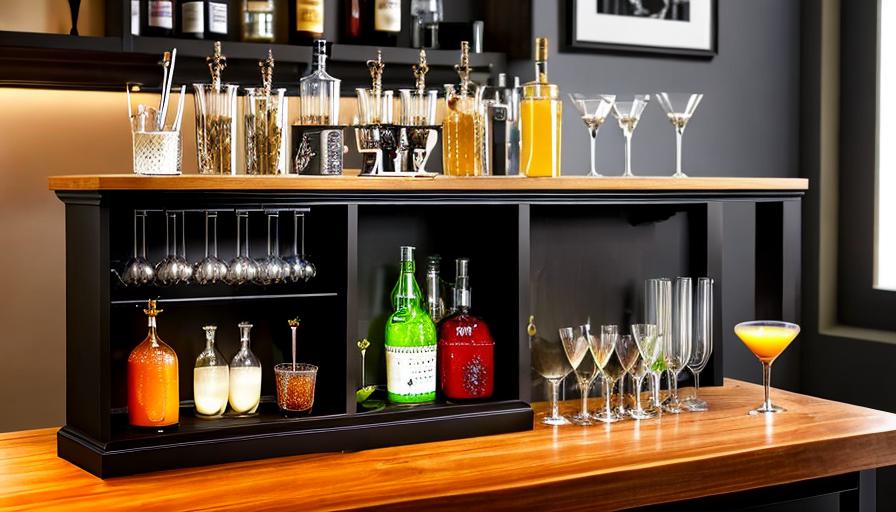 Explore your inner mixologist and level up your home with this amazing home bar idea! Dive into a world of flavor and creativity as you stock up on an array of exotic liquors. Let your imagination run wild as you experiment, craft, and customize innovative cocktails that are uniquely yours.
Shake, stir, and muddle your way to cocktail perfection, all from the comfort of your home. With endless possibilities at your fingertips, the stage is set for extraordinary libations and unforgettable evenings. Raise your glass and toast to the art of mixology at your new mixology bar!
8. Rustic Bar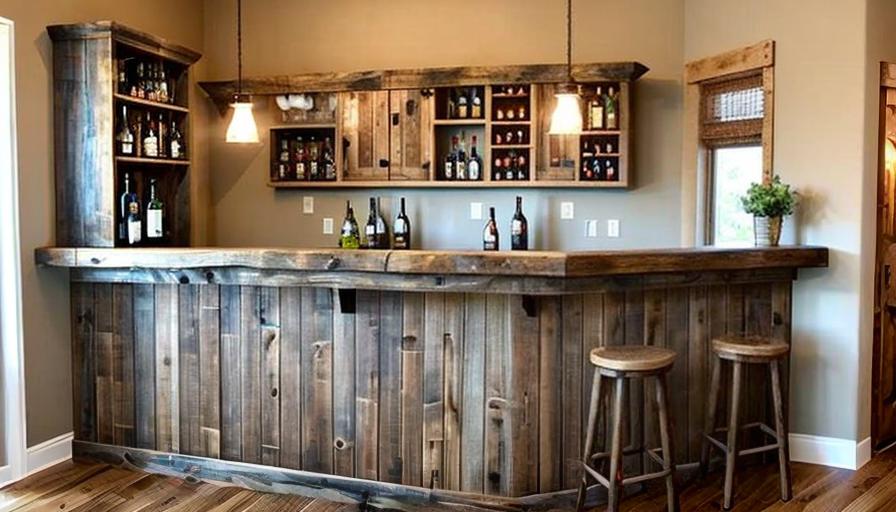 Design your very own Rustic home bar where warmth, charm, and good times intertwine! Set the stage for an inviting atmosphere with cozy wooden furnishings basked in the soft glow of dim lighting. Unwind and relax as you savor the pint of your favorite crafted beer, the epitome of liquid craftsmanship.
Indulge in traditional bar snacks that complement the flavors and enhance your experience. Whether you are catching up with your friends or seeking solace after a long day, this rustic home bar provides the perfect ambiance. So kick back, soak up the ambiance, and savor the simple pleasures of a relaxed night out, right in the comfort of your own home!
9. Modern Minimalist
Create a world of modern elegance with your modern minimalist home bar, where simplicity reigns supreme! Embrace the sleek aesthetics, adorned with minimalist furniture and a palette of monochromatic colors of sophistication. Sip your favorite drink from simple yet elegant glassware, elevating the experience to new heights.
Enjoy your favorite drinks at your very own modern minimalist bar; enjoy cocktails with clean, balanced flavors, where every ingredient plays a harmonious role. Immerse yourself in the art of mixology, crafting drinks that are a testament to the beauty statement of your bar!
10. Black Magic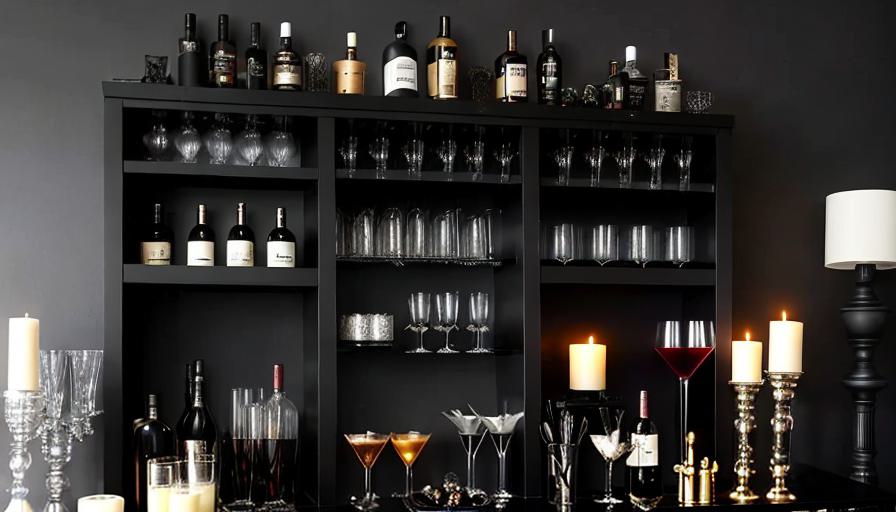 Prepare to be spellbound by the beauty of your black magic home bar, where mystery and sophistication converge in perfect harmony! Create an enchanting atmosphere with black furniture, flickering dark candles, and captivating decor that beckons you into the world of intrigue. Conjure up dark and mysterious cocktails, carefully crafted to ignite your senses and leave you craving for more.
With a touch of drama and a dash of mystique, each sip will transport you to a realm of flavors. Surrender to this magical experience and peacefully enjoy the darkness of this black magic bar!
11. Art Deco Glamour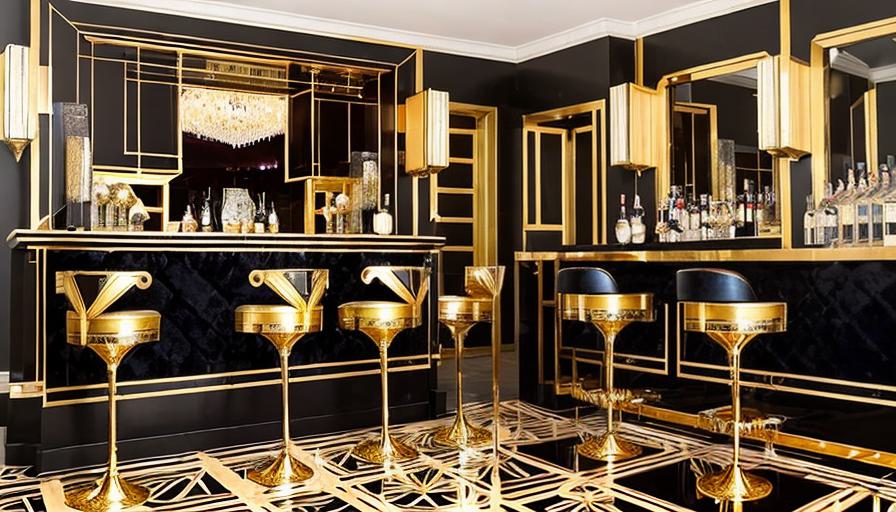 Step into the opulent world of art deco glamour with your home bar that captures the essence of the dazzling 1920s! Curate your bar with amazing geometric patterns and vintage furniture that evoke the spirit of the era. Indulge in the luxury of the plush velvet as you sink into the embrace.
Let the shimmery gold accents add a touch of elegance to your space. Upgrade your home bar to a realm of glitz and glam, where the spirit of the jazz age lingers in every cocktail and laughter fills the air. Experience the splendor and embrace the Art Deco Glamour at your home!
12. Bar Cart
Cheers to convenience and style with your new and fabulous bar cart! Embrace the freedom and flexibility of this portable gem as you stock it with your favorite liquors, mixers, and all the essential barware you need for a stellar cocktail experience. With its wheels, it transforms into a mobile oasis, allowing you to roll the party to any corner of your home.
Whether you're hosting a gathering in the living room or enjoying a nightcap on the patio, this cart is your trusty companion. So, let the good times roll as you create a bar experience like never before.
Summing It Up
And there you have it, the 12 best home bar ideas to turn your happy hour dreams into reality! Whether you choose a sleek modern design or opt for a rustic and cozy vibe, the key is to create a space that reflects your personal style and enhances your enjoyment.
Now that you're armed with these fabulous ideas, it's time to let your creativity flow and start building your very own home bar. Stock up your favorite spirits and mixers and invite friends over for an unforgettable evening filled with drinks and laughter.
Lastly, remember it's not just about the drinks; it's about the experience.
Frequently Asked Questions
How Do I Make a Perfect Home Bar?
To create a perfect home bar, start with a designated space, like a corner or a dedicated cabinet. Stock it with essential liquors, mixers, glassware, and tools. Personalize the decor to match your style. Finally, experiment with drinks and invite friends over to enjoy the perfectly crafted cocktails.
Which is the Best Place for a Bar at Home?
The best place for a bar at home depends on your preferences and the availability of space. Common options include a dedicated room, basement, den, or even a corner in your living room. Choose a place that is easily accessible, well-lit, and can accommodate your desired bar setup and seating arrangements.
What if I Have Limited Space in My Home?
If you have limited space, don't worry! There are still plenty of creative ideas for the home bar. Consider a wall-mounted bar cabinet or a bar cart that can be easily moved around the house. You can also utilize unused nooks or corners by installing floating shelves or a fold-out bar. Remember, it's about maximizing the space you have and getting creative with your storage solutions.