Are you looking for exciting ways to hang out this summer? Tired of staying cooped up during the heat? Well, then, outdoor furniture is a great investment for enjoying the sunny conditions in the comfort of your own home by adding to your patio, backyard, or deck.
Whether you are eco-friendly or have pets, these popular brands will provide you with the best outdoor furniture that you need at a range of budget-friendly for your wallet.
Top outdoor furniture brands are often available on Amazon, and they offer you the best experience out there, although customized furniture can be found available on individual brand sites.
If you're looking for top-rated outdoor furniture brands, continue reading to decide on the best brand for you and your home.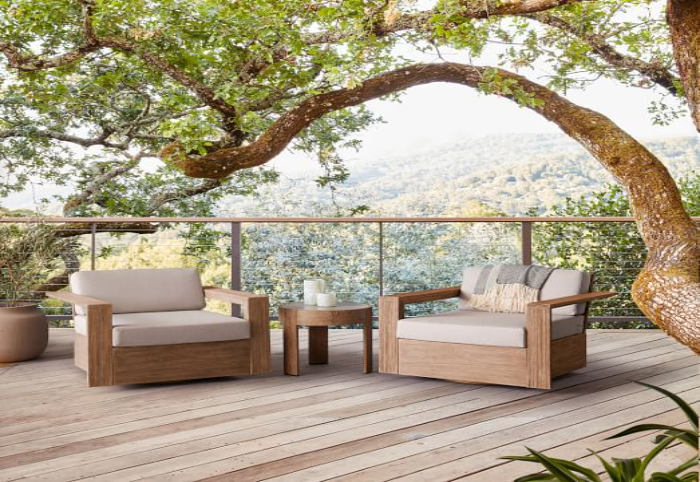 Sustainability is an important part of consumer choices today. The use of organic material and properly sourced wood for furniture allows for guilt-free use of the furniture and a relaxed mindset.
West Elm takes care of these concerns by providing furniture made of organic material, including ottomans, sectionals, chairs, and for your garden.
Products: Patio lounge furniture collections, sectionals, sofas, chairs, loungers, coffee tables, side tables, outdoor storage, patio lounge sets, outdoor dining furniture, outdoor dining and entertainment, outdoor decor, and accessories.
Advantages: Original global designs, ethical production, low-impact material use, responsibly sourced wood and cotton.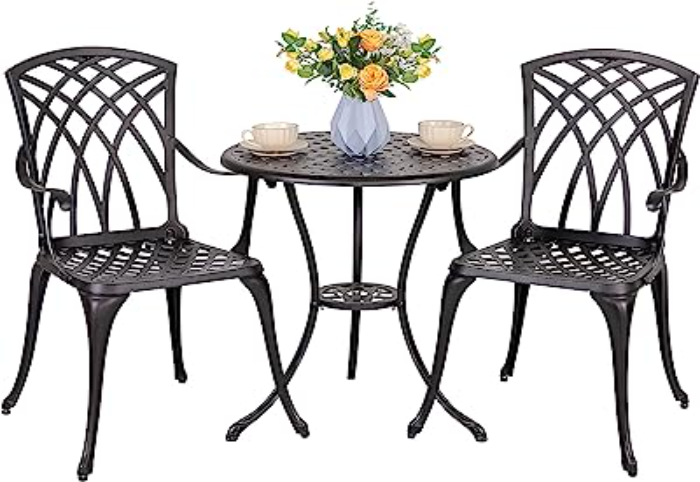 It is a famous retail store that focuses on both DIY products and furniture representing concepts for outdoor living, where the store highlights the natural beauty of gardens and matches unique pieces to match the scene.
DIY products are available in European and American styles; European style follows a blended type of contemporary, cozy, and romantic elements.
American style refers to the independent spirit of accumulating life experience and art inspiration through freedom and practicality.
Products: Patio bistro sets, patio dining sets, bar sets, patio seating, accessories, outdoor heating.
Advantages: Suitable for garden lovers, consumer-friendly price range, highly reviewed products.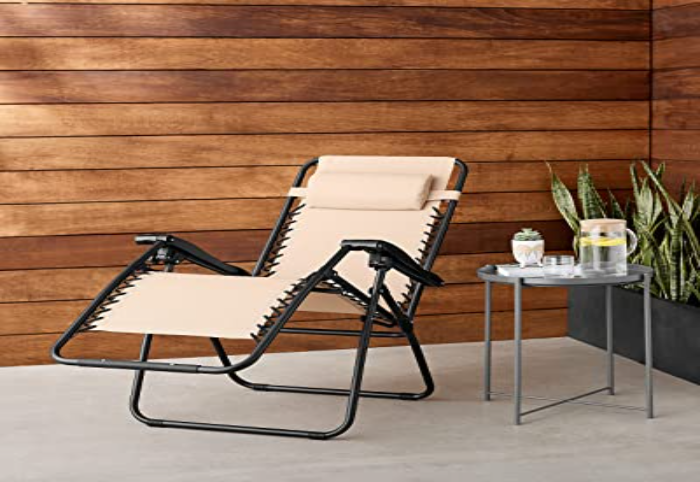 Commonly known for several products, Amazon Basics products carry some of the highest-rated products, including furniture, for competitively lower prices and with lower shipping rates.
The products are often highly recommended based on value for money, easy support, and comfort. You can find it with the best rating and reviews that make it easier to pick this brand.
Products: Chairs, outdoor sofa sets, dining sets, etc.
Advantages: Wide assortment, affordable prices, wide delivery availability.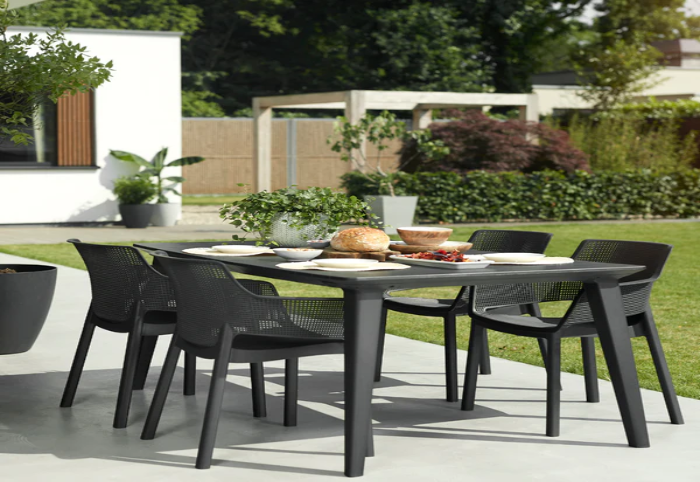 With newer styles and designs for conventional outdoor furniture, this company offers practical pieces with ergonomic features and does not include textiles.
The materials are made of durable, rust-proof, all-weather resins for long-term use and do not dent, warp, rust, or peel, unlike the original materials.
Products: Chairs, side tables, deck tables, outdoor kitchen carts, patio accessories, seating, etc.
Advantages: Reasonable prices, highly rated, resistant materials, and compact furniture pieces.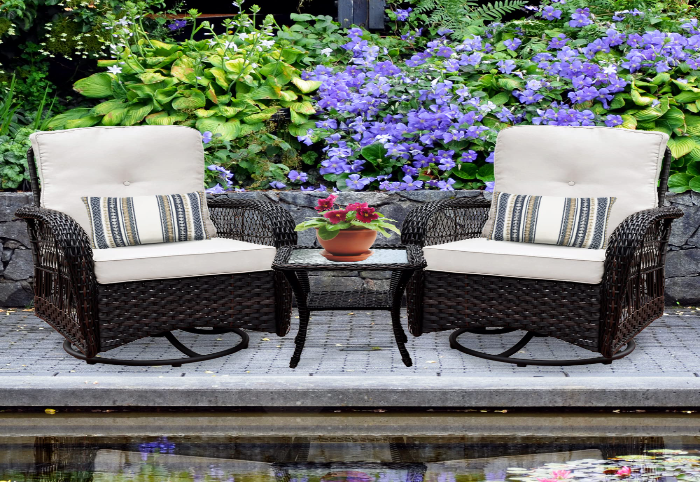 Compared to other furniture brands, this one has several pieces that blend in with the home scene while providing enough style to be noticed due to their designs and patterns.
For example, the above-pictured piece is a set of two outdoor chairs that have both rocker and swivel features, as well as durable weather-resistant material.
The high quality of the fabric is one of the stronger factors when buying furniture products from this brand.
Products: Outdoor chairs, side tables, and seating options.
Advantages: Colored assortment options, eligible for refund or replacement, aesthetic value, durable material.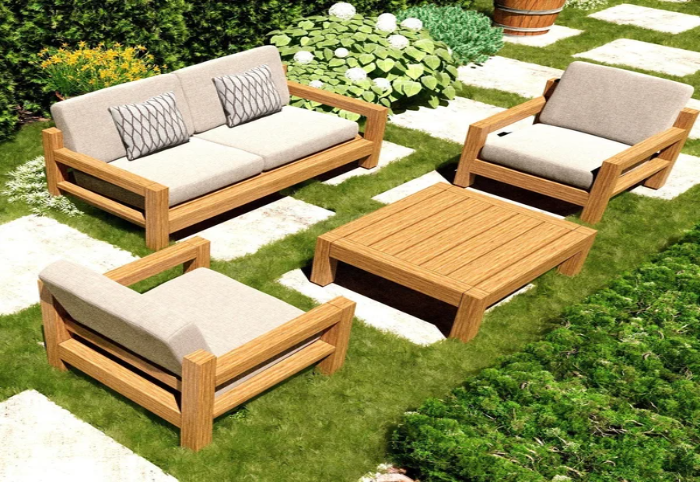 A favorite for designers and small businesses, Etsy helps several consumers find what they need, including reclaimed wood and upcycled furniture, which are handmade, eco-friendly, and unique.
The wide range of sellers on Etsy allows for a large price range depending on the seller as well as customized products based on individual talent.
Products: Patio dining sets, patio seating, etc.
Advantage: Zero-emission company, a wide variety of products, large price range, sustainable products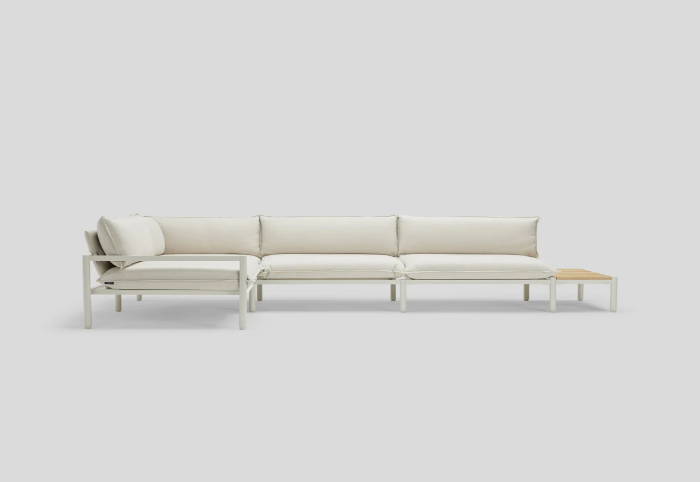 Craftsmanship is a feature that the brand prides itself on, and its products are designed with premium materials used in modular pieces to fit the consumer's space.
Free swatches can be used for deciding on the color, and for the furniture, customized shapes and sizes are allowed, with a 45-day trial.
The weather-resistant material is durable and sustainable, designed in Phoenix.
Products: Modern teak outdoor sectionals, outdoor sofas, outdoor lounge, outdoor dining, rug and accessories, protective covers, etc.
Advantages: 45-day trial, durable products, customizable, design-driven, modular, comfortable, free delivery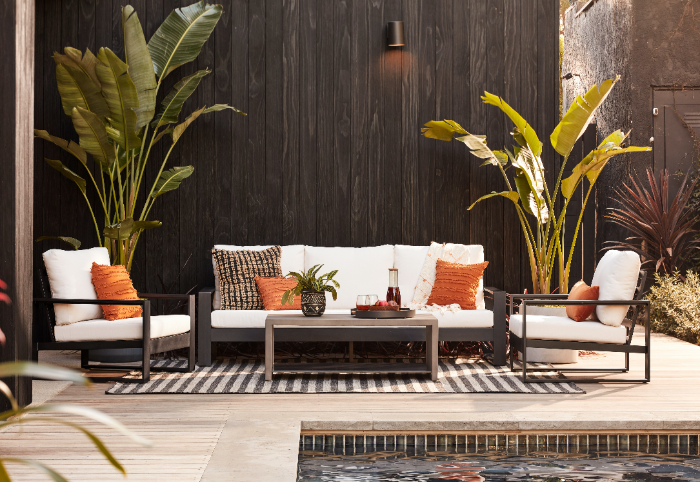 This brand offers sustainable outdoor furniture, which is built from responsibly serviced wood and waterproof teakwood.
They provide products with styles of different eras and times, especially with a lifetime warranty, each product comes with the guarantee that Joybird will plant more trees than it costs to create the piece.
Products: Outdoor sofas, outdoor chairs, outdoor tables, outdoor rugs, etc.
Advantages: Lookbook for styles, 90-day returns, flat-rate delivery, limited lifetime warranty, free design services.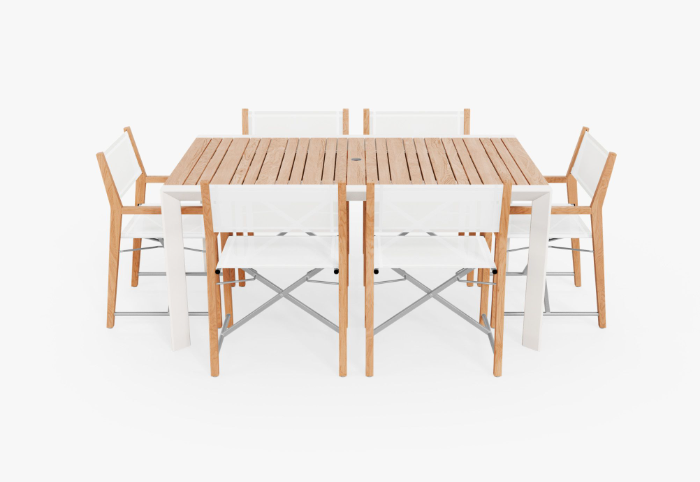 The brand aims to decorate backyards, decks, and patios using simple furniture pieces that speak loudly in style and design.
It offers long-lasting furniture suitable for the whole family and has been included in several reputed listings, including Today, GQ, CNN, House Beautiful, Travel + Leisure, and the Ellen Show, making it a well-known brand altogether.
Products: Sofas, sectionals, chairs, ottomans, dining, fire pits, tables, rugs, accessories, bug-repellent blankets, and furniture covers.
Advantages: Water-resistance, UV resistance, durability, compact design, easy-to-use furniture, secure construction, patented integrated protective cover for clean and dry furniture, free delivery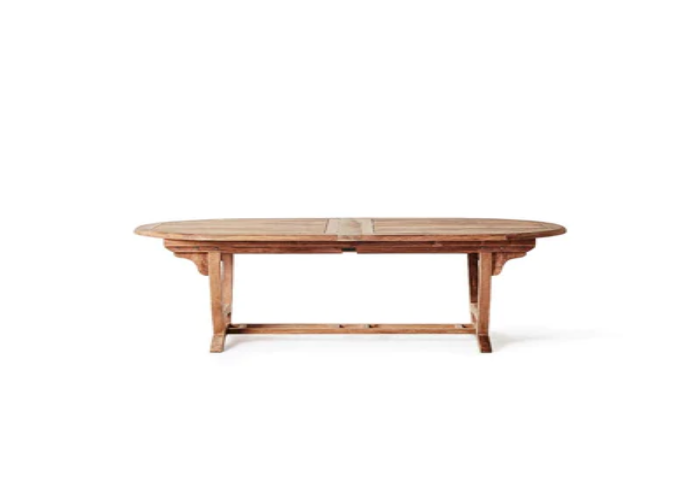 This brand focuses on exclusively designed contemporary outdoor furniture by world-famous artisans and designers.
The outdoor furnishings are featured with European design for turning the outdoor spaces into personal sanctuaries for peaceful pastimes and gatherings for the ultimate relaxation.
The brand offers high-quality standards at affordable prices to decorate free outdoor spaces.
Products: Umbrellas, shades, fire tables, tank covers and lids, dining tables, dining chairs, bars and counters, benches, sofas, loveseats, chairs and ottomans, sectionals, chaise lounges and daybeds, rockers, side and end tables, and Adirondacks.
Advantages: Affordable furniture with designer styles, direct shipping, sustainable solutions, trees planted for each product bought, different materials and collections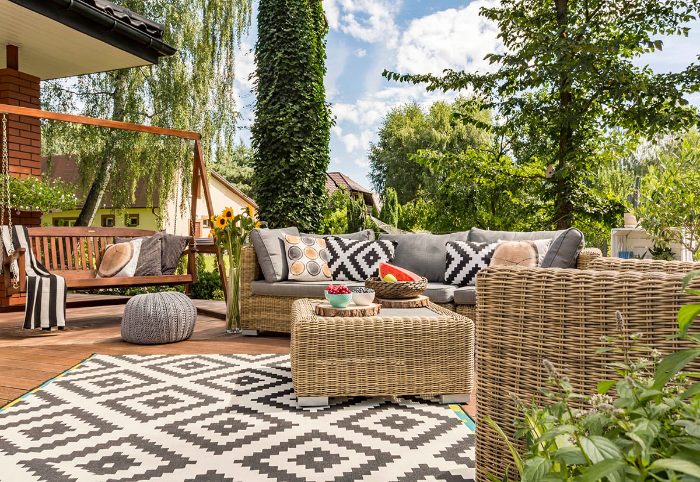 This competitively priced brand offers high-quality furniture at much lower prices than other retailers and a wide range of accessories for embellishing the furniture with finishings, including umbrellas, lighting, and pillows for completing the look in the outdoor space, all for much lower prices.
The brand has a wide listing of contemporary, mid-century, and old-style furniture at great prices.
Products: Sets, sofas, sectionals, modular sofas, lounge chairs, coffee and side tables, dining tables, chairs, benches and stools, rugs, patio furniture sets, etc.
Advantages: Durability, fast and free delivery, affordability, premium materials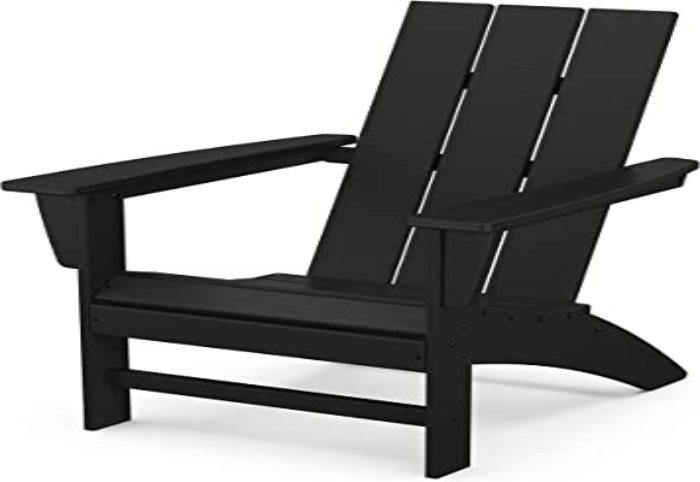 This brand is unique in its attempt to transform ocean-bound and landfill-bound plastic into new outdoor furniture through innovative processes, also providing water-resistant pieces.
Polywood lumber is a proprietary material in the U.S., and its sustainable design makes consumers feel better about their purchases since they use recycled materials for all of their products.
Products: Adirondack chairs and sets, rocking chairs and sets, coffee and accent tables, dining furniture, deep seating and sets, benches, swings, gliders, chaise lounges, sets, bar and counter furniture, accessories, etc.
Advantages: Sustainable initiative, generational durability, weatherproof furniture, fast and free delivery, 20-year warranty, low maintenance, color-stay technology for UV protection, protection from environmental degradation, zero-waste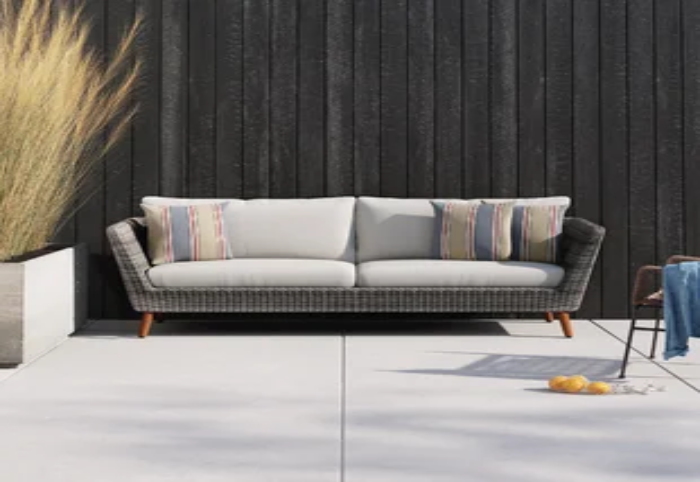 As a brand with indoor and patio furniture at lower prices, there is a summer outlook option that offers simple furniture at moderate prices.
The pieces are contemporary and will double as decor in any space, including a patio. The brand is also known for its return policy and sales.
Products: Outdoor lounge furniture, outdoor lighting, patio decor + accessories, outdoor dining and accessories, bar furniture, outdoor entertaining, small space patio furniture
Advantages: Return policy, modern style furniture, good quality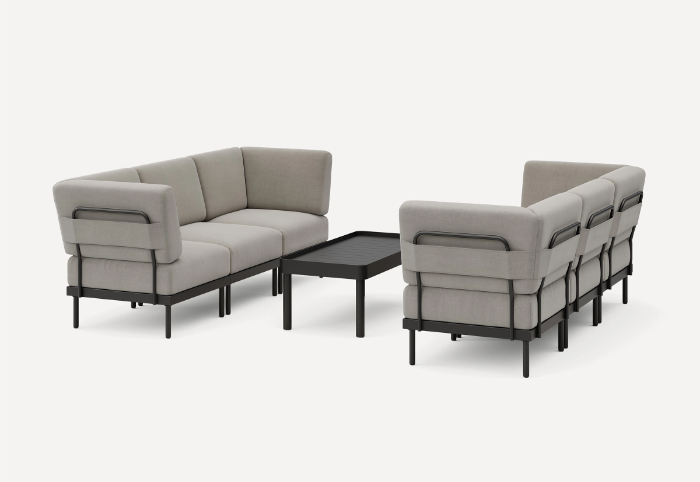 The innovative furniture products offered by Burrow use premium materials that are sustainable as well, including sustainably-forested wood, strengthened steel hardware, and top-grain Italian leather.
With a wide range of products, customers are allowed to choose from an even wider range of colors using their free color swatches to find the right match for them.
The unique feature of Burrow products is their pet-friendly fabric, which has ultra-tight weaves, non-porous fiber, and deep dyeing to prevent snagging by claws, spills being absorbed, and dye degradation, and the products are non-toxic.
Products: Sofas and sectionals, loveseats, chairs, dining chairs, dining tables, coffee tables, patio sets, outdoor covers, dining sets
Advantages: Free shipping on all orders, all-metal all-weather furniture, pet-friendly, healthy materials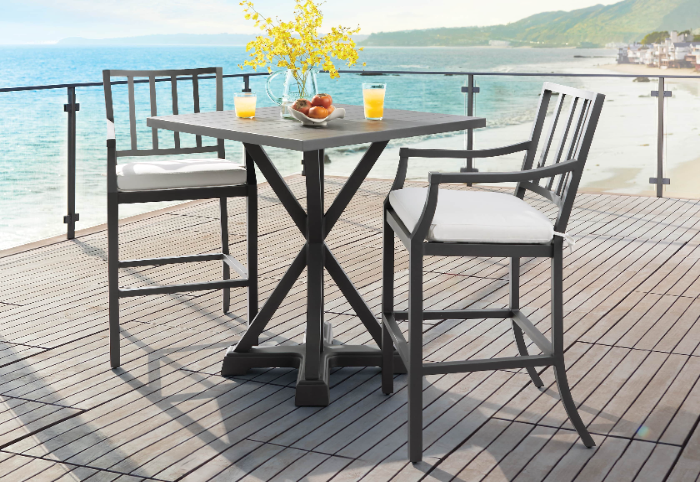 This brand has a singular focus, providing quality furniture that can be passed down for generations.
Arhaus is unique in that it offers all elements that make up the interior of a house for outdoor use, allowing customers to experience the outdoors differently as they feel at home in the fresh air.
The company intends to create furniture and decor sustainably.
Products: Chairs, sofas, sectionals, chaises, lounges, coffee and accent tables, ottomans, outdoor furniture covers, dining chairs, bar and counter stools, outdoor kitchen, dining benches, outdoor tabletops, fire pits, heat lamps, outdoor decor, outdoor planters, outdoor lanterns and lighting, outdoor pillows, outdoor poufs, door mats, umbrellas, and outdoor replacement cushions
Advantages: Sustainability, durability for generations, a wide selection of furniture, weather-resistance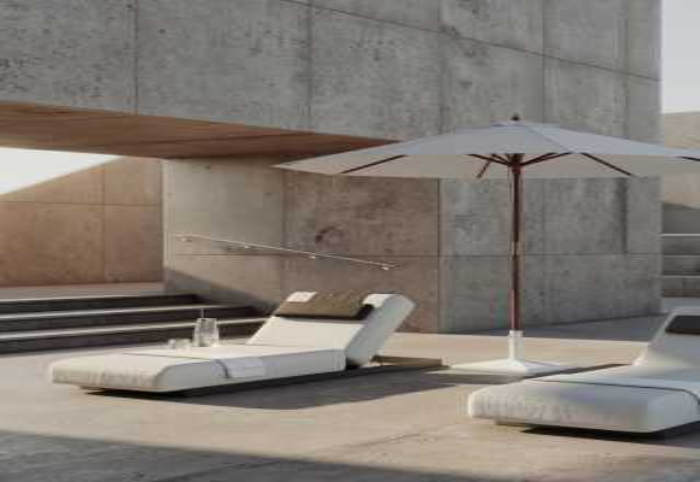 The brand highlights the detail found in mid-century and modern Nordic styles through their contemporary furniture designs, and they intend for the outdoor furniture to resemble indoor furniture for ultimate comfort.
Their pieces promote a resort-like feel of the luxury of one's own home, and these furniture pieces can be found at roveconcepts.com.
Products: Outdoor dining chairs, outdoor lounge chairs, outdoor tables, outdoor seating, outdoor modular, outdoor loungers, and daybeds
Advantages: Luxury eco-materials, handcrafted designs, curated pieces, modern furniture, quality raw materials, UV-resistant fabric, removable cushions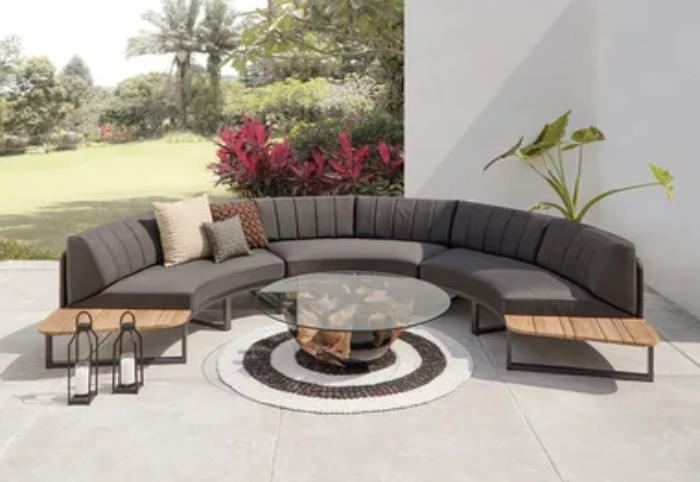 As a green company, this brand is the embodiment of Belgian excellence and taste, with its products creating a hotel-like stay at home itself.
More than 90% of the teak used is sourced from abandoned buildings and recycled or recyclable materials, although it is difficult to recognize this by looking at the products themselves.
The furniture is meant to last and offers optimal performance in any outdoor environment.
Products: Bar chairs and stools, bar tables, bistro tables, casual chairs, daybeds, dining chairs, extension tables, landscape elements, loungers, low and side tables, pillows, round tables, sectionals, shade structures, sofas, stools, tables and benches, and wheelchair-accessible furniture
Advantages: Wide selection of collections and materials, durability, weather resistance, sustainable products.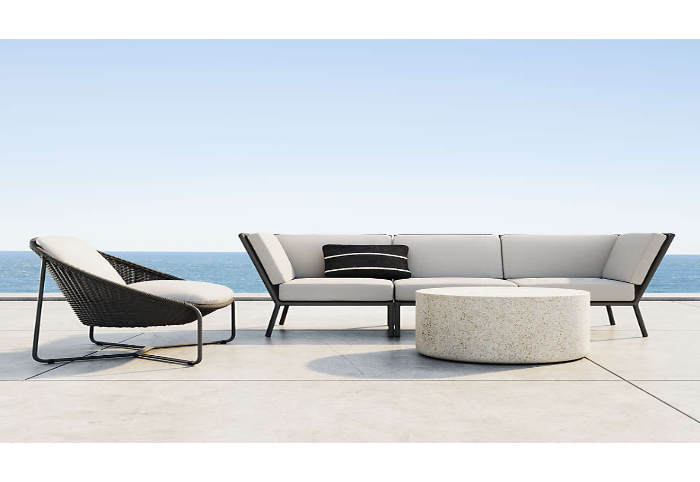 This brand offers high-quality products as well as special services for their customers. By booking a free appointment, customers can meet with a professional to get free expert styling advice and pairing inspiration.
Along with that, they can create a floor plan to match the products with the room layout, and then see the ideas in one place before designing. Customers now have the chance to put their design dreams into action and have their imagination come true.
Products: Outdoor lounge furniture, outdoor dining furniture, patio umbrellas, outdoor kitchen and entertaining, outdoor decor
Advantages: Wedding registry, trade program, free design service, customized room designs, free advice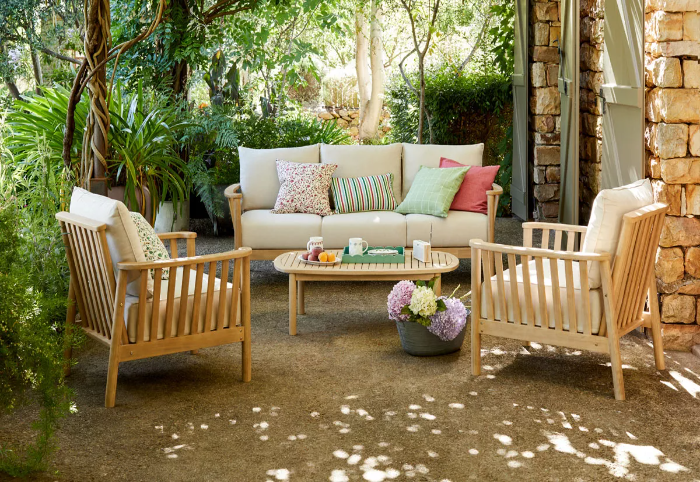 Garden furniture lovers can find a huge mix of products from this retailer as designs are offered in great price ranges, and quality pieces have weatherproof aluminum frames and wear-proof hardwood.
The furniture is designed to help gardeners spend optimal time in their favorite gardens and with comfort. With several brands, the collaborative efforts of the brand bring several products together for the customer to make the best choice for them.
Products: Garden furniture, Rattan effect furniture, BBQ, dining furniture
Advantages: Affordable price range, weather-resistant products, suitable for gardens, personal stylists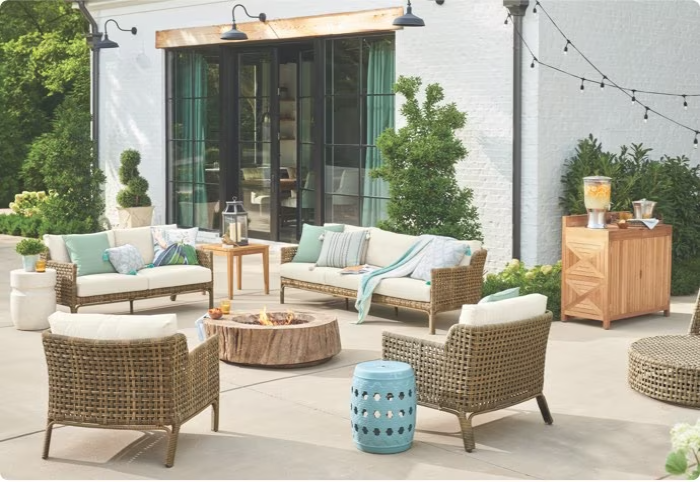 Frontgate is a brand that offers family-friendly furniture, such as porch swings and other statement furniture, which help make up a great scene in one's backyard.
The in-stock items have short delivery times and wide selections are available, including furniture for the pool at home.
From doormats to pool and beach accessories, Frontgate provides all the necessities for an outdoor experience.
Products: Outdoor rugs, outdoor seating, pool and beach accessories, pool resort collections, pool floats, chaises, umbrellas, etc.
Advantages: High-quality outdoor furniture, free shipping during sales, 10-year warranty, free fabric swatches, complimentary design services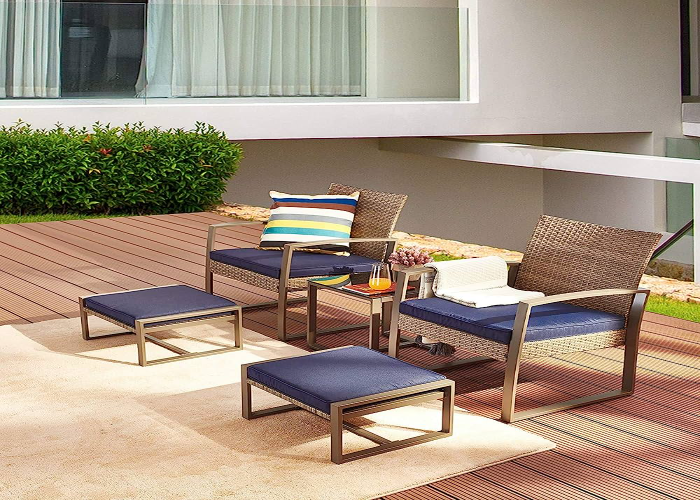 Lokatse offers unique designs that are a mix of the new and old, providing furniture pieces that can be used in multiple settings, including by the pool, on the patio, and on the deck.
The style is sleek and available for an affordable price.
Products: Conversation sets, bistro and bar sets, patio furniture sets, dining tables, tables, chairs, wicker sets, ottomans, loveseat sets, sofas, wooden furniture, patio chaise lounges, rocking and swivel chair sets, etc.
Advantages: Affordable prices, innovative designs
Summing It Up
All in all, With new furniture, the first focus is usually on the type of pieces that will suit one's patio or deck.
However, several brands are taking it upon themselves to offer sustainable solutions for outdoor use, including products from properly sourced wood and metal, recycled materials, and eco-friendly packaging, too.
Some are even planting several trees per order, making furniture purchases more customer-friendly without compromising on design or durability.
Buying furniture that will last a lifetime or throughout generations has become possible within an affordable price range.
When buying furniture for outdoor use, you must frequently consider the weather-proof nature of designs and even other features suitable for your homes, especially for pet owners and parents.
So, what are you waiting for? Choose your favorite brand now and start shopping!