Want to upgrade your dining space by adding some stylish black chairs? Then you are at the right place. Black chairs are always popular for interior designs such as dining, living, or bedrooms. They are also available in various styles and designs, making it easy to fit in different interior decors.
If you are searching for a set of dining chairs and feel confused about selecting one that goes well with your dining room interior, you can pick black chairs. Black chairs look stunning and add depth to the interior. Also, the color black looks good with almost every interior.
Today, you can find various types of black dining chairs online. You can buy a pair of solid black chairs for your minimalist dining or opt for classic and designer ones if you have a traditional dining space. You can also get some beautiful black chair designs for outdoor dining spaces.
Here we will list the 15 best black dining table chairs you can buy online.
Best Black Dining Chairs You Must Try
Black couches and chairs always look great for a room's interior. Sometimes they also look brilliant in an outdoor patio or garden if you pair them with the proper elements and setup.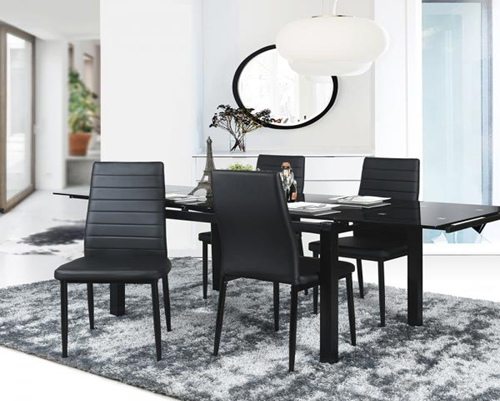 Traditional high black back dining chairs are quite popular, and many people use them for their dining tables. The traditional high black back chairs look elegant and go well with a classic dining room setup. Also, the baize tone of the seat beautifully contrasts with the high black back and creates an eye-catchy look for your dining room. They are also durable and provide a strong and reliable back to relax and enjoy your dinner. Plus, these black dining chairs are available online and offline stores, and you can get them from various reputed brands. Traditional High Back Black Dining Chair by Giantex is excellent for creating a traditional look.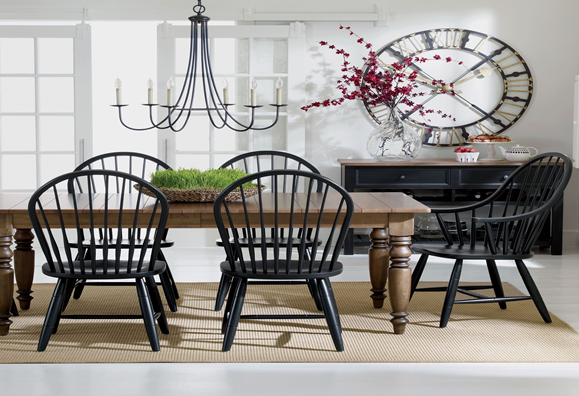 Another beautiful traditional pair that can be an excellent option for your dining is the black Windsor dining chairs. They can work fantastic if you are looking for black dining chairs for a rustic, farmhouse, or vintage-style dining room. The beautiful and strong black back offers solid support to lay back and relax. Also, the spindle back creates a perfect match for summer evenings. It is a traditional piece inspired by Windsor silhouettes and gives a dynamic look to your dining room. You can pair it with your wooden dining table to create a beautiful rustic look. Try Duhome Elegant Lifestyle's Black Windsor Dining Chair for a classy look.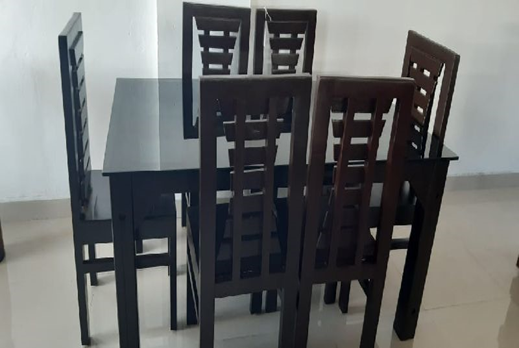 Black Teak dining chairs are also very popular and stylish options to incorporate into your modern dining interior. The black Teak wood chairs look elegant and classy and add a minimalist touch to the decor. Black Teak wood chairs are highly durable and fit for both indoor and outdoor dining setups. You can use them in your dining room, patio, or outdoor dining space. Also, you can pair them with a wood or glass table to get a perfect look. Try Deco 79's Black Teak Dinning Chair for premium quality Teak wood black dining chairs.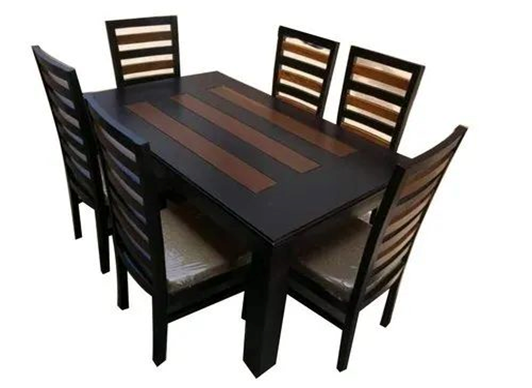 Another incredible option you can try for your dining room is the ladder black dining chairs set. This black dining chair set is timeless and can bring a classy look to the interior. The wood black back ladder creates a magnificent look and provides a strong and reliable back to relax. They are an excellent option for big dining tables and give comfortable seating for tall dinners. Also, you can pair tie-pn cushions to create a beautiful and cozy seating environment. You can buy Walker Edison's Black Ladder Chair to style up your dining space.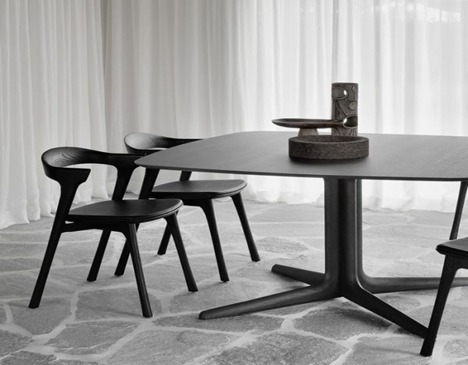 The minimalist black dining chairs are also popular and go well with minimalist and modern interior designs. The pure black finish with a sculpted and clean look makes it ideal for a minimalist dining setup and creates a dynamic look. You can place them in a modern dining room or patio with dining arrangements. The minimalist design gives your dining room a gorgeous look. To complete the look, you can pair them with a simple modern dining table or round table. You can also try The Pop Maison's Minimalist Black Dining Chair for a beautiful minimalist dining setup.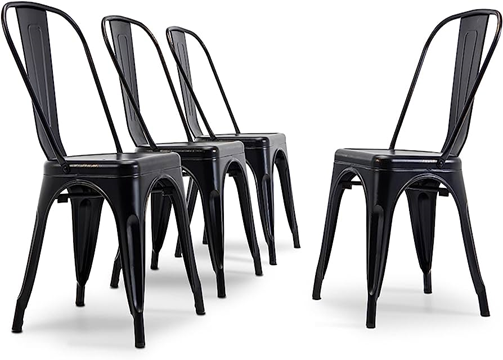 If you want something durable and easy to use for your dining room, you can try the black stackable metal dining chairs. The stackable metal black dining chairs are very durable and stylish and can fit any modern house setup. Also, stackable metal chairs are versatile; you can use them for your dining room, living and even balcony or outdoor patio. These incredible chairs are also space-saving, and you can stack them up and keep them in a corner when you do not need them. Black Metal Stackable Dining Chair by JUMMICO looks stunning and helps you save space.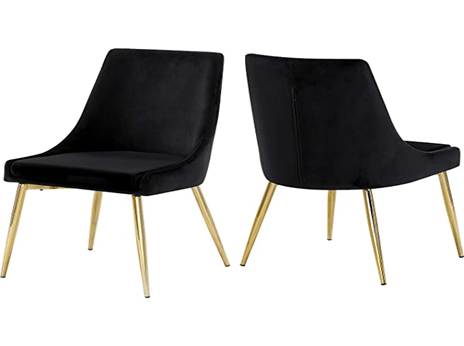 When looking for classy and elegant black dining chairs, you can use black velvet dining chairs. The black velvet surface adds a new dimension to your dining room interior and brings an elegant look. They look classy and charming and are ideal fit for modern house setups. The black velvet dining chairs are also versatile, and you can place them in your living room or outdoor patio as they do not look conventional. Also, they bring a cozy, comfortable feeling with a graceful look. Try Black Velvet Dining Chairs by Cozy Castle for a stylish yet cozy dining setup.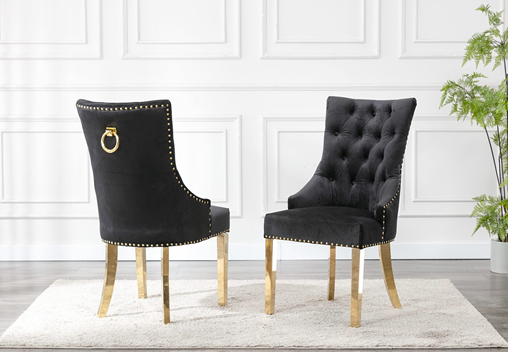 Another attractive option you can try for your dining room upgradation is the black upholstered dining chairs. The black upholstered dining chairs create a perfect dining room for tall diners. Also, they look stylish and dynamic. The upholstered design gives a comfortable and solid back support to the diner. You can install them for long or small dining tables; both look good. You can also add some light cushions to make them more comfortable and long-lasting. Black Upholstered Dining Chair by Iconic Home is extremely lovely and fits with modern dining spaces.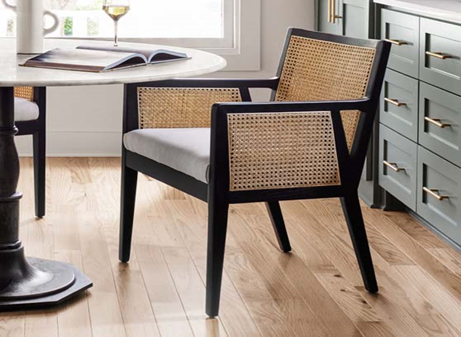 Cane panels can give any chair or furniture an airy and vintage vibe. And cane-back black dining chairs look both vintage and stylish. They bring a charming look, and you can install them in various setups like modern, classic, and vintage dining rooms. The cane back when solid wood frame gives a robust and reliable structure and high functionality. The shiny black finish of the frame and cane panels looks great and brings a dynamic view. You can buy Safavieh's Cane Back Black Dining Chair online for a premium quality cane chair.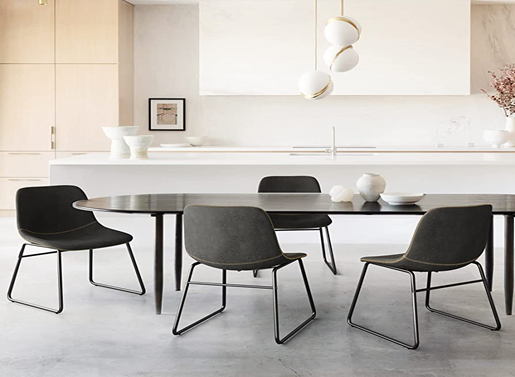 If you are a fan of leather furniture, then use this opportunity to extend your love for your dining and reflect your aesthetics. The charm of black leather is timeless, and when you incorporate it into your dining room, it can bring an elegant and charming look. Industry-grade leather upholstery black dining chairs with solid and simple wood frame gives a fantastic look to any classic or mid-century living room decor. Instead of leather upholstery, you can choose a leather strapped base with a contrasting color to get an eye-catchy effect. SIMTONAL's Modern Black Leather Dining Table Chair is made with high-quality leather and wood frame for long-lasting use.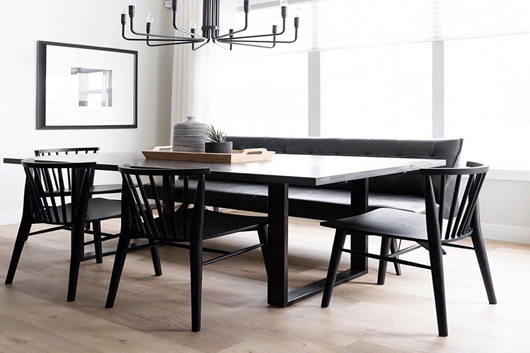 Mid-century style black dining chairs are also widely available online, and you can use them to enhance your dining room decor. This mid-century dining room chair looks stunning with a classic dining room setup. The solid wood frame and woven rush seats in contrasting colors bring an appealing look. If you like mid-century style interiors, you will love the black mid-century dining chairs. LUNLING's Black Mid-century Dining Chairs are worth your money and looks great for your Mid-century living space.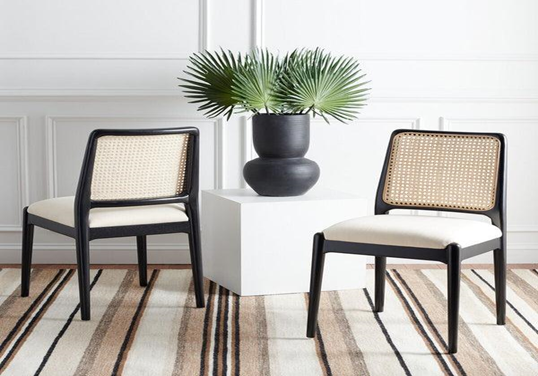 Rattan furniture gives a natural and airy vibe, and when you incorporate them with black wooden frames, it creates a picture-perfect modern look. Also, the rattan seating and back panel make a stable and flexible seat for dinners. You can install black frame rattan dining chairs for your modern dining room. They will also go well with minimalist, Scandinavian, and farmhouse-style interiors. Black And Rattan Dining Chairs by Seonyou have an elegant look with simple and durable characteristics. Buy them online for cost-effective prices.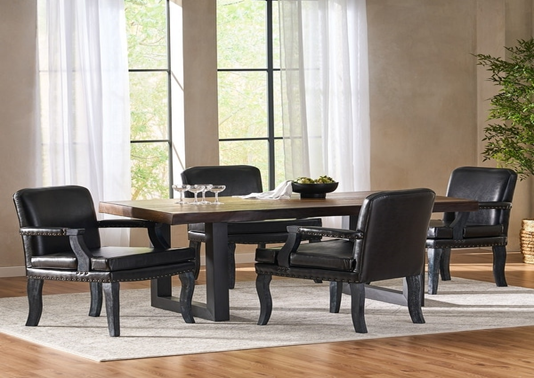 Black French Country dining chairs are great for creating a classic, elegant look for your dining room. If you have a traditional French-style dining room, they can be a perfect fit for the space; that distressed frame and rattan backrest with plush seat and armrest create a magnificent look. They have antique aesthetics and highlight the French Country theme. So, you can pair them with a wooden French Country style dining table to complete the look. Try the Kiztir Black French Country Dining Chair for high-quality French country-designed dining chairs.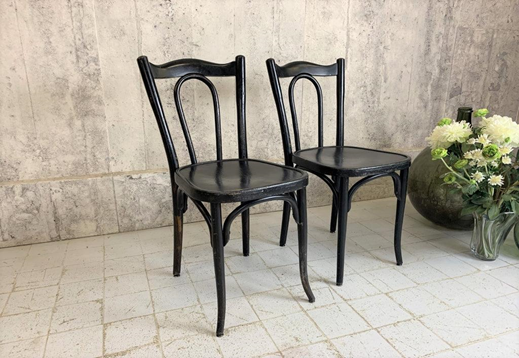 Bristo-style black dining chairs are not only suitable for cozy cafes and bistros but also create a good option for your dining room. The Thonet-style high chairs are easy to recognize and give a cozy and elegant vibe to the interior. The natural bentwood backrest and frame with rattan seat create a beautiful contrast. You can install them with high round tables to complement them. Black Bistro Dining Chairs by Manhattan Chairs are beautiful and stylish.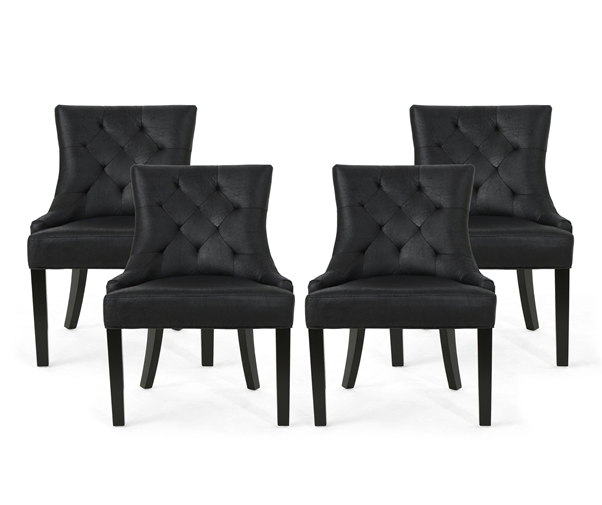 Lastly, the tufted black dining chairs are also a brilliant option to uplift your living room interior and make the most of your dining chairs. The black tufted chairs look sophisticated and elegant with black velvet upholstery and tufted black velvet black. The tufted backrest provides more cozy and comfortable seating. Also, the elegant look makes them ideal for modern house interior designs. KCC's Black Tufted Dining Chairs are made with pure black velvet and bring a visual weight to your dining room interior.
Why Use Black Dining Chairs?
There is more than one reason for using black dining table chairs. Here we will discuss some of them.
1. Timelessness
Timelessness is the primary reason why you should use black-themed dining chairs. The color black is timeless and suits various themes and aesthetics. Black home décors and furniture create a sense of elegance in your interior design.
2. Versatility
Black is also a versatile color. It can go with almost any color palette and work well with both cold and warm colors. Also, you can get various shades of black that suit different interiors and designs. The color can blend with any environment and looks great.
3. Dynamic
If you want to add a new dimension to your interior, nothing can do better than black. It is a dynamic color that can look both sober and dramatic if you can use it in the right way.
Conclusion
All in all, black is a dynamic color that looks dynamic and bold. Incorporating black dining chairs in your dining room can bring a new dimension to the interior. The right pair of black chair for your dining table can create a beautiful impact and increases the beauty of your dining rooms. You can install them with modern minimalist room decors or classic and vintage interiors.
Also, you can get plenty of options in terms of shades, materials, and style. But you must pair the proper type with a suitable interior to create visual magic and amaze your guests. So, have you decided on any suitable black dining table chairs for your house?
If not, try any of our above-shared options and see how they look with your dining room decor. But always pick a style that goes with your interior design to make the most of your black dining room chairs.
Frequently Asked Questions
Are Black Dining Chairs Fashionable?
The color black never gets out of fashion. It is a timeless color that suits various interior designs and aesthetics. Black furniture especially dining table chairs looks sophisticated and dynamic. Black dining room chairs are also available in styles like wooden, metal, tufted, mid-century, leather, velvet, rattan, and many more that look fashionable in any interior.
Do Black Dining Chairs have to Match the Dining Table?
There is no hard and fast rule for dining room chairs to match the dining table. Usually, in traditional interior designs, dining tables and chairs are matched to create a look of harmony. But modern and contemporary interior designs are all about creating dynamic looks that can be achieved by mismatching furniture and décor.