Master bedrooms showcase the pivotal aspect of your living. Here is where you share your quality moments with your fiance, boyfriend, or your husband. Making love to your partner requires adding that romantic tinge to your bedroom decor through a wide range of options, which also includes coastal bedroom ideas among a set of many ideas. 
The feel of living inside the bedrooms brings out those vibes, after all. This is why you must style up or prep up your bedrooms in such a way that the spaces bring out the wilder side of yours.
Plenty of DIY styling tips or techniques can be incorporated inside your master bedrooms to make those spaces dreamy.
By Including mind-blowing themes and ideas, you float on Cloud 9 with ecstasy with the man or woman you are going to spend the rest of your life with.
Wall painting themes can bring out those romantic vibes in a lovely manner.
Similarly, you can create accent walls filled with collage photos that both of you had taken together during a picnic or at an exotic vacation spot.
Helping you unveil exclusive coastal bedroom ideas you can spruce up to ignite your love life better.
1. Have Fun with Vintage-Styled Headboards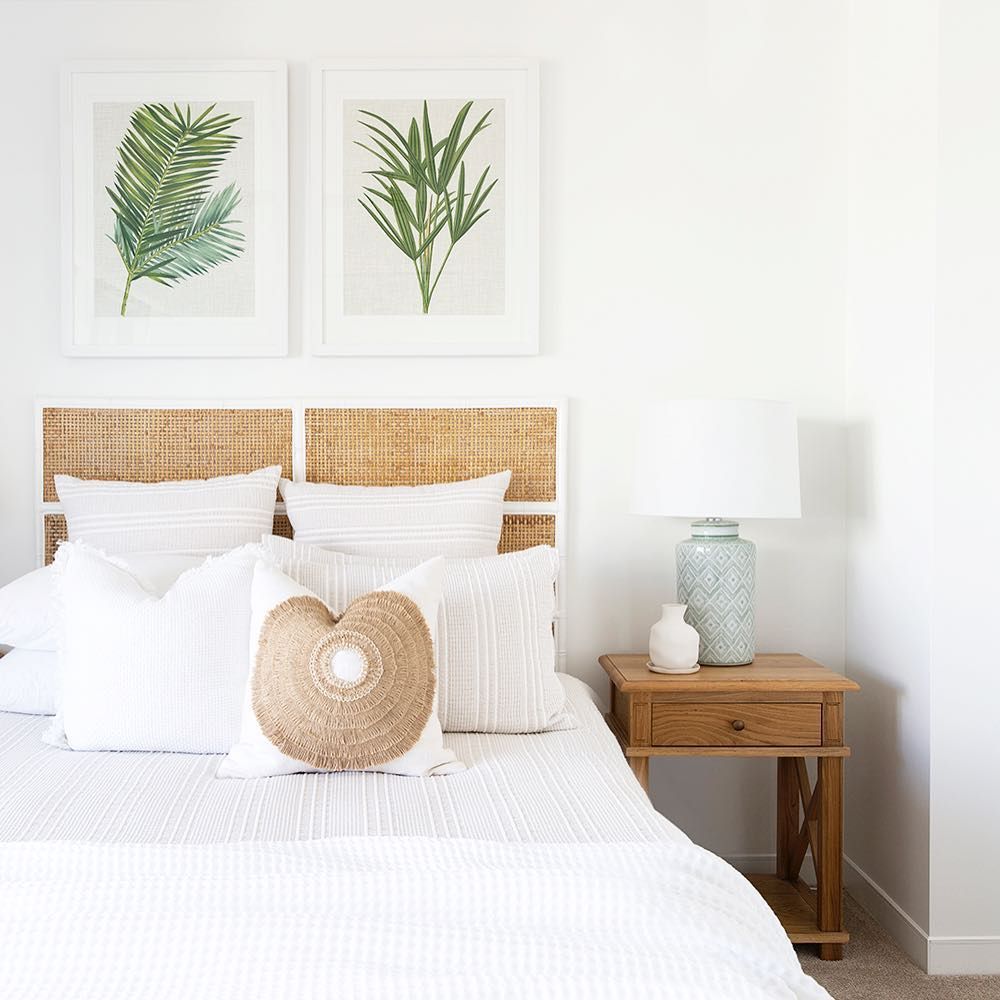 The cane headboard beautifully fits into this romantic bedroom. The cane upholstery in the master bedroom invokes soft and subtle vintage vibes into the spaces involved.
The palm leaves have been caricatured as wall painting decor pieces up above the wall.
The cushion rugs have cane portraits embossed onto them too. With soft white pillow covers and a pure white bedspread, this styling technique is nothing but pure bliss.
The white table lamp placed on the wooden shelf has a vintage-styled ash-gray painting to it.
Similar Post: 15 Stunning Modern Farmhouse Decor For Your Space
2. Including Printed Bedspreads to Add a Pop of Color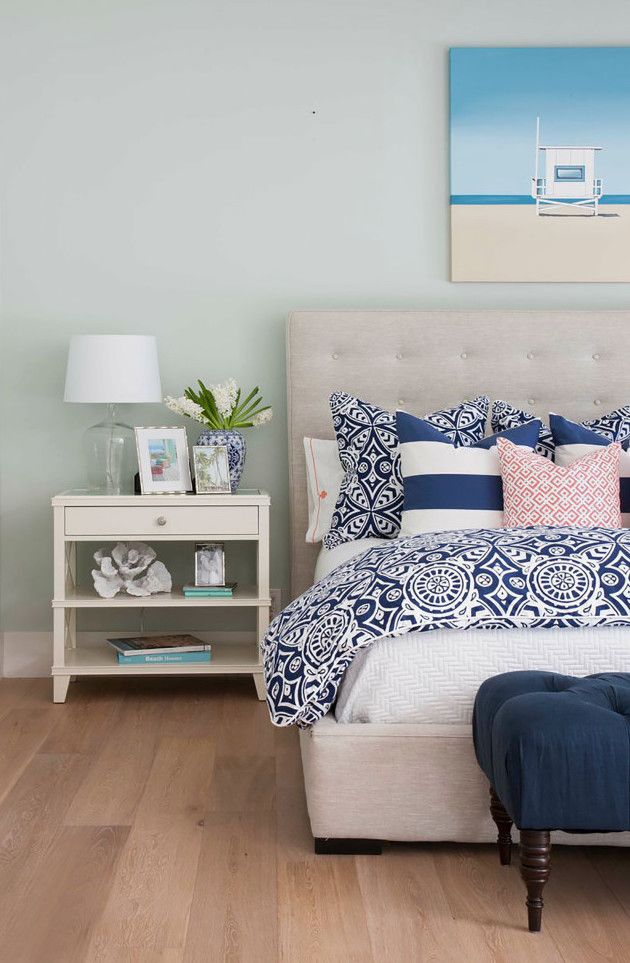 Printed bedspreads can add a pop of color and spice to your existing coastal bedrooms. The prints make your bedrooms look vibrant.
The printed bedspreads and pillow covers match one another. The cushion rugs have stripes of blue and white, adding to the perfect oceanic theme.
The navy blue upholstery done to the coffee table again matches the decor of the bedroom.
The wooden cabinet that is placed by the side of the king-sized bed has the accessories placed in a streamlined manner. The cabinet is painted all white.
An oceanic wall painting is done at the top of the bed and looks eye-catching indeed.
Here is one of the most irresistible coastal bedroom ideas you would want to try.
3. Explore a Palm Tree Wall Art in Your Master Bedrooms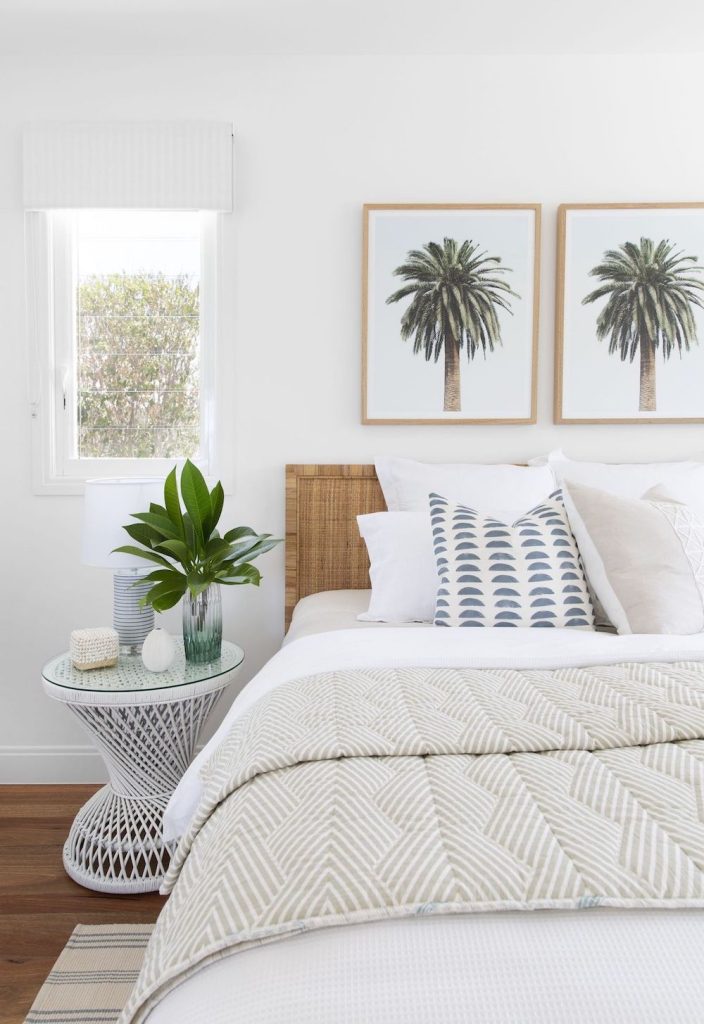 Areca palm trees bring those exact beach vibes you may know of. Here is why, we have included exotic palm tree wall paintings that have been pinned up just above your beds.
These astounding pieces of wall art bring the feel of oceanic tides quite effortlessly.
Soft pastels of blue and white for the bedspread and pillow covers again complement the overall decor of the master bedroom.
The window sill brings natural lighting and ventilation into the bedroom as such. The coffee table is painted all-white and takes the shape of a cane basket.
In totality, this is one of the best coastal bedroom ideas you can try out.
4. Accent Wall and Chandeliers Unveil the Magic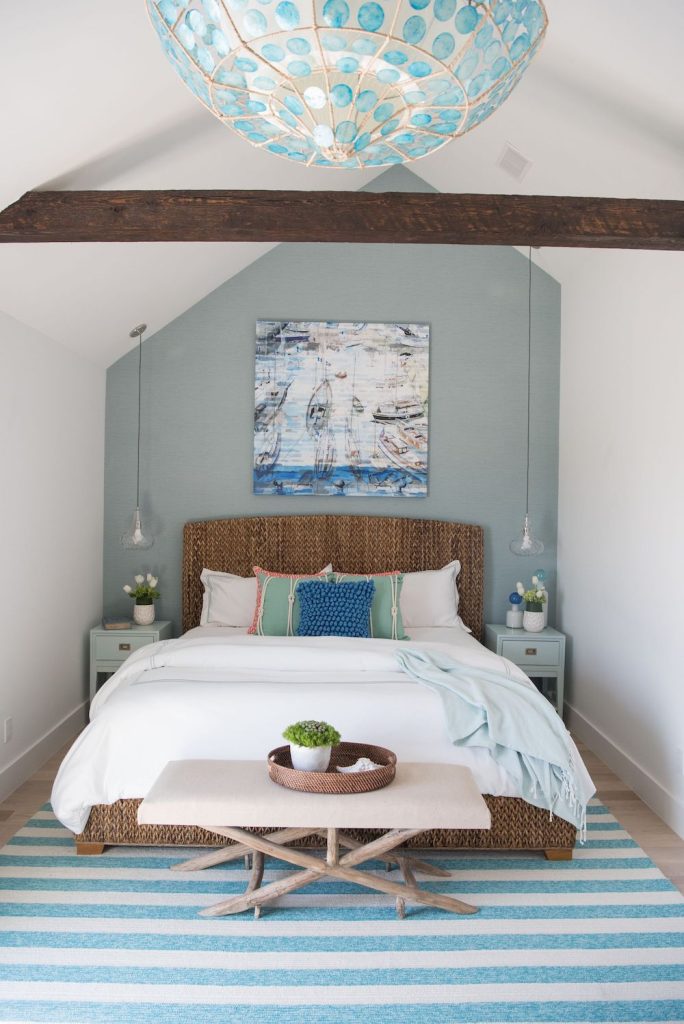 The accent wall put up in this master bedroom marks the highlighting tint for this decor. The oceanic-themed portrait looks so colorful and vibrant.
The bed has its headboard upholstery made from natural-looking jute. Therefore, you discover earthy vibes inside the bedroom.
The chandelier is a hand-made design wherein sea shells have been decorated intricately in order to make this accessory a stunner piece.
The bedspreads and pillow covers have a mix of soft blues, navy, and white, adding to a perfectly poised coastal theme.
The wooden cabinets placed on either side of the bed have their accessories that are done precisely. The white and blue rug again invokes a romantic beach theme.
5. Create a Tropical Island Inside Your Bedrooms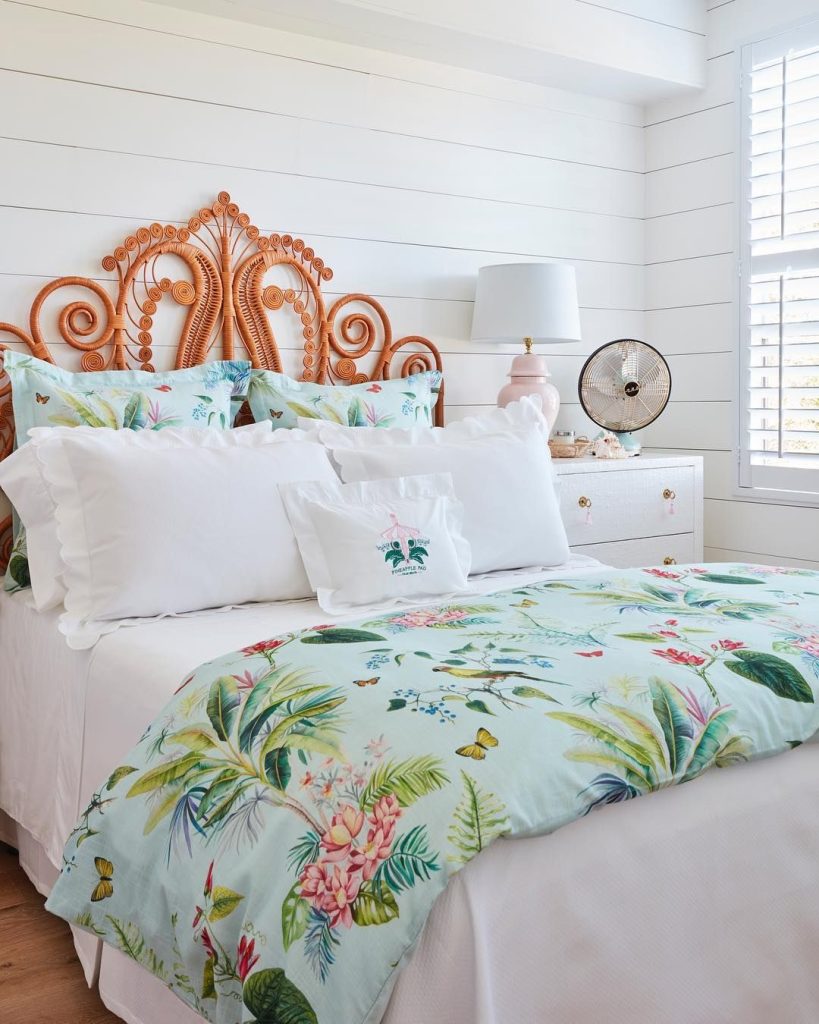 Bringing a tropical island into your bedrooms can be done using bedspreads alone. Just get yourself bedspreads and pillow covers that have a tropical design on them—the feel of staying on your very own private island surely vibes in.
The bedspread and two other pillow covers, all white in color, complement the decor in a classic manner. The wooden headboard has an intricate design to it, bringing organic vibes.
The wall unit cupboard has its table lamp and a fan neatly tucked in.
The tropical idea is one of the simplest coastal bedroom ideas you get to incorporate!
6. A Sea Green Wall Decor Looks Enticing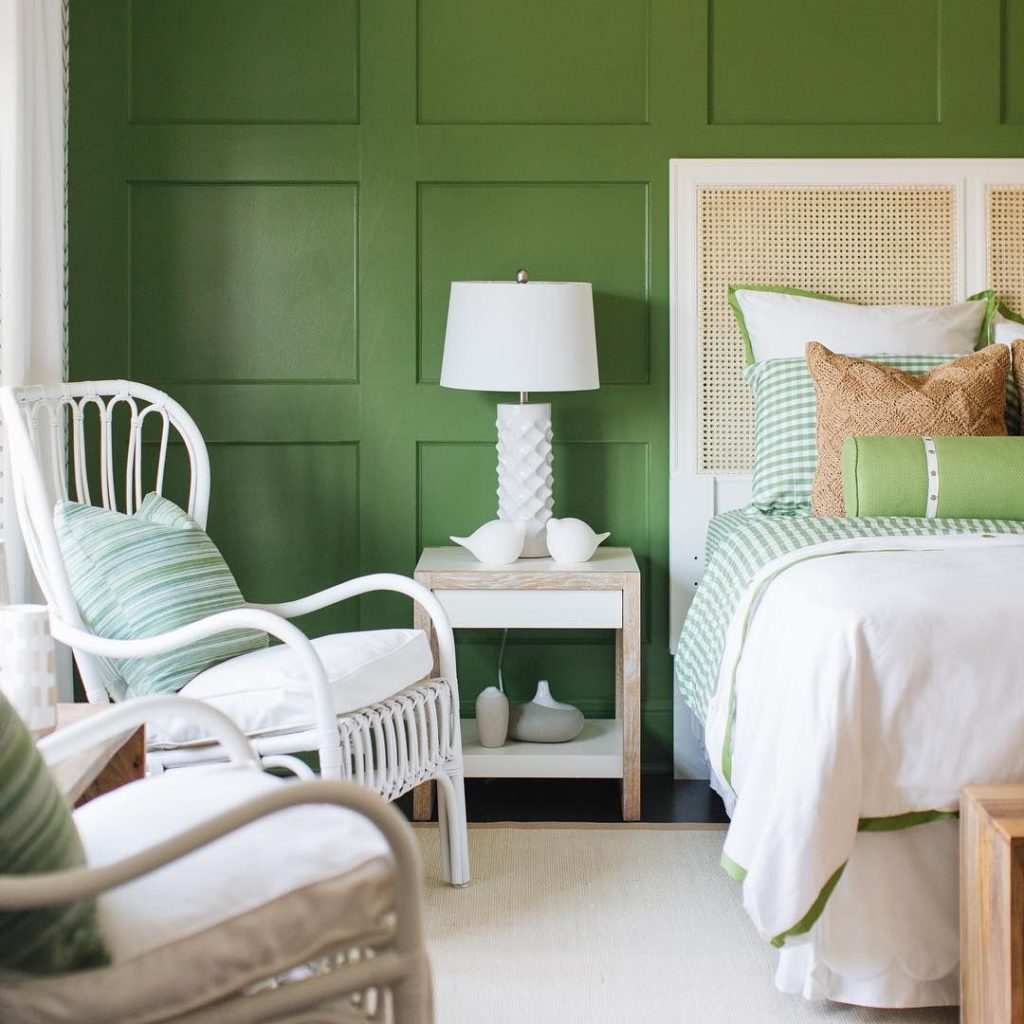 The sea green wall accent is what adds an oceanic touch to your master bedroom, after all. The white and green shades help you reminisce about sea water vibes incredibly.
Again, you have sea green, blue, and white stripes on pillow covers and cushion rugs of chairs that have been put up inside the bedroom.
The jute headstand provides earthy touches to your spaces. The white table lamp fits into the coffee table space.
The wooden flooring is done off-white to complement the accessories the room comprises. This is a natural coastal bedroom idea you can think of!
7. Coral Shades Lend Flattering Looks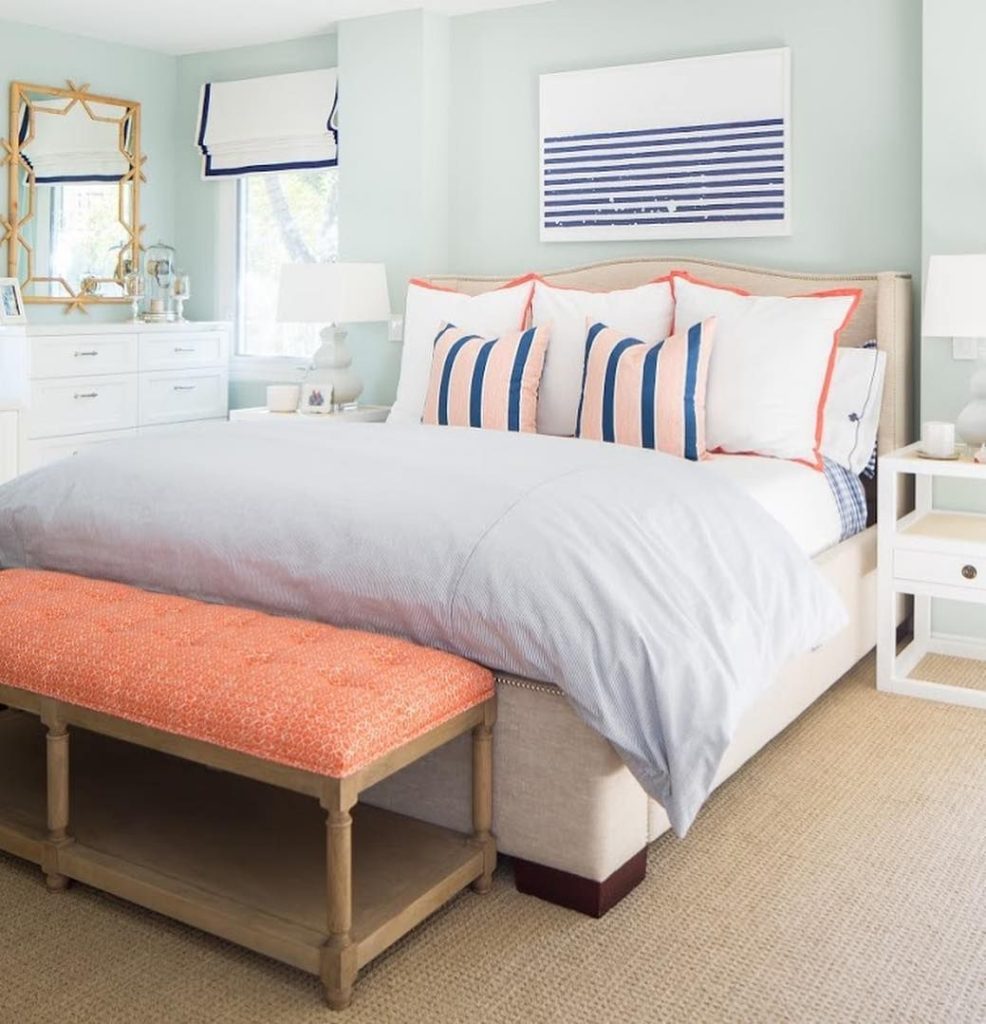 We generally think of whites, blues, and greens when it comes to giving those beach-styled looks to our bedrooms. Trying coral is definitely one of the more unique yet explorative ideas to adorn your bedroom spaces.
The silhouette of the bedroom bench is upholstered using a coral-shaded fabric, while the cushion covers have coral hues with blue stripes on them.
This way, you lend unique vibes to your coastal bedrooms. The white wall hanger with blue stripes adds to the beach glam effortlessly.
The open windows can provide plenty of natural lighting and ventilation in your bedrooms.
Related: 21 Ideas to Decorate the Top of Your Kitchen Cabinets
8. Nautical Themes for Your Master Bedrooms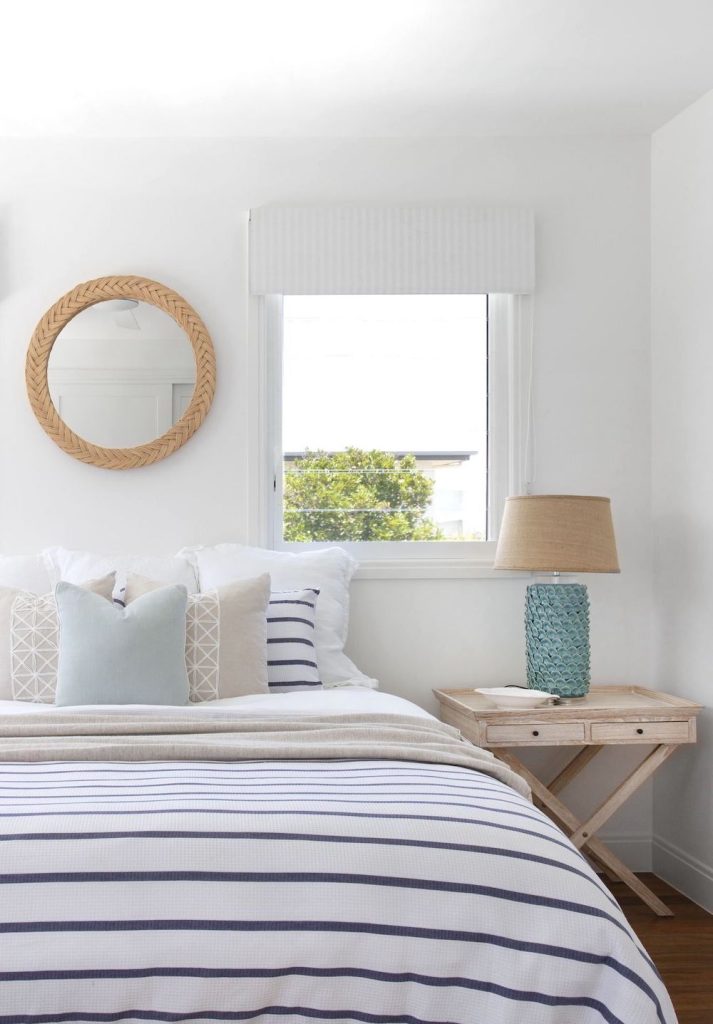 Why not try nautical styles for your master bedrooms? The ship anchor nautical stripes are lavishly painted upon the bedspreads, providing vivid vibes to your oceanic-style bedrooms.
There is a mix of whites, coral designs, nautical pillows, and cushion rugs that perfectly complement the theme that is brought to life via this styling technique.
The table lamp has an intricate floral design that lends pretty-looking vibes to the overall decor. The open window allows natural light to enter the bedroom, thereby brightening its spaces.
The mirror wall-hanger has an exquisitely designed jute covering to it that looks earthy and stylish too.
9. Fish Print Designs Are in Vogue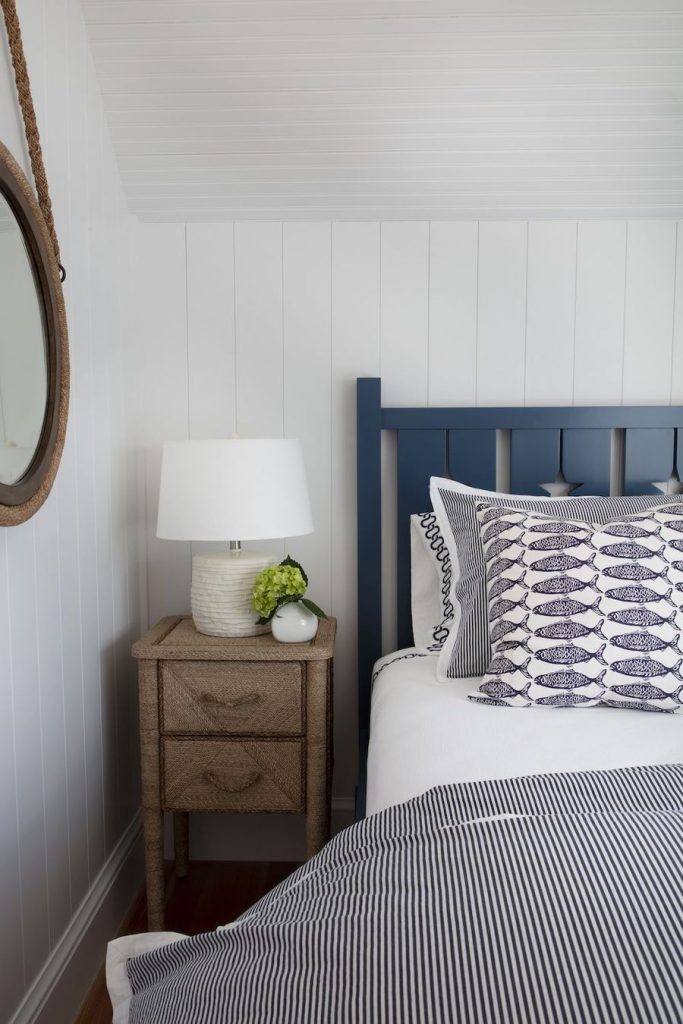 The fish print design that is done on the pillow covers brings out that enigmatic feel inside your bedroom.
Nautical stripes are added to the lavish bedspread that covers the king-size bed inside the room. The posh wooden cupboard is designed using an organic modern styling technique.
The design ensemble of the cupboard looks stylish while it allows the natural grain of the wood to pop out.
The white table lamp with its hand-block design looks lovely indeed. This is one of the most incredibly stylish coastal bedroom ideas you can plan for your spaces.
10. Wall Tapestry in The Form of Waves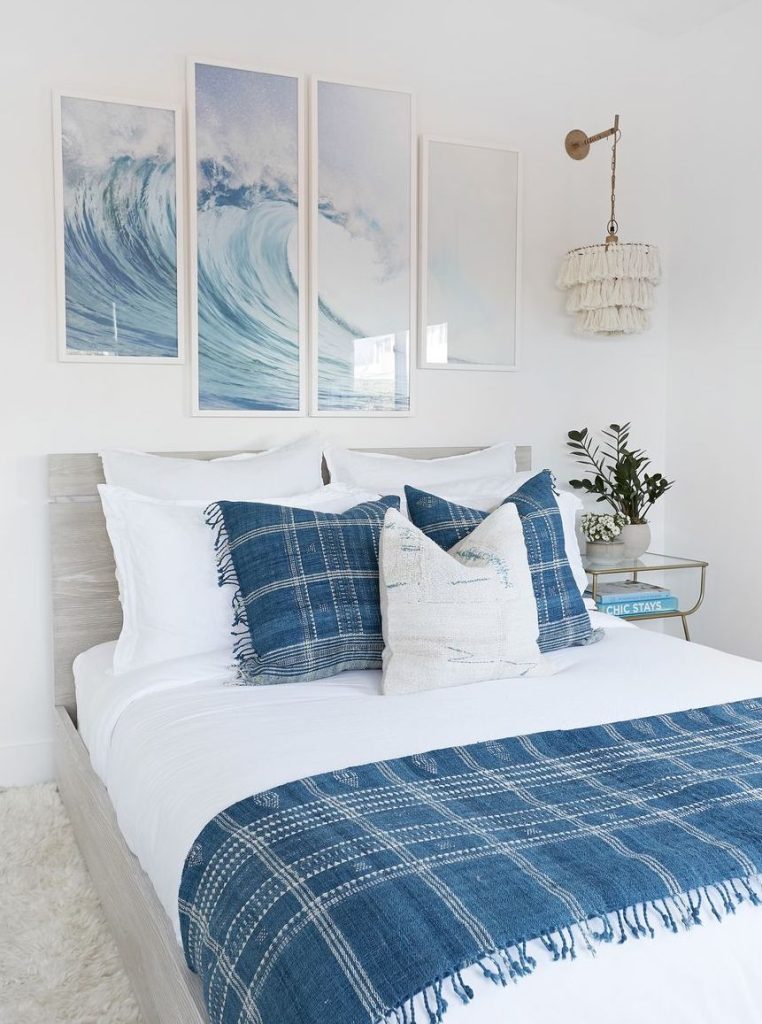 A beautiful wall tapestry theme has been brought to life in this master bedroom. The waves rise high in a fluffy style indeed.
The waves bring the effect of living at the sea in a ravishing manner.
White, navy blue, and stripes fill the bedspreads and pillow sheets, bringing out the beach-style effect in a classy way.
You have other accessories that are neatly spruced up within the room decor. The cloth-hanging mural looks pretty and breathtaking.
11. Recreate a Sea Cove Using Soft Pastel Blues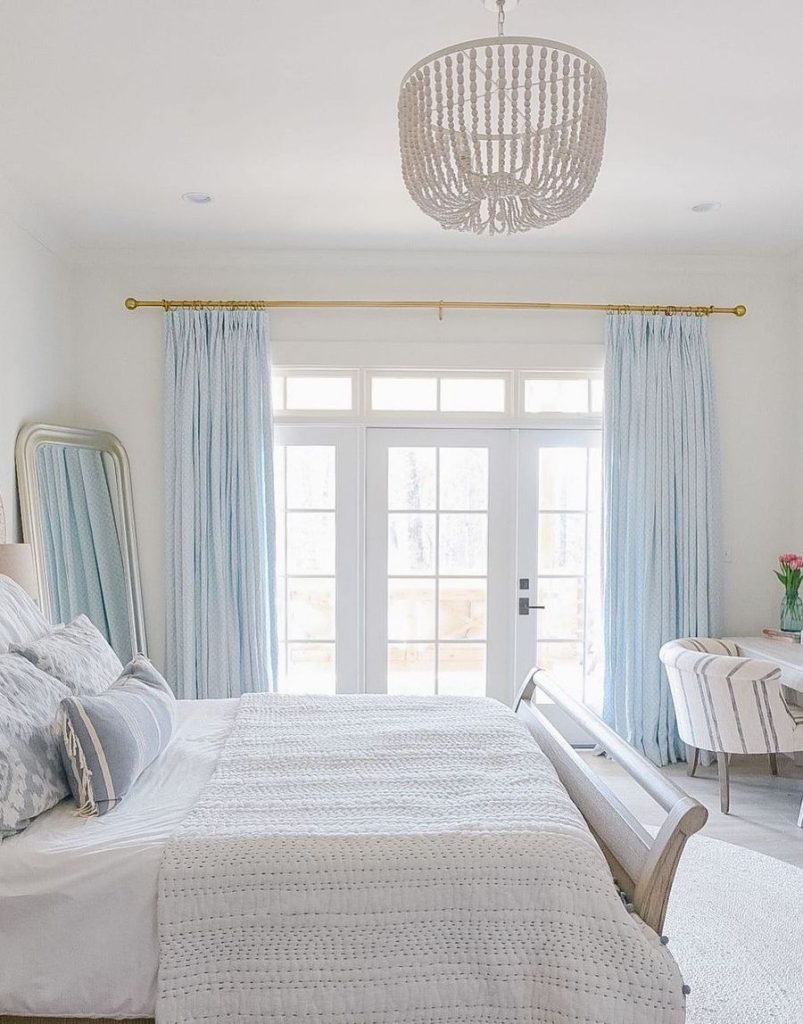 Using soft pastel blues and whites, you recreate a beach atmosphere in the most natural way. The bedrooms get their warm and inviting vibes with lighter shades.
The softer hues also reflect light adding to the natural ventilation of your coastal-themed master bedrooms.
The lavishly graceful windows allow natural sunlight to penetrate through.
This way, you allow your volume and get a feeling of your bedrooms being even more spacious. The embroidered bedsheet looks pretty and good-looking.
The cushions and pillows have soft pastel blues, too.
The curtain drapes have light blues, too. The sky-like, serene atmosphere is what unfolds inside this romantic bedroom.
12. Day Beds Adorn Coastal Guestrooms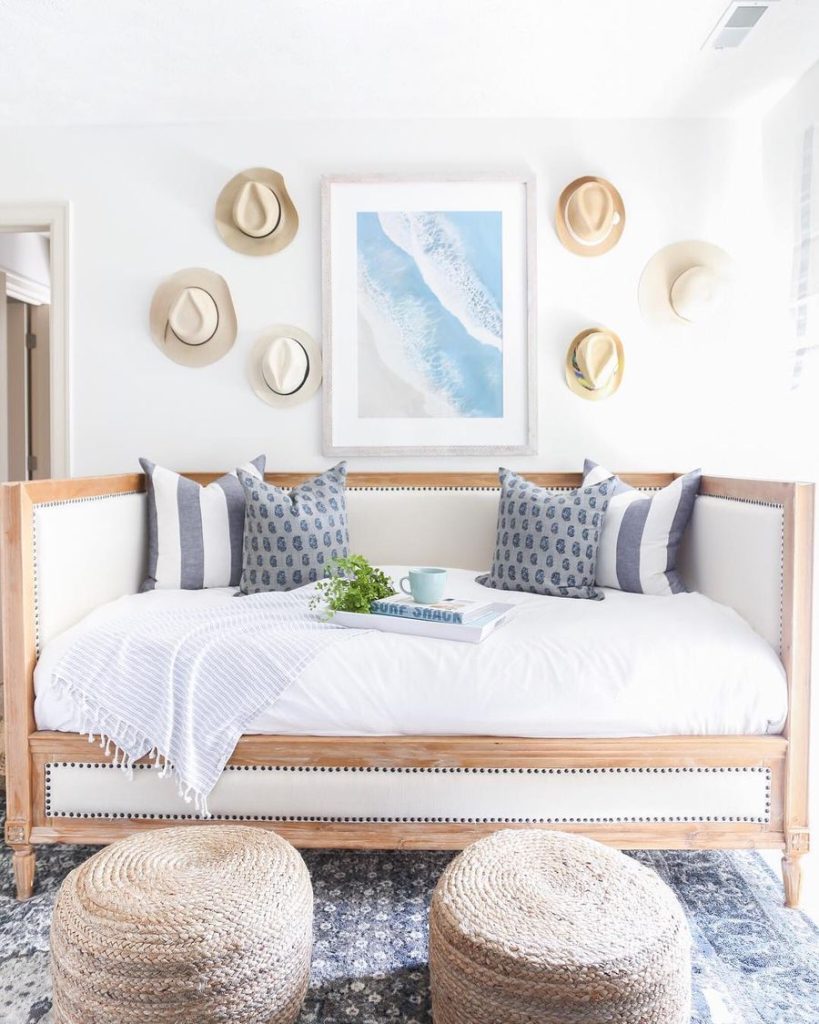 For rooms that are smaller in size, what would you ideally be thinking about? Yes, with the right set of accessories, you give spacious vibes to more compact coastal bedrooms.
Or even turn bedrooms into your signature guest rooms. A cozy day bed is all it needs for you to recreate this atmosphere. The bed looks comfy and spacious too.
The jute woven seats help you lounge in the space while you want to read a book or drink a cup of coffee in your bedroom. The sea portrait on the wall hanger looks splendid, while nautical striped cushion rugs bring the beachy theme to life.
Those hats out there are pinned to the wall decor, recreating the feel of wall art done artist style!
Check This Next: 20 Inspiring DIY Wood Projects to Expand Your Vision
Summing It Up
We have seen 12 super cool and invigorating coastal bedroom ideas for your master spaces. By adding printed bedspreads, stylish cushion covers, or adding natural artifacts, you recreate beach styles that look flattering and mind-blowing.
Wall stickers or tapestry murals can be bought online to glorify the sea-like ambiance in a splashy way.
You can have DIY styles to paint oceanic waves or mermaid themes to bring a romantic as well as a creative tinge into your master bedrooms.
DIY shell decor bunk beds can be created to let the atmosphere do the talking after all. Seashell wall decor can also look compelling and strikingly beautiful inside coastal bedrooms.
Which is going to be the ideal styling technique you would want to recreate inside your bedrooms?