Whether you enter your house or your guests, you all first step into the living room and catch a glimpse of it. With such importance, these living rooms have unquestionably become the most important part of your house, and it's also the place where you spend most of your time.
It's a place where you have long conversations with strangers, and guests make them feel like our family.
To make sure that your guests feel welcomed and you feel the comfort and warmth of entering your house, having the right living room set up has become of utmost importance.
To transform a space into your beautiful living room, you need to plan everything.
Starting from the color of the furniture to where it will be set up, the color palette, and the elements that bring life to your living room.
To evaluate this and make the final decision easy for you, we have some of the most common and famous living room decor ideas exclusively for you.
1. Transitional Living Room Decor Idea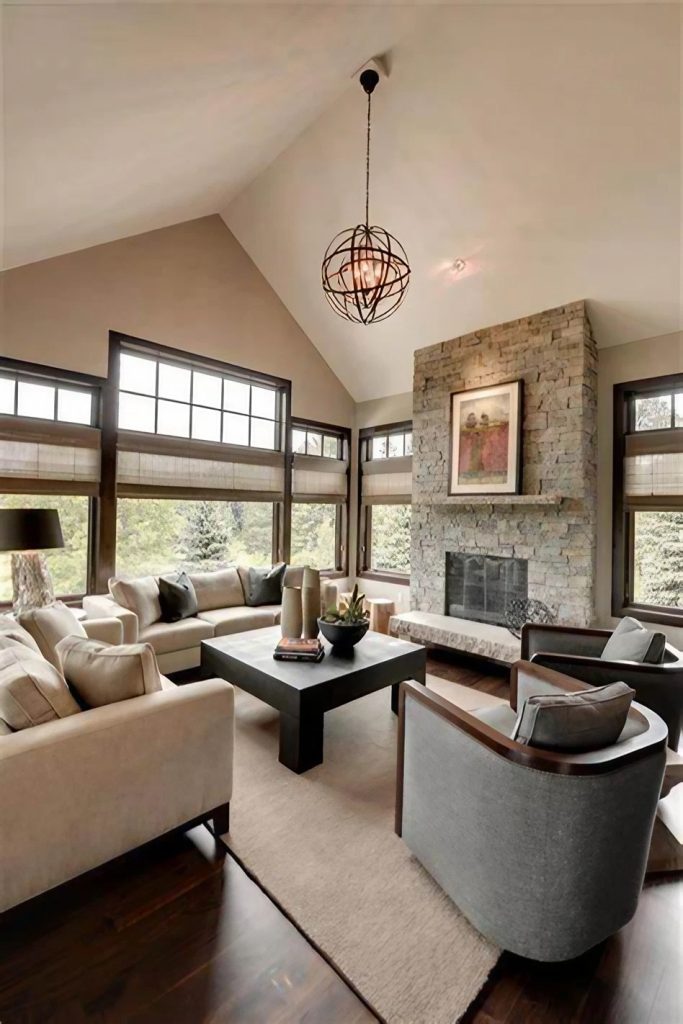 The transitional living room decor idea is a contemporary style that you will find more in the urban setup.
It has become the modern way of life to keep everything minimal, and this idea is all about keeping it chic, minimal, and modern.
Choose neutral colors and make sure that you have lots of these color tones filling your living room.
There can be darker shades, but make sure to blend both dark and light neutral color shades perfectly into your living room.
Avoid patterns to keep the space clean and to add texture to the place; add lots of cushions, throws, carpet, art, and furniture that's minimal yet fulfills all the basic needs.
2. Beach Style Living Room Decor Idea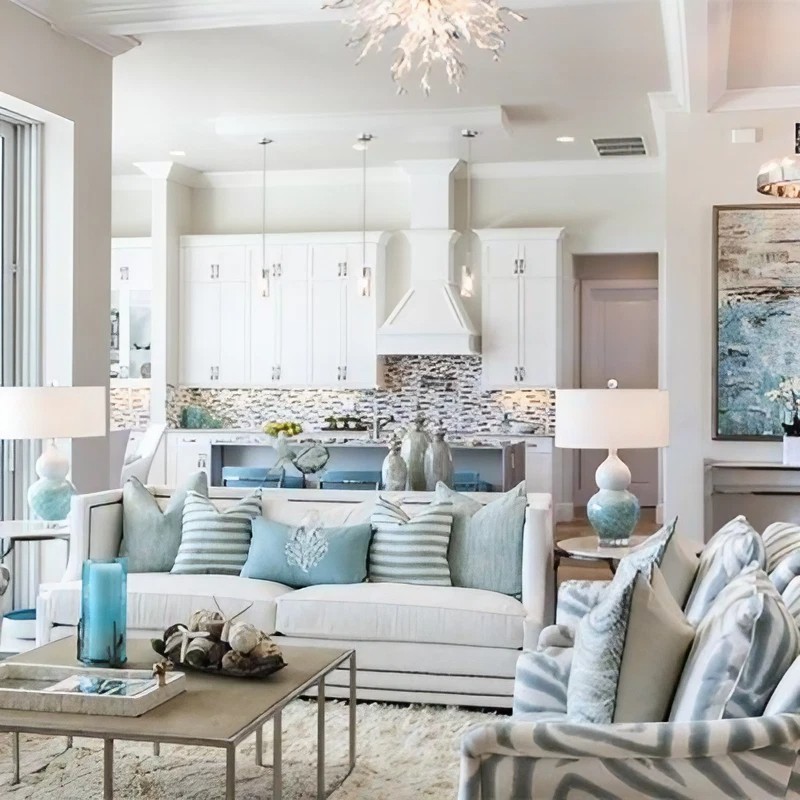 If you have a beachside house, then this could be your guide to setting up your living room. However, you don't need a house facing the beach to get the ocean vibes to you.
In this living room decor ideas, you can achieve the beach-style look by adding lots of sea blue, white, turquoise, and similar shades.
You can opt for these colors on your walls, floor carpet, sofa, cushions, art, and everything. All of these colors blend in perfectly to give you the sea vibes.
Remember to use a statement bright color like turquoise on at least one piece of your furniture to add that pop of brightness to your living room.
3. Scandinavian Living Room Decor Idea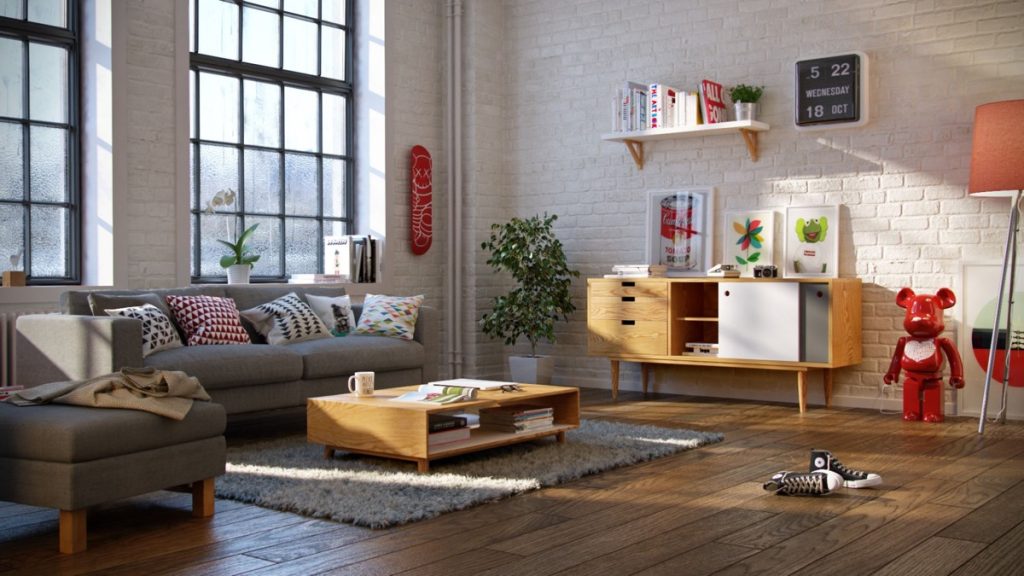 The Scandinavian living room decor idea is all about keeping the living room plain and neat, with minimal colors. In this living room style, we use lots of white, grey, and brown colors to keep it simple yet colorful.
These colors are considered neutral and versatile, so they blend in with any theme that you have in mind.
Add elements like artificial/natural plants, art, etc., but make sure not to overdo it to ensure that there's enough space and the place is airy.
While getting the furniture and other accessories too, make sure that they are symmetric so the place looks neat and de-cluttered.
Even after all this, if you feel that the final output is plain and boring, you can add pop-up colors in the living room.
4. Cottage Style Living Room Decor Idea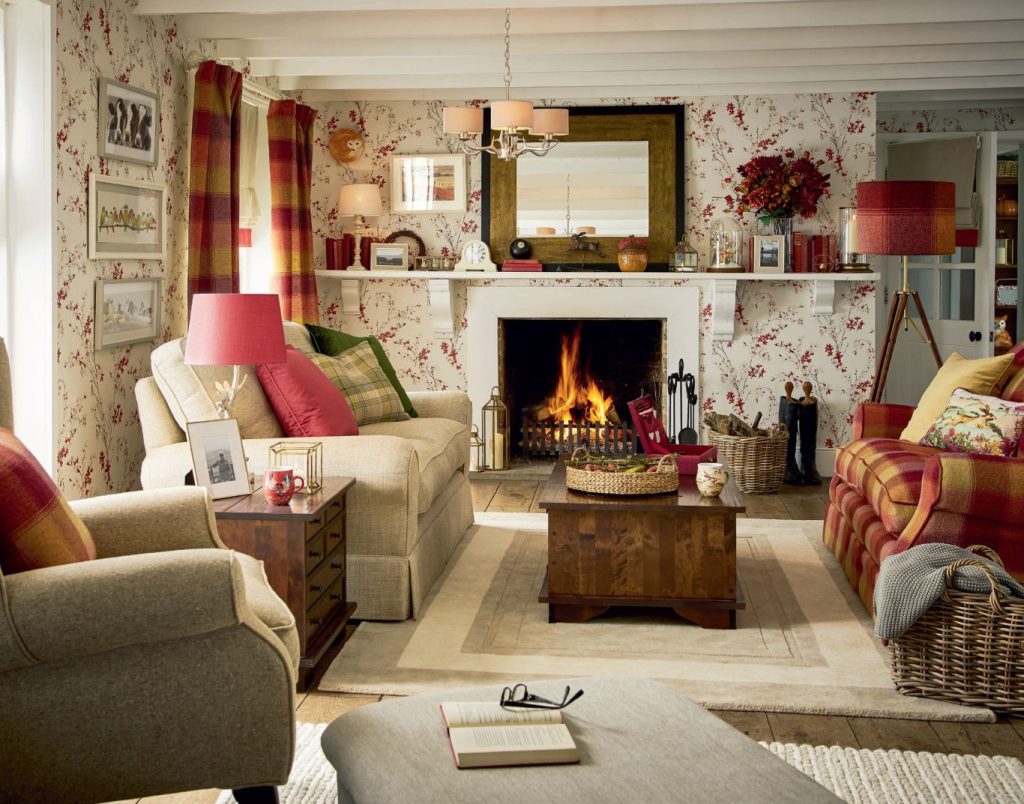 Well, as we know, the majority of the cottage houses have limited space, and the living room is no exception.
So, to make it work and have all the basic functionalities that a normal house would, the place is going to be compact.
These old country-style houses will have a fireplace, traditional staircase connecting to the living room and sofas, coffee table, storage space, decor pieces, etc., that a normal house would, and the final output would definitely result in congested space.
However, the use of more warm colors like brown and off-white with lots of texture will warm up the place like any cottage should.
5. Gothic Living Room Decor Idea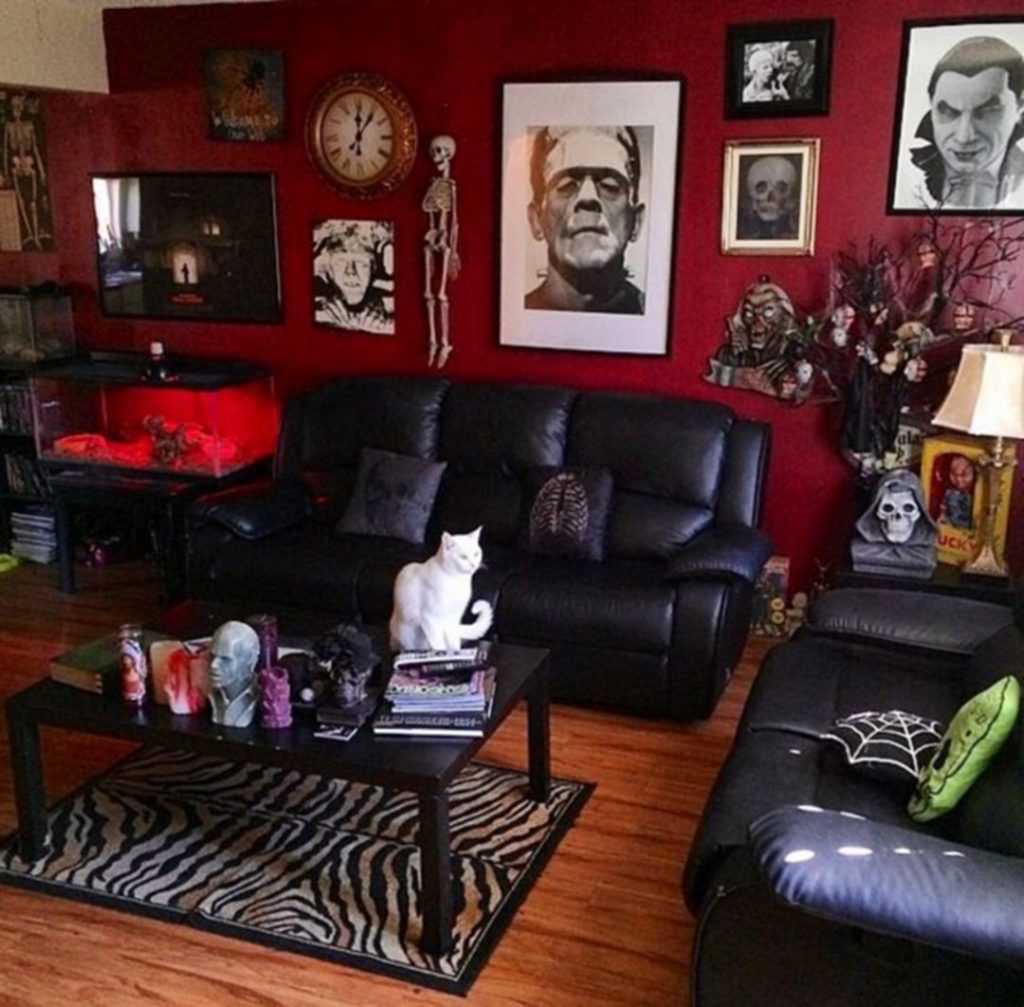 If you are someone who wishes to have your own unique style and if you like over-the-top design, then this gothic-style living room decor idea is definitely for you.
This style is the opposite of minimal, and the living room is filled with dark pop-up colors.
For example, you can color your living room walls with red color, and with it dominating the scene, you can still have other dork-colored elements like a grey/black sofa, dramatic color art, etc.
If the gothic style is what you want, then with proper planning, you can easily set up your gothic living space that's dramatic and eye-catching.
6. Mid-Century Living Room Decor Idea
While mid-century design is all about keeping it simple, this style however is inspired by the major architecture movement from the 1940s.
The rules of this living room decor ideas are simple; it's all about keeping the place simple and as functional as possible.
Some major additions to the place would be a comfortable sofa, a chair, a coffee table, a carpet, etc.
While the style is all about keeping it minimal with limited colors and neutral tones, it has become popular over the years to add one bright or pop-up to either sofa or chair to make the place look more lively.
7. Farmhouse Style Living Room Decor Idea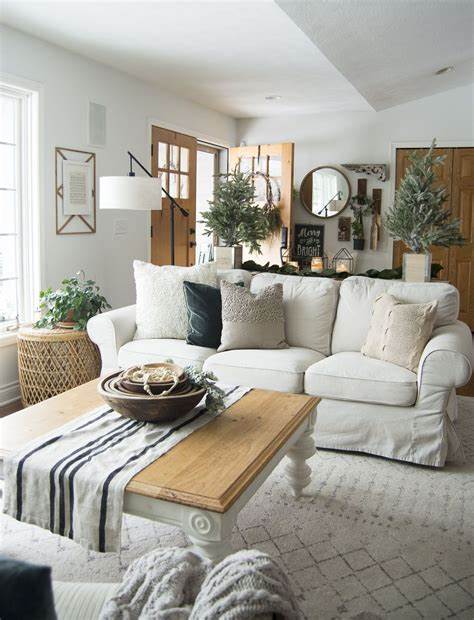 Living rooms in farmhouses tend to have lower ceilings and exposed beams, and by default, most of these ceilings and beams are painted with neutral colors.
So, to go with these, it's better to choose neutral colors like Beige, off-white, brown, grey, etc.
While many believe that farmhouse-style places would have a rustic style, that scenario is no longer true since most people are opting for more functional living spaces.
While the base colors are neutral on the sofa, chair, coffee table, walls, etc., there's no reason not to make the space colorful by opting for patterned accessories like cushions, rugs, throws, etc.
8. Classic Living Room Decor Idea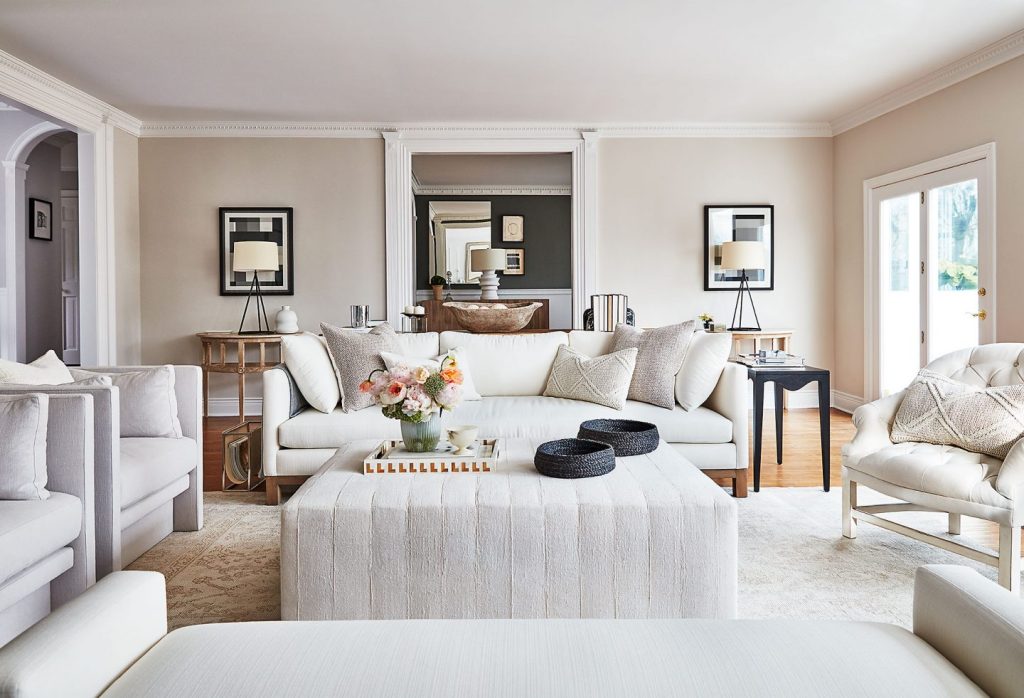 Well, many assume and relate class with white in terms of interior designs, and we couldn't agree more, White is a sophisticated color, and no color can beat it in this.
In the classic style, we can pair up layers of white in your living room to give a rich, classy look.
To not make it boring, you can add a range of white colors such as beige, raw silk, off-white, etc., and these can complete your living room design by balancing the overall look.
To make it more classic, get symmetric and neat furniture, don't stock up on accessories, and leave ample space for fresh air.
9. Rustic Living Room Decor Idea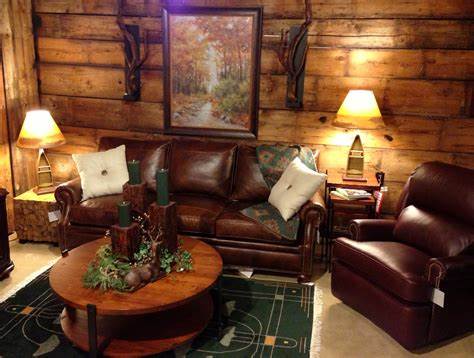 You don't need anything fancy if you opt for this style for your living space. This look is considered to be economical, and the final look is going to give you a rustic look in your living room.
To create this look, you need to use lots and lots of brown and its related colors. The furniture needs to be brown and, if possible, the accessories too.
Try and choose a leather sofa and fabric finish chairs. Let your furniture be finely polished wood without any point, along with wood or a brownstone fireplace.
All these layers of brown will make your living area very warm, cozy, and comfortable.
10. Country Style Living Room Decor Idea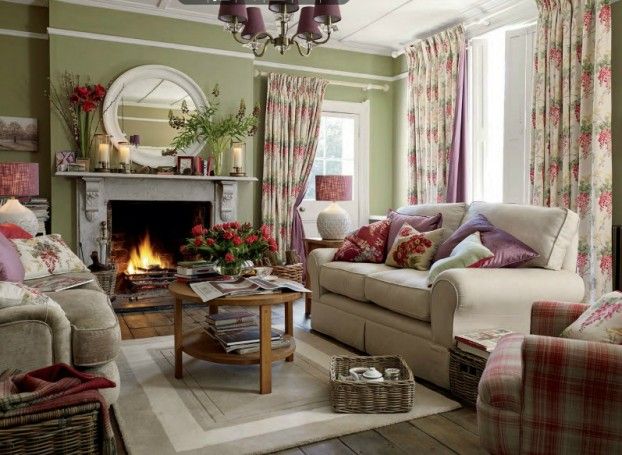 Country-style homes refer to using different accessories and elements that date people back to their ancestors, ancestral heritage, or their roots.
These houses and their living rooms are often very comfortable and, with their style, make the place look much bigger.
These country living rooms generally have traditional staircases, fireplaces, large windows and doors, wood furniture with no fancy finish, cabinets and drawers, antique pieces, old art, etc., everything that you can trace back to your regular home but only much older and from previous generations.
They allow loads of natural light with neutral colors, making the place look brighter and bigger.
11. Plants-themed Living Room Decor Idea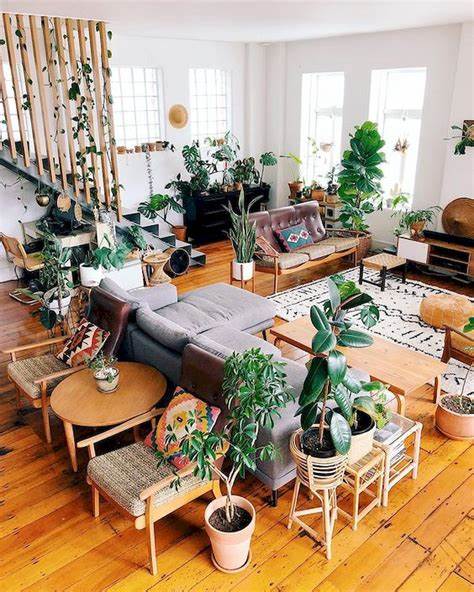 Home decor or Living room decor is all about acting according to personal interests and adding things that one is passionate about.
In this living room decor idea, we can inculcate plants into the living room to enhance the natural feel of the place if that's something you are passionate about.
You can either add soft tones such as cream, off-white, etc., and add loads of green plants, or you can even go for a more rustic look by opting for a brown sofa, chair, or furniture along with natural plants that fill your space with earthy feels.
If you have a scarcity of sunlight, opt for plants that can survive without much sunlight, or place your plants under the sun for a few hours for a sun bath and bring them back indoors.
12. Funky Living Room Decor Idea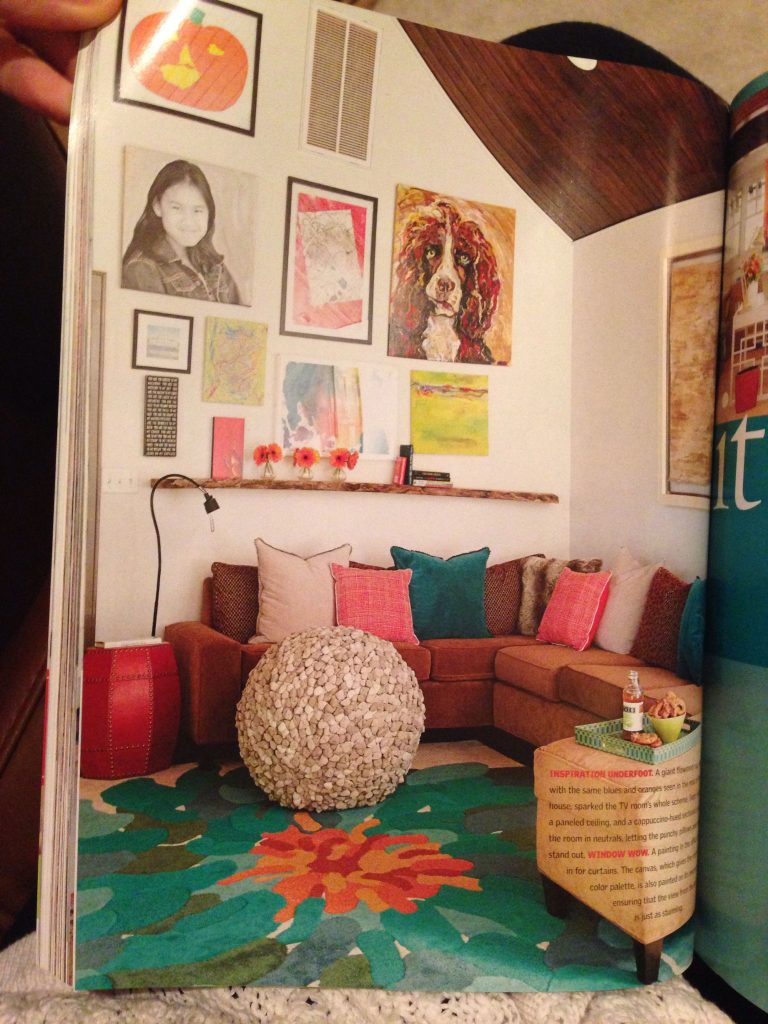 This living room decor idea is definitely for people who love lots of colors in their living space.
To get the funky style and make the place look unique, we must go the extra mile to add the right colors to every corner of the living space for the best looks.
To work things out, first, select a lively base color and also research all the other colors that go with it. Make sure that your base color complements many other colors.
In this way, get main elements like sofa, table, and chair in your base colors and add lots of layers of these other colors in your living space to make it look funky.
Add as many right colors as you want, and the final output will definitely make your living space stand out.
13. Mediterranean Style Living Room Decor Idea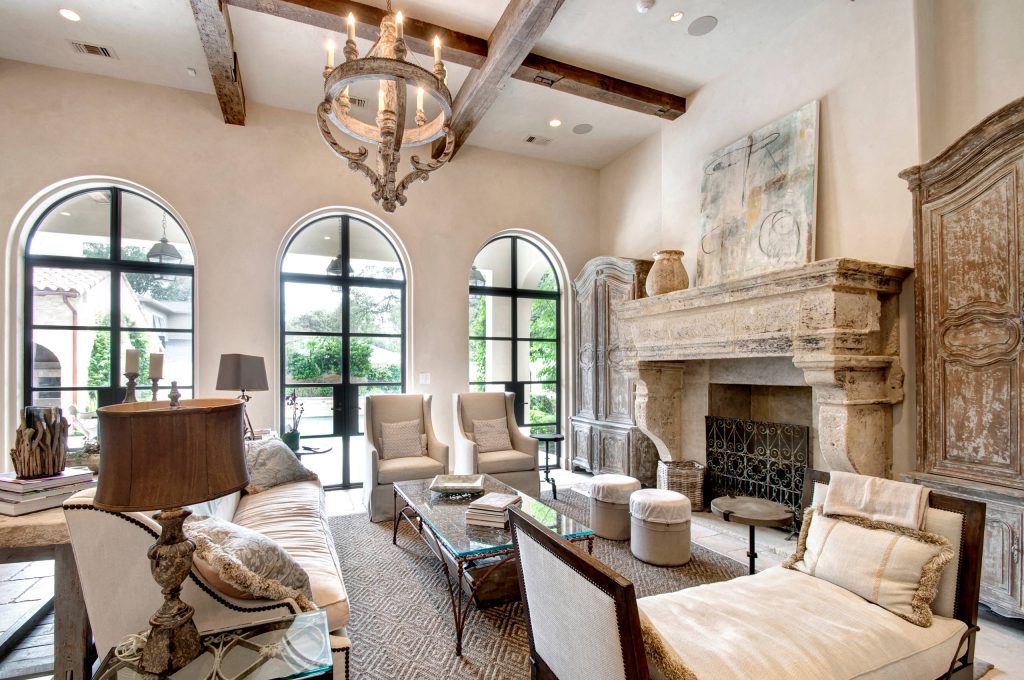 Mediterranean living rooms are strict with their style and elements and know exactly how everything must be set up. First of all, they love to inculcate large-sized elements like huge sofas, chairs, tables, etc.
Again, they usually have arch-type walls and arch-shaped windows that are a statement in the Mediterranean house styles.
These arch-type windows allow an abundance of sunlight and fresh air into the house, keeping it lively.
Statement antique pieces and natural elements like stone, wood, and metal are all common for the final finish of this Mediterranean set-up.
14. Craftsman Living Room Decor Idea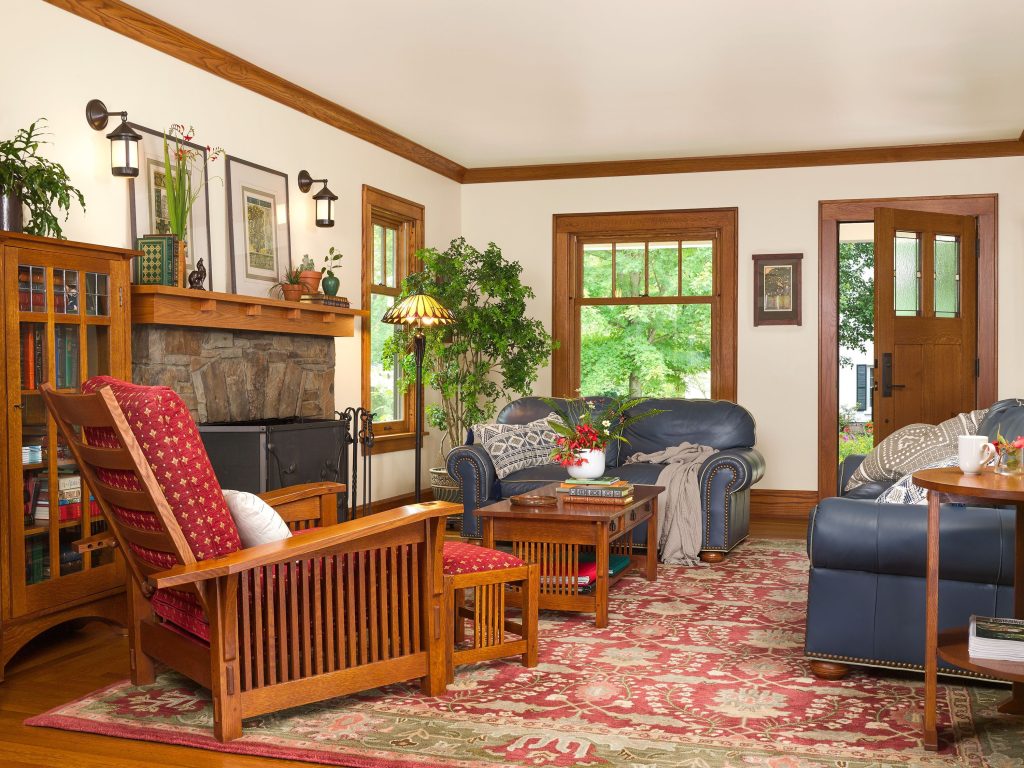 Craftsman living spaces, as the name suggests, tend to have more elements, either hand-crafted or works of fine craftsmen.
They can be anything from a table to a simple lamp that elevates the look of the place.
These kinds of settings are most commonly found or are preferred in country homes.
This style is a mix of minimal and rustic looks; they have loads of natural elements like wooden furniture, hard flooring, and handcrafted rugs.
Even the ceilings and beams are very plain, with natural colors to maintain the flow and a clean look.
15. Industrial Living Room Decor Idea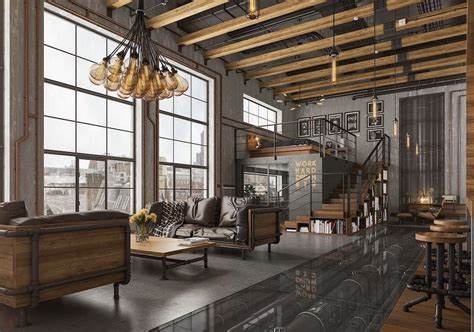 Instead of styling for a home set-up, this is mostly preferred for small commercial setups or in offices where there's a flow of people, and yet, a homely and comfortable look and feel is preferred.
Creativity is used at every step to make this space look more functional by adding neutral or versatile color schemes like grey and white or white and brown, exposed ceiling, and bare floor with a neutral rug.
All of these are used to make the place look bigger and spacious as these kinds of settings have a high in-flow of guests.
Overall, the place needs to remain classy, minimal, and spacious with luxury furnishings.
Related: Title
Summing It Up
All of these living room decor ideas and options available can make you feel overwhelmed.
While that's natural, you need to understand what you want the things that you are truly passionate about, and the theme that you want your living room to resonate with.
Decode some basic things like the kind of sofa you want, if you think you can function well in a cluttered or decluttered space, do you want to play with color and make the safe choice, the accessories and elements you already have and want in your living room.
Lastly, these ideas will shorten your living room decor ideas and help you find the one!