Don't you think the kitchen is the most frequently visited place in the house? Well, Yes! The kitchen has to be a more relaxing and peaceful location where you can enjoy preparing meals. Additionally, since the footfalls are higher in the kitchen area, the flooring has to be sturdy and durable. You may come across many kitchen floor ideas, but you have to choose the one that blends well with your interior.
The flooring has to be durable and must withstand high temperatures and hard stains.
Also, the floor surface should be able to sustain its texture and be robust enough to fight the chemicals used for cleaning. In addition, it must not retain an oily surface.
Get kitchen floor ideas from a renowned designer who understands your preferences.
How the Idea of The Kitchen Originated?
Centuries ago, people cooked their meals on an open fire. They first built a pit in the ground and set the logs ablaze to cook food.
The ancient people preferred cooking in open spaces because, back then, they lacked larger spaces in the house to have an individual room for cooking.
In the Middle Ages, metal cauldrons were used for cooking, and they hung those vessels over the fire pit with a rope.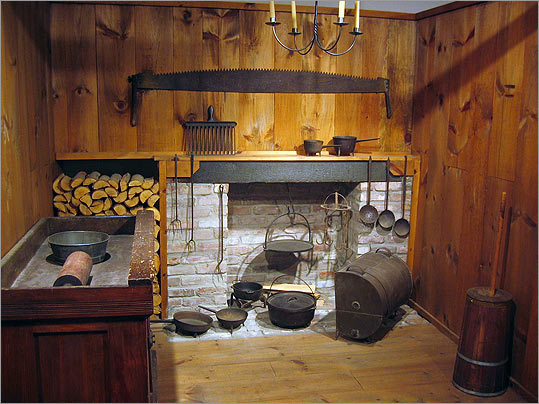 People lived together in that era, and hence, they had to cook meals in larger quantities. Even wooden vessels, earthen pots, and wooden ladles were the primary cooking utensils.
The flooring was not a concern for them, but now that we live in enclosed spaces and apartments, it is imperative to have durable flooring.
Kitchen floor ideas are numerous, but you have to choose the one that will seek less maintenance yet look elegant.
Let's have a look at some of the promising kitchen floor ideas for your stylish home.
1. Glossy Marble Flooring
Granite and marble flooring are some of the sophisticated and classic kitchen floor ideas preferred by many designers.
They not only appear glossy, but they have an exquisite effect on the kitchen decor. You can also have the marble walls matching the kitchen flooring.
Contrast ones also look pretty, but if you want a well-crafted look for your kitchen, you must go for marble flooring.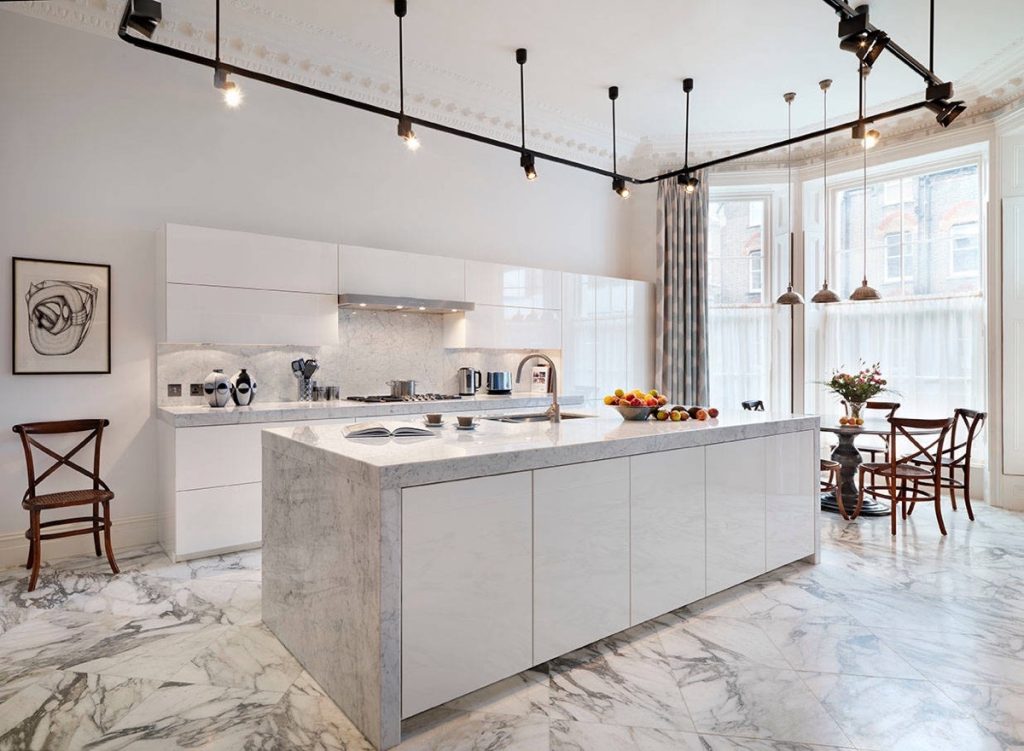 Pros
Marbles are sturdy and durable. Also, they require less maintenance.
You can blend it easily with the kitchen wall. If you have wallpaper, then marble flooring will give an amazing effect to the decor.
Semi-marble walls are the new trend that goes well with granite or marble flooring.
Cons
It is a bit expensive compared to other flooring products.
They are permeable (water retention) and hence need to be sealed immediately upon securing to the ground.
The surfaces are faintly fragile and, hence, can chip off if heavier loads are placed on them.
2. Rugged Concrete Flooring
The concrete floors are made using a mold. The stones, gravel, and cement are mixed with the water and left in the mold to take the desired shape.
You can add it to the existing surface and blend it for a rough look. It is mainly available in greyish color, but you can get it in different shades upon asking for customization.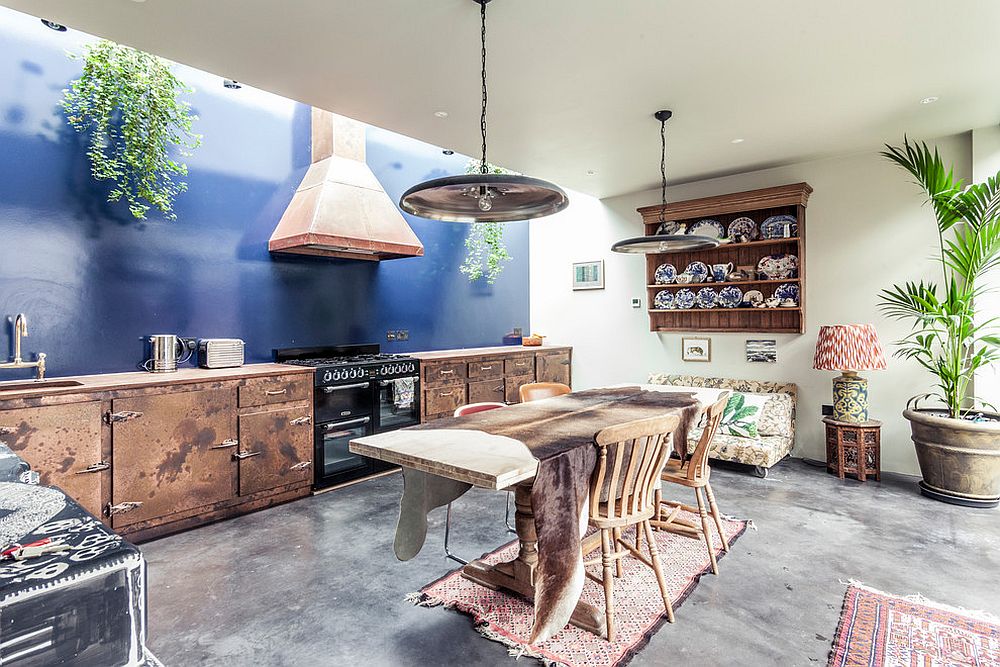 Pros
Concrete flooring is one of the most affordable and easy kitchen floor ideas.
It gives an unconventional look to your space and fusions well with the kitchen decor.
It is also highly moisture resistant and will prevent foul smells in the kitchen.
Additionally, it isn't prone to cracks and withstands rough usage.
Cons
You may have to install a heat radiating system under the concrete flooring before commencing the flooring process. The surface gets too cold during the winter.
Staining will be a problematic affair if not cleaned regularly.
Also, you may have to re-seal it every alternate year to keep the surfaces comfortable for you to walk on.
3. Austere Ceramic Flooring
Ceramic flooring is one of the oldest forms used since the ages when construction materials were limited and not too flashy.
It is included in the kitchen floor ideas because the flooring style oozes simplicity.
Ceramic flooring is essentially made from white or red clay. It is fired in a kiln and cut into desired shapes and sizes.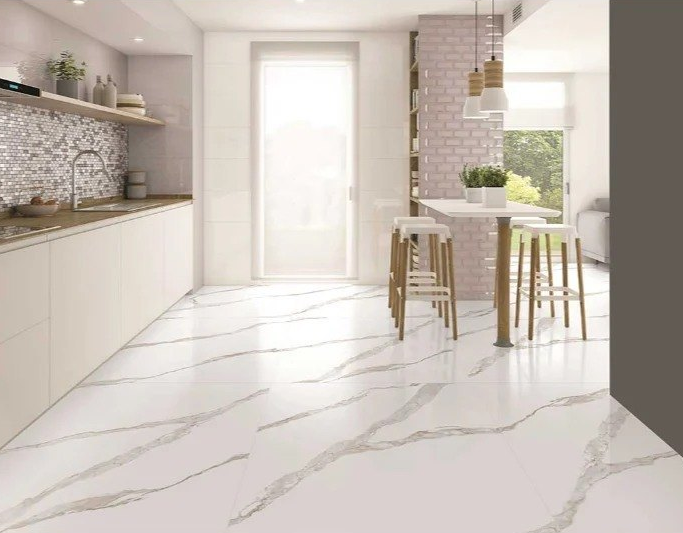 Pros
This type of flooring has a smooth and lustrous texture that leads to a lovely glossy surface.
It is easy to clean and rarely stained because of the smooth surfaces.
It lacks jagged spots and makes the flooring easy to walk around.
Cons
Surfing through the kitchen floor ideas can be a tedious task, and if you are confused, you can go with ceramic flooring. It is too common and is found in more than 80% of households.
The abrasions become conspicuous if used roughly and not subjected to regular maintenance.
4. Light Wood Flooring
The best types of wood flooring come in oak wood, teak wood, and maple. Also, the recent addition to the flooring is cheery flooring.
People prefer self-adhesive flooring if they find these wood floorings too expensive. You may find different textures and styles of wood flooring under kitchen floor ideas.
But light wood flooring has a unique style statement.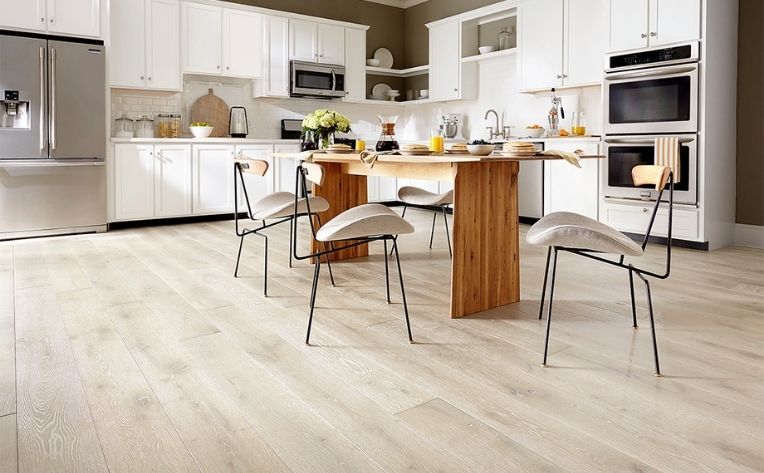 Pros
Light wood flooring is resistant to wear and tear.
Pets love this type of flooring.
Also, it gives the illusion of an augmented kitchen area.
Cons
Light wood flooring looks best only on larger floor areas.
Spots and stains become noticeable because of the light texture
Also, it demands regular cleaning of the surfaces.
5. Medium Tone Flooring
It is in line with the aforementioned type of flooring. But it gives the spark of an elegant space. Medium-tone flooring has a neutral tone that does not look loud and gaudy.
It blends well with the kitchen decor and cabinets. Subtlety is the main feature of this flooring.
Apartments with smaller sizes prefer this type of flooring. And it is one of the most affordable kitchen floor ideas with significant positives.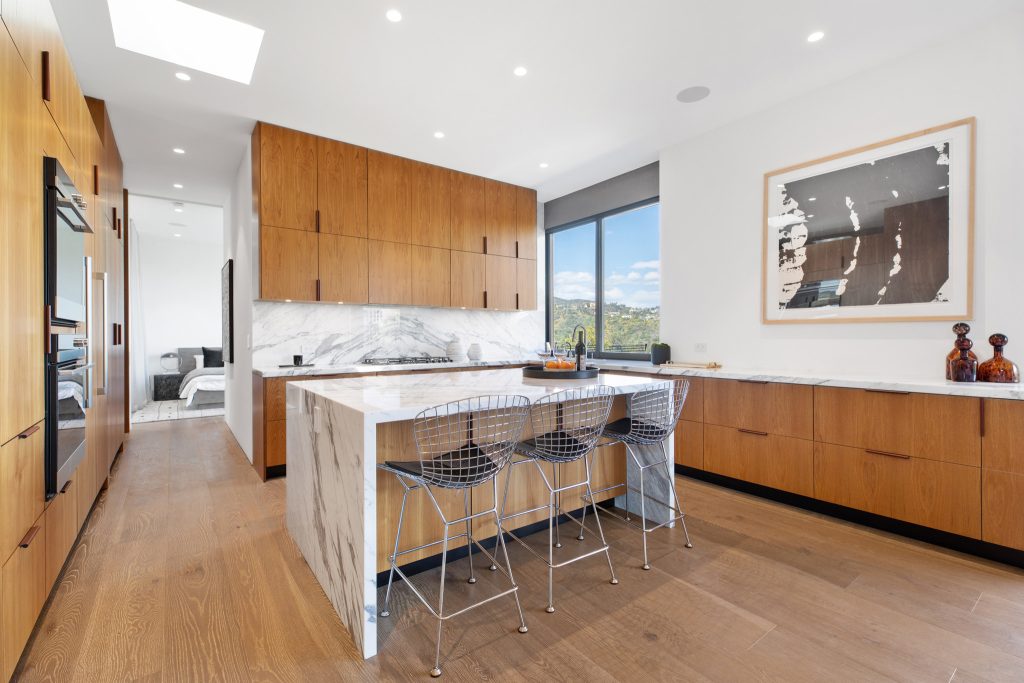 Pros
It looks impressive in any size of the room.
The color texture of the surface is moderate, hence fusions well with the decor of your space and walls.
Additionally, its natural look gives a feeling of living in a wooden house.
Plus, it is easy to maintain, and the wear and tear are also dilatory.
Cons
Scuffing can be visible if the cabinets are moved regularly. Or if you use hard house slippers, then the stuff marks will become prominent.
If you are seeking a distinguished look, medium-tone flooring will not suit your taste.
6. Inky Hardwood Flooring
Now that we are talking about all types of wood flooring, you cannot miss out on dark hardwood flooring. It perfectly fits the list of kitchen floor ideas.
Many women designers prefer dark hardwood flooring for a purpose. It looks decent and has a massive impact on the kitchen decor.
If you have laminated cabinets and handcrafted artifacts in your kitchen, then this type of flooring will complete the decor.
Pros
It reflects the sunlight and illuminates the space.
Inky hardwood exudes elegance and sophistication.
Larger kitchen areas look pleasant in this flooring.
Stains will not be noticeable quickly.
Cons
Smaller rooms will look like a dark den with this flooring.
Spotting the unclean region will be a task.
7. Glazed Porcelain Tile Flooring
It is similar to ceramic flooring but is highly durable and non-permeable than any other flooring style.
The list of kitchen floor ideas is incomplete if you do not mention this type of flooring.
People prefer porcelain flooring because it has a glossy texture and adds a dignified look to your space.
Your kitchen will shine bright and beautiful if you get this style installed for your kitchen floor.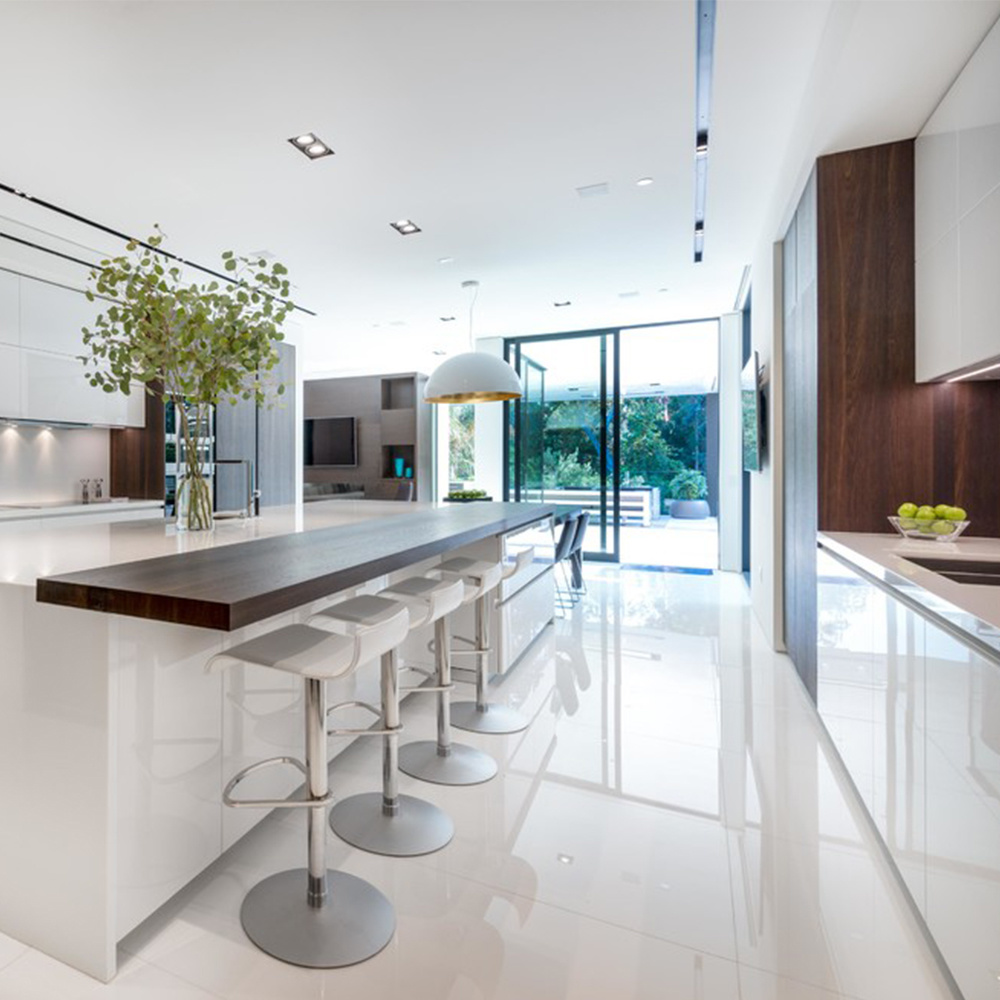 Pros
They are smaller in size, and hence, if one tile suffers some breakage or cracks, you can replace it immediately.
The stain resistance of these porcelain tiles is high.
These tiles are hard and sturdy enough to prevent pores and gaps.
Cons
Porcelain tiles are mainly suitable for bathroom floors.
The grout region is prone to staining if not treated on time.
These tiles are super hard, and your glassware will break if dropped on these tiles.
8. Rustic Travertine Flooring
Travertine is basically extracted from calcium carbonate by the rapid process of precipitation. In simple terms, it is a sedimentary rock or a type of limestone.
People get confused between a travertine and a marble. But both are different as travertine is a rock, whereas marbles are recrystallized under heat influence and water solutions.
Pros
It essentially has a rough look, and that makes it suitable for bigger houses like farmhouses.
The durability of travertine is high and is used in many kitchen floor ideas.
The surfaces are rough, and hence they are resistant and safe from scuffing.
Cons
Acids can damage the surface of travertine, and hence, mild detergents should be used for cleaning.
It is a heavier sedimentary rock and not easy to handle.
9. Archetypal Vinyl Flooring
It is Polyvinyl Chloride Plastic, and the short name is vinyl. It is basically a mixture of chlorine and ethylene that leads to the production of synthetic material.
This synthetic material is then used in many households on walls, artifacts, and on floors. It is considered to be the cheapest substitute for hard floors.
Mostly, it comes in the self-adhesive form and is easy to peel and stick on flat surfaces.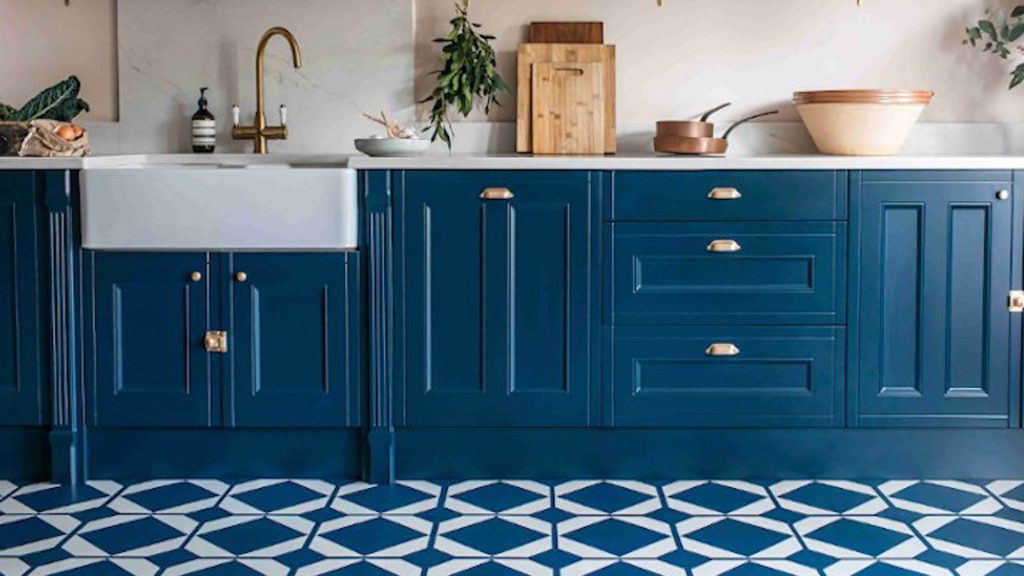 Pros
It is highly water-resistant. You can clean the surfaces easily as it does not absorb the water.
The durability is high and lasts for years without any major wear and tear.
You can place it in one go without any gaps and bends.
It is affordable and easy to use.
Cons
Vinyl surfaces lead to gas production in enclosed spaces. So, the kitchen may not be the ideal place for vinyl flooring.
The kitchen floor ideas look promising with vinyl flooring, but the base floor has to be leveled perfectly to fix the vinyl flooring effectively.
10. Quaint Bamboo Flooring
Bamboo flooring is the best choice for the kitchen as it is eco-friendly. Bamboo has a higher density compared to other hardwood trees.
Also, it is the grass that grows at a faster pace in a quarter of the time.
It is the cheapest and most affordable option over hardwood kitchen floor ideas.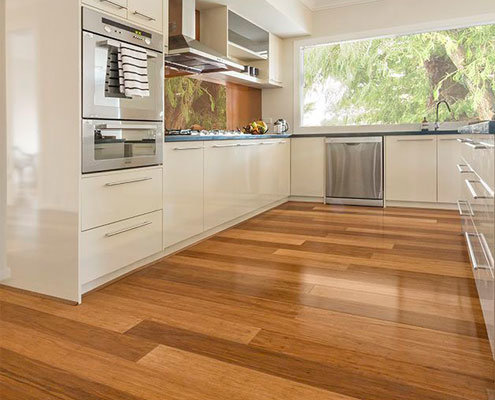 Pros
It has eco-friendly properties and also has a smooth texture.
Highly resistant to liquid spillage.
It has fewer pores; hence, water retention is highly unlikely.
Cons
It may develop dents, and the surface may chip off due to rough usage.
Wear and tear is a bit faster with bamboo flooring.
11. Delightful Linoleum Flooring
It is made from solidified linseed oil, ground cork dust, mineral fillers, sawdust, and pine resin.
It resembles a canvas material and is hardened after thoroughly processing the raw ingredients.
The kitchen floor ideas and decor can blend together as linoleum consists of light textures and fine design. Many prefer linoleum flooring for their kids' rooms as well.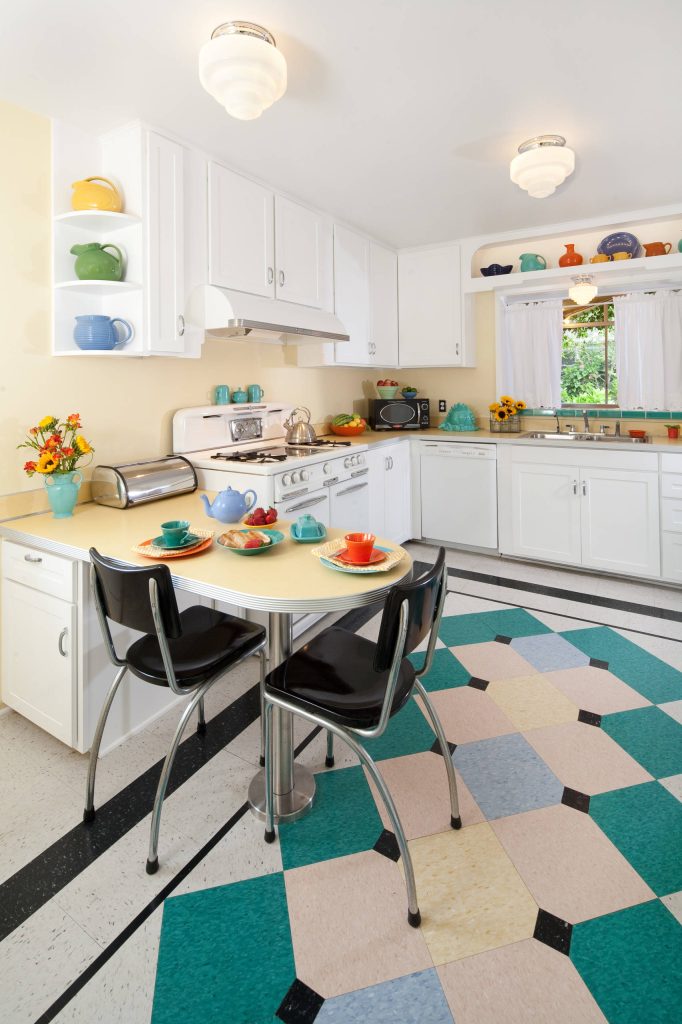 Pros
It does not contain any harmful chemicals. The surfaces are smooth and lack pores, so there is no water retention.
You may find a variety of designs in linoleum flooring.
Cons
Installation of linoleum flooring can be a tedious task as it is tough to handle.
It is mostly available at high rates because of its durability.
Summing It Up
All in all, variety and designs are plenty when it comes to kitchen floor ideas. You have to shortlist beforehand which design you wish to have on your kitchen floor.
Additionally, take a look at your cabinet and kitchen island and see if it matches the floor design you have chosen.
Do not ignore the effective lighting strategy in the kitchen. It completes the decor.
Self-adhesives are cheaper compared to hardwood floors. But they lack durability and a real touch.
At the same time, hardwood will make your kitchen appear bright and graceful.
Take your budget into consideration before taking the final plunge.
Also, the time and effort required to install hardwood flooring are vast compared to peel-and-stick options.
So, do your research before you embark on a kitchen remodeling spree.