In the ever-changing world of interior design, the modern style fascinates homeowners with its clear lines, smooth surfaces, and contemporary appeal. As we move towards 2023, this particular way of designing is still going strong and evolving more in tune with the upcoming trends and ideas.
These trends combine the spirit of modernity with functionality and provide aesthetically pleasing and valuable settings for daily living. The top 10 functional modern interior design trends include a wide range of elements that contribute to the overall look and functionality of the space.
By adopting innovative home technology or using sustainable materials, multifunctional spaces, and design practices, homeowners can create an appealing, practical, and comfortable environment. This article will examine the 10 best modern interior design trends predicted to rule the market this upcoming season.
Modern Interior Design Trends to Try in 2023
1. Open Concept Rooms
One of the key features of modern interior design trends is to emphasize open and breezy spaces.
In 2023, homeowners will choose seamless room transitions and take this idea to greater heights.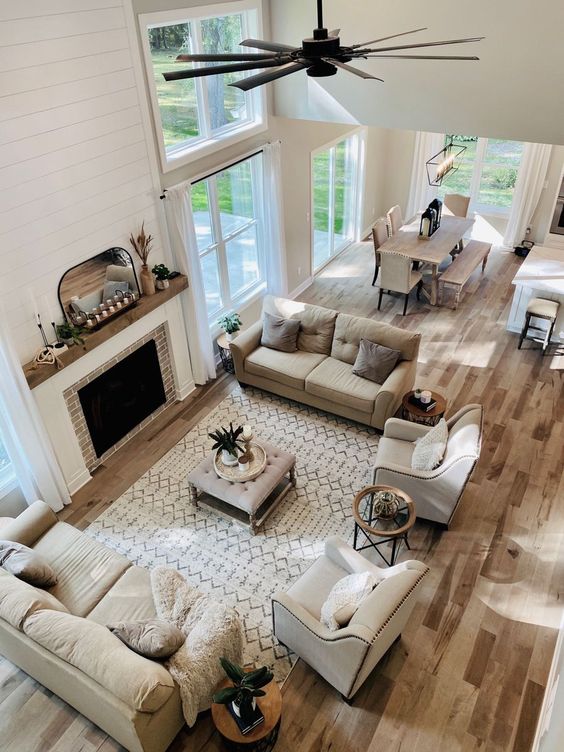 You can even incorporate glass partitions and sliding doors instead of walls to give the rook a sense of continuity and let natural light come in.
This decoration improves the aesthetics and encourages a sense of openness, making the tiniest space look bigger and cozier.
2. Use Natural Materials
Minimalist and sleek elements are frequently included in modern interior design, but as we move toward 2023, we can see a shift toward adding more natural materials.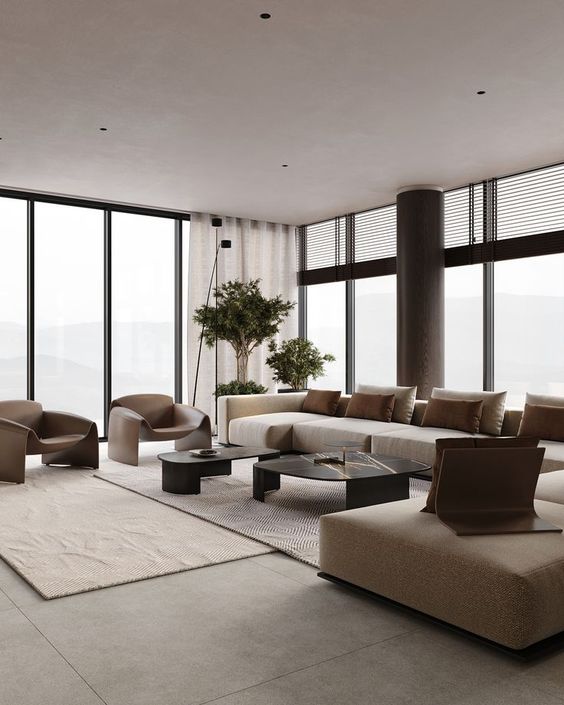 Modern interior design will focus more on woods, stones, and sustainable materials as they provide warmth and texture to the space.
Add design strategies like energy-efficient lighting and water-saving fixtures to promote a more sustainable and greener environment.
3. Statement Lighting Fixtures
Lighting plays an important role in any modern interior design idea. As we move ahead in the year, statement lighting fixtures act as functional and ornamental features which will be seen in contemporary settings.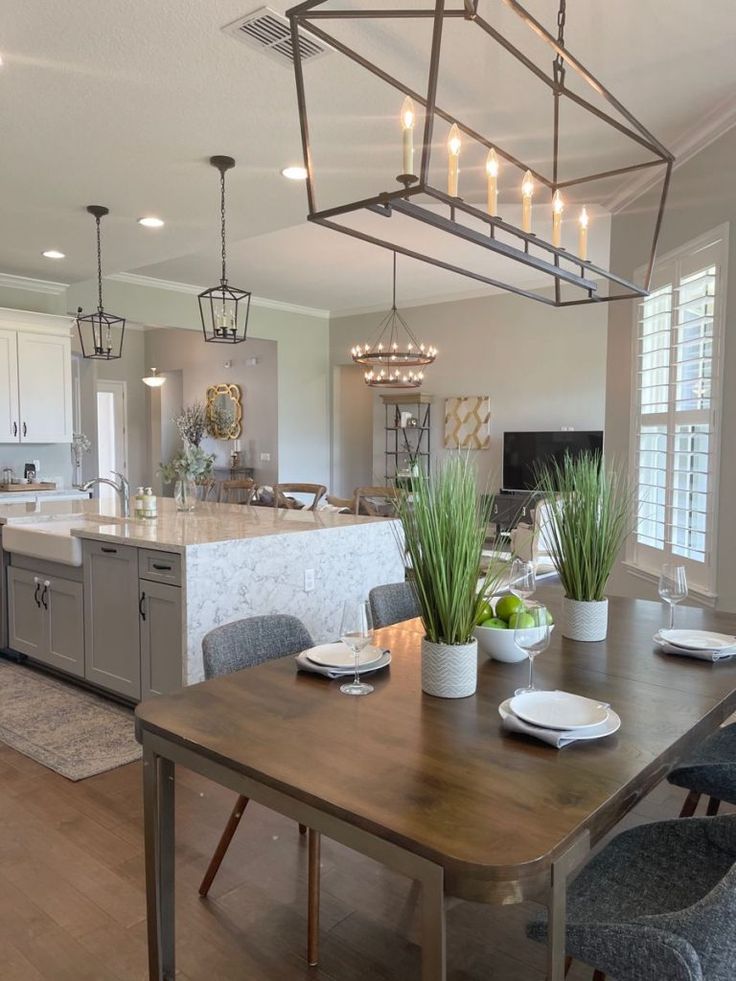 Statement lighting fixtures like chandeliers, floor lamps, and pendant lights will become the design's focal point and provide a dash of sophistication and class.
These lighting fixtures brighten the space and work as decorative art pieces that express the homeowner's taste.
4. Add Minimalist Furniture
Modern interior design has always been characterized by minimalist furniture, and you can surely count this as one of the new trends.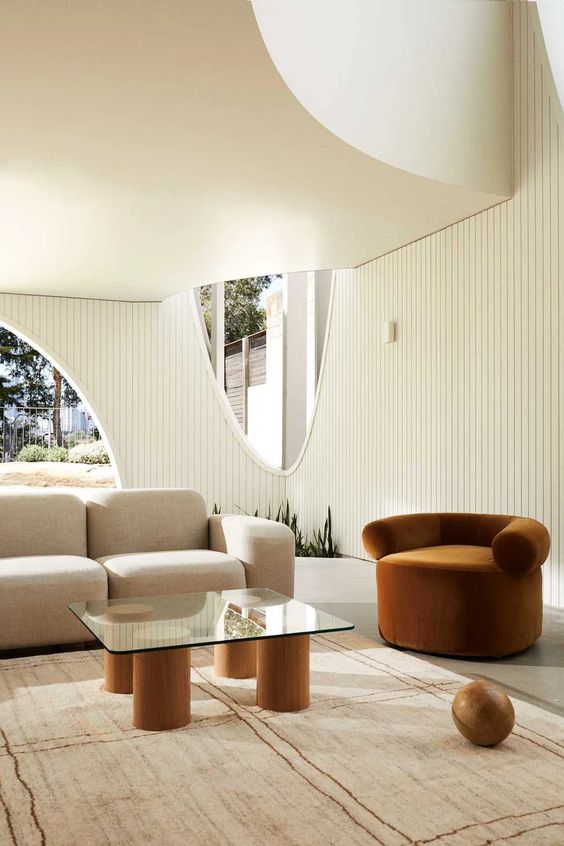 Functional and streamlined furniture pieces will dominate the modern interior world, with geometric shapes and clean lines that take the center of attention.
The aim will be to emphasize simplicity and usefulness without sacrificing aesthetics or comfort, from low-profile sofas to dining tables.
5. Create a Biophilic Design
If you're new to modern interior design, you should know that 2023 is the year the relationship between people and nature will be emphasized in several designs.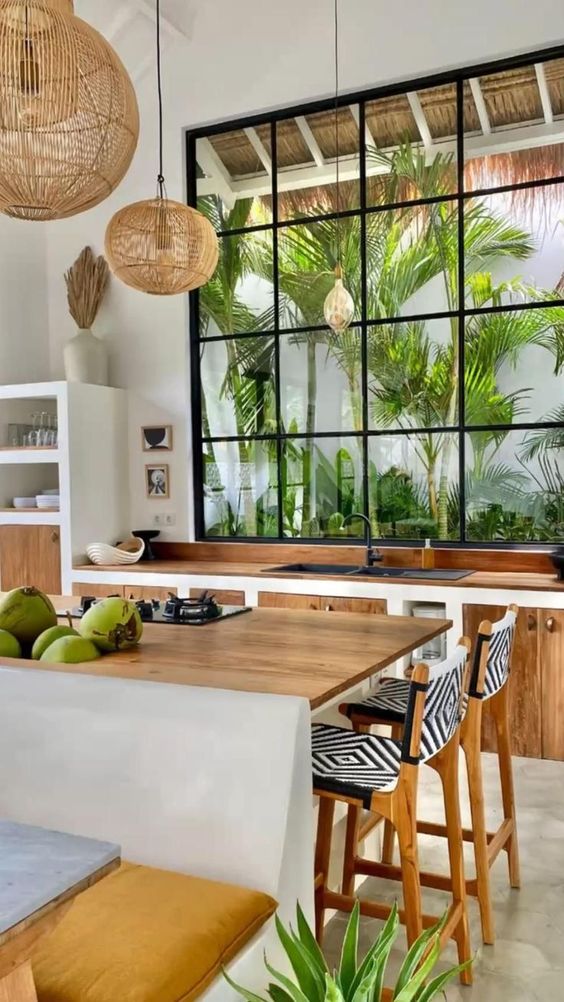 If you're considering creating a healthier yet balanced living space, this strategy integrates natural components like natural lights and plants.
Indoor gardens, living green walls, and large windows that frame outdoor views will be prominent in modern spaces as they promote well-being and add a sense of tranquillity indoors.
6. Bold Color Palette
In modern interior design, the most used colors are neutrals, but it is not hard and fast as it keeps evolving.
We can see a shift in designers' execution as they have shifted away from neutrals to bold this season.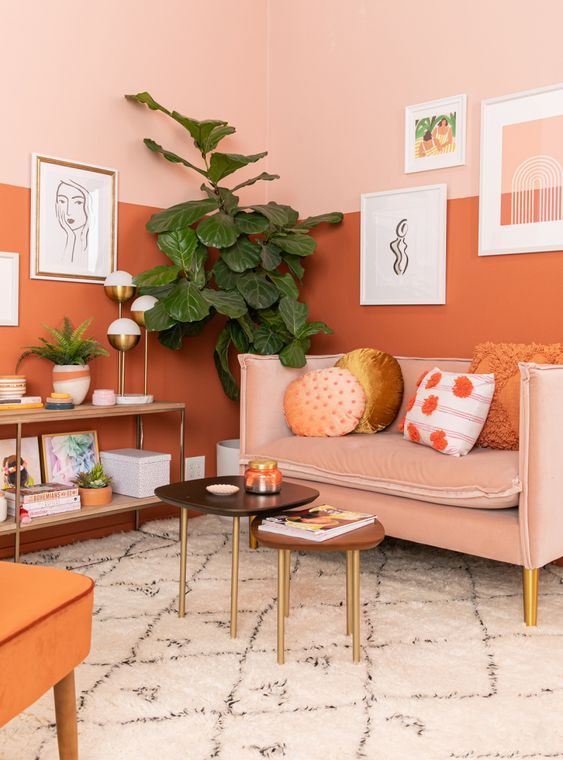 Bright and bold colors usually take center stage and give your home a modern personality and excitement.
To establish focus points and depth to the overall design, your color ranges should move from warm earthy tones like terracotta to rich tones like sapphire blue and emerald green.
7. Integration of the Smart Home
As technology evolves with each passing day, integrating smart homes has become a major component of modern interior design.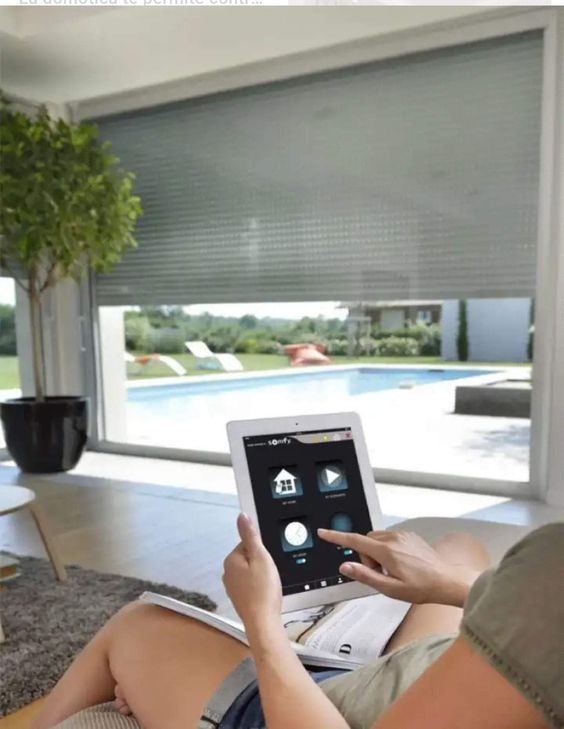 Homeowners will easily integrate smart technologies and devices into their homes by the coming season, enhancing comfort, efficiency, and control.
Modern interiors will also be equipped with new technologies, increasing the all-over living experience, from voice active house assistant to automated lights and temperature control.
8. Use Monochromatic Color Choices
While starting with your modern interior design idea, consider using a monochromatic color palette in your home to showcase its beauty.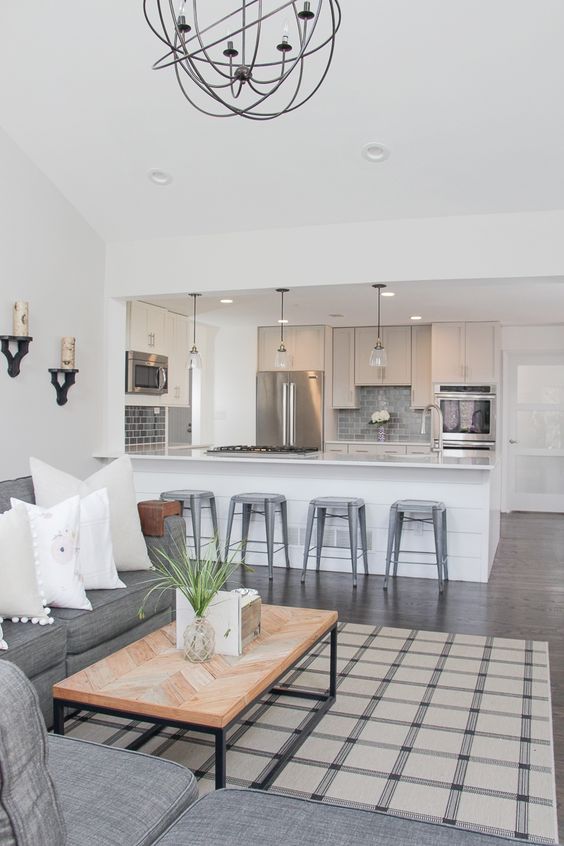 You can start picking a single color theme and use it throughout the space in various tints and shades.
Doing this allows you to play around with various materials and textures while maintaining a consistent color scheme and creating an upscale appearance.
9. Display Your Collection
Display your selected collection of one-a-kind and significant artifacts in your modern interior design space.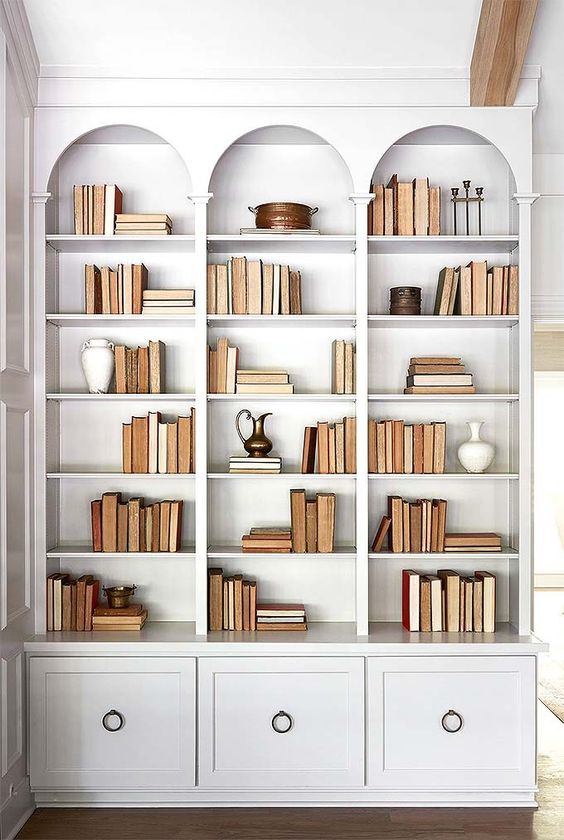 Whether it's a collection of old cameras, books, or handmade pottery, you can easily arrange these in your home with care and artistry.
10. Bring the Outdoors Inside
Incorporate nature-inspired patterns into your modern interior design to bring the outdoors in.
You can even use wallpaper, clothing, or artwork with floral patterns, organic or botanical patterns.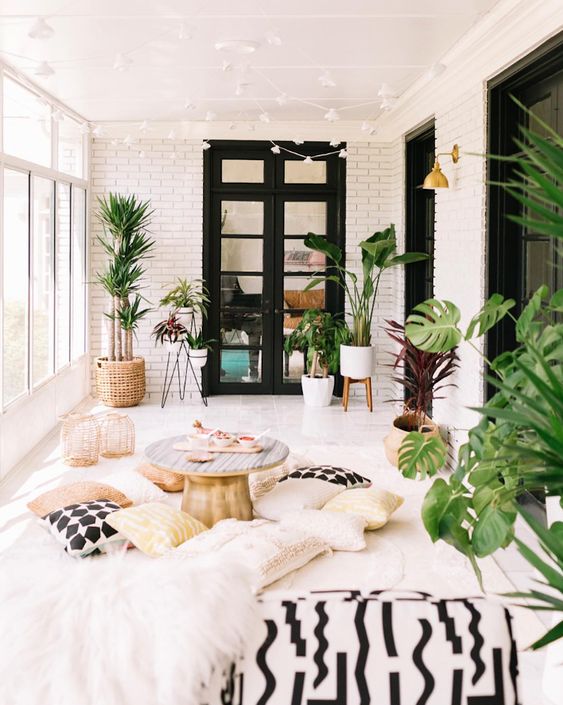 These components give your modern interior design a touch of natural beauty. You can create a room that is current with trends and expresses your personality and way of life by incorporating these into your modern interior design ideas into your house.
What is the Importance of Modern Interior Design?
Over the years, many homeowners have continued to choose the ever-evolving modern interior design trends. Rooted in the principles of simplicity, functionality, and clean lines, embraces the aesthetics that effortlessly combines with the elegance of the space.
Modern interior designs are characterized by minimalism, open spaces, and seamlessly integrated technology. Not just this, as we head into 2023, the world of these designs continues to evolve with new trends and ideas shaping the ways we plan and create our living spaces.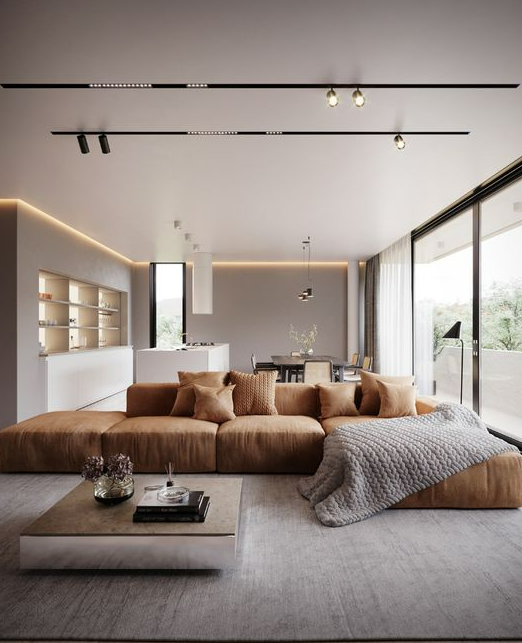 To understand the importance of modern interior design, we need to move beyond aesthetics. But it is essential to design the areas practically and efficiently that represent the modern lifestyle. Homeowners have maximized their space to meet their demands while embracing modern design ideas and appreciating the beauty and harmony of their well-designed interiors.
Modern interior design will remain popular among homeowners in the coming year's thanks to the perfect balance of form and function. The environment produced by modern interior design supports creativity, encourages well-being, and improves life. It also enables us to create aesthetically spectacular houses that are simultaneously functional and comfortable.
Conclusion
In 2023, modern interior design will embrace functionality and elegance in equal terms. The design trends mentioned above in the list represent the evolution of style, incorporating new trends and elements while staying true to the core principles. In the coming years, Modern Interiors can be defined by open areas, natural materials, statement lighting, less furniture, vibrant color palettes, and intelligent home integration.
These ideas will help homeowners create beautiful and valuable places for daily living. Minimal furniture can give you a clean and uncluttered design with focal points like statement lighting. Modern interior design will be a popular option for homeowners creating a chic yet classy, practical space. If you're planning to build a fashionable and ageless space, consider using these design trends.
It will give your house a completely new makeover that will enhance the home's overall look.
Frequently Asked Questions
What is Modern Style Interior Designing?
Modern interior designing is clean lines, minimalist, and focuses on defining functionality. It mostly includes open areas, a neutral color scheme, and minimalism. You can also incorporate natural materials, vibrant colors, and smart home technology in modern design.
How to Create Your Home With An Open Concept?
To create an open-concept home, remove walls between rooms or even reduce them by a few inches. It will be great if you want to keep some air of openness by still providing privacy when necessary. Utilize glass barriers or sliding doors as an alternative. Achieving an open-concept design involves picking furniture that doesn't impede the area's flow and maximizes natural lighting.
How Can We Add Vibrant Colors to a Modern Interior Design Plan?
Modern interior designs with neutral color schemes are used, but users can add vibrant colors from this upcoming season. Choose one or two bold colors to use as accents in some areas to incorporate these hues subtly. You can also add these colors by adding a pop of furniture piece or accent walls. You can also add character and depth to the modern interior design by carefully opting for vivid colors without overpowering the room.
What is Biophilic Design, and How Can It Be Used in a Modern Interior House?
Biophilic design is a concept that places the focus on the relationship between people and the natural world. You can incorporate indoor plants, green walls, and huge windows to take in outdoor vistas. Not just these, you can also use natural materials like stone and wood in a modern interior design room to achieve biophilic design. These components provide a better living environment and foster a sense of tranquillity with increased air quality.