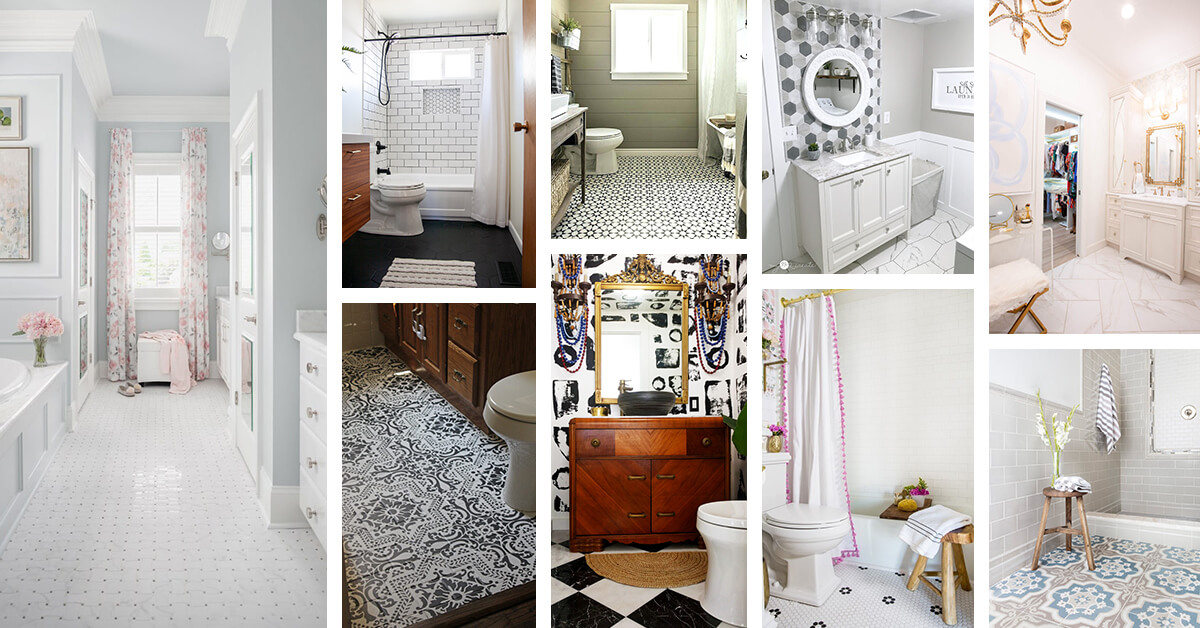 When we see someone renovating their house, then the bathroom is mostly overlooked, and the bathroom flooring ideais definitely not given much thought. Yet, the flooring of your washroom plays a significant role in elevating the beauty of the place. And before making the choice of choosing the right flooring, you need to understand the factors at play. Consider the area that you live in and its weather conditions, safety, personal preference, the theme of the house, etc.
After all, the place is going to be slippery with water and soap, and moisture all the time. These days, the options available in the market are quite whelming, with all the new materials in place and the old ones standing tall with equal popularity. This piece will help you make the right choice of flooring where you can retain your personal choices while also adhering to safety standards.
This article is a compilation of the list of some of the most popular and useful bathroom ideas, along with the pros and cons, which will be your ultimate one-stop guide for all the research you need.
1. Bamboo Bathroom Flooring
Having a sustainable home is eco-friendly, peaceful, and works better in the long run, and bathroom flooring is no exception to it. So, the bamboo bathroom flooring idea is one of the best ways to introduce sustainable material in your home. The best part of the bamboo bathroom flooring idea is you don't have to compromise on your decor too; they look similar to hardwood and aesthetic. Bamboo also has great water resistance power, even better than wood. By treating them with several water chemicals and using special bamboo flooring, they become a reliable, stable, and durable material for your washrooms.
Pros
Bamboo bathroom flooring is great for the environment.
Cheaper than most other materials.
More water-resistant and durable than regular wood.
Easy to install and maintain.
Cons
Not suitable for areas with high humidity as bamboo absorbs moisture.
Bamboo can fade its natural color with time
Without good maintenance, there's a chance of mold growth.
Scratches and other marks are visible easily.
2. Vinyl Bathroom Flooring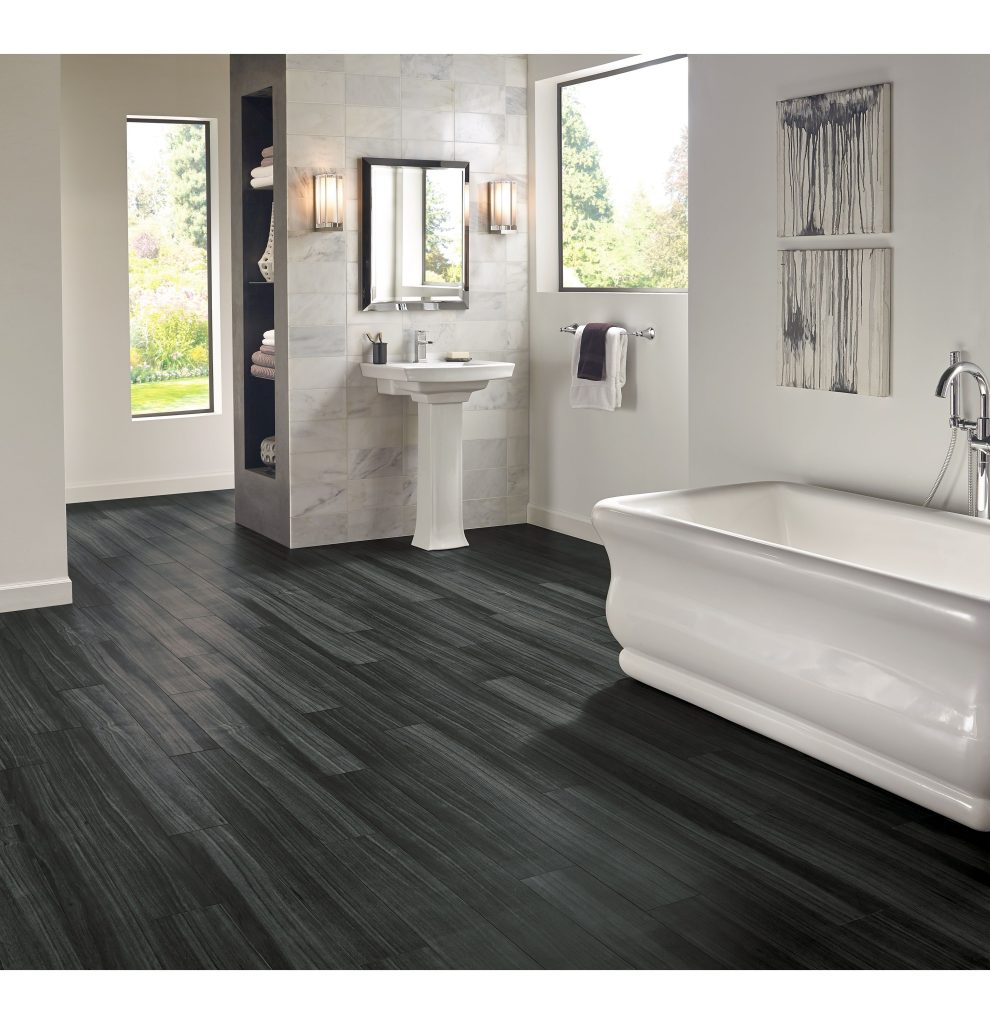 Vinyl Bathroom Flooring or Linoleum Bathroom flooring idea is a great option that ticks all the right boxes for you. Made of both Polyvinyl Chloride Resin and Plasticizers, they are a great alternative to tiles. They also come in the form of planks, sheets, and tiles, perfectly ready for you to install all by yourself. You can also find them in thousands of prints and can also customize them in your desired look to suit your color and decor theme.
While buying these, you will have two options, and they are stone plastic composite and water plastic composite, and both almost have the same characteristics. All of the vinyl bathroom flooring ideas are completely waterproof as well as stain-proof. Apart from this, they are also more practical for everyday use, long-lasting, and thicker, all that you need for your ideal bathroom flooring.
Pros
Highly economical even while replacing
Completely waterproof and stain-proof.
Available in any color, pattern, or design that you want.
The material is also fire resistant
Easy to install without professional help
Cons
Not as attractive after some time
Subfloor must be perfect, smooth, and even.
Vulnerable to tears and rips.
Heavy scratches can tear the flooring.
3. Porcelain Tiles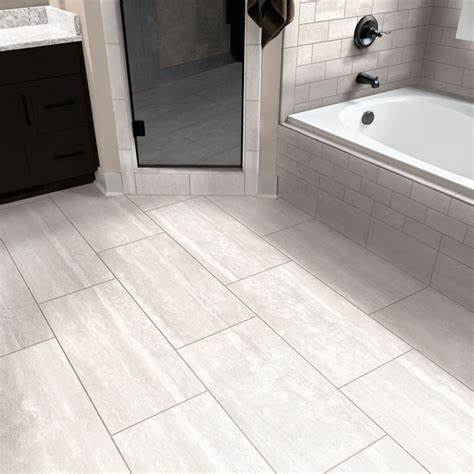 Porcelain tiles give a vintage, sophisticated, and aesthetic look to your bathroom flooring. They are made using clay and mineral materials that are heated at high temperatures and forced into the desired shape to form Porcelain tiles. These types of tiles are most popular among the variety of tile families, and these pieces are timeless and remain perfectly intact for a very long time.
They're also available in many designs and styles, and we're sure you will find the right one for your place. This material is especially suitable for those with allergies, as any dust and other particles that fall on them wear off easily. The rich and solid texture of these timeless pieces makes them look stylish. These porcelain tiles and other ceramic tiles are often confused with being the same, but the main difference between them is that porcelain is better if you live in extreme cold or heat conditions.
Pros
Perfect when you're living in deserted areas or in harsh temperatures.
Very easy to clean and maintain.
Highly resistant to mold even in high moisture.
Affordable when compared to other tiles
Scratches and tears are impossible to be found.
Cons
Very slippery even with less water
Installation is difficult, requiring experienced professionals.
It is not recommended to walk barefoot as the tiles get cold easily.
4. Cork Bathroom Flooring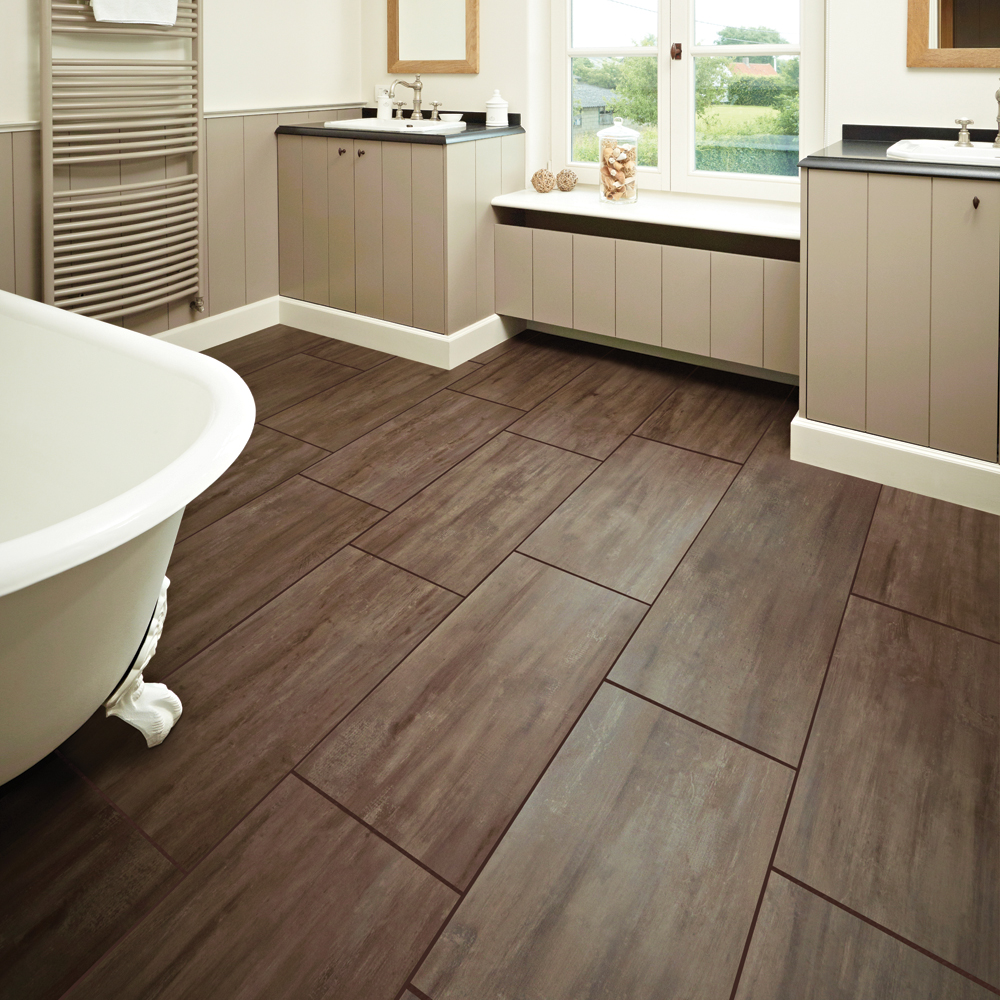 Since the material for this bathroom flooring is made out of bark, it seems like a very unusual bathroom flooring idea. Even being a sustainable option, this doesn't mean you need to compromise on either the look and feel or the quality of the flooring. This material is highly resistant to stains, water, and mold, and just a coat of polyurethane will protect it from stains, dust, and spills while also giving it a shiny look.
While the cork bathroom flooring is often soft on the surface, it's not slippery, and coating it with polyurethane once in a few years will make sure that its characteristics are not gone. You can also find these pieces with different textures and patterns, and they will not disappoint and compromise the aesthetics of your place.
Pros
Environmentally friendly and also perfect for renovations
Various texture and pattern options
Resistant to heat and south while maintaining a smooth texture
Highly resistant to water and stains
Not vulnerable to mold for a long time.
Cons
Professionals can only install this type of flooring
Hard to maintain when compared
Scratches and tears are visible easily
5. Concrete Bathroom Flooring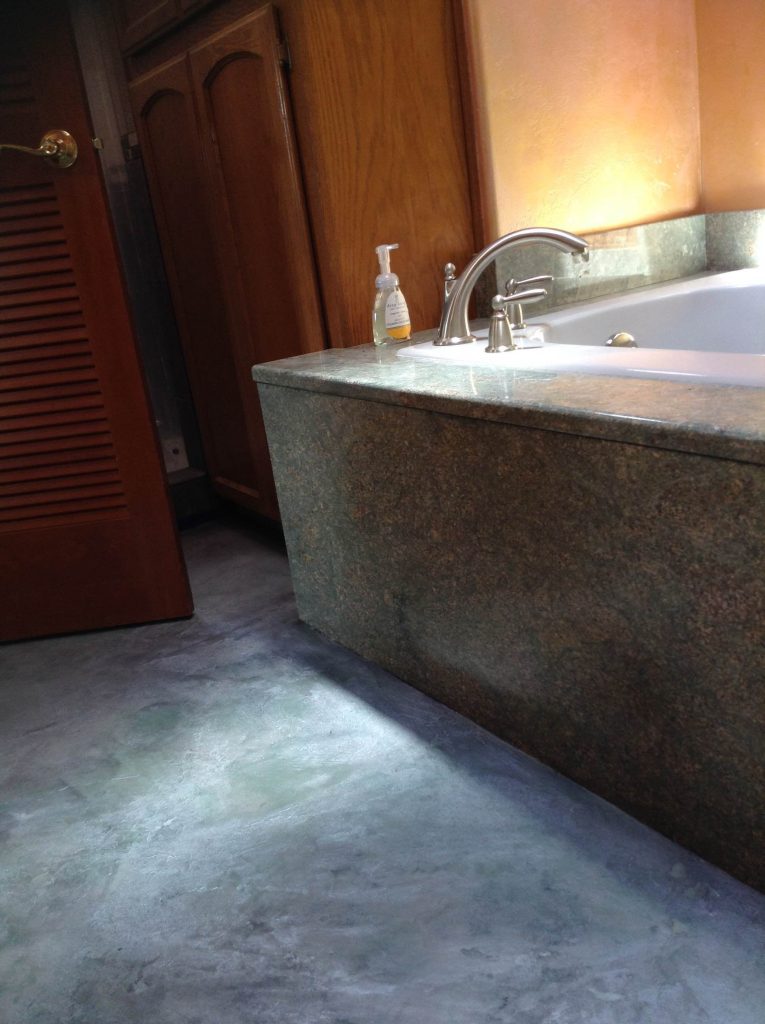 Concrete flooring is nothing new, and by choosing concrete for your bathroom flooring idea, you will give your washroom an industrial and contemporary look if you wish. Covering your bathroom floor with concrete will give your bathroom the same characteristics as that ceramic tiles that provide a long-lasting feel.
Choosing this doesn't have to be boring and minimal with limited options; you can choose the texture and get it dyed into your desired model. The material, concrete, also helps by not gluing to anything that falls on its surface and can be removed easily. They are highly easy to clean with great resistance against strains and moisture. We can even say that this material is almost 100% resistant with an extremely long life and low maintenance.
Pros
Highly moisture resistant with fewer chances of mold growth.
Affordable than other tile options
Long-lasting with very little maintenance
It can be minimal or lavish according to your desire
100% water resistant
Cons
Makes the flooring very cool
Need heating systems for normal temperature
It cannot install without professional support
Needs polishing once in a while, and without it, the floor may crack when something heavy falls down.
6. Laminate Bathroom Flooring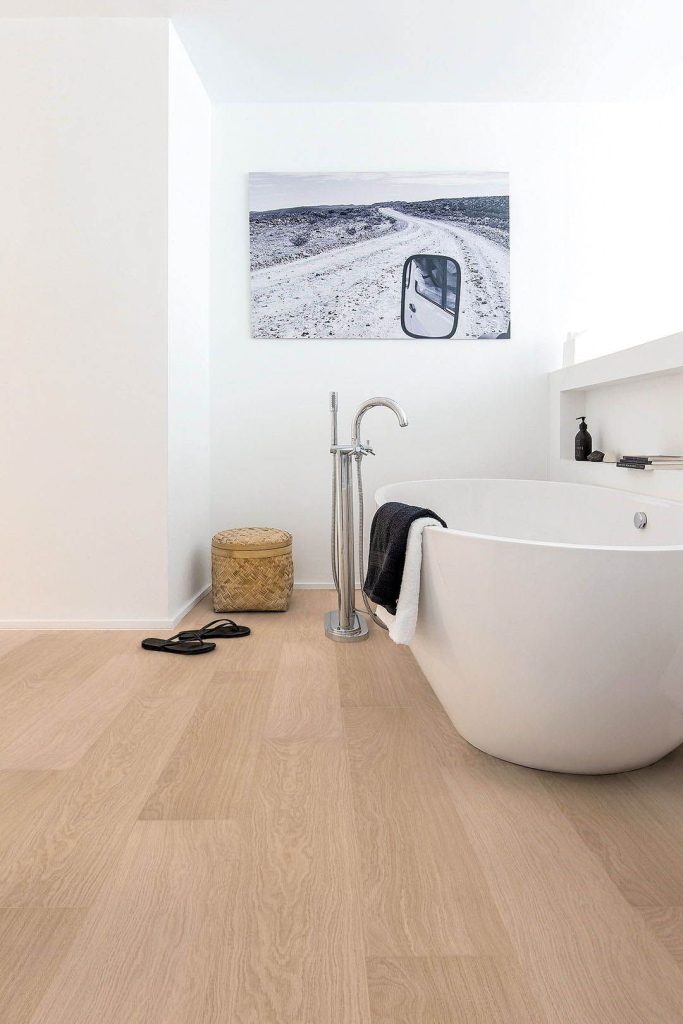 This bathroom flooring idea is durable, easy to maintain and install, and very budget-friendly. Since the materials offer such wide characteristics, they've become quite popular in bathrooms recently. Laminate flooring is a great alternative to wood flooring with a photo image of any material on the root material base, wood. The photographic image can be anything from wood to marble.
This type of bathroom flooring is very flexible as it's available in different textures, colors, and styles to find the right one that suits your taste. It's also easy to maintain and clean while also being completely scratch and stain resistant. Once installed, the laminate blends well together, leaving very little room for creases which is helpful in avoiding water seeping and moisture situations.
Pros
Very easy to install and maintain without professional help
Available in different colors and textures.
Budget-friendly when compared to other wood materials
Stain and scratch proof
Planks tightly locked to avoid conditions of moisture
Cons
It can be very slippery if the floor is wet
If there's an opening on laminate planks, there are chances of water seeping in, creating moisture
7. Natural Stone Bathroom Flooring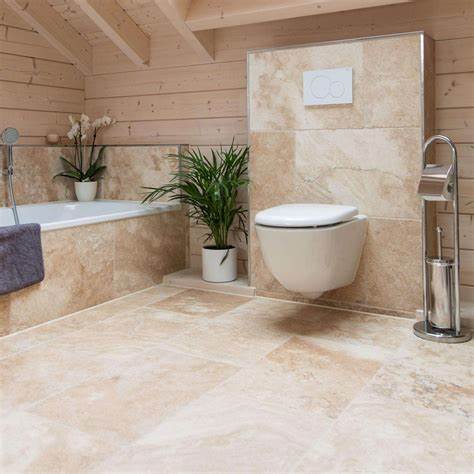 Natural stone bathroom flooring idea is timeless and luxurious, a perfect choice to make your bathroom flooring stand out. While this is not the most budget-friendly option out there, the availability of choices ranging from granite, slate, limestone, and many more make it the right choice for many. While the flooring needs to be resurfaced once in a few years, flooring made out of granite or marble doesn't need any maintenance after installation.
The materials are durable and strong against any scratches, wear, tear, etc. The waterproof treatment with chemicals from time to time will protect the flooring from moisture and cooling. The flooring has stood strong and beautiful in the house for several decades, and once the complex installation is done by professionals, it's all ready for you for years to come.
Pros
Can stand strong for generations
Easy to maintain and clean
Gives a luxurious and sophisticated feel to the bathroom
The resale value for these is also high if you are looking for something new
Highly Durable
Cons
The material and installation are very costly
Installation and maintenance need professional help and care
If they're not of top quality, the stone can damage easily, leaving you with repairs and replacement
8. Linoleum Bathroom Flooring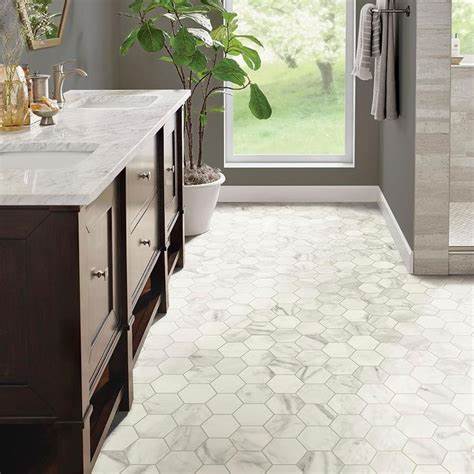 This is a very popular type of bathroom flooring idea that is widely used for flooring in halls, bedrooms, including bathrooms. The finish of this flooring consists of a variety of materials like sawdust, limestone, cork, linseed oil, jute, pine, etc. You would be amazed to know that this flooring is 100% natural with the usage of all materials naturally sourced.
If you're considering the Vinyl bathroom flooring idea, then you can pause and think again about this flooring idea because this is deemed to be more practical and durable for the same look and feel. This budget-friendly bathroom flooring idea can even be installed all by yourself very easily without the help of any professionals. This flooring is also mostly warmer, which helps us work in the absence of a heating system in the bathroom.
Pros
100% natural materials, great for the environment.
Resistant against strains and scratches
Easy to maintain and clean
Naturally anti-bacterial
More durable
Cons
If the subfloor isn't smooth before installation, the flooring might not suit you perfectly.
If installation is not done properly, the bathroom can be vulnerable to moisture.
Summing It Up
All in all, we hope that with these bathroom flooring ideas, we have made it easy for you to make the right decision that fits and checks all the boxes. If you are in the process, it's important that you understand that making this decision based merely on appearance is a mistake that can't be stressed enough.
It's important that you follow the highest safety standards while being practical without losing your personal taste. After all, we're looking to shape places that are used regularly for us to stay clean and hygienic while also unwinding after a long stressful day.
And with the options available in the market and even provided above, it's not going to be difficult to have the flooring of your choice while not compromising on the set safety standards.