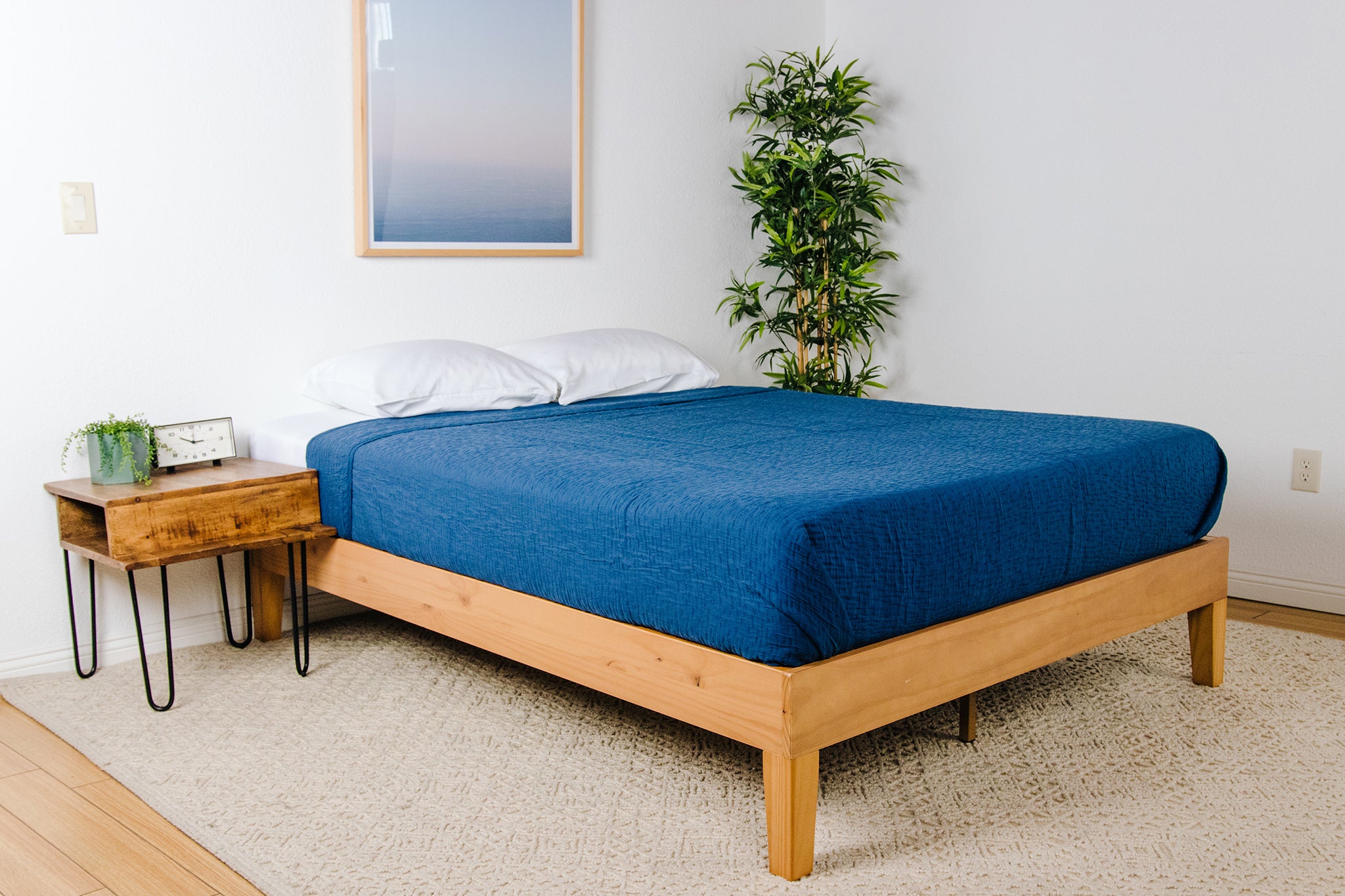 With low-platform beds taking over social media platforms, everyone is keen on following the latest trends going on. They also want to transform their bedrooms by setting up these minimalist bed frames in their house. And, just like finding suitable mattresses is important, so you should be figuring out which bed frames work best for you.
Another factor to remember is how much space your room has. So that accordingly, you can choose a canopy style or a built-in storage bed. To help you determine that, here is a list of 16 minimalist bed frames that are ideal for any place settings you would have.
And to ensure that you get a cozy, comfy experience when lying on your bed.
Amazing Ideal Minimalist Bed Frames to Choose From
h3>1. Zinus Trisha Metal Platform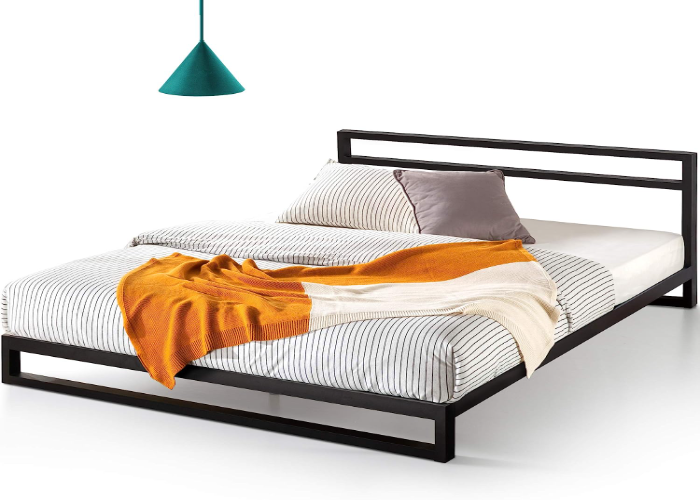 Zinus is one of the very famous bedding brands available. The brand offers great-quality bed frames, which are really impressive to look at. This metal bed frame has a unique design with no headboard but allows you to add it if you'd like. The wooden slates are very supportive and sturdy, making it a great catch. The bedframes have quite low prices, starting at only $103, and offer four distinctive sizes- twin, full, queen, and king.
h3>2. Helix Natural Wood Minimalist Bed Frame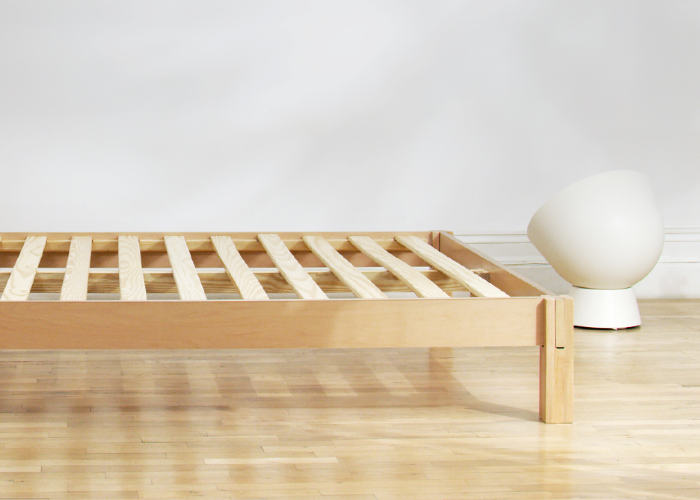 Nothing says an incredible find more than going for natural materials bed frames highlighting the room. The Scandinavian-styled Helix bed frame has everything that you'd need for your cuddly, soft mattresses. You can even add a headboard or a storage space to give it a trendy, graceful look and utilize the extra space. Building the bed frame is effortless as it doesn't need any tools and is a very sturdy and stylish addition to your space. The natural wood frame is the best-budgeted platform you can find; that costs around $600.
h3>3. Urban Outfitters Storage Bed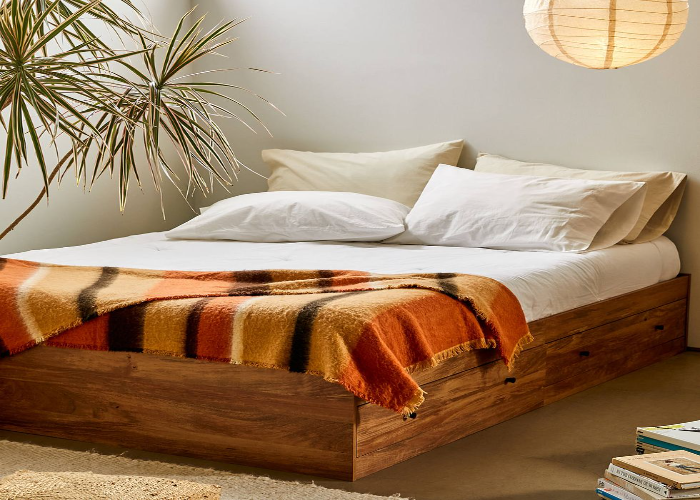 When considering buying a new bed, the first thought is whether you need one with storage or not. Urban Outfitters made a low-platform bed that comes with storage space. The bed frame holds adorable shelves and drawers at its base, making it very usable, an extra space provider, and one-of-a-kind. The frame comes in queen size in its natural wooden tone with various storage spaces. It doesn't require a box spring, but you should take help while assembling it as it's a two-person job. This unique storage bedframe starts from $1,199.
h3>4. Tuft and Needle Frame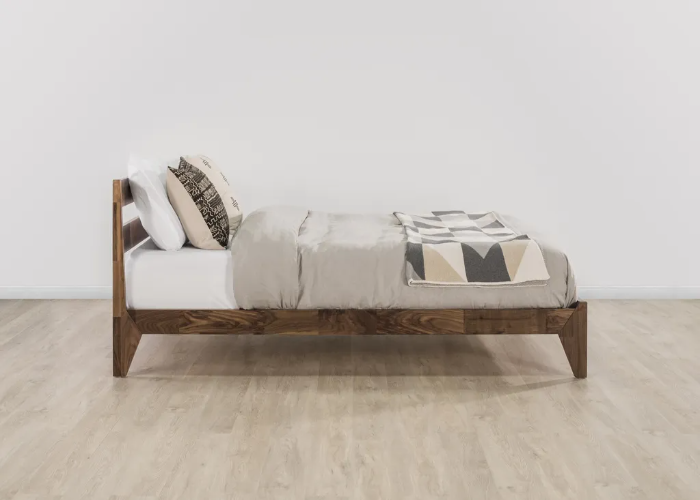 If you want to save cash when building your bed, opting for Tuft and Needle would be advisable. It is a standardized metal supported by a box spring and a cushy mattress on top. Building it might require some patience, but you don't need any tools to fit it together. It's a good find for someone who wants a well-built, long-lasting bedframe than choosing Olee's steel bed. Tuft and Needle are surely a bit over than Olee, but it's a valued purchase. The frame costs around $140 only.
h3>5. Article Lenia Bed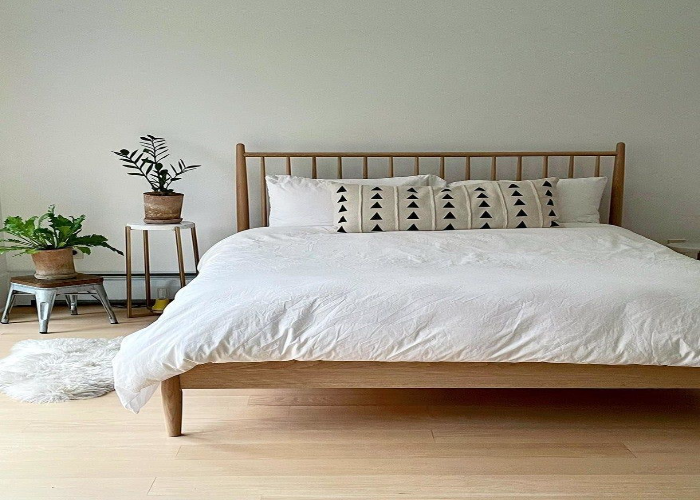 Article Lenia is a beautiful, solid oak bed frame that comprises taped legs with concealed joints. You can customize the bed according to your liking as it comes in different shades- original, black, ash, and walnut. And you can even choose the headboard from four distinctive options- original wooden panel, gray fabric, yellow velvet, and spindle type. The minimalist bed frame is very easy to construct. The wood quality is just stunning and looks perfect with a soft mattress on top. It is a bit expensive, costing you around $1,000.
h3>6. West Elm Simple and Minimalist Bed Frames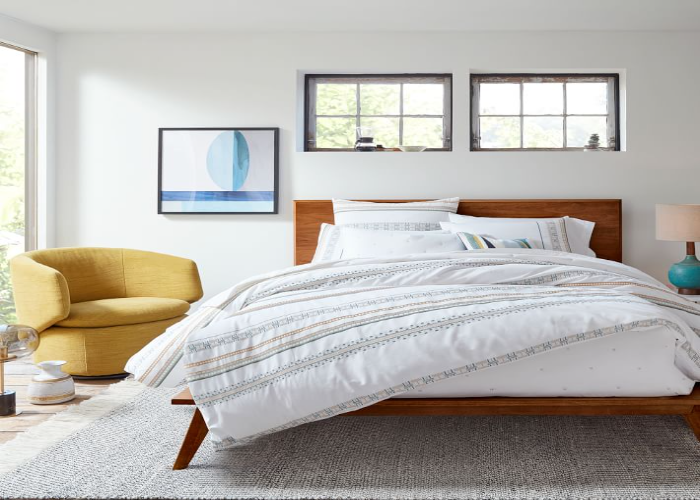 This modern queen-size bed should surely be on your list before you choose the final one. It has a low profile but can also be customized with a box spring if you'd prefer. The bed frame might cost a little more, starting at $1,299, but it is highly durable and will last much longer than other frames. It is an upholstered bed frame with a high headboard and metal legs, giving a chic look to your bedroom. The sleek frame can be customized with various fabrics and patterns. However, the soothing gray velvet shade also stands out.
h3>7. CB2 Alchemy Bed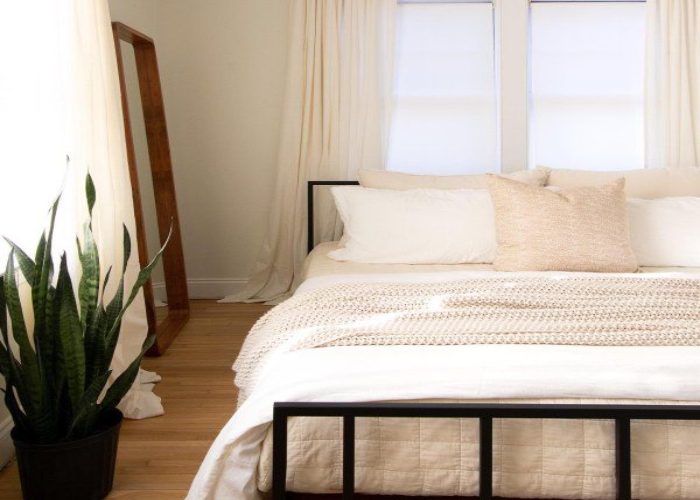 Iron bed frames look lovely and help elevate your bedroom's look. This frame from Crate & Barrel in matte black or bronze shade has a lavish attire and doesn't need a box spring. It's a low-platform frame with a sleek metal lines design and is available online in queen and king sizes. Installing the minimalist bed frame is simpler when following the instructions correctly. It doesn't ask for much maintenance, simply clean it with a wet towel, and you're done. The frame is sold quite expensive, starting from $549.
h3>8. KD Frames Fold Platform Bed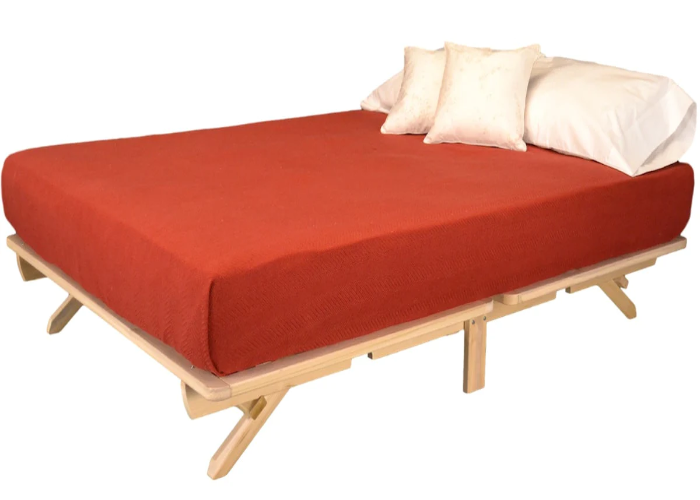 Here's a great find from KD frames that happens to fold up. You can quickly assemble it and can put it away, too, if you need space. It is one of the most traditional minimalist bed frames made from wood and has a more significant lifeline. If you want to purchase a budget-friendly bed frame, this foldable platform bed only costs $209. You can paint it if you'd like, and as it has round edges, it is more stylish and softer than the old boxy platform beds.
h3>9. Upholstered Bed Frame
Upholstered bed frames might have been old-fashioned, but with a trendy touch, these will turn out to be an amazing investment you'll ever make. You can opt for rich velvet or strapping tweed fabric to give it a chic look. Its rounded edges, velvet frame covering the legs, and lively colors complete the modernized look. Going for Interior Define Kaleb bed frames has fantastic benefits like you can customize the whole bed according to your liking. The frame might be a little costlier, starting from $1,945, but its durability and designs make it worth buying.
h3>10. Olee's Sleep Bed Frame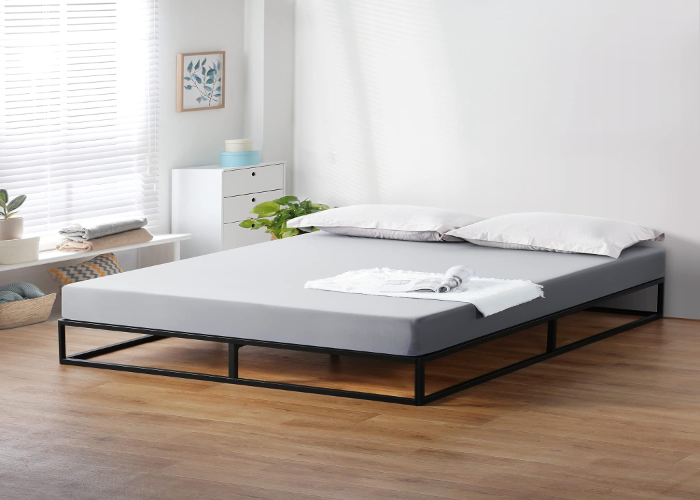 It is an unusual minimalist bed frame with an entire steel slat system instead of supporting bars holding it together. Olee's bed frame is very stable and sturdy and even comes with all the tools needed to assemble it. What's fantastic is you can order it right online, and it will be delivered in 2-3 days. The bed frame is highly durable, can fold, is noise-free, and comes in various sizes like full size, queen or king size, and twin bed. This classic, stylish black bed frame is very cheap, starting only from $68.
h3>11. Full Solid Wood Platform Bed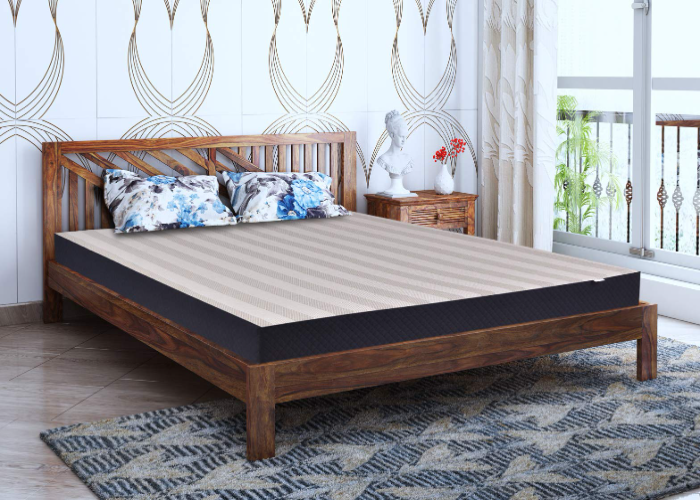 Suppose you need a full wood, minimalist bed frame because going for the AllModern brand is certainly a preferred choice. The company offers simple and chic wooden bedframes giving a mid-century vibe to your place. It consists of long, tapered legs with a smooth-textured headboard. You can also pick out distinctive finishes like White, Scandinavian Oak, and Castanho. All these platforms come in four sizes- full, twin, queen, and king. And are pretty affordable, starting at $350.
h3>12. Button-Tufted Headboard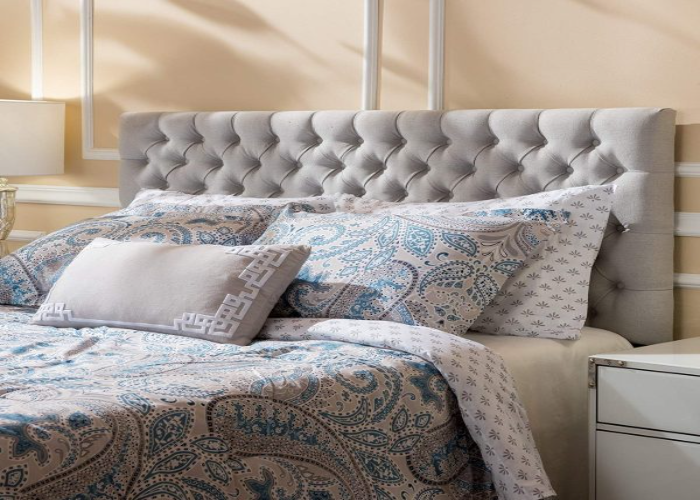 A button-tufted headboard with or without storage options is one such comfortable bed frame that one should certainly opt for. A mattress fitting perfectly well in the frame along with side drawers, if you'd prefer, would be the highlight of your room. If you have painted the room with a lighter tone, that goes for a darker shade frame or vice-versa. One would think that these chic-looing bed frames would be costly, but they would easily fit your budget. This low-platform, minimalist bed frame ranges from $300 or over, depending on your chosen color or fabric.
h3>13. The Floyd Platform Bed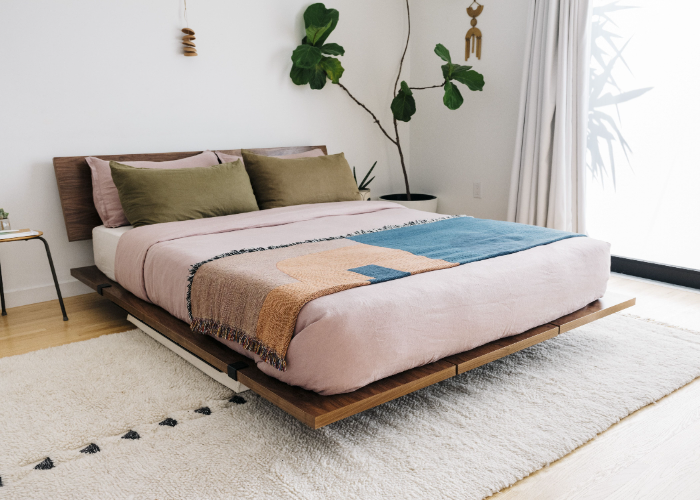 Floyd is a Detroit-based furniture company that makes terrific modernized and customizable wooden beds. This platform bed comprises three slats of plywood and metal feet attached together with nylon straps. The bed is very sturdy, simple-looking, and easy to assemble. The bed frame is very lightweight, so you can easily move it around. Because it's customizable, you can add a headboard or storage drawers on either side. It's a good find that starts at $1,125.
h3>14. Burrow Chorus Bed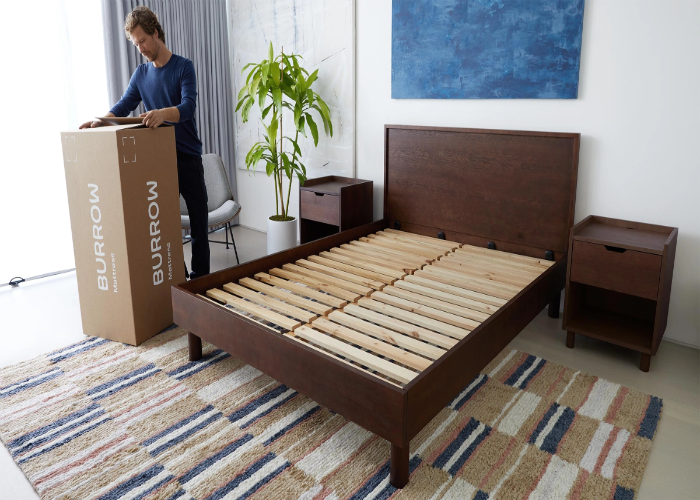 Burrow's brand might be known more for its comfy, cozy sofas than its bed frames. But, the quality it holds can state that purchasing a Burrow's bed frame will undoubtedly be worth investing in. The low-lying frame is made from solid hardwoods and built according to Japanese-inspired joinery. Its thick legs and magnetic structure would make for a great bed to have in your setting. The chorus frame is mess-free, takes little space, and doesn't requires much effort to set it up. The minimalist bed frame is a good find, costing $895.
h3>15. The Minimo by Keetsa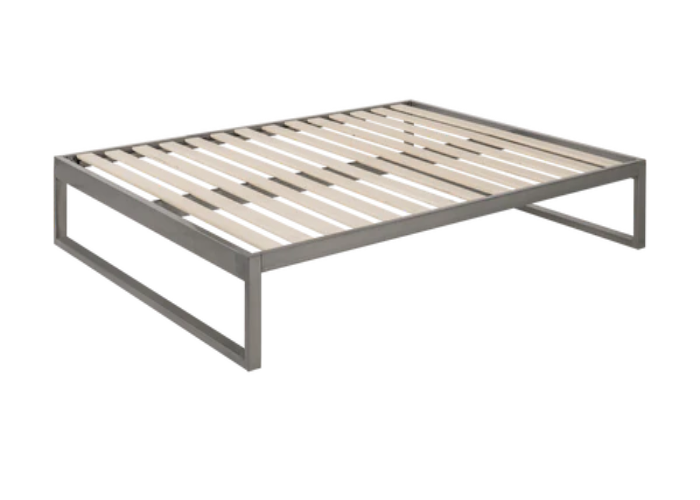 As the name suggests, it's a minimal, low-sitting bed frame that is perfect for smaller spaces. It is a single bed frame that can fit into any space, changing it into an elegant setting. Hence, if you want to save some space and money, The Minimo is a great find. You can choose from various steel bed frames, Keetsa offers, from The Frame Gold Brushed to the Minimo Snow White. This durable, classic, minimalist bed frame ranges only from $390- $440.
h3>16. Squeak Free Minimalist Bed Frame by Bedtek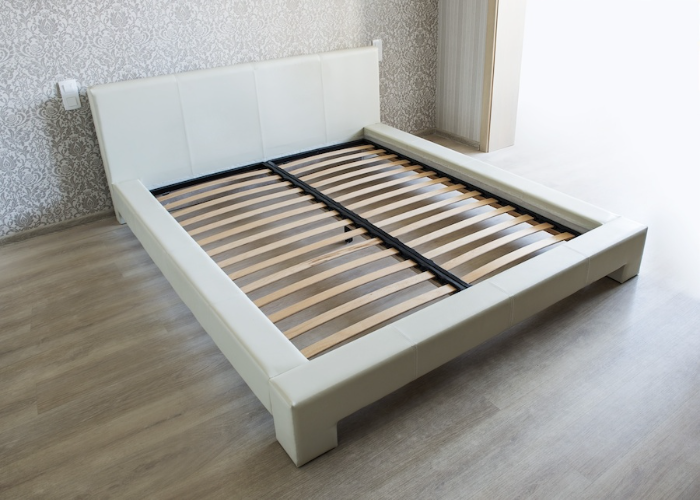 This sturdy, noise-free bed frame by Bedtek comes with metal slats and can be assembled very quickly. It doesn't require a box spring, which means you can directly put your mattress on top effortlessly. You can even add storage beneath the frame if required. The metal frame is so strong that it can weigh up to 1,000 lbs. It also offers headboard brackets to attach any classic headboard you like. The amazing part about this bed is you don't need tools to set it up, as it can be laid out in just a minute. And it only costs $199, making it very affordable.
Summing It Up
All in all, from a simple wooden frame to a stylish headboard bedframe, you can choose from many minimalist bed frame options available. You need to set the budget, measure the space and explore distinctive materials and colors for building your dream bed. Ensuring that your bedframe has good quality makes up for its durability and is considered an excellent investment.
You'd be surprised to know that when changing your old bed for a new one, you can recycle it. There are many companies that help recycle bed frames and mattresses, providing you with a commendable chance to contribute towards nature.
Do tell us in the comments which minimalist bed frame you liked the most and would consider replacing it with your older one.
Frequently Asked Questions
h3>What is the Best Material for a Minimalist Bed Frame Look?
Pick wooden or metal bed frames for a durable, long-lasting bed frame. Not only are these sturdy and supported materials, but they also give your bedroom a chic, stylish look. You don't need to stress about them being expensive, as there are many variants that one can easily afford and assemble by themselves.
h3>How Much Time Does a Bed Frame Last?
You should change your bed frame every ten years, but they can last long for about 15-20 years. The structure begins decaying slowly after ten years. So, you can either change it with a new one or maintain it for a few more years.