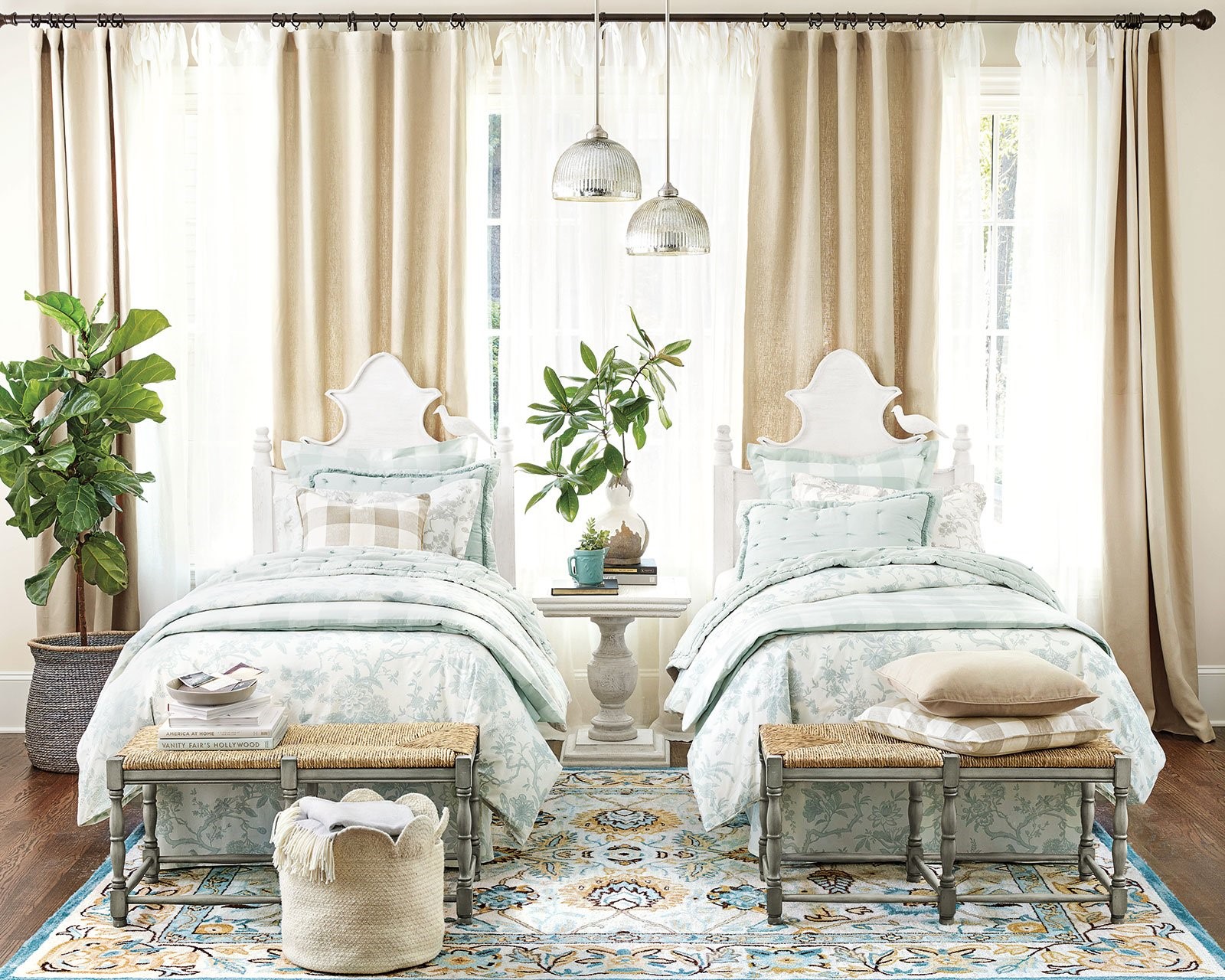 Concerned about how to place your bed in front of the window? Or just want to make the most of the space? Whatever your concern is, we are here to help you with it.
In most cases, when you place your bed in a room, you need to check the direction of your bed, the location of your room, and the space between both sides of the bed. Also, you must consider the source of air and light to have a comfortable bedroom setup.
For instance, if your bedroom window is visible from a neighbor's place or the street, you must do some sort of window treatment to create privacy.
Also, facing your bed towards the window can be problematic if you are a light sleeper, as the morning sunbeams will hamper your morning sleep. So, keep reading, whether you want to upgrade your bedroom by placing the bed next to your window or style an existing setup.
Here we will discuss how to style a bed in front of the window.
Amazing Ways to Style a Bed in Front of Window
You can find various ways to style your bed before the window. You can use some curtains to frame it. Also, you can add some greenery to match the outside and add a fresh vibe to the room.
Below is a list of 23 unique ideas to style a bed in front of the window.
1. Place the Bed in The Lower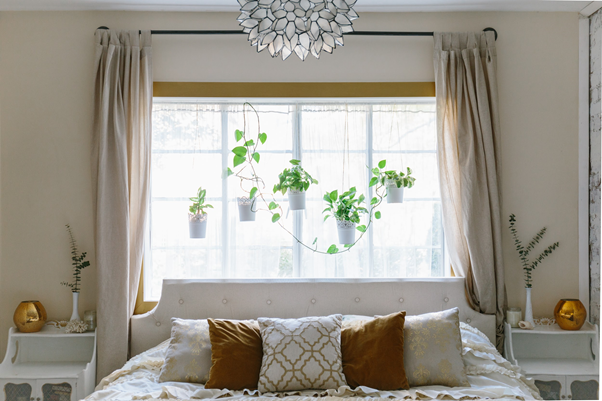 When you place your bed in front of the window, you can get good views of your surroundings and enjoy the natural light and air. But you must place it lower than the window's height. It has multiple benefits of adding a bed under the window. For example, placing your bed lower than the window adds a dimension to the room. Also, placing the bed lower than the window helps prevent airflow blockage and direct sunlight on the bed.
2. Add Blinds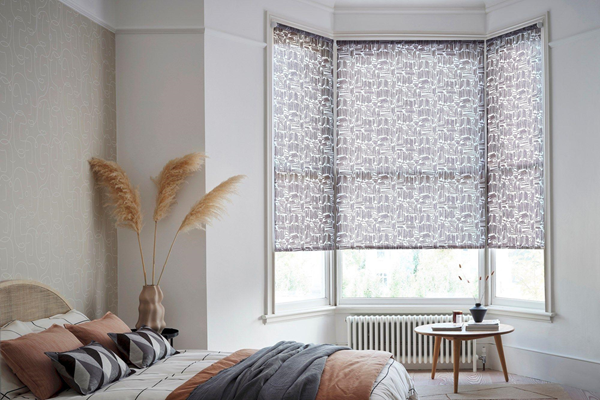 If you place your bed next to the window, you will get plenty of natural light and air while sleeping. But it can be bothersome if you have light sleep. Putting blinds on your bedroom window can be a great solution to prevent the lights from entering the room while you are sleeping. Also, window blinds come in various beautiful designs and shades that can enhance your room's beauty. Calyx Cordless Vinyl Mini Blinds are suitable for bedroom windows.
3. Use Drapes to Frame It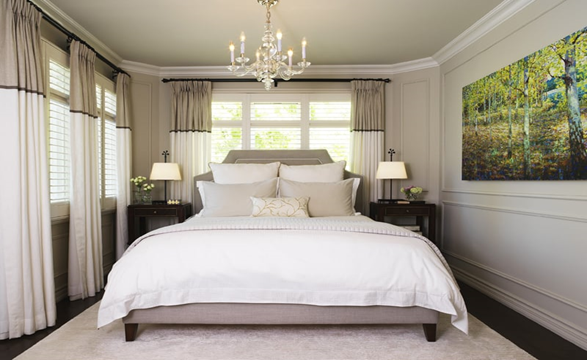 Installing some long and heavy drapes or curtains can also help you style your bed in front of the window. When you hang beautiful curtains on both sides of your window, it helps to frame your bed as well. It looks pleasing as well as functional. When you remove the curtain, it works as decoration, while closing the curtain will help to avoid outside light and noise. Deconovo White Blackout Curtain Panels for the Bedroom are ideal for blocking lights.
4. Use a Color Scheme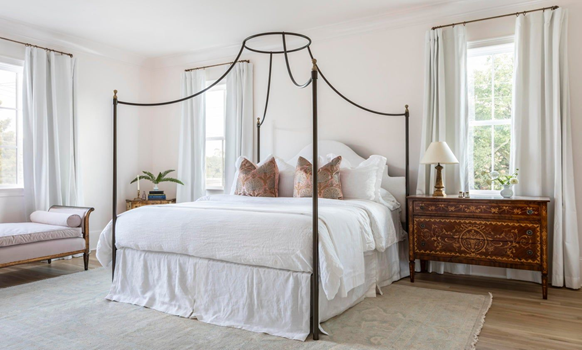 You must try a color scheme if you are trying to upgrade your bedroom without wasting much money. It is one of the most effective and low-budget solutions that also results in a gorgeous design for the room. If you have a color palette for your bedroom interior, you can use the same color scheme for your bed and window frame or curtains. It will bind them two and create a sense of unity, like pairing a green, white headboard with beautiful soft green curtains.
5. Try Statement Headboard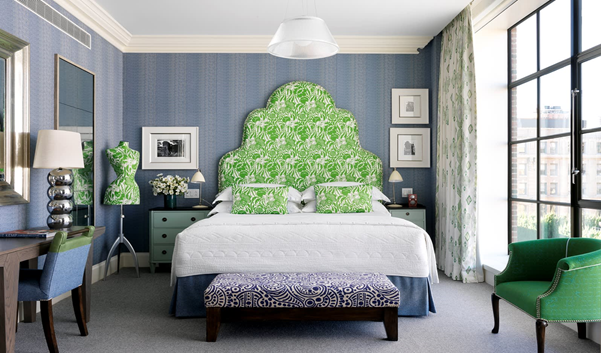 Headboards are an essential part of your bed, and adding a statement headboard can help to make the most of the setup. When you add a statement headboard, the window provides backlights to bring attention to the unique structure of your headboard. Also, statement headboards enhance privacy inside the bedroom by blocking the lower part of the window. Rosevera Darax Adjustable Height Headboard is stylish and goes well with various beds.
6. Plantation Shutters To Frame Window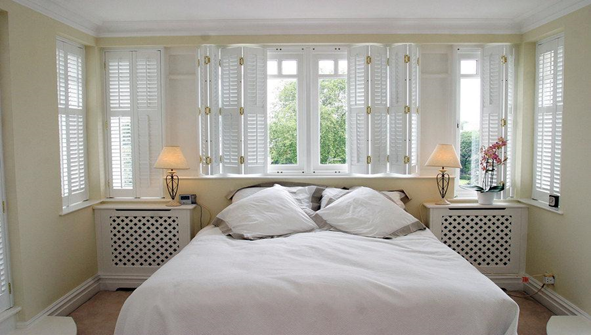 Another interesting way to style your bed in front of the window is to install plantation shutters. Plantation shutters can help frame your window and bind with the room's interior. Adding plantation shutters also make the environment more serene and beautiful, especially if it has a greener outdoors. Shutters are better than curtains and blinds to prevent outside light and sound. Try Suncraft Plantation Shutters for high-quality products.
7. Incorporate Light-Filtering Flowy Curtains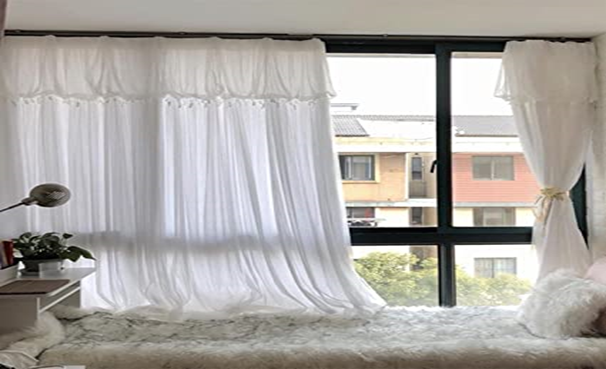 Placing your bed next to the window means you can get plenty of natural light and air. But when you use blackout curtains, you do not get any natural light once you draw the curtains. So, if you do not want to block the lights, you can opt for light-filtering flowy curtains. They look light and breezy and filter in soft natural lights. BGment Natural Linen light filtering curtains are rust-free privacy curtains that you can try for your bedside windows.
8. Add Some Painting or Wall Art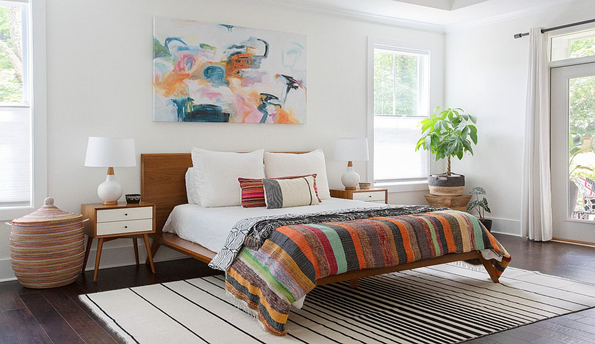 Putting some paintings or beautiful pictures over your bed is also a great option to style up your bedside windows and make them unique. But it depends on what type of window you have. If you have a piece of solid wall between the window above your bed, you can easily install some paintings or pictures to make the space enticing. Banksy Wall Art Paintings for the bedroom can be a great option to give your space a vibrant touch.
9. Add a Round or Designer Mirror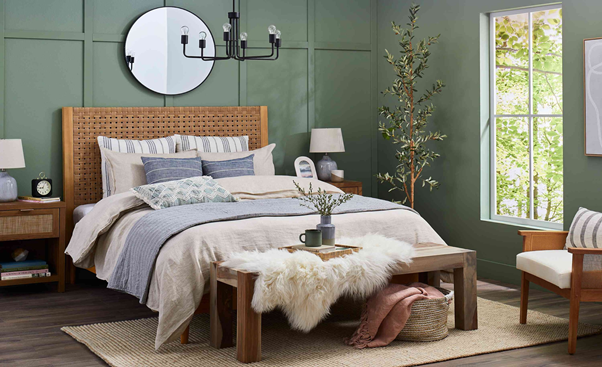 You can also place a mirror on the wall between windows to create a focal point and attract vision toward the bed. Also, placing a round or designer mirror on the wall can help reflect more light and illuminate the place. Plus, it can help to enhance the aesthetics of your bedroom. For example, a metal-framed round mirror on a white wall can enhance the room's look. VELLQUE 36-inch Round Mirror can be an excellent option to add a minimalist touch.
10. Go for a No-Headboard Bed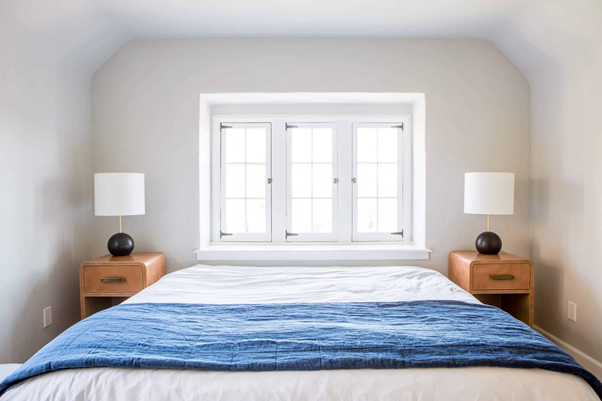 No-headboard beds can also look cool beside the window. If you love star gazing or just feel nice observing the outside view while lying on the bed, you can try a no-headboard bed. Also, placing a no-headboard bed in front of the window is an ideal choice for modern house setups. It will also help your bedroom look minimalist and clean. You can make the most of it if your window faces a sea, mountain, or beautiful garden.
11. Add Some Greenery Here and There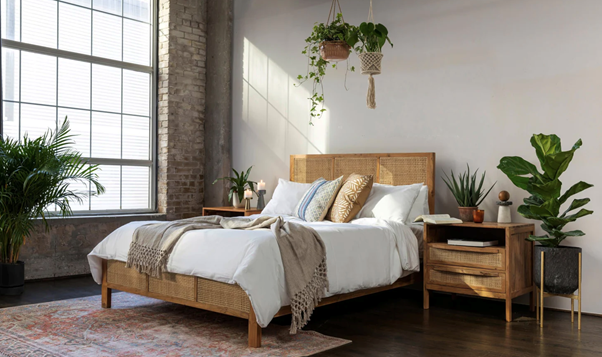 Green patches can make any space live and breathable, and there is no exception for bedrooms as well. You can place small plant pots on the window frame or build wall-mounted racks between windows or side walls to place plant pots. You can even hang plants over the window to give your space a serene atmosphere. Installing plants is suitable for various types of bedroom interiors, whether a countryside or cityscape house.
12. Try Roman Shades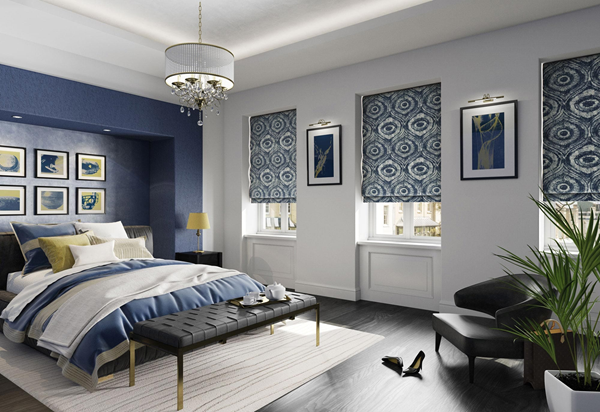 Roman shades look clean, elegant, and classy. It will be an excellent option for bedroom windows if you wish to keep your bedroom interior simple and breezy. Nowadays, Roman shades come in various prints and shades to fit different types of interiors. Some of them even come with valances to prevent mid-day sun lights. If you live in a sunny and warm place, you can use Roman shades with valances for your bedroom windows.
13. Create a Symmetry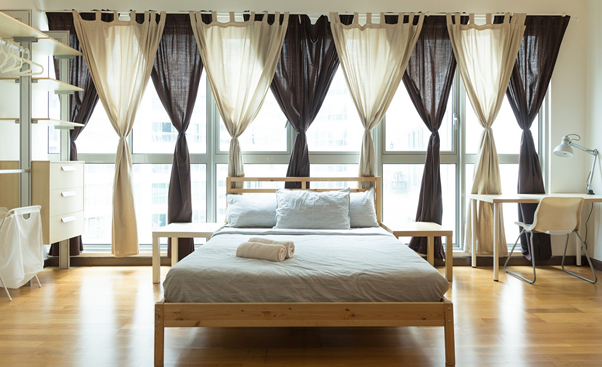 You can create symmetry to style your bed in front of the window. The symmetrical design never fails to capture attention and make your bedroom more attractive. Also, creating a symmetrical design does not cost you much. Sometimes moving or adding one or two pieces of furniture is enough to create symmetry. For example, always align your bed with the window above and sides. Also, you can install tables or pendant lights with a symmetrical design to get a symmetrical design.
14. Try High Headboard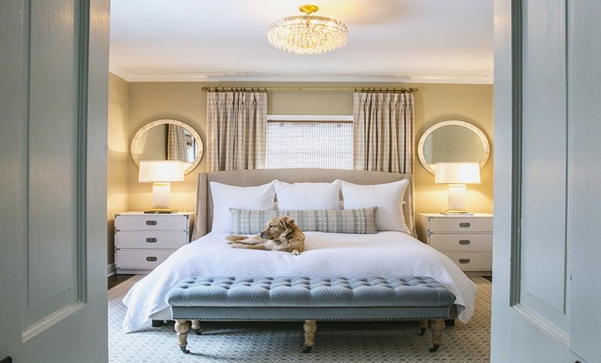 High Headboards are pretty famous, and many people like to use them. They are classy and often work as a wall between bed and window. You can try high headboards if you have a bed in front of the window and want to block the outside view. If your bedroom window faces a crowded street or neighborhood and you want to enhance your privacy, you can install a high headboard. PaPaJet high headboards are ideal for window-side beds and look classy.
15. Place Lamp Shades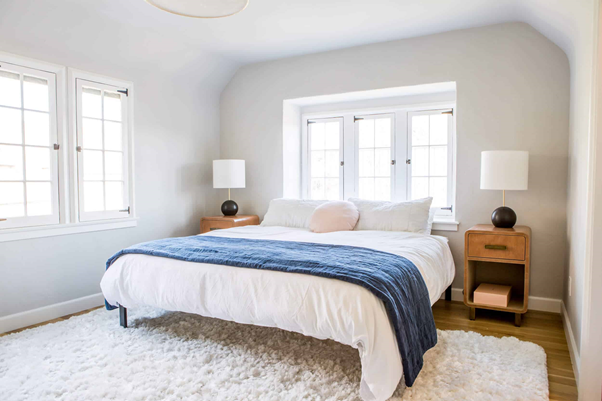 You can also place a lampshade or bedside light stand to upgrade your bedroom and make it look attractive. You can place small tables with night lamps on both sides of your bed if you have a bed in front of the window. Adding lamps on both sides of the bed helps to distract attention from the window and make your bedroom more attractive and cozy. Also, aligning the window frame, bed headboard, and bedside lamps gives your bedroom a visual depth.
16. Opt for an Airy Bed Frame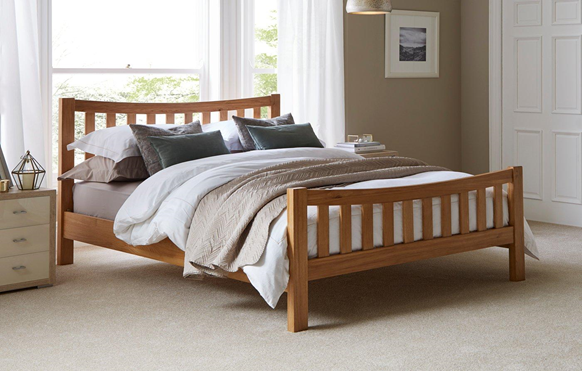 Do you like the outside view and natural lights? Or do you not want to block it with your bed frame? Try an airy bed frame. Now you can have various stylish and new-age airy bed frames with plenty of gaps to enter air and light. Also, remember most airy bed frames come with No-headboard, so when you install an airy bed frame, you must also get some curtains or blinds for privacy. Try Greenforest Wooden Airy Headboard for a stylish and elegant look.
17. Float the Bed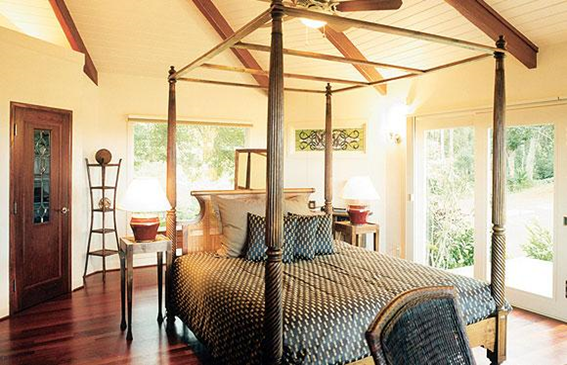 If you have a bed in front of the window in a small room, you can try to float the bed for more space. Floating your bed means keeping the bed away from solid walls and windows. It will give enough space to move with the room and. Also, placing your bed in the center of your room makes it look more spacious and comfortable. You can also add oversized headboards to make shifting the focus from window to bed easy. So, it would increase focus on the bed and interior instead of the window.
18. Choose Metal Headboard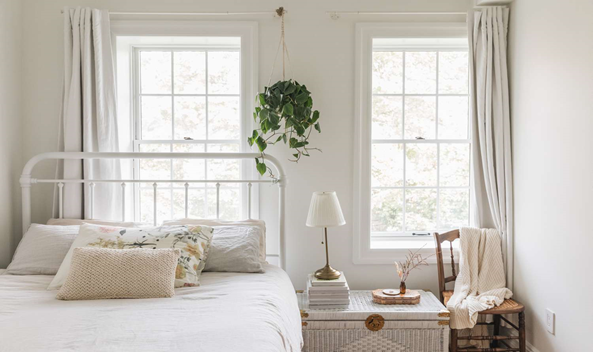 Metal headboards are also suitable for improving your bedroom and making your bed more elegant and beautiful. If you have a metal framed bed in front of the window, you can incorporate metal headboards to give it a new edge. Metal headboards look simple yet elegant and go well with different home interiors. Also, metal headboards have plenty of space that allows air and light to travel through.
19. Keep One Window Clean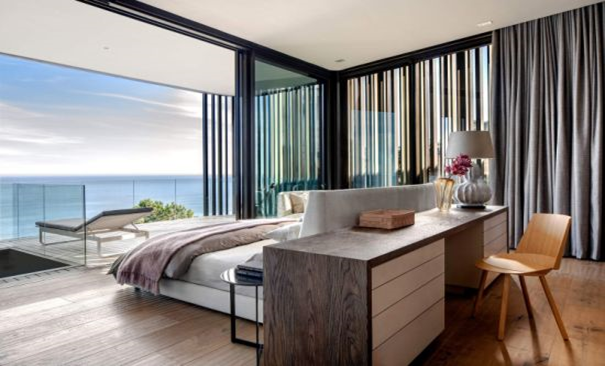 This option is ideal for a room with two large windows. If your room is spacious and you have two large windows over the bed, you can keep one window open while another is covered. It will help you make the other window center point and arrange the entire setup accordingly. Also, when you use only one window, you can control the amount of light entering your bedroom and utilize the covered window as a study. Still, it may vary depending on how you want to use the space.
20. Keep Your Bed Clean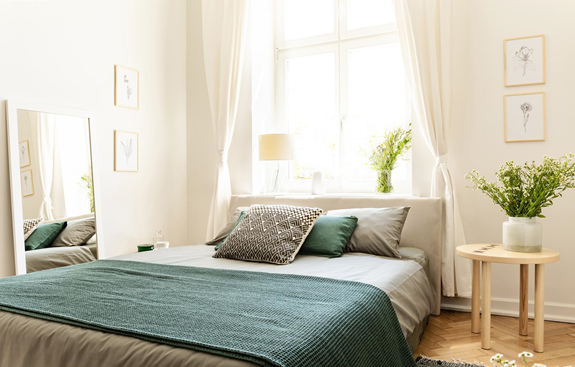 You must keep your bed clean and neat with only a few pillows and a well-spread bed sheet. You can also roll a blanket on the bed but make sure it does not become messy or untidy. Window beds get plenty of natural light, making them photogenic at times. But in some cases, they are visible from the outside and may not look nice if you leave them unorganized and messy. So, always keep your bed clean and tidy to make it pleasing.
21. Add a Windowsill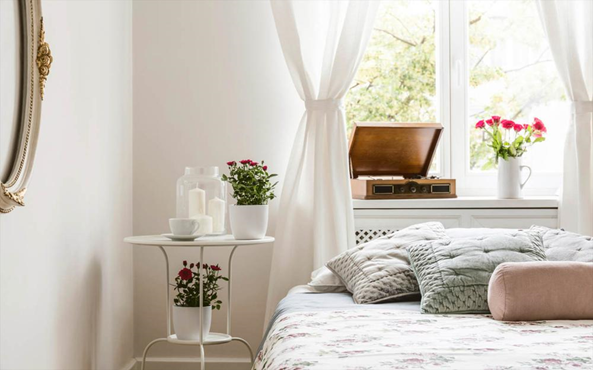 A Windowsill is more like a window shelf but is more versatile and classy. You can install a windowsill when you have your bed in front of the window and want to enhance its look. Also, windowsills are less expensive and increase privacy in your bed. You can place anything on your Windowsill, from books and showpieces to knicks and knacks or photo frames. But it depends on your choice if you want you can also place some plants or flower vases on the windowsill.
22. Try to Make It Asymmetric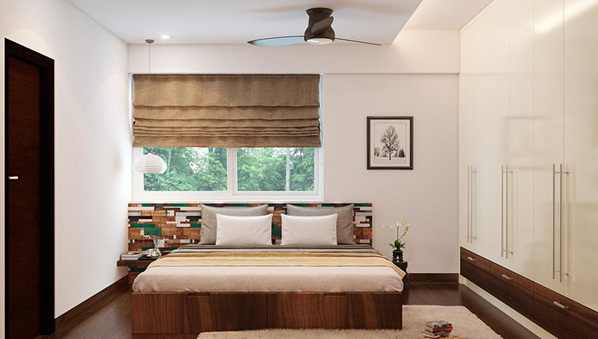 You can make your bedroom setup asymmetric to reflect your artistic soul and choice. Also, creating asymmetry helps you experiment with your bedroom interior and make it look cool. Also, creating asymmetry may not cost much money if you know the right trick. For instance, keep your bed at the edge of a window instead of keeping it in the center of the window. To make it perfect, you can also place some paintings and light pieces misaligned with the bed or window.
23. Use Contrasting Shades for Curtains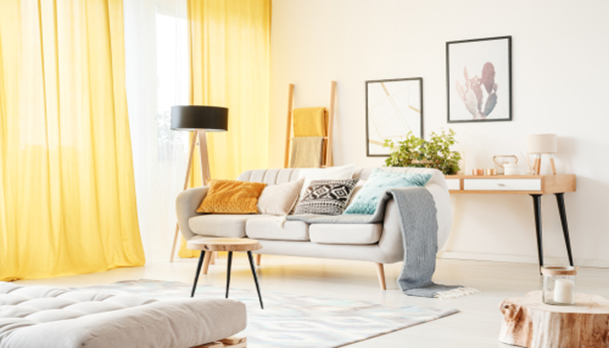 Another interesting method of enhancing your window-side bed is using contrasting shades for the window curtains. It would be easy to find contrasting curtains for your bedroom windows if you have a set color palette for your entire bedroom interior. Also, using a completely different shade for the window curtains easily attracts the viewer's attention and prevents the focus from going to the window. For example, if your entire bedroom interior theme palette is pastel shades, you can try vibrant curtains to create a beautiful contrast.
Summing It Up
All in all, placing a bed in front of a window can help you to enjoy natural light on your bed. If you have a stunning outside view, you can make the most by adding the bed next to the window.
But you must also remember that incorrectly placing the bed before the window can block the natural flow of light and air, making the room stuffy or congested. You can follow feng shui tips to place your bed and keep the bedroom environment light.
Also, if you feel your bed is blocking the air circulation, you can open a window or use a fan to keep the room breezy and breathable. Above, we have mentioned some brilliant ideas for styling beds in front of windows.
So, are you ready to redefine your bedroom? Try your favorite method to upgrade it now.
Frequently Asked Questions
Can I Place a Bed in Front of The Window?
According to Feng Shui practices, it is best to place your bed against a solid wall. A solid wall means a wall without windows or any other significant structure. However, you may still place your bed against the window if you like. But remember not to block the natural flow of light and air to prevent stuffiness. Also, you can use a fan or AC to improve air circulation.
What Is the Best Way to Style a Bed Beside the Window?
You can find various ways to style your bed in front of the window. It depends on your choice and your space. You can add drapes to frame the bed and window, color contrast or match window curtains and headboards, hang some paintings or add some plants, etc. You can even add some DIY wall art to style your bed.
How to Hide an Off-Center Window in The Bedroom?
You can try multiple ways to hide an off-center window in your bedroom. You can use wall art or painting to distract attention from the window. You can also try asymmetric designs for your bedroom. It can be a great way to balance the off-center window and artistically shift the attention. This way, your bedroom will look more interesting.
Is Styling a Bed Beside the Window Expensive?
Not all bed styling ideas are expensive, and you do not need a huge budget to style your bed. You can get multiple budget-friendly ideas to style your bed beside the window. For instance, you can color-match your bed headboard and curtains, align the bed with the window and furniture to create a symmetric look, etc. You can even add a statement headboard to hide the window.
Which Is the Best Way to Style a Bed Beside the Window for a Minimalist Look?
To create a minimalist look for your bed over the window, you can place a metal frame mirror between the walls or use blinders instead of heavy curtains. You can even try to keep your bed setup clean and minimal to get a perfect look. Sometimes installing light filtering curtains and a few green plants on the sides of the bed can bring a serene minimalist look.