As soon as fall arrives, we love hanging out more at home to stay all warm and cozy. It is time to make tasty pumpkin recipes, light candles, and decorate your home to create a warm atmosphere in your home for the cold outside.
Since you will be spending a lot of time indoors, it only makes sense to decorate for the season, and doing it by yourself is itself an amazing experience. You do not need to buy any fancy or expensive things to decorate your home for the fall; you can do it yourself with simple things available in your home.
If you are holding a dinner for friends and family, make sure to decorate your house with pretty fall touches with pumpkin and leaves, but if you are looking to do more, there are many types of decoration you can try your hands on, especially if you love crafting and painting and the best part is, they won't cost you much.
If you are wondering where to start, here are 12 cheap and easy fall decor ideas for 2023.
1. Pine Fall Candles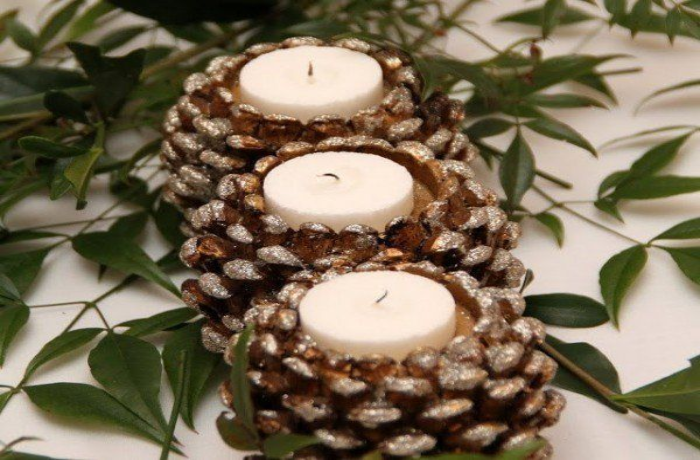 Add a little glamour to your rustic decor with these pinecone candles. They look beautiful, and they are not difficult to make. You do not need too many things to make them. Get some large , pliers, aluminum foil, and tea light candles. First of all, take some pieces off the pine cone with pliers and make sure not to break them off. Now wrap your tea lights in aluminum foil and stick them on pine cones with hot glue. To hide the visible aluminum, stick the removed bits of pine again with hot glue. Decorate it further by painting some parts of the cone with metallic colors to upscale the overall appeal of these unique DIY fall candles.
2. Mini Pumpkin Centerpieces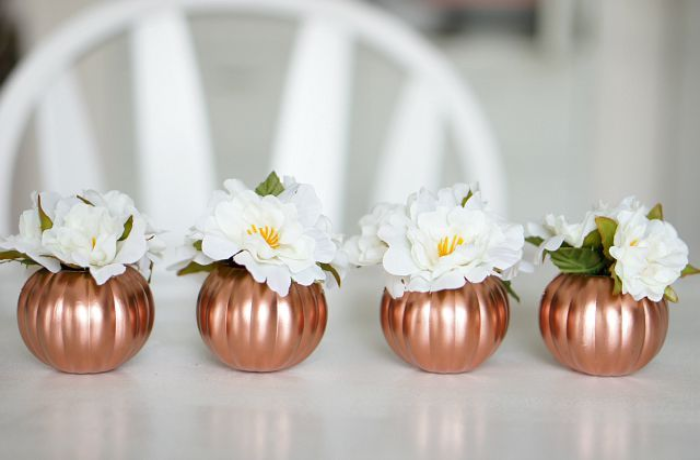 Mini pumpkins look super cute as they are, but giving them a makeover with copper or bronze paint is a great idea to give an elegant touch to them. These little pumpkins make beautiful centerpieces when placed in groups, or place them individually to add tiny details to your decor. You can make brush patterns on them, or you can place tiny fresh flowers in them after removing the tops; either way, they look amazing. But make sure to remove the tops before painting if you are planning to use them as tiny vases. The shade of pink bronze pops up among all the browns and oranges and fresh flowers between all the painted branches and dried leaves, bringing a very soft touch to the whole decor.
3. Painted Mason Jar Vases with Letters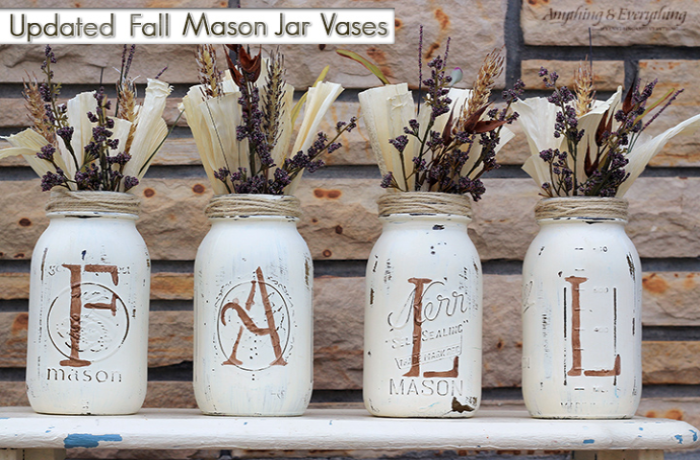 It's time to put those old jars to good use by making them a part of your fall decoration projects. Paint them in various metallic hues and fill them up with beautiful autumn wildflowers. You can also use letter stencils while painting them to spell out letters to make them even more interesting. White stenciled mason jars decorated with wheat stalks look elegantly homespun. You can either use fresh flowers, like sunflowers, to create a beautiful contrast or use dried branches and flowers, which can be used for a long time. You can place these on your serving counters or on your side table in the living room to create a perfect fall ambiance in your home.
4. Decorate Your Seasonal Quote Chalkboard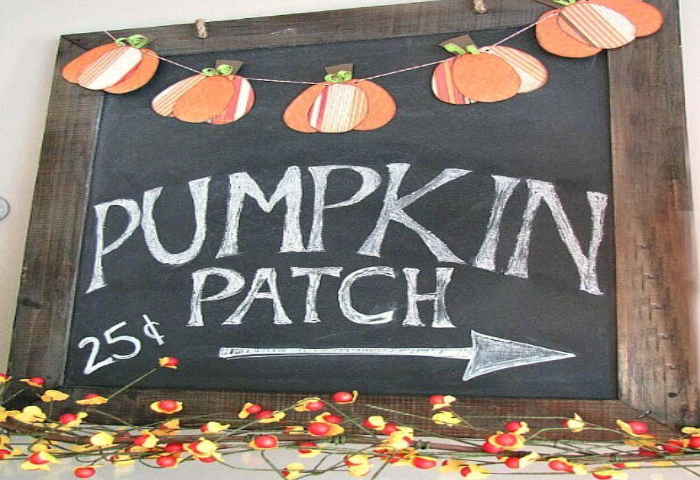 A seasonal chalkboard is a must to put out your favorite seasonal quote on your porch or even indoors, and decorating it makes it so much more attractive. With scrapbook sheets, you can cut out simple shapes of pumpkins, leaves, or anything you love in general. Make a garland out of it with string, or stick them directly on a chalkboard or photo frames and watch how much charm it adds to your seasonal decoration. You can place a dried cherry stem at its bottom to attract attention to it, and you can even decorate it with fairy lights if you are placing the chalkboard on the porch to make it light in the dark.
5. Pressed Autumn Leaves Frame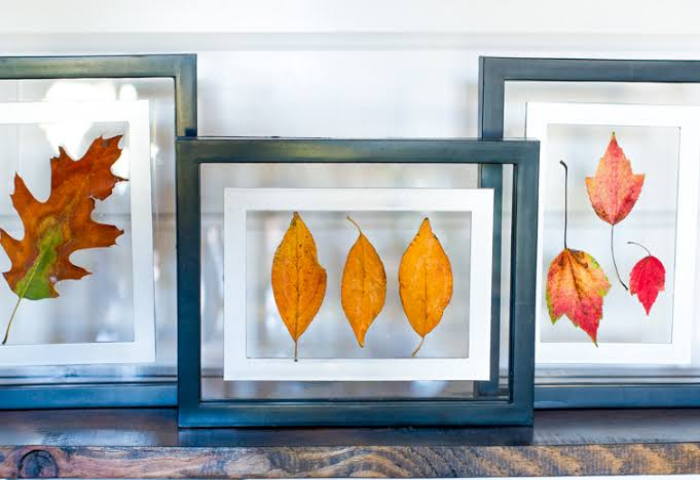 Pressed leaves frames look amazing, especially when you display them in groups to make a grid. You just need pressed leaves and glass frames, the one with gold metal rims looks best, but you can pick any. Just stick the leaves to the glass with transparent glue, and that's it. But If you wish a white background for the leaf, stick the leaf to the paper before placing it in the frame. Make sure the leaves are completely flat; you can iron the leaves before sticking to flatten them. The best thing about these frames is you do not need to take them off after the fall; they look aesthetic all year round.
6. Frame It with Acorns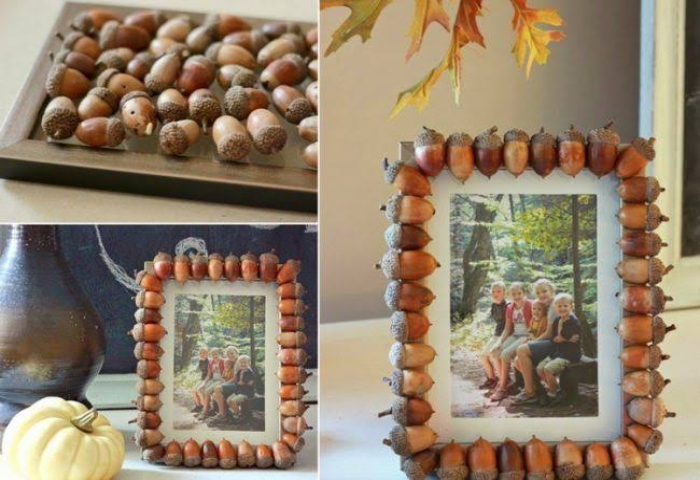 Photo frames are a perfect way to personalize your home decor, but when it is fall, you need something that goes with the theme, and that is where these adorable acorn frames come into the picture. Go for a hike with your children and collect some acorns on your way back home, and that will be enough to turn your regular dollar store frame into a rustic fall-themed one. You can buy one from the store or just use any regular photo frame you already have and place your family picture in it. Stick the acorns to the border just as they are, or You can take this a step ahead by coloring them with metallic paints. Stick the acorns with the help of hot glue on your frame.
7. Drilled Pumpkin Lights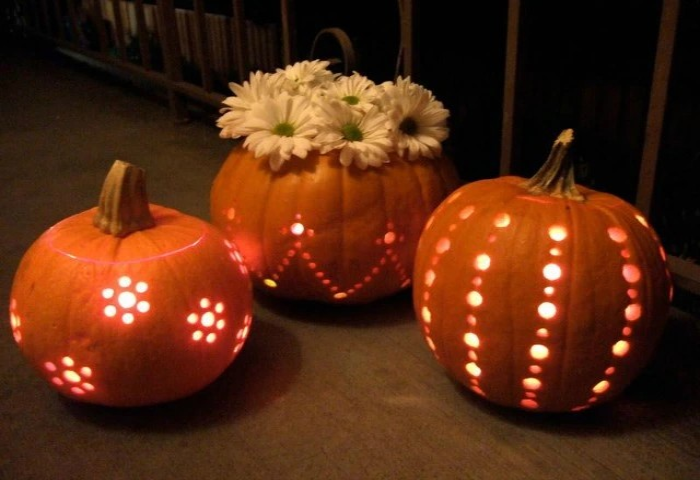 This Drilled pumpkin lantern can create a whole vibe when used as your front porch decoration because it looks like a pumpkin disco ball. All you need is a pumpkin, a drill machine, and lights. You can make it with a real pumpkin, but a fake one works as well if you do not want to go through the process of cleaning your pumpkin inside out. Once your pumpkin is clean, start drilling holes in them, you can follow a pattern design or just make random dots. Clean the drilled mess and place fairy lights or wax candles, and these amazing pumpkin lanterns are good to go.
8. Fall Leaves Paper Garland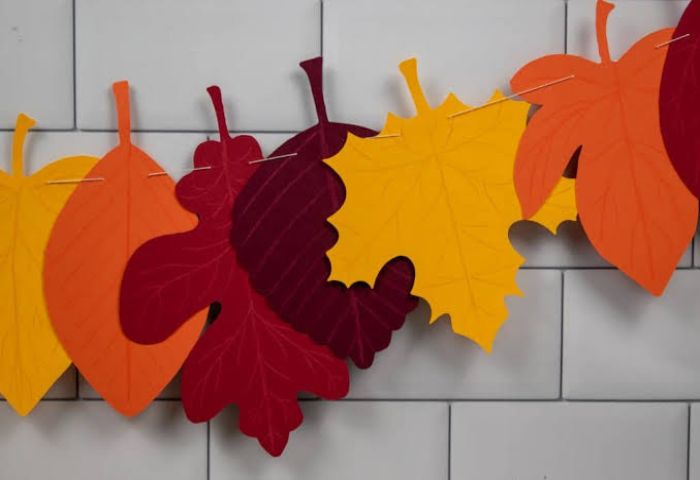 While decorating for fall, there can never be too many garlands. If there is too much dull fall color around you and you are looking to add brightness while still sticking to the theme, this paper leaves garland is perfect for you. You can choose crepe papers of your desired color and add gold, purple and red, along with autumn colors like yellow or orange and brown to create a contrast. Cut them with scissors, you can shape each leaf differently, or you can make them all the same; you can also use leaf stencils for perfect shapes. Tie them together on a crafty thread with a wire or glue, and they are all ready.
9. Mason Jar Leaf Lantern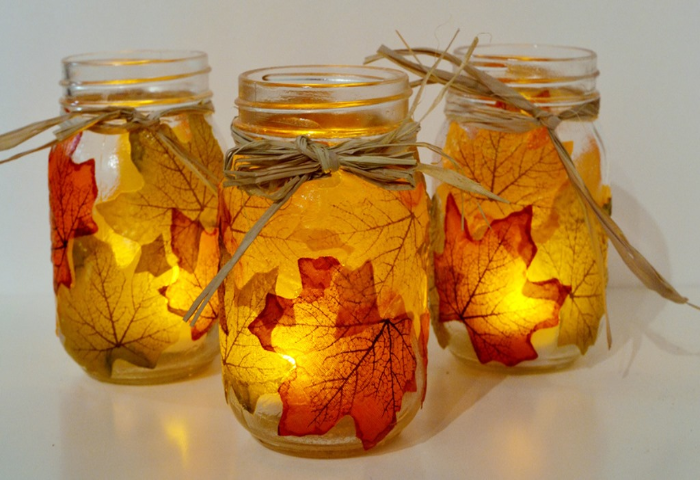 This fall leaf mason jar makes a great centerpiece, a fireplace mantle decoration, or a return favor to your guests. You just need some glass jars, pressed Autumn leaves, and mod podge for sticking. After sticking the leaves on the jar with mod podge, complete the look by tying a Twine at the top. Place small candles in them to light in the evening for an autumn glow. If you are using store-bought plastic leaves, use hot glue instead of mod podge. These are super easy to make, and you only need 4 things to make these beautiful leaf lanterns.
10. Autumn Elements Wreath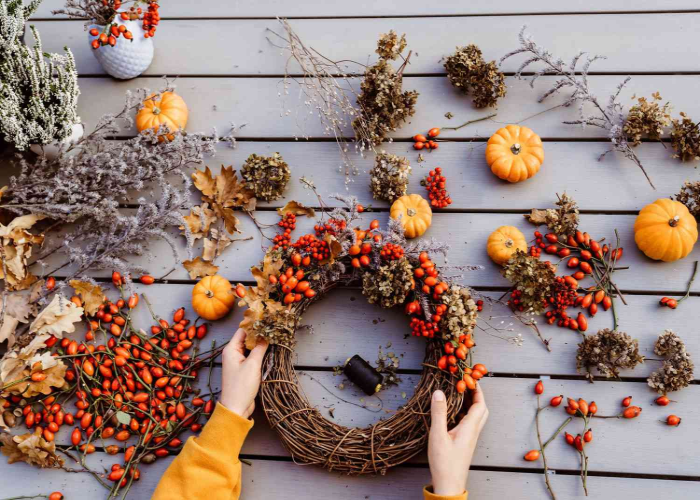 Fall Wreaths give your front door a makeover; it symbolizes celebration and warmth. An autumn wreath can be made from anything you find in nature, like fall leaves, corn husks, dried flowers, twigs, pine cones, or acorns. You just need to arrange them right to form a beautiful wreath. These elements of fall make a beautifully rustic wreath for fall. You just need a grapevine wreath from the dollar store and all these things to decorate it. If you do not want to collect all this stuff from nature, they are easily available at dollar stores. Once you have everything, start assembling with the help of a glue gun. Play around with the patterns and design them as you like.
11. Sparkled Leaves Hanging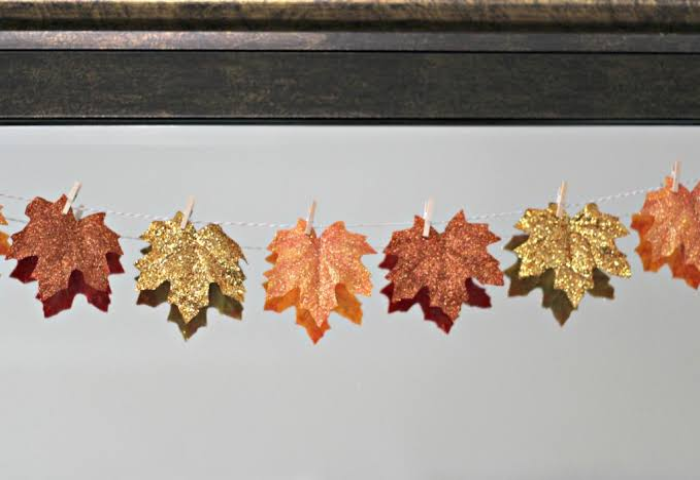 Fall leaves are amazing and attractive on their own because of their shape and their color; how amazing it would be to add glitter to them! Glitter brings glamour, and these glittery leaf garlands are super easy to make. This can be used to highlight any area of your house, but they look extremely beautiful on mirrors. You just need some fall leaves (use artificial leaves if you need this to last long), the glitter powder of your choice, and mod podge. Apply glitter on the leaves with the help of mod podge and let them dry. Tie them up to a Twine by punching the leaves or hang them with a clothespin, and this beautiful garland is ready to set the fall mood right.
12. Fall Twine Vase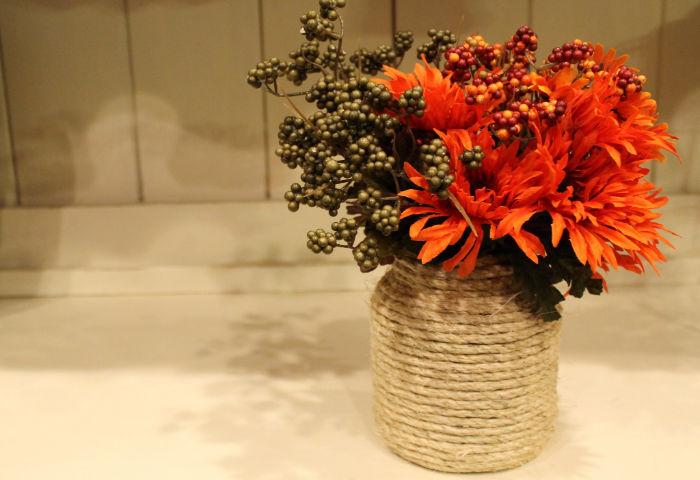 This Twine vase can make any tiny corner beautiful, and it goes pretty well with fall rustic aesthetics. This vase can be easily made with any shape of the glass jar you have in your home; pickle jars also work perfectly well and Twine. You can use any colored Twine, but here natural sisal is used. Wrap the Twine around the jar with the help of hot glue slowly and carefully, and that's it. You can put anything in this jar, like some fallen twigs or flowers from your backyard, to complete the look. Place them on your dining tables as centerpieces at some corner of your entryway to create a vibe.
Conclusion
All in all, nature is the best place to look for craft inspiration, and you find most of the elements for your DIY fall decor projects from there. Not only do these cute little handmade additions bring warmth and happy vibes to your home, but making them is an amazing experience in itself. Make them with your kids, as they can bring so much to the table with their creative brains while making it a heartful venture for you too.
This DIY fall decor is a prime example of it – it doesn't need to be expensive to be valuable. Making it by yourself shows the effort and love you have put into trends which is quite admirable. There are no limitations or rules, and you can make so many things with any kind of material available to you.
So let's get creative and start decorating for the coming season with these 12 cheap and easy fall decor ideas for 2023!