Dark-colored bedrooms can bring a sense of warmth and grandeur. Green is universally said to be the color of renewal. It also associates with the beauty of Nature. It is a classic punch in the monotony of whites and browns.
This sanctuary you call a bedroom is meant to provide the right amount of coziness while you retire to bed and the vigor you need to face a new day. Bedrooms are the most important portions of any home since they are where you feel the most secure.
The feel, look, and overall vibe must be completely in tune with your personality and thinking. When it comes to green, people face a dilemma in making a choice. The Green Spectrum alone contains a plethora of shades ranging from Soft Sage to Modern Mint to Deep Teal to Robust Olive.
It's a delicate balance of dark and light, and a dash of creativity and inspiration might result in something unexpected.
Modern Dark Green Bedroom Ideas
Here are some ideas to get you started on creating a dark green bedroom.
1. Layer Your Walls with Emerald Falls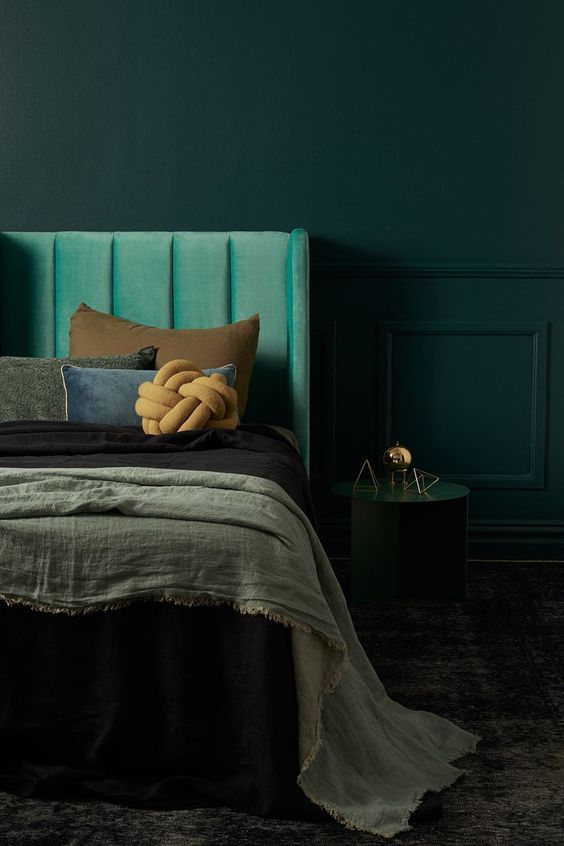 Using emerald green wall paint can create a bold and captivating look in your space. Create a gradient effect by starting out with emerald green at the bottom of the wall and gradually transitioning to a lighter shade towards the top. This technique adds depth and visual interest to the space. Build a modern and artistic effect by using emerald green in combination with other colors. Paint one wall in emerald green and the adjacent walls in a contrasting color, such as crisp white or pale grey. This technique can define areas within an open-concept space.
When choosing emerald green wall paint, keep the lighting in mind. Artificial lighting can alter the appearance of a color whilst natural light can enhance its richness. Before committing to a full application, examine paint samples on your walls to see how the color appears in various lighting conditions.
2. Cushion Your Age with Soft Sage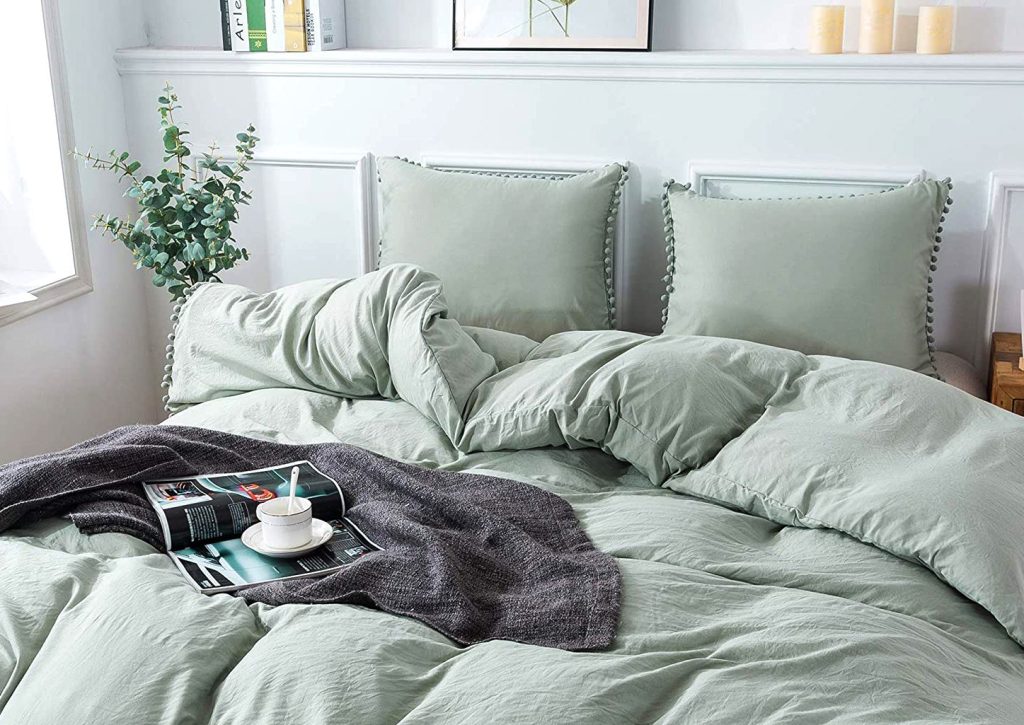 Sage-colored fabric can be a beautiful and soothing choice for a bedroom. Whether you're considering sage curtains, bedding, or upholstery, this versatile hue can create a serene and calming atmosphere. To create a relaxing attraction in your bedroom, use sage-colored sheets, pillowcases, and a duet cover. Pair it with white or cream-colored pillows and a throw blanket to create a fresh and inviting look. Dress your windows with sage-colored curtains or drapes to add a touch of elegance to the room.
The soft green hue will provide a sense of tranquillity and natural beauty. Keep in mind that its important to take into account the general color scheme and the existing decor in the room when utilizing sage-colored cloth in your bedroom.
3. Go Bold with Olive Mould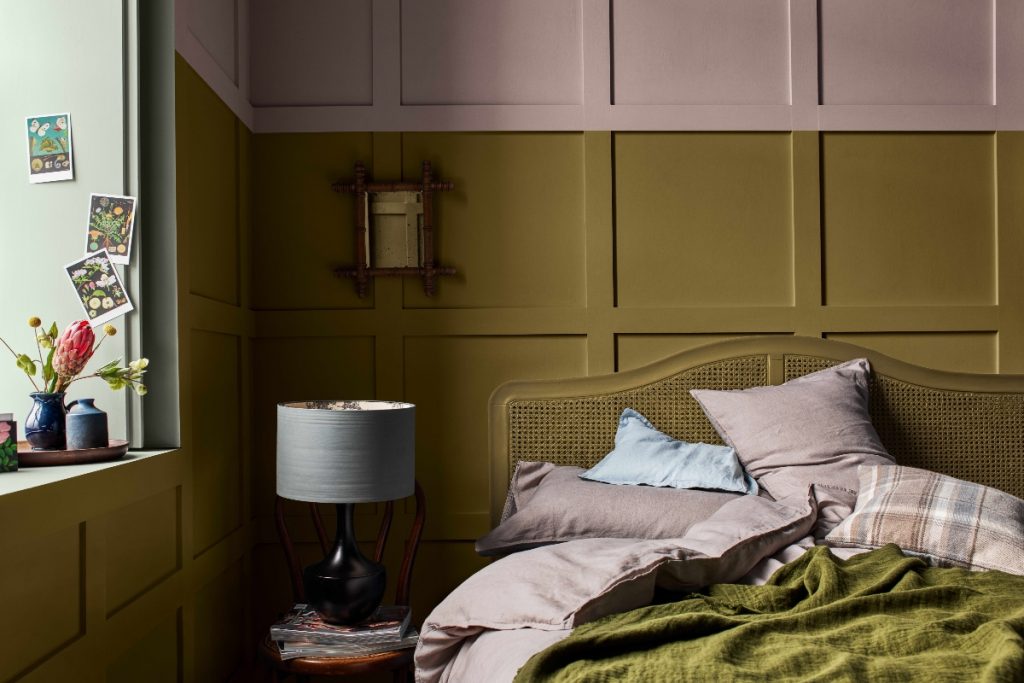 Olive-colored wall paneling can give your room a distinctive and eye-catching appearance. Install vertical wall paneling to add height and visual interest to the room. These vertical lines can make the space appear taller and more elegant. To make a focal point, think about implementing paneling on a feature wall or an accent space. This type of paneling often covers the lower half of the wall while leaving the upper half painted or coated in a complimenting color. Half-height paneling can give your room personality and charm.
If you want to add a sense of class to your bedrooms, consider installing wainscoting in olive. The paneling that covers the lower part of a wall and frequently reaches chair rail height is referred to as wainscoting. For a balanced and striking appearance, combine it with blonde walls above the wainscoting.
4. Deep Teal with Gold Feel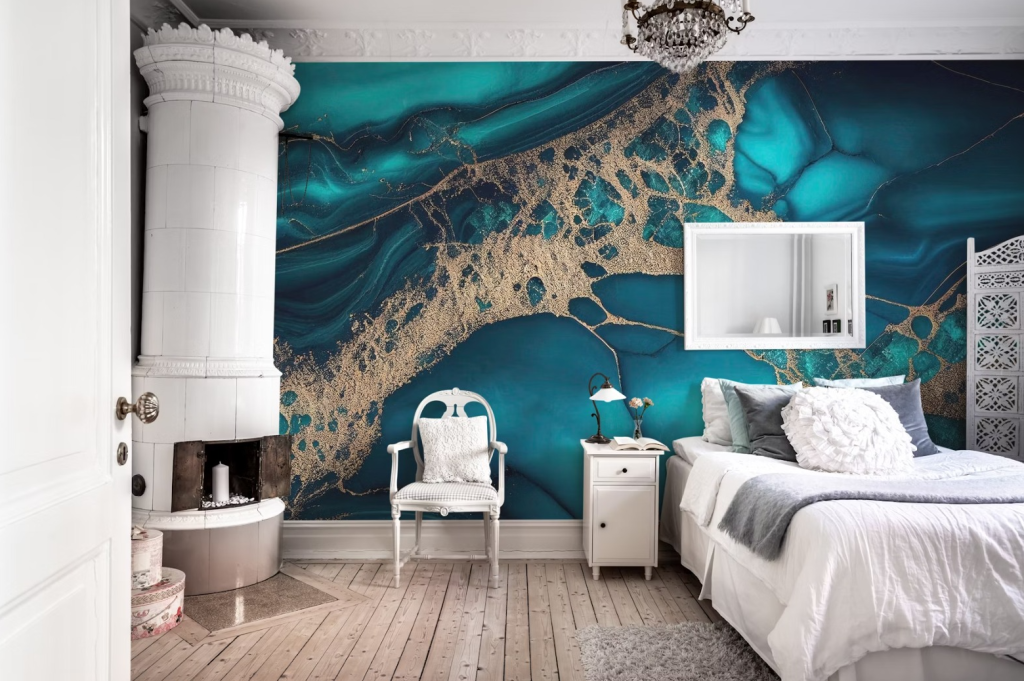 Install gold accented deep teal ceiling medallions. These decorative components can be used around chandeliers or light fixtures to provide a touch of luxury while attracting attention to the room's focal. To maximize visual impact, choose elaborate designs or patterns. Create an exquisite border around the ceiling by adding gold crown molding. This might provide grandeur and act as a frame for the deep teal. Gold accents will give the room opulence and class. Develop intricate patterns or designs with stencils, including gold metallic paint for the inlays.
Depending on your desire, this can be done in a repeated pattern or as a central motif. The deep teal and gold color scheme will make the ceiling an intriguing highlight. Envision a coffered ceiling with gold detailing, using deep teal as the base color and gold as the accent color for the recessed portions.
5. Tailor the Sheet for a Paper Treat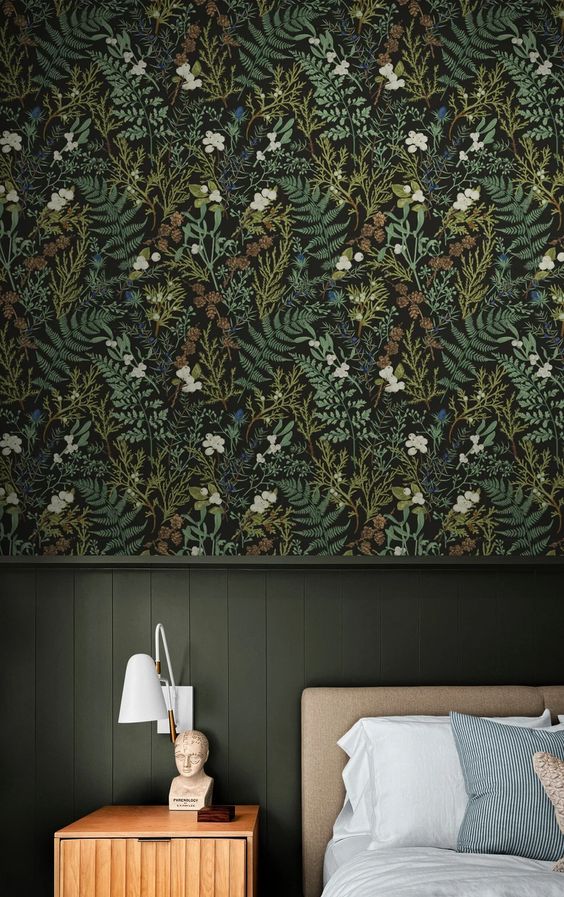 Make one wall the focal point by covering it with dark green wallpaper. This might be the wall behind your bed or any other visible wall in the room. The rich green color will give depth and provide a striking visual effect. Don't simply use wallpaper on the walls. For a distinctive and unexpected design feature, apply dark green wallpaper on the ceiling. This can produce a cocoon-like effect, enclosing the room in a relaxing atmosphere. Also, look for dark green wallpapers with botanical prints or patterns.
6. Pistachios and Blacks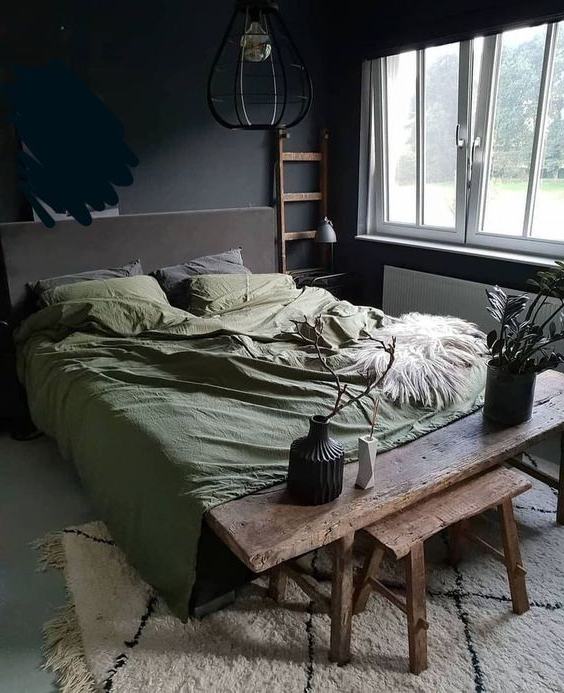 Pistachio green is a great color for larger furniture items such as couches, armchairs, and bed frames. This provides a new and attractive foundation for the room. Introduce statement pieces of black furniture such as black coffee tables, side tables, or dining tables. These contrasting items will bring visual intrigue and sophistication to the room.
7. Two Greens In a Row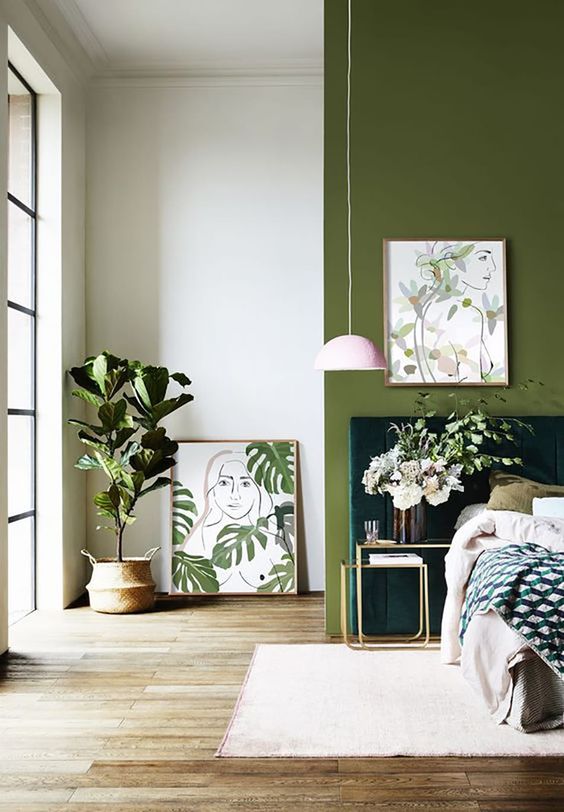 Color block the space by using a chair rail or casting, dividing the walls into two sections, and painting the upper and the lower portions in different colors of green. This distinguishes between the two greens and provides a modern and artistic flare to the room. This enables you to gradually and creatively introduce the two greens. To create an elegant and cozy dark green bedroom. You cannot go wrong with green whether you want a winter-styled bedroom or a flawless ultra-modern aesthetic.
8. Fine Wine to Forest Pine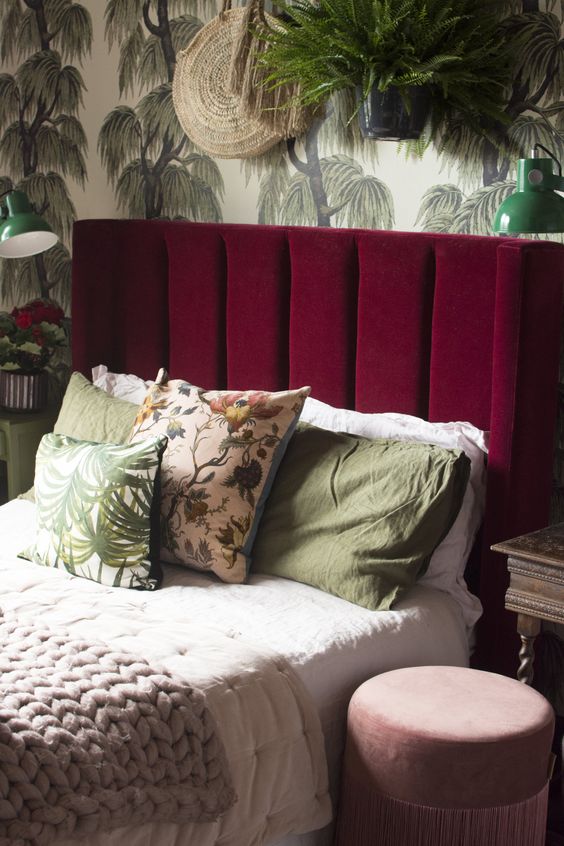 You may create a chic and naturally inspired color palette in your bedroom that radiates warmth, richness, and seclusion by fading from a fine wine-colored to a forest pine green. Begin by painting one wall in a deep and rich fine wine color. This accent wall will act as an emphasis in the room. The key to achieving equilibrium is to include forest green with tactile materials, paintings, and decorations that evoke the era of wealth.
9. Mustard-Bae-Sil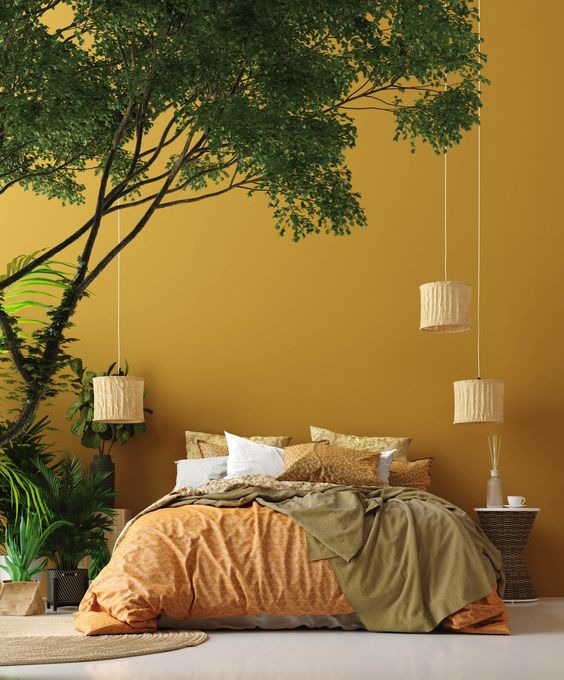 In order to create a warm and welcoming backdrop, paint the walls with mustard color. Consider using a matt or satin finish to get a delicate and pleasing look. To highlight the mustard walls, choose bedding in basil green. Designs that blend mustard and basil, such as botanical prints or geometric patterns, can also be used. Lighting fixtures and hardware in metallic finishes such as brass or gold will complement the warm tones of mustard. Draw handles, metal frames, and cabinet knobs adorned with brass or gold can add a touch of class and beauty to the space. Display indoor planters, landscape paintings, or abstract art with these colors. Arrange ornamental items in vases, candles, or sculptures that are mustard or basil to match the color scheme.
10. Fabric the Thread with a Green Bed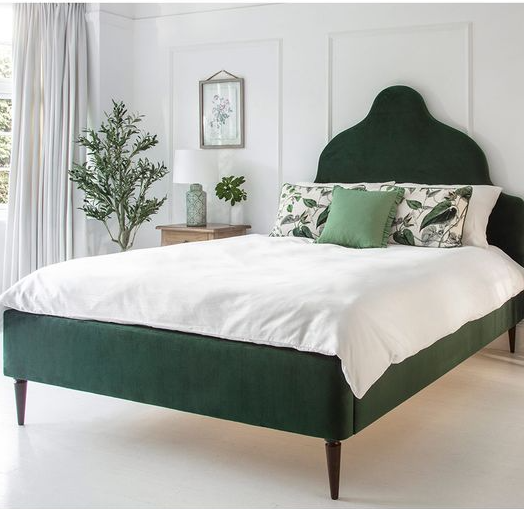 Look for a green bed with a vintage-style frame, such as rot-iron or brass. These small elements will bring charm and character to the bedroom. Consider dressing the bed in a vintage style floral or damask-patterned. You can also select a bed with a minimalistic design of mid-tone green to maintain the light, airy Scandinavian style. To bring in modern elegance, opt for a sleek upholstered bed with clean lines for a whimsical and nostalgic feel.
11. Amazon with Rattan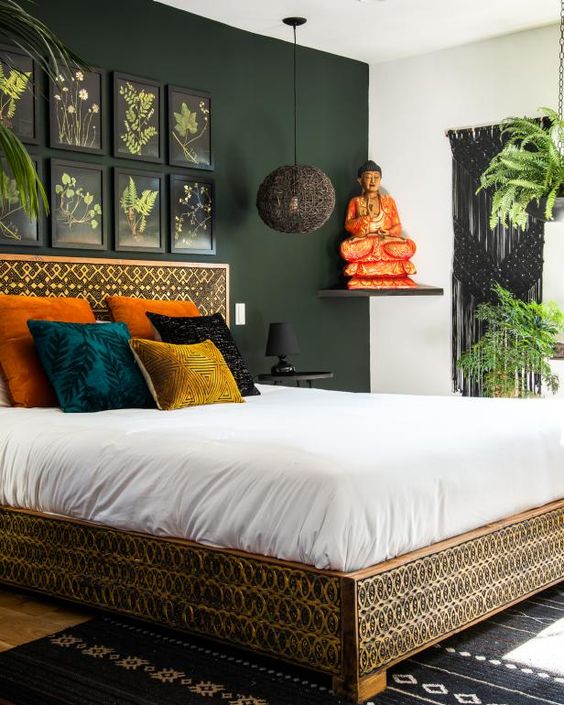 Incorporating rattan elements into a dark green bedroom can complement the light and dark tones, which provides the organic nature of the space. Place a rattan accent chair in the corner of the room or near a window to create a cozy reading nook. Opt for Ratan nightstands, lamp shades, and pendant lights to balance the pattern of light and shadow. Hang a rattan-framed mirror on the wall to add depth and reflect light. This rattan frame can provide a contrasting texture against the dark green walls.
12. Pair It with Green-Whites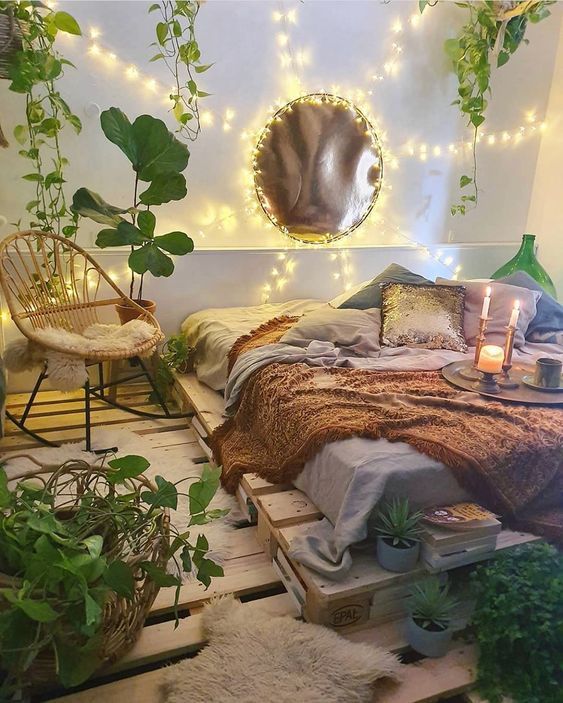 Plants in pastel-colored bedrooms can provide life, freshness, and a touch of nature to the decor. Hand trailing plants, such as potholes or Ivy, in macramé planters or hanging baskets from the ceiling or wall hooks. This adds a cascading effect to the room. Utilize the window sill place by placing a variety of potted plants, such as succulents and herbs, against the white backdrop. Display miniature plants in glass terrariums or clear glass containers. Remember to consider the lighting and care requirement of the plants you choose.
13. Clone with Stone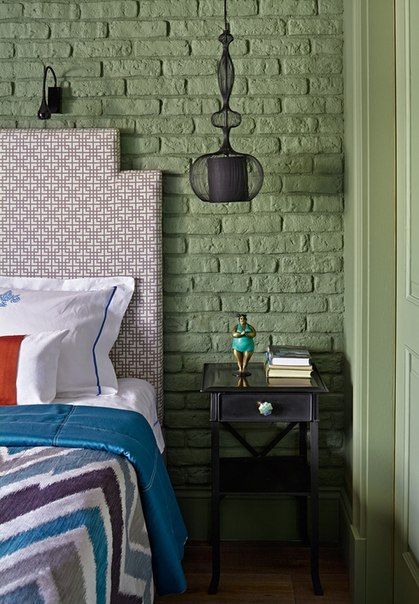 You can add a decorative border of green tiles or bricks around the perimeter of the room. This can be placed at the top of the wall, mid-way, or even as a chair rail. This could add a subtle touch of color and a bold statement to the other prominent areas. You can use this technique with large format tiles or brick pavers with different shades of green. To create a contemporary or modern look, consider using mosaic tiles or subway tiles for neutral-colored walls. To utilize the niche or alcove, you can also install these stones to display artwork or even create a memory corner.
14. Light It up Into Green Smoke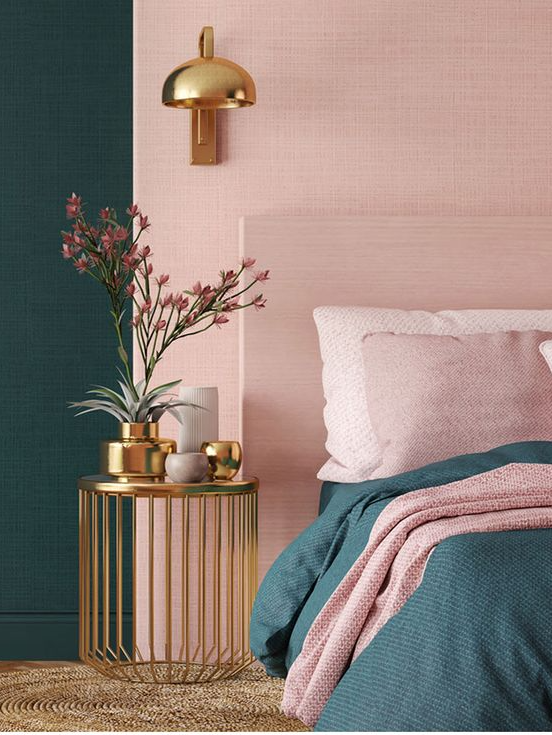 By selecting the bedroom furniture in neutral tones such as white, cream, and light wood, the base for smoke green and soft pink color becomes a prominent statement. It also adds vibrant emotion to a lousy decor. A tint of gold metallic finish can never overpower the space. The color highlights the smoked green, putting into play the regeneration of time, much like the pink sakura cherry. The combination of these two colors intensifies the room's weight and gives it a moody and tender appearance.
15. Express Yourself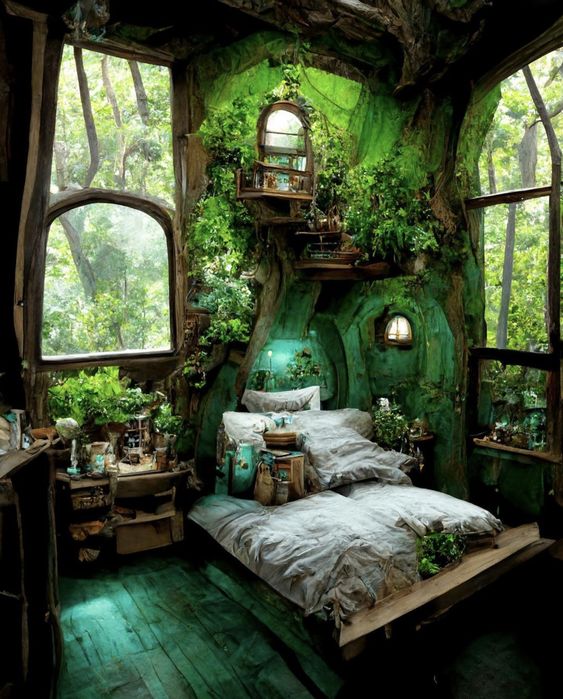 The sole idea of creativity is to never hold back with your designs, color combinations,s or art. Nothing is confined to a box, and you need to remember that you see the best results when you give yourself room to experiment. Do not hesitate to mix and match or go bold or dark, or light; as long as it fits your vibe, it is ok. It is your bedroom at the end of the day, so your comfort is what matters most. Don't forget that it is merely a room that can be twisted according to the utmost whacky part of your brain and can go back to its initial state with one splash of white.
Summing It Up
All in all, dark green bedrooms can manufacture a compelling and peaceful environment. The deep and lush green tones convey a sense of calm and closeness to nature. The tranquil tone of green is ideal for the bedroom.
We feel calm when we use it in delicate forms like sage and mild olive. They offer an ideal sleeping environment since they create a relaxing ambiance and many of the benefits of being outside in nature.
This is why treatments and spa rooms frequently use this shade as well. Aside from the gold inlays, everything else in the preceding blog is attainable at a reasonable worth.
Attention to detail and a strong sense of imagination are all you need to make your dream home come to life. So don't be afraid to explore. However, follow your heart and experiment with colors, elements, and balance. Believe in the color and the technique; your ingenuity will provide incredible results.
Install lighting and light fixtures in your bedroom. If your neutral green bedroom lacks elegance, consider layering drapes and furnishing. Mirrors, flowers, and candles all can be used to add a luxurious touch to your bedroom.