Have you ever heard about Danish pastel rooms? Well, they have become quite popular in recent years through social media. This decor is inspired by Scandinavian interior design styles, which give importance to clean and minimal designs.
Danish pastel aesthetics are bright, fun, and colorful. Every item in the rooms looks fascinating and speaks a lot about the character and personality of the person who lives there.
The Danish pastel room's decor looks very calm and inviting, and it is especially popular among young girls. It plays around with interesting shapes, colors, and styles to create an aesthetically pleasing design.
If you, too, are fascinated with turning your room into a Danish pastel style but have no idea how just to do it right, we have curated a list of some brilliant ideas on how you can turn your room into a Danish pastel style.
Here are our favorite 20 Danish pastel room decor ideas.
1. Pastel Color Palette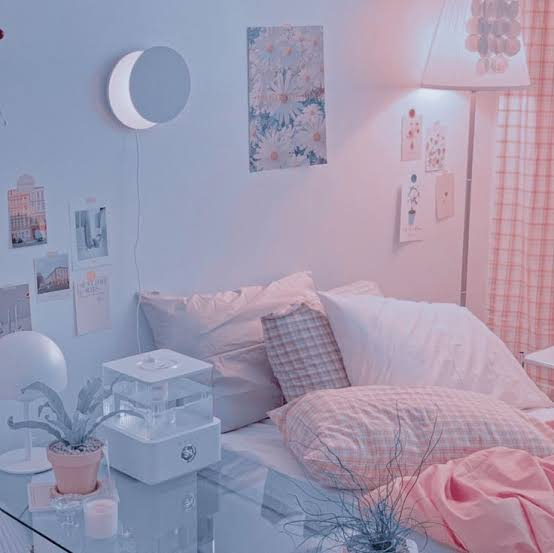 The Danish pastel color palette, as the name suggests, includes soft neutral pastel colors like gentle pink, soft lilacs, milky yellows, or mint greens to give your space a fresh and light feel. There are many shades you can play around with while designing your room. A lighter and darker tone can be used to create a contrast. Do not shy away from using the colors; they look appealing even when used together. Danish pastel rooms usually have many shades of pastel incorporated together to create a whole look. You can also add white to the palette to balance things out and not let the colors overwhelm you.
2. Patterns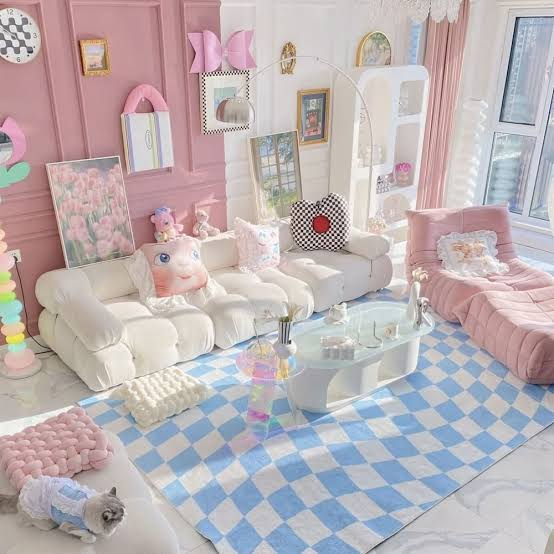 Danish pastel aesthetics takes most of its inspiration from modern Scandinavian artwork. There are many popular patterns and motifs in this style of design, like floral Matisse patterns and curvy organic shapes such as wavy, swirly shapes, flowers, butterflies, oyster shells, fruits, checkered patterns, and gingham patterns. The patterns are funky and bold and do not fail to make a statement. Everything has a unique design and shape with clean edges. These patterns are used in everything, from sheets to wallpapers and rugs. The idea is to incorporate these patterns and shapes in your decor according to your preference and taste.
3. Danish Pastel Mirrors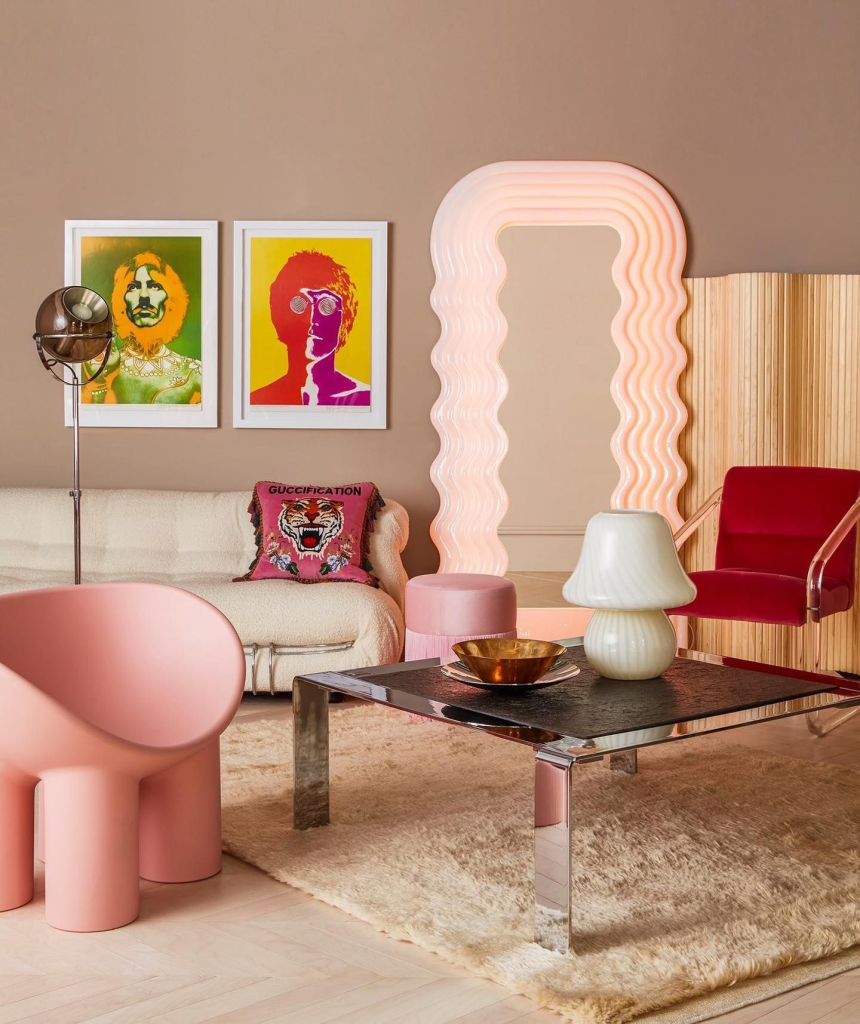 Mirrors are given much importance in Danish pastel room decor. The mirrors are of funky shapes with squiggly lines. The mirror can be of any fun shape with a fine pastel border of your favorite pastel color, like blush pink, mint green, or light blue. Apart from squiggly-shaped mirrors, you can also go for heart-shaped or cloud-shaped mirrors. Danish pastel mirrors are an easy way to add charm to your room without going too crazy with the idea. You can get a full-sized one or small mirrors that can be placed on your desk or can be hung on the wall.
4. Danish Pastel Candles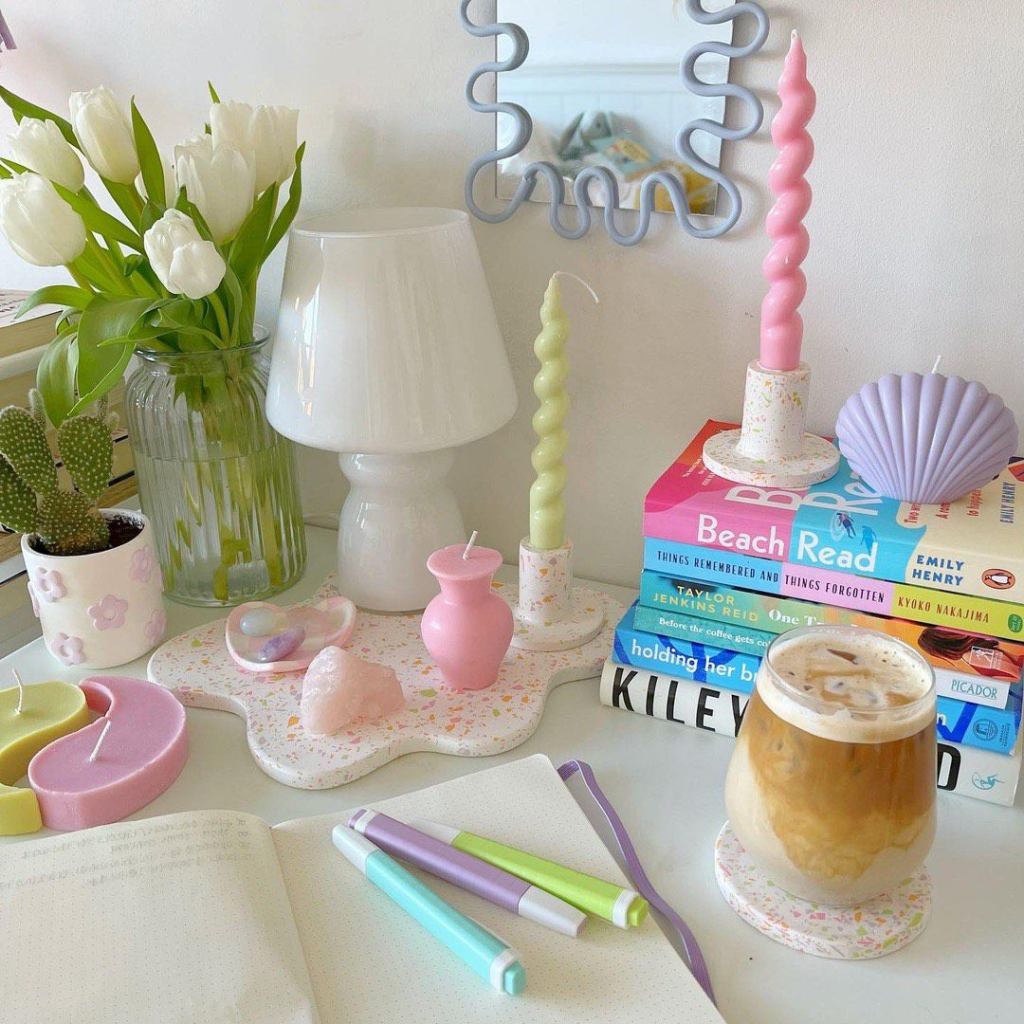 Candles should be on top of your list while designing a Danish pastel room. Candles add a sense of comfort and warmth to your space. It is a budget-friendly way to decorate your pastel aesthetic room. They come in such cute shapes, colors, and fragrances that you won't be able to resist buying them in bulk. Danish pastel candles add a pop of color to your room, and they look like small gorgeous sculptures. Heart shape, shell-shaped and flower-shaped candles are some popular choices. Place them beside your bed, on the desk, on dressing shelves, basically everywhere!
5. Table Lamps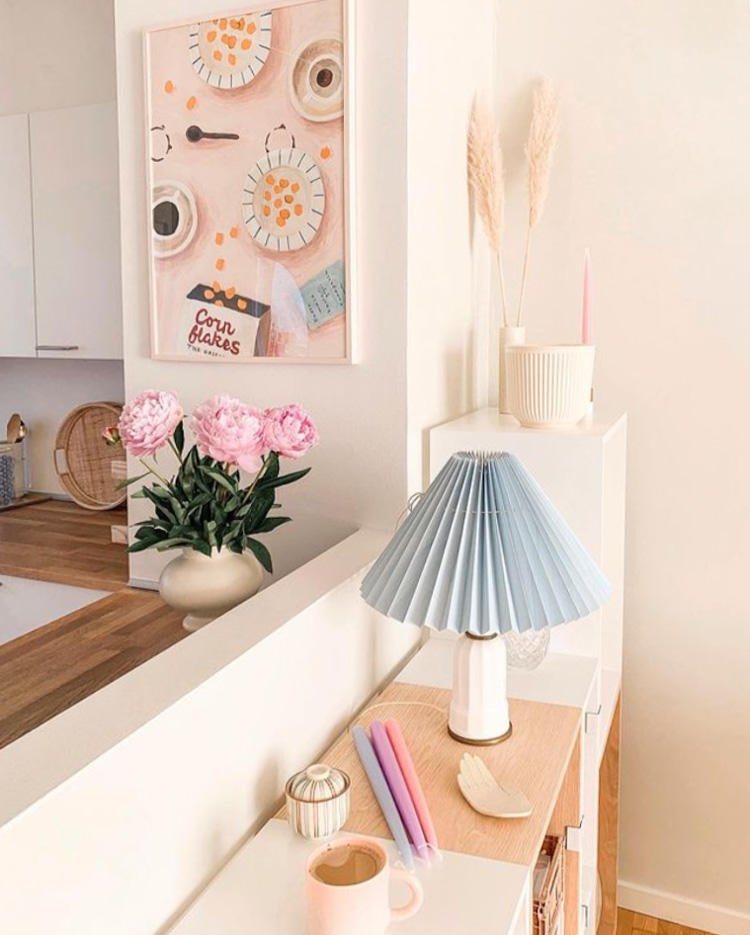 Table lamps bring a fun element to the decor in a Danish pastel room, but apart from that, it provides a much-needed soft light to your room which helps in achieving an aesthetic room feel. They come in various shapes and sizes as per your need to add some style to your pastel decor. Pleated cone-shaded lamps, mushroom-shaped lamps, and pastel lotus lamps are some top choices of lamps for Danish pastel decor. It doesn't necessarily have to be a unique shape; it can be a regular lamp with wavy lines and pastel colors to fit right in the decor scheme.
6. Danish Pastel Bedding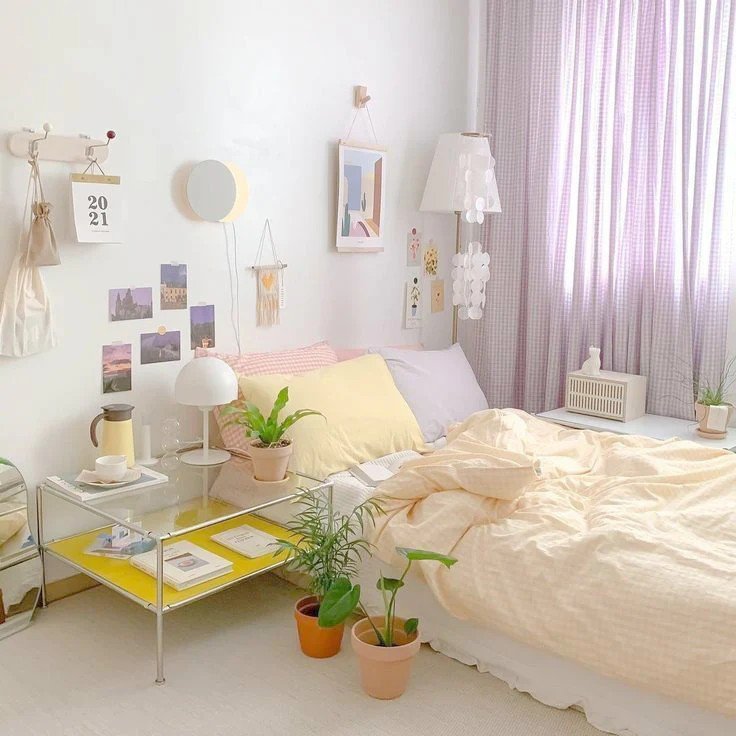 A soft, plush, and comfortable bed is the most important feature of a Danish pastel room. You can add patterned pillows, blankets, and bedding sets to make it all the way more appealing. Checkered, floral, and gingham patterns are quite popular when picking up bedding. If your room is full of too many patterns and colors, you can balance it with white or light pastel bedding. Decorate it with a cute shell or daisy-shaped cushions and a throw blanket. The bedding is usually lowered to the ground to create an open and airy atmosphere in the room.
7. Decorative Jars and Vases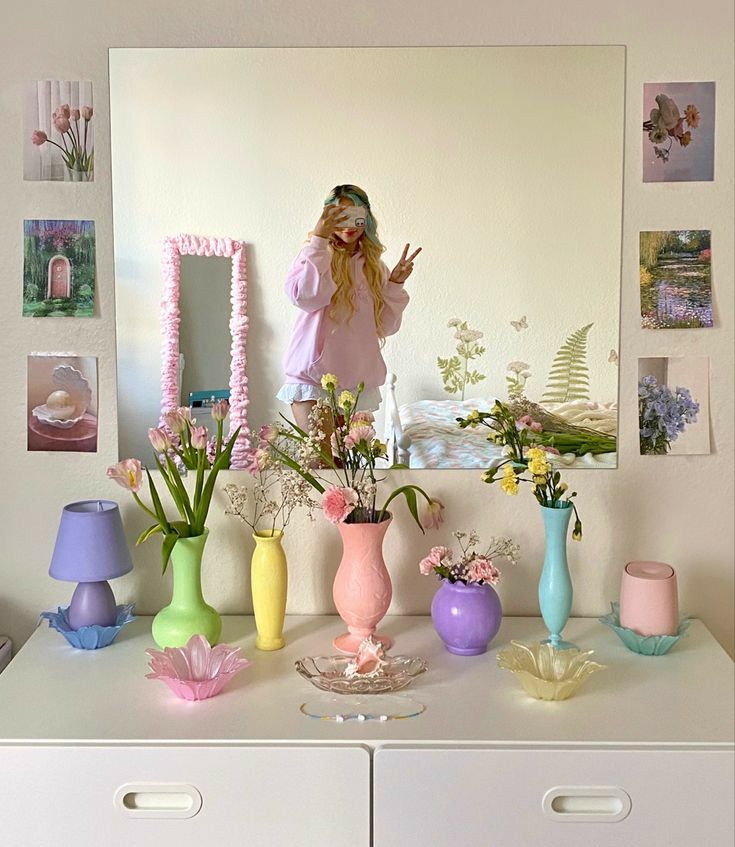 Decorative jars and vases are show stoppers that make your room look like a Swedish summer aesthetic dream. You can pick up a combination of different colors and shapes of vases and jars to arrange in your space to really up your Danish pastel aesthetics game. They come in funky shapes, different colors, and unexpected textures with a super smooth finish. They look so aesthetic that they can be placed just to add texture to your room. But you can use jars to store anything from makeup brushes to candies, and you can add fresh flowers in some of the vases to complete the look.
8. Danish Pastel Blankets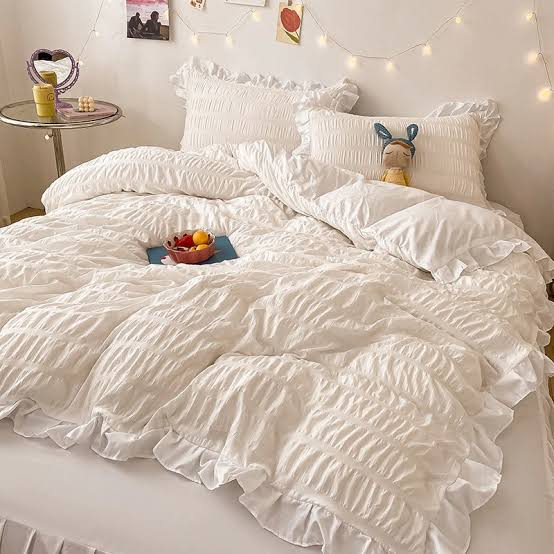 A blanket on your bedding automatically makes the room cozy and inviting. A soft, fluffy blanket is an important element for your Danish pastel room decor. They come in various patterns and colors. A checkered patterned blanket in bright hues is a very popular choice, but you can also go with one with cute hearts and flower detailing as per your preference. With just the right pop of color, these blankets add interest and dimension to your room. Whether you like something classic or bold, plain or detailed, they come in all types, and there is something for everyone.
9. Wallpaper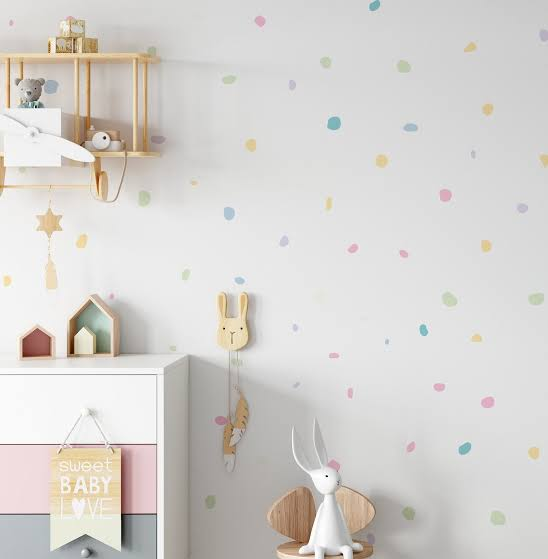 Covering your walls in Danish pastel wallpaper is a playful and joyful way of mixing shapes, patterns, and colors. These wallpapers come in simple, light, and happy colors with a Scandinavian balance of clean-lined silhouettes and organic, curved lines. These funky wallpapers represent the Danish style of keeping it colorful and lively while being minimal. You can cover every wall with it or just make one wall highlight. Easy to use, peel-and-stick wallpapers are very much in trend because they are a very convenient way to create a look without making a mess.
10. Wall Frames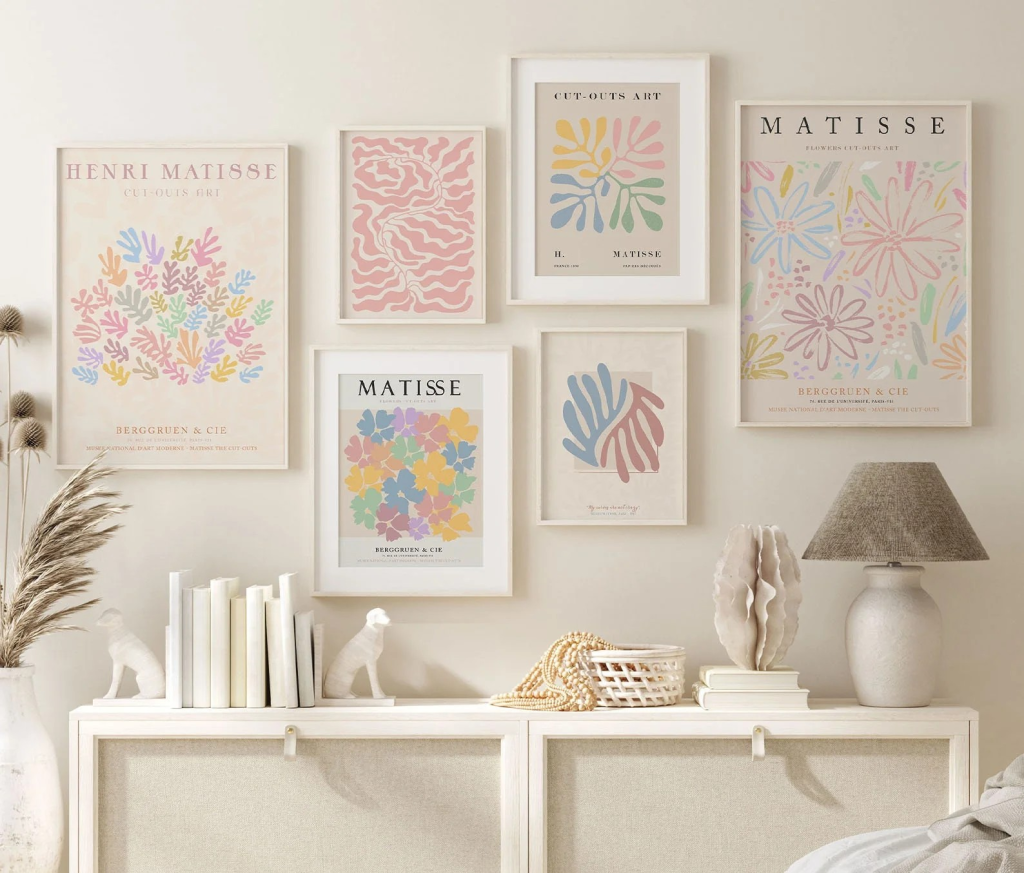 You can decorate your Danish pastel room wall with frames of art; you can place them singularly or in groups to create a collage. Choose artwork that inspires you and makes you feel good because the frames tell a lot about your interest and personality. Danish pastel frames are inspired by Matisse and include organic shapes and patterns in beautiful pastel tones with a pop of vibrant colors in them. Due to the increasing popularity of this aesthetic, there are a lot of printables available online. You can download them, print them and frame them yourself on a low budget to decorate the walls.
11. Danish Pastel Desk Decor
A desk is an essential part of your room. But when you are aiming for a Danish pastel aesthetic, how you decorate it is also very important to make a statement. Add some organizational items in pastel colors, or you can even pick cute pastel electronics. To keep it functional and stylish, you can use a pastel jar or container to keep your stationary or accommodate a pastel study lamp on the desk. The idea is to stick to the theme, even with the basic things like mouse pads or storage crates, to make it functional yet stylish.
12. Open Wardrobe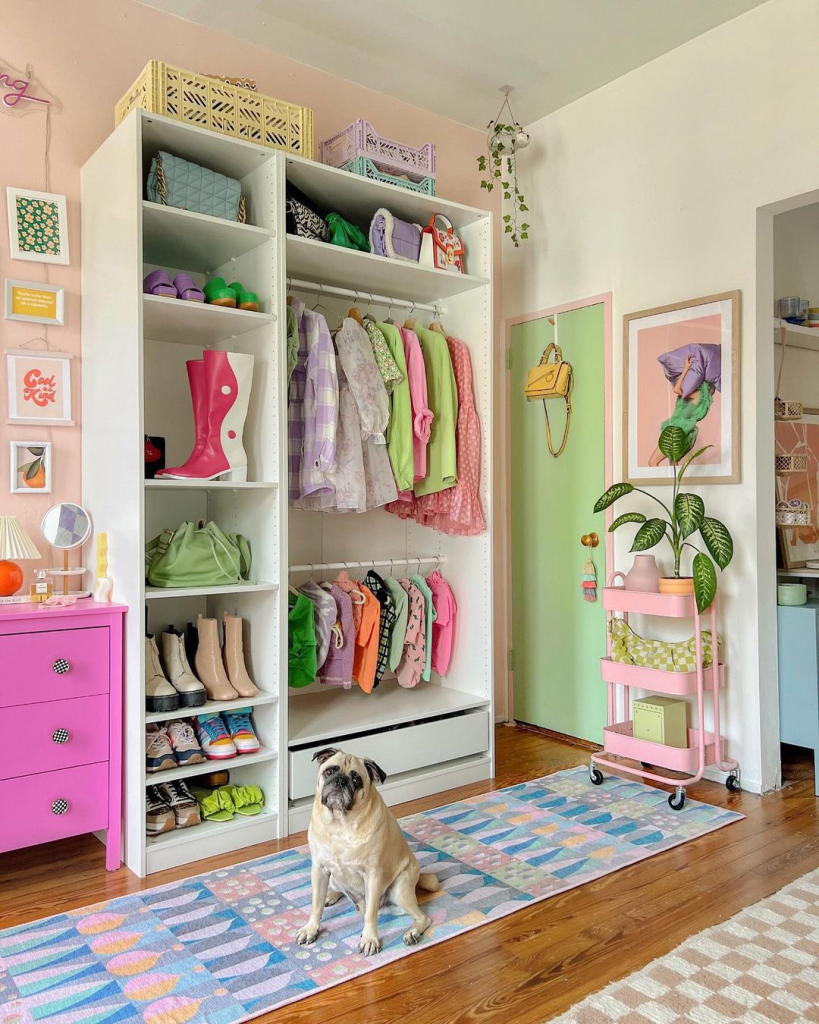 Danish pastel decor is about cute and comfortable decor, but it is also a lot more about keeping things organized, clean, and functional. An open wardrobe in your Danish pastel aesthetic room makes it purposeful as well as aesthetic, but it is quite necessary to keep it organized to make it look good. Otherwise, it will just be a mess. You can make your wardrobe attractive by shelving your items in different ways; you can also highlight your favorites by making them a focal point of your wardrobe. Minimalism is the key here, do not overstuff your wardrobe, and do not buy what is not necessary.
13. Pastel Flowers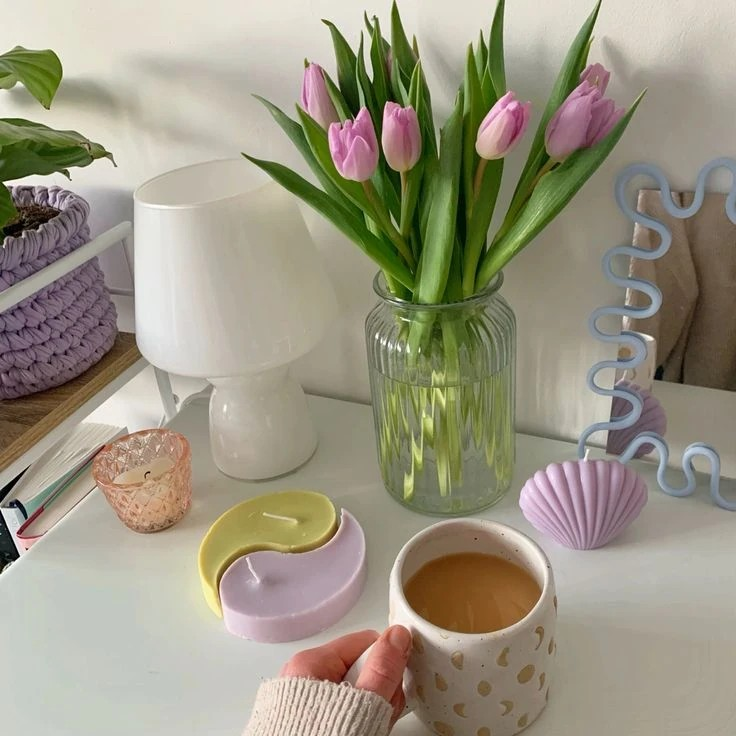 There is nothing that can beat the beauty of natural flowers and the feel that they bring to a place. Among everything pastel and cute in your Danish pastel room decor, we cannot miss pastel-shaded flowers. Between everything clean, shaped, and geometric, fresh flowers bring a very fresh and airy feel to your room. Daisies and tulips in pastel shades go very elegantly with Danish pastel decor, but you can always pick any flowers that match the color scheme. When placed in that uniquely shaped jars or vases, they look beautiful as ever.
14. Posters and Artworks
Danish pastel posters are a great way to add fun colors and characteristics to your walls without spending too much. Matisse posters are quite popular, and you can print them up in different sizes to create a poster wall. Posters can feature your favorite quotes, things, or pop band; there is no limitation.
Whereas artwork adds a structural element to the walls. Using record discs on the wall is quite a trend these days. Similarly, you can also place butterfly and flower cutouts in groups on the wall. If you are a DIY kind of person, there are numerous inspirations available to self-create your artwork for the Danish pastel room.
15. Plush Pillows
Pillows in a Danish pastel room work for aesthetical as well as functional purposes. These decorative pillows tie in color accents within a room and also give a very casual feel which feels inviting. Pastel plush pillows come in very interesting shapes and colors. Shell-shaped, flower-shaped, and butterfly-shaped pillows are very popular in creating this aesthetic. These cushions come in a velvet finish and look extremely adorable when placed on your bedding or sofa chairs. You can match them with your rug or your curtain color if you want, or you can pick a dark-shaded one to create a pop effect.
16. Pastel Accent Rugs
Complete a Danish pastel look with accent rugs which are a delightful addition to your room. With their cute patterns and soft colors, they bring a touch of elegance and charm to your room. The uniquely shaped pastel aesthetic rugs are made with detailed designs and are known for their high quality and durability. Daisy, cloud, and shell-shaped rugs are quite popular, but curvy checkered patterned bright-colored rugs are also widely used. Accent rugs can be used in bedrooms or living rooms to create a cozy and inviting space for everyone.
17. Danish Pastel Furniture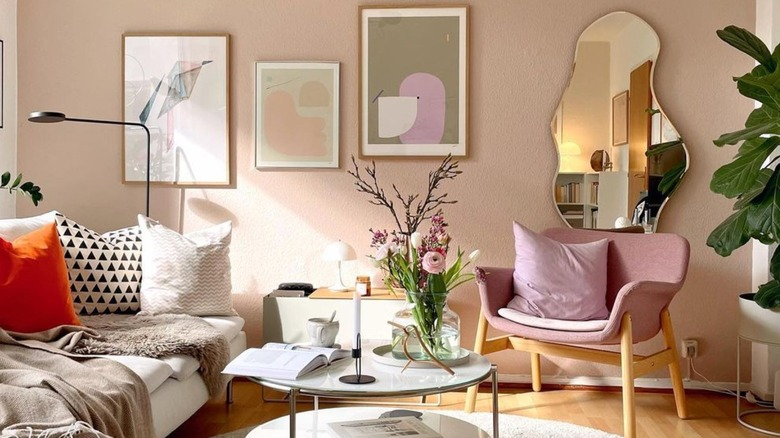 Add style and practicality to your room with Danish pastel furniture, as they are not only cute but functional as well. They come in neutral pastel colors with minimal and modern shapes and designs. It can be a wavy pastel nightstand, a full-length mirror, or floral-shaped shelving. Each piece of furniture has a unique shape and distinguished structure, which makes each piece stand out while also creating a complete look for your Danish pastel room. You can buy this furniture in any pastel colors, or you can keep them all white, which will look very classy and create a very interesting contrast with the colorful vibe of the room.
18. Tiny Additions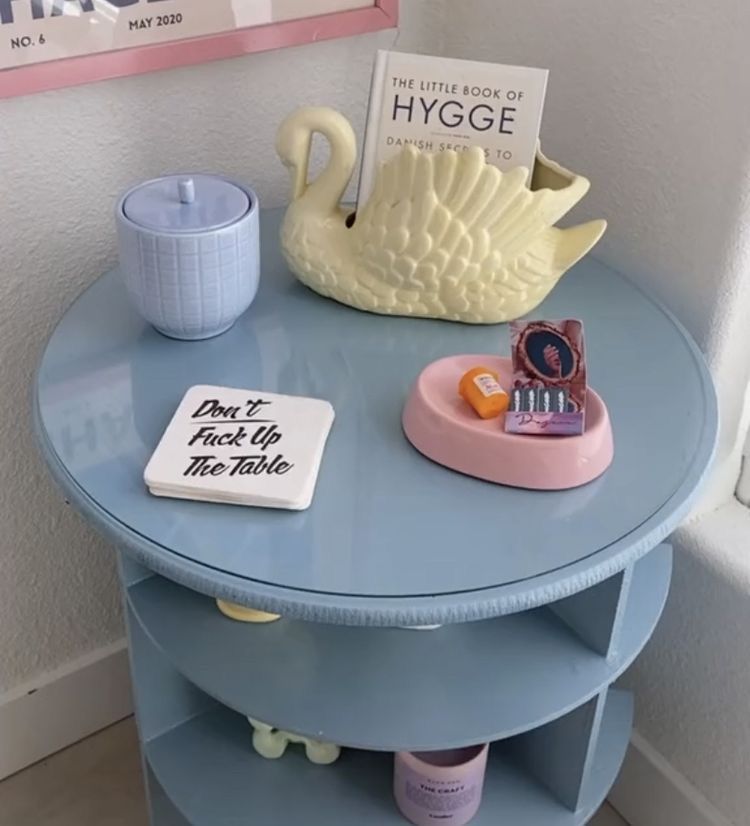 Tiny things may look nonsignificant to you, but it makes a big difference in the overall appearance of the room. A unique squiggly picture frame for your side table or top shelf, pastel candle stick stands that come in out-of-the-box shapes, or a checkered jewelry dish to keep your tiny things in place. These small things look extremely cute and are purposeful too. You can find them online or in any local market, keep looking and get something that matches your style, aesthetics, and vibe. Keep them in different spots of the room to make each corner aesthetically pleasing.
19. Faux Vines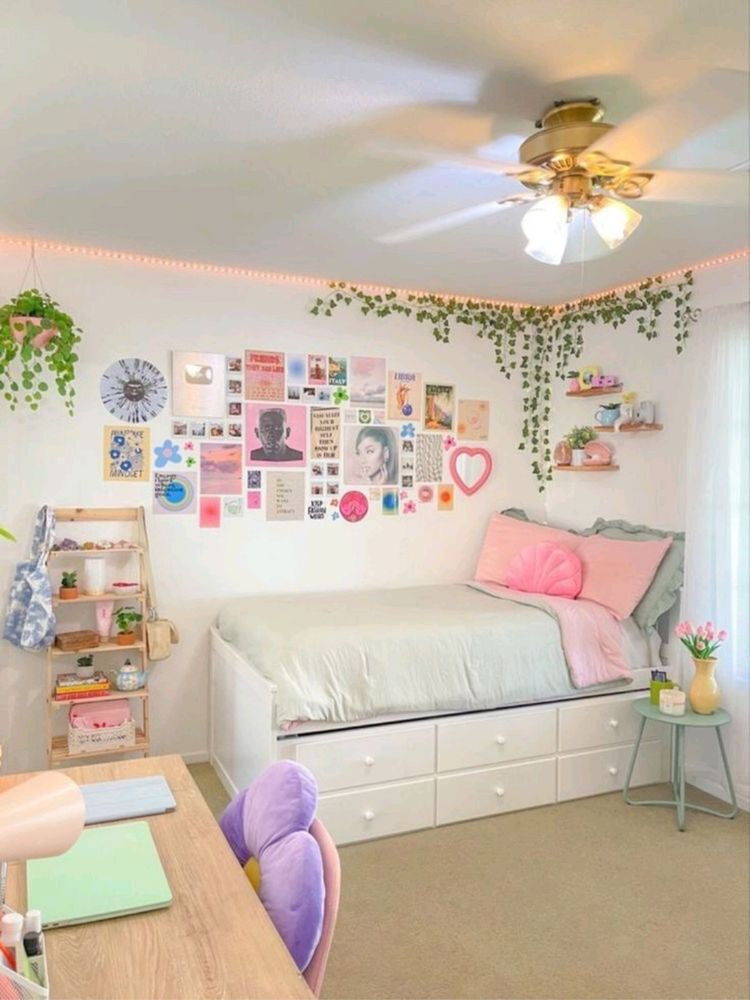 If you have seen Danish pastel rooms online or even in person, you might have surely spotted this element in them. Faux vine strands add a very fresh vine by bringing in greenery to your otherwise pastel room. These vines are usually used to decorate the part of the walls that touches the ceilings. You can drape it all along the line or just some part of it and let some of it down for a natural, organic feel. Vines are quick and easy to work with, and they look amazing on the corners of your Dani pastel-styled room.
20. Wall Hanging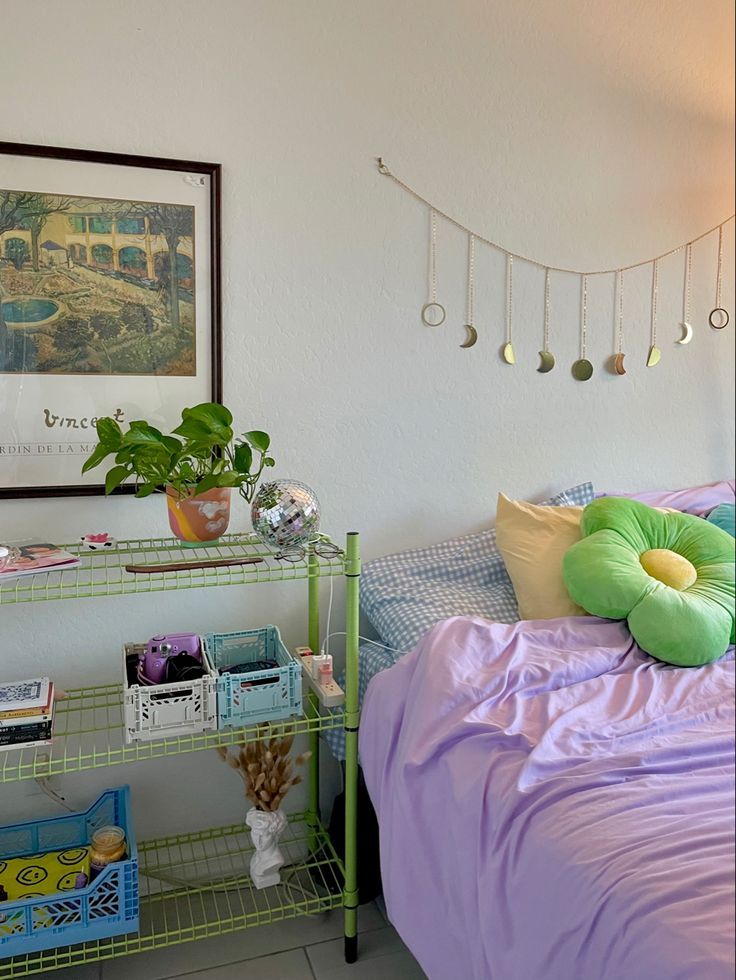 Danish pastel wall hangings add a touch of elegance and charm to your room. They are versatile and visually appealing, which creates a focal point to improve the overall ambiance of your Danish pastel room. Delicate macrame design hanging in pastel colors or minimal geometric shaped ones in natural texture complements the soft textures and color palette of the room. This phase of the moon hanging is quite a favorite among pastel decor enthusiasts to complete the look. These pretty garlands can be displayed on the headboard, shelves, or the wall according to your idea of the space.
Conclusion
All in all, Danish pastel aesthetics are here to stay, and it is gaining more popularity day by day. The best thing about them is they are easy to recreate; you can blend in your taste and details in any Danish pastel room design you watched on tik tok or Instagram to make it yours. You can take inspiration from anywhere, and the above 20 Danish pastel decor ideaswill guide you on all things you need to add to complete the look.
Danish pastel designs are meant to look electrical, personalized, and collected. If you do not get everything to your taste all at once, you can source your pieces from different antique shops, small businesses, and local stores. You can even DIY wall art or a wall hanging if you are looking for something particular.
Danish pastel rooms are so much in trend, and now is the perfect time to make it yours!