Do you have oakwood kitchen cabinets? You take your thoughts to your grandmom's era, isn't it? The honey-glazed cabinets and the woody smell of oakwood takes you decades away from where you are. You have those kitchen doors that are heavy and arched.
Therefore, you may feel that the design ensemble these kitchens have does not gel with modern-day kitchens of today. But, if I were to tell you that there are plenty of ergonomic ways to make your oakwood kitchens modern, would you be able to believe me? The answer is yes, you can!
You can go for DIY techniques for revamping your kitchen spaces. This way, you do not have to spend your entire wallet on modernizing your kitchens. Say, for instance, you can add colorful wallpapers against changing the tiles of your kitchen cabinets. You can think of budget-friendly ideas on how you can make oak kitchens super cool and ultra uber.
Let us unveil interesting tips and techniques on how to make oak kitchen cabinets look modern.
1. Getting Stains Done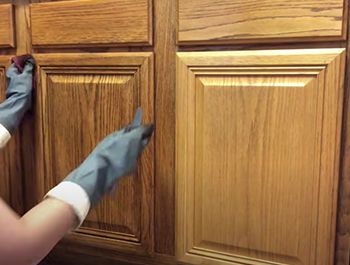 To revamp your oakwood kitchens, this is a simple trick you can get hands-on too. If you have a look at it, traditionally designed oak cabinets have that brown color with ornamental detailing added to them. To give this a new makeover, you can try getting it the varnish stained. When you add pretty-looking stains, you add brand-new aesthetics to the existing setup indeed.
A stained finish can also upgrade the quality of your cabinets while still allowing the natural oakwood to gleam through. Again, you can add darker stains for those polished touches. This way, you move degrees away from that honey color of traditional oak wood cabinets. You can add some sheen and gloss to the stained oak grains, after all. You can have a furniture designer help you do a matte finish too. This way, your oakwood kitchen cabinets can look posh and sophisticated.
2. Would You Give Your Doors a Makeover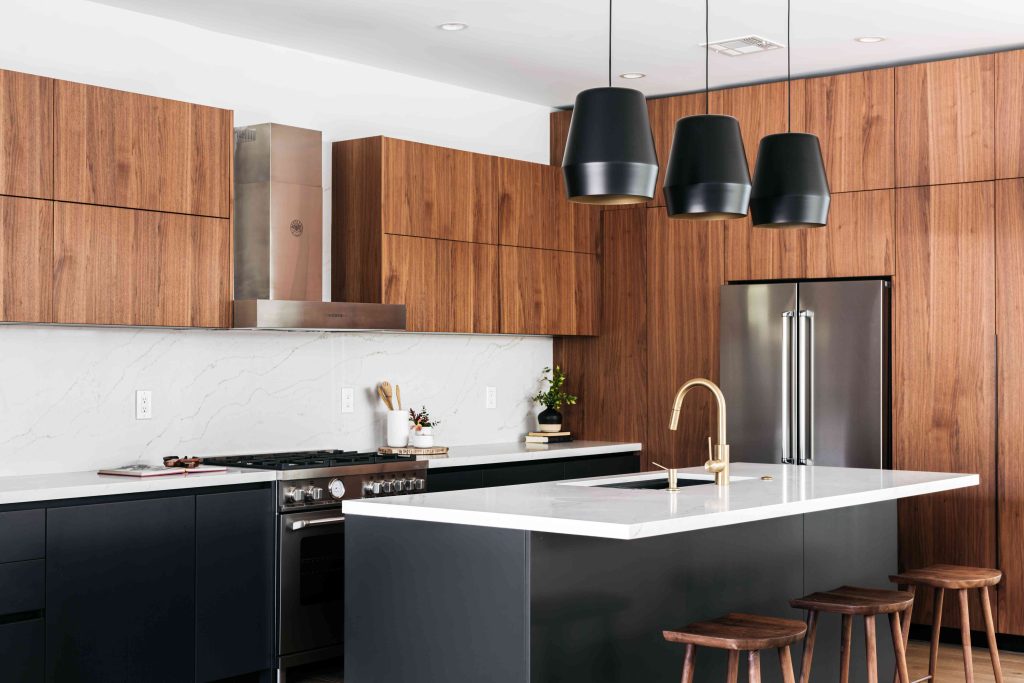 Oakwood kitchen doors are typically bulky in nature. These doors are usually heavy and arched. You can try adding flat or slab doors to give your kitchens a fabulous makeover. Slab doors look quite trendy and help give your kitchen space visually pleasing looks. You also want the doors to be sturdy and durable indeed.
You want the slab or flat doors to shine through the natural form of oakwood too. These doors lend sophisticated aesthetics while helping you maintain the traditional form of your woody kitchens. Slab doors can be done using designer styles and splashy hues too. You can also have a word with your interior designer so that you have a cue on other trend-setting door models too.
3. Plug and Play with The Hardware of Your Cabinets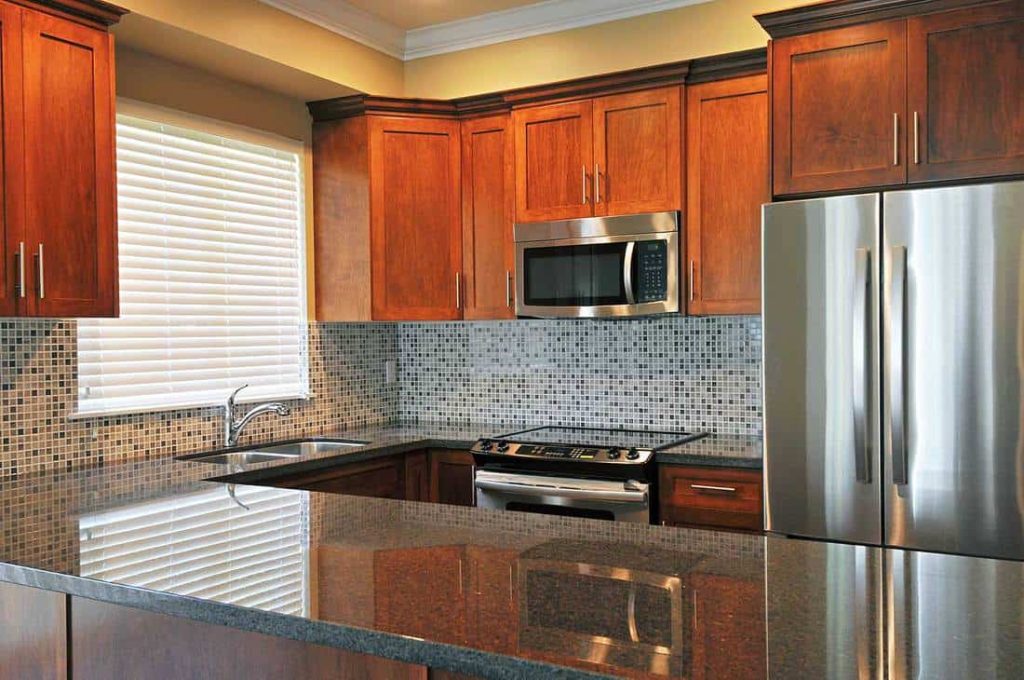 Adding fun-loving vibes to the oakwood kitchen cabinets can again be a brand-new pullover. You play with the semantics of the cabinets involved. Adding modern hardware into traditionally designed cabinetry is something you can look forward to. To have an ultra-modern appeal with the cabinet doors, you can look for long or oversized pulling mechanisms out there. This way, when you want to pick food staples that are bulky, you look for slim doors that are easier to work around.
Flat panel cabinets have exciting handles to take care of doors and drawers that are full-length. In order to give a sleek look to your modern kitchens, you would have to go in for light accent hardware, after all. This way, you do not add that extra pressure to your doors. Square-shaped handles are lightweight and look modern. You can include push-hinges or underpulls while designing modern cabinets.
4. Would You Mind Changing the Grain of Oakwood
If you look at it, traditionally designed oak kitchens have doors and cabinets that have vertical graining onto the surfaces of the wood. To add a modern makeover to your kitchen, all you gotta do is, play with the graining patterns of the wood. You can add horizontal grains instead of vertical ones.
You want the natural look and gleam of oak to shine through. At the same time, you want the kitchen to have a trendy appeal too. By re-engineering the grain patterns, you easily convert the look of your kitchen from traditional to that modern. When you add horizontal grains to your kitchen's cabinet doors, the oakwood gets a differentiated look from traditional patterns. Horizontal lining can be done for red as well as white oakwood. Horizontal lines to white oakwood are getting trendier among kitchen designers out there.
5. Redesigning the Countertops Unveils the Magic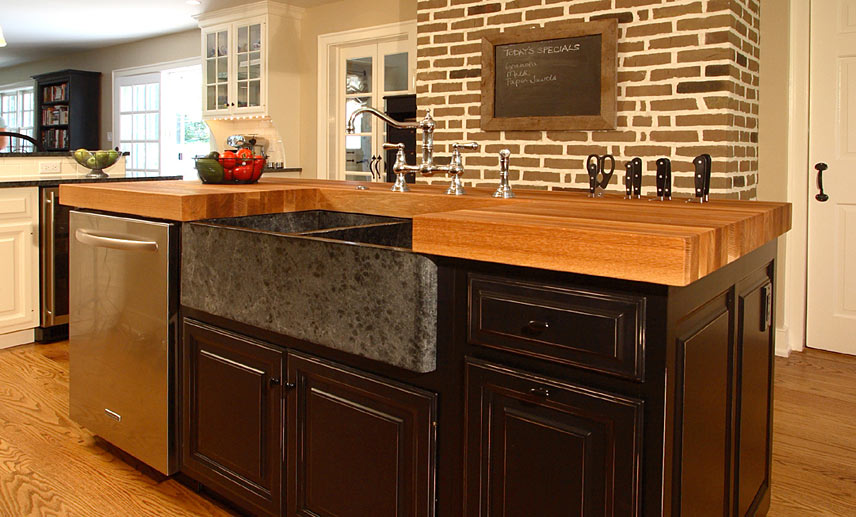 Get the countertops redesigned for more eclectic looks of your oakwood kitchens. Look for painted counters to lend cooler vibes to your traditional oakwood kitchens. The cabinets can be painted using an alluring number of shades altogether.
Paint the cabinet doors using darker or more contrasting shades. For instance, you can paint neon orange for sink countertops. While for the upper floors of cabinets, you paint using lemon yellow or sky blue. Contrasting shades can lend ultra-modern vibes to your oakwood kitchens. There are quite a number of DIY styles to revamp kitchen counters when you browse online.
6. Adding Streaks to Marble Countertops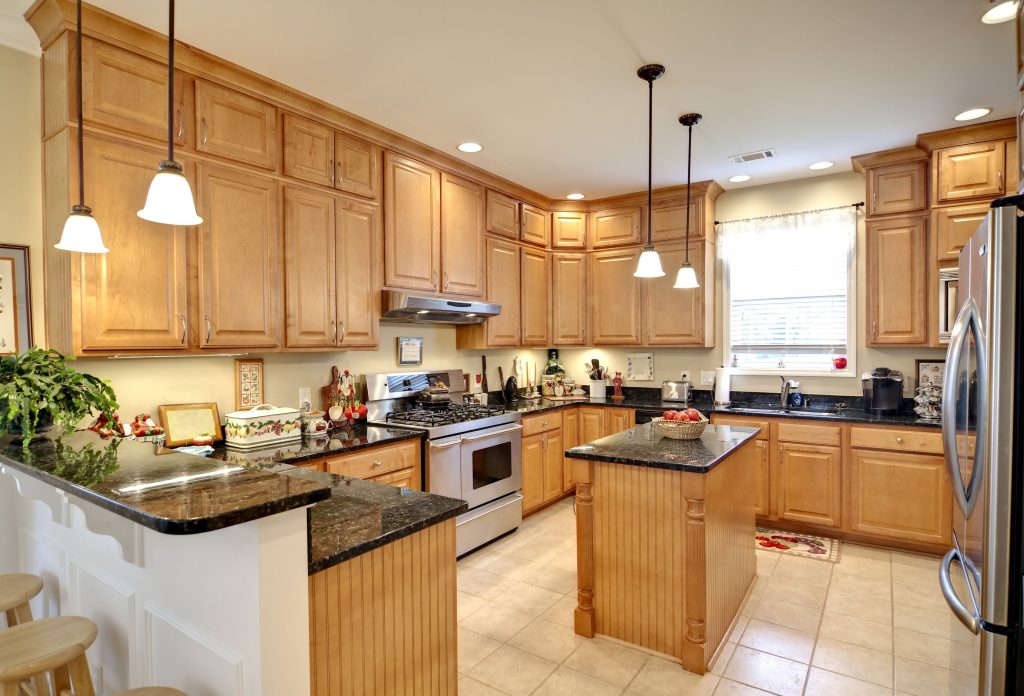 Go a little DIY and get creative, after all. You can allow a furniture designer to add marble streaks to your sink or overhead cabinets. The counters can be given a marble or golden sequin-style streaking, after all. Wallpaper decals can also be added to your kitchen countertops. Add geometric patterns or go for freehand curves to redesign your oakwood kitchens.
Including dual tones on your kitchen shelves can also be a voguish idea indeed. The lower deck can be given lighter tones, while the upper deck kitchen doors can have brighter varnish strokes. A dual-toned look can out beat the traditional look of your kitchen spaces. You have the lower deck cabinets polished with lighter staining, while the upper deck cabinet doors can be given a darker oak staining. A dual-toned look can accentuate the look of your kitchens on the whole.
7. Floating Shelves In Vogue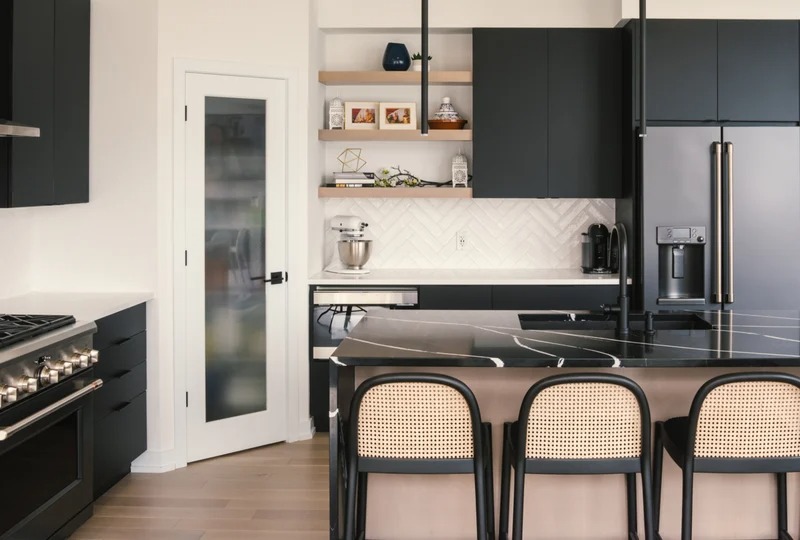 This is another design technique you include in your oakwood kitchens. Add floating shelves to replace traditional cabinets. With this redesigning technique, you bring more of the natural wood look into your kitchen spaces. The oak cabinets are for the base or inland shelves, while you have floaters for the upper-deck cabinets.
Here, you have fixed cabinets camouflaged with floating oak cabinets. This can enhance the two-toned look of your kitchens. The traditional design of your kitchens gets a brand-new makeover. Designers focus on minimalist trends for today's generation, and the less is always more. Detailed ornamentation of traditional oak cabinets is removed, and more sleek designs get added up.
8. Adding Glass Windows to Your Kitchens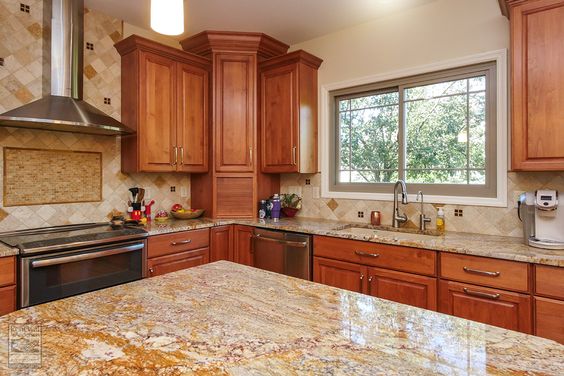 To add a fashionable touch to your oak-based kitchens, you can give this idea a try indeed. You can add new and stylish French windows that have transparent glass in each of them. Add some potted plants, too, by the window sill. This is a natural makeover you can give to your otherwise dull or boring kitchens.
The oakwood cabinets or doors shine through the ventilation the windows can provide the kitchens with. Add good dining chairs and a sophisticated table to lend classic vibes to your old-fashioned kitchens. You can keep DIY artifacts inside your kitchens. These are cool techniques by which you add trendy and eye-catching looks to your oakwood kitchens.
9. Stylish Wallpapers Unveil the Magic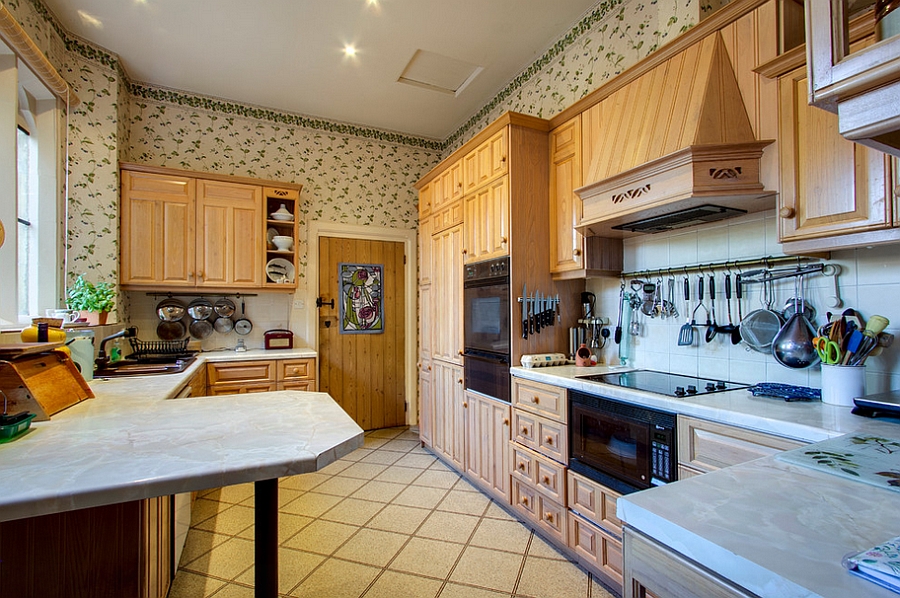 Get super-creative with kitchen-based wallpapers. Having kitchen themes like bread and breakfast options on wallpaper decals can be fun and exciting. You can paint attractive pictures of fruits and veggies on kitchen tiles. This way, you bring a brand new twist to your oakwood kitchen spaces, after all.
Include wallpapers that have visually pleasing images of the kitchen. You can have dark accent wallpapers for lighter-hued kitchen decor. Pastel wallpapers can also add pleasing vibes to your oakwood kitchens. Add wallpapers of cutlery pieces too. Consider using wallpapers or decals that bring ornamental value to your kitchens.
10. Spray Paint Your Tiles, Cabinets, and Doors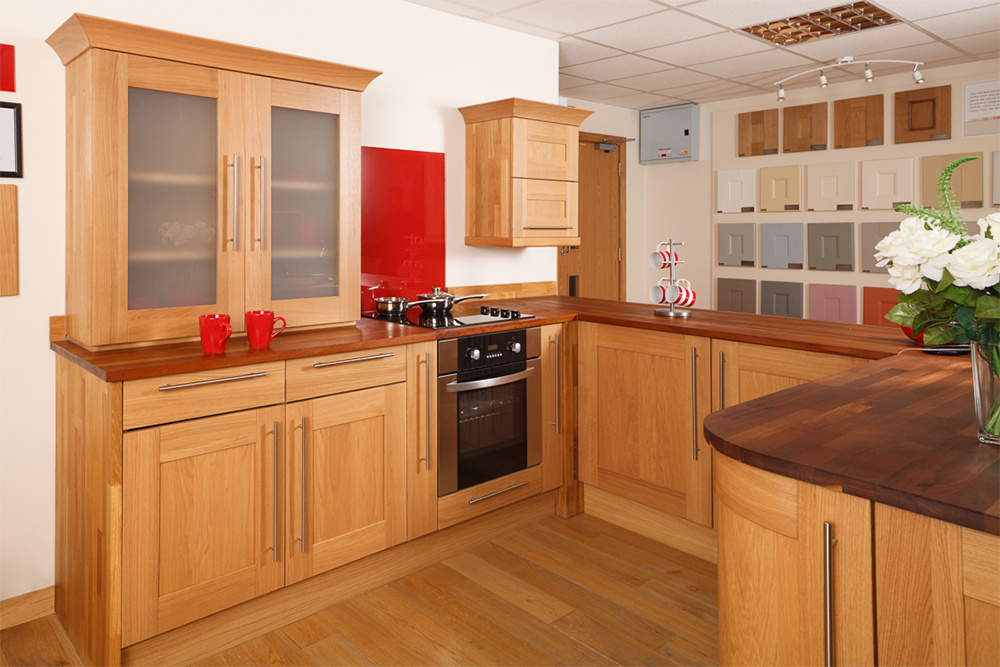 Get a little creative with acrylic or distemper painting cans to add cool vibes to your oakwood kitchen counters. Spray painting can be done using a variety of hues, and you just have to dip your paint brushes into each can. The kitchen tiles, cabinets, and doors can be spray painted in a colorful way.
This is a budget-friendly and dashing idea with which you create your statement for your oakwood kitchen cabinets. Add freehand curves and geometric patterns, or have fun with cartoon caricatures. Therefore, you lend posh and fashionable vibes to your traditionally designed oakwood spaces. Feel free to include themes with kitchen plates or foodie habits you are associated with.
Summing It Up
These are 10 creative ideas on how to make oak kitchen cabinets modern using a shoestring budget. Going DIY is the best way you work to bring plenty of invigorating ideas out there on the table. You add stain finishes, streaks, or paint to your heart's content indeed.
You add kitchen themes and wallpapers or decorate flower vases to redefine your existing kitchen spaces that are made from oakwood or teak. Giving fresh coats of varnish can add a more glossy effect to your kitchen spaces. Varnish cabinets, doors, or even granite countertops. Download easy-to-use tutorials that give you step-by-step instructions on how to install a DIY home decor project from start to finish.
You procure materials that are easy for you to work around. Using wallpapers, decals, or stickers is easy even for your kids to work with. Getting the family involved with modern kitchen spaces can help you destress or unwind better.
So, which is the styling tip you are going to use to revamp your kitchens?