Most of us think that the kitchen is the heart of any home, but on the contrary, a perfect dining room is. A dining room has been the place for more gossip, laughter, and sorrows of a family together than any other room in the house will ever see.
No matter where you live, having a meal together on a normal day or occasion is always considered heartwarming.
However, have you ever thought that piece lying in your dining room is more than a table and chair? No, right. An ideal dining room is one that has a perfect dining table, but while buying one, we often forget about the dining table's height.
We always look for size, occupancy, and seating, but dining table height is the last thing on our minds. If we break it to you, then it should be one of the essential criteria because no one wants to spend pounds on a piece of furniture that ends up being a waste.
What Should Be the Dining Table Height?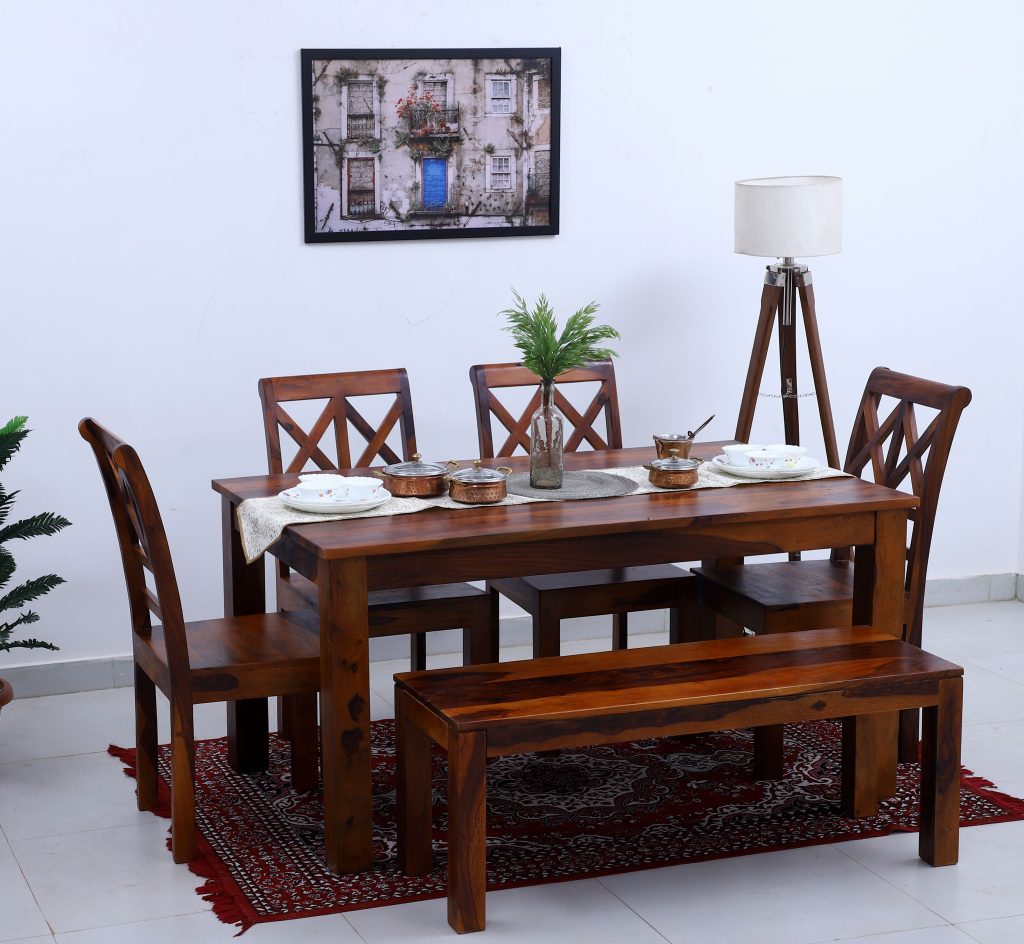 If you plan to buy a dining table for your house, the standard dining table height is 28 inches to 32 inches. Dining tables with height falling between these criteria are usually best paired with chairs, benches, and tools of 18 inches to 23 inches.
While looking for the right dining table height, you should always consider a minimum gap of 10 inches between the tabletop and the chair seat. Considering this will make sure that the seated person is comfortable and has enough leg space. However, this is not ideal in all cases because, for children, a shorter dining table height will be considered rather than the standard one.
Sometimes people often buy dining tables for existing chairs at their place. Hence, if you are using something from your heirloom, it is important to check the features of the chair and then decide upon the dining table height. For Instance, existing chairs in your house might have arms to them. In such cases, it is important to check that the dining table height is enough to let guests have space beneath for resting their arms.
Different Types of Dining Table Height Options Available
The market has plenty of dining table options, and height is a significant factor in all of them. Yes, you heard it right; different types of dining table height options are available in the market. Though the standard size chart for dining table height is 28-32 inches, there are certain tables that fall out of this category.
The different dining table height options available in the market are mentioned below.
1. Standard Dining Table Height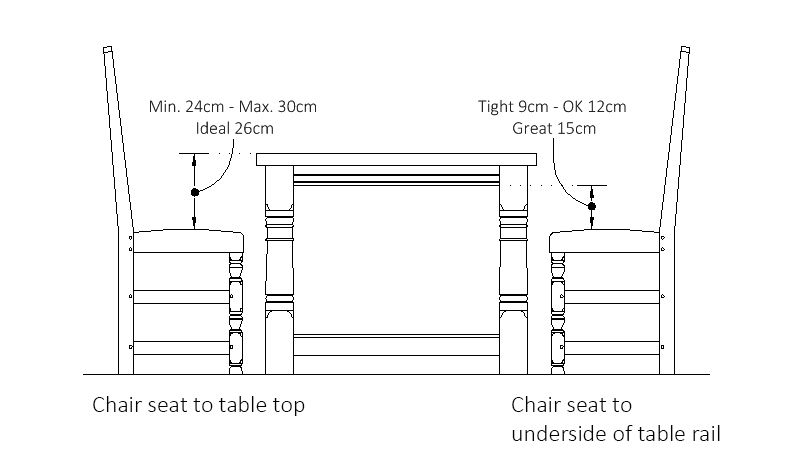 As we already discussed, a standard dining table height is usually between 28 inches to 30 inches approximately. It works perfectly with seating arrangements like stools, chairs, and benches of 18 inches to 23 inches.
Some of the reasons why you should opt for a standard dining table height are listed below:
It is a traditional and classic option preferred by most people for their dining room. It comes with a huge variety of options.
Due to the wide variety of options, you can get it in various styles, sizes, colors, textures, and finishes.
To most people, it is quite comfortable, and they can comfortably keep their legs in a resting position on the floor.
Apart from this, it is also perfect for people who have kids at home or someone with a wheelchair.
2. Counter Dining Table Height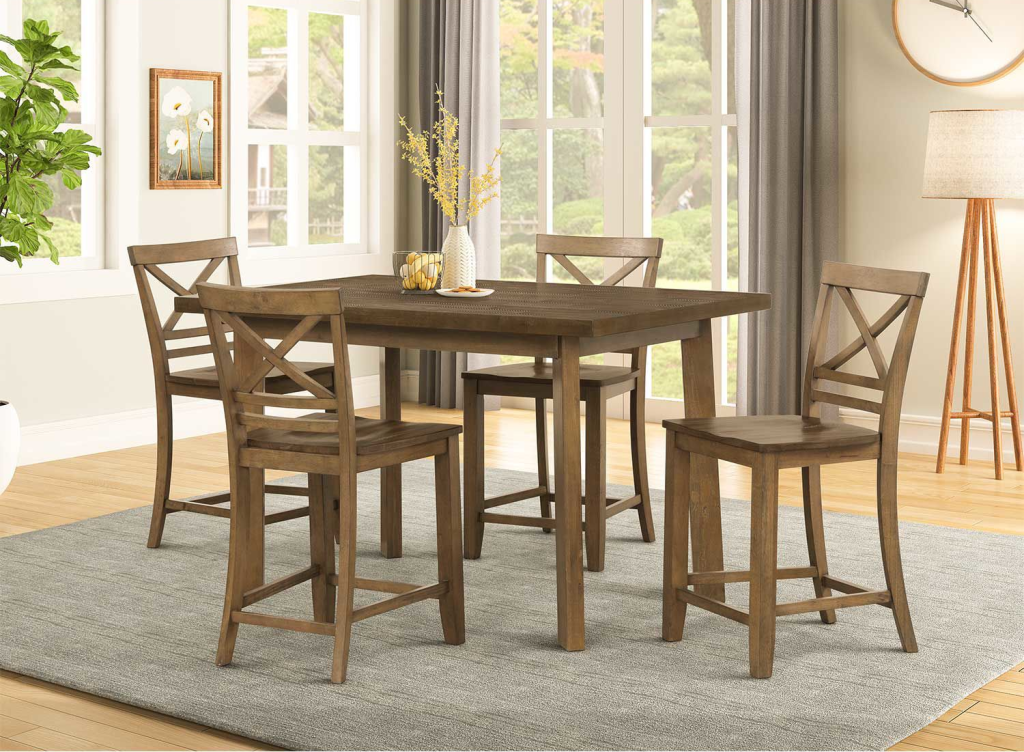 Counter dining table heights are usually a little on the bigger side. Dining tables ranging between 34 inches to 36 inches fall under this category. These ones are usually perfect if you want something with a little bit of extra height. The chairs and stools with heights falling under 24 inches to 26 inches complement perfectly with this dining table height.
If you are also confused about why you should consider this one as your option for dining table height, then we have listed a few possible reasons for you.
Choosing this dining table height will give you something unique to showcase and not something basic.
It is perfect if you are someone who is planning to build an eat-in- kitchen setup for your house.
You can easily prep your food in the kitchen and then place your ready dishes on this table as it has quite a height.
It works best for smaller apartments and looks way more unique than the traditional style. You can have a more casual time with this dining table height.
You can easily use it for your drink parties as it will have ample height for you to serve as a perfect food and drinking table.
3. Bar Dining Table Height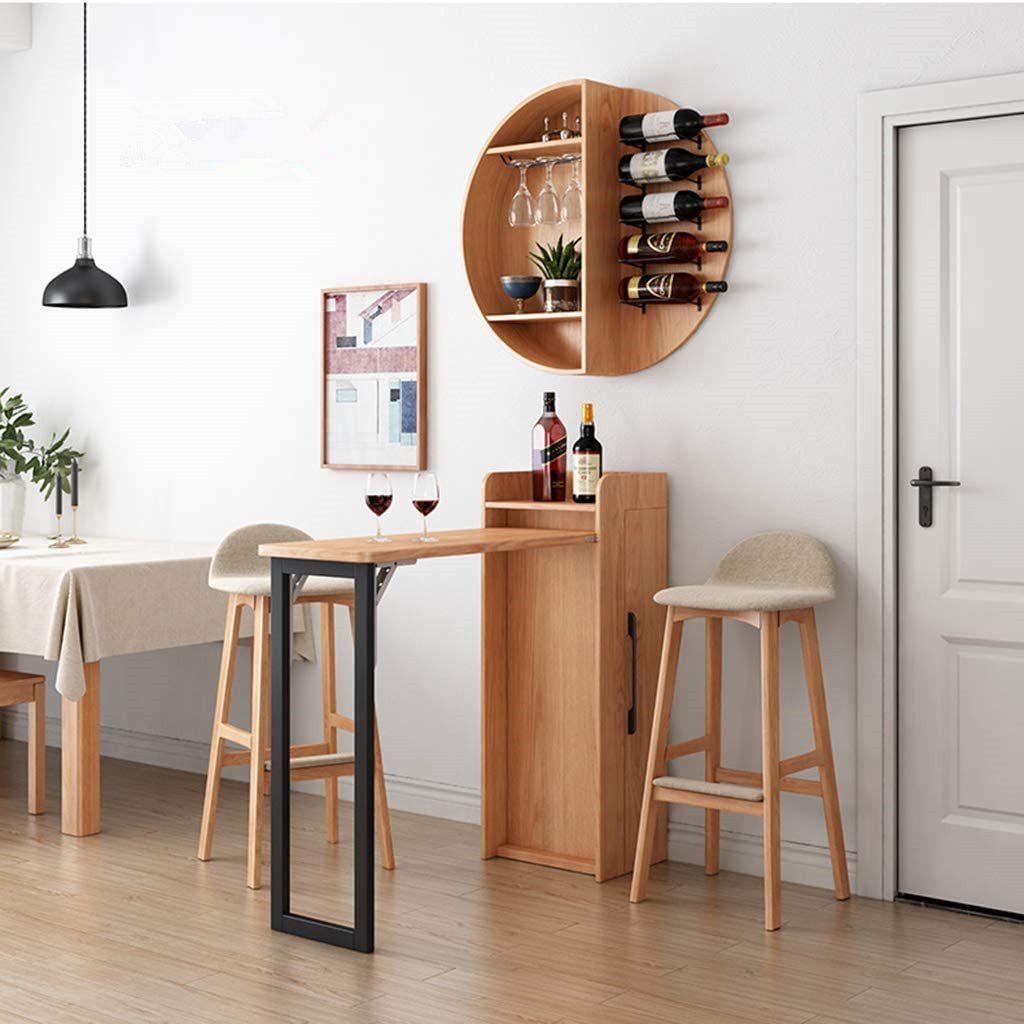 A bar dining table height is 40 to 42 inches table and works quite beautifully for the contemporary world. If you are a catholic, and people often end up at your place for after-office drinks, parties, and more, then this one is the ideal dining table height for you. These kinds of tables are usually paired with stools that have heights varying between 28 inches to 30 inches.
If you are planning to get something under this category of dining table height, then here are some obvious reasons for you.
It is a perfect social gathering table for your kitchen and dining area. It can be easily accessible for people who like to have a sip of their drink and eat food while standing.
The additional height of this dining table makes it more fun and takes it back from the traditional style.
You can add funky and stylish stools with this dining table height and make your dining area more entertaining arena.
You can easily switch between the seating and standing area as per the need and requirements of your guests.
Some Other Options as Per Dining Table Height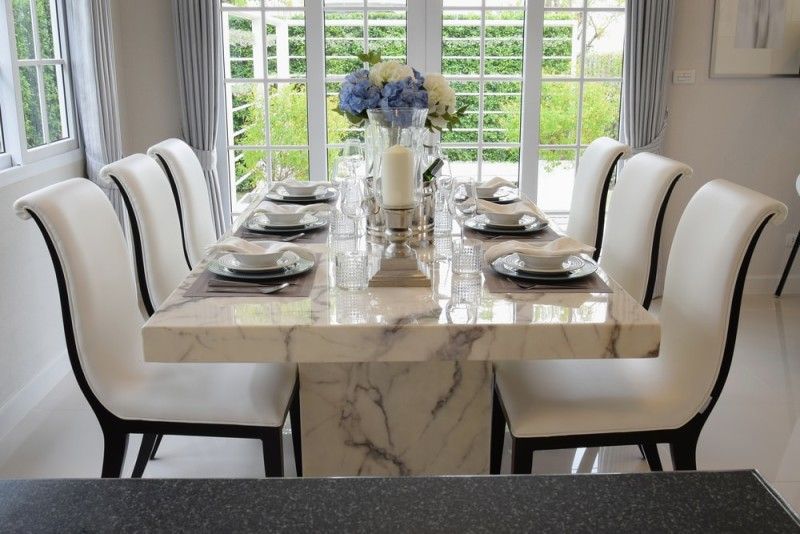 Moving forward, if you are still not satisfied with the above-listed options and want something different for your need. Here are a few other options available for dining table height for your dining room.
1. Adjustable Seating for Dining Table Height
Dining tables with adjustable seating are perfect for someone who has a family of tall and short people. You can accommodate people with different height groups as per their needs without investing much money and effort.
2. Chairs with Arms or No Arms
If you are someone who wants to add extra comfort with chairs with armrests, then this one is for you. You can easily buy a dining table with arms or no arms at your convenience.
3. Backless Seating Options
A regular chair set with backrests is usually at everyone's house. However, if you are someone who wants to think out of the box, then opting for stools without backrests is perfect. You can stools in any shape or size without a back and play around with your regular dining table height.
4. Rotating Seating Options
The next on our list is the rotating chairs. Rotating chairs are quite a trend these days, and many youngsters opt for this one. It is mostly paired with a bar dining table height so that people can rotate their chairs while enjoying the party easily.
How to Find the Right Dining Table?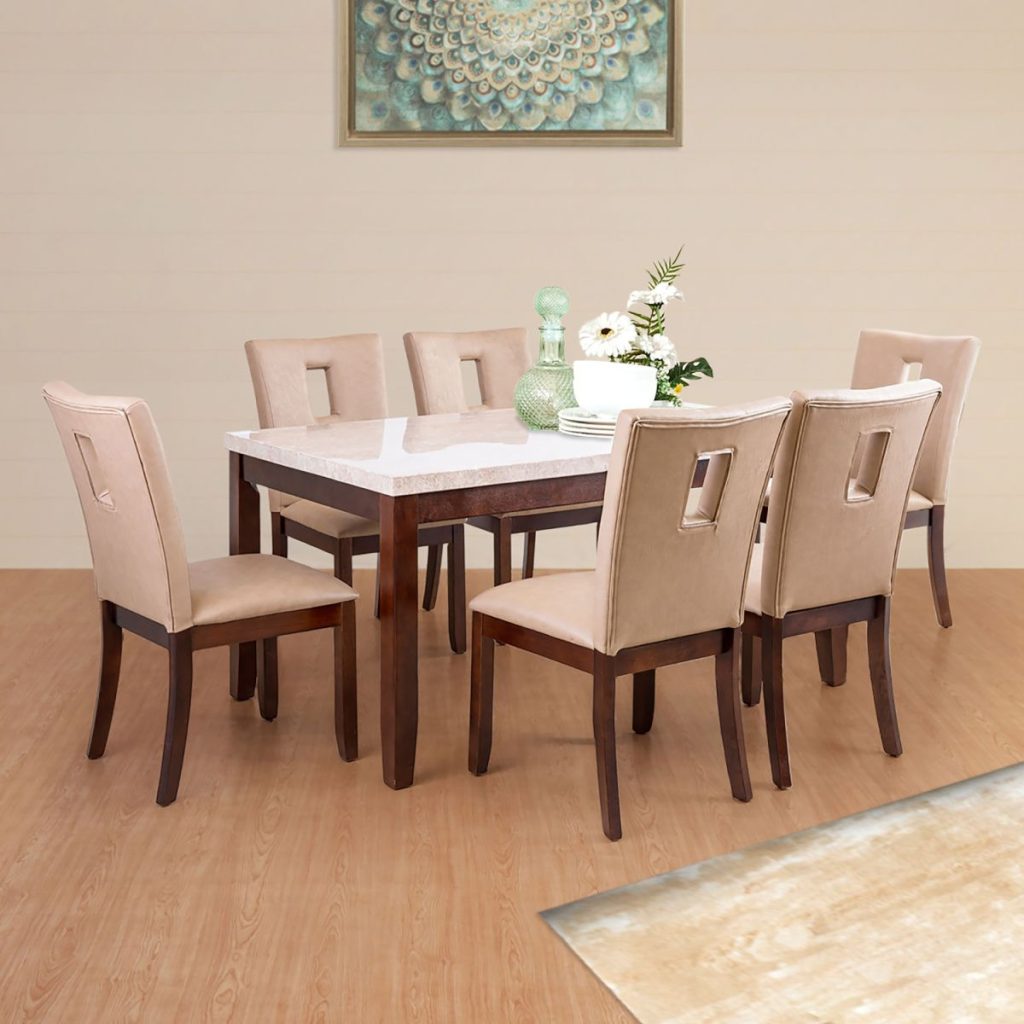 While choosing the right dining table height for your room, it is important to know what factors one should look upon. Whether it should be the size of the room, number of seaters or family, everything needs to be taken into consideration. Hence, to help you with all this confusion, we have made a list of all possible things you should keep in mind while buying a dining table for your house.
1. Size of the Room
The first and foremost thing to consider while looking for the right dining table height is to check the size of your room. If you have a smaller room with low ceilings, then a dining table with a lower height will work best. However, if you have a bigger area, you can buy something huge that serves everyone.
Apart from this, you should also consider breathing space. Your dining table should be at least 3 feet from each side. It is important while considering dining table height because a person should be easily seated. Start by measuring the width and length of your area and then subtract 6 feet from both of them.
2. Weight of the Dining Table
The next aspect on our list is obviously the weight of the dining table. If you have a bigger dining area, then you can go for heavy dining tables and huge seating. You can look for table tops in heavier material like marble too. It will consume a good space of your room, making it look lavish and royal.
On the other hand, if you have less space in your dining area, tables with lighter materials will look fine. It will give an illusion of a bigger space and can be easily shifted from one place to another.
3. Opt for Matching Shapes
Matching your dining table with similar-shaped chairs and stools is also a good option. If you are choosing a table in an oval shape, then chair backrests should also be in a similar shape. At the same time, a rectangular or square-shaped table will look better with similar-shaped chairs.
Apart from this, the shape of the room should also be on your list. Just like you are choosing to complement chairs with your dining table, it is important to choose a dining table as per the shape of your room.
4. Seating Capacity
Moving forward, the seating capacity is the next essential thing to consider while looking for dining table height. How many people do you have in your family? How often do guests visit your place? How often is your dining table used? All these questions must be answered before choosing the right dining table for your house.
For Instance, if you have a smaller or nuclear family and guests rarely visit your place, then a table with 4 chairs will work perfectly for you. Whereas, if you have a huge joint family, then a massive dining table with 14-16 chairs should be on your list.
5. Budget of Dining Table
Dining tables can burn a hole in your pocket. They can be more expensive than your entire sofa set and bed. Hence, choosing a dining table per your budget is essential. If you want something long-lasting, we suggest investing more, but if you want something temporary, look for an affordable dining table.
6. Material of the Dining Table
Last but not least on our list is the material of your dining table. If you want something bulky or vintage, choosing materials like marble and wood will be great. But if you are into something easygoing and temporary, then you should go for plastic-made dining tables for your house.
Summing It Up
We would like to add that choosing the right dining table height is very important. Make sure to plan beforehand and then explore options. Make a checklist of your preferences about size, weight, material, color, seating, and more, and then look for something that fits easily in that criteria.
It does not matter how small or big your dining area is. Rather, it is important to add a piece that seems like an accessory and comes to your full use. You can easily play with chairs or find something that works best with your existing chairs.
Also, you can choose different heights or arm and back styles for added fun and texture. Lastly, you can also play with colors rather than choosing something as basic as brown. Using your old chairs and adding a statement piece by choosing the right dining table height can do wonders!