Kawaii is a Japanese word that means cute and pretty. And, to revamp your room into a Kawaii-styled one, simply opt for pastel or neutral colors to have a brighter outlook. These adorable makeovers allow you to show off your creativity in building an eye-pleasing and comfy space for yourself.
We have curated a checklist of 15 Kawaii Room Ideas that you can try out to liven up your place. These ideas and Kawaii accessories are so captivating that you can't stop shopping for them. Surprisingly, these are readily available online and are pretty affordable too.
So, if you want to sprinkle happiness and joy all over your room, you should definitely try these pretty and cozy Kawaii room ideas.
Amazing Kawaii Room Decor Ideas You Must Try
1. Kawaii-Inspired Lamps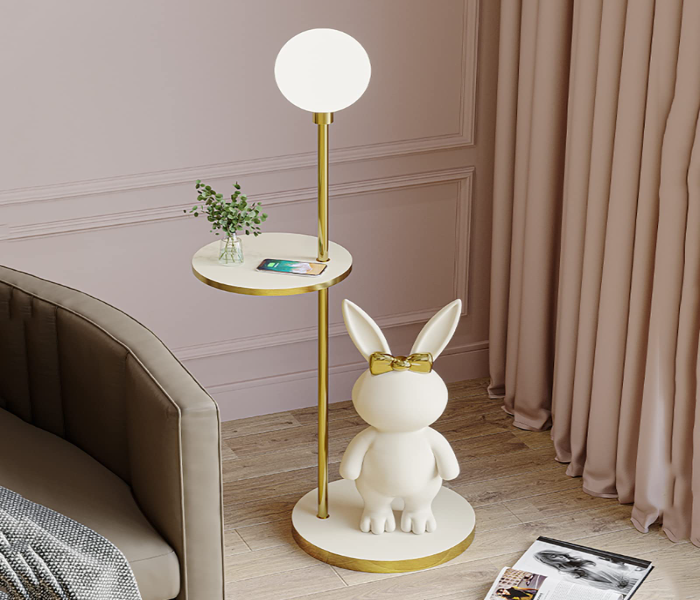 The most delightful and eye-pleasing decor item you can buy to make your Kawaii room charming is light lamps. It could be a cute Rabbit Floor Lamp made from resin and glass and quite durable with a whimsical design. And it will be like you have a cuddly companion by your bedside, glowing and lighting up the space.
You can also go for a Teddy Bear Lamp, which comes in different shades, casting a bright glow all over your room. You can place this soft, comforting teddy bear wherever you think is suitable, be it on your bed or side table. Apart from these, you can also opt for cartoon-shaped ceiling lamps, putting a big smile on your face whenever you look up.
2. Kawaii Keyboard and Mouse Set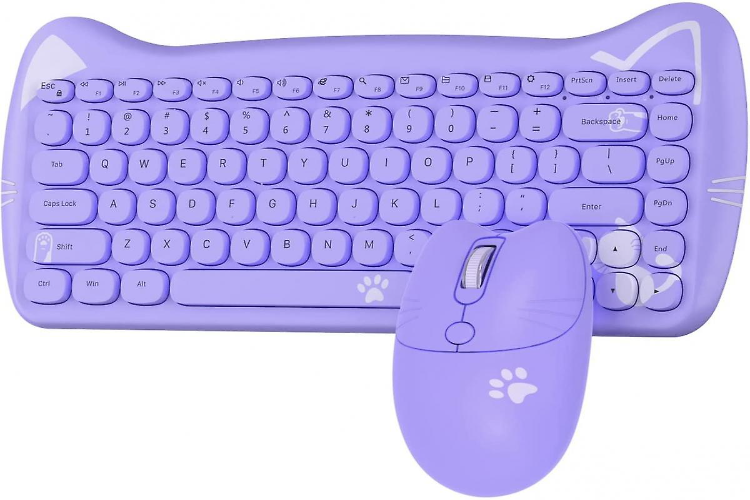 Try Kawaii Candy Cat Wireless Keyboard Mouse Set to give your tedious work a new look. This lovely find also comes with a wireless cat paw mouse, making it one of the best ideas to turn your place into a Kawaii room. It is a perfect gift for your cat-loving friends or if you are a big cat lover.
Both keyboard and mouse have cat ears on both ends, whiskers, and paw designs, giving a nice aesthetic touch. The Kawaii Keyboard also features ultra-thin independent keycaps for smooth typing. You can easily connect the set to your iPad or computer as it is both a practical and creative purchase you'll make.
3. Cat Plush Pillows for Your Kawaii Room
It's often said that squishing things when you are sad or angry helps relieve it. These plush cat pillows will release stress and anxiety and will surely put you in a good mood. They are super-soft, cheeky, and perfect for your bedroom, dining room, or office. You can use these squishy pillows while watching your favorite shows, reading a book, or taking a quick nap.
These pillows come in two colors- white and gray, and three distinct sizes- 13.5, 19.5, and 25.5 inches. It would be a great gift to give to your friends or children. These stretchable, reversible, easy-to-wash, and clean pillows start from $28. So, what are you waiting for? Order them online now.
4. Cat and Dog Bathroom Mats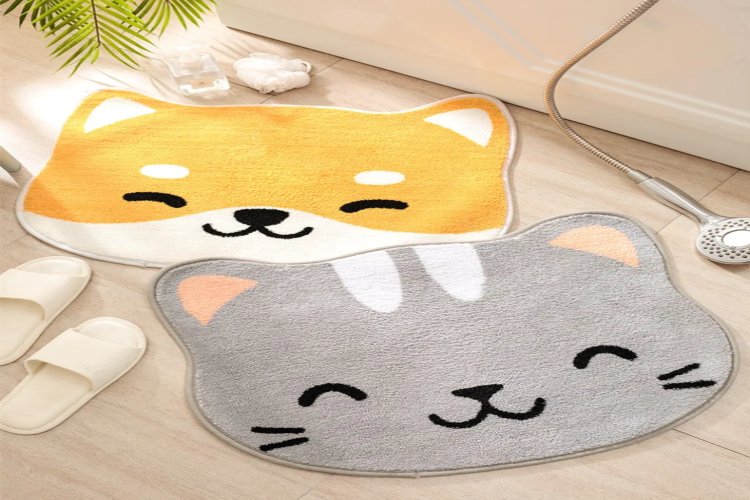 These animal bath mats are an ideal gift for a couple or pet lovers. You can either choose the Shiba Dog or Nebelung Cat mat or buy both. They are made with soft, high-quality polyester and have a non-slipper rubber back. So, if you fall quite often after bathing, these anti-slipper mats would be quite an excellent addition to your Kawaii room.
The edges are bound together to avoid entangling or fraying, so you'll not find its threads in the bathroom. And these super-absorbent animal-shaped mats are designed to soak up any spillage and keep the bathroom clean and dried up. It's a high-selling product that you can buy starting from $53.
5. Kawaii Pastel Bed Sheets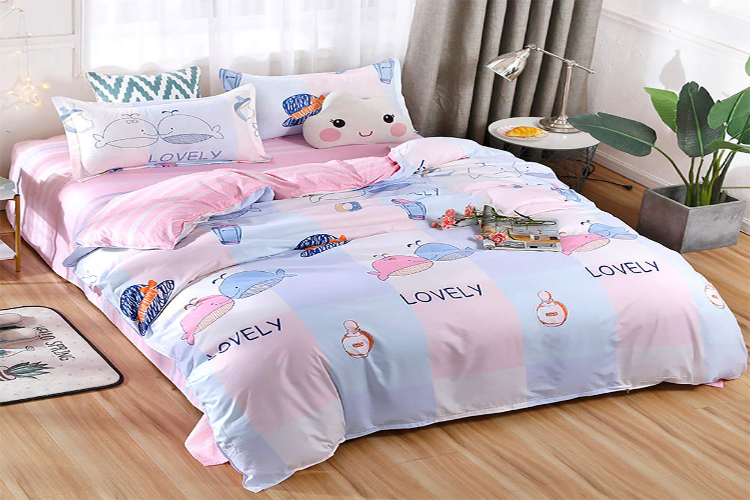 Nothing makes your room more comfortable than those cozy bedsheets you lay on. Using pastel-colored bedding that comes with strawberry or heart prints will definitely make up for a snuggly room. Suppose lying on a pink or purple bedsheet sprinkled with hearts, strawberries, or polka dots, made with 100% soft, PP cotton. You'll never leave the room!
The material used for Kawaii-styled beddings is generally very soft and comfortable to provide customer's a good night's sleep. The set comes with two pillowcases and a duvet cover that is durable and tear-resistant. These bed sheets are affordable, starting at only $30 a pack. So, order it now.
6. Kawaii 2-In-1 TV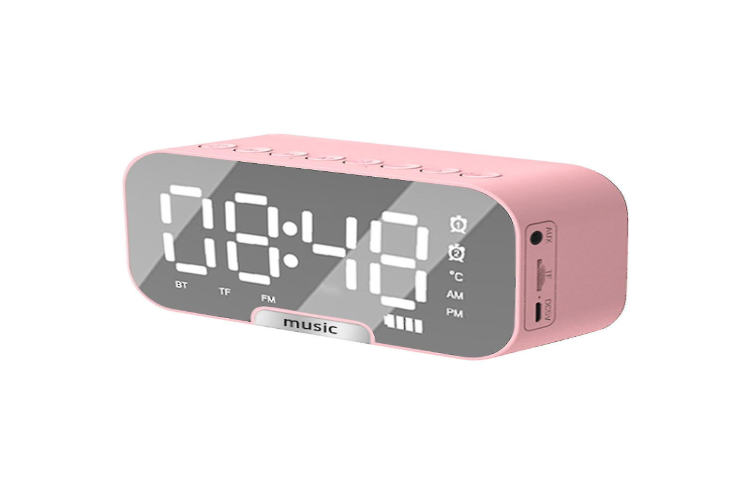 Have you always wanted an Alarm Clock that turns into a Bluetooth Speaker? Then, this 2-in-1 Kawaii TV set is an astonishing thing to have in your room. This dinky find is shaped like a cute tiny TV set with a mirror display and pop buttons to make it more appealing and functional. The desk accessory comes in two distinct colors- white and pink with a screen displaying time, battery signs, and alarms.
It has a battery life of around 16 hours and a USB plug on the side to recharge it. The material used to make this Kawaii 2-in-1 set is a PC shell and electronic components giving it and cutesy overlook. You can even design it with the free stickers you get along with the product and place it on your desk.
7. Bunny Phone Holder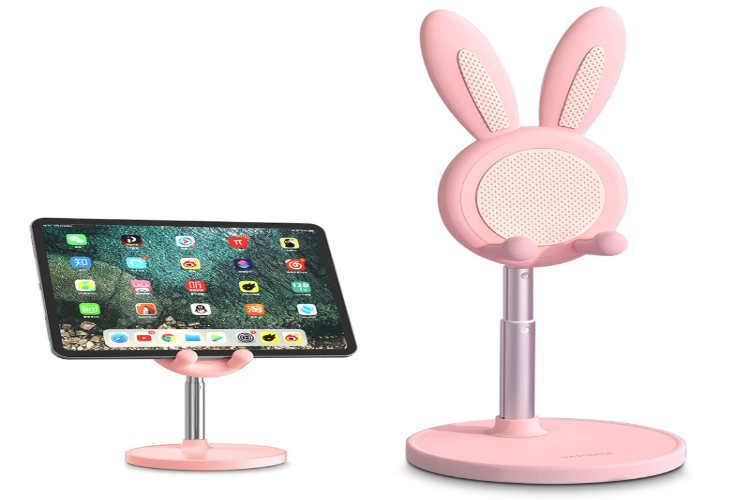 This wholesome bunny phone holder is something you never knew you needed. It is a beautiful decor item for your Kawaii room with a fitting design, a height of 7-10 inches, and is entirely adjustable between 0-60 degree angle. The phone holder is supported by an aluminum alloy adjustable rod with a weighted base and anti-slip silicone front and back.
The cute bunny holder can hold any phone and tablet between 4-13 inches. So, if you are always reading or watching something on your phone, this adorable find is worth spending on. It comes in three unique colors- pink, green, and white and costs $25.
8. Kitten Paw Cushions for Kawaii Room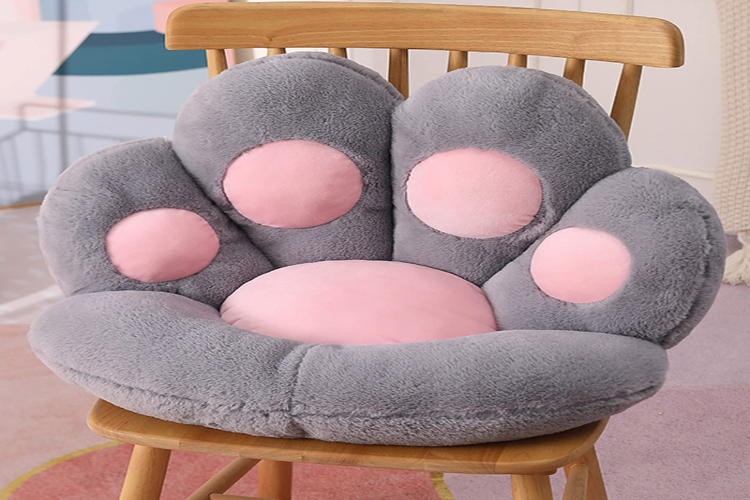 This super-cute, comfy paw cushion is a real game-changer. It's a great find for both houses and office spaces. As its name suggests, it has been stitched and tailored into a perfect shape of a kitten paw. The cushiony, snuggly seat makes it function as an extra seat, a cute rug, or a soft hugging pillow to have in your Kawaii room.
The multipurpose cushion can also be used as a cute furry bed for your pets. You can choose from so many colors in two distinct dimensions- Medium (60X70) and Large (70X80). The best part about this paw cushion is you can bend it or squish it any way you'd want, and it will regain its shape every time.
9. Kawaii Wall Hangers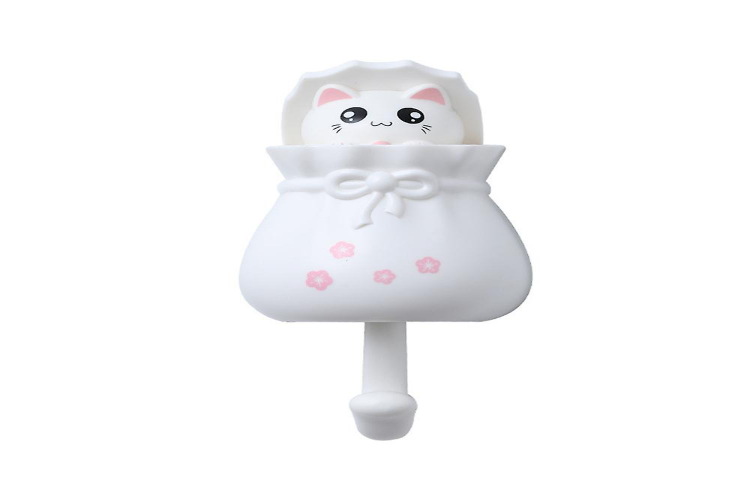 Trying these Cats Pop-Up Sticky Wall Hangers would be the most incredible addition to your Kawaii room. These adorable hangers come in four colors- blue, pink, white, and yellow. You can stick them anywhere conveniently and hang your keys, wallets, chains, or rubber bands.
A cute kitten pops out whenever you hang something on these wall hangers, making it quite an aesthetic and pleasing find. The Kawaii Cat Wall Hangers not only hold a lovely appearance but also keep your things organized and safe in a particular corner. The sticky hangers start from $15 only.
10. Ceramic Cartoon Cups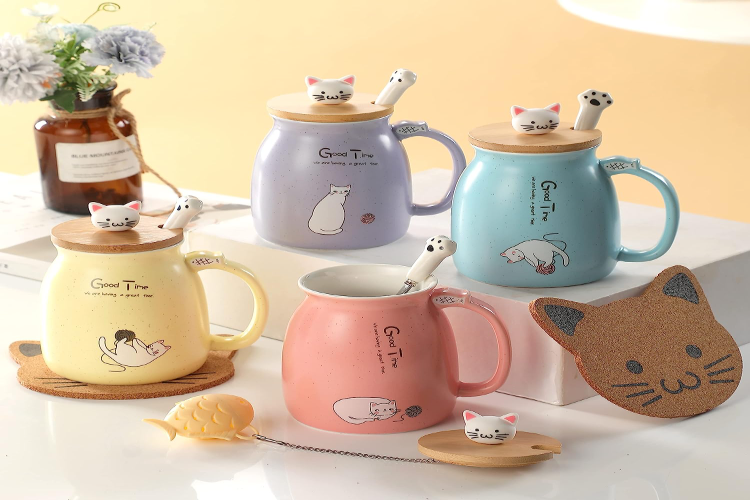 What's so fascinating then, a cartoon cup set with a lid and spoon on the side? These dual ceramic cups let you hold a snack to accompany your drink. All the mugs come in different colors, cat designs, and a ceramic spoon for stirring. The cup is very durable and made of heat and condensation-resistant ceramic, making it perfect for hot teas or cappuccinos.
You can gift your loved ones these precious cups with plushies and light lamps for their special day. These long-lasting cartoon cups only start from $54. So, hurry and buy your favorite designs online right away.
11. Boba Plushies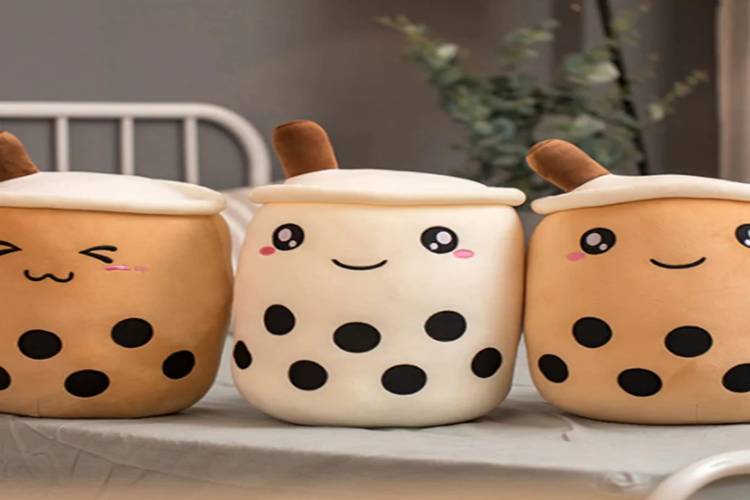 Whether you go for reversible plushies or the giant ones, they are both delightful to have in your Kawaii room. With the soft reversible bubble tea plushies, you get 2-in-1 sides, happy and sad, signified with different colors. They are stretchable, wrinkle-free, easy to wash and clean, and start from $18 only.
The giant boba plushies have a height of about 27 inches and make your room look so captivating. You can punch, squeeze, and even sleep on them, and they'll still regain their original shape.
12. Kawaii Desktop Mirror
With its ears popping out at the top, Kawaii Cat Mirror makes it hard to resist buying the product. It's both amazing to look at and holds practicality, as you can easily do your makeup up close. This desktop mirror is an ideal gift for cat lovers as it captures the essence of the feline animal.
The mirror is available in pastel pink and white shades with two rods coming out of the stand so you can hang on some jewelry too. This aesthetic find is perfect for taking selfies, giving a soft vibe to the place, and only ranges from $10 – $20.
13. Kawaii Harajuku Mini Desk Drawer
Purchasing a Kawaii organizer will be a great idea if you need extra space to organize your accessories like pens or books. It's a pastel-colored desk organizer with three mini heart-patterned drawers giving an aesthetic vibe. The contrast of pink and white makes it more appealing and functions as a storage saver.
The desk accessory has ample space underneath the drawers to easily fit a keyboard or consider it extra space for your books. You can put a lamp, holder, or any study materials on top of it. The Kawaii Harajuku Pastel Hearts Mini Desk Drawer starts from $70.
14. Kawaii Jumbo Stationery Box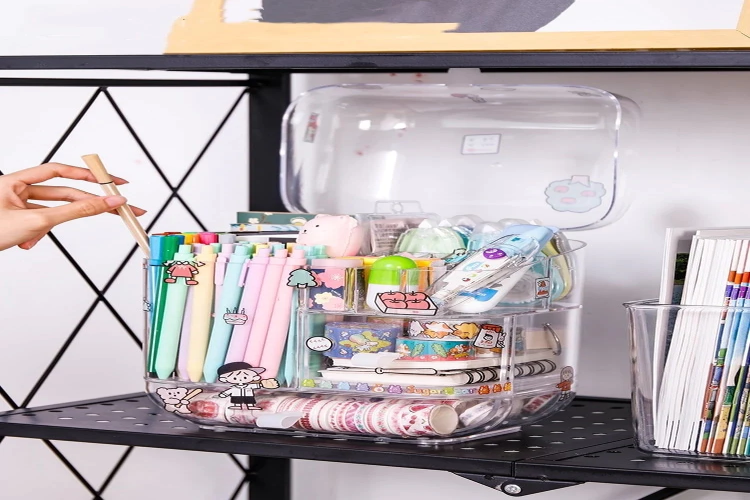 Keep all your stationery maintained in one place with this Kawaii Jumbo-size Stationery Box. The plastic, glossy box has broader storage allowing you to keep all your pens, markers, books, and other accessories together. Because it is transparent, you can easily find anything placed inside it.
The stationery box has a removable lid, giving you smooth access to all its compartments. This way, you can quickly organize and access all the supplies according to your need. You can even decorate it with free stickers that come with the box. Adding it to your Kawaii room will cost you around $70.
15. Mini Safe Storage Cabinet for Your Kawaii Room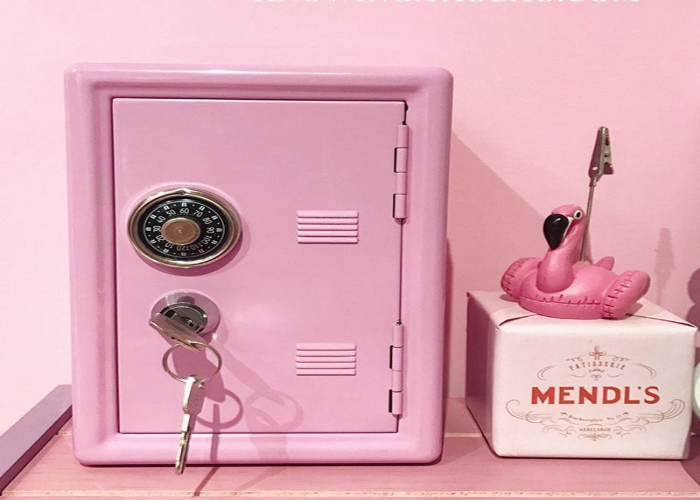 If you want to safeguard your things in style, this mini-safe storage cabinet is one such lovely find. It is shaped like a locker and is secured with a key lock and a passcode lock for your convenience. Now, you can own a cool mini locker for your stuffy in three unique colors- pink, red, and white and it's only worth around $40.
It has enough space to store your accessories like jewelry and perfumes or study materials like pens, books, and markers. Using this mini-safe will keep your belongings safe and organized, allowing no one except you to peek at them.
Conclusion
With these simple tricks, you can build yourself a Kawaii-inspired room, bringing out a sense of cheerfulness and quirkiness. With its neutral tones and playful textures, the Kawaii set is perfect for building a pleasant and cozy ambiance. This article includes everything you need, from plush dolls to strawberry bed sheets for an entertaining space.
Transforming your dull space into a Kawaii room will also make it more warm and welcoming. Those cute little accessories will undoubtedly fill your heart with joy and comfort. So, why not try this trending aesthetic of 2023 and change not only your house's entire look but your outlook toward life too?
Share with us in the comments which Kawaii accessory you can't wait to try.
Frequently Asked Questions
How Can I Make My Room More Kawaii-Styled?
To design your room Kawaii style, begin with selecting pastel colors to paint your walls and choose decorative items that go well with your personality. Things like plushies, cute bedsheets, inspiring quotes frames, or organizers will make your place wholesome. Don't forget that to maintain the theme, keeping the room clean and tidy is a must.
How Do You Convert a Boring Room Into a Super Cute One?
You can try to transform a dull room into an adorable one in so many ways, like adding Kawaii-inspired floor lamps, Paw Cushions, Strawberry or Heart Bedsheets, and Storage Cabinets. Adding these little things can make quite an impact on your space.
Where Can I Shop for Kawaii Room Decor Items?
Kawaii room decor items have gone so viral this year that they are readily available online. You can order on Amazon or Etsy and have these cute tiny additions at your home in a day or two. Another fantastic thing about these ornaments is they are pretty affordable, so you don't need a very big budget to get them.