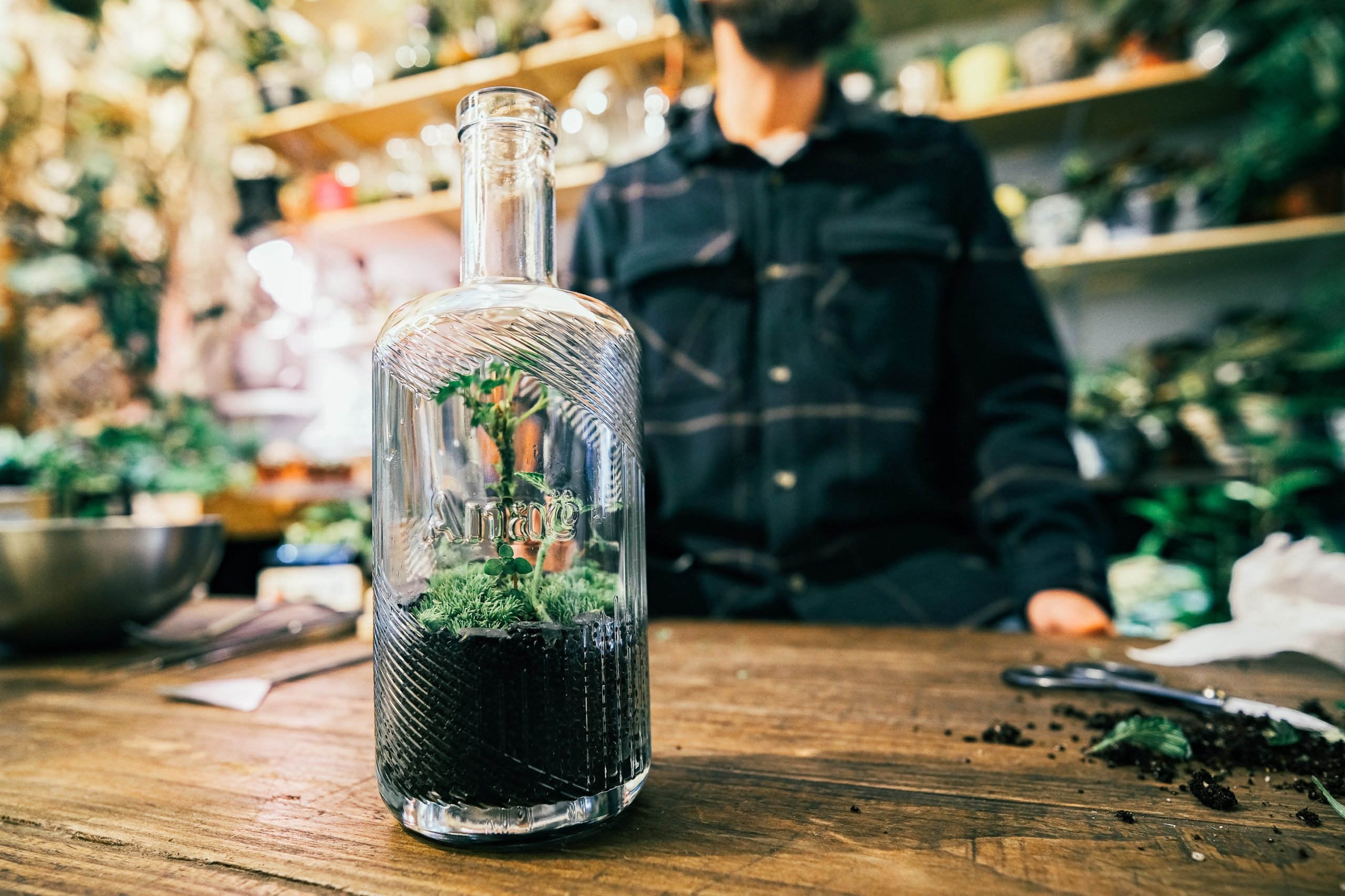 DO IT YOURSELF is more than a trend now; these days, it has pretty much become a sign of conscious living. Also, it is no open-and-shut rule that DIY is for kids and craft students; it can be done by anyone, and so for adults. Additionally, there are several benefits when DIY crafts are done by adults. From fostering their creativity to helping them understand their own capabilities, there is a lot that these DIY crafts could do.
If you are someone looking forward to transforming ordinary spaces into extraordinary spaces, then these DIY craft ideas for adults are just your thing. The concept of DIY crafts not only unlocks your creative potential but further helps you to plan and budget your interior space design efficiently.
It is a known fact there is nothing that could beat the satisfaction of a craft that's made at home. In this article, we shall be sharing several DIY ideas for adults that can easily be done at home for a beautiful makeover of your interior decor.
Continue reading further to get introduced to some of the coolest DIY crafts for adults.
1. Pinecone Candle Jars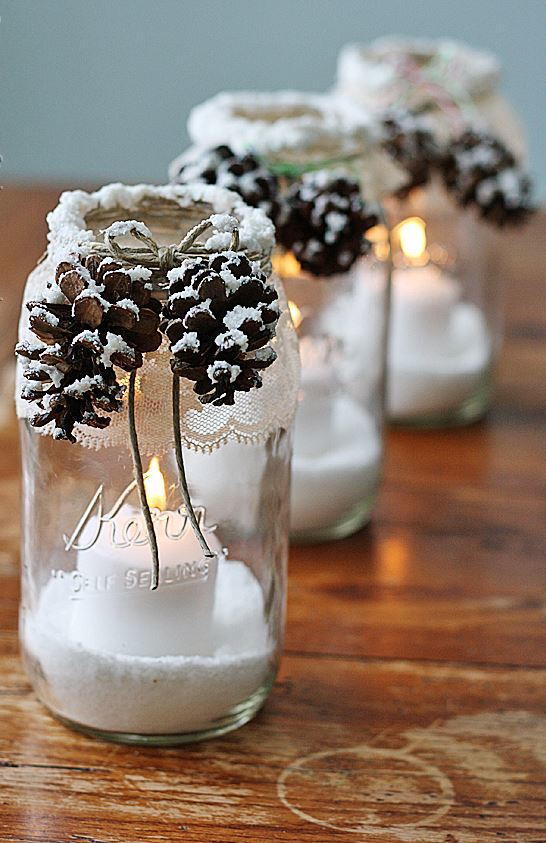 Pinecone candle jars are perfect for a vintage-themed home, especially in the winter season. Who wouldn't love to light a candle during a cozy winter while enjoying a hot chocolate with family and friends? This simple home decor yet mood enhancer can further be made amazing by just adding a small element of pinecones to the candle jar. These pinecone candle jars can easily be made from an old mason jar and wax molder for candles. A greater part of adulting comes with quality spending of time with friends and family, and these pinecone candle jars are a perfect pair for any occasion.
2. Dry Leaves Wreath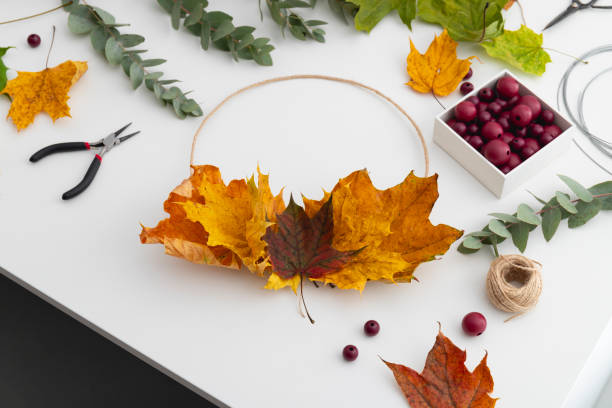 Not all dry leaves need to go to waste; some can be used to create interesting home decor items, too, like wreaths. Wreaths can be made of different things like flowers, dry flowers, even old clothes, and other scrap materials. This is exactly the power of DIY; it indeed gives you the complete freedom to include your style statement in your center decor piece. Dry leaves wreath is such a beautiful yet thoughtful way of recreating life and giving an aesthetic touch to your home. It can be used both as a wall hanger and as a door hanger. All you require for this is a frame, selectively picked dry leaves and glue.
3. Indoor Plants with a Twist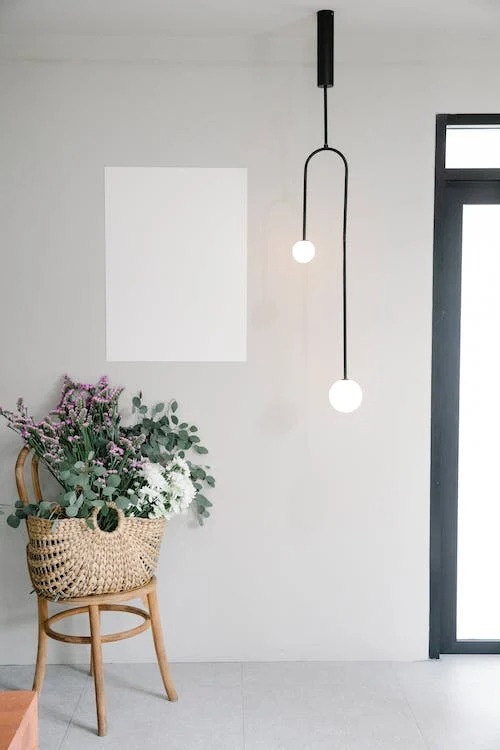 Indoor plants come with multiple benefits, from being an effective strategy for maximizing the interior space to breathing life into the space; there is so much an indoor plant could do. When a normal potted plant is approached with a creative element, an indoor plant can, in fact, do more. Like for example, instead of using a normal potted plant, a basket or some other cloth-shielded bag could replace the seat, and this DIY craft is something that all the adults are going to love for both the process and end results.
4. Garden Pot Crafts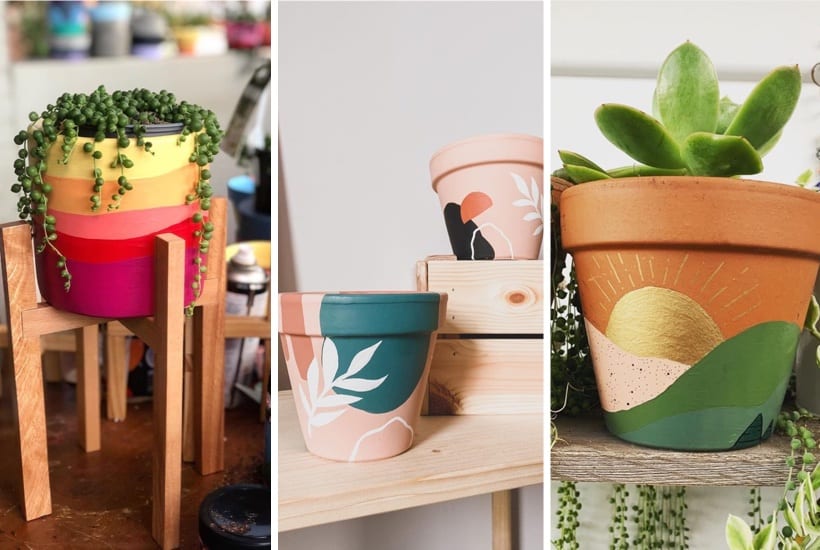 Gardens are something every other person looks forward to while setting up their own home. Research states that just the idea of a garden lightens up the mood by a considerable gradient on a dull day. To not mention further, gardening is one of the most favorite and loved activities for most adults post their retirement and so why not throw a splash of colors to the garden pots and mark an identity of yours among the potted plants?
5. Fluid Art Wall Hanger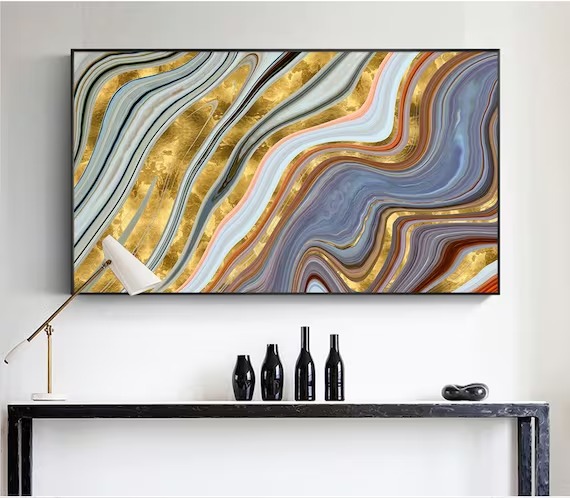 Today, we live in a world where abstract art prevails throughout and so why not let's do some wall-hanging art with the same theme? Fluid art is so fun and easy to do, and end results are pretty much magnificent too. To do this, all you need is a canvas and some fabric paints of your choice, and there you go. You can also make use of your hair dryer to make patterns and textures, and most importantly, this DIY craft for adults is going to be super fun and incredible.
6. Cookie Jar-Inspired Leafy Plants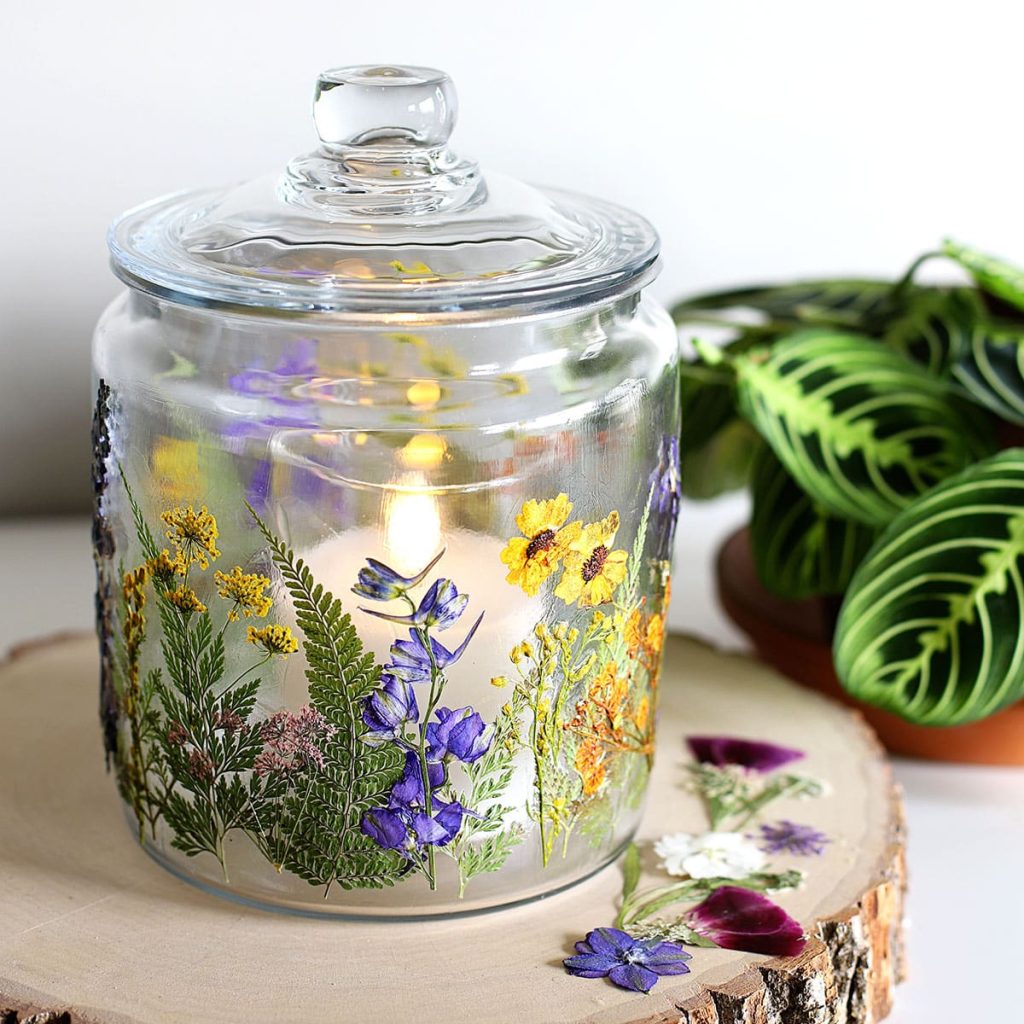 Who doesn't love cookies, but why do we need to throw away the jars after use?
Yes, did you know that these leftover cookie jars can be great sources for DIY crafts, from glass painting to string and embroidery thread arts? These cookie jars can create a lot. Well, what else can ever out beat the happiness of a self-done artwork?
7. Crochet Table Mats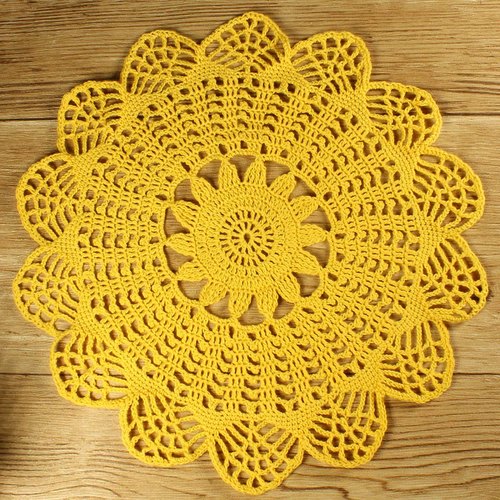 Crochet is a pretty artwork. Apart from being a leisure activity, by doing crochet work, your concentration power and brain activities are increased on an active level. Further materials made out of crochet work tend to last longer and foster sustainable living. Crochet table mats are a lovely piece of artwork and add a vintage touch to your entire interior setting. These DIY crafts for adults are here to transform your interior space closer to perfect in no time. Crochet needles and threads are easily available all over.
8. Dream Catchers with a Personal Touch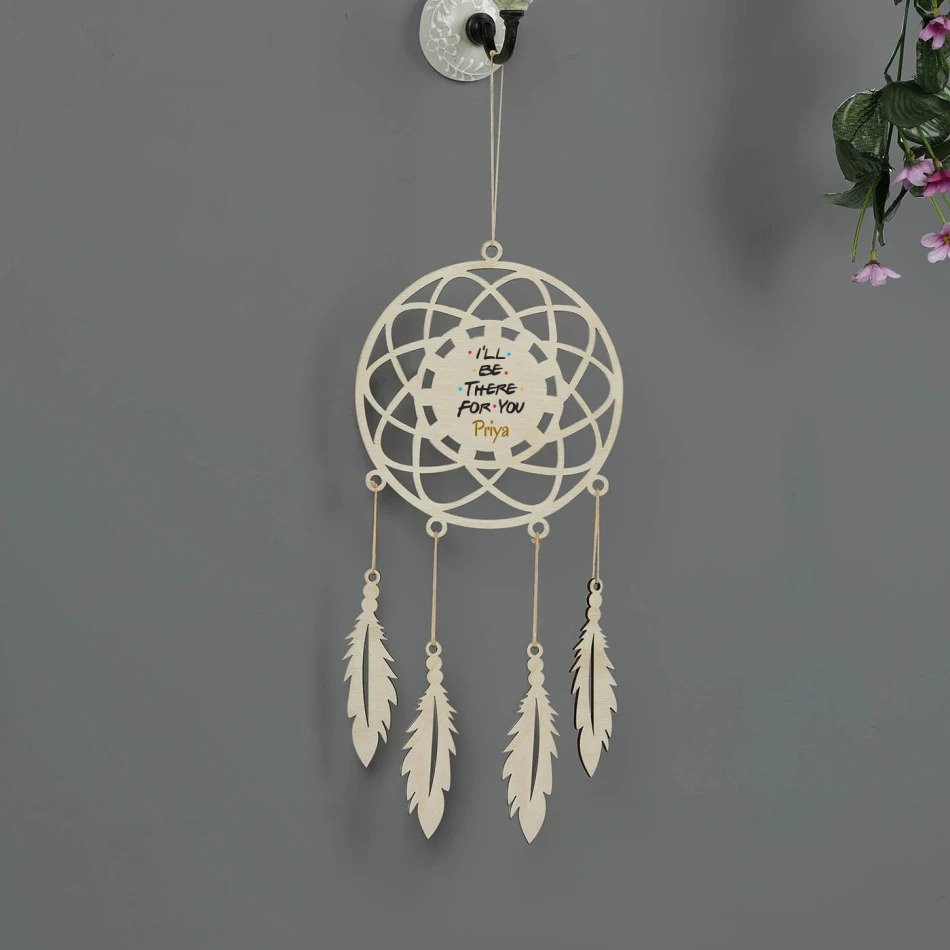 Dream catchers are something that has gained a lot of recognition for some time now, and it's true that they are beautiful too. Did you know that these dreamcatchers could be made at home too? Yes, they are nothing less than blockbuster DIY crafts for adults. All you need for that is a frame (which is easily available in the market), some threads, and some amount of patience, as this task might take some amount of time to be completed. But, they are sure of fun and satisfaction.
9. Embroidered Table Tops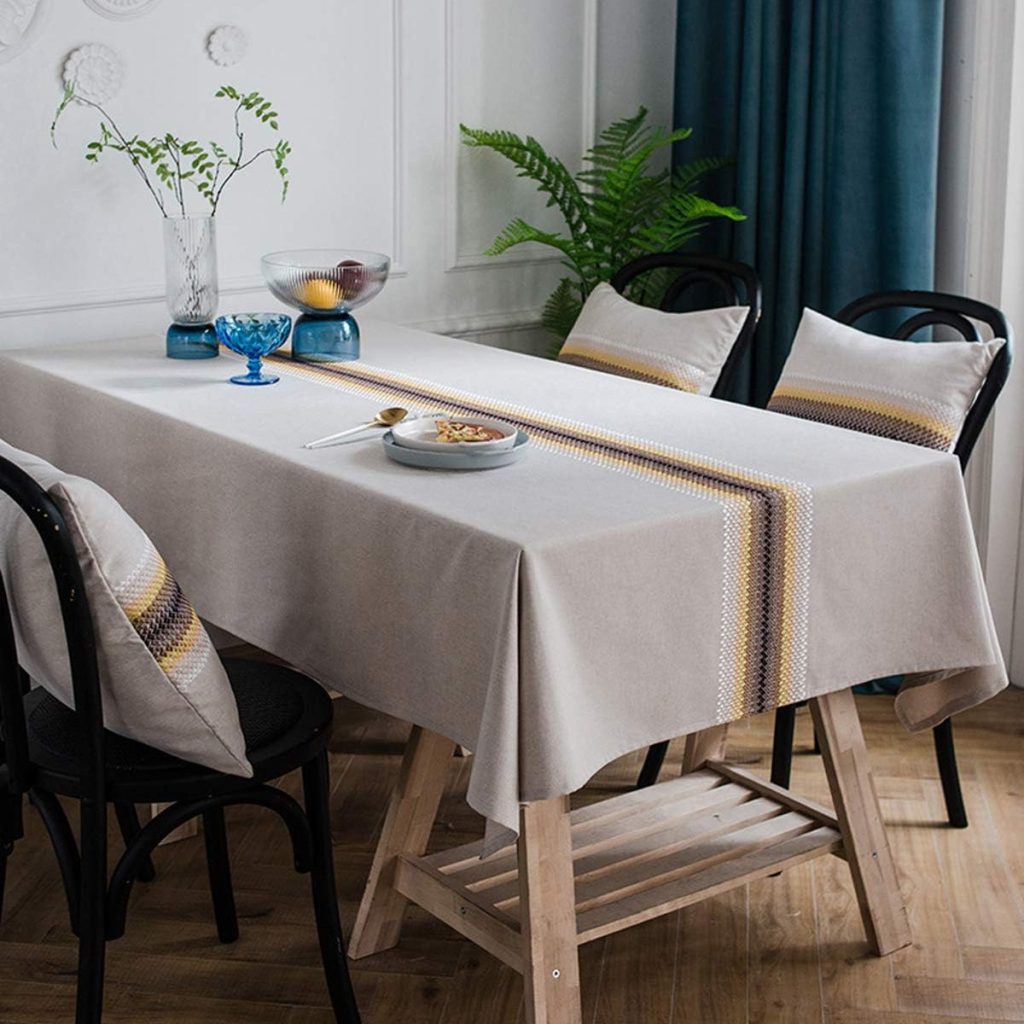 Though the embroidery is an age-old artwork, the charm is still precious and amazing. These days table tops of various types and kinds are easily available in the market but self-worked embroidered table tops are beautiful and cost-effective. Moreover, it gives you the provision to customize the shade and design as per your need and wish. So why not try this super charming DIY craft for adults and recreate a design or an idea that you always wanted to?
10. String Art for a Wall Hanger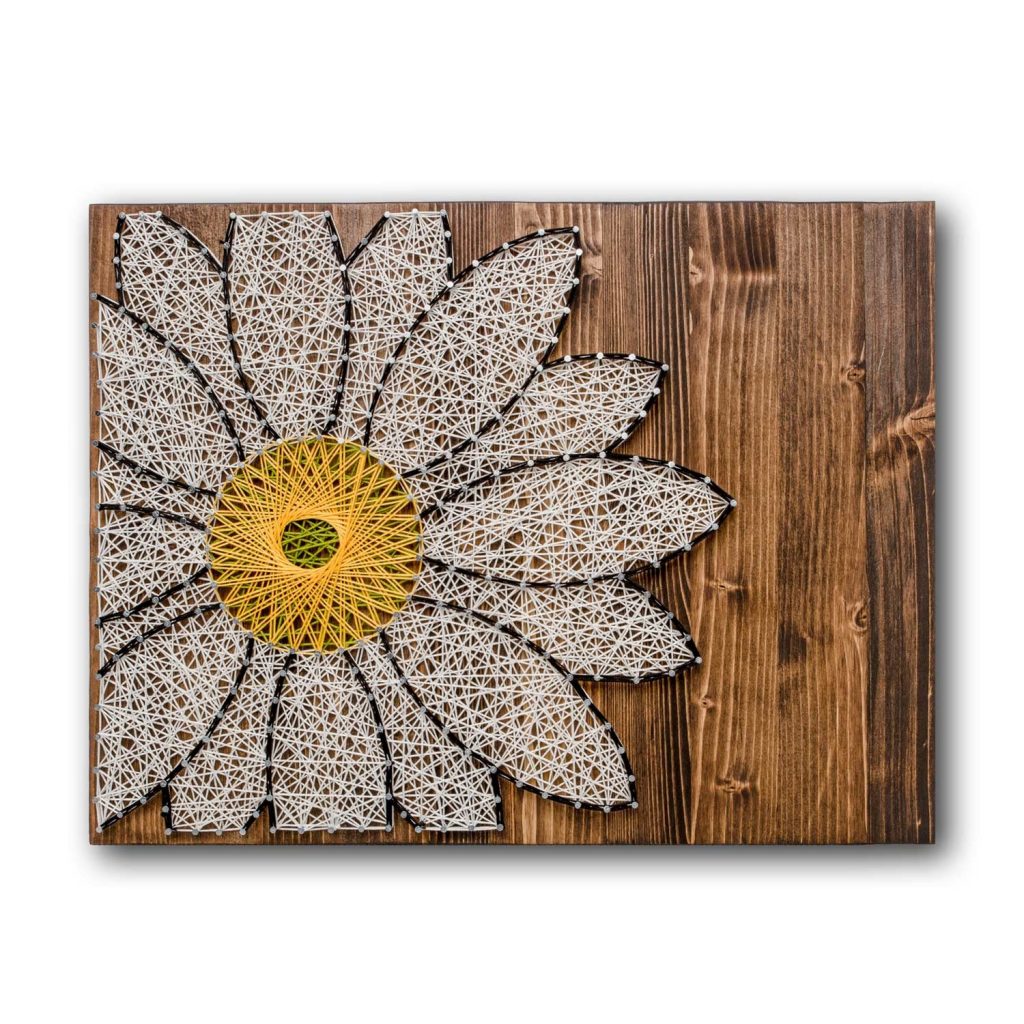 String arts are a combined effort of time, patience, precision, and concentration. Well, just like the amount of effort this string art requires, the end results are so beautiful that a single piece can draw the entire attention. This piece of artwork is perfect for a wall-hanging centerpiece, especially when you have a plain wall as a backdrop. Multiple shades of threads can be used to bring in a mix of abstract art elements to this.
11. Embroidered Curtains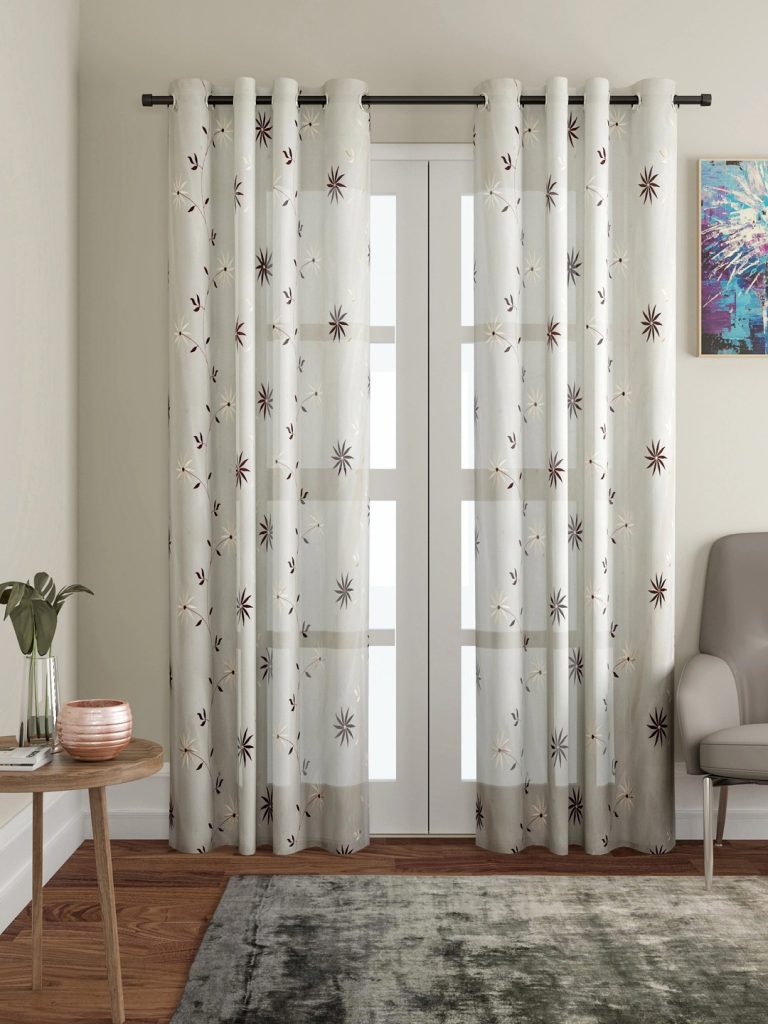 Curtains and drapes surely do add to the aesthetics of the interior, and there is nothing a personalized curtain can do. Embroidered curtains are indeed another level of the interior design game, from uplifting the charm to a notch higher. The embroidered curtain DIY crafts for adults are surely here to stay for a reason and more than seasons for all the beauty it adds to.
12. Painting Bed Sheets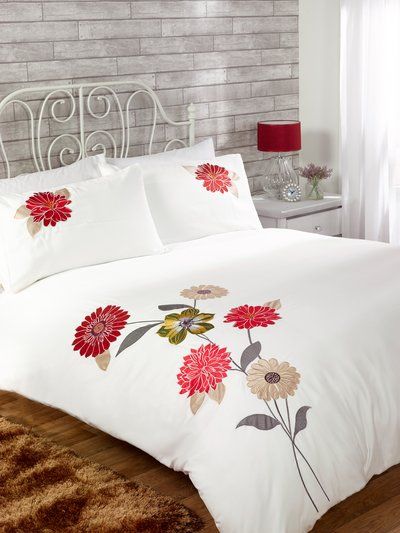 Bed sheets play a major role in the aesthetics of your bedroom, and it is quite difficult to find a print or pattern of your desirable need. This is exactly where painted bed sheets can come as a boon and a beauty saver for your bedroom. All you need to do this DIY craft for your bedroom is a bedsheet of your choice and quality and also some fabric paints. This craft activity indeed gives you the freedom to decide the aesthetics of your bedroom just like the way you want to.
13. Scrapbook Memories as Wall Hangings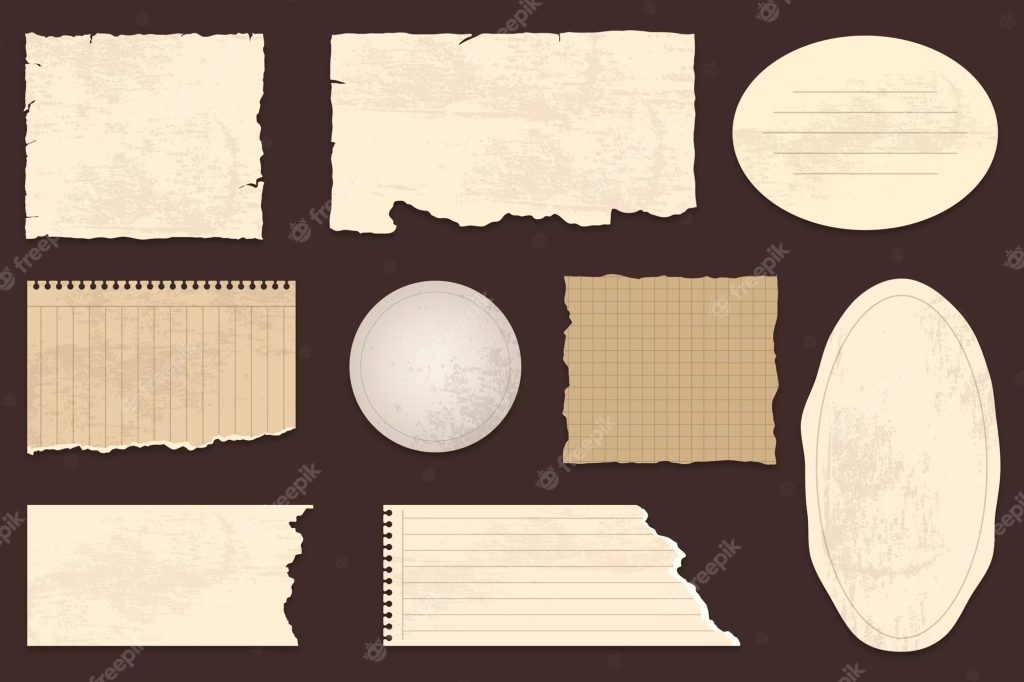 Scrapbook memories need not always be kept inside a closed book; they can also be restored in the form of photo frames and wall hangers. This brings a fresh perspective to the over-seen and normal photo frames with an interesting touch to it. This can be set up at one of the cozy corners of your home with deeper detailing.
14. Wine Bottle Abstract Art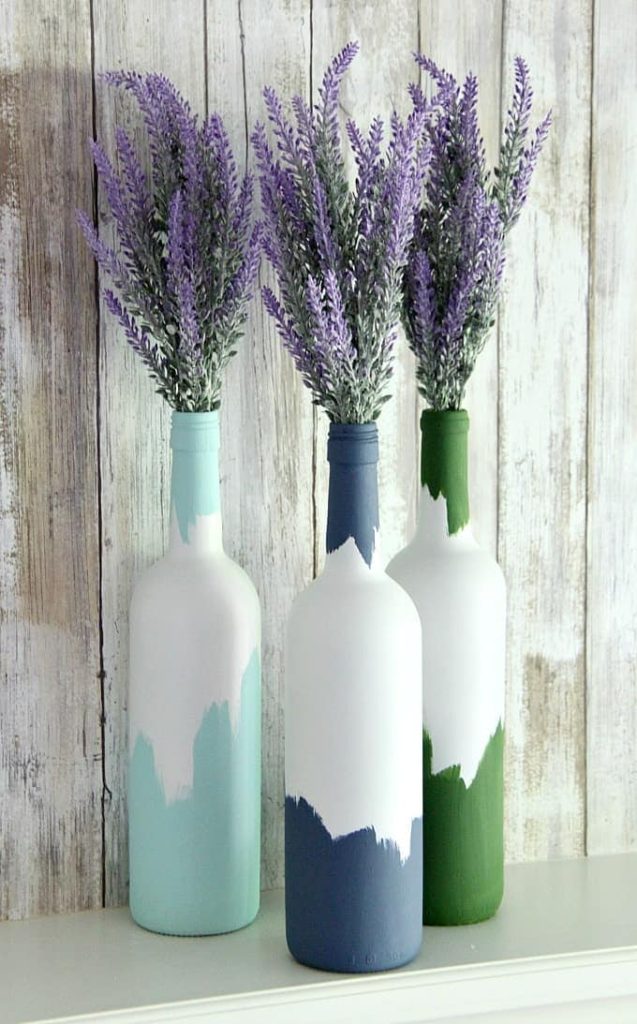 Wine bottles surely do give you a good memory of an evening well spent and more; what if we say that there is yet another memorable way to store these used wine bottles? These wine bottles, when given a small touch of DIY magic, can be used as an amazing accessory for interior decor. When paired with some lighting, these wine bottles do some spectacular wonders too, so why not try your creative hands on the same?
15. Patterned/Textured Lampshade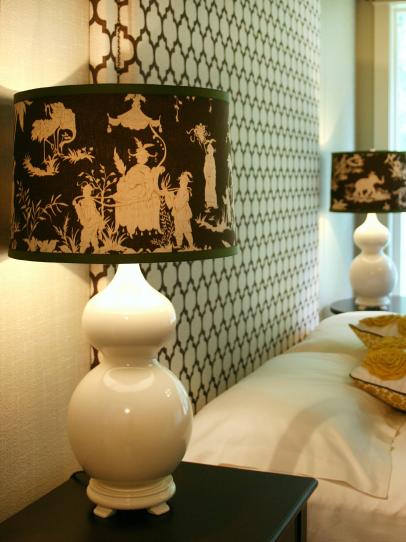 Lampshades are definitely mood-enhancing and so how about some patterned lampshades?
Yes, take that painting brush of yours,s and let's do some molded canvas paintings and add some textures. It is not just an interesting DIY craft for adults but also a mind-relaxing work too. Textured painting and arts have always been associated with calming effects, so why not try an interesting way of meditation?
16. Painted Wooden Strips for Glass Tops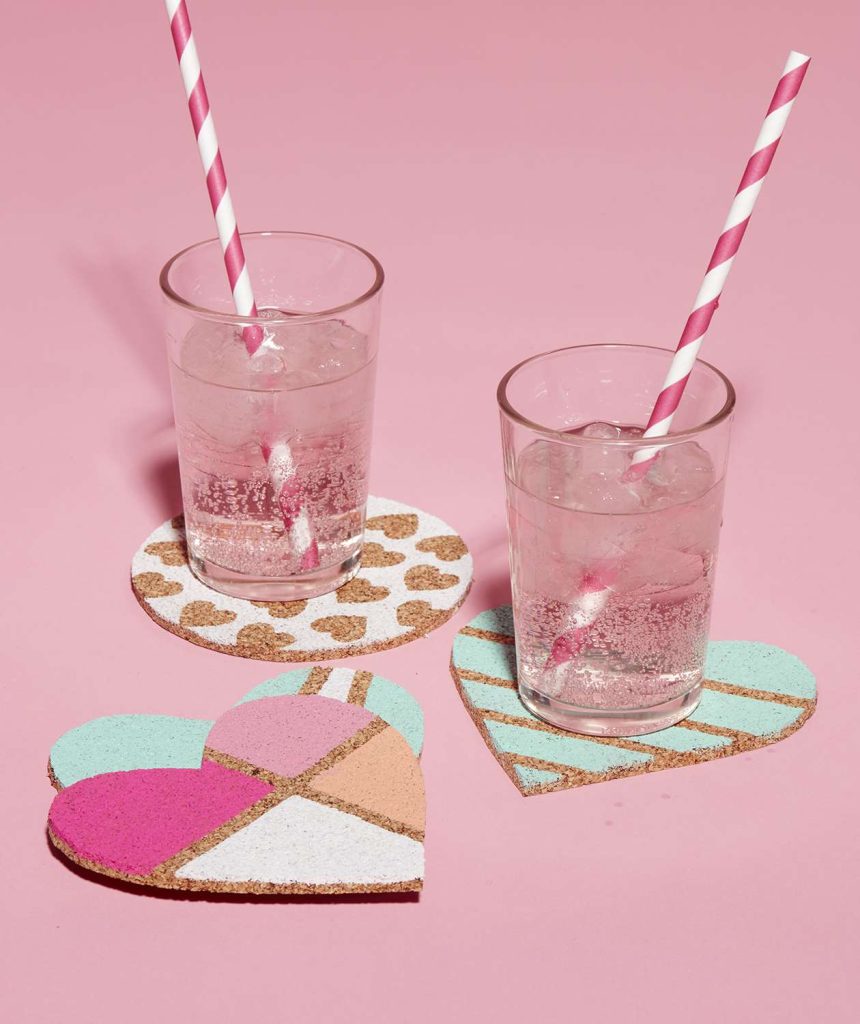 Just like any other crockery material, glass covers or tops are also recently gaining attention as a part of the detailing in the interior design industry. Having a hand-touch signature on such small yet significant things are always a special feeling, especially when you take extreme care and pride in setting up your home. This DIY craft for adults is such a joyous thing to cherish forever.
17. Molded Scented Candles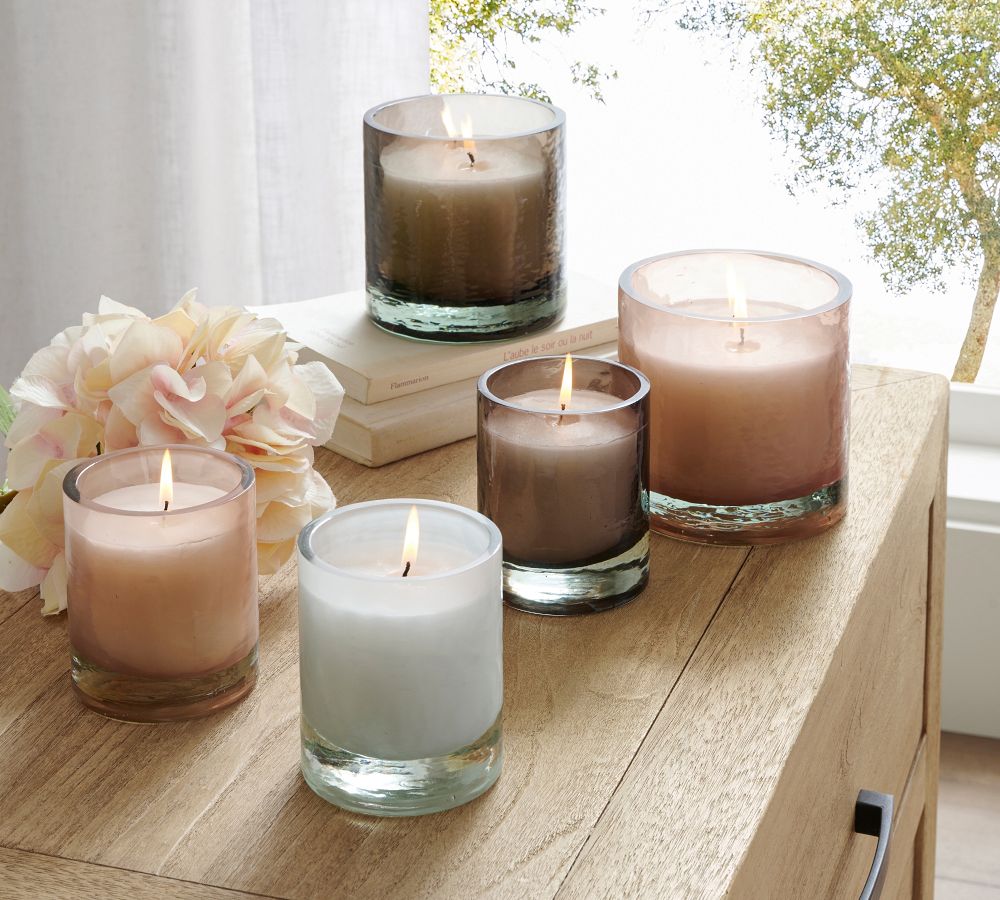 Scented candles are not only loved for their pleasant fragrance but also for the aesthetic appeal it brings to the interior space. It can turn any corner or part of your home from a normal to a cozier one in no time. These candles are often quite expensive, but not anymore with these cute yet amazing DIY craft ideas. Further, making scented candles at home even gives you the liberty to pick up the scent, shade, and shape of your own choice apart from cost-efficiency.
18. Old Fabric Organizer Boxes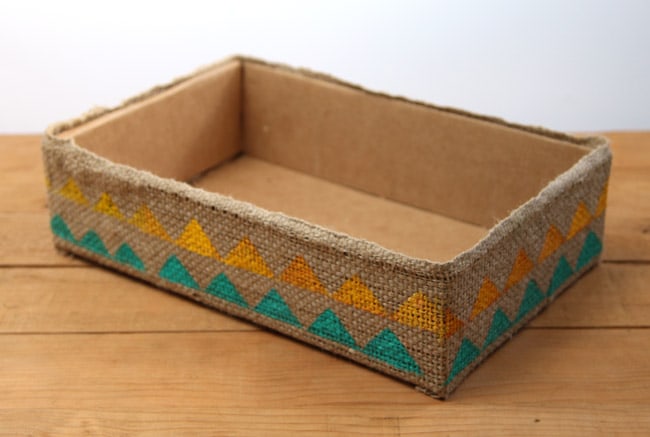 Organizers are of great help, especially for clean freaks! These organizer boxes help to give a neat and tidy look to your space by keeping everything in order and in proper places. Did you know that these organizer boxes can also be given a stylish and charming outlook by using your old fabrics? If you have some old clothes at home, the same can be used to wrap around the boxes, which can also be made from used packing boxes and cardboard boxes. You can even try some variations in wrapping the cloth around the box, as it gives a touch of creativity and innovation.
Summing It Up
All in all, DIY is an amazing concept; it not only helps you to unleash your creative self but rather helps you to switch to a sustainable and economical alternative if planned and executed well. Let's also not forget the fact that this leisure time activity for adults is more or less an exercise to the brain and mind too.
Another notable aspect of these cheap DIY crafts for adults is their incredible accessibility to the required materials and assistance to carry out the same. This, in turn, is an amazing way to fulfill their creative thirst, and stay away from boredom from hitting them hard, meanwhile creating nothing less than a craft.
Also, adults tend to be more active and lively upon being engaged in these DIY activities, thereby making these a blockbuster idea for stress relief and exploring artistic abilities.