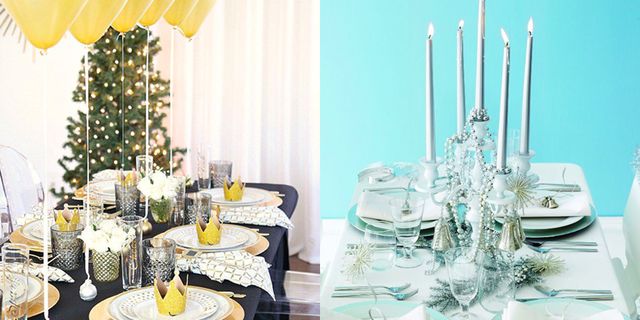 Are you looking to spice up your table with cool centerpieces and have no idea what to style and what will look good on your table? We have come to your rescue. Let's be clear; you don't need an occasion like Christmas, birthdays, or wedding functions to decorate your tables. You can do it even without any occasion just to elevate the look of your table all year long.
We believe that no table is complete without a centerpiece. There are a few questions to be kept in mind when looking for different table setting ideas, like do I want something minimalist or a style statement? Do I want to bring natural elements to my home or have some artificial aesthetic appeal?
Let's get started together to decorate your table with awesome table-setting ideas.
Table Setting Ideas with Stylish Centerpieces
1. Sprinkle Eucalyptus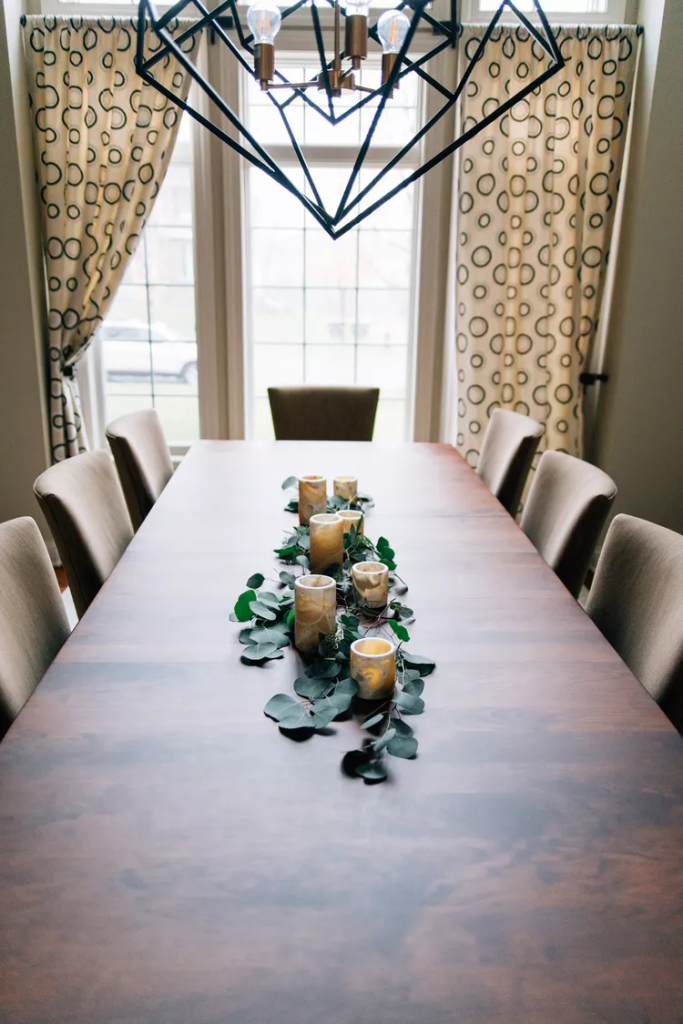 Eucalyptus is one such plant that will instantly bring the elements of nature to your table in a very subtle way. It's minimalist in nature, and fresh Eucalyptus lasts way longer than other fresh blooms. This type of table setting idea works best when the countertop of your table is of a darker color. The whole setting gives a very modern and contemporary vibe to the table.
To adorn your table with Eucalyptus, simply spread the plant in the center and add scented candles in certain places. This will make the setting more cozy and will make the whole table look lively.
2. Placing Large Jugs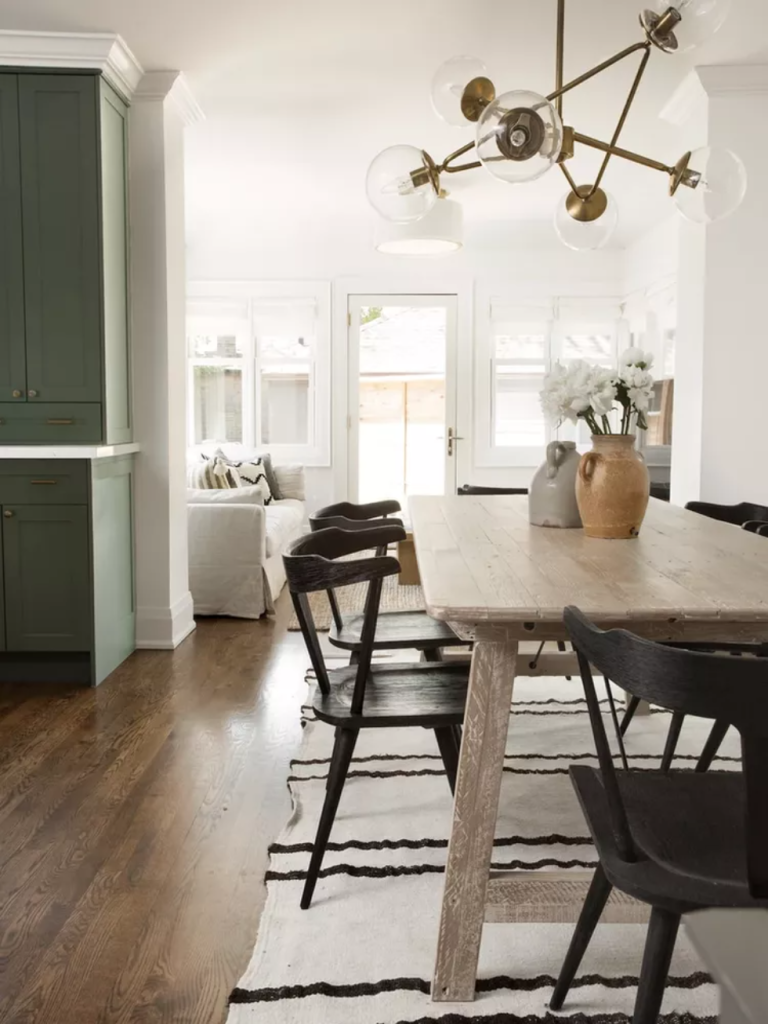 This is a very minimalist design and won't require much effort from your side. Have two large jugs with muted shades or colors, which are preferably made of clay. Since this will give the jugs a more rustic and natural look, you can keep these cases or jugs empty, or you can even include plants in them. Moreover, if it suits your aesthetic, consider a well-decorated vase to place on your table.
Simply buy two jugs of two different sizes and place them together. Keep a coaster under them for additional detailing and include plants in them. This a very simple DIY for enhancing the style of your table.
3. Choosing Branches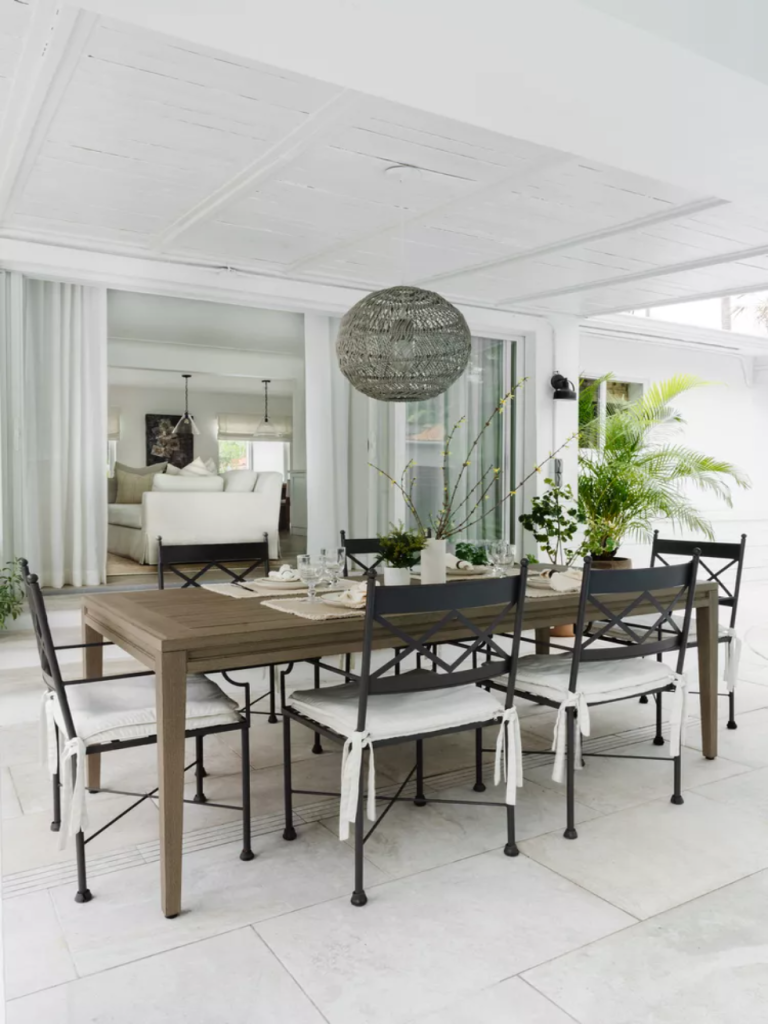 You know, some centerpieces are so cool and aesthetic to see that even if they don't take a lot of physical space, they still manage to make the table look so aesthetic with just the weight of their visual appeal. To achieve this, nothing works better than empty thin branches. Having a thin branch is important as it will not overwhelm the space and maintain that subtle minimalism.
To turn this table-setting idea into a reality, simply get a white vase and consider the branches of olive or Magnolia trees. White vases and brown branches will be in contrast with each other making your place look alive.
4. Adding Sculptural Pieces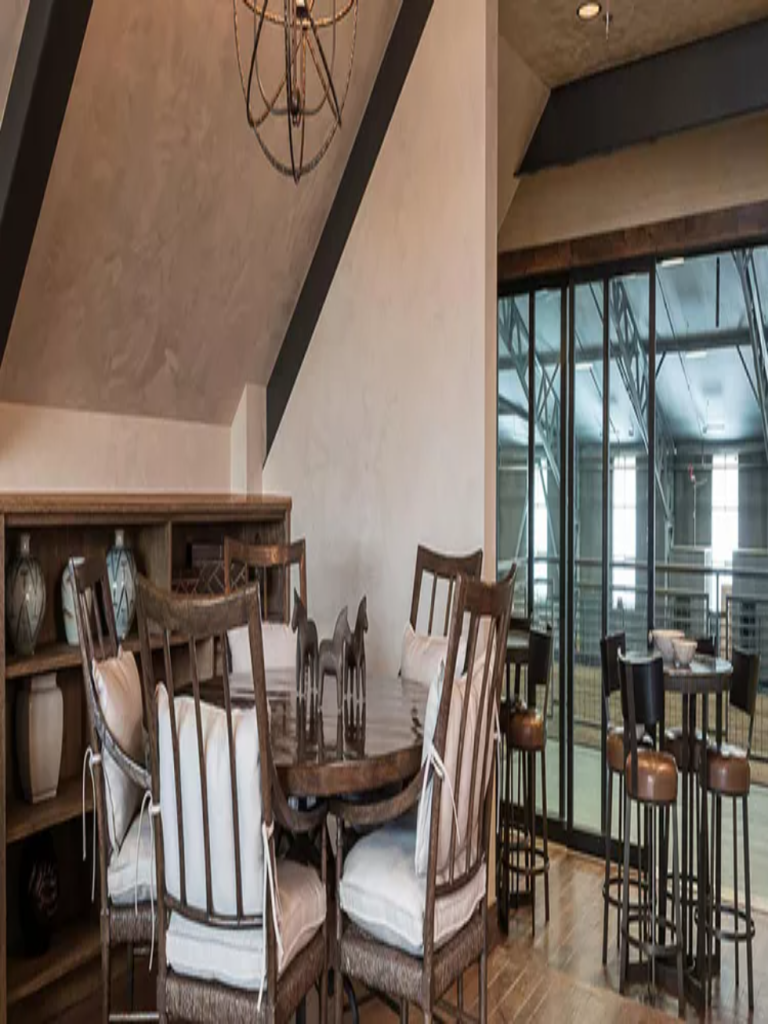 If you are someone who wants to bring architectural elements into your home, then you should definitely consider adding Sculptural elements to your table. You can even consider getting replicas of your favorite sculptural that you have recently seen or were always fascinated with!
This table-setting idea of adding a Sculptural piece to your table is a much-needed character. And will also make your table look artistic and creative and have a pinch of historical touch. Please remember that sculptures have tiny holes in which small insects and spiders can reside and breed, so make sure to clean them occasionally, especially if you're planning to place the sculpture on a dining table.
5. Keeping It Minimalistic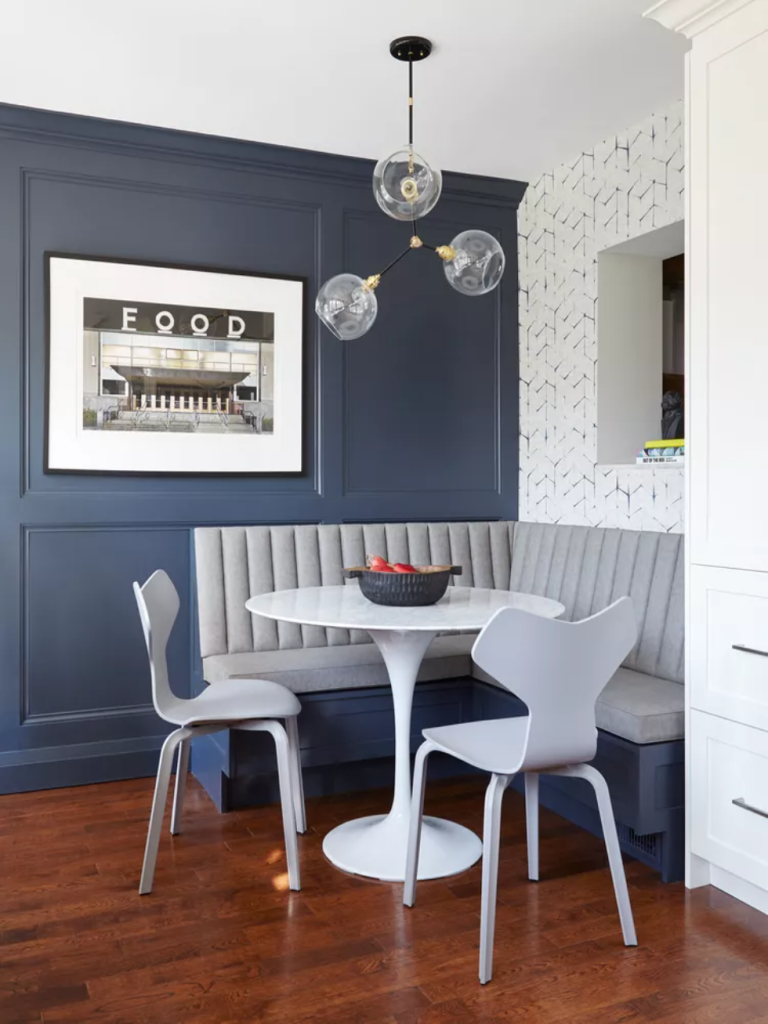 You don't have to go all out to search for the centerpiece for having a picturesque table. Sometimes going towards minimalism will reward you with a beautifully styled table. For instance, a bowl with some fruits in it is not a boring idea and, if done right, can actually look better than other expensive options out there.
Just remember to choose a bowl with little to no design and always prefer matte-finished bowls to have the perfect minimalist look. You can then put fresh or artificial fruits in them, and they will work as a nice centerpiece.
6. Potted Plant
This a very simple, accessible, easy to DIY, and no-brainer table setting idea for your table. We all look for excuses to buy more houseplants, and this seems like the perfect opportunity. But instead of going the conventional route, you can buy two artificial plants with different types of plants, as shown in the image, and place them side by side.
This will add a touch of nature and bring life to your place. The potted plants will look extremely good if the countertop of our table is light in the shade since this will shift the focus of the viewer on the pot as well as the plant.
7. Filling up The Table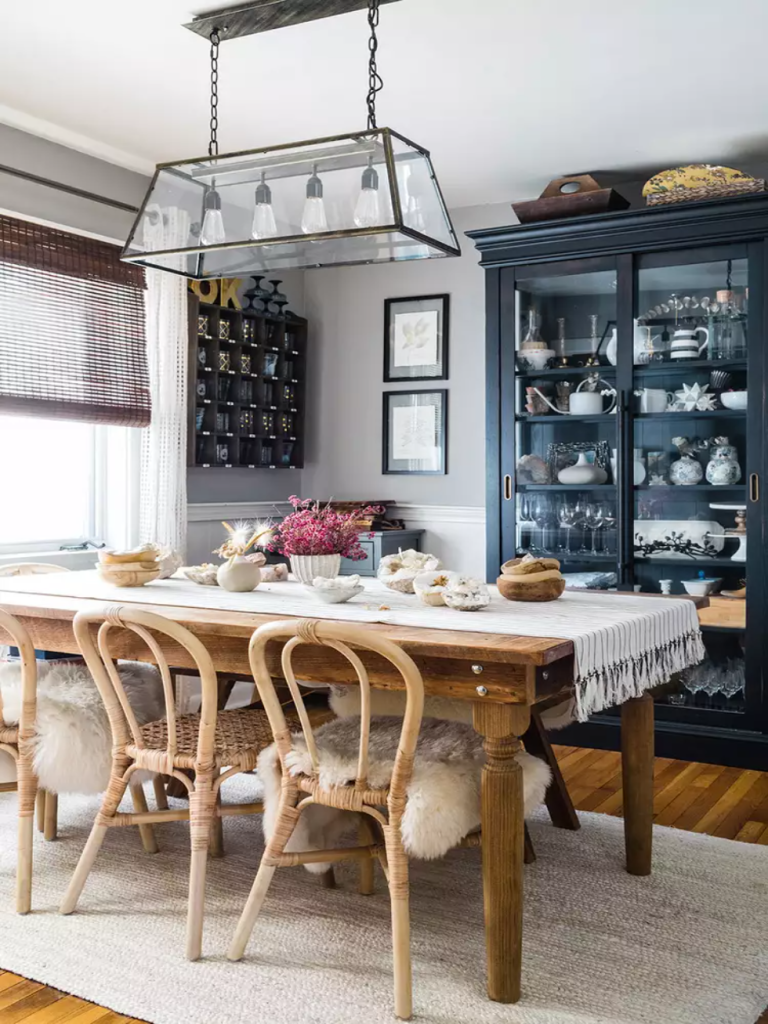 At the end of the day, it depends on what you want to do with your table and how you want to decorate it. If you're not a fan of keeping things minimal, then you can go all out and fill up the table and still manage to make it look aesthetic. To go all out, there are many things you can do, such as placing a tablecloth that runs throughout the table, putting candles all over the table, and dispersing flower petals all over the countertop to fill the space.
You can comfortably do this table setting idea, especially if you don't use your table that often and want to use that table to elevate the beauty of your room. We agree that this table-setting idea will require a bit more effort, but we promise you that it will be worth it if done right.
8. Add a Pop of Color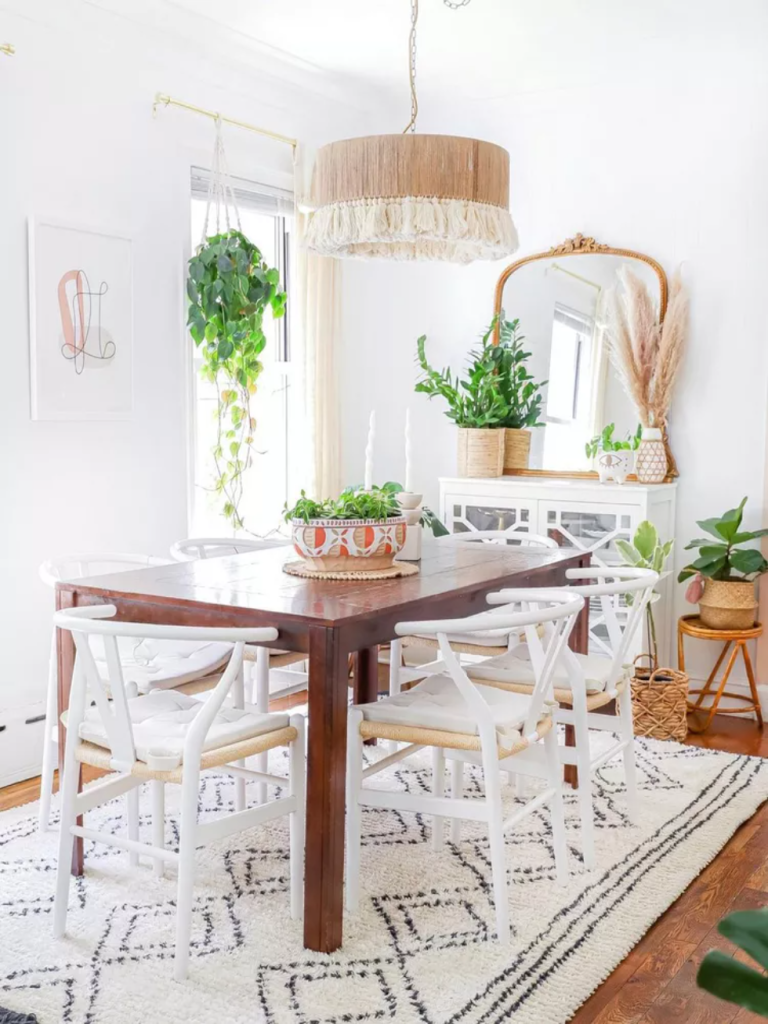 Adding multiple colors to your table is one sure-shot way of elevating the appeal of the table. We know that nothing can match the class of neutral tones, but sometimes a little pop of color can do wonders for your table. To achieve this, you can take the help of colored pots and different types of flowers, have a tablecloth with all sorts of colors, and adorn your table with different art pieces.
One thing to keep in mind while going for this table-setting idea is that your home decor should match your table as well. For instance, if your home is filled with neutral tones and you add a pop of color to your dining table. Your table will stand out and not blend in.
9. Keep It Oversized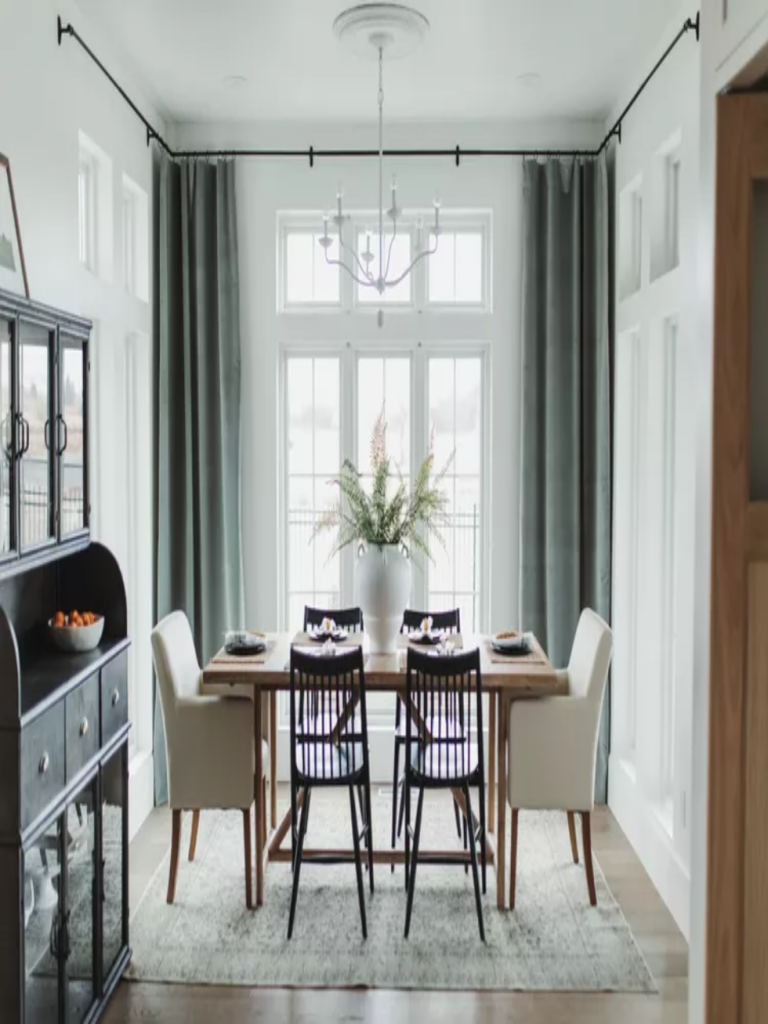 The oversized centerpieces have a central effect on your room. In simple words, these centerpieces attract all the attention and act as the central point of the room. This happens in a very subtle way and can attract a lot of eyes quite easily. Choose a vase that is similar to the color of your walls. This will make your room more cohesive.
This table-setting idea doesn't require much effort but requires proper planning and placement of the vase. What you put in a vase also plays a pivotal role in the overall aesthetic. Make sure to choose a thin plant if you're going for a soft and subtle look. And on the contrary, go for a plant with wider leaves for a bolder look!
10. Having It Mismatched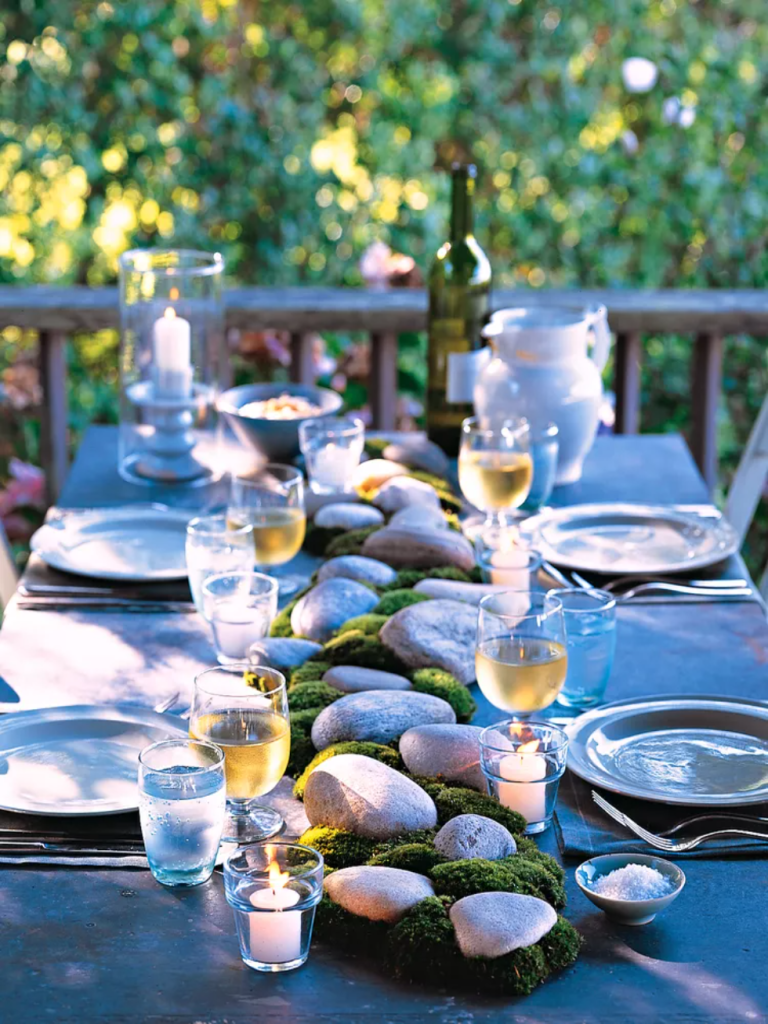 You know you don't have to be always so calculative and cautious with what you choose as a centerpiece. And if you don't want to put that much effort into choosing the perfect centerpiece, then so be it. You can place a bunch of items, such as glassware, together, which are all in different colors and still make your table look attractive.
Remember that the colors can mismatch, but they should complement each other a bit, and you can have single-stemmed plants in them for a more natural and green look. Or just put different color battery operated string lights into those vases, and have a well-lit dinner with your loved ones.
11. Botanicals Everywhere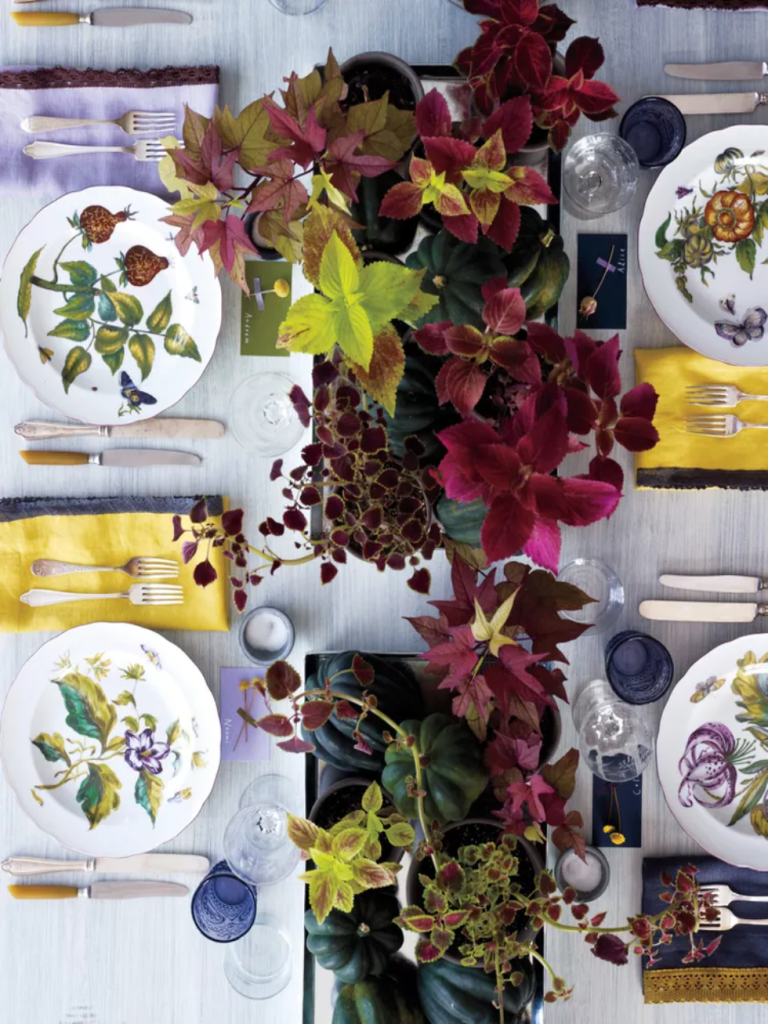 It's always a great and safe idea to play with botanical themes at your table. Be it crockery items like plates, glasses, spoons, etc., or table cloth or vases for decoration. Botanical themes tend to blend in with everything giving your table a very cohesive look. In the above image, the plates have a botanical design, which acts as the foundation of the whole decor of the table itself.
We agree that this makes the table look much fuller than it already is. However, the various decor elements seem to speak to each other and complement each other perfectly, giving a well-put-together look to your table.
12. Leather-Bound Details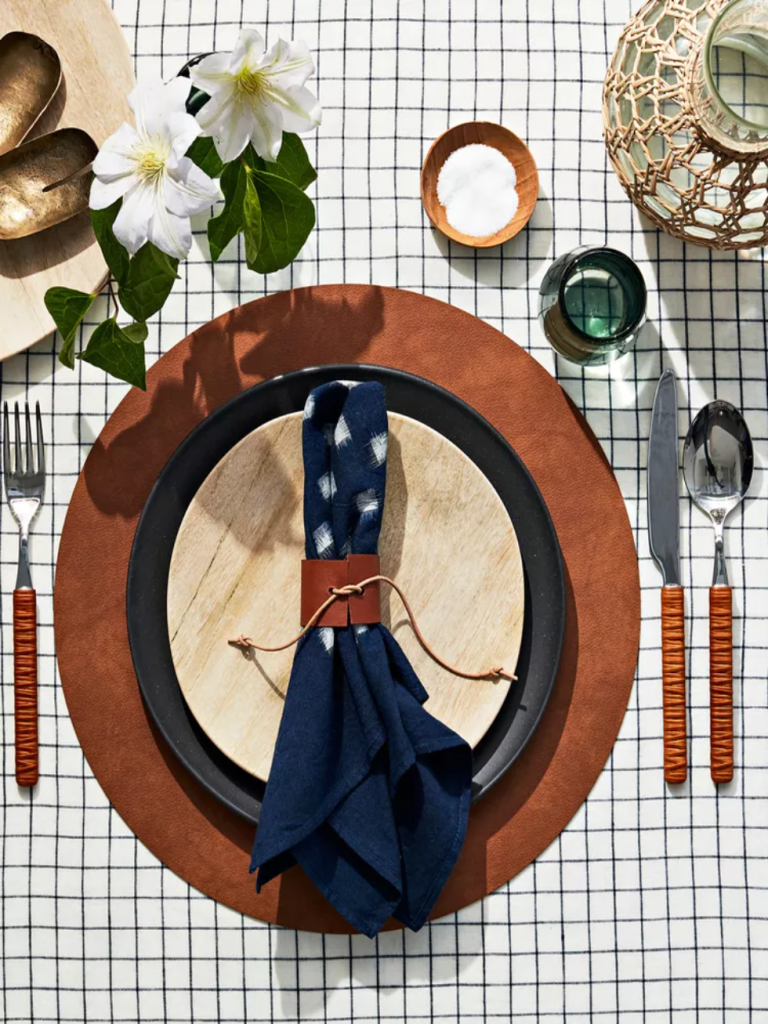 A very offbeat and unique table setting idea is using leather to decorate your table. While using leather, the stitching and the overall detail are the keys to its look. To have your entire table wrapped up in little leather-bound detail would mean having subtle elements of leather spread across your table. For instance, the handle of the spoon has the same texture and color as the leather as the centerpiece in the middle.
You should put utensils and other items on the table which have a similar touch of leather on them. This will make the whole setup look much more elegant and clean.
13. Terracotta Tableware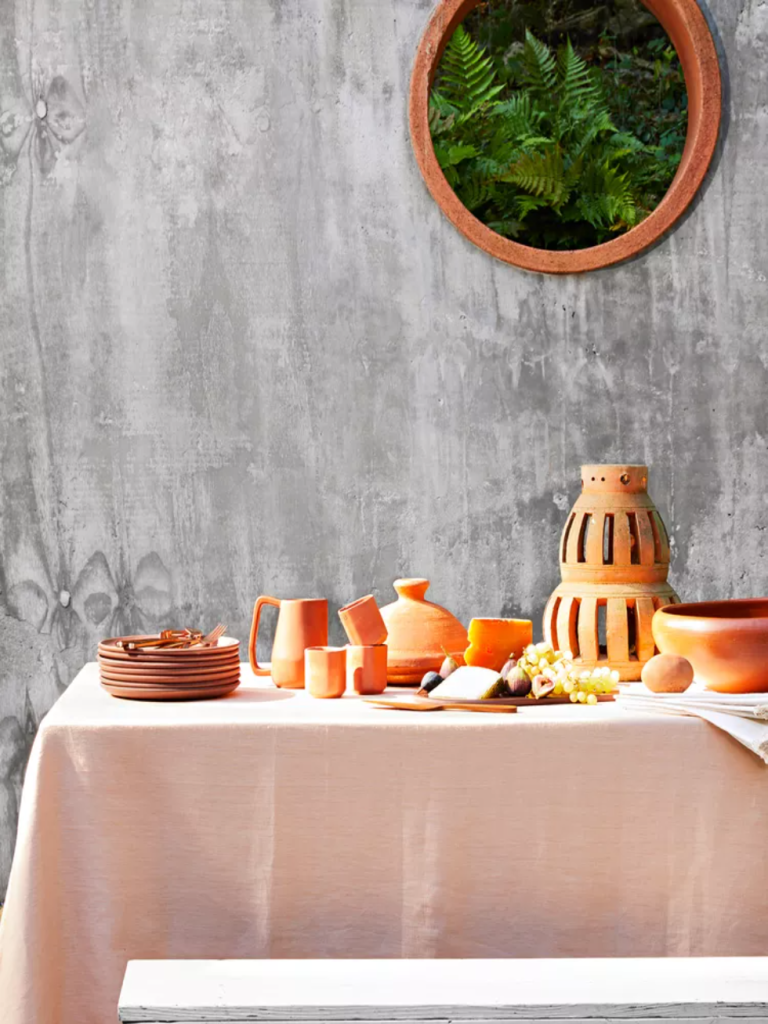 Terracotta utensils have a historical significance. In earlier times, utensils made up of terracotta were used to store grains and rice. In contemporary times, terracotta is widely regarded as a crucial element in home decor. You can try replacing your entire dinner set with terracotta and place it on the table. Because of its traditional value, it automatically becomes a thing of attraction.
Moreover, terracotta is known to endure the toughest of weather. So if your dining table is on the patio or if you're planning to shift the table outdoors, terracotta will not fail you.
14. Layered Plates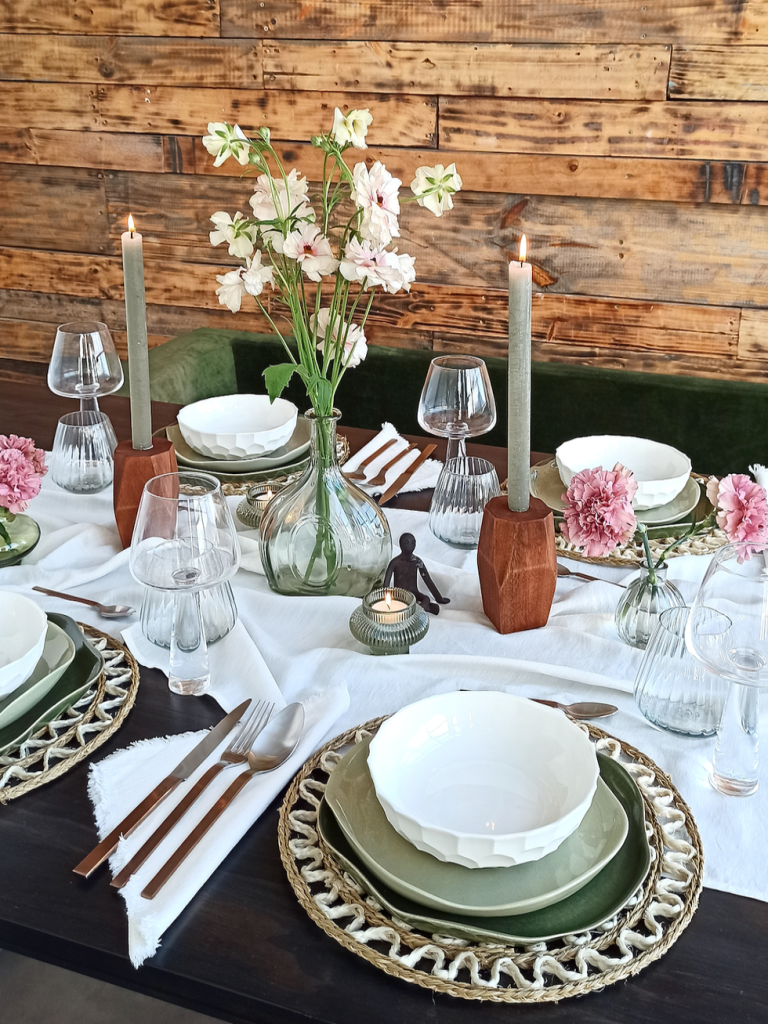 To have a cool table setting idea, it's important to be creative and artistic in your approach. You can even make boring ideas interesting with the right approach. Take a look at this table setting idea, where you simply layer similar colored plates to achieve a beautiful centerpiece. You can experiment a lot with this idea, from choosing different monochromatic plates to plates that have a wavy pattern on the outside. The possibilities are endless.
Keeping the fork and spoon on a napkin near this table setting idea gives this idea the much-needed depth and will make your table look exquisite. Make sure that the plates you choose blend well with the color of your table.
15. Dedicate Lace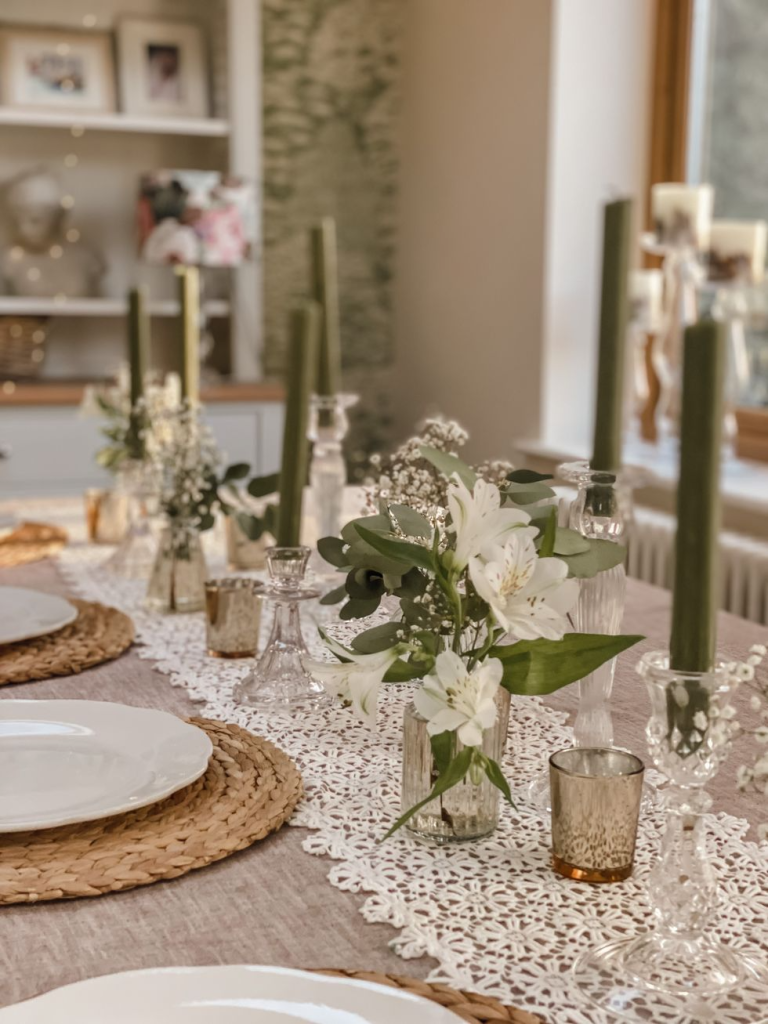 Lace usually comes in a soft aesthetic and adds much-needed coziness to any home decor setting. In this table setting idea, you should use lace if an intimate and cozy setting is what you are seeking. You can invest in a tablecloth with lace borders running throughout and place it in the middle of the table. After this, you can experiment with this table setting idea by placing different vases, using white color flowers, adding string light, preferably a bit yellowish in color, etc.
This type of table setting is ideal for a dinner with your loved ones, wedding functions, and anniversaries. You can even use coasters having a lace touch to elevate your table's soft aesthetic.
16. Make a Hopping Statement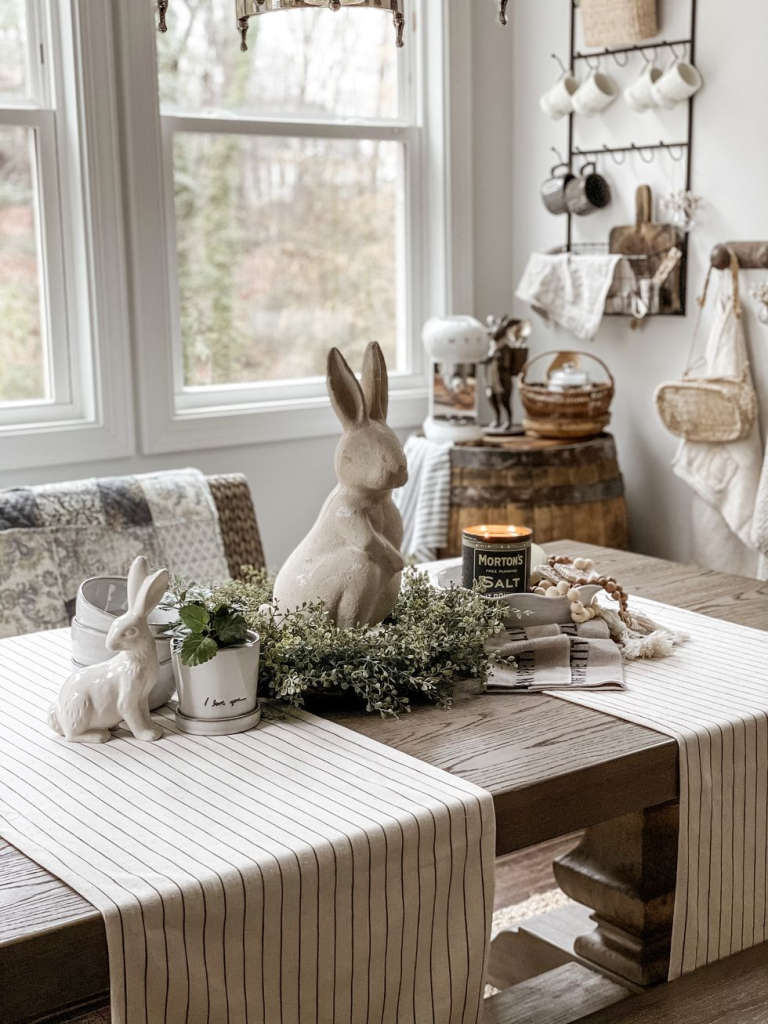 It seems like a very bizarre table-setting idea, but if done right can look absolutely creative on your table. As the name suggests, have a middle-sized artificial bunny, preferably which has a muted shade, and place it on the table. This type of table setting is perfect for the Easter table. To add detailing, you can adorn the bunny with bushes all around it and plant potted plants nearby as well.
If done right, this can turn into a masterpiece and a new addition to the farmhouse aesthetic. You just have to be a little bit creative and go out of your way to make this style statement.
17. Made of Glass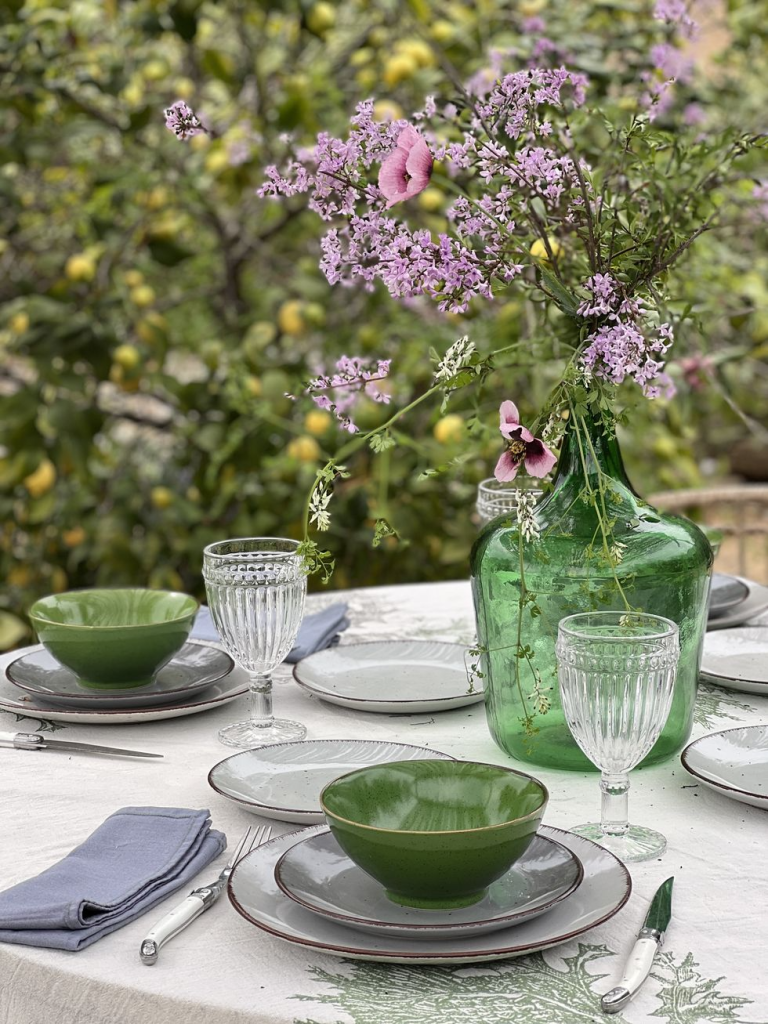 Nothing speaks elegance like glass. It gives a delicate touch and sophistication to your table. To have a glass-like aesthetic, consider having all the utensils along with the centerpiece in the glass. Taking the reference of the image above, you can place colored vases as a centerpiece and put plants in them. To go a step further, replace your utensils with glass to have a matching effect.
This table setting idea gives a very relaxing vibe to the table and makes people feel welcome at the table. Remember that glass is delicate, so if you have kids in your home, this might not be the best idea for you.
18. A Hint of Bamboo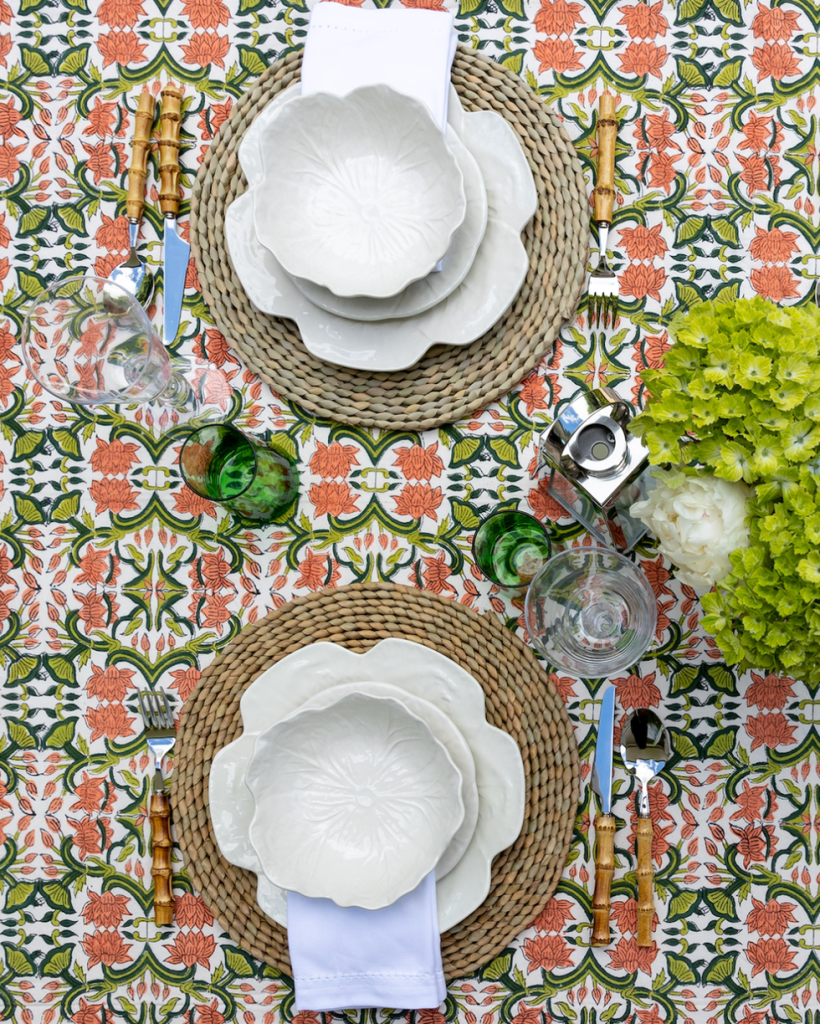 If you're someone who wants to bring the forest vibe to your table, the one element you want to take from nature should be bamboo. A hint of bamboo maintains the minimalistic appeal of your table. Consider using a vase filled with tiny bamboo plants as a centerpiece. Bamboo can be used in a variety of ways. For instance, using coasters made up of bamboo, bowls, tablecloth which has a touch of bamboo, and more.
Please remember that the detailing of the bamboo pieces that you pick plays a crucial role. The centerpieces should not overpower the table. Rather, they should add elegance.
Final Thoughts
All in all, designing a table with all these table-setting ideas will require some effort, but it's worth it to have a table that complements your home decor. From sprinkling Eucalyptus to adding a touch of bamboo, we have talked about various styles, techniques, and aesthetics that you need to consider while designing your table.
Don't get stressed if something you genuinely liked and picked didn't work out. Experimentation is the key to choosing the right centerpiece. We are sure that this article gave you some inspiration to start decorating your table the way you always wanted to.
So why wait any further? Try one of the above ideas for your table and impress your guests with your creativity and artistic side.
Frequently Asked Questions
What is the Most Popular Form of Centerpiece?
The most popular form of centerpiece that is used widely across the world is flowers. Why is that the case? Because it's easier to style and come in a variety of shapes, colors, and fragrance. They also bring the element of nature to your indoor table setting.
What is the Rule of Three for Centerpieces?
The rule of three applies not only to centerpieces but even when arranging furniture in the room. In simple words, it states that arranging similar aesthetic items together leaves a unified and appealing effect on the viewer's eyes.
What is the 3 5 7 Rule in Decorating?
If you notice these numbers are odd numbers, the rule states that items placed in odd numbers leave a lasting impression and is more memorable to the viewers than the items arranged in even numbers. You can go up to nine to arrange things. More than this will likely clutter your table.