Do you have an autumn soul or just want to rethink your living space with fall colors? No matter what is your reason for going for autumn aesthetics, we are here to help you. Autumn aesthetics are on the rise, and people try to be more innovative in creating autumn-themed home decor every year. So, if autumn colors seem alluring and you love the yellow and red berries, colorful falling maples, pumpkins, warm wood fires, vintage books, and cozy blankets, it is high time to reflect them in your home interior.
You can feature the colors and motifs of autumn in your room decor and celebrate the season's glory. Today, you can find various autumn-inspired home decor and DIY projects to decorate your home interior and showcase your autumn and vintage soul. So, keep reading if you are searching for autumn-inspired living room aesthetic decor.
Here we will list 15 unique autumn-themed living room decor ideas.
Amazing Ideas for Fall Living Room Ideas
Autumn living room aesthetic is all about showcasing the beauty of autumn and spreading its colors and charms in your living space. Autumn is also about returning to the old time and enjoying the vintage vibe.
1. Dress Your Fireplace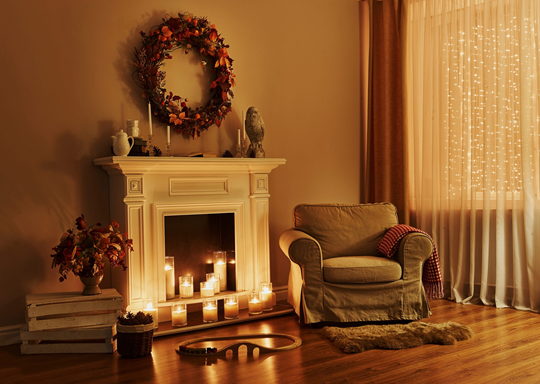 Autumn is incomplete without a warm and cozy fireplace. So, when you look for an autumn living room aesthetic idea to revamp your living space, you must not miss your fireplace. It is easy to decorate your fireplace with the autumn theme. You can repaint your fireplace with snow or off-white shades and decorate it with colorful pumpkins and autumn leaves. You can also stack the wood on a wicker basket and place it beside the fireplace to get a rustic farmhouse vibe. It is a multipurpose solution that helps you decorate the place and also helps you maintain the wood storage for a long-lasting fire for autumn nights. Also, you can install a tv in the fireplace and play fire videos for stimulation if lighting a fire is impossible inside your house.
2. Use Fall-Colored Furniture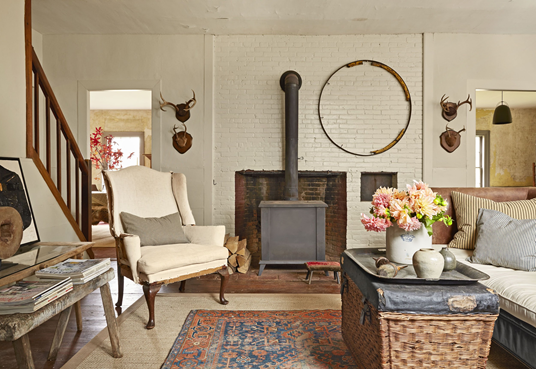 Another great way to redesign your living room aesthetic with a fall theme is by using fall colors in your living room furniture. You can use color palettes like warm orange, gold, and black, or yellow, white, orange, and wood brown for your living room furniture to create autumn color living room furniture. For example, you can display a sofa couch with warm orange and wood brown against a white floor and wall. You can also place an oak wood table in front to show your autumn collection of pine cones, maple leaves, and some candles. You can even put a wooden coat and shoe rack in a corner where you can showcase your autumn collection of boots, coats, and umbrellas. You can try HOTNIU Stretch Sofa Cover in the autumn theme to decorate your living room sofa.
3. Throw Cushions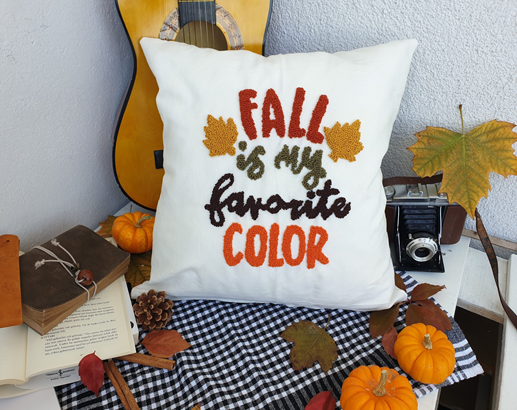 You can also replace your ordinary throw cushions with some cozy, warm autumn-themed ones to create a fall atmosphere inside your living room. If you want to celebrate the season of ripped pumpkins and fallen maple leaves, nothing can be better than reflecting the essence of fall in your living room cushions. Your DIY handmade autumn-inspired cushion covers display your skills and create something new for your home. But if you do not have the time to take a DIY project, you can purchase beautiful autumn-inspired cushions and cushion covers for your living room sofas and couches. PSDWETS Autumn Decorations Pumpkin Pillow Covers are ideal for cozy fall living room decor. You can place them on a fall-colored sofa along and match them with throw blankets to complete the look.
4. Throw Blankets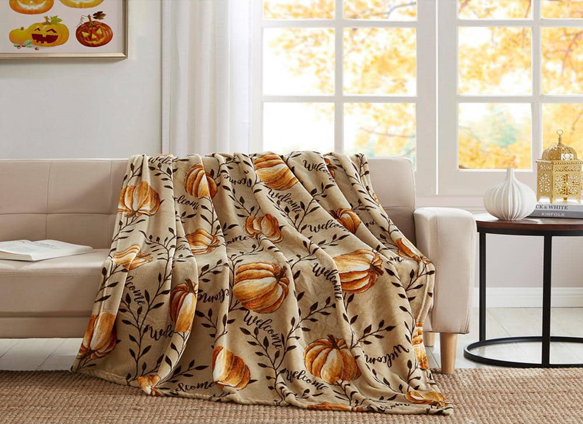 Besides fall-themed throw cushions, you can also use fall-inspired throw blankets to revamp your dining room aesthetic with an autumn theme. It is almost impossible to imagine a picture-perfect autumn evening without a hot cup of cocoa and a warm and cozy blanket, whether you want to start reading your favorite book, chat with family and friends, or binge-watch Netflix dramas. If you are a fan of minimalism and a solid color palette, try throwing blankets in autumn colors (solid) like warm orange, pale yellow, wood brown, or pale gold. But if you like to take this opportunity to reflect on the small essence of autumn. Autumn-inspired GoodGram Ultra Soft & Plush throw blankets are beautifully decorated with pumpkin and orange leaf prints.
5. Warm-Colored Rugs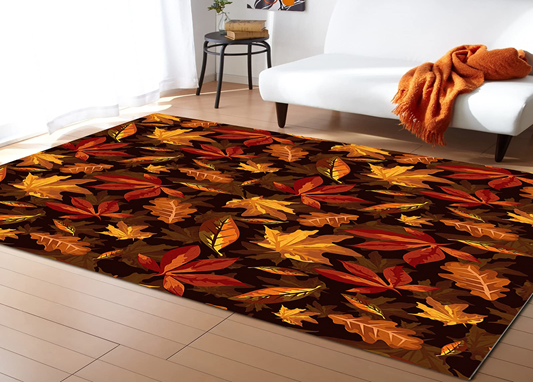 The Autumn color palette includes orange, red, pale yellow, pale gold, black, and wood brown. All of these colors give a warm and cozy feeling. So, it is easy to add a warm autumn touch to your living room interior by using warm shades of rug for your living room. Instead of using floral or cool colors for your living room rug, you can try autumn-inspired rugs with solid warm colors or rugs with cute autumn leaves or acorn prints. It will help you add a warm touch to your living room aesthetic and reflect the soul of autumn. To make it more impactful, you can also place the rug next to your autumn display. Try Mohawk Home Rust Autumn rugs in your living room for a rustic fall vibe.
6. Fall-Themed Flowers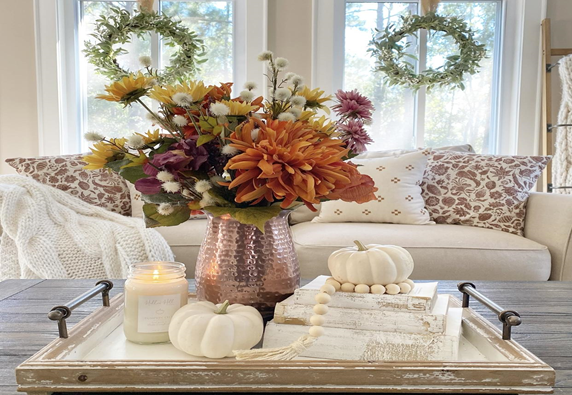 A living room without flowers looks dull and boring, while adding seasonal flowers in your living room help to bring the outside in. Seasonal flowers also help you enjoy the season's freshness and energy inside your house. So, you can use Fall-themed flowers for your living room to upgrade your living room aesthetic and reflect autumn vibes. You can use creative ways to bring in Fall-themed flowers and spice up your living room decor. For example, you can pick your garden-grown autumn flowers like zinnia and sunflowers and place them in your living room flower vase. You can also use wild soft, and furry pampas if available locally. But if you want low-maintenance Fall-themed flowers, you can install artificial flowers. Use in-Knight 2pcs Boho Style Artificial Flower Bouquets for lovely autumn vibes.
7. Showcase Colorful Pumpkins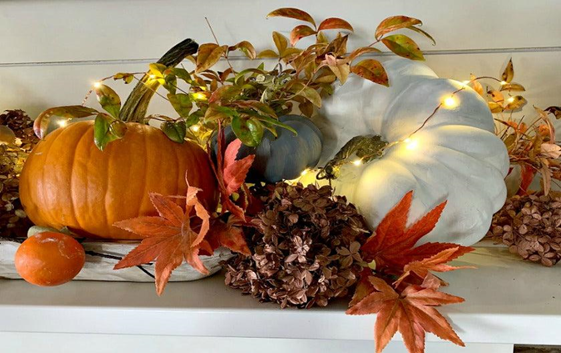 Autumn without pumpkins is unimaginable. It is the season of harvesting pumpkins and some other autumn squash. It is not new to use ripped and colorful pumpkins to decorate homes in autumn, and to date, pumpkins are inevitable in decorating the house's interior and exterior according to the fall theme. So, nothing can be better than using colorful pumpkins for room decoration if you are looking for living room aesthetics and decor ideas to welcome the fall season. You can display colorful pumpkins on a glass plate or bowl and place them above your fireplace or on the table. It will create a stunning and cozy fall ambiance for your living room. You can also buy an artificial pumpkin showpiece to display in your living room. Try DearHouse fake pumpkin, and maple leaves autumn kit to decorate your living room.
8. DIY Fall Leaf Decor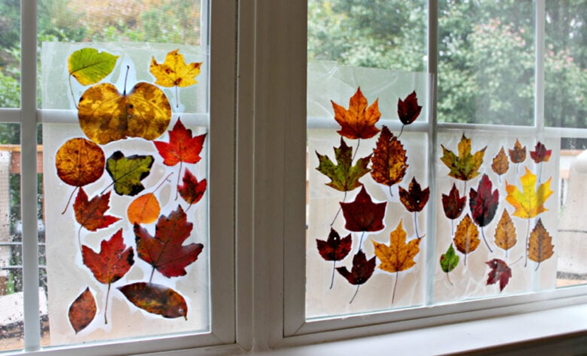 Another interesting idea to light up your living room aesthetic with an autumn theme is by using DIY fall leaf room decors. You can find various interesting and creative ways to style up your living room with DIY fall leaf decor. Just use dry autumn leaves like maple, cider, pine, etc., to DIY mantelpieces for your living room fireplace. And you can also create beautiful wall art with maple leaves or pampas grasses. For instance, if you have a solid-colored wall, you can dip the leaves/grasses in white or contrasting autumn colors and take imprints on the wall; it will create a beautiful autumn-inspired wall painting. You can also use Runtoo Maple Leaf Wall Decals to decorate your living room walls. They look like real autumn leaves and create a vintage autumn vibe.
9. Use Warm Lights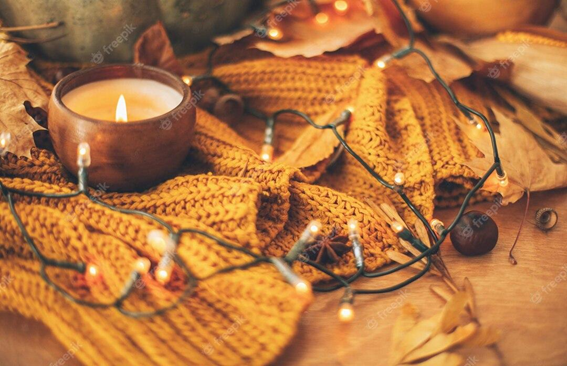 Autumn means the time to create a cozy corner for friends and family, enjoy homemade pancakes and apple pies, and soak in the warm firelight. You can DIY handmade autumn-inspired lampshades for your living room. You can also use your existing fairy lights to create beautiful autumn-themed lights by attaching dried maple leaves and acorns. It is a cost-effective way to DIY a warm light setting for your living room. But if you want to make hassle-free warm lighting that does not require time and effort, you can build autumn-themed lights online. Try YEGUO Maple Leaves String Lights for a clean and warm autumn feel.
10. Fall-Themed Scented Candles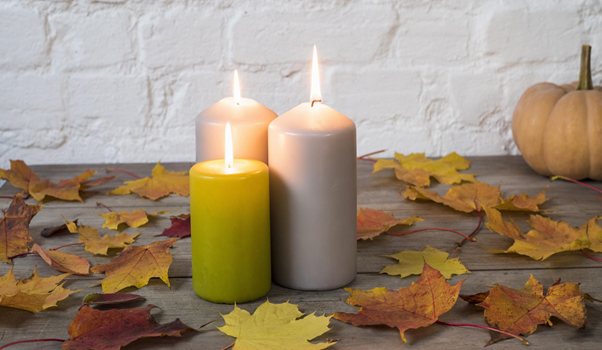 Fall comes with its authentic colors and smells that represent the soul of autumn. If you love autumn, then you will agree that nothing can feel as soothing and relaxing as walking in the forest, looking at the scattered fall colors, and soaking in sent fresh pine. Instead of going outdoors, you can create the same rustic and soothing environment indoors with fall-themed scented candles. Decorate your living room with pine branches, pumpkins, acorns, maple leaves, and seasonal flowers, and light up some luxury-scented candles that contain autumn smells. You can use both faux or real flowers and leaves according to your convenience. Use Lihome Hello Fall Candles to embrace the sweet and shooting smells of autumn. It will help you create a cozy, warm, and soothing autumn evening indoors.
11. Display Some Vintage Books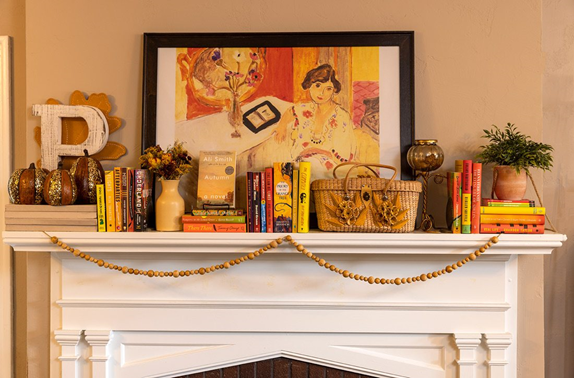 Love books, then what can be the best time to display some old favorites than fall? Vintage books take autumn to another level and add a touch of fantasy and nostalgia, and good-time vibes. If you have a bookshelf in your living room, add some of your favorite vintage books on the display and decorate it with some pinecones and maple leaves. But if you do not have one, use your living room table or the fireplace top to showcase your beautiful vintage books. Think about reading your favorite book while resting on your autumn-themed living and, in the background Taylor Swift's 'All Too Well' or 'Autumn time leaves.' Isn't it a perfect autumn afternoon? So, bring your old love (vintage books) out and make them the highlight of your autumn living room.
12. Use Pumpkin Lights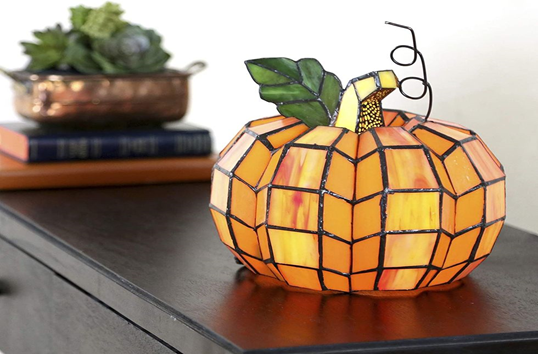 Pumpkin lights are another DIY autumn living room aesthetic decor idea on our list. You must try DIY pumpkin lights if you are searching for cost-effective DIY projects for autumn decorations. It is easy to make pumpkin lights, does not need many tools, and looks absolutely stunning. You can use real pumpkins to peel out inside and create decorative holes, then place a candle, and your pumpkin light is ready. You can also use colored papers and fairy lights to create magic DIY autumn pumpkin lights. But if you do not have the time or patience to DIY a pumpkin light, you can purchase artificial pumpkin lights to decorate your living room. You can use TURNMEON Pumpkin Lights Fall Decor for a beautiful autumn-inspired pumpkin light decoration to light up your autumn nights.
13. Use Fall-Themed Curtains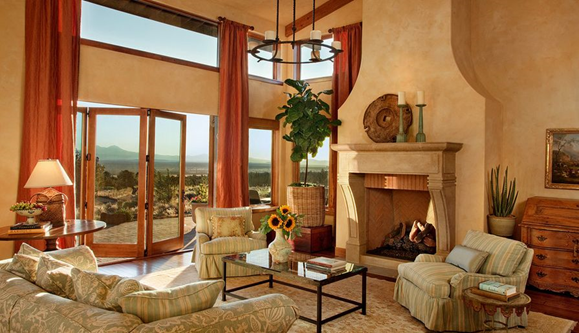 Another brilliant way you can redesign your living room aesthetic with an autumn theme is by installing beautiful autumn-themed curtains. Replacing your existing living room curtains with autumn-themed curtains can add a new dimension and complement your other fall-themed room decorations. Curtains are an essential part of a room, and you can make the most out of them when you blend them with the other room decor. So, always buy autumn-themed curtains that match the living room decor color scheme. Onekaccu fall-themed curtains are an ideal option for autumn living room decor that displays the beauty of autumn in colorful maple leaves. To compliment your autumn-themed curtains, you can use autumn-inspired curtain tie-backs like pinecones, acorns, and nuts curtain tie-backs.
14. Fall-Inspired Wreaths and Mantelpieces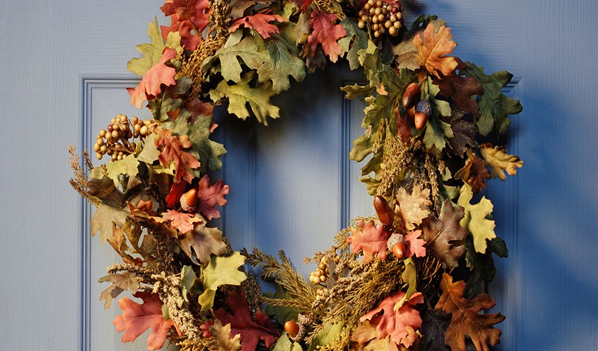 Wreaths, garlands, and mantelpieces are also great options to style up your living room with autumn aesthetics. You can find various interesting wreaths and mantelpieces (with autumn themes) in stores. But if you wish, you can create beautiful autumn wreaths and mantelpieces to decorate your living room and bring the autumn vibe indoors. You can use locally available seasonal items like pampas grasses, sunflowers, maple leaves, pinecones, and acorns to create attractive autumn mantelpieces and wreaths. They will speak the glory of autumn and texture to your living room interior. You can also purchase artificial fall mantelpieces and wreaths for low-maintenance decor solutions. Try TechKen Fall Wreath, which looks stunning and natural.
15. Add Some Halloween Vibes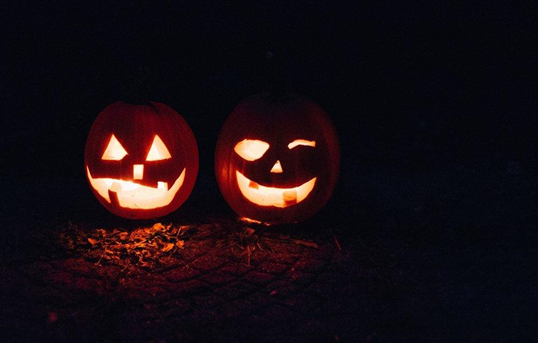 Autumn and Halloween are synonymous for many of us. So, if you are also a fan of this 'Trick or Treat' season, you can opt for a spooky Halloween theme decor to welcome autumn. The Halloween theme living decor will spice up your living room and will look like you are welcoming autumn and Halloween together. To decorate your living room with a spooky Halloween theme, you can install some spooky pumpkin and bat light decorations and some Halloween-themed showpieces. You can also use Halloween-themed cushion covers and blankets to complete the look. You can try Woochic Halloween String Lights to create a Halloween vibe.
Conclusion
All in all, Autumn is a season of falling leaves and scattered pinecones and acorns. The colors of autumn are dear to many of us. So, when you think about uplifting your living room aesthetic with autumn themes, you cannot imagine a place without the colors like black, brown, orange, pale yellow, and gold. You can use autumn-inspired curtains, cushions, throw blankets, curtain tie-backs, or wall decorations to decorate your living space.
Also, you can use seasonal flowers, autumn wreaths, mantelpieces, pinecones, pumpkins, and maple leaves to incorporate the natural texture of autumn. The options are endless, and you can create your unique and interesting autumn room decor by compiling both natural and artificial autumn-inspired room decor. You can also use autumn-themed fairy lights and autumn-scented candles to create a cozy, warm autumn vibe indoors.
If you are still confused, try one or more autumn-inspired living room decor ideas we have mentioned above.
Frequently Asked Questions
How Can I Decorate My Living Space in The Fall?
It is easy to decorate your living space in the fall, and you have endless options to explore. You can use seasonal flowers, pinecones, maple leaves, and pumpkins to decorate your living room. You can also try different DIY and purchasable living room decor with an autumn theme. For example, you can DIY pumpkin lights or autumn leaves wall decor or buy artificial lights and wall decor online.
How Long Can I Keep My Fall Living Room Decor?
Autumn Decorations are alluring and create a charming, cozy ambiance. So, many people like to keep them for a long time until it is necessary to remove them. According to many interior designers, you can keep your autumn decorations throughout the autumn season and even in early winter days. But you must remove them by the first week of December as Christmas will be near, and you will be required to prepare your space for the upcoming events.
Is Decorating a Living Room Autumn Theme Expensive?
Not all autumn living room decorations are expensive. You can find various DIY and purchasable fall living room decor that are budget-friendly. Also, some autumn room decor ideas are free, like dried leaves, pampas grass, garden-grown pumpkins, and seasonal flowers. You must use a little bit of creativity and imagination to create fall magic without spending much money.
Can I DIY Fall Living Room Decor?
Yes, of course! You can DIY fall-themed living room decor. For instance, use dry maple leaves and acorns to create autumnal mantelpieces, pumpkins, and candles for pumpkin lights and seasonal flowers, and pine cones for wreaths and garlands. You can also make dry Maple leaf wall art to create a perfect fall look. Read the ideas mentioned above to know more about it.
What Natural Objects Can I Use to Decorate My Living Room in The Fall?
Autumn is known for its natural beauty, and you can pick various seasonal features as your fall living room decor. You can choose anything from an endless list of fall natural features- acorns, pine cones, pumpkins, wild berry branches, dry maple leaves, birch wood, pampas grass, nuts, seasonal flowers, fruits, etc. You can DIY various fall decors with these natural articles.