The world of interior design is quite intriguing. It is interesting to know how certain decor aesthetics create warmth and exhibit elegance. French Country decor is one such aesthetic. As its name suggests, it originates from the picture-perfect countryside of France. It is rustic, simple, and sophisticated. It takes inspiration from different elements in nature, like its delicate colors and romantic floral flourishes. This is how French country decor symbolizes grace and comfort.
If you love the beauty of rural France and want to build your home around its aesthetics, you have come to the right place. This is a comprehensive guide to achieving French county decor in your house. This decor can also be implemented in office space as it is sophisticated. We will discuss everything, right from the furniture to the perfect lighting.
This blog will provide you with invaluable tips and advice to help you curate a space that reflects the spirit of French Countryside.
Why Choose French Country Decor?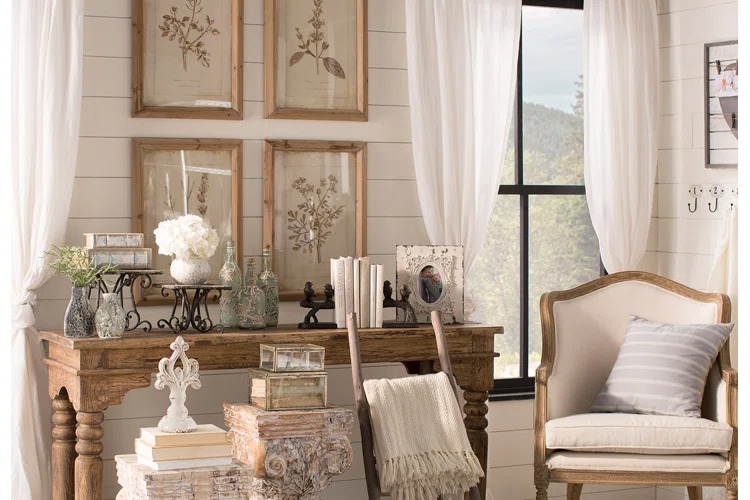 The unique aspect of French country decor is that it creates an ambiance that is relaxing and equally refined. It is the perfect blend of rustic and elegant. It draws inspiration from the natural surroundings. It embraces the beauty of the countryside. Whether you live in a sprawling farmhouse or a cozy city apartment, this decor can give any space the rustic charm of the country lifestyle. Soft neutrals, such as creamy whites, gentle greys, and warm beige, are some of the main colors of a French Country palette. These colors can be used as a backdrop for accents of muted blues, delicate pinks, and hints of lavender inspired by wildflowers. These carefully curated hues create an atmosphere that is both soothing and refreshing. This is how you achieve the serenity associated with French country decor.
So now, let's unravel the secrets behind achieving the conventional French country look in your living room, kitchen, bedroom, and beyond.
Basics of French Country Decor
1. Color, Print, and Patterns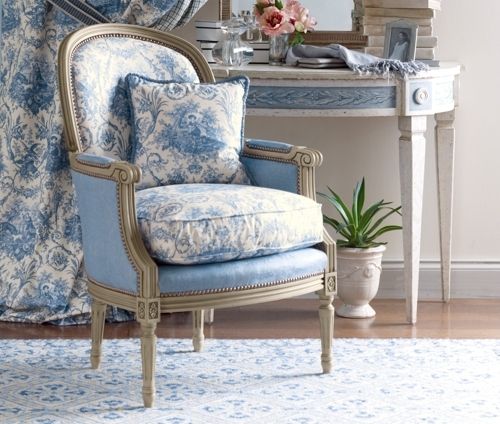 As mentioned before, the color palette of French country decor leans towards the warm side. This style embraces colors of medium to light intensity. For your rooms, you can choose light yellows, warm pinks, baby blues, and creams. The use of more intense hues is inspired by the pigments present in the area's native soil. They can be used in your aesthetics through textiles found in the region.
Traditional French country wallpaper, curtains, tablecloths, and furniture all include the toile de Jouy design printed on cotton or linen materials. The toile pattern is distinguished by its prints of monochromatic landscapes and characters on a white or cream-colored background. However, vibrant color can also be seen in some varieties of French textiles like roosters and damasks.
2. Architectural Style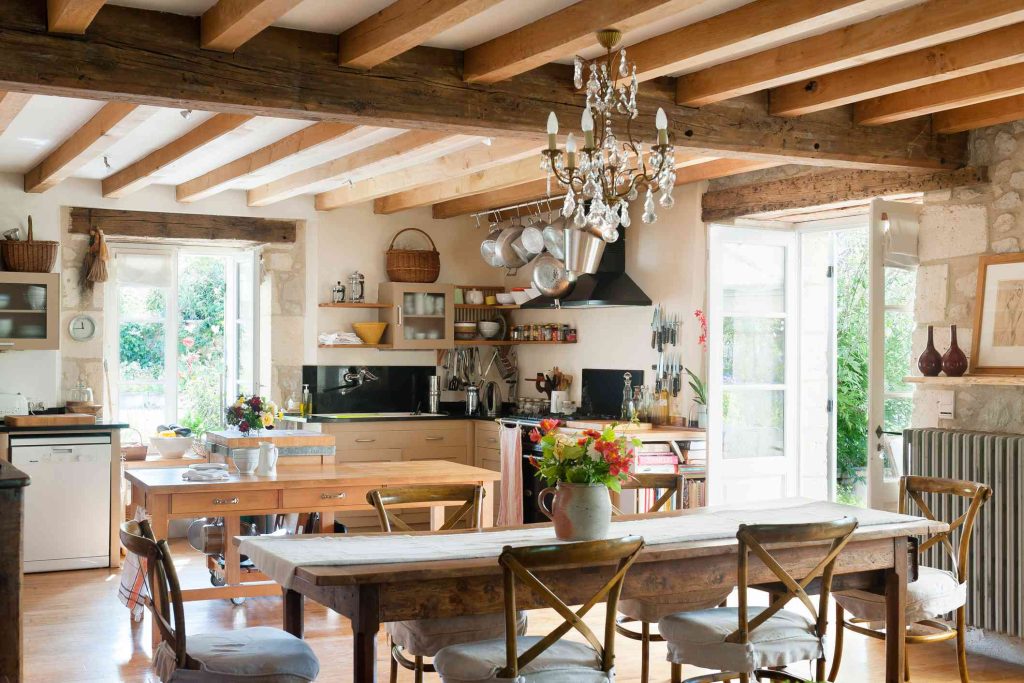 The architecture of the style is directly derived from rural France. The most common interior architectural components of the fashion are listed below:
Exposed ceiling beams made of wood
Natural floors made of stone, wood, or brick
A worn-out look
Stone, wood, and soft hues are also used in the external construction of French country residences.
3. Furniture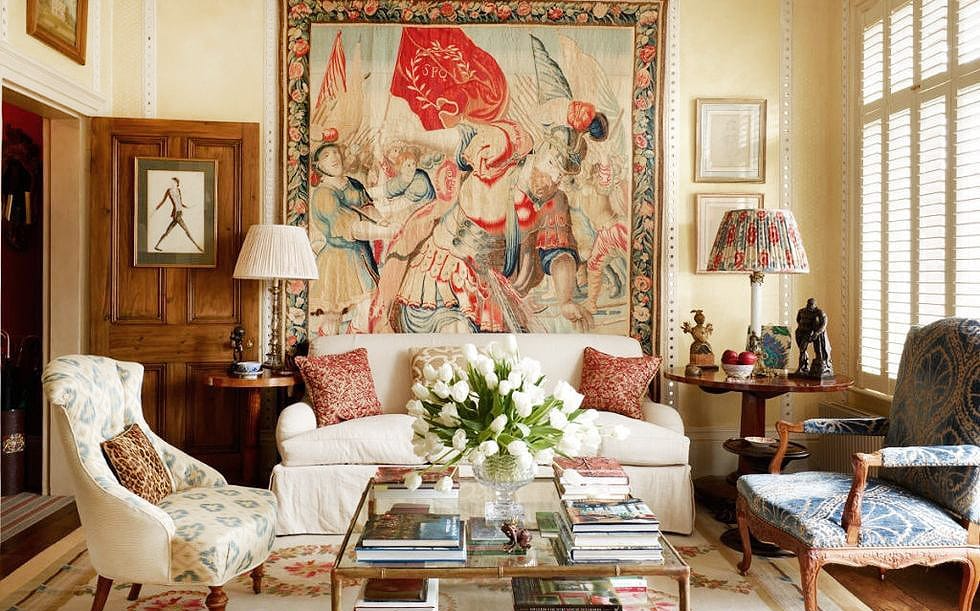 Comfort and elegance are the hallmarks of French country furniture. Cushions that are soft and comfortable are always used with upholstered furniture. Straightforward wood pieces like tables and chests used in this decor frequently have some form of carving to enhance the curves of the furniture. Additionally, the furniture has painted, distressed, and frequently bleached finishes. You can distress your furniture using milk or chalk paint to get this look. Because of its heritage, the local French pieces of furniture are a little more formal and embellished than the ones used in French country decor.
4. Decor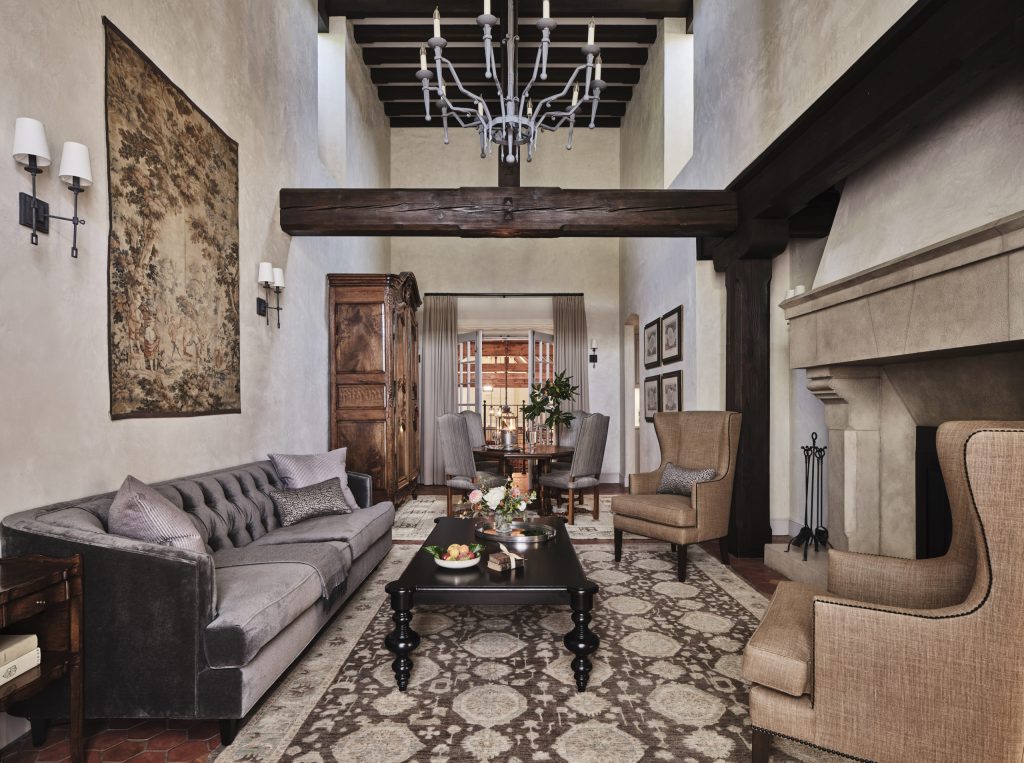 You can focus on decor after you have the appropriate hues, patterns, and materials. This will help you in coordinating. Therefore, French country design is perfect for you if you appreciate antiques and vintage pieces. 90% of the rural home's furnishings and accessories are antiques that were either passed down from grandparents or purchased in the French equivalent of flea markets known as brocades. However, using French antiques in your decor is highly personal. This will make your decor distinctive and personal.
French Country Style by Rooms
1. Living Room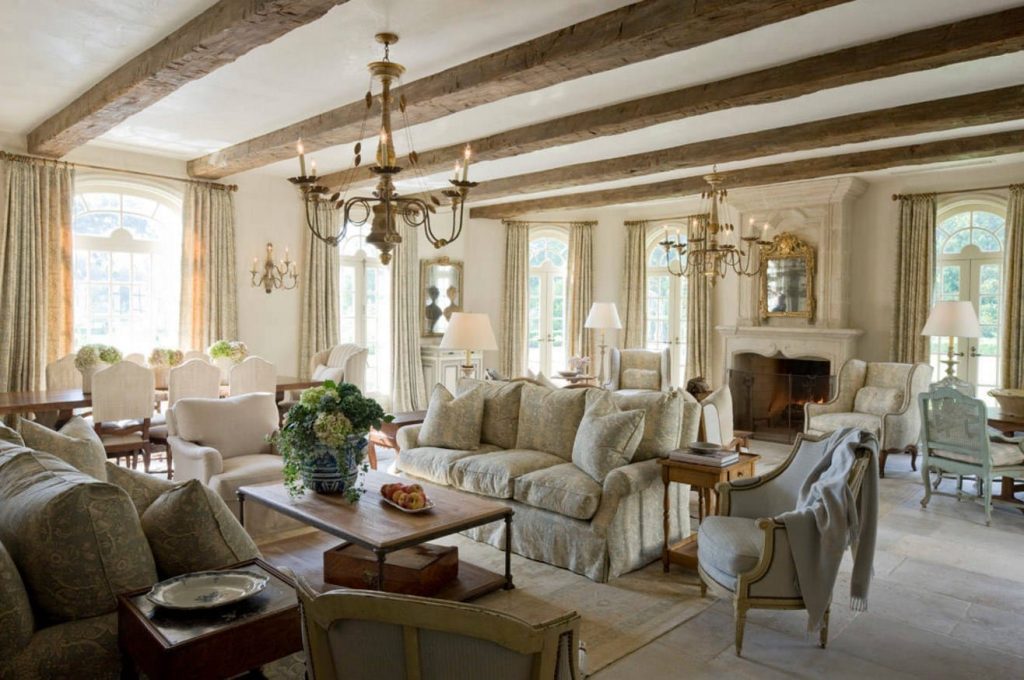 A French rural living room has to be a welcoming and comfortable space. Because it is a space in the house where you unwind after a long day at work. It is a place where you lounge on the couch, watch TV or read a nice book. The two accent bergère chairs, a gray sofa, a circular coffee table, a gold-framed mirror, and a crystal chandelier are the main pieces of furniture in this stunning living room. The colors of brown, gray, and white further enhance the French style. A French rural living room with this color will seem sun-kissed and airy.
Avoid using dark hues. Your French country living room can have cream walls, patterned drapes, a crystal chandelier, a white or blue throw blanket with a delicate pattern, a round marble or weathered wood end table, and a glass door cabinet! Put a rustic, antique-looking coffee table next to a sofa with a tablecloth made of linen. A floral or oriental rug in light shades of grey, blue, and white will add a finishing touch.
Some other points to remember:
Using only a few essential components can also help you achieve a French-country living room. A conventional sofa and weathered wall mirror are typical. But placing a tufted ottoman and accent chair can enhance the look. Soft throw pillows with stamped designs can offer even more French flair. Besides, an elaborate coffee table, flowing drapes, delicate candlesticks, and flowers can give your living room a sophisticated feel.
Despite not being characteristic of French-country interiors, eccentric and unusual design items may blend seamlessly with French-country styling. Weathered and vintage-inspired are two important traits to remember. So using a delicate hourglass, well-used shoe mold, and surreal giant vases can be a good idea.
To get a classic rustic French country living room, damaged finishes are not the only option. You can bring the rustic vibe even through polished elements by introducing vintage-inspired decorative items like flowers, a birdcage candle holder, a wall mirror shaped like a basin, old books, and an Eiffel Tower made of black metal. A tufted sofa, ruched drapes, and ornamental furniture legs can also contribute to the room's elegance.
It is not compulsory to use muted colors. Bright colors can also work in French country settings. In this case, blue tones are a popular choice. With eye-catching lighting fixtures and wooden furnishing, you can create an opulent French living room.
2. Kitchen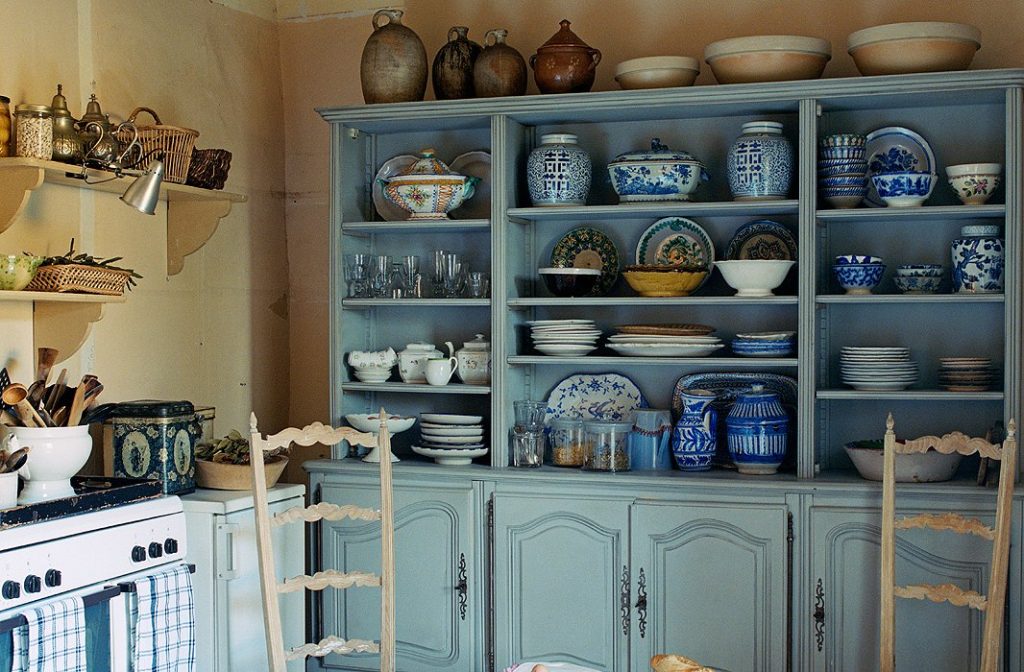 The kitchen is no doubt the heart of the home in France. It is a space where the family likes gathering to discuss and spend time making meals. Natural wood and white marble are frequently used in French country kitchens. You can display eye-catching crockery and beautiful fake finishes to create the French country style's vintage appeal. Another option is to utilize glazed country blue cabinets, which go well with an informal floor with a wood-inlay pattern. Marble countertops and distinctive carpentry accents also add a vintage touch, which is much needed in French decor.
A metal pitcher with flowers can add freshness. Spice and herb displays in attractive vintage jars, along with some copper pots, fit the motif of French country aesthetics. Checkered floor tiles, fleur de Lis backsplash, light blue or grey cabinetry, and exposed wood ceiling beams are other ways to achieve a French kitchen.
3. Dinning Room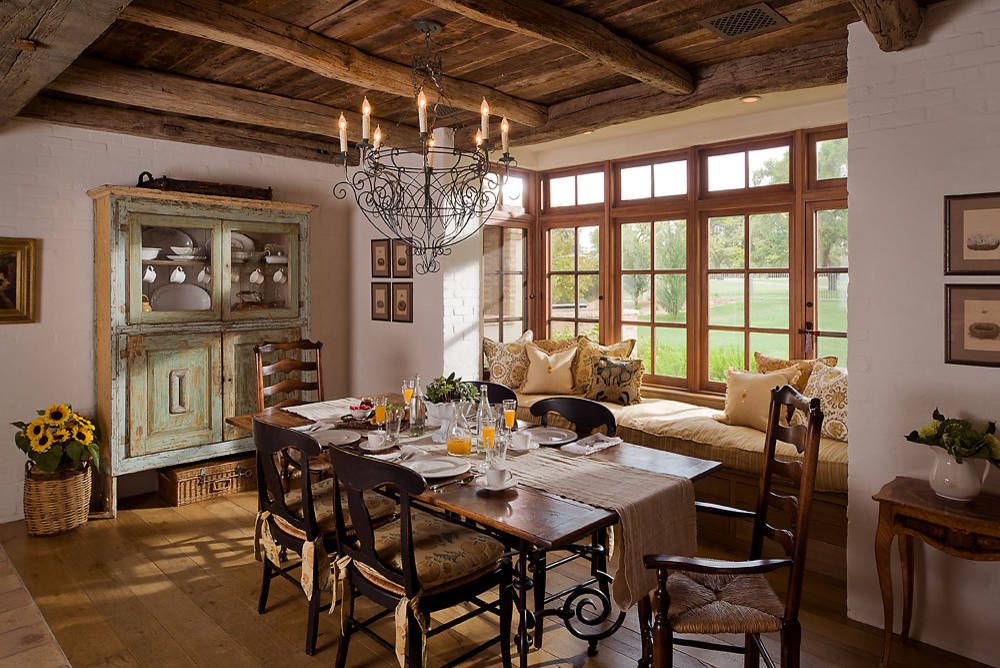 Try giving your French country dining room an inviting atmosphere to make every meal a special occasion. From the furniture to the décor, you should thoughtfully curate every element of the dining room to create the perfect balance between comfort and sophistication. The centerpiece of a French country dining room is often a farmhouse-style dining table. To complement the farmhouse table, you can use chairs upholstered in natural fabrics, such as linen or toile. You can highlight the versatile nature of French country design by mixing and matching different chair styles and finishes.
In true French country style, the dining room is adorned with delicate accents and decorative elements. Exposed brick or stone fireplaces can become a focal point of a dining room. A fireplace radiates warmth and provides a cozy atmosphere during colder months. Chandeliers with wrought iron or distressed finishes can provide an old-world charm. You can also use soft, diffused lighting from wall sconces or candlesticks. It creates a warm and inviting glow which is perfect for intimate dinners or festive gatherings. You can add finishing touches to your dining room with floral arrangements in rustic vases, antique mirrors, and woven baskets.
4. Bedroom
The calm space in your house should be your bedroom. Your bedroom will have a gentle, antique feel if you decorate it in French country decor. For starters, set up your bed with lacy white layers and a comforter made of toile. You can use old chairs in the corner, ruffled throw cushions, traditional white drapes, and a chic crystal chandelier to enhance the look further.
For an antic French bedroom, you can use relaxing Roman curtains on the windows and little Louis XV-style chests asnightstands. A gentle blue or grey color scheme with gray and white furnishings, iron bedframes, and floral-designed comforter also adds a vintage charm. You can also place a rustic wood dresser if you want a dressing area in your bedroom.
Some other points to remember:
Wrought-iron accents are prominently used in a French rural bedroom. Bed frames, wall sconces, and floor lamps made of black iron can create a striking contrast with the soft hues of the walls and bedspread, which are generally used in French-styled bedrooms.
You can achieve a typical French country bedroom by adding vintage-inspired accents. Rustic wall hangings, vintage literature, and storage boxes in the shape of picnic baskets are some examples of vintage decor pieces that you can use. Iron chandeliers with birdcage designs are also being used excessively nowadays.
Ruffed bedspread and curtain go perfectly with feminine bedrooms. Ruffles give charm and lighten the French country bedroom, which might look opulent otherwise.
A wallpaper and area rug with delicate patterns can serve as the ideal backdrop for the subdued neutrals used which are heavily used in bedrooms.
You can ditch iron bedframes by choosing beds made of natural wood. A wooden bed grounds the space. To add the right amount of glitz to a simple French bedroom, you can use exquisite wall mirrors and tiny chandeliers.
5. Bathroom
The bathroom is a space that must be well-lit. A freestanding tub, gilded mirrors, and an abundance of natural light are common features of French country bathroom decor. Spherical tubs can break a bathroom's rigid lines and add warmth to the room's soft linen hues. Hanging a magnificent pair of antique sconces on each side of a massive Louis XV-style mirror can be used as a vanity. French country-style bathrooms that are whitewashed go perfectly with the feminine aesthetic.
For big bathrooms, you can use two white vessel sinks, two vintage white wall sconces, a painted white mirror, and a natural wood vanity. You can use crystal chandeliers and bathroom fixtures made of premium materials like brass to add a vintage vibe.
Conclusion
All in all, the beauty of French Country decor lies in its ability to create a relaxed and refined ambiance. It effortlessly blends rustic simplicity with refined sophistication. Inspired by the natural beauty of the French countryside, this style embraces warm, earthy tones, delicate hues, and romantic flourishes to add serenity to your home. The principles of French Country decor can transform any space with its rustic beauty. We hope this guide can take you on a journey through the captivating world of French Country.
So curate your own French Country ideas and embark on this enchanting journey. Let the charm of French Country decor transform your space into a haven of rustic sophistication and understated luxury.