Planning to add something unique to your living room? Sleeper sectionals are the talk of the town as we move forward to smaller houses and nuclear families.
With the fast-moving world and never-ending struggle for budget-friendly things, sleeper sectionals are perfect for modern life.
No matter how big your house is, it is always good to add extra bedding space to your house.
Adding a sleeper sectional will not only add a sofa set to your house but will also add more bedding space. It is quite a pocket-friendly option and offers ample space.
You can even opt for something that has under-sofa storage to store your belongings.
Best Sleeper Sectionals for 2023
We have created a list of the 11 best sleeper sectionals that you can get for your living room this year.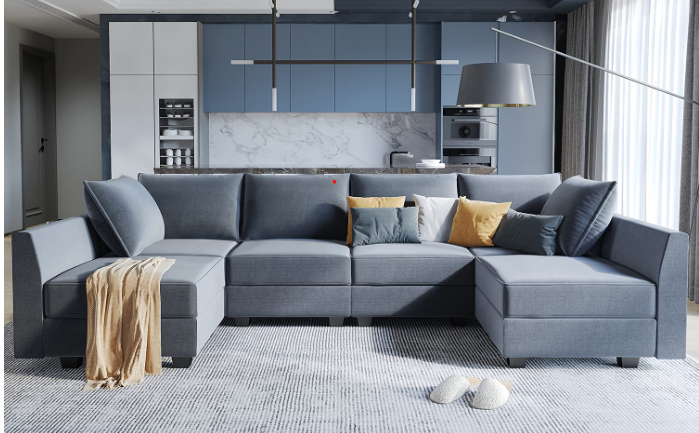 A bluish-grey sofa coming from the brand Honbay with removal cushions and storage seats is perfect if you are looking for comfort and space altogether.
It is not a typical sofa but rather a modern sofa set in which every seat can be removed and rematched as per convenience and style.
The sleeper sectional sofa is best suited for a guest room as it can be easily converted into a bed which furthermore solves the space issues in city homes.
It is a 6-in sleeper sectional that contains a storage space which increases the practicality and ease of living.
The size dimensions of the sofa are- Overall size: 112.21"(L)*55.90"(W)"*33.86″(H), Ottoman size: 25.6" (L) x 25.6" (W)x 17.72"(H),
It is made from a solid wooden frame and contains polyester fabric and a high-density sponge.
Assembling the HONBAY Sleeper sectional sofa is a very simple process that can be easily done inside a room.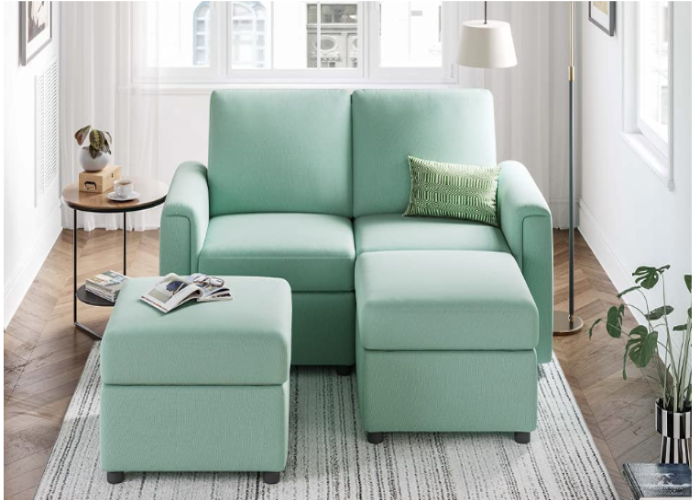 This LINSY sleeper sectional provides the option of customizing the shape and color of the sofa, which makes it a versatile option.
The couch of the sleeper sectional seat is made with a combination of Bamboo Charcoal Memory Foam.
The material of the premium mattress is high-density foam and steel springs that offer a cozy feeling and enduring support.
All seats in the sleeper are sectional and contain an in-built storage space which increases the utility and neatness of the house.
You can easily remove cushions, and they are completely washing machine-safe.
The assembling of the sleeper sectional is very easy, and no extra tool is required; it can be easily assembled by a person who does not know how to assemble it.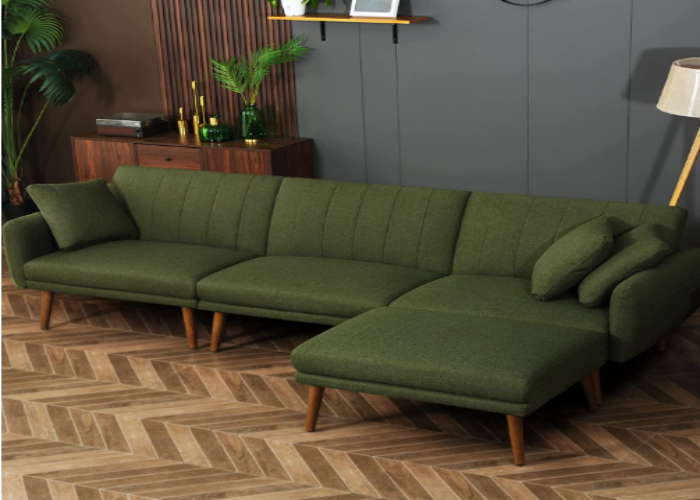 A moose green-colored sleeper sectional sofa with linen upholstery and square arm style is a showstopper piece. The sofa is constructed with a wooden frame high-density sponge, and serpentine spring.
The sleeper sectional is fully covered with linen. It is quite supportive, and it has a weight capacity of 800 lbs.
This sleeper sectional sofa is not a typical sofa but rather a convertible one with three options 105° for watching TV, 120° for short rest, and 180° for sleeping.
The layouts can be customized as per the need, like a loveseat, coffee table set, sofa bed, etc.
Each seat comes with a storage space underneath, which can easily store your pillows, sheets, and any other extra stuff.
The sofa set offers a tool-free assembly that can easily be carried out by any person.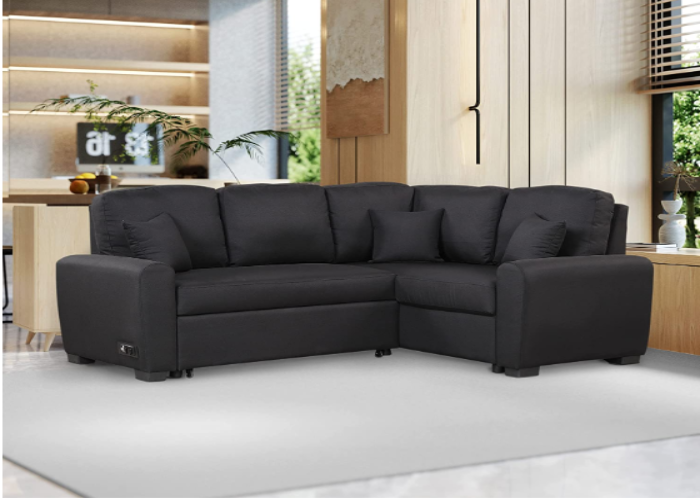 A sleeper sectional type sofa set with track style arm and solid pattern. It is best suited for a living room.
The sleeper sectional has dimensions of 76.7″D x 58.2″ W x 37.4″H.
The sofa is equipped with USB ports and plug outlets that offer additional utility.
It is a modern-style sleeper sectional sofa having a sturdy wood frame, high-density foam filling, and breathable upholstery.
The Melpomene sofa offers extra comfort with 3 extra plush matching pillows.
It offers an additional option of a bed which can turn your living room into a guest room whenever you need it.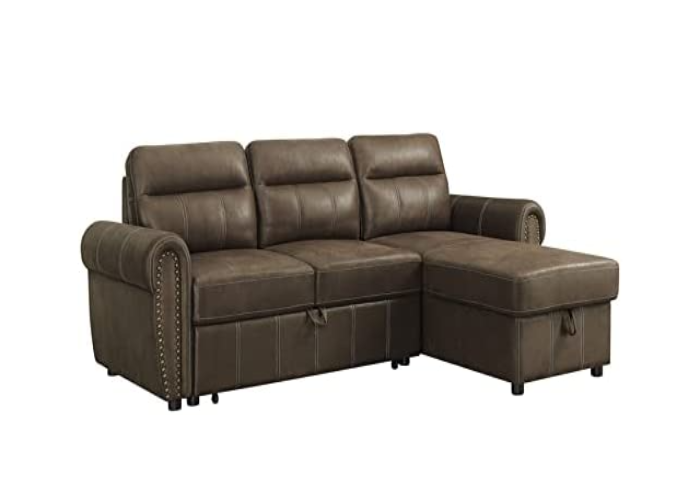 A product coming from the house of Lilola Home with microfiber upholstery and curved arm style.
The sleeper sectional has dimensions of 61″D x 96″ W x 37″H and a sitting capacity of 3.
It is an L-shaped sleeper sectional which can be placed in the corner and a reversible storage chair.
Also, it has a Handmade Nailhead Trim and stitching design, and the assembly of the product is very simple and can be carried out with comfort.
It is a value-for-money product designed for small spaces and comes with a saddle brown color and a pillow back.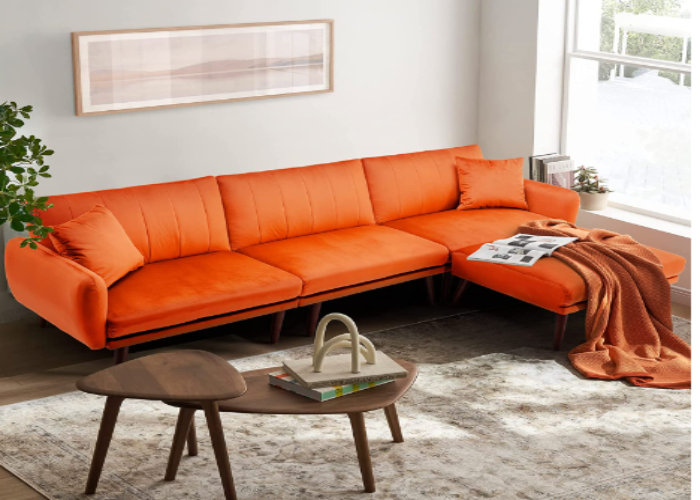 This is a sleeper sectional-type sofa with velvet upholstery in a special orange color. It is perfect for a living room with a square arm style.
The orange sofa comes with 3 back seat settings, which can be used as per the purpose.
It comes with various degree dimensions like 105 degrees, 120 degrees, and 180 degrees angles.
It has a soft orange velvet which is easy to clean and maintain. Just wipe it with a clean cloth, and the sofa is ready.
The sleeper sectional can be easily converted to 104.7(L) * 58.3(W) * 30.7(H). After conversion, it offers 4-5 seating spaces.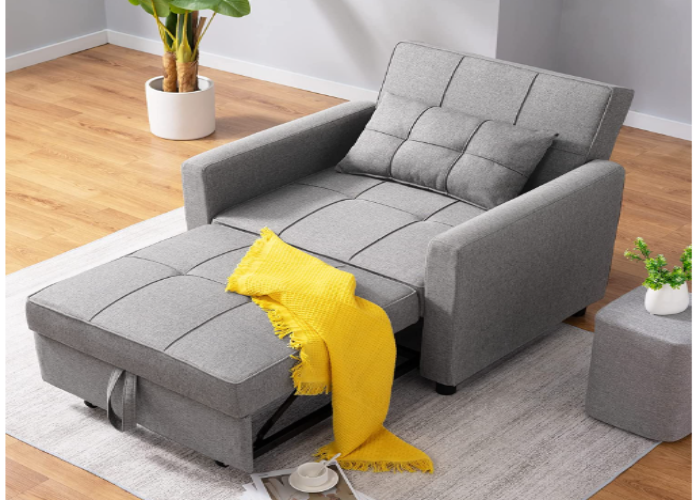 This particular sleeper sectional from BALUS offers 3 types of sofa chairs that can be easily converted into a sofa/chair, lounger, and sofa bed.
This beautiful sleeper sectional has a quirky yellow color with a special folding feature and futon type.
The sleeper sectional sofa comes with a breathable linen fabric that doesn't make you feel uncomfortable.
It is best suited for living room people who love binge-watching thing their favorite movies and web series.
The sofa offers a high-resilience sponge, which allows you to sleep more comfortably.
This sleeper sectional is designed in such a way that the assembly is very simple. Further, it contains assembly manuals which makes the process more comfortable.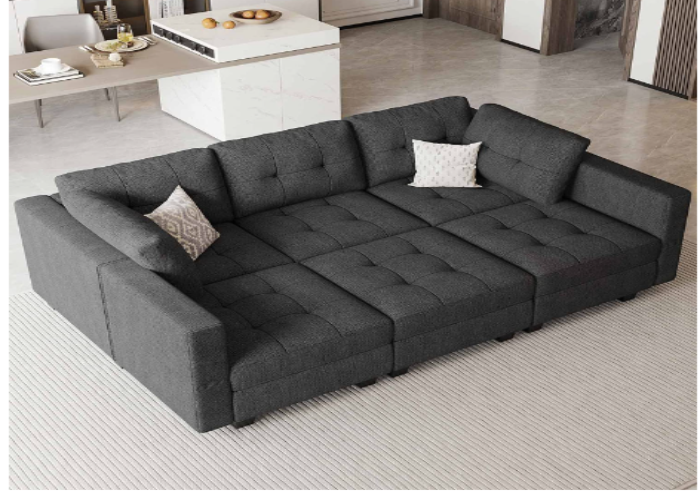 A modern-style sleeper sectional sofa with a unique rectangular shape and wood frame material. It offers a space-saving design having a storage space underneath every seat.
The dimensions of the sleeper sectional are 22.40″(L)*22.40″(W)*5.70″(H).
The backrest comes with a human-oriented backrest design which can be adjusted to an angle of 135°
This modern sleeper is sectional and can be assembled in different shapes and accompany any living room style.
The dimension of the modular sectional sleeper sofa is 58.3″(L)*90.2″(W)*33.5″(H).
If you are planning to keep a dark theme in your living room, then this one is perfect as it matches easily with the other stuff in a living room.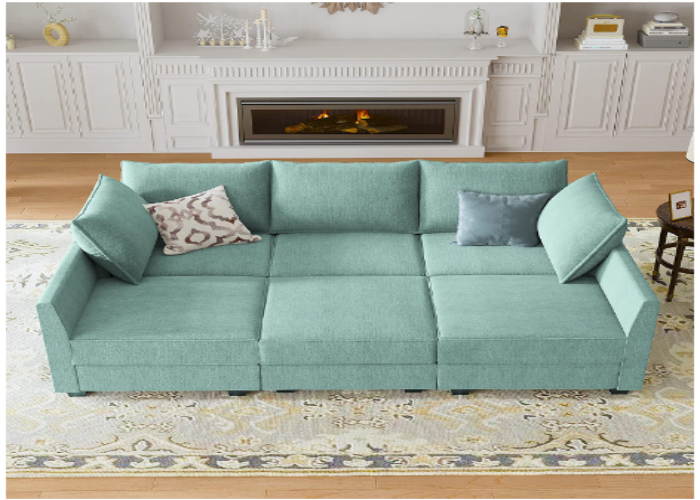 If you are into colors and want something that adds a pop of color to your room, then this one is for you. An Aqua blue color sleeper sectional sofa comes with special features like additional storage.
It can be easily converted, and it is best suited for a home living room and home office.
It is a sleeper sectional sofa featuring an engineered wood construction for durability and comfort.
This sleeper sectional from HONBAY comes with breathable polyester fabric and a supportive spring-packed seat for greater relaxation.
It contains under-storage seats with dimensions of 20.6″(L) by 20.6″(W) by 6″(H).
The overall dimensions of the sleeper sectional sofa are 87"(L)*55.9"(W)*33.9"(H).
The package will be delivered in 7 different pieces, which would be very easy to assemble.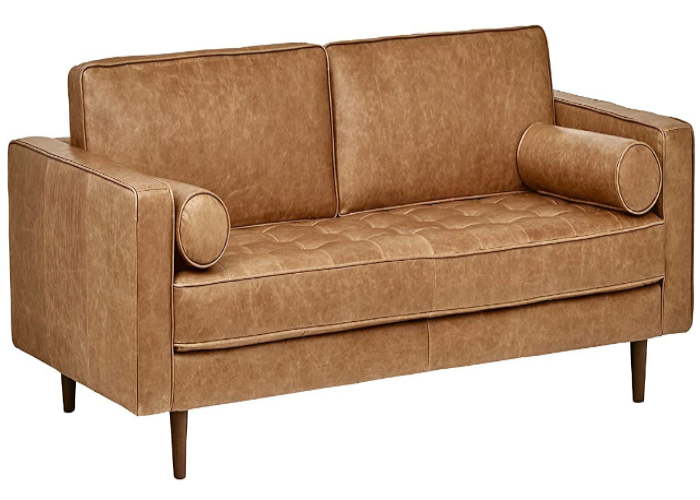 If you are planning to get a sleeper sectional that looks unique and offers a mid-century feel, then this Rivet Aiden Sofa is for you. It is a tufted-back love-seat sleeper sectional that offers comfort and style.
You can easily remove the back cushions and feel comfortable as you plan to.
The frame of the sofa is made from hardwood and offers durability to you.
You can assemble this particular piece in less than 15 minutes and make your room better than before.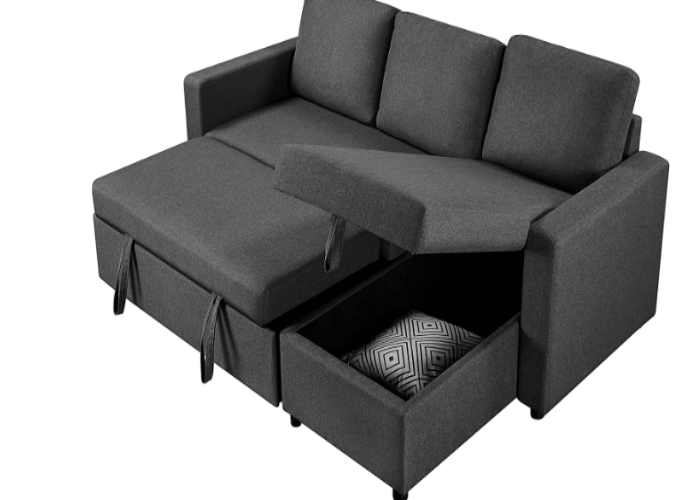 The Yaheetech sleeper is sectional, an L-shaped sofa set with a couch and reversible sleeper that you can easily convert into a bed.
It comes with a button-tufted design in dark grey colored fabric that adds the right amount of texture to your living room.
You can invest in this piece because it not only looks good but can offer you a bed-like space whenever guests come to your place.
If you also use the hidden storage space and store your books, linens, and extra material.
Things to Keep in Mind While Buying Sleeper Sectionals
It is always a hustle to shop for the right piece of furniture, whether you go for bedroom equipment, living room equipment, or dining room equipment. It is important to know various factors and plan your purchase accordingly.
Doing this ensures that you buy the right sleeper sectional for your house that comes the most useful and does not end up being a waste. While investing money, it is important to invest in the right way.
1. Size
The first thing to keep in mind is the size and dimensions of your room. You would want to own something that fits perfectly in your living room and does not take up most of the space. If you have a bigger living room, then you can get a sleeper sectional that has more seating space. Whereas if your room is small, then go for something more compact.
2. Features
Next on our list are features. The market is filled with various combinations of sleeper sectionals. Determine what your needs are. Do you want to have a pull-out bed or something that comes with additional storage space? Doing this will make sure that you make the most of your piece and invest in something more useful.
3. Budget
Budget is something that most of us struggle with. Something affordable and useful is not easy to find, but if you plan your budget beforehand and then look for options, then it is going to save you a lot of money. Make a list of features you want in your sleeper sectional, and then shop for a piece that fits right.
4. Material
Last but not least is the material of your sleeper sectional. Fabric, framework, mattress, everything matters. You might want something that is dark in color and comes with a solid wooden frame so that it stays durable for a long. If you like more colorful things, then you can play with different shades too.
Summing It Up
Lastly, while concluding, we would like to add that sleeper sectionals are perfect for your house as the modern take this year to add more space and comfort.
It will look best and offer extra sleeping space if your guests ever come home.
You can easily shop for a sleeper sectional that comes under your budget and look for styles per your living room.
These days sleeper sectional sofas come in a wide range of varieties, so no matter whether your style is bold, basic, or extra, you can easily shop for one.
Furthermore, they can be easily assembled at home, so you don't have to get help from outside.