Are you looking for a perfect pick for your living space? Your quest ends with this range of the best velvet sofas from hand-picked sellers. Sofas are not more a piece of furniture; it has become an integral component of the aesthetical element of the house.
There are different variants of sofas available in the market. Beat the idea of conventional sofas and sink in the luxury of the velvet sofa designed and crafted to offer regal comfort.
Available in different hues, these velvet sofas instantly amp up the glam quotient of your space. The velvet sofas add an exquisite element of elegance and glamor to your space.
So, if you are willing to take the game up for your interiors, check out the following places to find the best velvet sofas.
Expert-Endorsed Velvet Sofa Sellers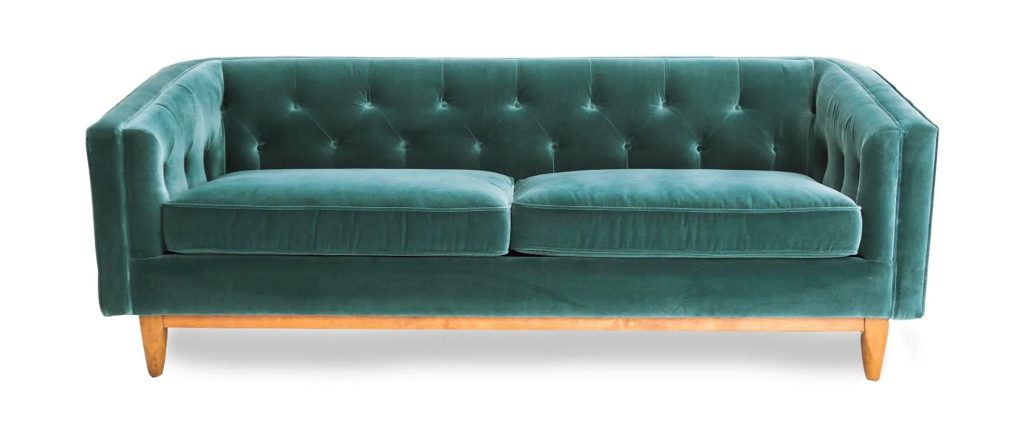 If you are looking for a stylish home addition, this 3-seater sofa will leave everyone in awe. Its unique color and sectional partitioning will make it an easy fit for your room.
The classy and beautiful green hue of this sofa adds a focal point to your room. The hardwood softwood frame gives it additional strength.
Key Features
Sturdy and strong construction
Available in stoned slate and petrol velvet
Has button backrest
High-density foam cushion
Solid pinewood feet
Similar Post: 20 Popular Types of Couches for Your Home Decor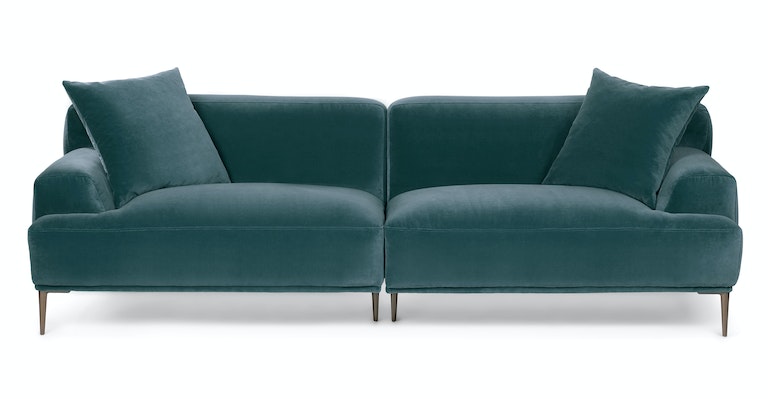 Want to add some wow factor to your room? Bring in the oceanic experience with this Pacific blue-colored Abisko sofa. Made from high-quality velvet, this sofa will be a game changer in the decor element of your house. The sofa comes in two pieces, thus giving you the leverage to arrange it in the fashion you want.
Key Features
Available in yarrow gold and Pacific blue
The solid wood frame adds to the strength
It comes with two pillows for added comfort
Highly functional and stylish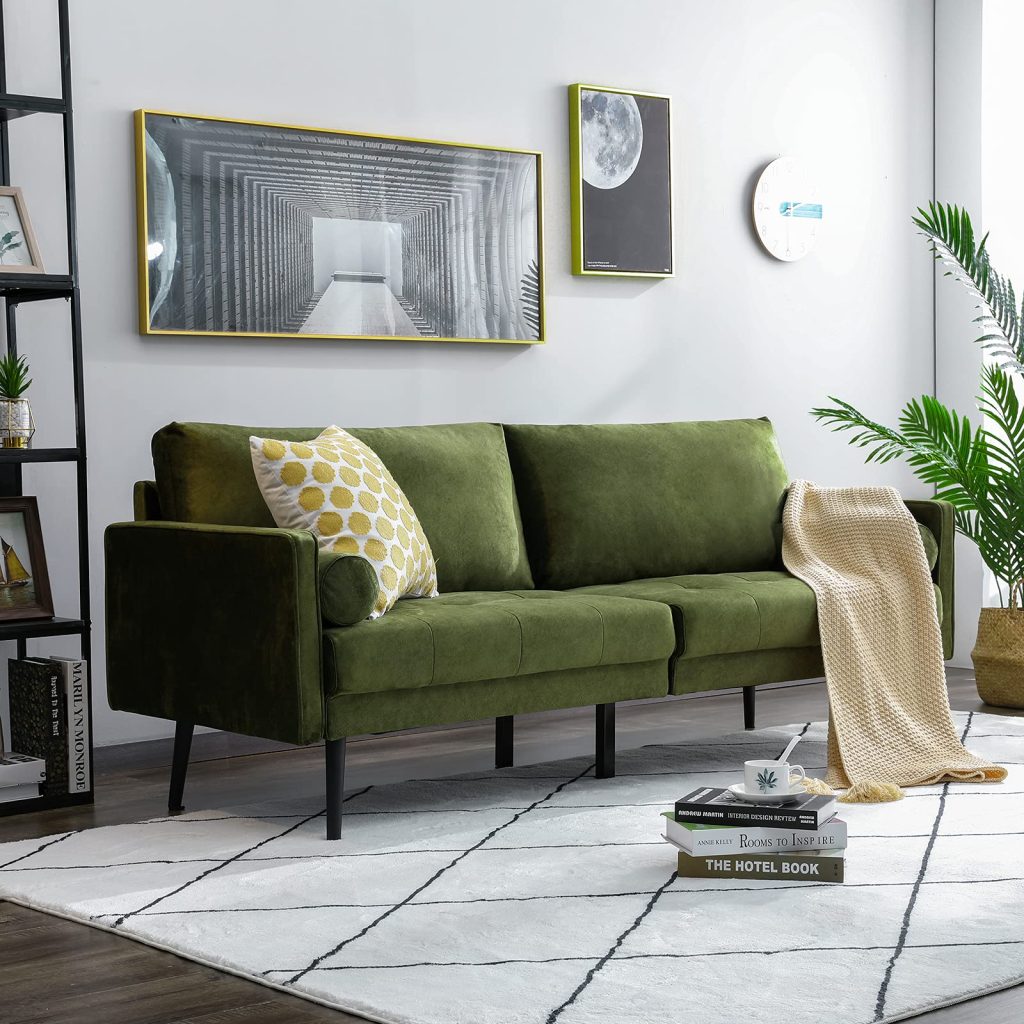 If you want to add unconventional hues to your room, consider investing in this mustard green 3-seater velvet sofa by Vondana. You can easily buy this sofa online.
Available in a unique mustard green shade, this sofa will charm up the look of your house. The high-density foam cushion gives you a luxurious and comfortable feel.
Key Features
Timeless comfort and extraordinary design
It comes with a cushion for added comfort
Made with eucalyptus
It can easily bear a weight of 500 lbs
The back cushion is detachable
Sleek lines with tufted cushions give you a comfortable feeling
For lovers of vintage-style decor, this sofa would be a treat to the eyes. Available in shades of blue, cognac velvet, green, moss, and natural, you can easily pick the option that best matches the decor of your space. The small front wheel attached to the legs of the sofa makes it easy for you to move around.
Key Features
Sturdy and durable construction
Available in eye-catching colors
Sophisticated design
It comes with a wheel making it easy to move
Made with stain-resistant fabric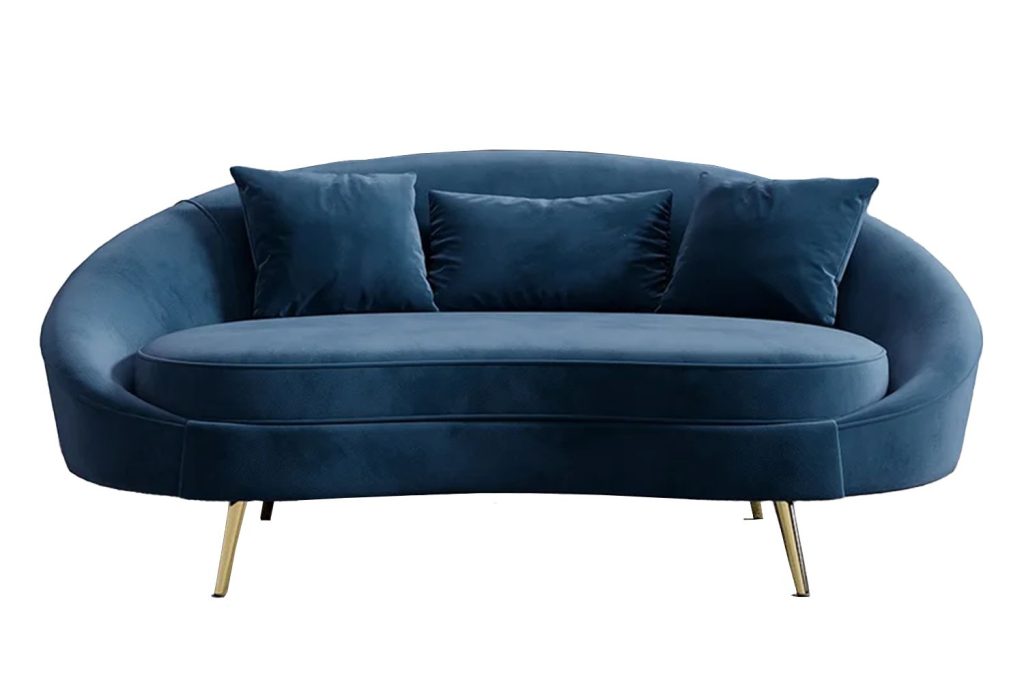 This cute little sofa can easily nuzzle your house. You can easily accommodate this sofa in the bar or living space. It is fashionable and stylish. Moreover, its unique design gives it a chic and elegant appeal. The throw pillow, jewel-toned hues, and shiny gold support make it one of the best choices for anyone looking for a stylish embellishment for their home.
Key Features
Durable and long-lasting fabric
Available in different colors
Unique curved designs
Comes with cushions
A statement piece apt for lounging purposes
Related: 12 Coastal Bedrooms Ideas to Transform Your Space
Convincing Reasons to Invest In Velvet Couches
From Boho to Victorian, irrespective of your choice of home setting, a velvet sofa will easily harmonize with the look of the place. These timeless pieces add the necessary charm to increase the glam quotient of your place.
1. Ease In Maintenance
Velvets exude decadence and luxury. However, we cannot snatch away the fact that these attract dust. But don't be disheartened, and velvet sofas are not overly demanding.
In a few minutes of your day, you shall have a sparking, cozy sofa shining in your house. Always use a gentle brush and microfiber cloth to clean the sofa. You can also use a vacuum cleaner with a soft brush attachment to clean the sofa.
2. Timeless Elegant Piece
This rich and tactile fabric will draw everybody's attention. Available in harmonious hues to vibrant shades, velvet couches are easily snug into any home decor, from vintage to contemporary.
You can find the right style and design that will woo you. Moreover, velvet couches have continued to lure people through the ages and remain on a preferable list of furniture for any homeowner.
3. Durable and Long-Lasting
Unlike the myths, velvet sofas might look elegant, but these are juxtaposed. Velvet couches are durable and long-lasting. Investing in the right quality sofa ensures its durability. A velvet sofa made with 100% polyester short piles gives it added strength.
Moreover, there is a lesser probability of snagging. Since there are raised weaves, there is a lesser probability for the fabric to entangle with zips or buttons.
Also, this feature makes it an ideal choice if you have furry pets at home. Besides, polyester velvet is also less prone to stains, so it is a perfect choice.
4. Comfortable Addition
Are you still thinking about whether velvet couches are worth the deal or not? Well, picture yourself sitting on a fluffy sofa that snugs you in. Imagine the soft texture, and I'm sure you will have no second thoughts about hitting the add-to-cart button.
5. Versatile Option
One reason that velvet couches are the best addition to any room furniture is that they are available in different styles and designs. Based on the decor of your room, these can be easily customized to suit your aesthetic desire.
Things to Consider When Buying Velvet Couches
Before making a purchase, there are certain aspects that a buyer must always have on their radar. Eventually, it will help you narrow down to the best option. Here are some of the key tips that will help you make the right call:
1. Sofa Type
Available in different options like 2-seater, 3-seater, 5-seater, or even a single-seater, you can now buy velvet couches based on your preference.
You also have the option to choose from a U-shaped sofa or an L-shaped sofa. You can pick the one that effortlessly harmonizes with the room's look based on the space availability and your style preference.
Check This Next: 20 Inspiring DIY Wood Projects to Expand Your Vision
2. Color of The Sofa
You will never fall short of options when it comes to buying velvet couches. This sheen fabric is available in rainbow shades, thus giving you the leverage to choose the option that best matches your preferences.
3. Types of Velvet
When you explore the best brands selling velvet sofas, you may find some charging exorbitantly while others are cheaper. The price variation is based on the type of velvet.
You will discover velour, known for its comfort, silk that offers the softest feeling. Velveteen is not the softest of all, but it does the job.
Wrapping It Up
All in all, the sofas mentioned here are the best addition to your home. With the vast selection of options available in the market, buying the best one can be challenging, but with the tips mentioned here, the task becomes easier.
Indulge yourself in the allure of velvet and elevate your room's decor. Take the game of home decor a notch above with the best velvet sofa. From plush upholstery to intricate craftsmanship, these sofas are an emblem of royalty.
Make sure you invest in a good quality sofa that becomes a timeless piece of elegant charm that makes your living room a cult.
Frequently Asked Questions
Why is Velvet Sofa a Good Choice?
Velvet sofas have gained popularity for their exotic appeal and look. These are available in different styles, designs, and shades, thus making it easier for you to pick the one that best matches the interiors of your space.
The right velvet sofa will instantly create an alluring focal point in your house. The velvet exudes luxury and is an incredibly tactile material, thus making it a perfect choice for those looking to add a touch of royalty to their space.
Is Velvet a Good Choice for People Having Furry Pets at Home?
Absolutely yes, investing in quality velvet sofas will not only add a touch of luxury, but at the same time, it is also a pet-friendly fabric. Since velvet has a short, flat pile and doesn't have a woven texture as in other materials, cats don't prefer clawing it. Moreover, it is more durable than leather and is a perfect choice for your home.
Are Velvet Sofas Easy to Maintain?
Well, velvet sofas demand maintenance, but it's the same as in the case of any other sofa. To keep the luster and shine of the sofa unscarred, you must dust it regularly to keep the surface dust and debris-free. For this, you should regularly vacuum it; if you notice any stains, clean it immediately. Velvet pre-treatments are also a good choice.
What Are the Key Things to Consider When Buying Velvet Couches?
Velvet couches certainly add an element of glam to your home, but there is a certain point of caution that you should consider before buying one:
Clean the sofa regularly, as dust deposition may ruin the look
In case of a spill, clean immediately
Use a vacuum cleaner with the right attachments for dust removal
Do not place the sofa in the area receiving direct sunlight
Use steam cleaning to remove the stain