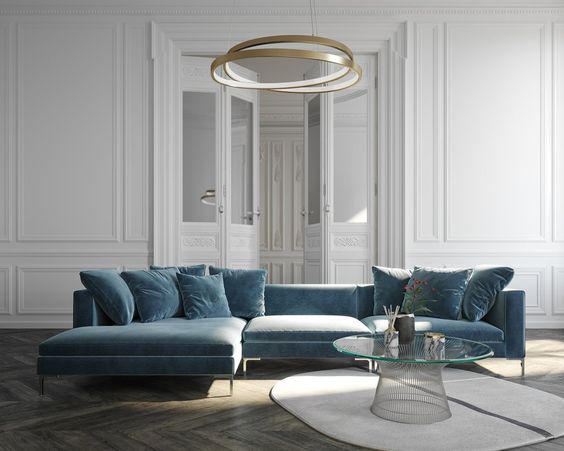 Are you looking to get a sectional sofa to enhance the overall aesthetic of your house? Sectional sofas are ideal for creating a cozy hideaway for leisure, entertaining guests in luxury, or optimizing seating arrangements in a compact space. Sectional sofas, with their modular construction and changeable layouts, offer limitless options to meet your specific needs and tastes. The best sectional sofas to buy will rely on a number of things, including your personal preferences, your budget, the space you have available, and the features you want. Discover the epitome of comfort and style with a comprehensive guide to sectional sofas.
Explore a handpicked collection and find the perfect sectional sofa that will become the centerpiece of your house, giving both usefulness and aesthetic appeal to any room, from sleek and modern designs to timeless classics. Prepare to enjoy the ultimate in luxury and the freedom of flexible seating options with sectional sofas. They alter the way we lounge and entertain with arrangements that accommodate larger or tiny groups.
Look no further if you are looking for the ideal centerpiece of your living room.
Best Sectional Sofas of 2023
1. Quarter-Cut Sections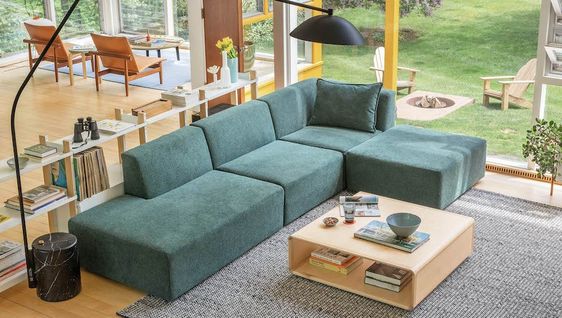 The four-cut modular sectional sofa is a highly versatile and customizable piece of furniture that combines modern design with exceptional functionality. Crafted with quality materials and attention to detail, this sofa offers a contemporary style that seamlessly fits into any living space. Its modular construction is one of the main characteristics, allowing you to quickly re-arrange and reconfigure the components to meet your changing needs. This couch easily covers your preferred layout, whether it's a large corner sectional, a small two-seater with a chaise, or a traditional L-shaped arrangement.
2. Gaze In Chaise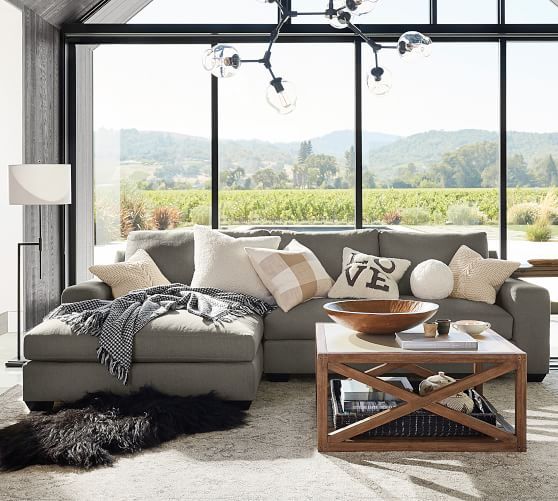 A chaise sectional is a sofa with a lounge component with the addition of an extra seat, often positioned at one end of the sofa; it provides a varied and comfortable seating arrangement. The lounge gives your more room to stretch out and relax, allowing you to extend your legs and enjoy a pleasant seating experience fully. It is ideal for resting, reading, or napping. A chaise sectional can save room by providing more seating without the need for additional chairs or ottomans. Its an excellent choice for compact living rooms or apartments with limited space.
3. U-Shape It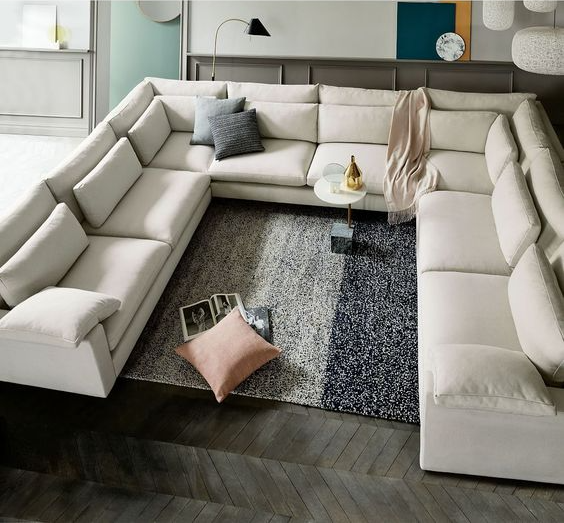 In a room, U-shape sectionals make a strong visual statement. They frequently function as focal points that can bring grandeur and flair to your living space. To match a unique taste and accent your environment, choose from a number of upholstery options, colors, and designs. These sectionals are designed to maximize seating capacity while utilizing available space efficiently. They can be an excellent solution for bigger rooms or open-concept areas if a cozy lounging area within a larger room is desired.
4. No Worries with Curvy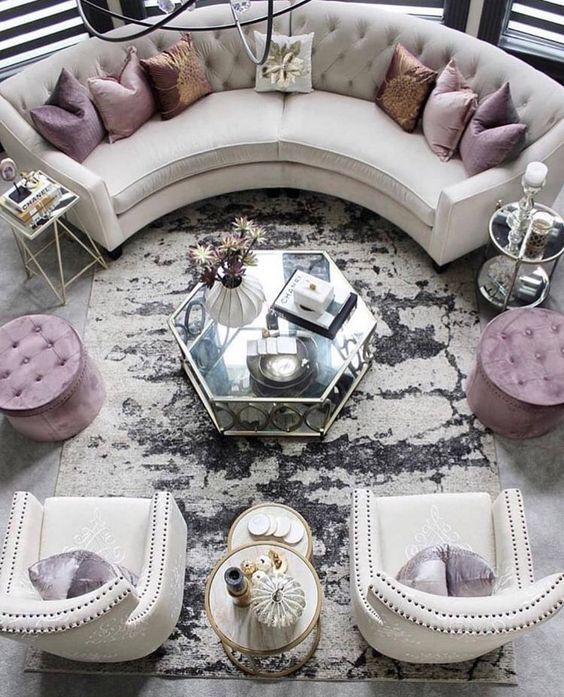 Curved sectional couches are a fashionable and one-of-a-kind seating option that adds a touch of elegance and sophistication to any living space. Curved sectionals, as opposed to standard straight or angular forms, have beautifully curved or rounded outlines. This curved design fosters a natural flow and encourages conversation. It enables face-to-face engagement, making it easier for people to interact with one another, and is, therefore, great for social events or family time.
5. Verse for Reverse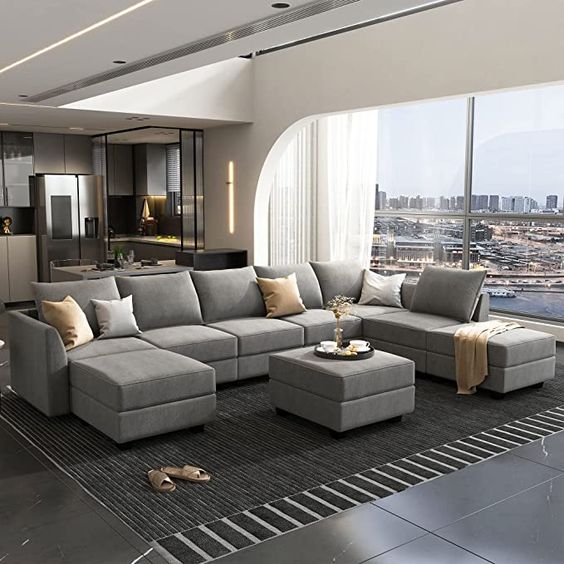 The reversible design allows you to quickly change the orientation of the chaise or other sectional components. This means you can position the chaise to the left or right side of the sofa depending on your preferences or the layout of your area. It allows you to customize the layout to meet varied seating choices or room arrangements. This type of sofa offers a quick refreshment if you like to update your living space frequently or appreciate changing the style of your space on a regular basis. Simply reversing the orientation or other components can result in a whole different appearance without the need for a new furniture piece.
6. One Long L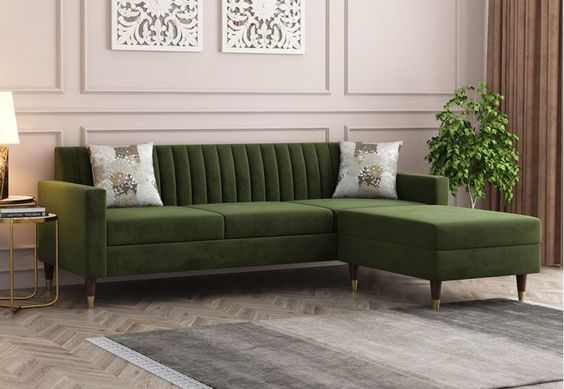 An L-shaped sectional's characteristic designs define seating zones within a room. Many L-shaped sofas are modular, which means they can be reconfigured to accommodate different room layouts or adjusted as your needs change. This modularity allows you to be flexible and adaptable to your changing lifestyle. This design makes optimum use of corner spaces, increasing seating capacity while leaving open areas for movement. They offer a combination of style, comfort, and practicality, making them a popular choice for various designs.
7. Sit In The Pit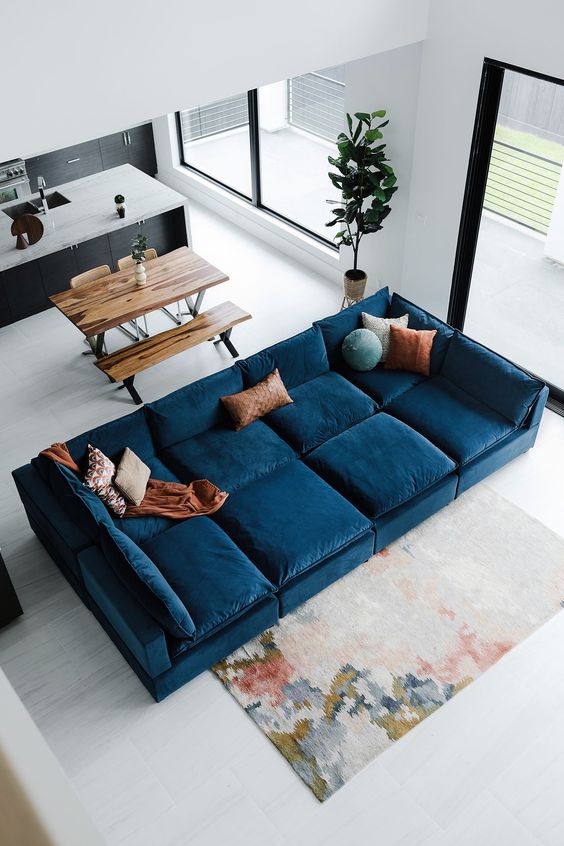 The pit sectional sofa is intended for maximum relaxation and reclining. It has deep, velvety cushions that entice you to settle in and rejuvenate. Seats are typically low to the ground, allowing for a more refreshed and casual seating experience. This design can vary with a variety of styles and upholstery options to match your own taste and complement your existing decor. You can choose between sleek and modern designs with clear lines and a more eclectic and bohemian style with textured fabrics and colorful finishes.
8. Go Deep and Sleep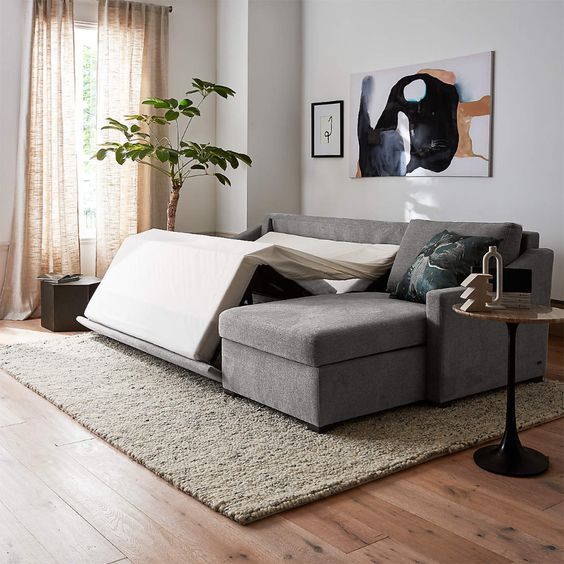 The sectional couch's sleeping mechanism allows you to change it from a sofa to a bed simply. It usually entails removing a hidden mattress from within the frame of the sofa or folding down the backrest to create a flat sleeping area. This convertible capability is a quick and easy way to accommodate overnight guests. Sleeper section sofas are available with a range of mattress options, including basic innerspring mattresses, memory foam mattresses, and gel-infused mattresses. It helps you to make the most of your space by giving you a multifunctional piece of furniture that adapts to your needs.
9. More and More In Store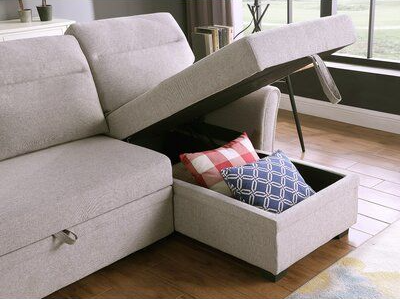 A storage sectional sofa is a useful and utilitarian piece of furniture that blends comfort with a built-in storage compartment. It provides extra space for organizing various goods, assisting in keeping your living room nice and clutter-free. They typically include hinged or lift-up mechanisms that make opening and closing of the sections simple. It offers the convenience of extra storage without sacrificing comfort or style.
10. Shape Your Spine with Recline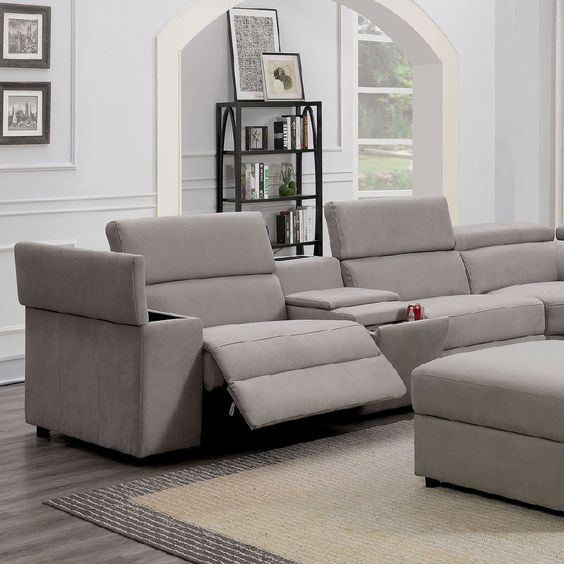 Individual relaxation is provided by reclining seats in each segment of a recliner sectional sofa. This means that each individual can adjust their seat to their preferred reclining position allowing for maximum relaxation and personalized comfort levels. The recliner sectional sofas often include additional features beyond just reclining seats. They may come with built-in cup holders, storage compartments, USB ports, or power outlets. These extra functionalities enhance the overall convenience allowing you to keep extra essentials close at hand.
11. Deluxe with Tux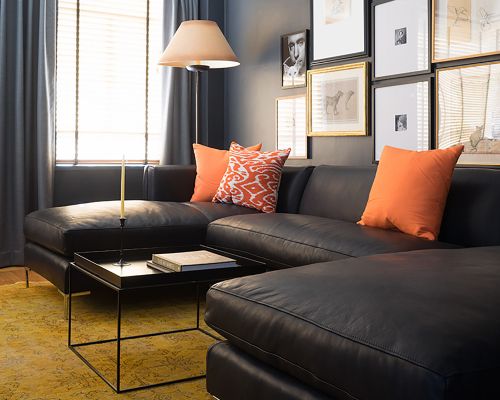 Tuxedo sectional sofas combine the elegance of a tuxedo-style design with the comfort and versatility of a sectional sofa to create a classy and fashionable seating solution. They are distinguished by their clean lines, fitted appearance, and equal height back and arms. The ageless charm of these sofas is well known for its classic style and high-quality craftsmanship. They will endure changing trends and remain fashionable for many years.
12. No Harm without An Arm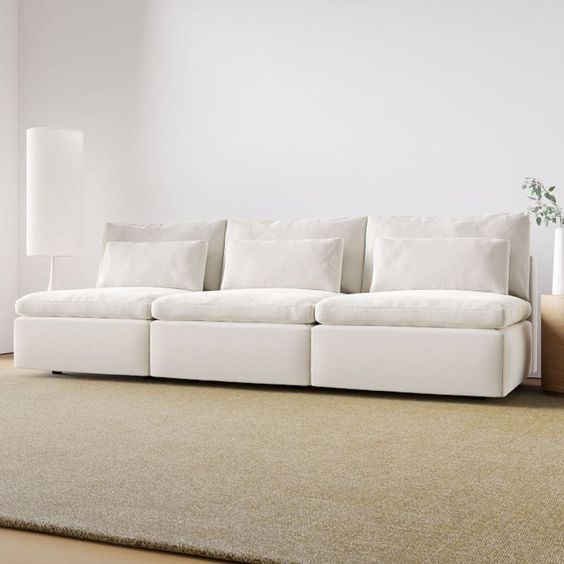 Armless sectional sofas are ideal for restricted spaces. They feature a more streamlined and compact form by eliminating arms on one or both ends allowing optimal use of space and seating capacity. They make a room feel more open and spacious and less cluttered. The absence visually opens up the seating area. They can complement a variety of interior styles and make it appear minimalistic in design.
13. Get Premium with Medium Sofas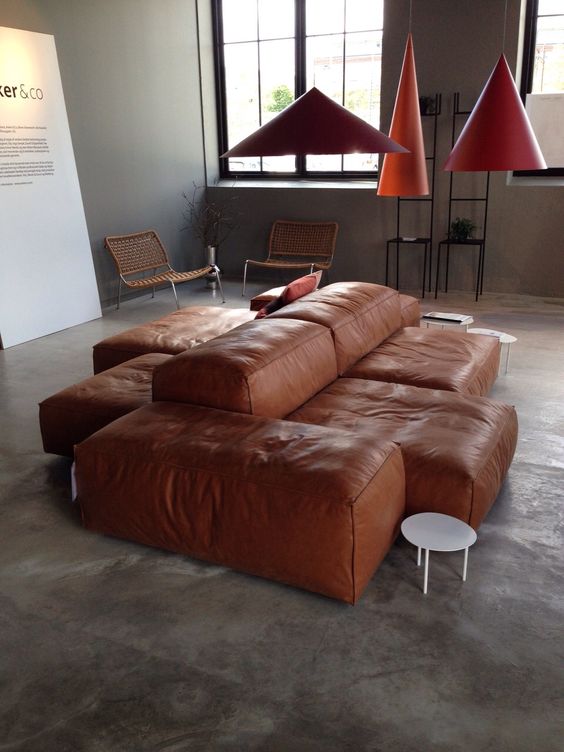 Medium sectional sofas incorporate versatile seating that doesn't overpower space. It creates a mirror effect which is a perfect symmetry for contemporary spaces. The parallel-placed classic seating system can be moderately fashioned in different shapes and sizes. The elongated view assembles a huge variety of orderly and straightforward combinations. The two-sided islands can be alternated with a single armrest for a joint viewing experience.
14. Dramatic Old School Classic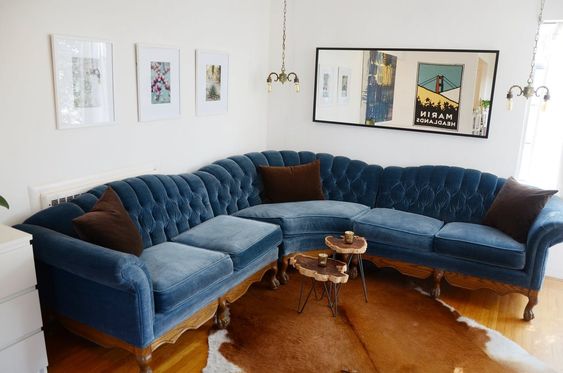 Vintage-styled sectional sofas frequently have a classic silhouette that reflects design features from a particular era, such as art-deco, mid-century modern, or Victorian. Graceful curves, elegant lines, or intricate detailing lend appeal and character to the overall design. They are frequently made of high-quality materials such as sturdy wood frames, long-lasting upholstery fabrics, and luxury padding. This maintains the sofa's longevity and durability, allowing it to stand the test of time. They often include decorative embellishments that add to their vintage appeal.
15. Tiny Tots of Fiber Dots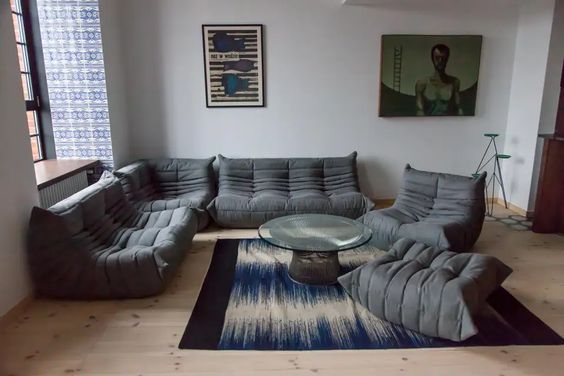 Microfiber sectional sofas are a popular option for people looking for comfort, durability, and ease of care. Its a type of synthetic fabric that comprises tightly woven synthetic fibers, giving it a smooth and fluffy touch. Its well known for its stain resistance, making it an excellent choice for families with children and pets. The fabric's tight weave prevents spills from permeating the fibers, allowing for simple cleanup with a sloth or light detergent. As a result, microfiber sectional sofas are a viable alternative for individuals looking for low-maintenance furniture.
16. Puff the Mighty Tuff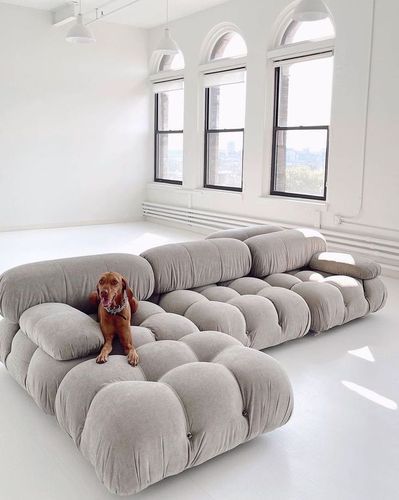 Tufted sectional sofas feature a traditional and timeless design that holds the transition of age and place. The peculiar tufting technique entails creating patterns of buttons or stitching on the upholstery, resulting in a particular textured appearance. Its features are of a traditional design that is resistant to fashion. Tufting began in historical furniture styles like Chesterfield and Victorian, and it has remained popular due to its ageless beauty.
17. Metal the Mantle
Sectional sofas with metal bases offer a modern and sleek design that combines sturdy construction, industrial style, and flexibility. They are genuinely easy to clean and maintain and less prone to staining or damage compared to other materials. Structural integrity is a reliable option because the framework supports the weight with an additional contrast to the softness of the upholstery. They are the ideal twist to traditional and rustic designs. The designs can be customized with or without a backrest, armrest, multiple seaters, or curved edges to reversible or convertible arrangements.
Summing It Up
All in all, exploring the wide variety of sectional couches brings up a world of possibilities for designing the ideal sitting arrangement in your living room. Each variety has its own set of features and perks to cater to diverse preferences and demands.
After deciding between a sectional and a couch, you can consider a variety of other options to get the one that's best for you. You can also take the furniture's depth and height into account. Of course, there is a wide range of material choices, such as leather, numerous performance fabrics, and a wide range of hues and designs.
However, purchasing a sectional sofa provides numerous advantages, including ample seating space, versatility in configurations, optimal space utilization, comfort, style options, functional features, durability, and the opportunity for enhanced social interactions.
So which sectional would you like to opt for? Let us know below.