When decorating your kitchen, we often forget about the decor on top of cabinets. By using your imagination and creativity, that area can be a beautiful and elegant focal point in your living room.
Decorative accessories on your kitchen cabinets are not only very appealing, but they can also express your personal style and enhance the overall look of the space.
No matter which way you like, you can decorate your space in multiple ways. You can choose useful or decorative storage items to make the place look beautiful and unique.
Decorating your kitchen cabinets adds style along with functionality. You can hang pots, pot stands, or vegetable gardens to use the space.
Adding decorations or corbels makes it look more sophisticated. Whether you like a casual or eclectic look, decorations on your kitchen cabinets can reflect your personality and style.
Don't be afraid to get creative and try different ideas to make your kitchen unique and beautiful.
Upgrade Your Kitchen with Top Cabinets
1. Framed Artwork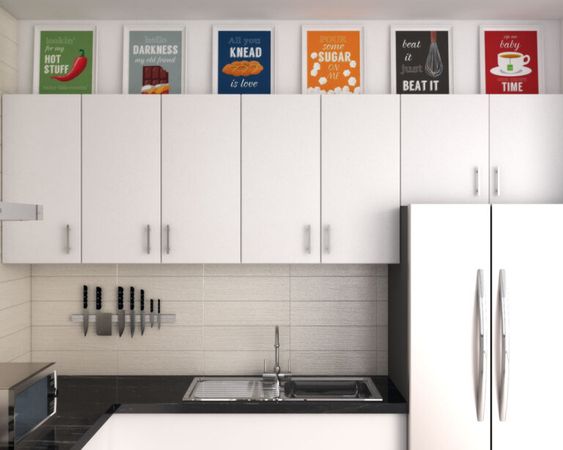 Choose colorful plates or framed artwork for the decor on top of cabinets that complements the look of your kitchen. Arrange them on top of the cabinets, properly spaced.
This adds visual interest and allows simple upgrades by rotating or introducing additional parts. They are completely easy to place and can be cleaned with dusting.
Similar Post: Learn How to Create a Modern Farmhouse Interior
2. Arrange Ornaments and Accessories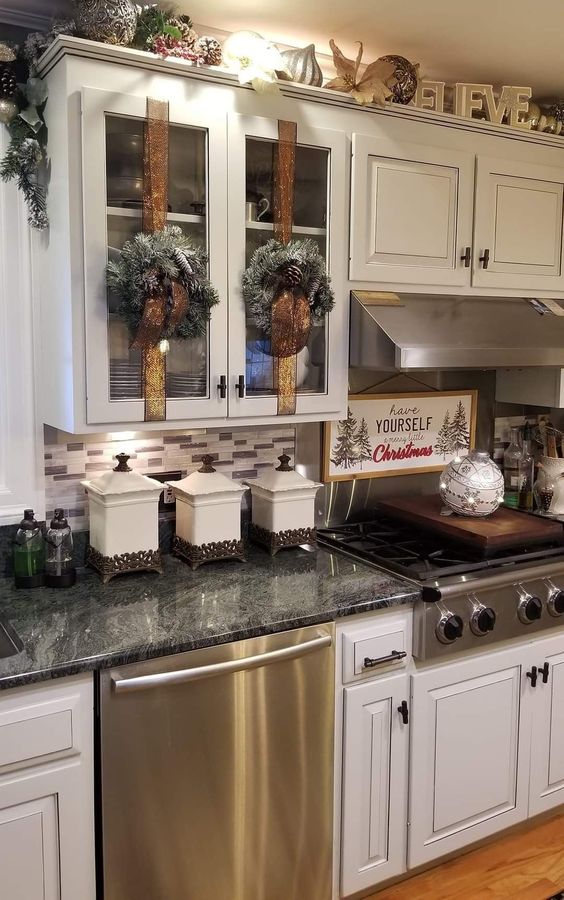 How about choosing ornamental objects as the decor on top of cabinets? It complements the look of your kitchen, such as vases, candle holders, or beautiful jars.
Opt for jars that are proportionate to the cabinets in the area above. Arrange them in visually appealing groups, taking into account size, shape, and color.
This completes the look of your kitchen by giving cohesion and personality to the overall design.
3. Showcase Vintage Things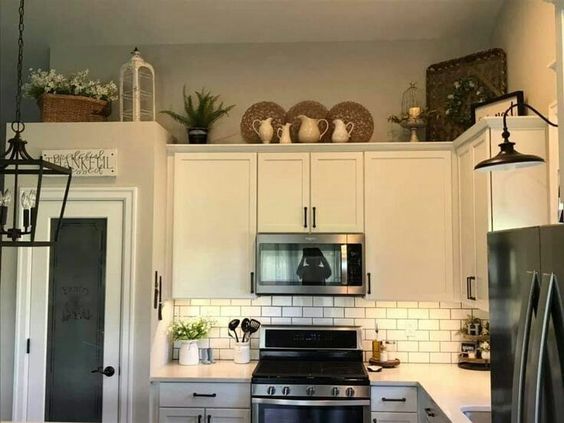 For the decor on top of cabinets, display your unique collection of old cookware or other treasured items.
Antique plates, vintage utensils, or one-of-a-kind items from flea markets or excursions could be included.
Arrange them with care, creating vignettes that represent your personal taste and bring a nostalgic touch to your kitchen.
4. Make Use of Attractive Baskets or Boxes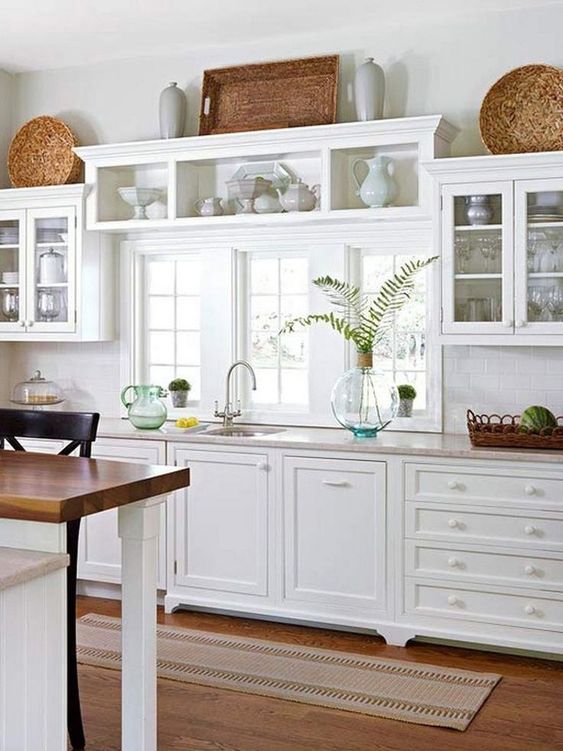 Just choose attractive baskets or boxes to match your kitchen decor. Arrange them on top of the cabinets for attractive storage of items such as linens, cookbooks, or seasonal decorations.
To provide visual interest and keep goods neatly organized, mix and match different sizes and materials.
5. Make Use of Plants and Greenery
Pick low-maintenance potted plants that grow indoors, such as succulents and herbs or artificial greenery as the perfect decor on top of cabinets.
Arrange them strategically on top of the cabinets, altering the heights to create an eye-catching arrangement. Taller plants can add versatility while trailing plants can cascade down the edges.
6. Include Lights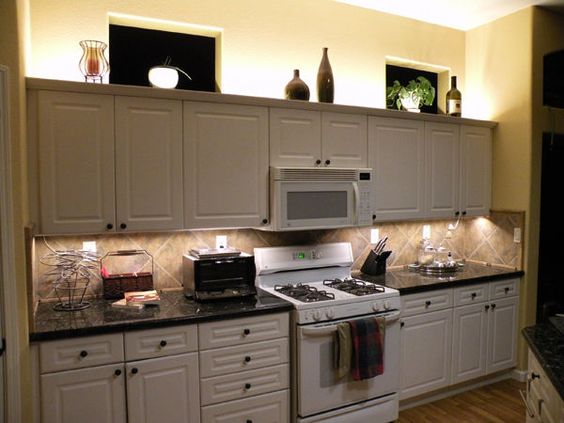 Install battery-operated puck lights or LED strip lights above the cabinets to create a warm and inviting ambiance.
Hide the lights beneath the front lip of the cabinets, aiming them upward to accentuate the exhibited objects.
This soft lighting creates a cozy atmosphere in your kitchen, especially in the evening.
7. Style It Up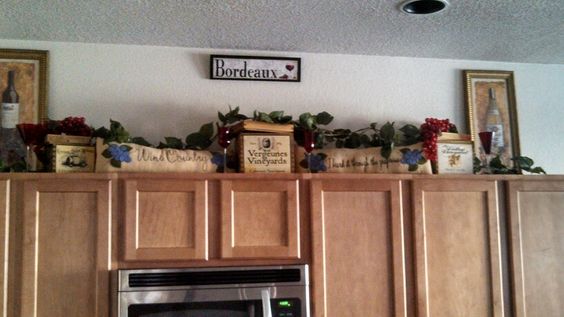 If your kitchen has a theme or style, carry it over to the space above the cabinets. Display seashells, beach-themed artwork, or nautical motifs in a coastal-themed kitchen.
Include items that suggest the desired theme, placing them in a logical order to produce a unified and visually pleasing display. This will bring some natural balance to the design.
8. Creative Models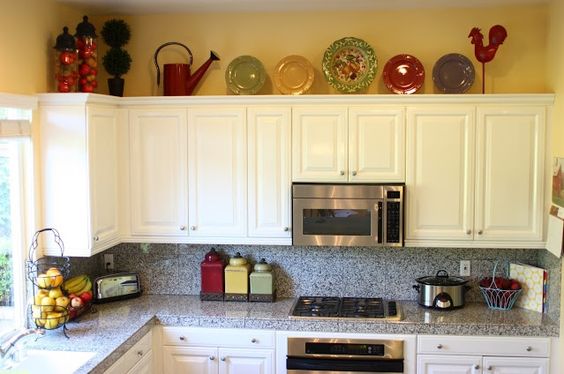 Choose from a variety of models or sculptures made of metal, ceramic, or glass to place above the kitchen cabinet.
This could serve as an additional display unit to spruce up and improve the room. Strategically placing them will increase the space's artistic appeal and provide visual intrigue.
Also Read: 15 Stunning Modern Farmhouse Decor For Your Space
9. Use Wallpaper or Tiles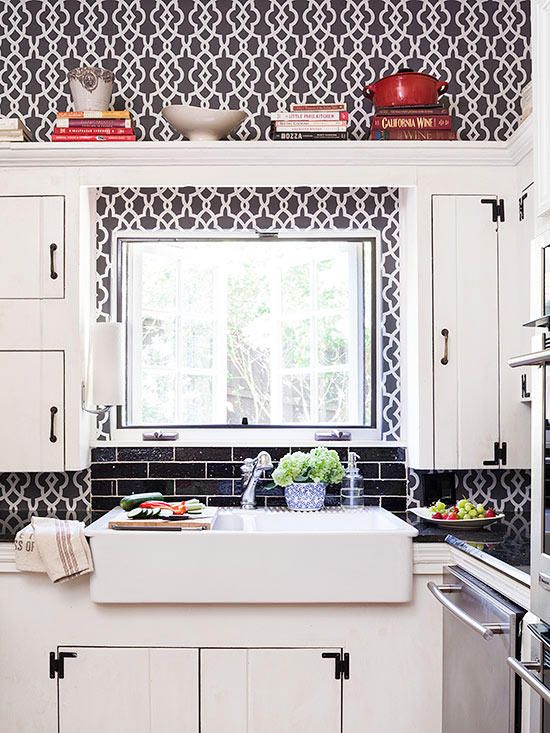 On the back walls above the cabinets, install peel-and-stick wallpaper or backsplash material.
Choose a style that improves the look of your kitchen and provides a splash of color or pattern. Make sure the fabric is easy to clean and moisture-resistant.
The region becomes a focal point thanks to the wallpaper or backsplash, which makes an aesthetically pleasing backdrop.
It gives the kitchen additional depth and texture, which makes it seem more vivid and fashionable.
10. Hang Pots Behind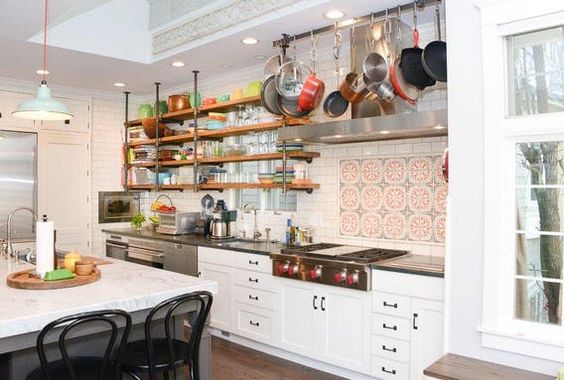 To exhibit your cookware and add a useful feature, install a hanging pot rack for the perfect decor on top of cabinets.
Select a pot rack that works with the space you have and matches the design of your kitchen.
Your most beautiful pots and pans should be hung and arranged in an aesthetically pleasing way. This gives your kitchen supplies quick access in addition to adding visual flair.
The rustic and culinary-inspired display created by the hanging pots and pans showcases your love of cooking
11. Wine Rack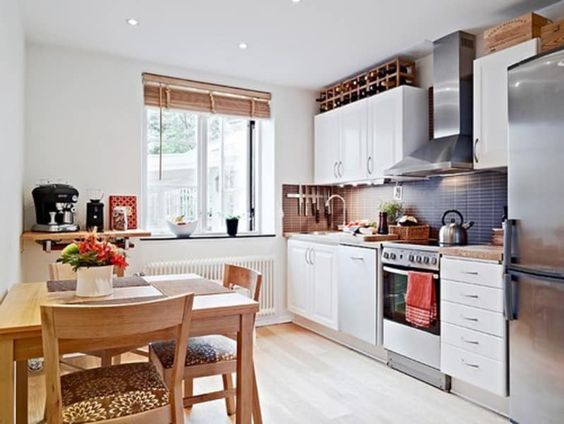 Install a tiny wine rack atop the cabinets. It should fit the area. You can use this to show off your wine collection and give your kitchen a more upscale appearance.
For a visually appealing arrangement, place the bottles in a strategic order while taking color and shape variances into account.
12. Mirrors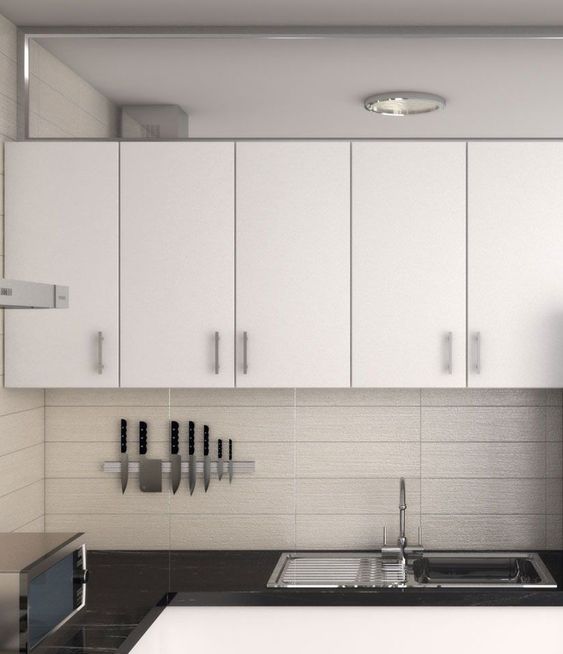 To provide the impression of more space and reflect light. Mount a few mirrors on the back wall above the cabinets.
This works particularly well if your kitchen is small or has poor natural lighting. Choose mirrors with attractive frames that go with the design of your kitchen.
Place them where the reflection will be most effective in expanding the sense of space and brightness.
Mirrors serve as a functional solution in the kitchen and offer a sense of sophistication.
13. Magnetic Board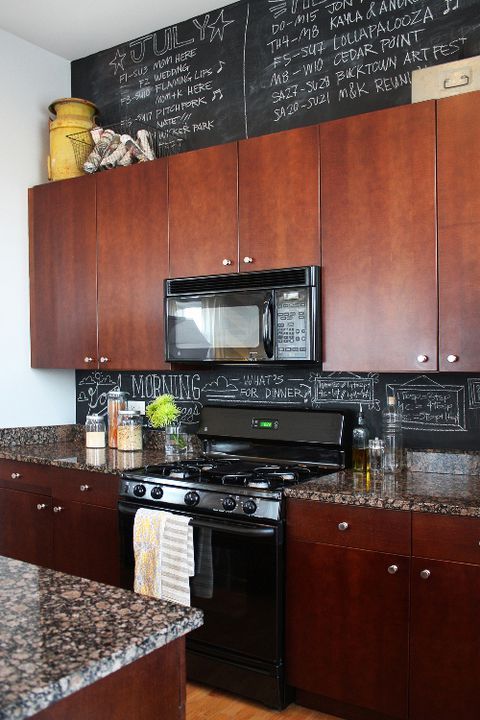 On the rear wall above the cabinets, mount a chalkboard or a magnetic board. This offers a blank canvas where you can doodle, jot down shopping lists, or write notes.
Choose a magnetic board or framed chalkboard that complements the design of your kitchen.
Think about including ornamental accents like chalk holders, vibrant magnets, or motivational sayings.
This useful reminder board also serves as a practical, functional display that gives the kitchen a playful and personalized touch.
14. Fairy Lights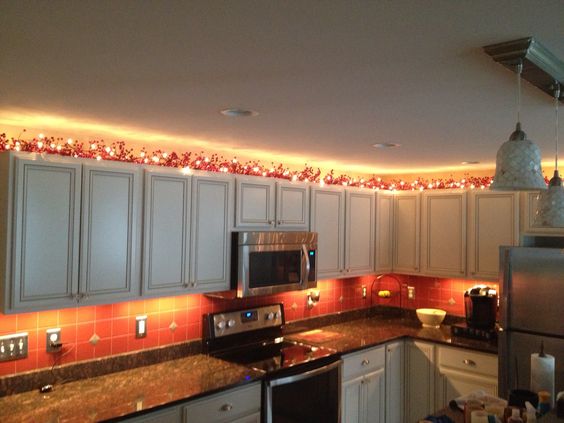 Fairy lights can be hung above cabinets to produce a mystical and inviting environment. To create a delicate glow, pick lights with warm or soft white tones.
For a magical impression, place the lights along the rear wall or intertwine them with the objects that are on show.
This gives the place some whimsy and makes it charming and welcoming, especially on nights or special occasions.
15. Crates or Wicker Baskets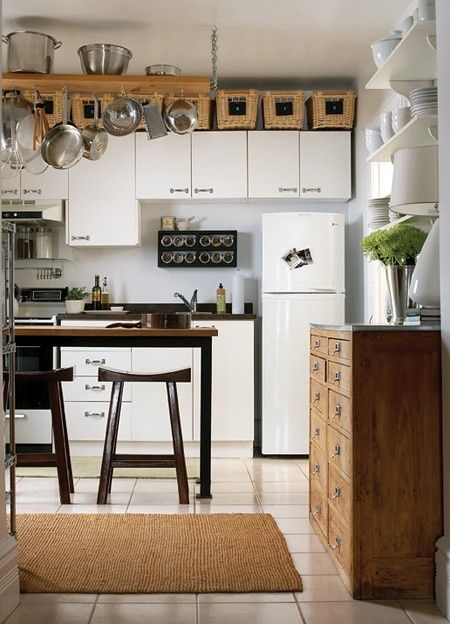 Place rustic baskets or crates on top of the cabinets for a farmhouse-style appearance. Pick weathered-looking wooden crates or woven baskets.
You can stack them to provide height and visual interest or use them as a stylish storage option.
Fill them with towels, fresh produce, or linens for a practical and attractive display.
The kitchen is given a warm, homely feel by the rustic components, which also give it individually.
Related: The Complete Guide to Design Your Own Kawaii Aesthetic Room
16. Display a Collection of Coins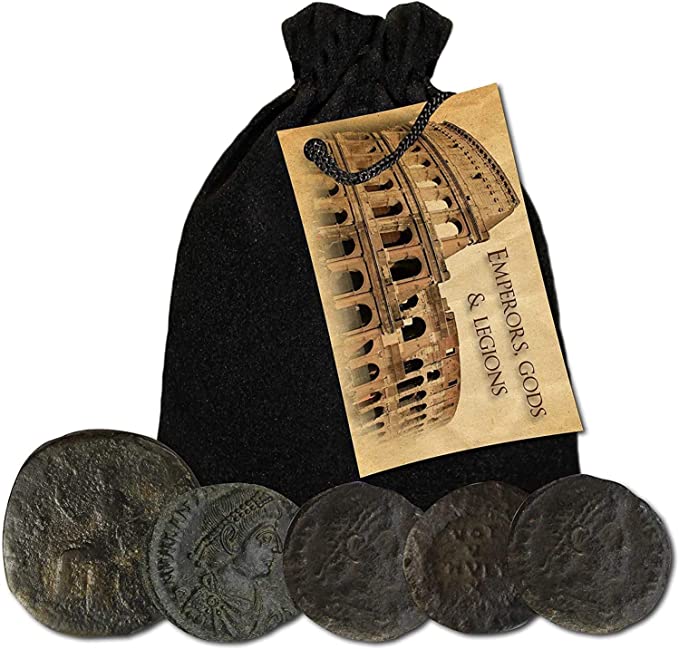 On this decor on top of cabinets, display a selection of coins. These vintage items express your style by having distinctive shapes and sizes.
Consider how to arrange them tastefully, considering the different colors and finishes.
This makes a visually arresting presentation and gives the kitchen an old and rustic look. This stock also promotes your love and hobby to travel and collect more.
17. Display Your Ceramic Jars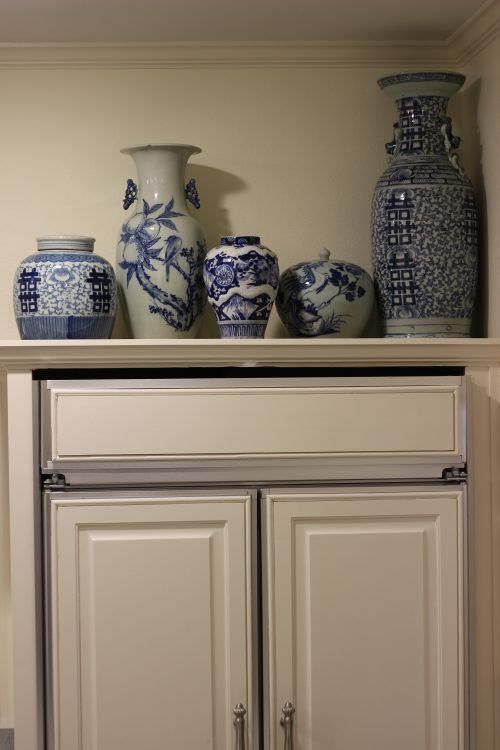 Place a collection of glass or ceramic jars loaded with pantry essentials like grains, pasta, or spices for decor on top of cabinets.
Pick jars with artistic lids or unique forms. For simple identification and a tidy appearance, label them.
This provides useful storage space in addition to producing a visually pleasing presentation.
The jars provide the kitchen with extra organization and gastronomic flair while attractively exhibiting your favorite foods.
18. Textiles and Fabrics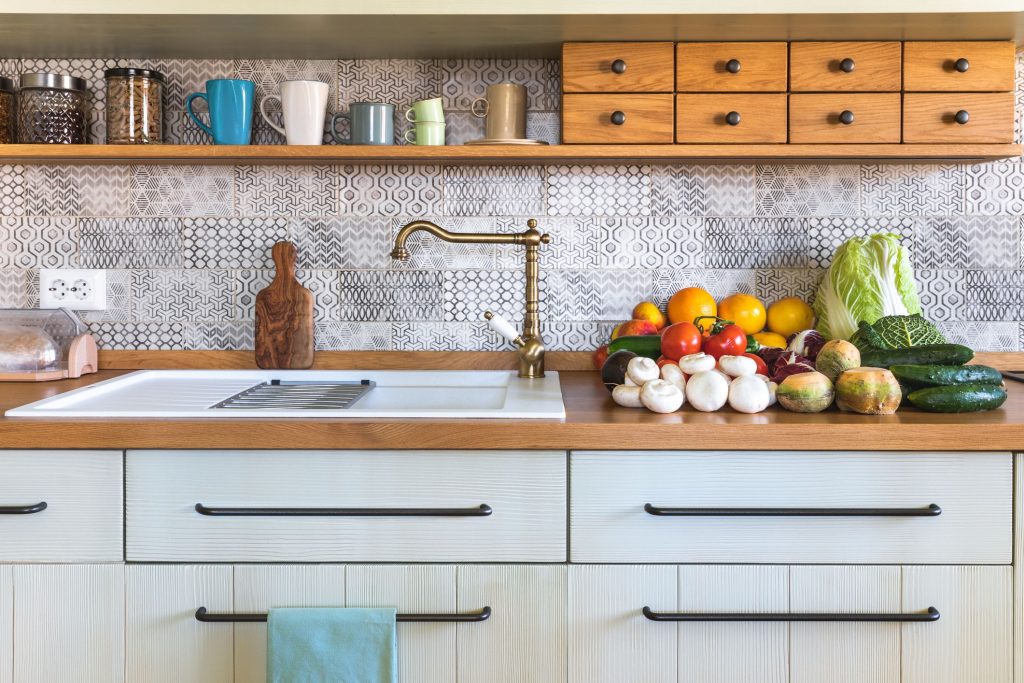 To give texture and appeal to the wall above the cabinets, hang a sizable woven tapestry or textile.
Choose a piece that will improve the appearance of your kitchen with intricate patterns or brilliant colors.
Check that the tapestry's dimensions fit the available wall space.
This gives the kitchen a distinct focal point, warmth, and dimension while adding an ethnic bohemian feel.
19. Tinted Glass Bottles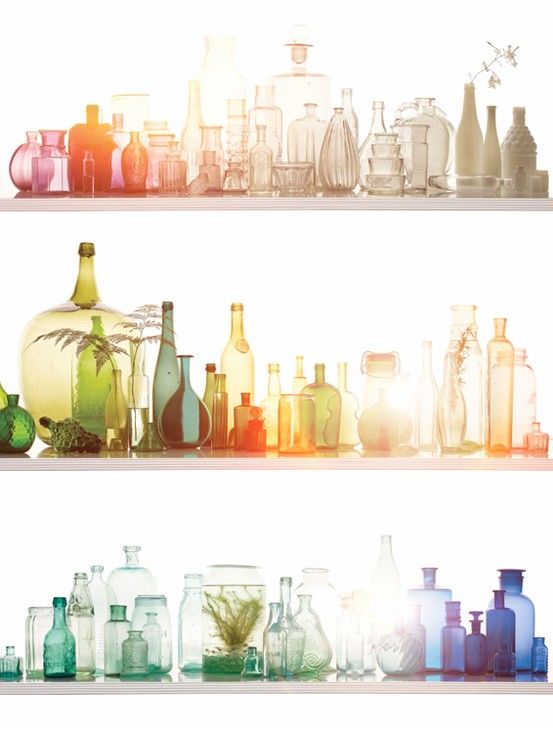 On top of the cabinets, arrange a variety of colored glass bottles. Look for bottles of colors, sizes, and forms to put together an eye-catching display.
Pick hues that go well with the color scheme in your kitchen. Organize the bottles according to color or arrange them in a gradient pattern for greater visual effect.
A bright and diverse feel will be added to the room due to the light shining through the bottles.
20. Display Recipes
Display a collection of Vintage cooking manuals. Look for vintage cookbooks with attractive covers or ones with special meaning.
Put them in a nice visual order, considering size, theme, and color.
This provides culinary ideas and gives the kitchen a nostalgic and literary touch.
The old cookbooks are a decorative focal point and demonstrate your love of food and cooking.
21. Signages and Monogram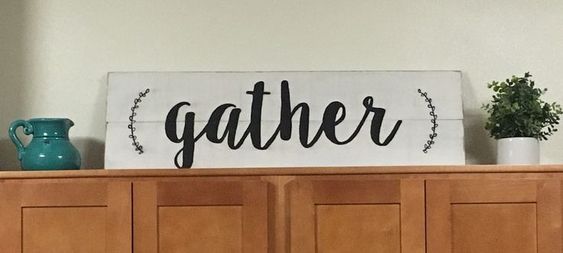 Add your family's initials or a monogrammed name above the cabinets. Select a big letter or monogram to stand in for your family name.
Letters made of wood or metal are available online or at craft supply stores. To complement the style of your kitchen, paint or embellish them.
Install the monogram or initial firmly on the wall, ensuring it is proportionate to the available space. This gives the kitchen a distinctive feel and adds a personal touch.
Check This Next: 20 Inspiring DIY Wood Projects to Expand Your Vision
Summing It Up
All in all, you can design an eye-catching exhibit that highlights the aesthetic appeal and reveals your personality via careful thought and inventive selections.
The space above your cabinets may become a focal point that engages guests and captures their attention.
There are many ways to decorate this room, from artwork and beautiful items to flora and practical accents.
You can opt to stick to a particular theme or combine several components to create a one-of-a-kind eclectic look.
The secret is to balance beauty and usefulness, ensuring that the products you select not only look lovely but also have a purpose in your regular culinary tasks.
Moreover, the area above your cabinets reflects your interests and passions.
Include sentimental artifacts like family heirlooms, finds from the antique world, or objects that reflect your interests and travels.
The options for decorating above kitchen cabinets are ultimately only constrained by your creativity.
So just take advantage of this chance to express your creativity, try out new ideas, and enjoy the process of transforming your kitchen.