Modern farmhouse decor has grown immensely among homeowners and designers in recent years. That's because this kind of decor creates a fusion of the rustic beauty of a farmhouse with modern world elements and creates a fresh aesthetic look that is perfectly balanced with comfort and refinement.
In this post, you'll find 15 flawless spaces showcasing farmhouse decor correctly. We have covered everything from the living room to the kitchen and bedroom. So do not skip any of these, or you'll miss something fresh and creative.
To begin with, let's first have a look at what exactly farmhouse decor looks like.
What is Modern Farmhouse Decor?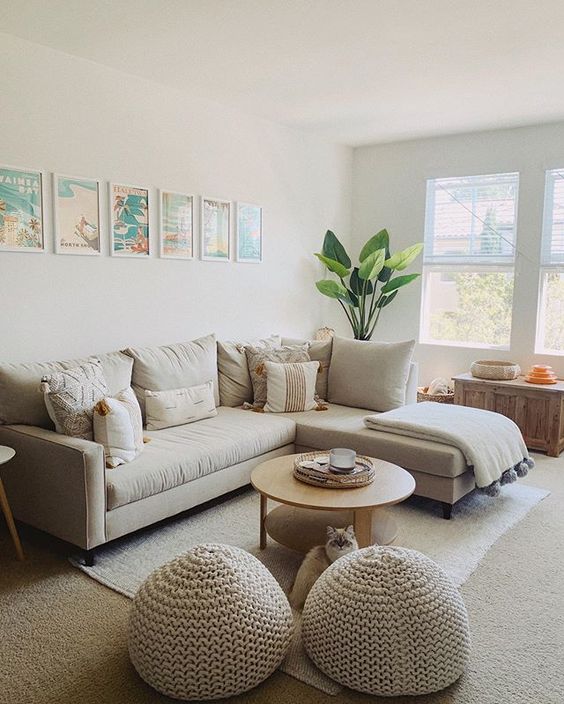 Modern Farmhouse Decor combines all of the rustic features of the farmhouse with modern elements and creates a look that is pleasant yet classy at the same time. This kind of decor embraces simplicity and is soothing to the eyes because it includes natural materials and neutral color pallets.
Similar Post: 12 Coastal Bedrooms Ideas to Transform Your Space
Some major aspects of farmhouse decor are:
Neutral and soothing shades that have hues like white, beige, and earthy tones are used in farmhouse decor. Shades like these create a calm backdrop and let other elements of the house shine.
After neutral shades, another thing that plays a huge role in farmhouse decor is natural textures and materials. Distressed or reclaimed wood is commonly used for flooring houses; not just this, they are also used in furniture and other accessories. These kinds of materials add texture and warmth to the house.
Thirdly, farmhouse decor is incomplete without antique and ancient features. They add a style to the house that produces a kind of aesthetic that adds charm to the space.
Designers mostly use soft and exciting textiles to add warmth and friendliness to modern house decor. Chunky knits, soft sofas, and textured pillows are the elements that are very crucial in modern farmhouse decor.
Components like doors, exposed beams, and open shelves that are farmhouse-inspired improve the entire look of the space. They are mandatory for farmhouse decor because they respect the original style and still add a modern twist.
Now let's move ahead and look at 15 stunning spaces with flawless farmhouse decor.
Modern Farmhouse Decor Ideas
Gathering ideas for house decor is an excellent way to determine the desired aesthetic for your space. Here are fabulous spaces with modern farmhouse decor you can take inspiration for this coming season.
1. Warm Undertones for Living Space
Undertones and neutral colors are in trend these days. You can take inspiration from soft beige walls and earthy-toned backdrops with some plush furniture for your modern farmhouse decor.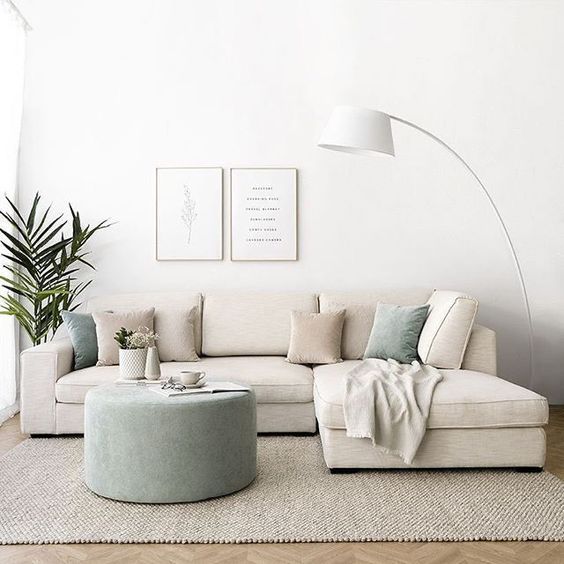 Add a reclaimed wood table or vintage-looking rugs to add a rustic touch to the living space. Add some potted plants and fresh flowers to make the room's environment naturally pleasing and complete.
2. Open Kitchen with Stylish Cabinets
To set the tone of the kitchen, use white or light-colored cabinets. It will enhance the look and make your modern farmhouse decor more chic.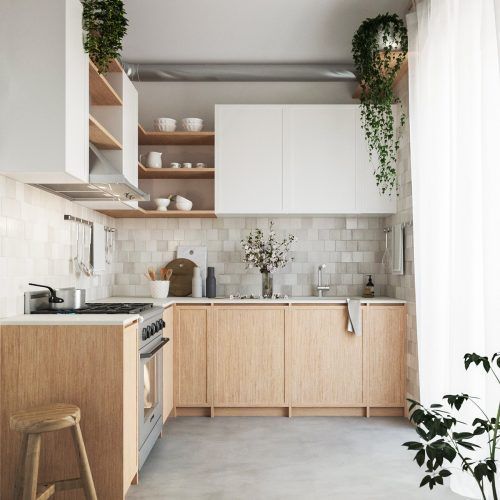 Try to add black or darker hardware to compliment the other shades of the kitchen and give it a clean and more airy look. Add texture and warmth by using some wood shelves for your countertop.
3. Elegant Bedroom Retreat
While you do your farmhouse decor, add some space for the bedroom that speaks elegance and simplicity.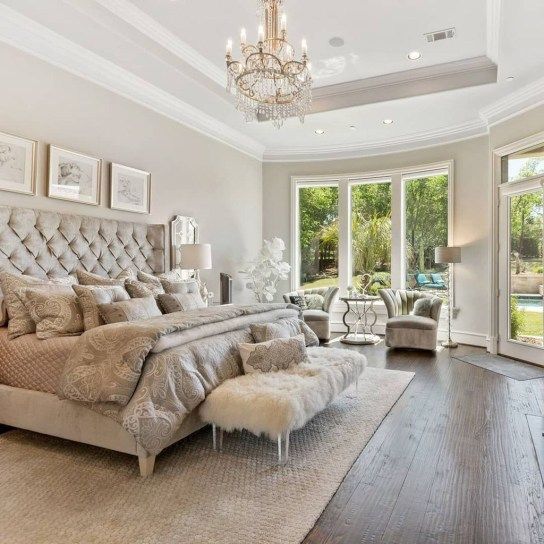 Choose neutral walls or soft tones like grey or beige; this will create a calming atmosphere for the space. To add charm and a modern touch, select white bedding with some vintage decorative items at the corners of the bed and some vintage-style lights to compliment the aesthetic.
4. Delightful Dining Nooks
By using a few farmhouse-style tables and some vintage-looking chairs, you can take your farmhouse decor to another level.
You can also use natural fiber rugs to add charm to your dining nook. Install open shelves or storage space to make your dining nook more delightful.
See More: The Ultimate Guide to Buying a Velvet Sofa (+5 Best Picks)
5. Space for The Home Office
While you do your modern farmhouse decor, you can create a useful, cozy, appealing office space.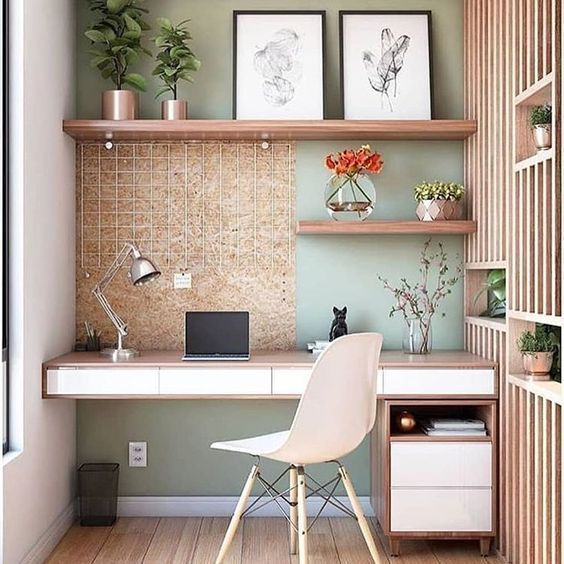 Use wooden desks, storage shelves, and good-quality cushioned chairs for a proper office look. Add sliding doors, vintage objects like wall art, and some desk lamps to add charm to the space.
6. Simple Yet Classy Bathroom
Whenever you do modern farmhouse decor, choose a bathroom that speaks modern and style.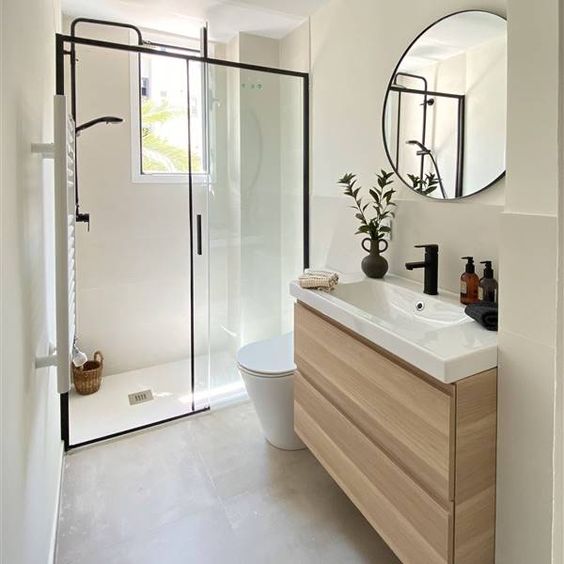 To keep it simple yet classy, you can opt for vintage pieces like bathtubs, wood vanities, etc. Not just this, but to give it a timeless look, add tiles or walls that add warmth to it. You can finish the design with brass pieces to give it a modern touch.
7. Shiplap Entryway
Set the vibe of your house with a shiplap entryway whenever you do your modern farmhouse decor. Use natural elements like wood and metal to give it a chic look.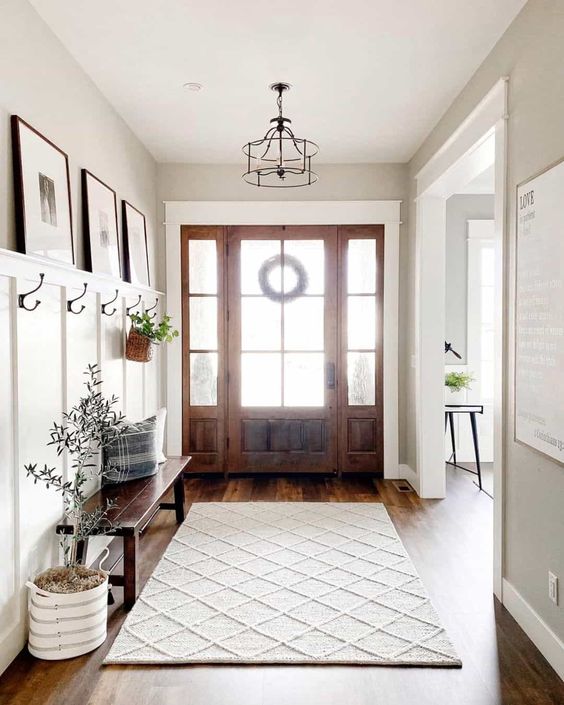 Add some dramatic mirrors, vintage-inspired frames, and coat hangers to make the pathway quirky. Add lighting that doesn't looks soothing.
8. Charming Mudroom
You can add a charming functional mudroom while you do your farmhouse decor. Try to make storage solutions like open shelving and vintage lockers look tidy and clean.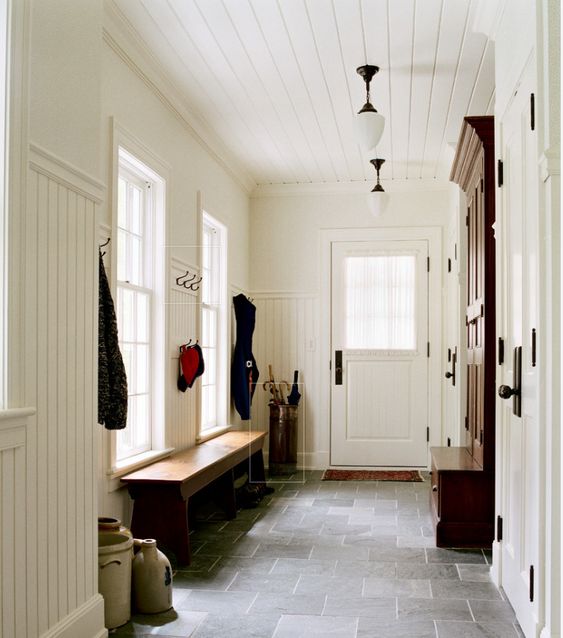 To add sitting around, you can keep a rustic bench with a rug to give it a homey mood. In addition to it, you can also add some shiplap and beadboard.
9. Outdoor Patio
You can extend your modern farmhouse decor by adding an outdoor patio.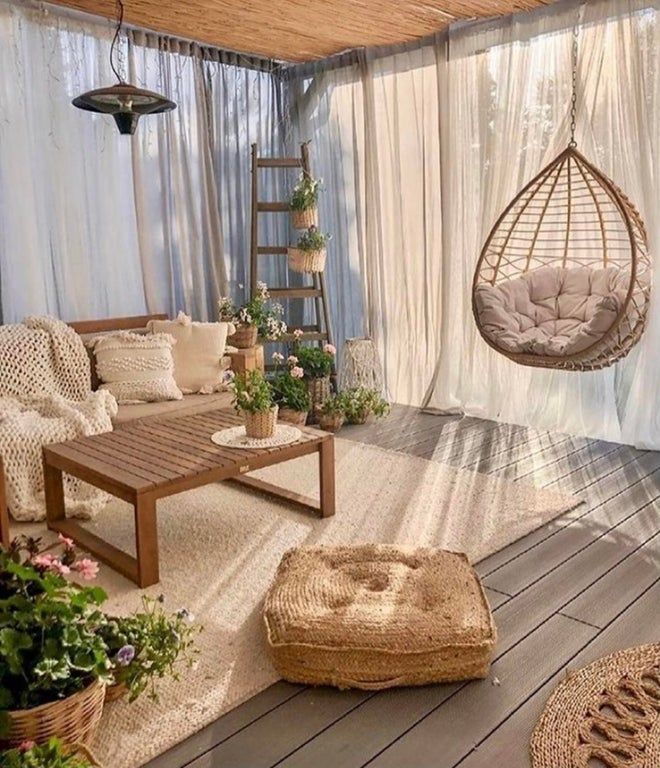 Use neutral and soft-colored furniture with velvety cushions to add a modern touch. For flooring, try using materials like wood and stone. To take it to another level, you can add a fire pit, offering a comfortable atmosphere for large gatherings.
10. Reading Nook or Library
Add a cozy space for your books this time when you do your modern farmhouse decor to create a pleasant atmosphere like a library.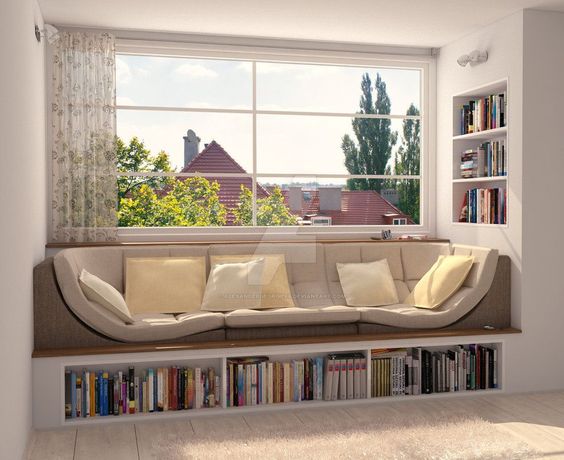 Add wooden shelves to give vintage touch, and use the storage space by keeping all your books. Make it more cozy by adding an armchair and plush cushions. Add fairy lights and traditional desk lamps to add a modern element to the space.
11. Elegant Dining Space
While you do your modern farmhouse decor, create a formal dining space that is elegant yet beautiful. Add a wooden finish dining table and cushioned chairs to give a vintage touch to the modern and formal element of the space.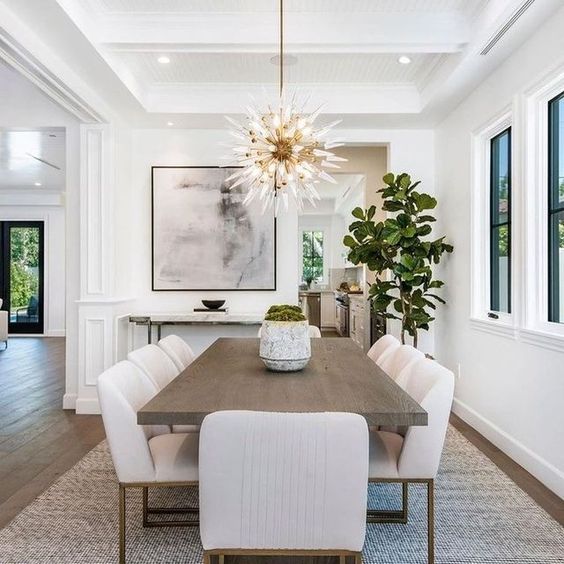 You can also opt for Chandler's to create a focal point and a few other centerpieces. Don't forget to create storage space or a buffet for display.
12. Snug Family Room
Whenever you do your modern farmhouse makeover, design a cozy, snuggly family room that combines your style and comfort.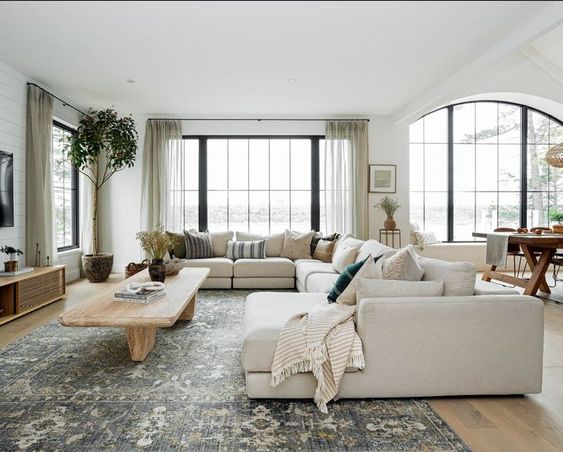 Try playing with neutral colors to maintain the theme of the space. Add some sink-in sofas to complement luxurious blankets and cushions.
You can also add material like wood to create a coffee table space to relax inside the room. It will give the family room some texture and a rustic feel.
Also Read: 20 Popular Types of Couches for Your Home Decor
13. Farmhouse Aesthetic Nursery
Make sure you create a nursery while you do your modern farmhouse decor. You can create a warm space with an inviting atmosphere and timeless appeal in your farmhouse using all the necessary components.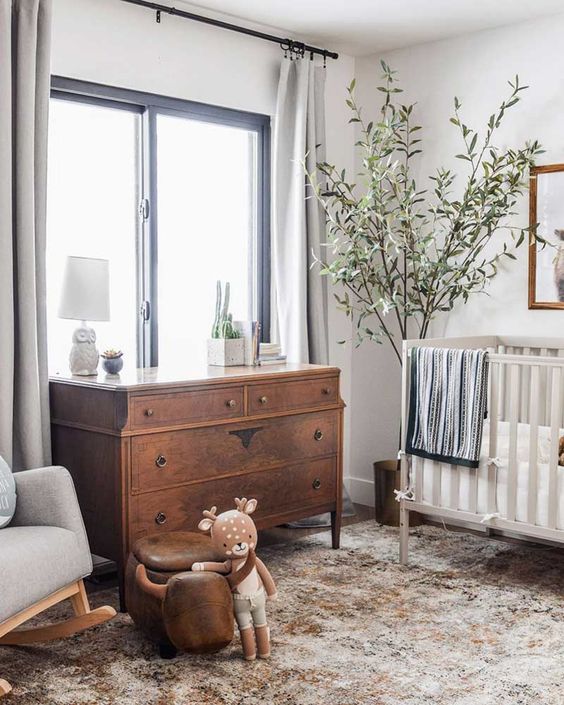 Play with gentle colors like pastels and muted tones to complement the space. Add a rocking chair with a warm cover to add a vintage feel to the space. Use a wooden ladder to hang woven rugs or blankets to add texture.
14. Serene Outdoor Retreat
Use modern farmhouse decor characteristics to create a serene outdoor retreat. Add string lights and exposed beams to create a covered patio-like space.
So embrace the beauty of modern farmhouse decor and allow it to transform your home this coming year into a more classy, stylish, and elegant space.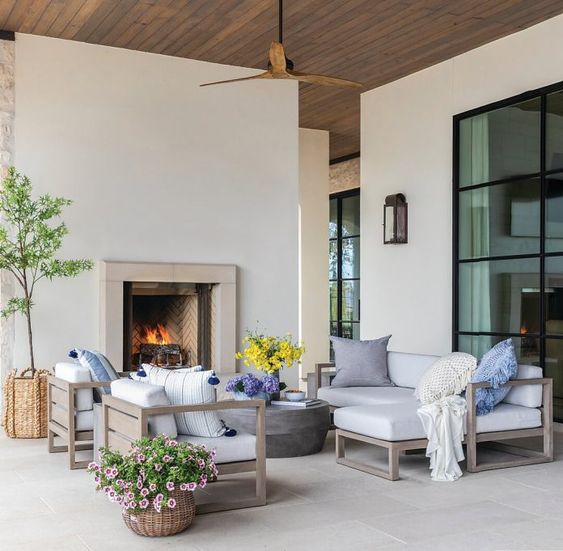 Try and use natural fiber furniture with soft cushions and pillows to match the vibe of the house. You can also use potted plants and fresh flowers to give it a touch of greenery. You can also light up candles and lanterns to create a pleasant ambiance.
15. Farmhouse Laundry Space
Whenever you do modern farmhouse decor, transform your laundry space into a pleasant environment. Install wooden storage shelves for storing laundry essentials; this will give your space a texture and add a modern touch to the aesthetic.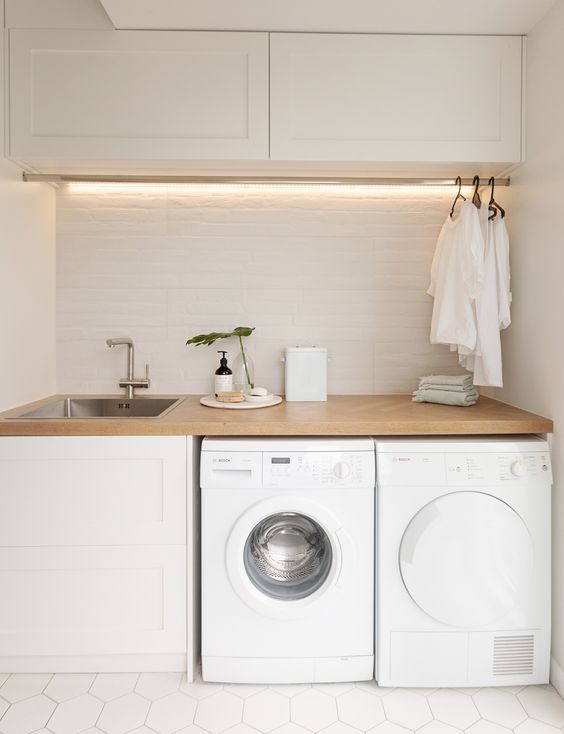 To make it more visually appealing, add floor tiles of different patterns. Adding a hanging board to write laundry schedules can give it a rustic touch.
Final Thoughts
All in all, modern farmhouse decor is a combination of rustic charm and modern elements. These kinds of spaces are both visually appealing and comfortable.
This way of designing has evolved because of its neutral color palette, natural materials, and combination of vintage and new. The 15 fabulous spaces we looked at showcase how modern farmhouse decor can be used in various ways in various rooms.
Whether you're looking for a serene bedroom retreat, home office space, or a snug family room, modern farmhouse decor offers several options for expressing your style and creating an elegant and nice space.
You may find the perfect balance of rustic charm and modern elegance by carefully picking the right furniture, textures, colors, and accessories.
This design style will stay in the market for a long time, so don't hesitate to experiment and create spaces that you and your loved ones will appreciate for years, thanks to this modern farmhouse decor's versatility and timeless appeal.
Check This Next: 20 Inspiring DIY Wood Projects to Expand Your Vision
Frequently Asked Questions
What is the Main Difference Between Modern and Ancient Farmhouse Decor?
The main difference between modern and ancient farmhouse decor is that it combines contemporary aspects while ancient farmhouse decor keeps it royal and more rustic.
Can We Incorporate Modern Farmhouse Decor In The House without a Renovation?
You don't have to undergo renovation to incorporate modern farmhouse decor into your home. All you need to do is start with spaces, give them a makeover, and then move to the larger spaces.
Can Modern Farmhouse Decor be Incorporated Into a Small Space?
Absolutely! In small spaces, modern farmhouse decor can work equally effectively. To save space, use storage solutions like built-in cabinets. So, use your imagination and implement a handful of these 15 fabulous modern farmhouse decor ideas in your home.