Time for a kitchen upgrade? You can opt for some cool DIY hacks to upgrade your kitchen. For many people, the kitchen is the heart of a home, and when you decorate the place, it becomes more interesting and fun-filled. Also, you can brush up your creative mind and reflect on your artistic skills when you try DIY stuff instead of purchasing something for your kitchen. DIY projects are more cost-effective than renovating or installing more items in your kitchen.
You will also notice that when you upgrade your kitchen with DIY projects, you involve yourself in the process and gather a quality experience. Depending on your need and how much time you can invest in a project, you can find various DIY projects to decorate your kitchen, from DIY decor to DIY kitchen cabinets. For example, you can paint your cabinets if you want a short-term project. In contrast, you can install new handmade cabinets or shelves if you want something heavier.
Today we will discuss the top 16 DIY projects you can try for your kitchen upgrade.
Top DIY Ideas for Kitchen
You can use various DIY kitchen upgrade ideas, from simple DIY kitchen cabinets to entire kitchen upgrade DIY projects. Also, you can opt for multiple DIY projects to redesign your kitchen and make it more beautiful.
Below is the list of top DIY kitchen upgrade projects to try at home.
1. Paint Your Kitchen Walls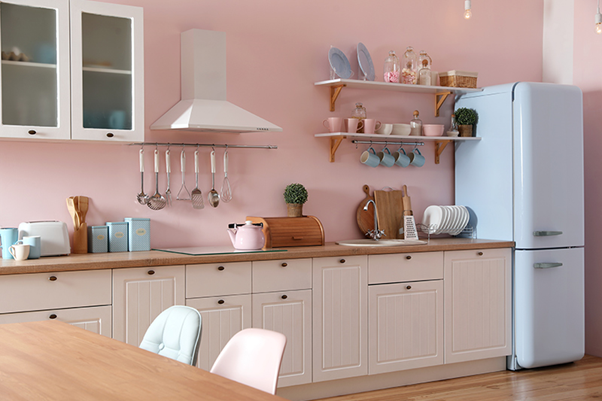 Painting your kitchen walls can be a great DIY project to upgrade it. It is an easy, fun project that can bring effective results if you choose the right shades and techniques. Also, you can choose to paint all of the walls of your kitchen or just paint one wall to get a unique look. For instance, if your kitchen walls are painted white, you can select one wall and paint it with a vibrant shade like deep green or scarlet red.
2. DIY Painted Cabinets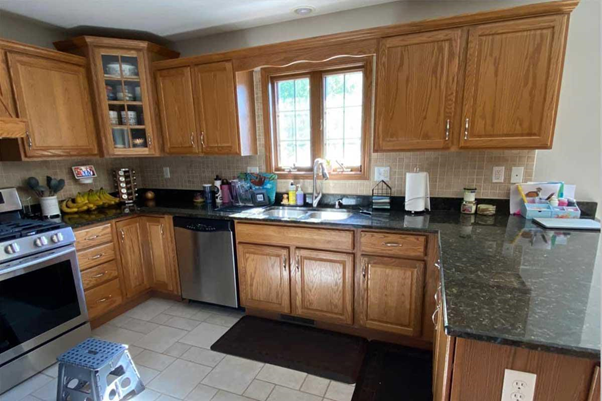 DIY kitchen cabinets look stunning and enhance the beauty of your kitchen. You can DIY your kitchen cabinets in various ways, and one of the easiest and most effective ways is to paint them with a suitable shade. Painting your kitchen cabinets help you revamp them and add a fresh touch to your kitchen interior. It also adds a dynamic look to your kitchen and makes it more interesting. You can leave your walls white or off-white and even white paint your cabinets with pastel or glossy shades.
3. DIY Abstract Plate Paintings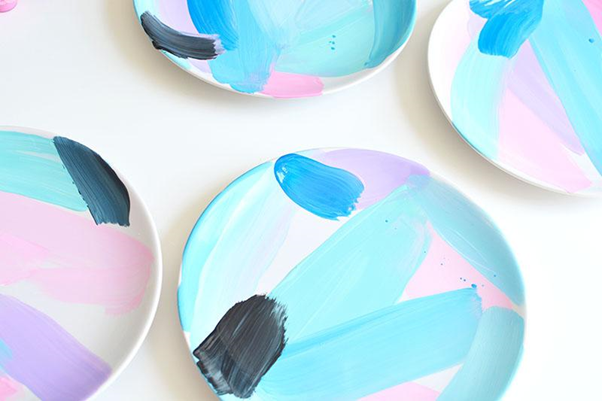 Another exciting method you can try besides DIY kitchen cabinets is to paint your kitchen plates with abstract paintings. It is easy and convenient and helps to add a unique touch to your kitchen interior. All you need to do is get a set of plain white color plates, paints, and brushes. You can paint your plates with random strokes of color to get an abstract look. You can try the MindWare plate paintings kit with two porcelain plates and 12 vibrant shades to paint.
4. DIY Pour-Over Coffee Stand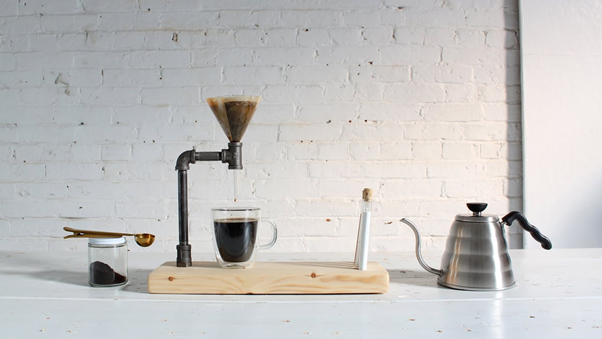 You can DIY a pour-over coffee stand for your kitchen, which is interesting and also functional. If you love pour-over coffee stands, you can make it yourself instead of purchasing a branded stand. If you have some old wooden loop lamp shade, you can repurpose them to create a pour-over coffee stand. You may also need a strong plastic bottle and paper for the project. Place your DIY coffee stand over DIY kitchen cabinets for a rustic look.
5. DIY Your Kitchen Storage Jars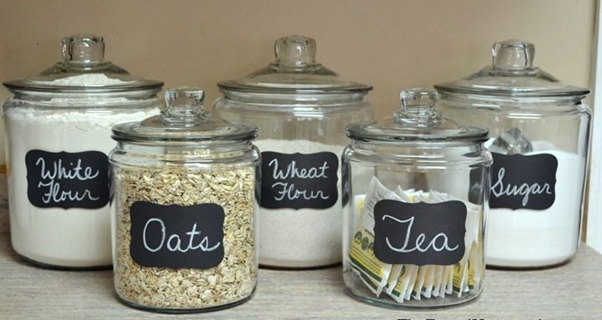 Storage jars are essential for every kitchen and serve as a basic item in your kitchen. The jars you use to keep your sugar, flour, and spices can be an excellent tool for your DIY projects. You can paint your porcelain kitchen storage jars with beautiful patterns or designs. You can even use black acrylic and write the thing you store in them for a unique and personalized feel. And you can try VanEnjoy's cylindrical jar for your DIY project.
6. DIY Juice Glasses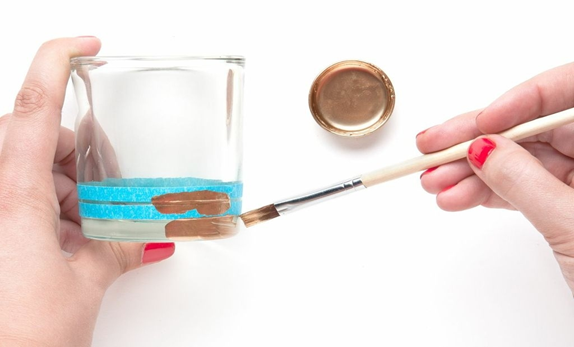 Another creative way to upgrade your kitchen is to DIY juice glasses with simple brushstrokes. You can turn your plain juice glasses into vibrant ones and make them the life of the party. This DIY project is easy and does not require much time to complete the task. Bring your plain juice glasses and create gentle strokes of color with a brush. You must be mindful while choosing the colors to create a beautiful piece. You can also display your painted glass on DIY kitchen cabinets.
7. DIY a Hickory Cutting Board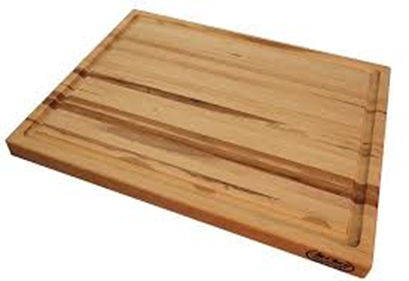 Cutting boards help to cut fresh fruits and vegetables in the kitchen. But have you ever wondered how they can improve how your kitchen looks and feels? Instead of using plastic and old metal boards, use wood planks and DIY your unique cutting boards. Hickory wood planks are ideal for making DIY cutting boards, but walnut or bark can be used as alternatives. Smooth the surface with a fining tool and paint one side with black or white paint. Barrington Hardwoods Hickory lumbers are suitable for this DIY project.
8. DIY Kitchen Hand Towels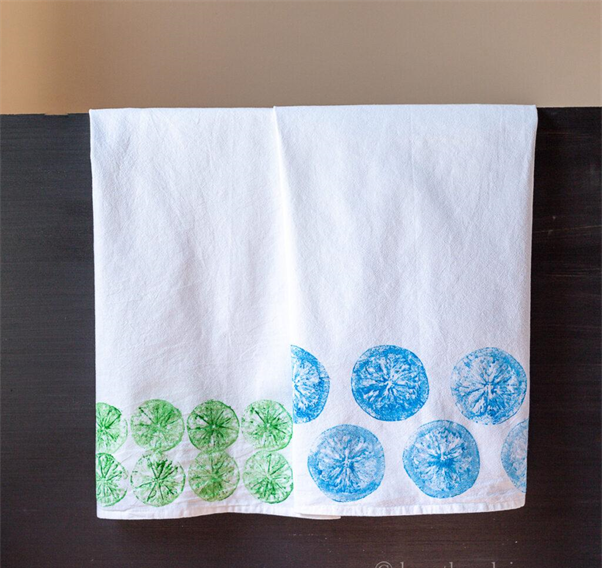 If you are looking for DIY kitchen ideas to upgrade your kitchen, try to DIY your kitchen hand towels to create a statement design for your kitchen. Kitchen hand towels are common in every kitchen. But with some creativity, you can turn them into beautiful, personalized ones to display and use. It is easy to DIY your hand towels and create personalized hand towels; your can stitch your initials or surnames at the corners. You can use KAF Home White Kitchen Towels for quality kitchen towels.
9. DIY a Serving Board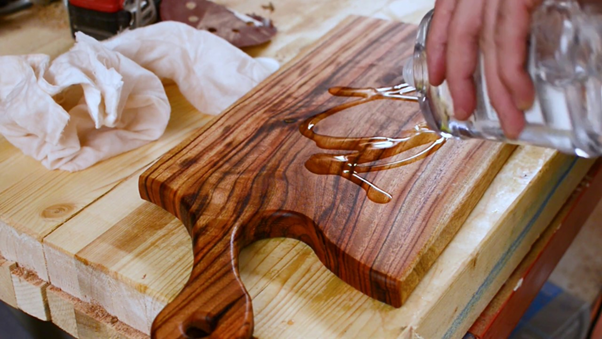 Nothing can beat DIY hacks when planning to upgrade your kitchen and give it a personal touch. For instance, you can replace your old shabby serving board with a vibrant and dynamic DIY one. You can buy wood planks and acrylic paints for this DIY project or repurpose a wood board to paint your new serving board. However, you can get only wood planksfor your DIY project. They come in various wood materials.
10. DIY a Floor Rug for Your Kitchen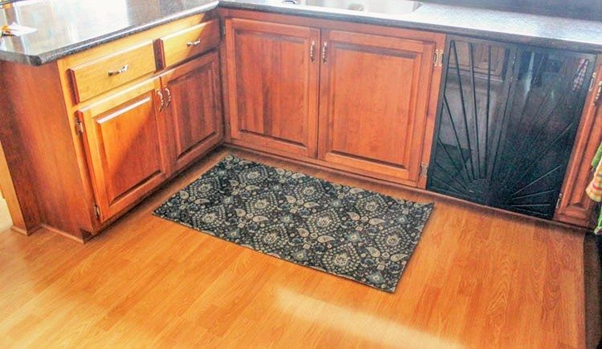 It is easy to upgrade your kitchen with DIY hacks, and you can find various effective methods. You can DIY a floor rug for your kitchen, which is both functional and decorative. If you like sewing and stitching, a DIY kitchen floor rug project will be ideal. You need some extra cloth and a sewing machine to make a floor rug. Also, you can match the color of your kitchen floor rug with your DIY kitchen cabinets.
11. DIY a Beautiful Apron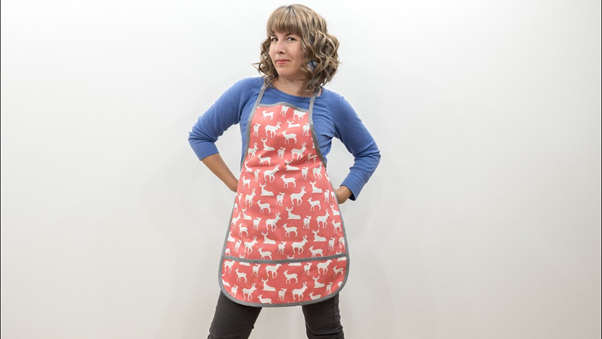 You can even DIY a kitchen apron as a part of your kitchen upgrade. You may wonder how creating an apron can improve your kitchen, but it really does. You can choose your favorite method to DIY your apron, stitch your favorite quote or make a design with fabric acrylics and hang it on your kitchen apron holder. It will display your creativity and light up your kitchen environment. Also, wearing your DIY apron will make cooking more exciting.
12. Try a Dip Spoon Wall Art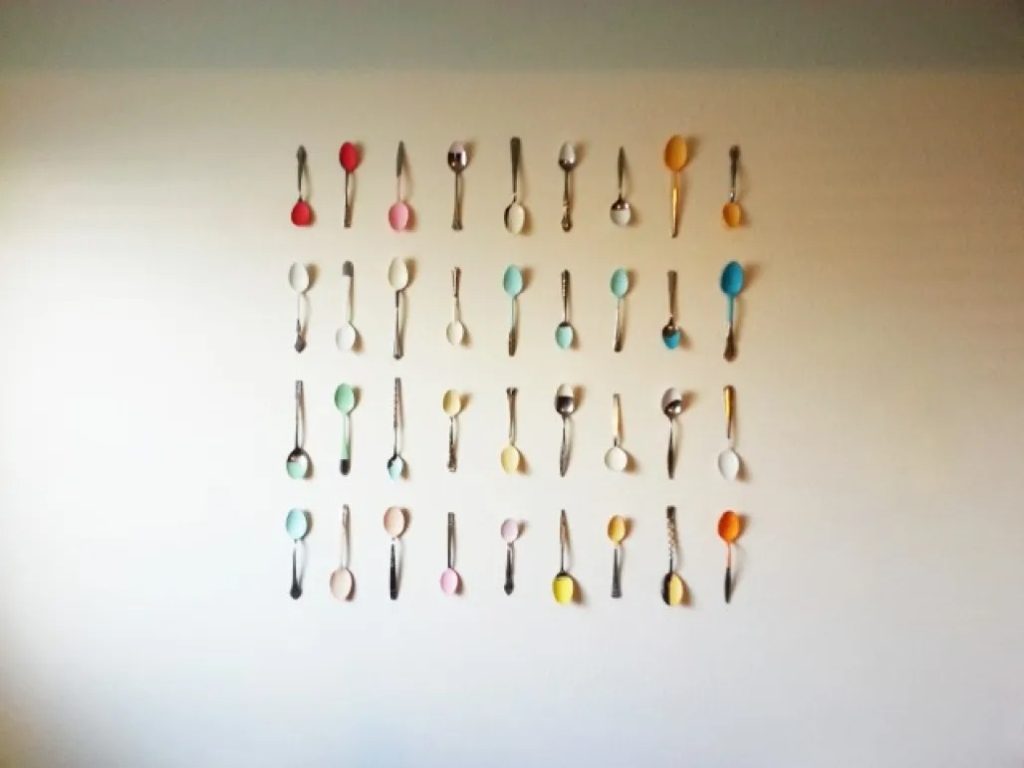 DIY wall art with a dip spoon method can be great for upscaling your kitchen interior design without spending much money. Also, the dip spoon wall art looks stunning and reflects your artistic soul. The best part of this DIY hack is it does not require much raw material. You need old spoons, metal color, and strong adhesive for this project. To create a dip spoon wall art, dip your spoon unevenly on color and stick them on a solid color wall.
13. DIY Your Coffee Mugs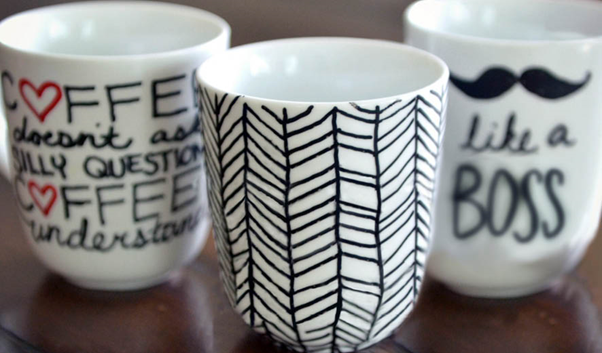 DIY kitchen cabinets are not your only option when you plan to redesign your kitchen with DIY ideas. You can convert your plain coffee mugs into personalized ones. You DIY your mugs with your favorite massage, sketch a flower, and create your personalized coffee mug set. You can use Goldentime Paint My Own Mug Kit to make your DIY mug set. Finally, store and showcase them in your DIY kitchen cabinets.
14. DIY Macrame Plant Hangers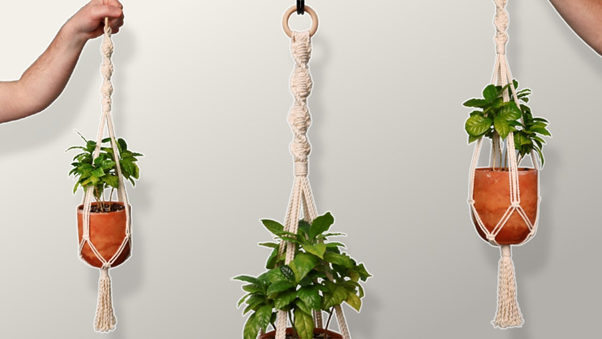 You can make your kitchen interior more refreshing and enticing with a little patch of greenery. But using macrame knots for your plant hangers becomes more alluring. Also, when you place macrame knots and plant hangers in your kitchen, you can add color and life to it. You do not need to know complex knot-making to make macrame knot plant hangers. You can even make it by watching some YouTube video tutorials. However, you can pair these plant hangers with DIY kitchen cabinets for a marvelous look.
15. DIY a Vertical Herb Garden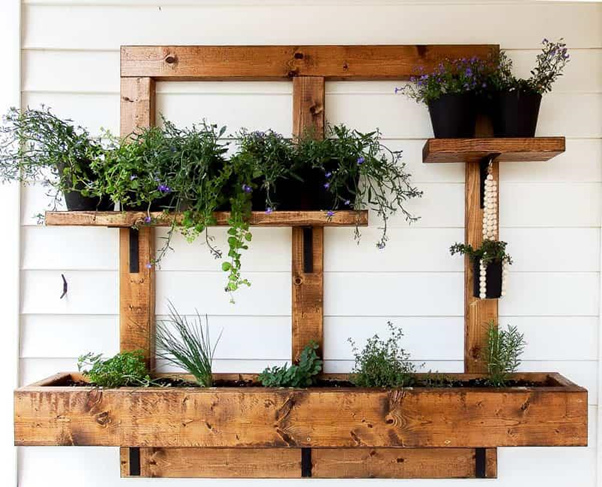 If you love adding herbs to your dishes and drinks to make them more flavorful and refreshing, you can DIY a vertical herb garden. Creating a vertical herb garden is functional and helps to beautify your kitchen. You can make a small, beautiful herb garden inside your kitchen and access your favorite herbs whenever needed. You need some wooden planks and herb-containing pots. Build a Wall-mounted rack or stand and place your herbs and it will help you create a beautiful indoor garden.
16. DIY Faux Marble Countertop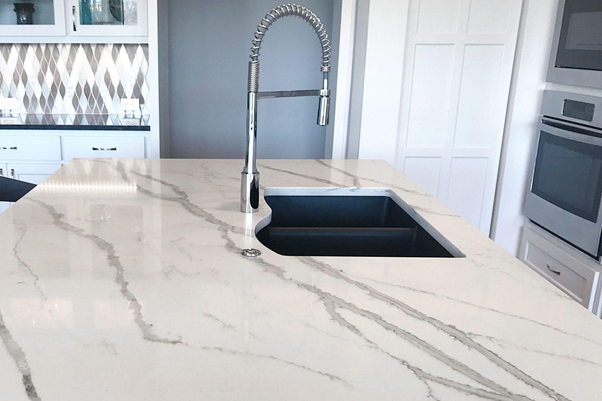 These DIY kitchen cabinets hack can help you redesign your kitchen interior and give it a stylish look. DIY Faux Marble Countertop looks like original marble countertops but is affordable. Also, this DIY project is light and easy; you can accomplish it with beginner skills. Practical faux marble countertops are high-quality peel-and-stick faux marble wallpaper that you can use for your kitchen countertops. You can even transform the upper surface of your kitchen cabinet using this faux marble wallpaper and make them your kitchen countertop.
Summing It Up
All in all, upgrading your kitchen means adding life to the existing place and making it more interesting and vibrant. Also, when you choose DIY kitchen hacks to upgrade your kitchen, you can get various benefits like a budget-friendly and cost-effective option, an opportunity to reflect your artistic abilities, brush up your DIY skills, add a personal touch to the place, and so on.
The best part of using DIY kitchen ideas is that it helps you to be creative and explore innovative ways to improve your kitchen's look. Also, when you choose a DIY project to upscale your kitchen, you have endless options to choose from. You may try DIY kitchen cabinets that you can paint or faux marble wallpaper or craft a personalized wall-mounted herb garden, coffee mug set, or cutting boards.
So, have you decided on any DIY kitchen hacks yet? If not, try any of the ideas mentioned above.
Frequently Asked Questions
Can I Use Repurposed Furniture for My Kitchen Diy Project?
Yes, you can use repurposed furniture for your kitchen DIY project. When it comes to DIY kitchen hacks, your options are endless, and many of them incorporate repurposing old furniture to create something new. For instance, you can repurpose old wooden cabinets to make them your kitchen storage cabinet. Or you can repurpose an old pencil stand to make your DIY cake stand base.
Do I Need Complex Skill Sets to Undertake a Diy Kitchen Project?
It is not mandatory to have a complex or advanced skill set to undertake a DIY kitchen project. You can find various DIY kitchen hacks that anyone can accomplish with beginner's skills. For example, you can paint your kitchen walls or cabinets to improve your kitchen's look. You can also hang some plants using macrame knots for kitchen DIY projects. They are easy to make, and you do not need complex tools and skills to complete the project.
Is Built-In Storage Part of Diy Kitchen Hacks?
You can have plenty of options for kitchen DIY projects, and creating built-in kitchen storage is one among them. Built-in kitchen storage hacks are popular nowadays; many use them to redesign their kitchens. You can create built-in storage for your kitchen on your own. All you need is the raw materials and the appropriate skill set. But remember that built-in kitchen storage DIY hacks are ideal for pro-people, and beginners can struggle to complete the project alone.
How Can I Make My Kitchen Cabinet Look Interesting?
Cabinets are an essential part of your kitchen that stores all essential items for food and spice jars, utensils, glassware, and more. But they can dull your kitchen if they look shabby or too plain. You can try several ways to DIY kitchen cabinets and make them beautiful, beautiful and stick faux marble wallpaper on the upper surface or paint the cabinet with beautiful shades to make them interesting.
Are DIY Kitchen Hacks Expensive?
Kitchen DIY hacks are less expensive than purchasing new furniture for your kitchen. But in some cases, kitchen DIY hacks can be expensive, especially if they incorporate renovation or reconstruction work for the project. But if you opt for light DIY projects like painting your kitchen walls and cabinets or installing plant hangers and floor rugs, it will not cost you much money.