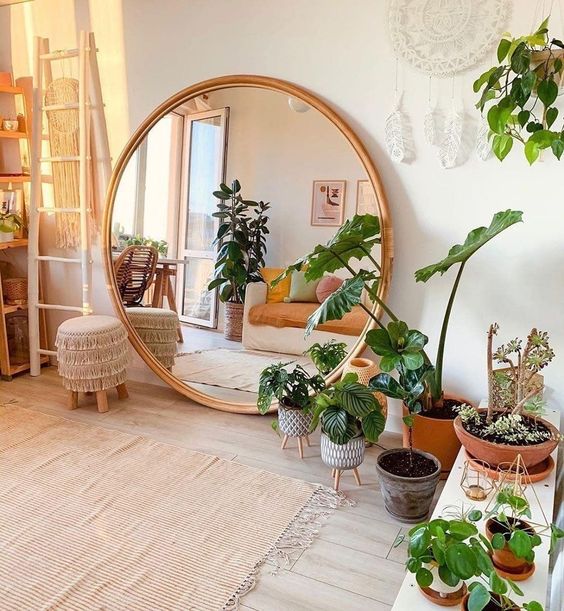 Bohemian Aesthetics have become the first choice for most of us! Why? Because it not just lets us cherish our individuality but also all the cultures of the world! Boho decor originated from the Bohemian civilization, they were originally the wanderers who used to set up their homes whenever they used to move from one region to another, and that's how the idea of Boho decor came out, hence cherishing your interests along with the beauty of cultures!
If you are also a fan of Boho aesthetics and want your living room to be a modern boho living room but don't know how and what to do to make your dream project come true, then we are here to help you out!
We have listed the top 20 simple tips and tricks for you to make your brainstorming easier regarding the idea of the modern boho living room.
1. Focus on Using Identical Pieces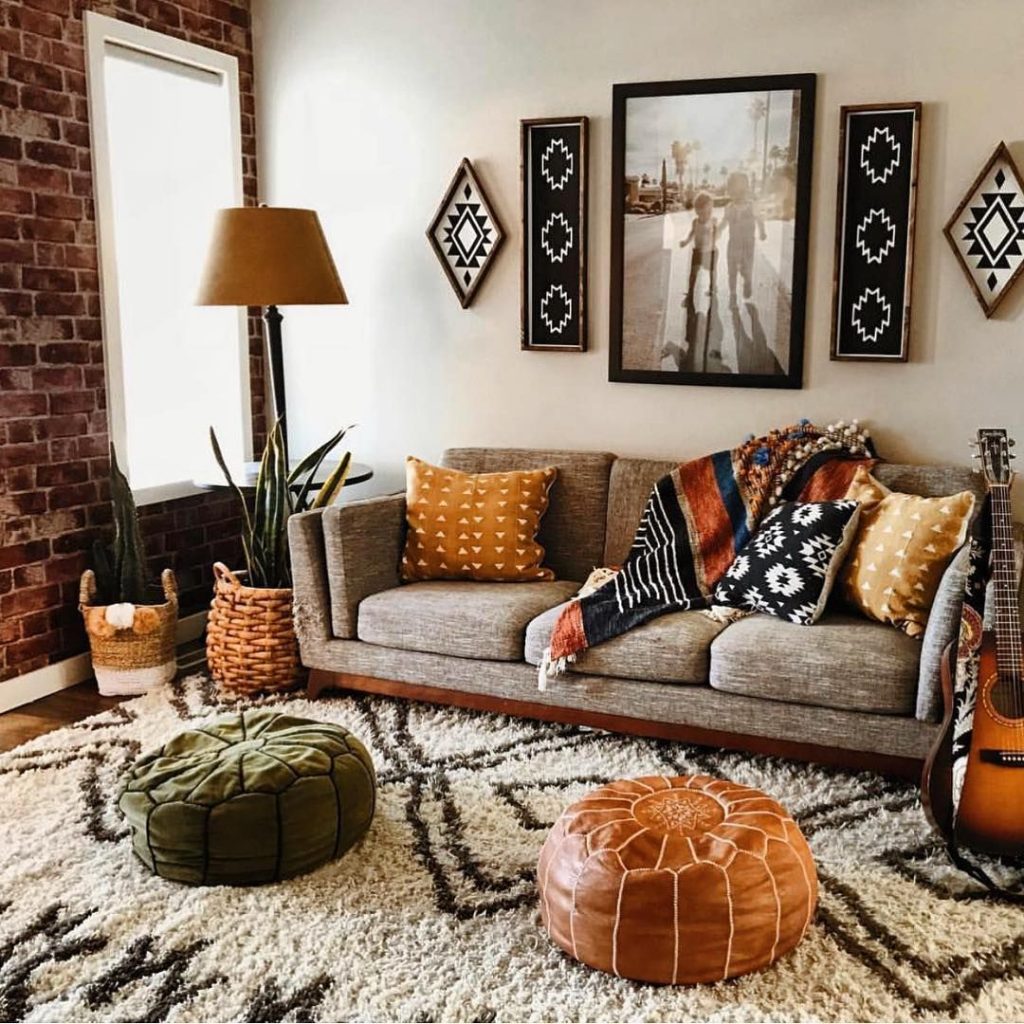 One of the best things you can do while creating your modern boho living room is to focus on using identical pieces. Forget about following the trend or using the best possible furniture or the costliest ones. Just focus on using the kinds of furniture that look as if they all are one of a kind.
Like using identical firm poufs, using identical art pieces, and many more things of your choice!
2. Do Remember to Put Signature 'Boho' Pieces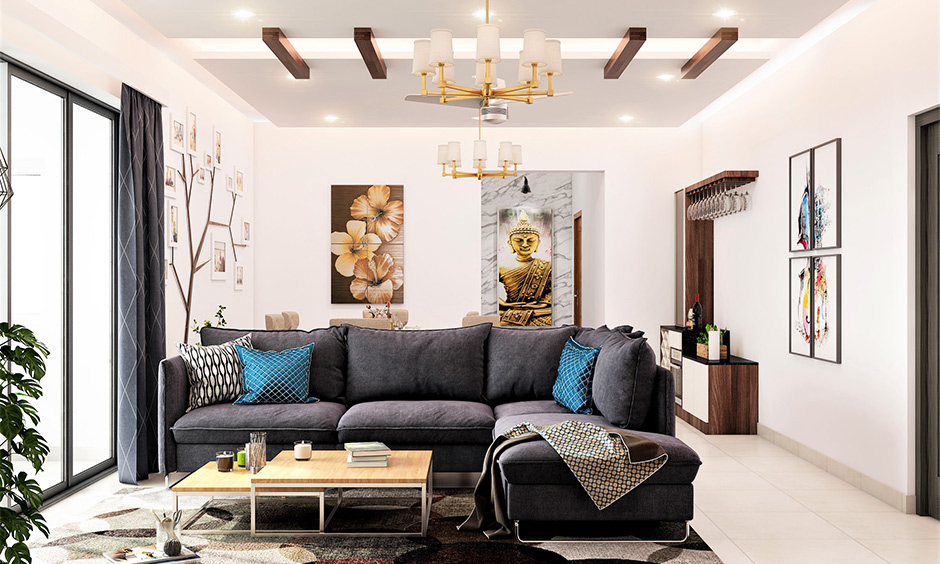 By signature boho pieces, we mean anything that looks cultural or related to something authentic or even something that is a lookalike. You can add the boho paintings like the paintings that can contribute to bohemian aesthetics.
You can even paint your wall with the boho signature designs and can take the covers, curtains, or bedsheets of the signature boho embroidery to transform your room into a modern boho living room.
3. Versatility Can Make It Look Creative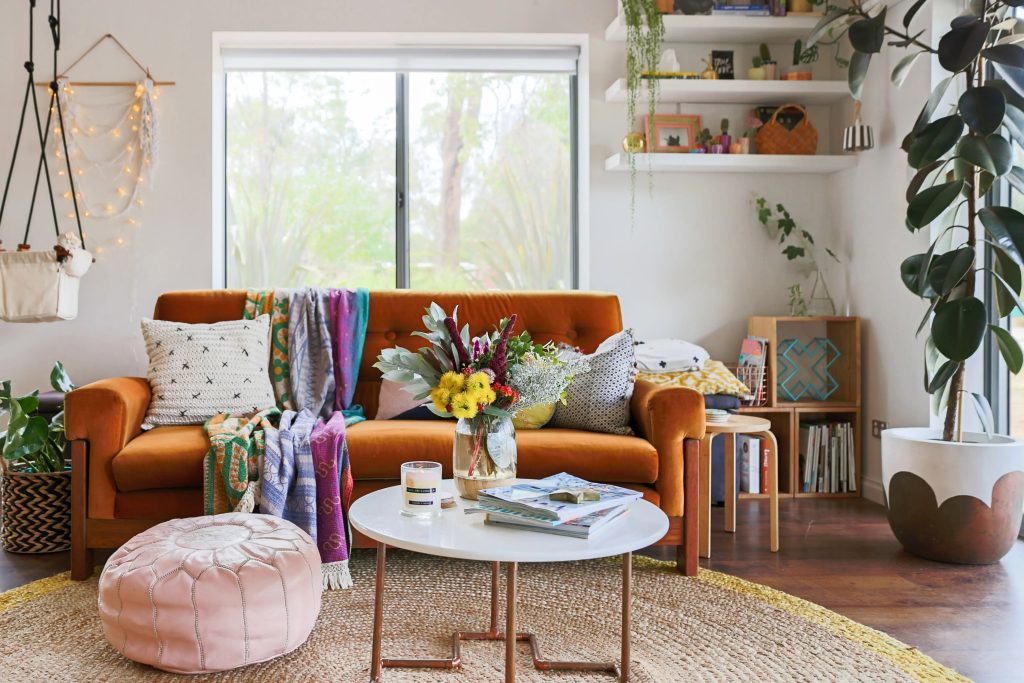 Aiming at having a modern boho living room, then being creative is what you should thrive for!
Let those crazy ideas in your mind come in and get started with the transformation process for your living room. Try to bring versatility to your room and help it come out of the ideas from your mind; the best part about a versatile setup is that it looks creative and has a lot to showcase in your modern boho living room.
4. Add Bohemian Paintings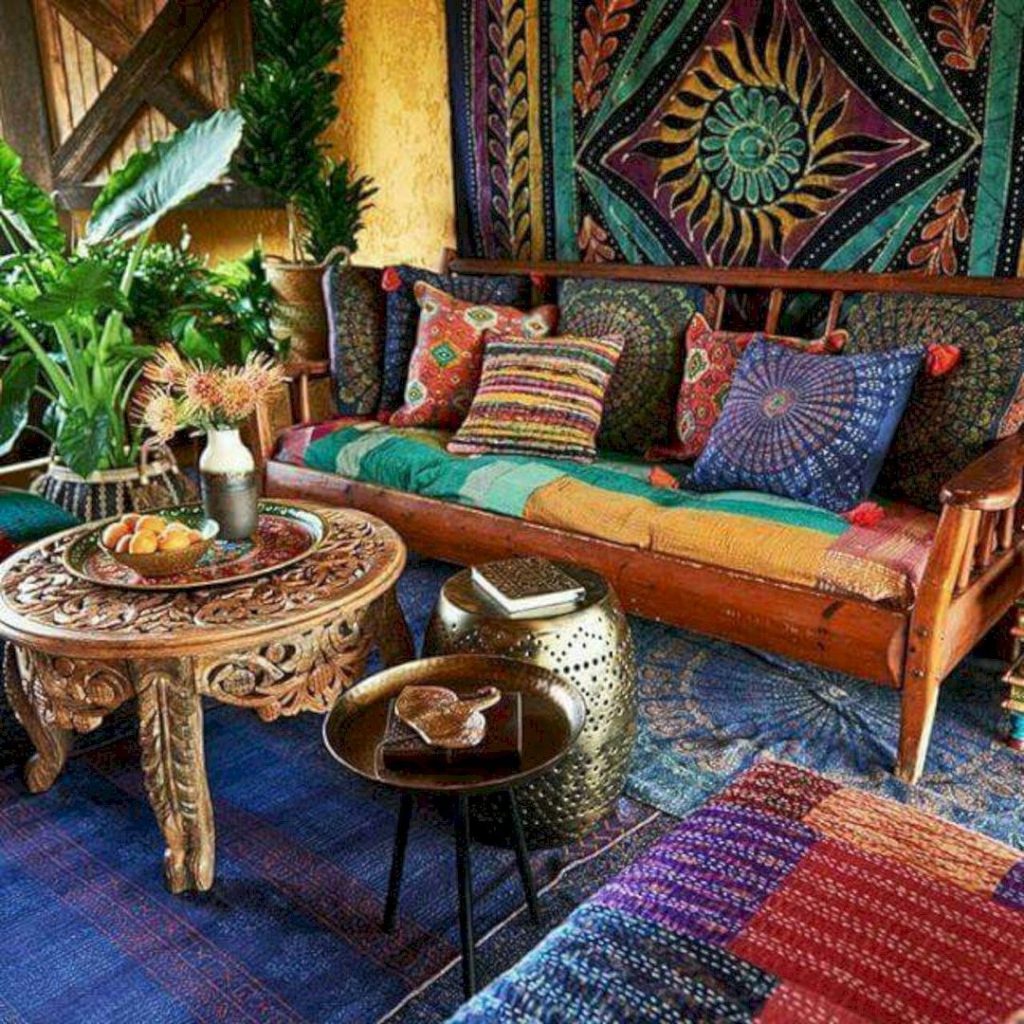 Adding bohemian paintings to your living room is surely going to make your living room look like a modern boho living room. When you are adding paintings to your living room, then make sure they are purely artistic and have some cultural values or some amazingly aesthetic and scenic art!
Having such mesmerizing bohemian paintings is surely going to enhance the aesthetics of your living room and is surely going to feel like bliss.
No products found.
5. Try to Blend the Modern and Bohemian Pieces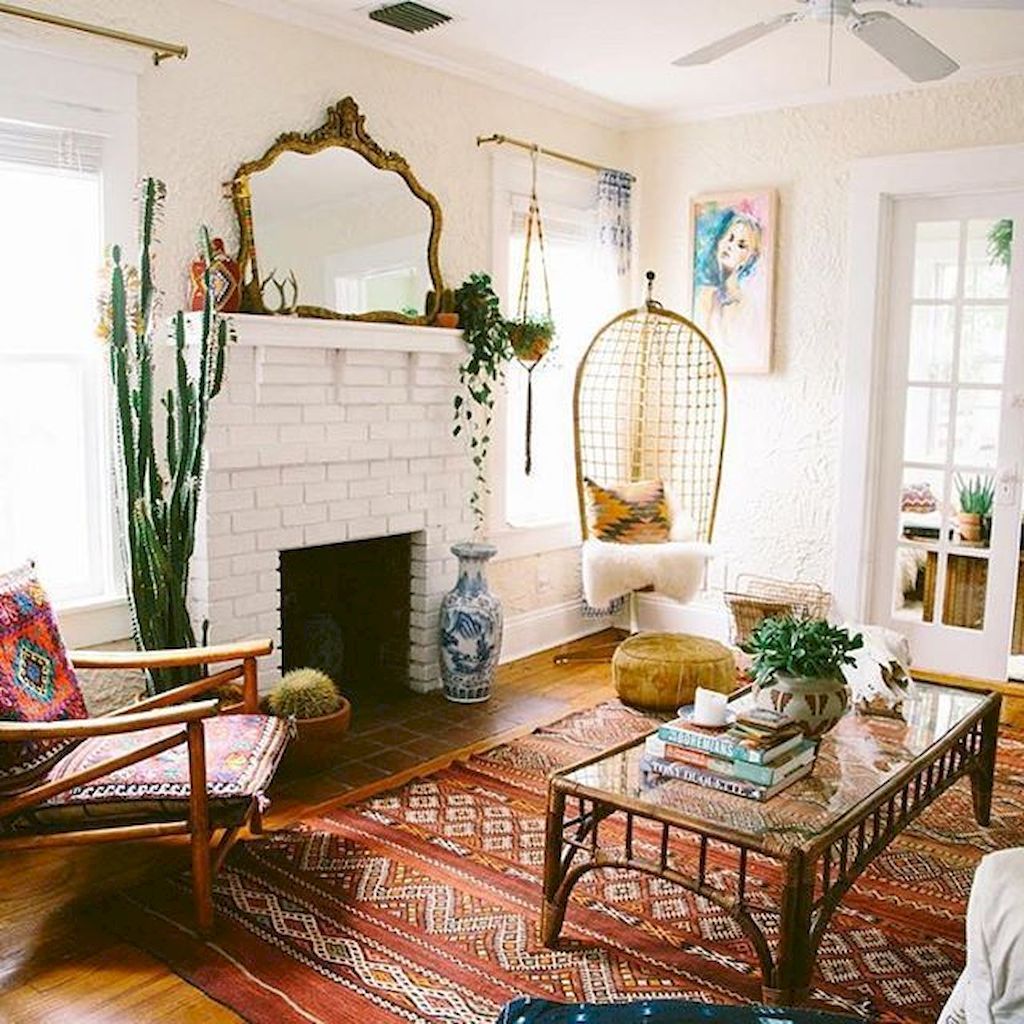 The most important thing that you should think about while setting up a modern boho living room is linking the relationship between modern aesthetics and bohemian ones! While you are setting it up, just try to put the boho pieces and the modern pieces together. You can put the firm poufs over the bohemian rug, which is going to look super cute and aesthetic in your living room.
You can also put the bohemian painting in your modern living room to add a boho touch.
6. White Will Keep It All in Sight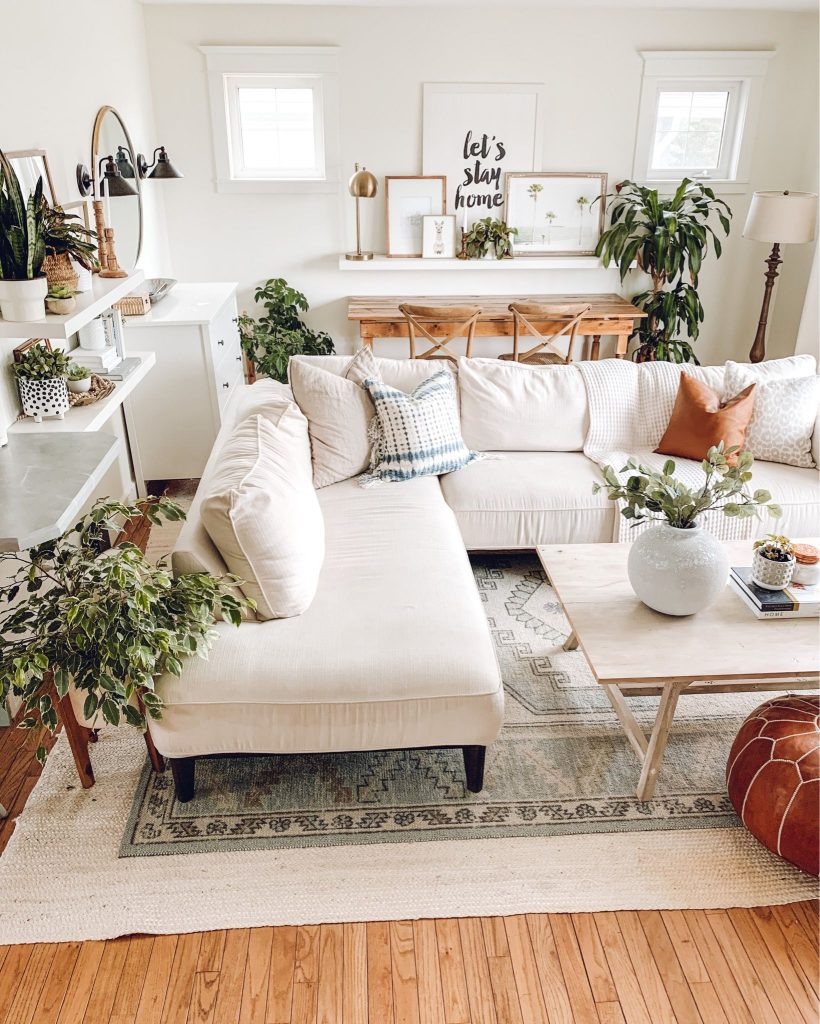 Go for painting the walls of your living room in white color because when it comes to bohemian aesthetics, then white paint is the premium choice. Although most people go for colorful pallets when it comes to bohemian aesthetics, white is one of those colors that help highlight the other defining features like furniture, curtains, paintings, rug, and the other things that you have added to transform your living room into the modern boho living room.
7. Blend the Colors and The Patterns of The Pillows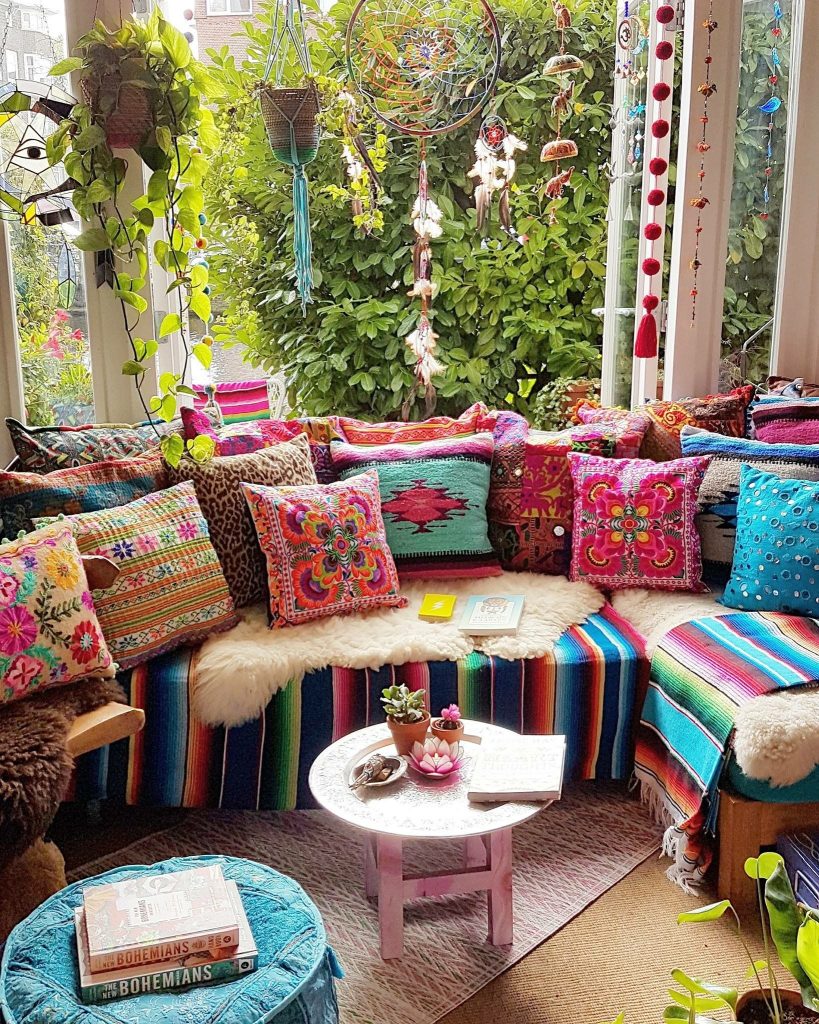 Get ready to play with the pillows in terms of their colors and patterns. When it comes to the boho setup, the most important thing is being creative and not losing your ideas in the middle of the trends. So when you have to choose the pillows then, make sure you blend the colors and patterns to make them a perfect match for the modern boho living room.
You can mix one traditionally patterned cushion with one solid-colored cushion, which is going fit in your living room perfectly.
8. Pair Different Contrasting Colors Together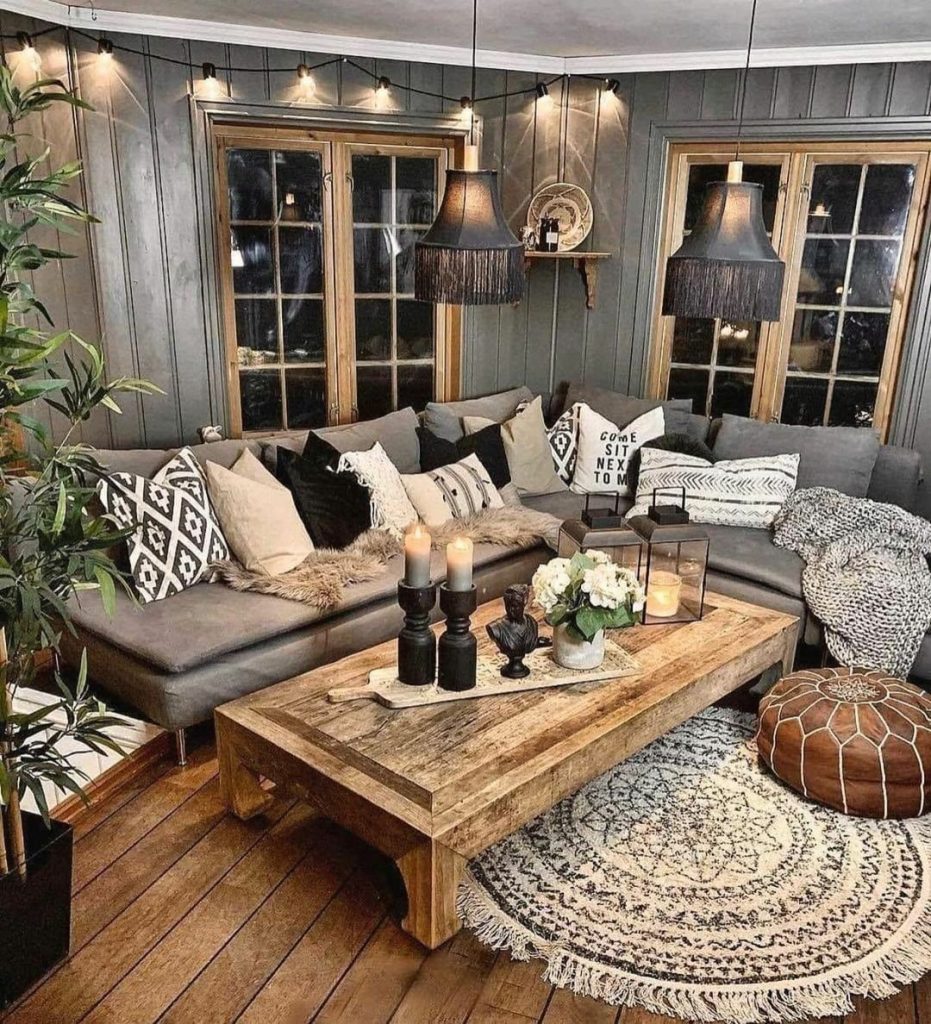 Playing with colors is one of the best parts of transforming your living room from a normal one to a modern boho living room.
You can play with colors in many ways:
You can pair up two rugs together of different colors and can keep them on top of each other with the relevant size difference.
And you can also play with the colors of the cushions and pillows by using the different colors and patterns in pairs.
Along with that, you can even select the different pieces of furniture that are color-coordinating with each other.
9. Too Many Plants Are Still Too Less
When you are planning to have a modern boho living room, then one thing is definitely that you should make sure and is that plants are not a need but are the want of this setup. You can put all the plants in line in your room, but still, they are going to be less because it is a bohemian aesthetic décor!
You can keep the indoor plants in your living room to keep the environment refreshing and soothing.
10. Play with Modern Fluorescent Colors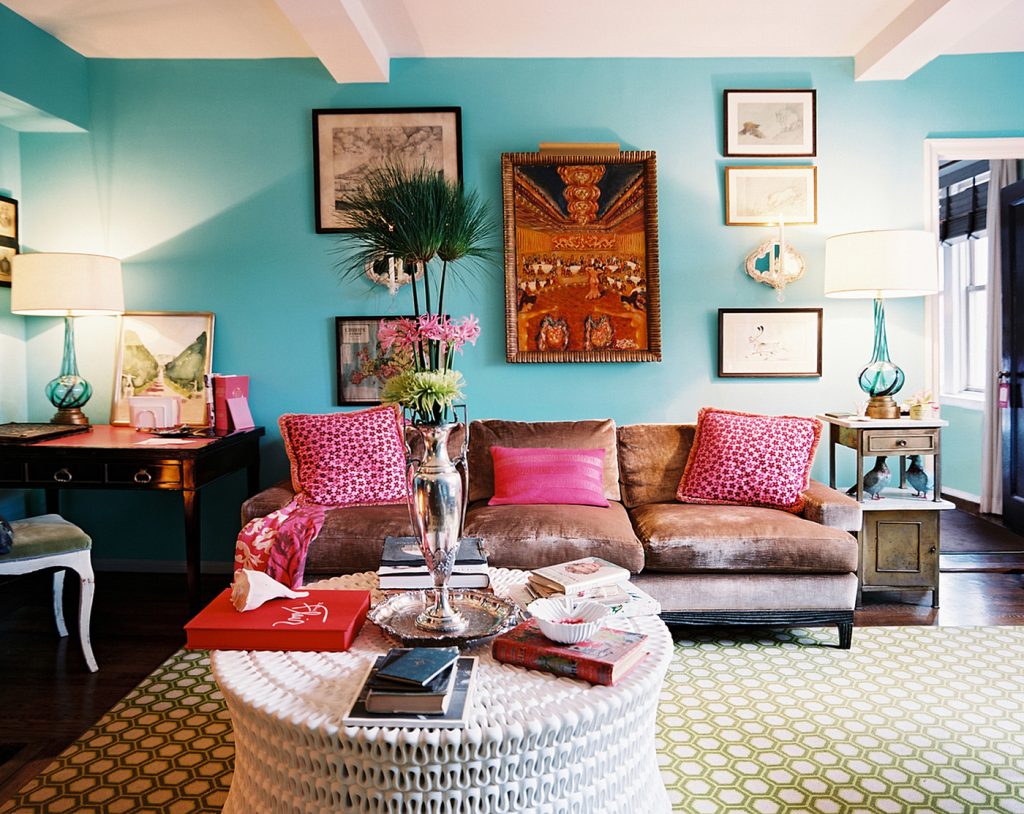 Well, fluorescent colors are very bold. And so using them in your modern boho living room can do wonders for the aesthetics of the room. You can coordinate the simple and subtle colored pieces with the fluorescent-colored ones; this trick can make your living room beautiful.
For example, you can pair up your subtle furniture with fluorescent-colored curtains or rugs, whatever you love to have in the fluorescent-colored pallets.
11. Show your Creativity Through Artwork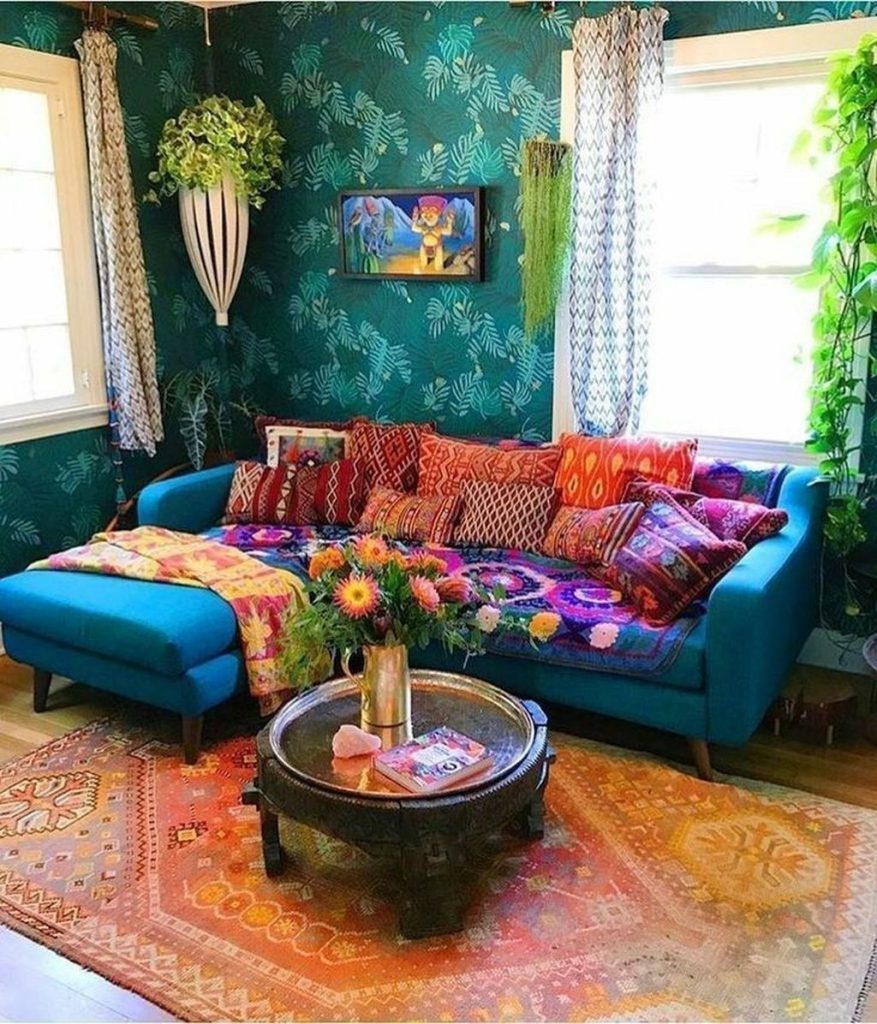 If you are an artist or you have amazing taste in selecting art pieces, then this trick for your modern boho living room transformation is going to be the most loved one by you! You can paint many easy boho paintings by yourself at home.
You can even create some of the best art pieces at home that can be made from broken or unused materials at your home, and this DIY is going to be a sustainable one!
12. Pair up Coordinating Color and Pattern Rugs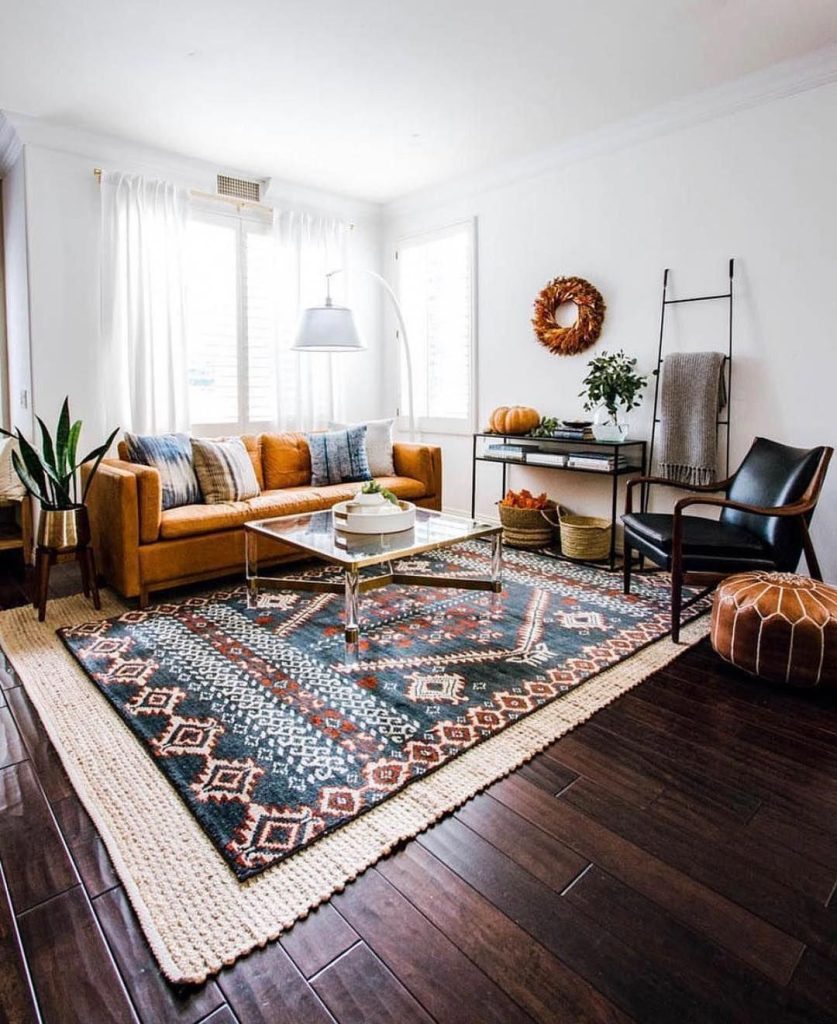 When it comes to rugs, you can do many creative things. Here are some ways that will help you in being creative with rugs:
You can arrange the rugs of different sizes by keeping them on top of each other for having double rugs setup.
Can keep an embroidered or authentically patterned rug on top of the solid-colored one to have the best double-layered rug piece.
Also can keep the different colored rugs in the different rooms to have color coordination.
13. Minimalist Approach Is Still Not Outdated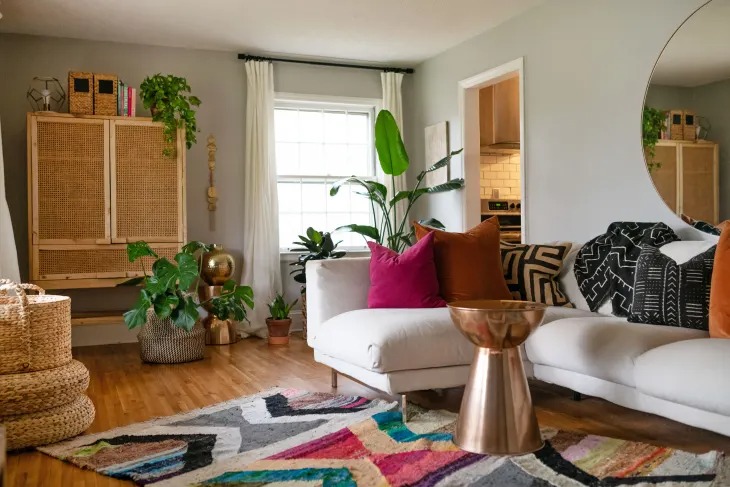 If you think that still loving the minimalist setting is a thing that is out of trend or fashion, then we are happy to let you know it is not! You can still slay every décor by being stuck on your minimalist selection because, as we know, the less is, the more. And so, even if you choose to use fewer materials, but you arrange them beautifully, then it can make your living room look like your dream modern boho living room.
14. Even Maximalists Will Make It Look Beautiful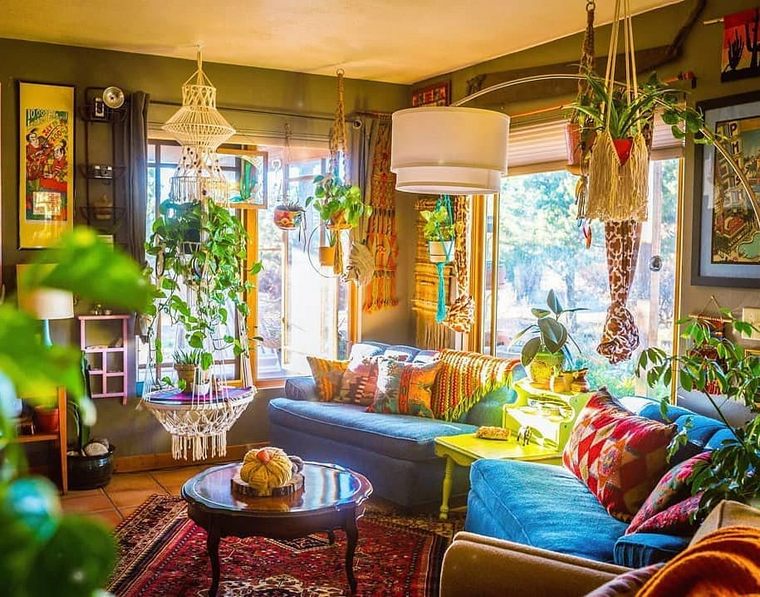 Are you a maximalist and like things that you have together? Well, let us tell you that being a maximalist will just enhance the beauty of your modern boho living room and will not ruin anything. Do you know why? Because this is what your individual creation is, and that is what's the best thing you can do while designing the rooms of your home. Add multiple things as per your choice, but make sure to organize them properly. So that it will look beautiful rather than clumsy.
15. Add the Pair of Poufs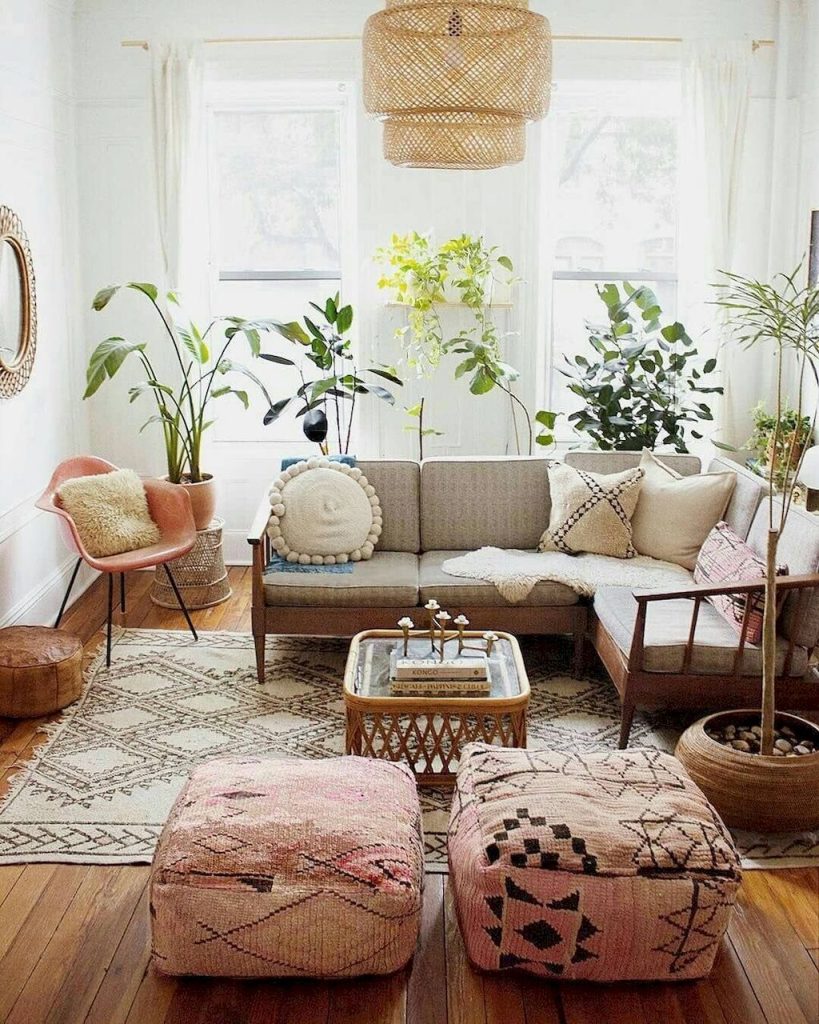 Adding a pair of firm poufs in the place of coffee tables can make a huge difference. Just coordinating your modern pieces of furniture with traditional ones, like the pair of poufs, can change it all! These firm poufs can be the game changer for transforming your living room into a modern boho living room.
You can either change the cover of your poufs according to your moods or seasons. That is going to enhance the look of your living room.
16. Showcase Your Collection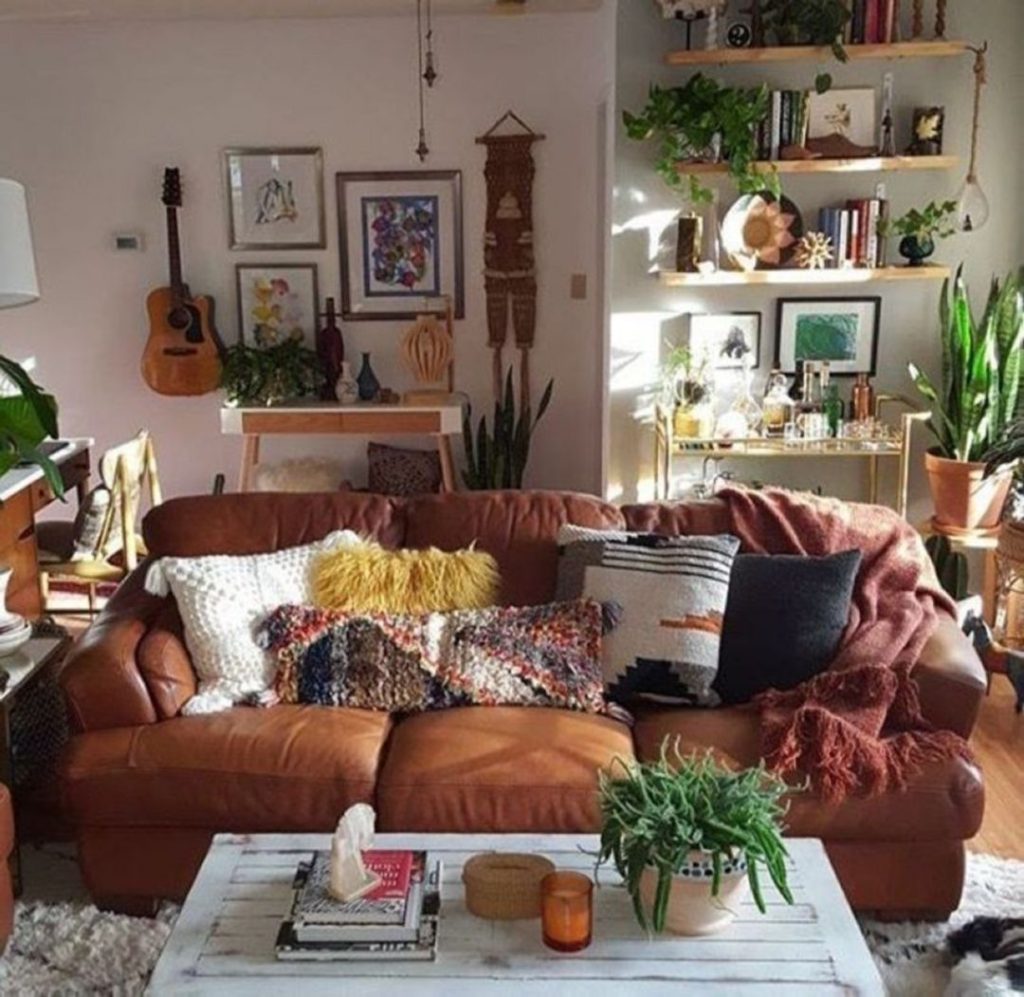 If you are keen to showcase your collection in your living room, then this is going to be a win-win for your idea of a modern boho living room. Thinking how? This is because showcasing the versatile collection of different things collected by you over the months or years can really make your décor look awesome.
For example, if you have a collection of shells from different beaches of the world or if you have a collection of hats or anything from across the world, then such collections are really ones to showcase!
17. You Can Make Your Curtains the Ultimate Showstopper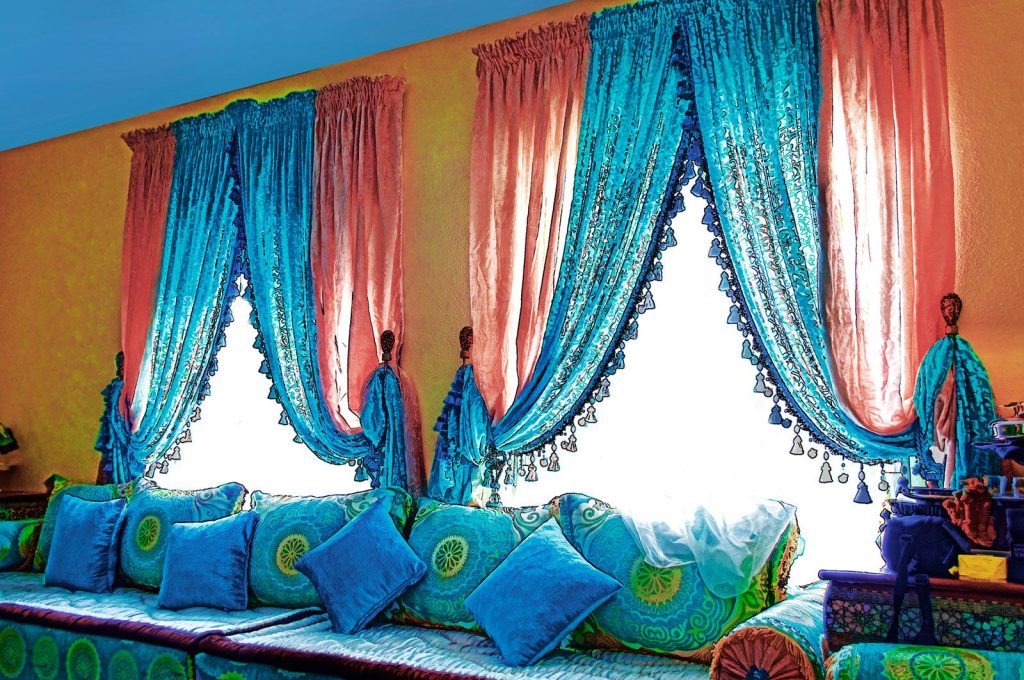 Whenever we think about room décor or home décor, all we can think of is the furniture or the rug or the pillows, cushions, or it can even be ay of our favorite pieces of art, but some of us really underestimate the power of curtains in the appearance of our rooms.
Thinking how curtains can be the game-changer? Well, we are here to tell you! Suppose you added the light fluorescent-colored in your beige or white-themed boho room, then they are really going to feel the refreshing breeze of the spring season!
18. Think of The Modern Mix of Retro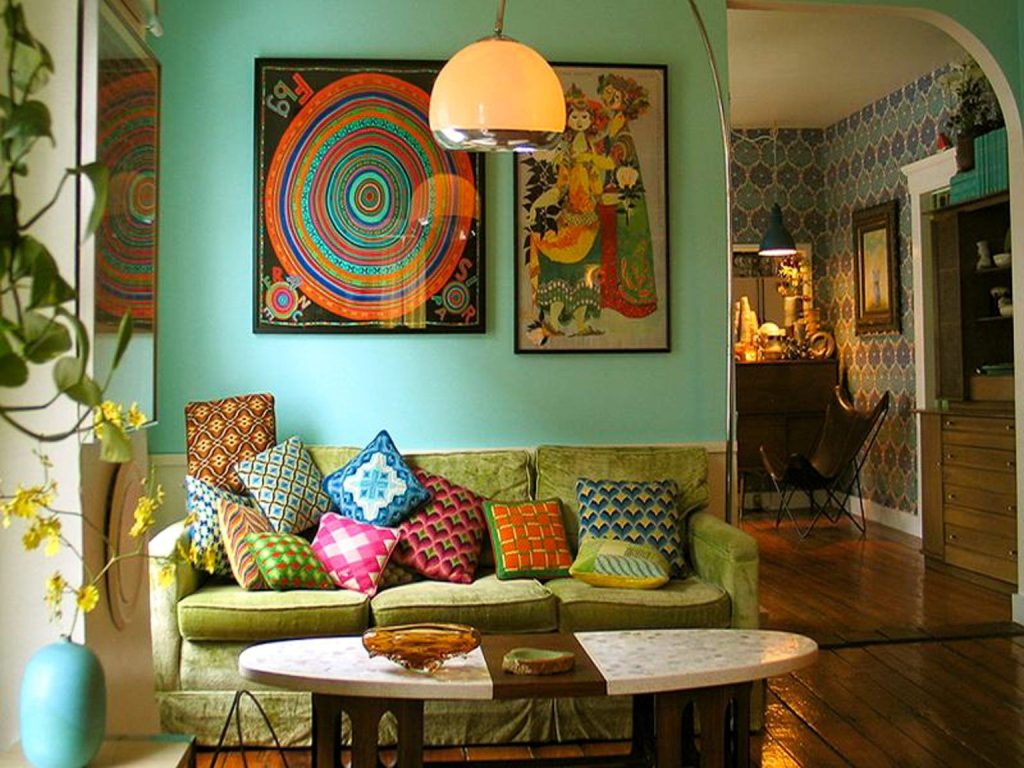 Well, who doesn't love the Retro themes, especially when, in today's era, we don't miss out on cherishing those wonderful golden songs and legendary movies? You can have some signature retro-themed pieces in your living room to make your living room look like the beautiful retro-themed modern boho living room.
For instance, you can keep the retro music player in your living room that is going to make your living room look a hundred times aesthetic.
19. Be Bold and Creative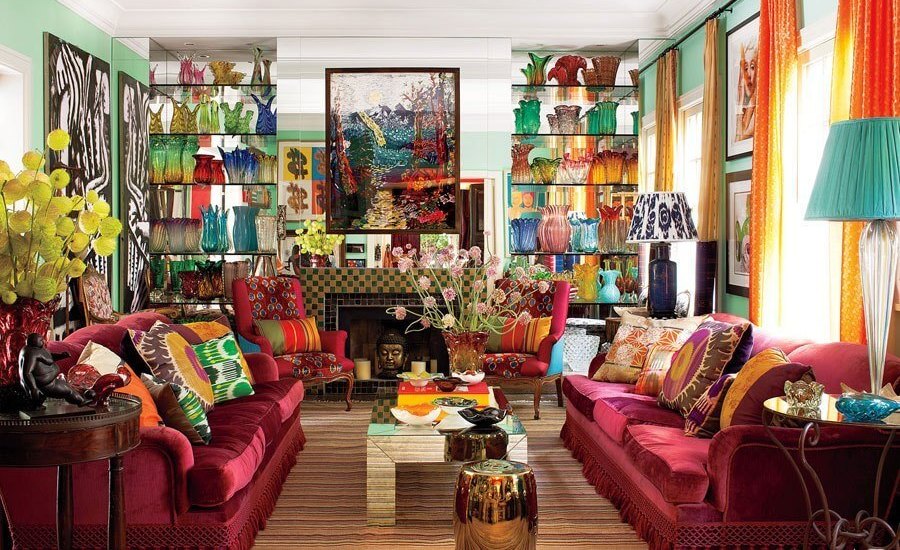 Boho décor is all about having your essence in the choices you make while giving it a touch of modern things, hence transforming your living room into a modern boho living room.
Being bold makes a huge difference; being bold about what you choose and what you like is the best thing. It is all about confidence. As soon as you believe in yourself in terms of the choices that you make, you are not going to get bothered by opinions!
Your creative ideas can make your project the best one.
20. Connect with The Vintage Folk Arts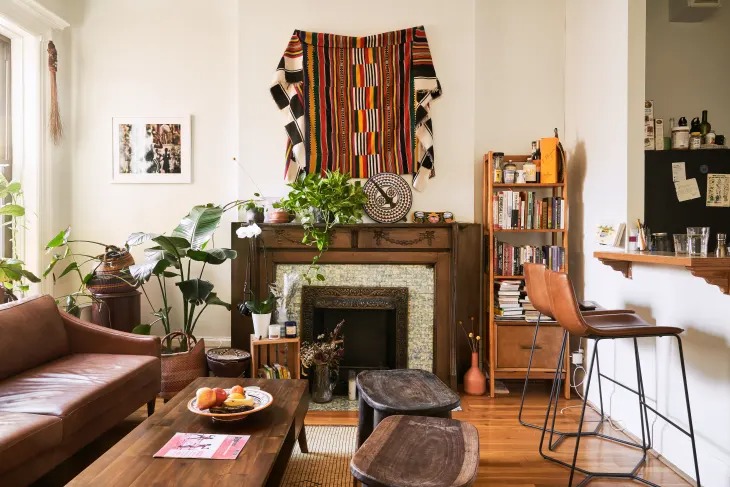 Planning to have boho décor for your living room and haven't decided which vintage art you are going to showcase? Not done at all! The most important part of boho aesthetics is having a relatability with the vintage folk arts.
Vintage folk art pieces are the best and the most beautiful way to showcase the beauty of your culture in your living room. If you want to have a modern boho living room, then the best and the least you can do is add the vintage folk art piece in your modern-designed living room so as to make it a mix of modern boho décor.
Summing It Up
Having beautiful living room décor is indeed a dream for most of us! The organized setup is beautiful and subtle enough to be shown off and to feel happy about things that you have chosen and fit perfectly in the places where they are kept; all of these little things matter a lot to most people, even if they are a homemaker or not.
Your dream of having a modern boho living room will definitely be a true one with these amazing 20 tips that are surely going to help you out in making your dream project a win-win.
The effortless DIYs can make the work even cheaper and better. It will also put in a lot of memories because DIYs are not just about the work you put in, but they are also about the teamwork that you do with your special people, and that's how you unlock some old memories and make some new ones!
We wish the best to you for your modern boho living room, and we hope these tips are going to make it easier for you!