Did that brown leather furniture catch your eye? Don't tell me you dropped the idea of buying it. Was that because of the thought of how you will manage the color palette of the room with that brown color sofa? Not to worry! You can pick your favorite brown color leather sofa without thinking twice. After all, it's a classy piece of furniture that adds comfort and luxury to any room with its elegant and timeless design.
Choosing a perfect color scheme can help you accomplish the desired look and feel of your house. You can choose any shade, as various hues harmoniously complement the brown leather sofa. So whether you want to have a bold statement, create a warm and inviting space, or want to keep things simple and elegant, you can achieve any mood for your living room.
In this article, we will explore living room color schemes to complement and style your brown leather furniture.
Get ready to be amazed and elevate your home decor!
1. Earthy Hues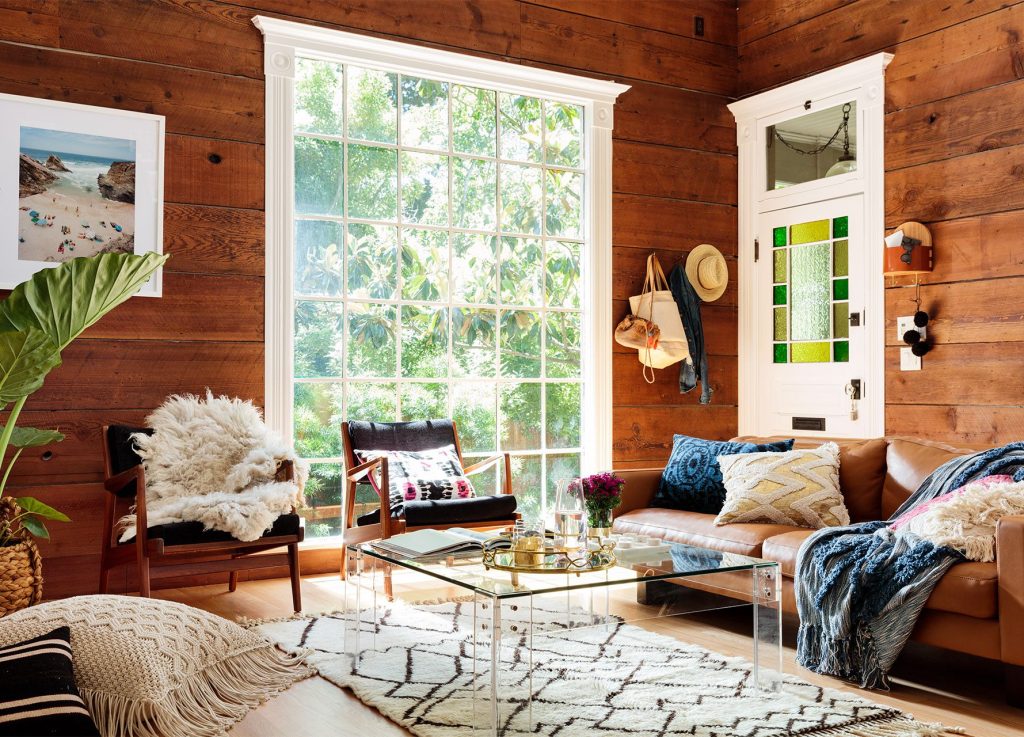 For a cozy, pleasant, and inviting ambiance in your living room, think of pairing your brown leather sofa with some earthy tones. Now let's understand what earthy tones actually are. They are a mixture of browns and tans. Painting your walls with these calming colors helps to create a utopian environment. By bringing a bit of nature indoors, these earthy tones evoke a sense of serenity and tranquillity, and their warmth perfectly blends with the brown leather. Your walls can be painted in terracotta, warm beige, or olive green. These earthy tones can be added to your living room in the form of throw pillows, area rugs, and curtains.
While opting for living room color schemes that complement the brown furniture, do consider color saturation and hues. You can even pair your brown leather sofa with indoor plants, furnishings made of bamboo or rattan, etc. Lighting, too, plays a vital role in creating a rustic ambiance. For a pleasant atmosphere, opt for table and floor lamps with soft and mellow lighting tones. All these will definitely highlight the earthy tones and thereby blend with the brown leather sofa too.
2. Shades of Blue and Green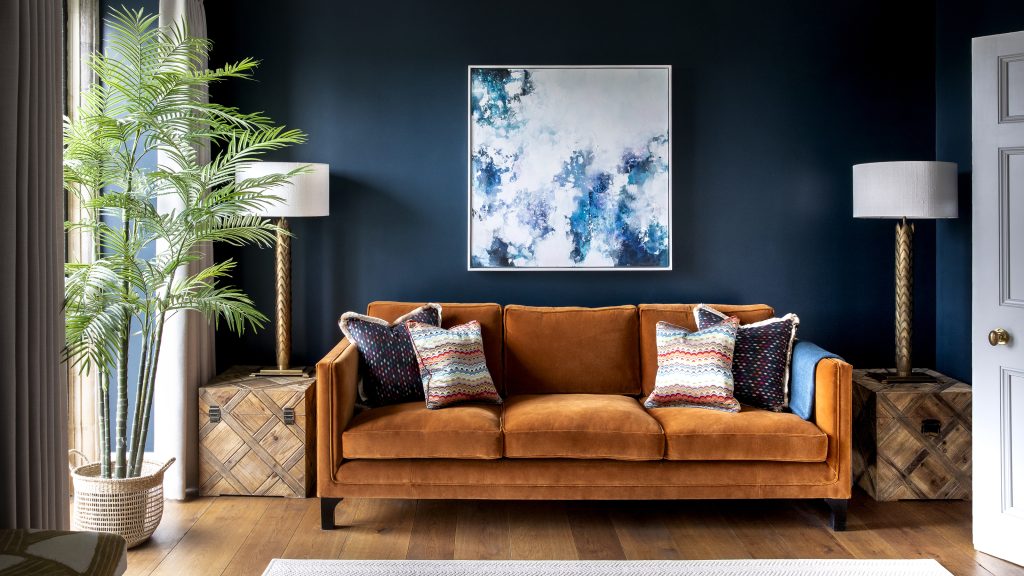 How about creating a fresh and peaceful vibe in your living room which already has a brown leather sofa? Yes, this can be achieved if you pair your classic brown leather sofa with shades of blue and green. The shades of blue and green boost your space and bring a sense of natural beauty to complement the warmth of brown leather. These shades give a comfortable and energized feel to your living space. If you are going ahead with the thought of painting your walls with shades of blue and green, you can opt for both darker and lighter tones.
For a peaceful ambiance, ensure that all the room decor items are nature-inspired, like indoor plants, bamboo accents, or natural wood furnishings. These work well with your brown leather sofa and shades of blue and green too. Another way to have blues and greens in your space can be done by having throws and pillows. You can enhance the depth with various textures, linen or velvet, or anything of your choice. You can even go for abstract artworks, prints, or decors which are inspired by nature or have some beach motifs in the color scheme of blue and green. With your personal touch, creative mindset, and alluring color scheme, you can create a beautiful living space.
3. Dark Shades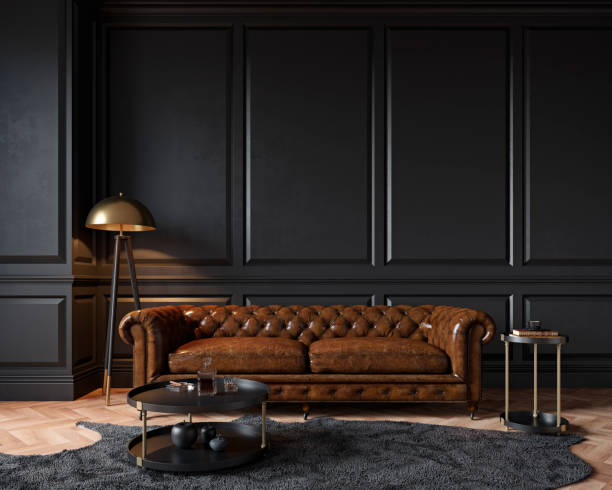 If you love dark tones, we have got you covered too. A beautiful living room with a brown leather sofa can be easily paired with dark shades like black, charcoal grey, or navy blue. With this pairing, the vibe of your living space will depict luxury and wealth. These luxurious shades will exude a phenomenal and classy ambiance. To provide an eye-catching backdrop to your brown leather sofa, consider painting your walls with navy blue or charcoal grey. These dark hues will sharply contrast with warm tones of leather and will add depth too.
You can highlight the room by using these dark shades on walls, floorings, pillows, blankets, or curtains. All of these elements will tie your color palette together to prevent your space from looking too monochromatic. To elevate the grandeur of your space, metallic artworks in silver, gold, or bronze can be opted for. To give your dark shade a touch of luxury, you can add mirrors with metallic frames or any other beautiful objects of your choice. If your room turns too dark, add a pop of color accent. For this, you can go for artwork, cushions, or accessories in vivid colors like crimson red, yellow, or emerald green and turn your living room space more intriguing.
4. Jewel Tones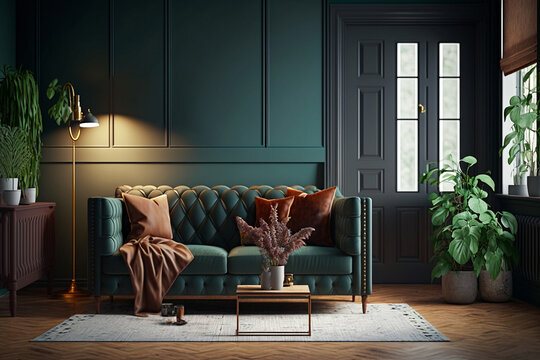 How about upscaling your living room by pairing the brown leather sofa with some jewel tones? Isn't it a great thought? You can have a lovely and inviting ambiance with dramatic hues and a massive presence. When we are speaking about jewel tones, we have sorted the wall colors too. To add a pop of color that blends well with the brown leather sofa, consider painting your walls in shades of emerald green, sapphire blue, or amethyst purple. These colors not only create an attractive backdrop to your sofa but also add to the depth, dimension, glitter, and visual interest of the space.
The textiles you choose and their color shade also matter while styling your brown leather sofa. To create a sharp contrast with brown leather, you can grab the rich velvets, royal blue, deep teal, or ruby red. You can even frame your windows or hang luxurious drapes or curtains in jewel tones. Don't hesitate to experiment with shades of jewel tones like citrine, red, topaz orange, and garnet red. These shades, too, create a harmonious balance in the color palette of the living room. If you want to use jewel tones in a manner that highlights your brown leather sofa and makes it the center of attraction of your living room, then you can have a neutral background using light grey and beige.
5. Neutral Colour Palette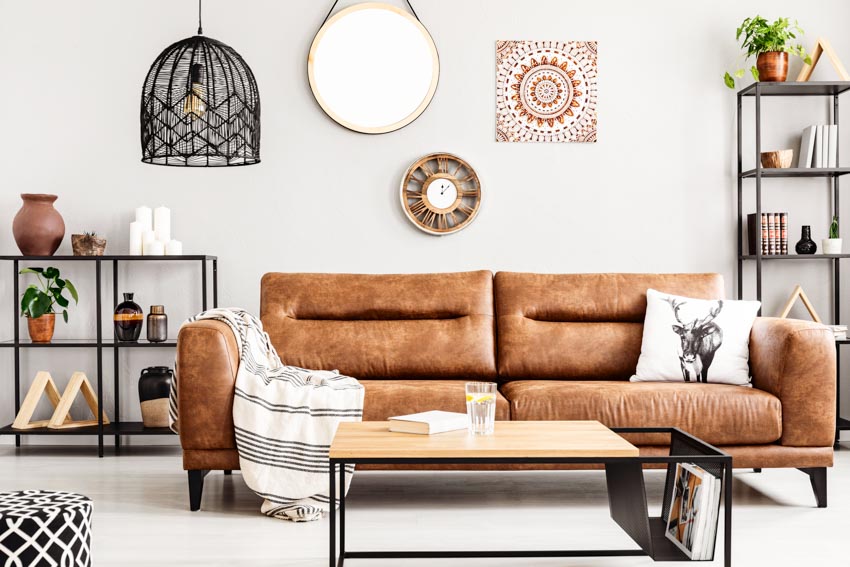 Pairing your brown leather sofa with neutral hues in your living room can help you effortlessly create a space that exudes classic beauty. Against the elegant and seamless background of neutrals, the brown leather sofa stands out because of its deep and rich topness and turns out to be the focal point of the space. This lovely combination reflects style and grace in your living room. What actually falls under the neutral color palette are the shades like beige, white, cream, or light grey. This seamless backdrop created with subdued tones helps to create a cheerful and airy atmosphere in the living room.
While using the neutral color palette brings some life to your space with the help of textures. Add some depth to your space with things like sofa cushions or patterned rugs. You need to smartly pair the brown leather sofa as per their shade to see which neutral color suits it the best. For example, the light brown color leather sofa looks fantastic with shades like ivory and beige, whereas the darker brown ones suit well with shades like grey or charcoal. Brown leather couches look appealing when accompanied by light-colored furnishings like coffee tables or side tables.
6. Metallic Accents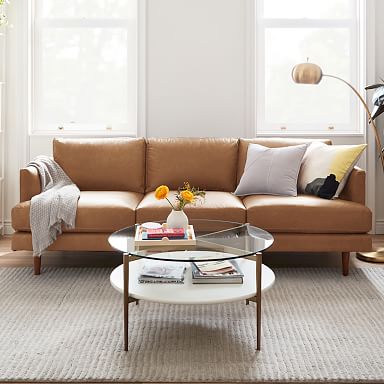 You can increase the value of your living room with the help of adding metallic accents to your brown leather sofa. Metallic finishes can make any space look more sophisticated and modern. The warm tones of the brown leather sofa provide a visually appealing contrast and thereby enhance the aesthetics of the room decor. You can turn a modern metallic table into a centerpiece of the room. In order to complement the brown leather sofa opt for options like brass, copper, or chrome and add a touch of contemporary style to it. Other accessories for visual interest are metallic sculptures, picture frames, candlesticks, and vases.
To illuminate your living room, you can even grab your hands on metallic floor lamps or pendant lights. How about hanging a beautiful mirror with a chrome frame on a distinctive wall? That sounds great! The reflective surface of the mirror will highlight the metallic accents and provide depth to space in order to create an illusion of a larger room. Metallic wall sculptures or artworks are a great option to make a striking impression. Always remember to ensure harmony between the metallic accents and the color scheme of the living room.
Wrapping Up
All in all, you won't hesitate to buy your favorite brown leather sofa anymore. We have come across numerous alternatives and color schemes that can go well with your brown leather sofa. Starting with a neutral color palette is a good idea.
Consider using shades like white, cream, beige, or grey. If you want to create a warm and inviting atmosphere, catch your hand on earthy tones. For this, you can consider hues like mustard, terracotta, or olive green.
However, if you want to make a bold statement and stand out, then jewel tones are your next stop. They have striking hues like amethyst, emerald green, and sapphire.
In short, you can choose any color scheme depending on the mood and ambiance you want to create for your living room. Use the best of your creative mind, think out of the box, and experiment with different new color schemes and combinations, till you find the perfect match for your brown leather sofa.
What are you waiting for? Start the room decor of your living space as per your taste and preferences.