Brown leather sofas bring a sense of warmth and elegance to any living area and are a timeless addition. Their popularity is a result of their natural blending with a wide range of color schemes and design motifs, making them a popular option among homeowners. Brown leather sofas are widely available in furniture stores, so it is understandable why they have established themselves as a standard in many homes.
While some people would consider brown to be a lifeless or uninteresting color, the beauty of a brown leather sofa can act as a multipurpose focal point, opening up countless decorating options. Whether your taste is conventional, contemporary, or eclectic, a brown leather sofa can serve as the ideal focal point to create a cozy and chic living space.
Let us explore and find out what color goes with a brown leather sofa.
1. Earthy Color Goes with a Brown Leather Sofa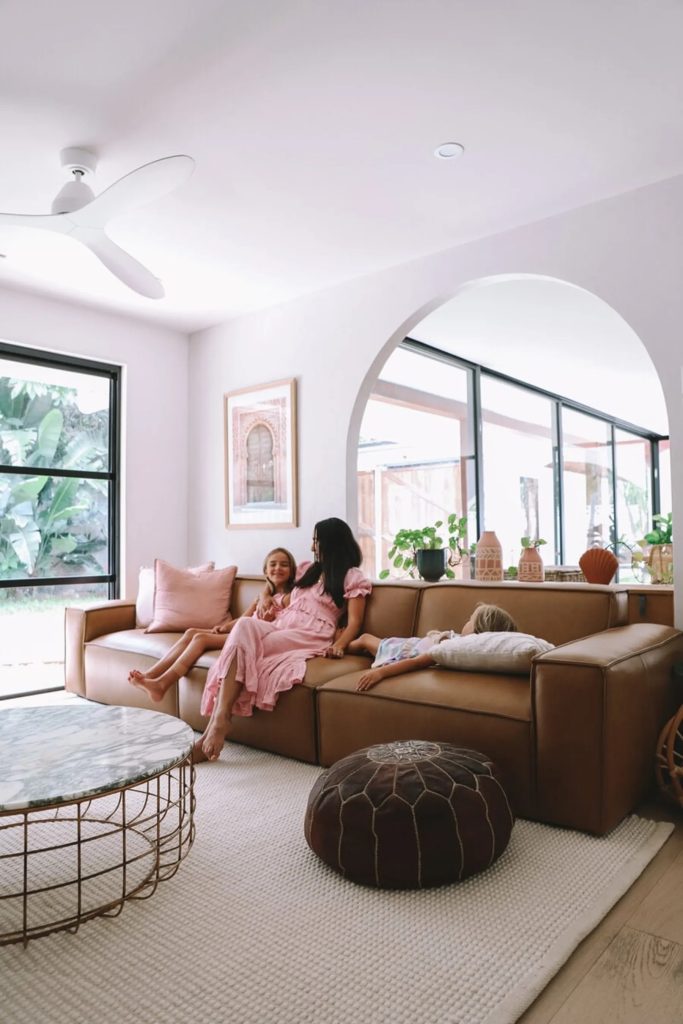 Complementing a brown sofa with earth tones is a great way to generate an organic feel. Brown effortlessly complements earthy colors like terra cotta, watery blue, rusty red, and olive green since these colors frequently occur in nature. A living room can be warm and inviting by choosing a wall color in these earthy tones and accessorizing with a brown sofa with neutral pillows or throws. Use cushions with delicate textures for more visual interest, like the enormous ombre, better homes, and garden pillows. This strategy enables the building of a beautiful and eye-catching collection of neutral colors. It improves the brown sofa's general attractiveness. This is why these colors can be considered to be an answer to the question, what color goes with a brown leather sofa?
2. Go with a Neutral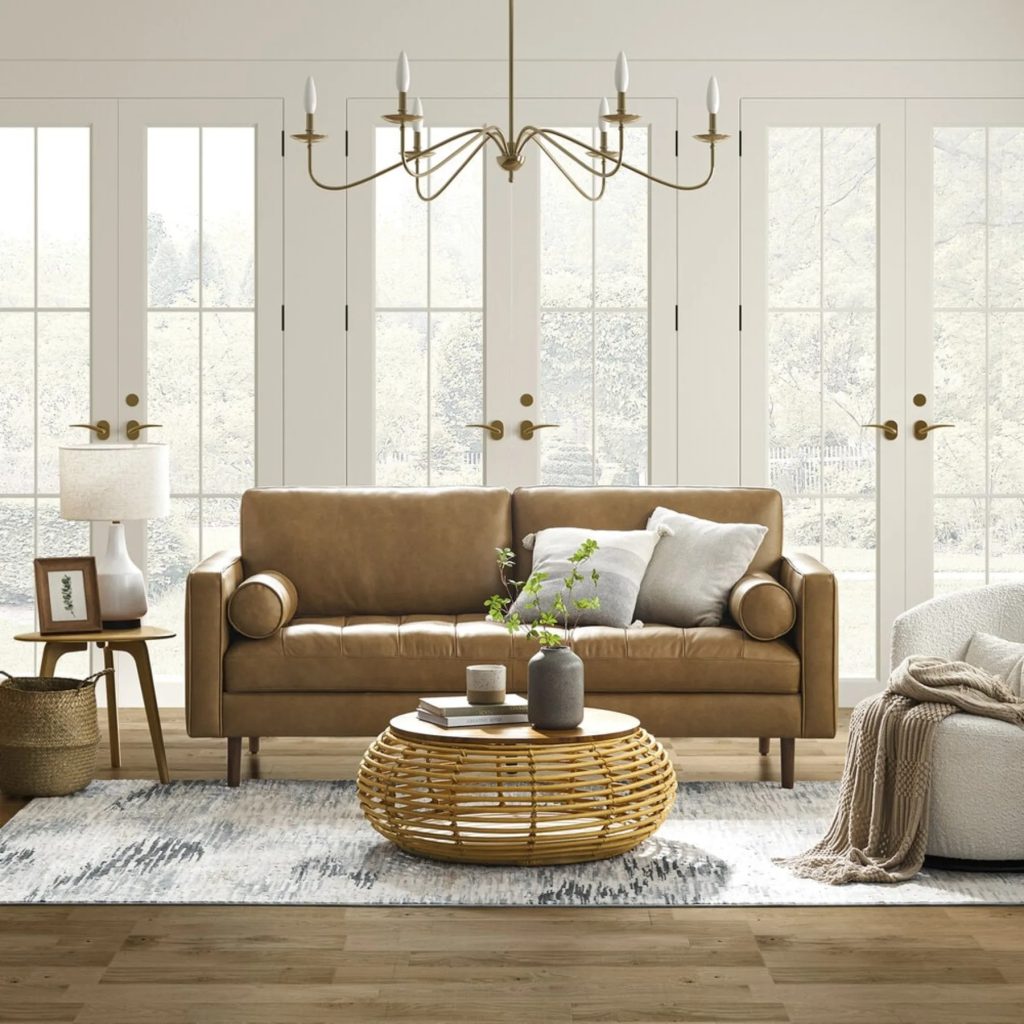 When trying to match a brown leather sofa, choosing neutral colors like beige, white, or grey is a great option. These hues create a feeling of balance and peace. In addition, they also create a warm and welcoming atmosphere in your room. The brown leather sofa may take center stage in a space by using a white color scheme to create a timeless yet modern feel. When you are thinking of including neutral colors in your room, try using different materials. It will make your room look different and prevent it from looking flat. A patterned rug or several cushions with intriguing patterns can add dimension to the room. It is crucial to take the precise hue of the brown leather sofa into account when choosing a neutral scheme. This is another color that goes with a brown leather sofa.
3. Include Yellow Color to Accessorize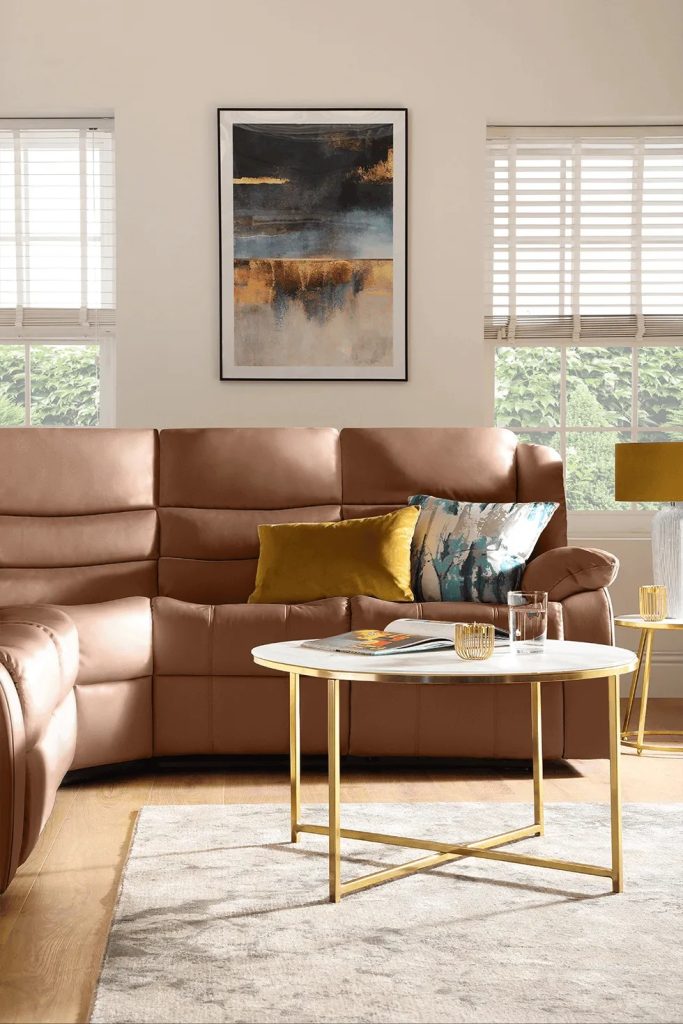 Yellow appears as an amazing alternative to go with a brown leather sofa for a sleek and modern atmosphere. A warmer and cozier atmosphere can be achieved by choosing a deep mustard yellow, while a brighter golden honey tone adds vibrancy. Start with yellow artwork, tiny accessories, and cushion coverings to gradually include this vibrant color. When combining yellow accents, choose simple and contemporary styles to keep the look current and fresh. A traditional centerpiece like a tan leather Chesterfield sofa might also add benefit from the fun addition of yellow. Consider a vivid yellow for a vibrant pop color for a stronger impression. By including green accents and leafy plants, you may further enhance the impression and create a restoring and joyful atmosphere.
4. Combine Brown with Gold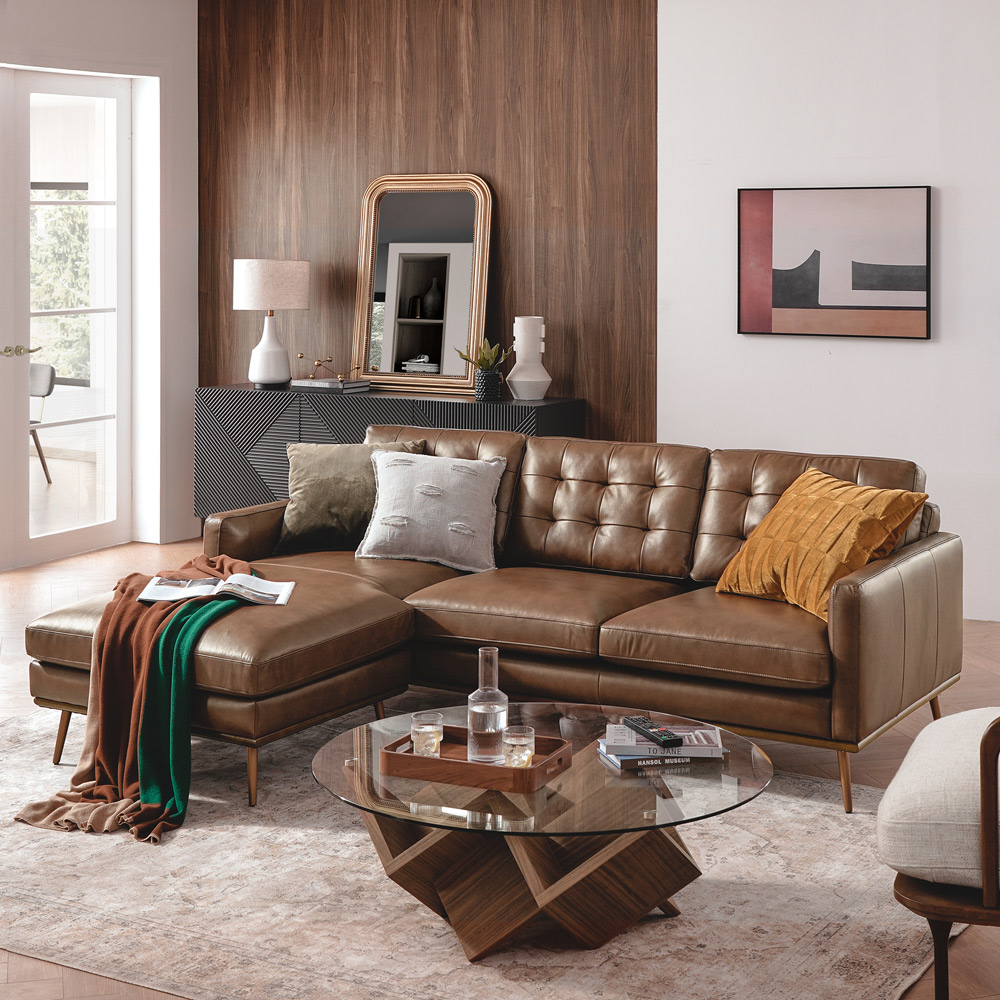 Working with this specific color scheme might be difficult, but definitely not impossible. With careful consideration and creative choices, you can create a unique design for your living room. When done well, it can provide you with a feeling of grace, peace, and serenity about it. When used in combination with an off-white background and in spaces that receive lots of natural light, this color combination seems stunningly rich. Although both light and dark brown sofas can complement this color scheme, the former is typically preferable. However, you can also include a dark shade of brown color sofa if you are confused about finding a perfect answer to what color goes with a brown leather sofa. When used with care, this balanced combination of colors gives every living area a beautiful appearance and a welcoming environment.
5. Pair Your Brown with Navy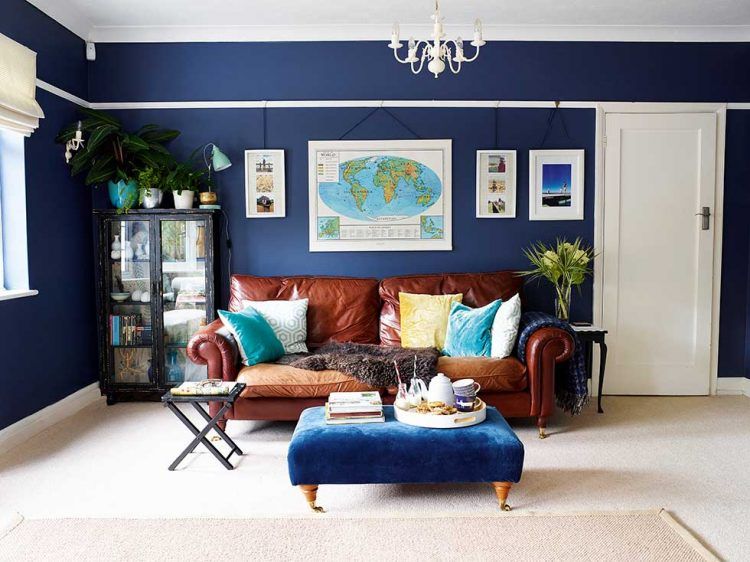 Keep the ceilings and trim white and paint the wall behind the sofa with a rich navy color. This deep navy color will make a bulky light brown or tan leather couch look better. On the floor, spread a large rug with an abstract design in tan, brown, and white. Place rows of solid-colored throw pillows of light brown and navy color together, with patterned cushions of white, navy, and brown color on the couch. Above the sofa, hang a sizeable print or artwork that matches the color scheme. Add a green plant to the seating area to counterbalance the blue and brown hues for better visual appeal.
6. Peach & Cream Could Go Hand-In-Hand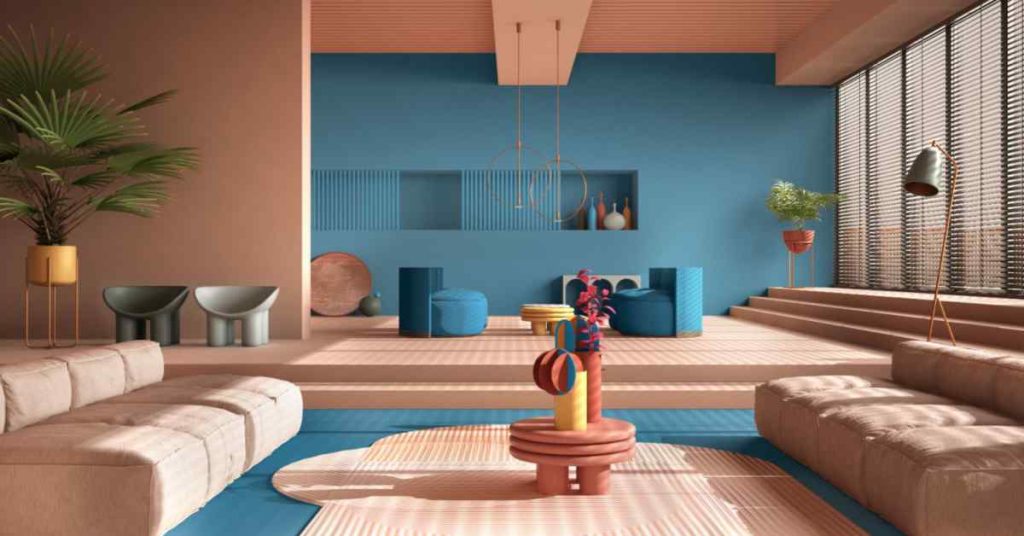 Just like Pink, Peach can also give a hint of brightness to your brown leather sofa. It helps in keeping your room looking excessively somber. You might use gentle sorbet-like hues to complement the white walls and sofa in this living area. An ottoman pillow and peach wall art help to create a lovely and summery ambiance. No matter what the other components of the room are, neutrals always function beautifully. Blue chairs can provide a splash of color to cream-colored neutrals. The brown leather sofa would still look fantastic against the cream walls and stools, even without the pop of color. This color scheme produces a cozy and welcoming atmosphere that is ideal for relaxation.
7. Combine Your Brown Leather with Some Dark Tones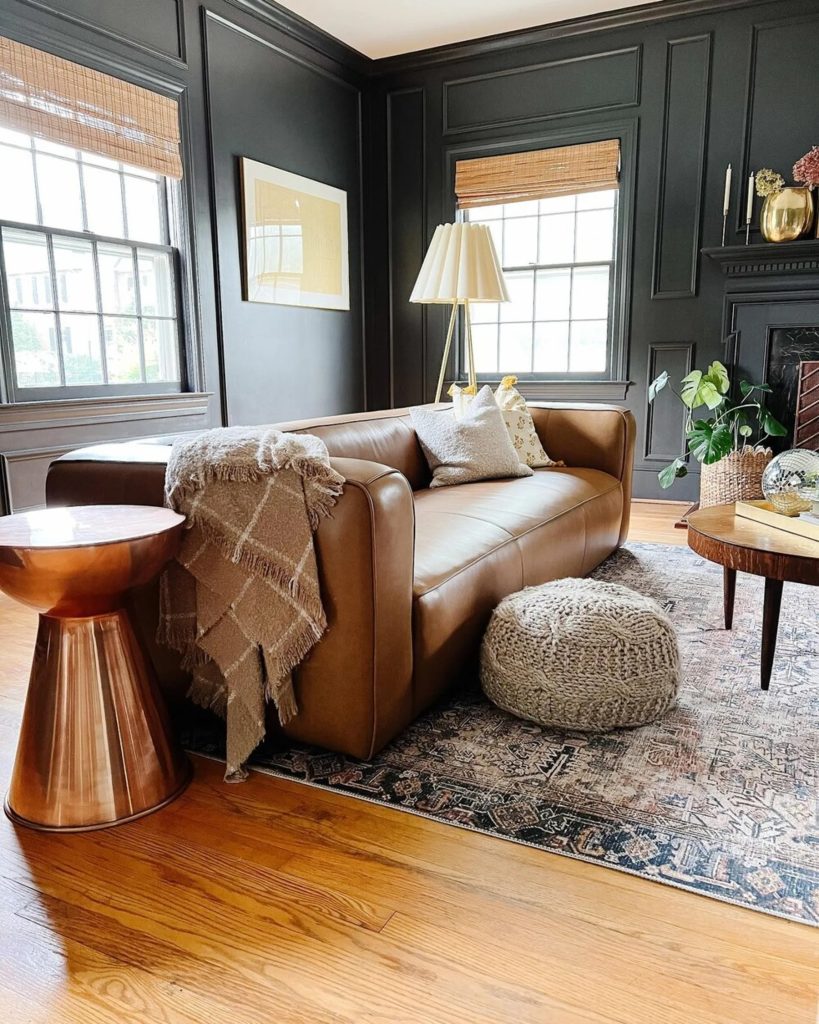 The warm tones of brown leather can provide a beautiful and timeless contrast with dark colors like navy blue, charcoal grey, and black, making the space look elegant. These dark hues work well on both larger items like walls or floors as well as little ones like pillows, blankets, or curtains. In this way, your room is also prevented from looking overly simple. You can add lighter highlights like white or cream, as well as dazzling accents like gold or silver, to counteract the dark hues. Finding a solution to what color goes with a brown leather sofa can be a task, but sometimes the answer is right there in front of you.
8. Go with Tones Like Jewels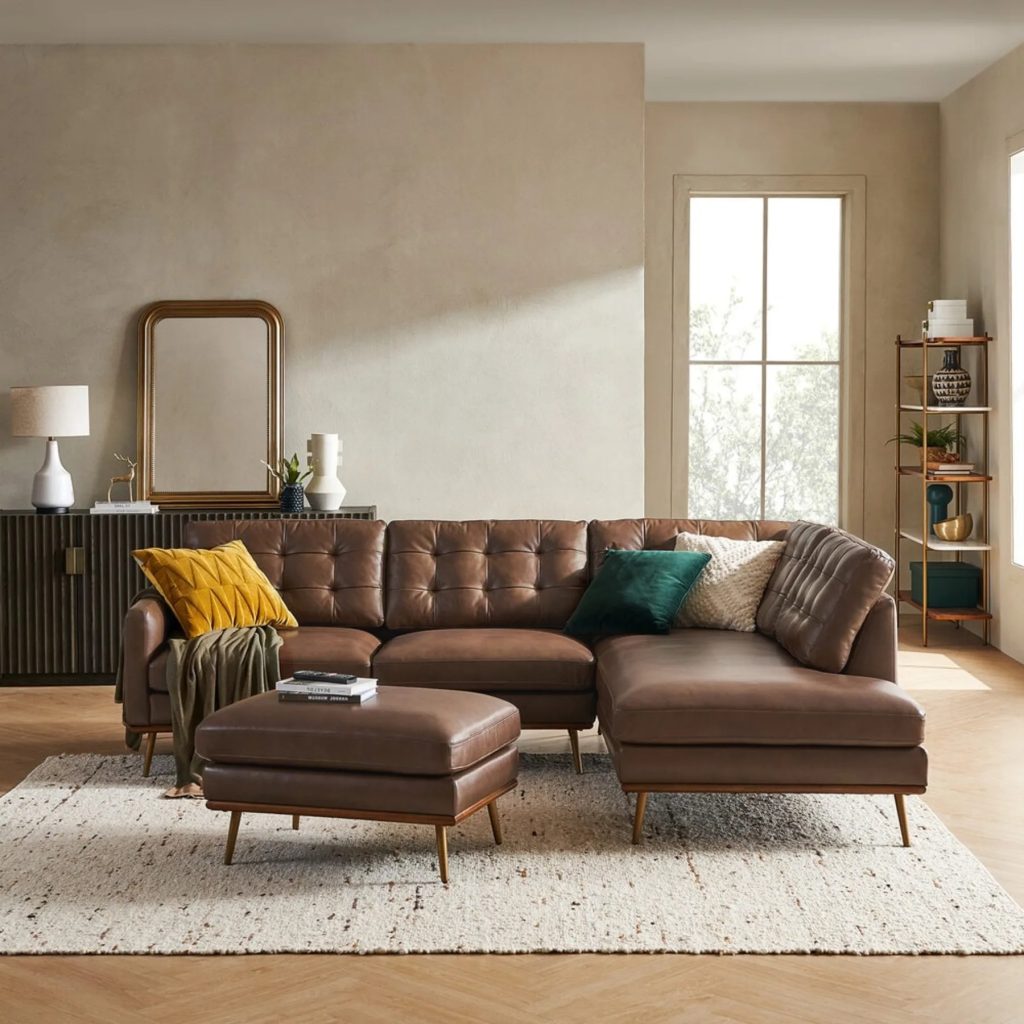 Use jewels tone like emerald, sapphire, or purple to make your living area feel luxurious. These striking colors complement the brown leather sofa in the room and give it a rich, spectacular feel. When combining jewel tones, take into consideration the ambiance and design of your space. As they can be overwhelming in smaller, darker places, they function best in spaces with high ceilings and lots of natural light. You can have white or beige walls and floors for a crisp and modern appearance, which will make the jewel tones pop. It complements deep jewel tones and creates a more rich atmosphere; select darker walls like navy or charcoal.
9. Natural Woody Color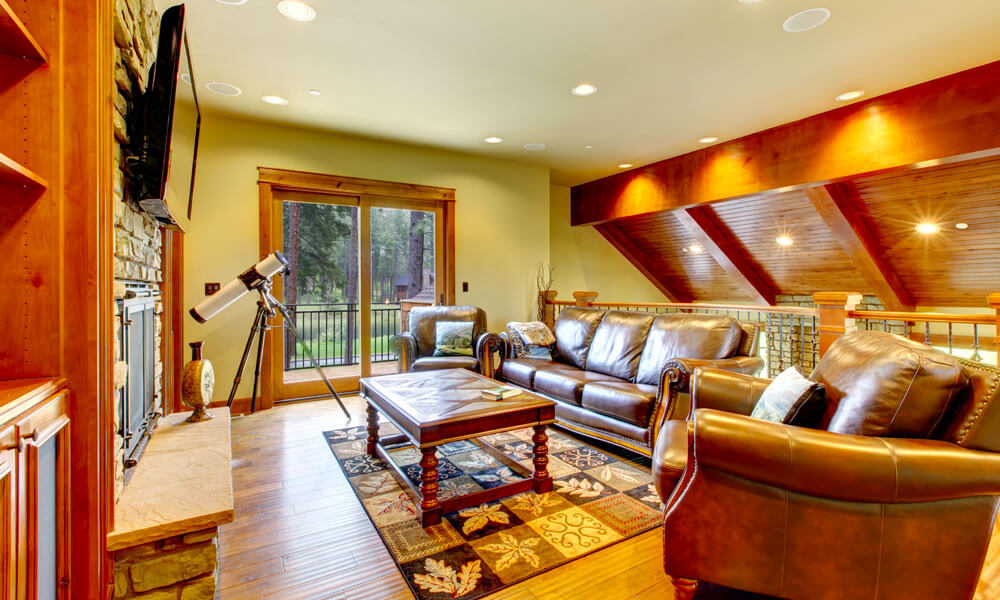 Brown is a warm color, so mixing it with warm wood accents makes the space feel cozier. A brown leather sofa and timber floors combine to create a cozy and natural atmosphere. To add softness while preserving some of the floorings, use a neutral rug. To add more wooden elements to the room, use wooden features like tables with legs or picture frames. To create a relaxed atmosphere, choose accessories in a muted color scheme. Bring in darker wood tones if your living room has light wood flooring for a richer blend of warm and natural colors. The majority of light and dark wood tones go well with a brown leather sofa.
10. Mix Brown with Black and Off-White Colors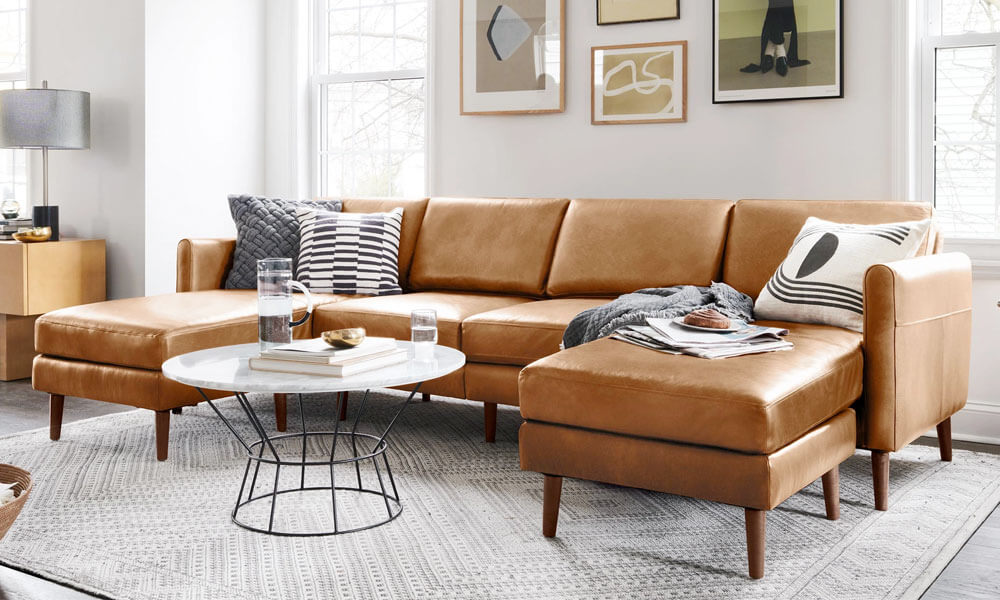 This classic arrangement is always in style. It has a sleek, refined appearance that also reflects sophisticated vibes. This arrangement works well in both well-lit and dimly-lit spaces, while in dimly-lit spaces, extra lighting and a well-placed mirror can increase its appeal. Put your attention on adding texture and patterns to make this colorless design work. Include things like a sisal mat in a variety of colors, light or dark raw wood furniture, textured wallpaper like grasscloth, linen cushions, and eye-catching black and white prints. Feel free to add a lot of black accents when decorating with a lighter brown sofa. With a chocolate-colored sofa, however, use more light brown and off-white/cream tones and save the black for decorative accents.
11. Mint Green with Chocolate Brown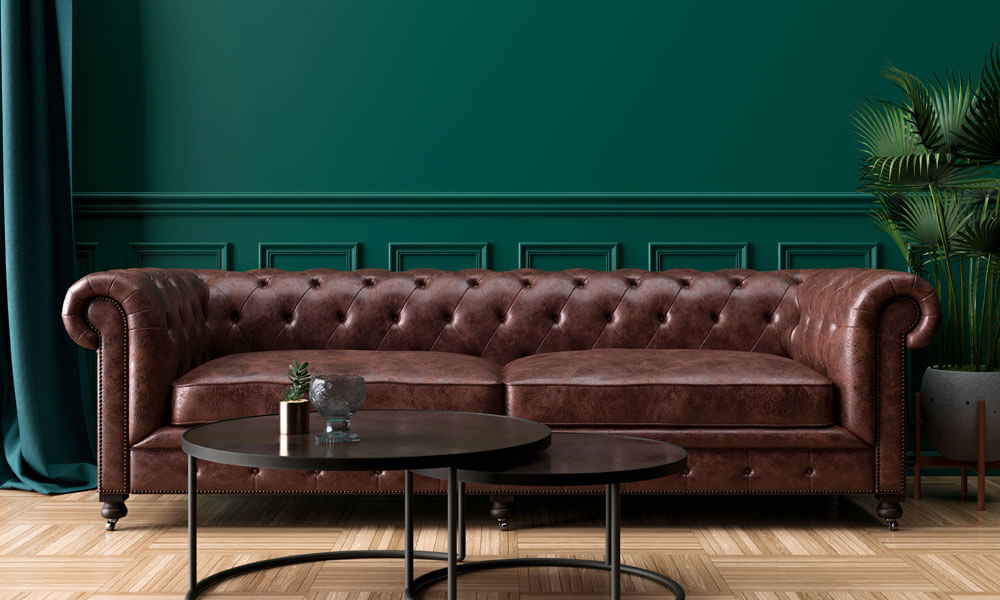 An inviting chocolate brown leather sofa looks great with the calm color of mint green. Paint the walls a warm coffee shade, and cover the floor with a soft, loose carpet in the same color or another neutral. Put some vibrant throw pillows on the couch in mint green. Choose patterned pillows in mint, coffee, and beige tones. You may also think about adding a hint of orange or lemon for a bright accent. Place some wooden or metal stands with shelves holding wonderful lush plants in the area where the sofa is positioned. Make sure to place it just a little bit away from the wall.The various tones of green will naturally mix with the brown sofa color or beige color in your room. It will also give a sense of well-being.
12. Whole White Plus Whole Brown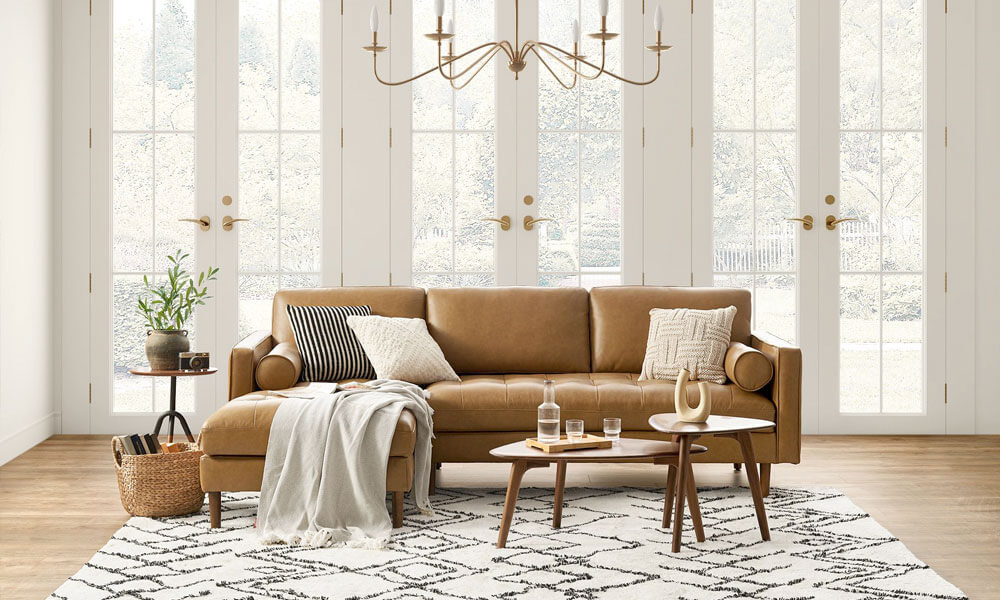 Various tones of brown, from tan to sandy brown, dark brown, and chocolate, contrast sharply with white which stands for perfection and purity. It inspires feelings of youth, simplicity, tranquility, and calm. To create a set of uncomplicated beauty, paint your living room's walls with a rich pure milky white color scheme, but also experiment with other hues and color combinations. For instance, mix a plain set of chocolates brown curtains with a medium or light-colored brown couch. Put a large Moroccan tapestry or vintage points on the white wall behind the couch to make it more attractive.
Summing It Up
All in all, a brown leather sofa serves as a versatile and useful centerpiece for your home's interior design. Transform your living room with colors that you think reflect your personality and taste. It will become easier to decide how to decorate your sofa room. Warm earth tones like olive green, watery blue, terra-cotta, and rusty red add a hint of natural beauty, while neutral colors like beige, white, and grey create a calming and harmonious backdrop.
Emerald, sapphire, and amethyst jewel tones offer a touch of luxury, while dark hues like navy blue, charcoal grey, and black make a fashionable contrast. Adding wood accents makes the space feel even cozier. As an alternative, pairing white with various brown tones results in a stunning contrast that conveys sentiments of simplicity and purity.
Whatever design or color of sofa you choose, you will always find it soothing not only to your eyes but also will suit your home and surrounding environment. So, if you have to decide what color goes with a brown leather sofa, explore the colors.
Frequently Asked Questions
Does the Color Grey Go with a Brown Leather Sofa?
Grey can complement a brown leather sofa, so yes, it would definitely work. Grey and brown work well together to produce a sleek, contemporary style. Grey serves as a natural backdrop that makes the brown leather sofa pop while also adding depth and enhancing its warmth.
What Could Be the Best Color Combination for a Brown Sofa?
The best color combination for a brown sofa is neutral shades like beige, ivory, or grey. These hues produce a harmonious and adaptable design that makes it possible for the brown sofa to stand out while yet preserving a warm and welcoming ambiance in the space.
What Color Can Be Used as a Contrast for a Brown Leather Sofa?
A darker shade like navy blue, charcoal grey, or black could be used as a contrasting color for a brown leather sofa. With their fashionable and striking contrast to the warm tones of brown leather, these darker hues give the room depth and visual intrigue.