Are you a fan of the dark gothic themes in Harry Potter movies? Or are you inspired by the fantasy world of period dramas? The interiors of dark academic bedrooms get us back into the vintage, nostalgic world of Hogwarts and Wednesday Adams. If you are planning to transform your bedroom into a dark-themed fantasy academic room, we are here to help.
Dark academia bedrooms are everything from moody aesthetics to library-themed wall art, eerie lighting, historical art pieces, a rich color palette, and luxurious leather-touch interiors. Sit and read in your gothic living room or watch your favorite series while relaxing on a dark, velvety couch.
These dark academic interior decoration ideas will help you style your interiors according to your mood.
Dark Academia Bedroom Interior Ideas
One-click on your computer, and there are countless images to help you select a dark academia style for your bedroom. Picking styles that best complement your character and choosing the artistic works of gothic history to narrate stories is often overwhelming.
Therefore, to satisfy your dark literary interior decoration desires, we have curated the ultimate dark academia guide for your space.
These 15 unique styling concepts are a must-try interior decoration. Let's begin!
1. Vintage Variant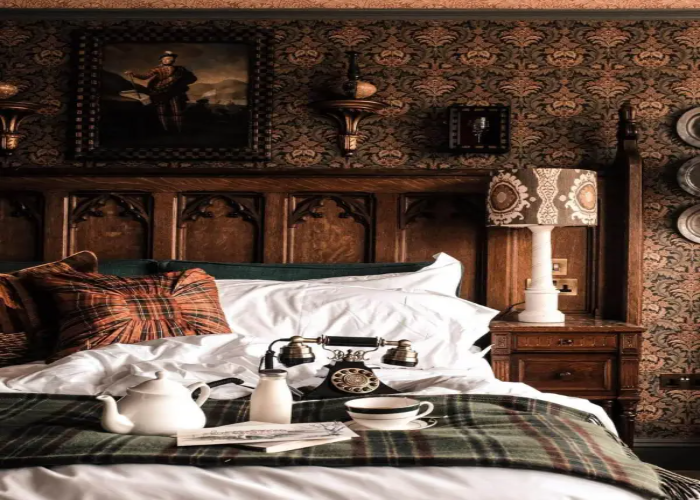 The first thing that comes to mind when you think of dark academia is vintage interiors. Elaborate wooden furnishings, grand and detailed wallpaper designs, extensively printed lampshades, dark-hued historical photo frames, and vintage telephones. Everything is a piece of art straight from a period drama. Adding similar decoration to your living room or bedroom will give it a mysterious vintage feel. However, it is not a compulsion to add everything together to put together a gothic dark academia bedroom. Seek inspiration from the above image and be selective. Pick as many vintage pieces of interior décor that call to you and bring home the gothic, historic vibe.
2. The Grand Touch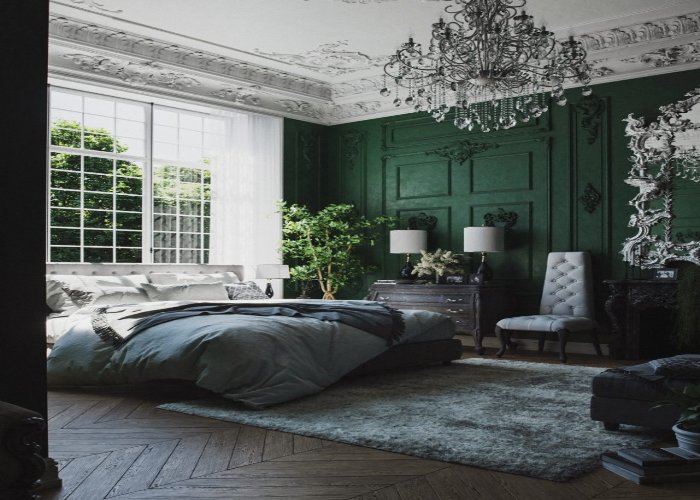 Grandeur is yet another dark academia invoking interior design that one can incorporate into their bedroom. Chandeliers hanging from the lofty ceiling, velvet or leather-covered furnishings straight from the courts of early emperors, and frames are some of the finest decoration pieces to add to a dark academia bedroom. The deep emerald green painted on one wall with accentuated details creates a rich contrast with the silver and white shades of fabrics used all over the room. However, do not forget to add the whiff of academia to your space. A dedicated bookshelf in the corner of your bedroom will take you on countless adventures as you enjoy the fantasy grandeur.
3. Dramatic Décor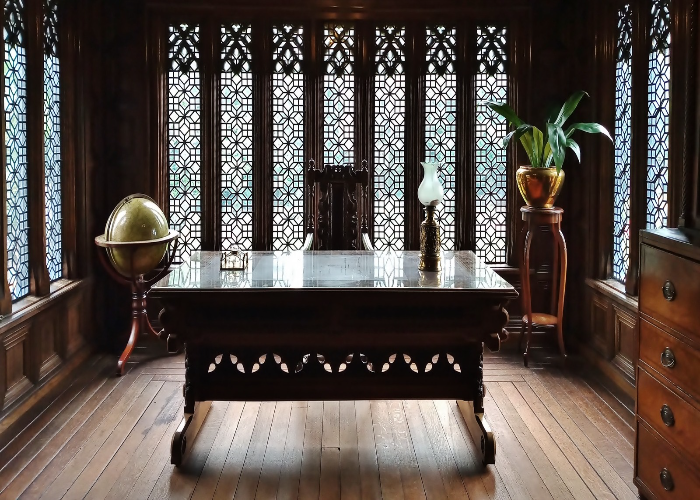 Dark, gothic, academia-inspired rooms are always dramatic. If you love watching period dramas, we suggest you keep an eye on the interior details. For example, remember the dark wooden bedding from Harry Potter's bed chamber? Or the dark sitting area inside the Slytherin common room? Well, there is one dramatic piece of furniture that attracts our attention. It could be a dark leather couch, an old chest designed to be the center table, an antique atlas globe mounted on a wooden holder, or a unique gothic cupboard to showcase your book collection. Use a dramatic decoration as your centerpiece to convert your space into a dark academia bedroom.
4. Dark Color Palette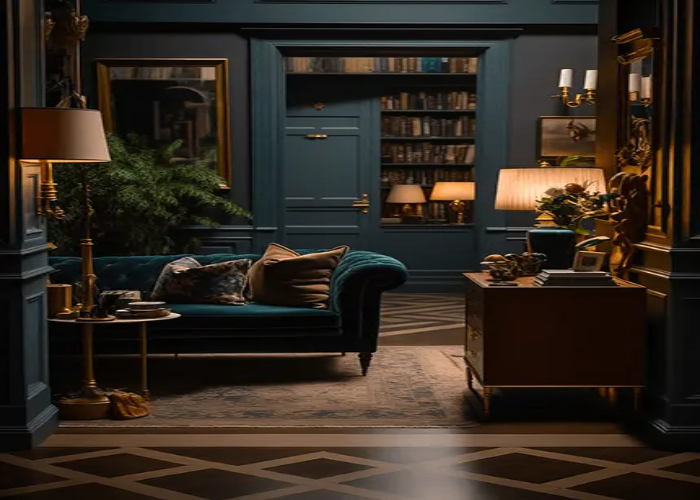 When you think of a dark academia theme bedroom, gothic-inspired interior, or vintage magnificence, black is not the only color that creates a feeling of nostalgia. The gothic color palette is everything but limited! Burgundy, deep brown, emerald green, forest green, navy blue, dark orange, deep purple, gold, muted earthy tones, wine red, grey, and silver white are a few colors to pick from. The idea is to specify deeper shades and stimulate an enigmatic character in the room. The contrast of the navy blue color palette against the muted earthy flooring and brown furnishing creates a perfect theme of dark academia in this picture.
5. Monochrome Magnificence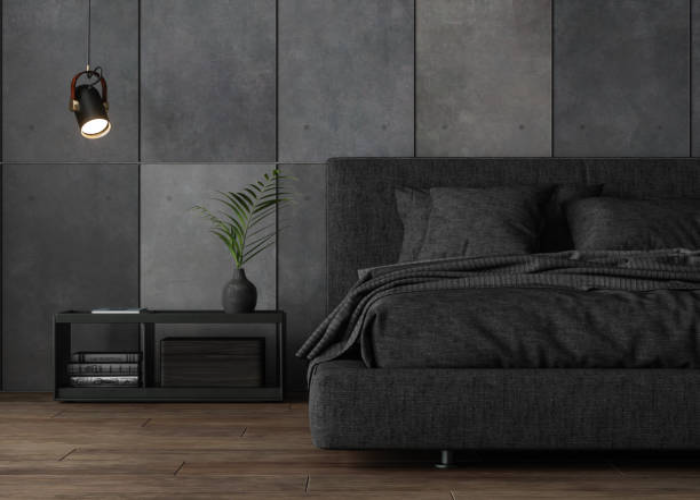 Though the previously mentioned color palette for your dark academia room was rich, black is your mood just this one time! Well, we've got you covered. Going all black and monochrome for your dark academia bedroom is a timeless classic. Layering distinct shades of black, beginning from shades of silver grey and ascending to the deepest jet black, is the key. A minimalist bookshelf, the organic décor of a simple terracotta or woven jute vase painted grey, and a regular basic black lampshade brings the dark theme to life. Simple and minimalist, this interior is a modern example of dark academic decoration.
6. Spice It Up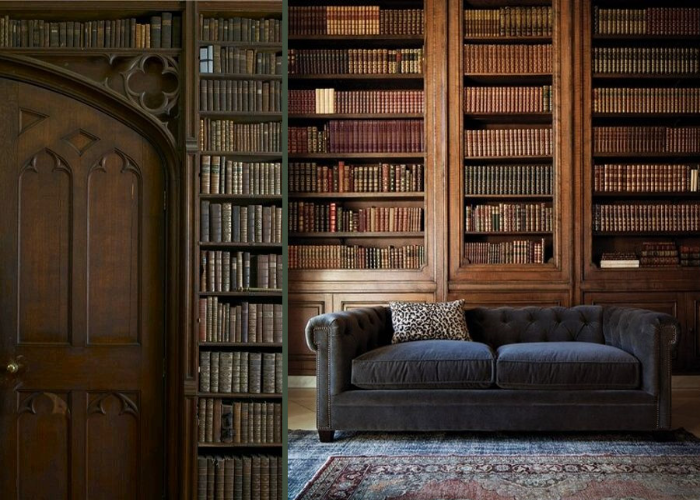 It is time for a break from elaborate color palettes and black monochrome dark academia bedrooms. Inspired by aromatic spices and herbs, this dark-themed bedroom is a modern-day magnificence. The touch of salty white pillow covers and wall art, peppery black furnishings and dark floral painting, and warm earthy fabrics used on the sitting and center tables are solid examples of aesthetic dark interior decoration. The bright orange flowers by the bedside add a pop of vibrancy to the otherwise muted setting of this bed chamber.
7. Golden Interiors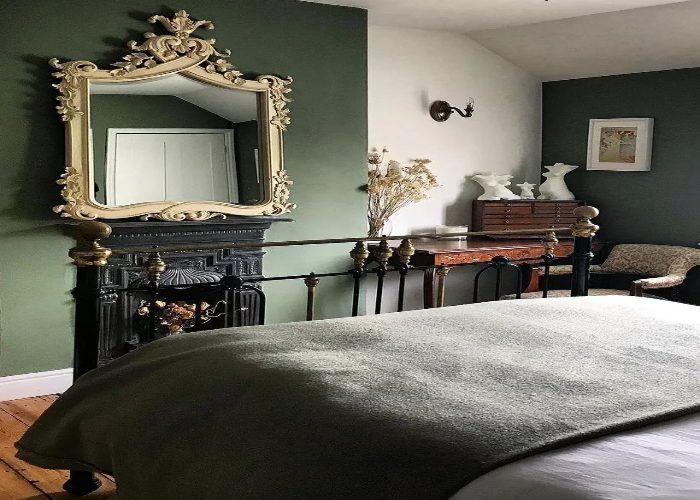 The mystery and grandeur of Gothic interior designs get better with a touch of gold. The shiny, bright gold complements all colors. The golden hint of decoration enhances jet-black furniture, warm earthy fabrics, leather couches, and every other element of décor used to convey the dark academic spirit of the living space. An effortless method to add a touch of gold is by highlighting the details of your elaborate furnishing, including photo frames, mirrors, and medieval-style wallpapers.
8. Create Cozy Corners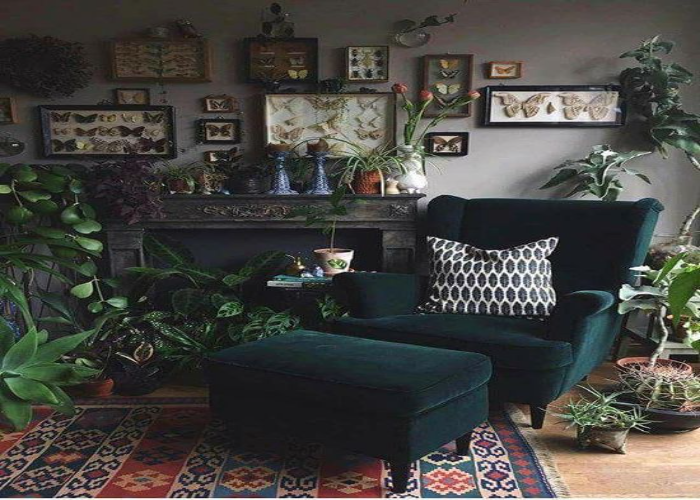 What's better than enjoying a good book while sipping on a cup of coffee surrounded by lush indoor greenery? A cozy corner that matches the vibe of your home is a crucial element in every interior. While choosing a dark academia theme for your bedroom, design a warm sitting area using dark velvety sofas or leather couches. Create this sitting space near a fireplace for that warm feeling, or surround it with plants to create an artificial indoor forest.
9. Contrast Is the Key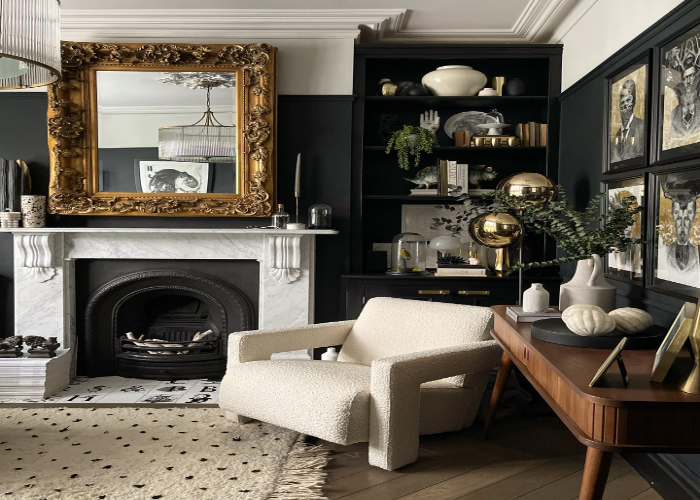 We can never have enough black while discussing dark academia interiors. The contrast of white against a black backdrop is quintessential for gothic interiors. Refurbished antique wooden tables, contemporary lighting and decorations, a jet-black fireplace, large candle stands, and a majestic chandelier set a balanced light and dark academia mood for your bedroom.
10. Light Up Your Room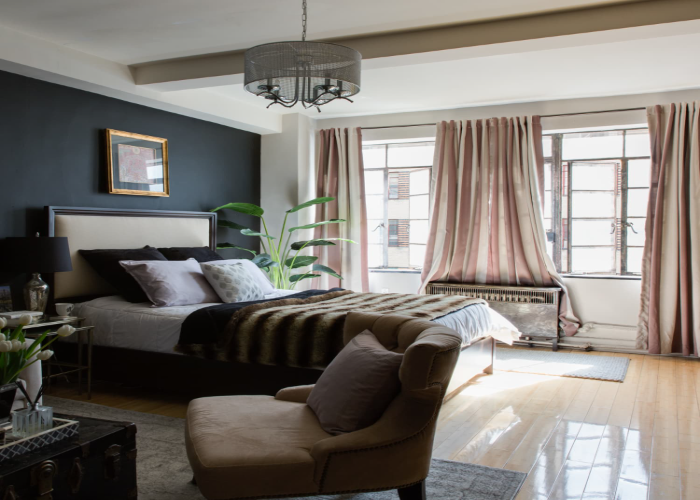 If you love the natural light or the usual light-toned setting but are deeply inspired by the dark academia bedrooms, this interior décor is for you. Open the windows and let natural light enter your space. Use soft-toned curtains to help balance the smooth leather couch, woven blankets, and dark blue wall. The beauty in the playfulness of light and dark certainly stands out from the usual gothic-themed interiors.
11. Modern Yet Majestic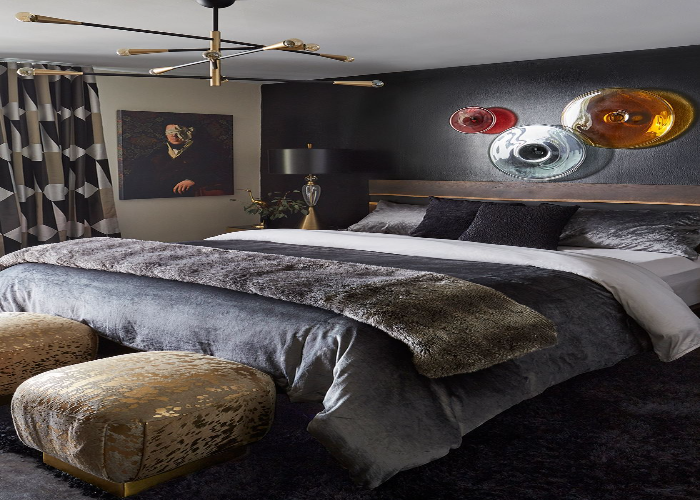 The mix and match of modern and luxurious fabrics with a contemporary minimalist color palette and experimental accents is a personal favorite. The luxury of furry-velvety silver-grey blankets and bed covers used for bedding creates a warm, cozy feeling. The golden foil print is an example of a vintage fashion that adds elegance to the furnishings. You can paint one wall black and mount a historic portrait to evoke the dark academia vibe in your bedroom.
12. The Leather Touch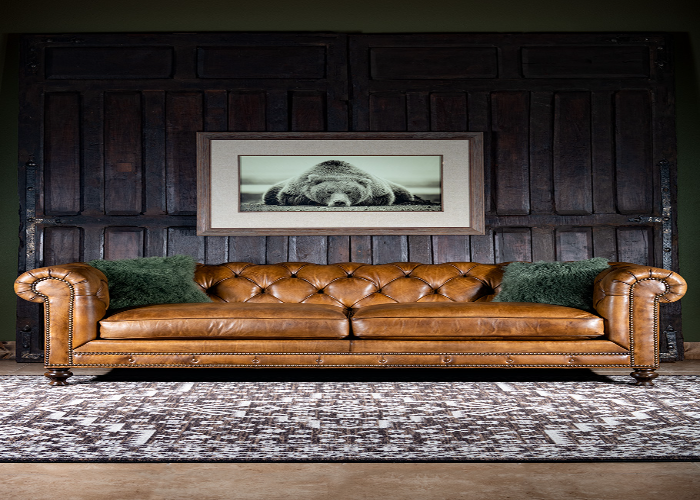 A grand leather sofa is the ultimate centerpiece for your dark, academic living room. Shades of tanned brown are famous for the grandeur they add to any interior. The leather sofa placed against a wooden backdrop adds depth and darkness to the mood of an academia-inspired interior. Must try incorporating this amazing piece into your living space.
13. Soft, Dark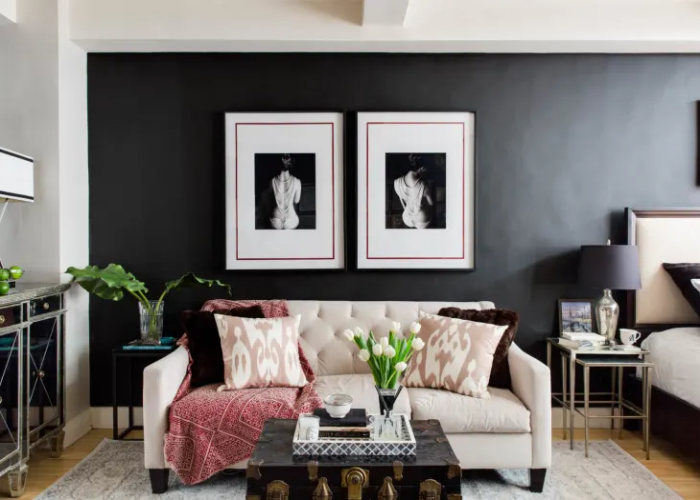 Throwing in shades of soft pink cushion covers, a knitted flush pink blanket, and pink tulips in a dark academic bedroom summons feminine energy. The black-painted wall, furniture, and cabinets create a perfect base for the softness of pink to sprinkle the magical stardust of elegance. A center table customized from an antique trunk aligns with the dark academia theme of the bedroom perfectly.
14. Fantasy Frames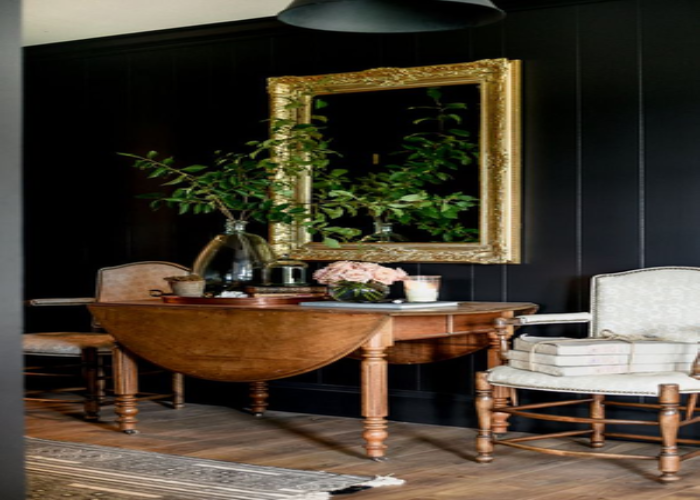 An important feature that amplifies the gothic mood in the interior decoration is the frames of portraits, paintings, and personalities. Selecting the right frames helps set the theme in a dark academia bedroom. Portraits, images of mythological creatures, world maps, or a simple floral oil painting are some framed decorations one can opt for in gothic-inspired interiors.
15. Lighten Up The Mood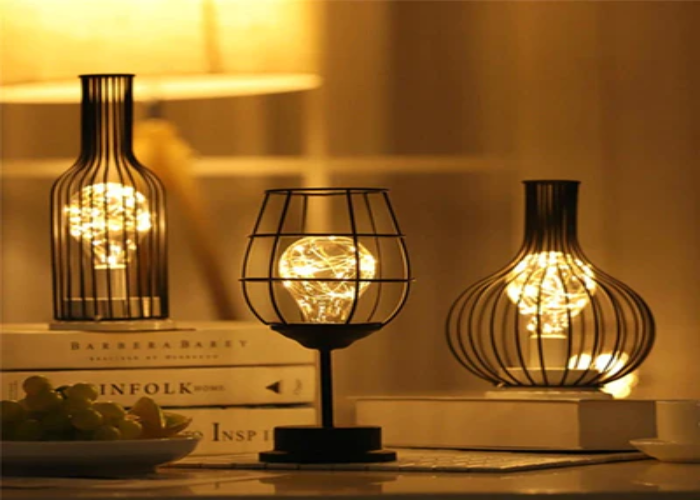 The final element to complete the dark academia bedroom is lighting. Eerie lighting is the most famous and widely used to create a dark and mysterious vibe. Yellow and white dim lighting, when projected on the dark colors and elaborate interiors, creates a light and shadow effect that might remind you of the dungeons of Azkaban. Adding table lamps to create a cozy library corner in your gothic-style bedroom and turning the pages of your favorite novel makes a gothic lover's dream come true.
Summing It Up
All in all, the luxury of a dark academia bedroom interior is here to tell stories. Irrespective of the different adventures that you would like to tell, these dark academic decoration ideas will help you bring a fantasy world to life. Choose from a plethora of deep mysterious colors, play with the rich fabrics, mix and match shades to create a dark monochrome, and make it grand with vintage decorations and architecture.
There are countless dark-themed interior decorations to choose from. Pick your favorites from the above list and customize a design for your bedroom. Whether it is a Wednesday Adam-inspired black and white interior or the grandeur of Hogwarts, you can customize furniture following the above ideas. So why wait? Wishlist your favorite products and start designing your bedroom.
Do not forget to let me know which one inspired you the most!