DIY shelves have gained immense popularity in the industry of home decor, as they offer a unique blend of creativity, functionality, and affordability. In an era where personalization and self-expression are highly prioritized, these do-it-yourself shelving units provide homeowners with the perfect opportunity to showcase their individual style and craftsmanship.
The versatility of DIY shelves is a key factor that contributes to their widespread appeal. These shelves can seamlessly complement various home decor styles, whether it is modern, rustic, minimalist, or eclectic. From floating shelves to ladder shelves, corner shelves to pipe shelves, each suggestion has been picked to address different preferences and requirements.
The purpose of this article is to present a curated list of the 20 best DIY shelves for any home decor style. By offering a carefully selected collection of innovative and stylish shelving ideas, we aim to guide readers in their creative endeavors.
1. Floating Shelves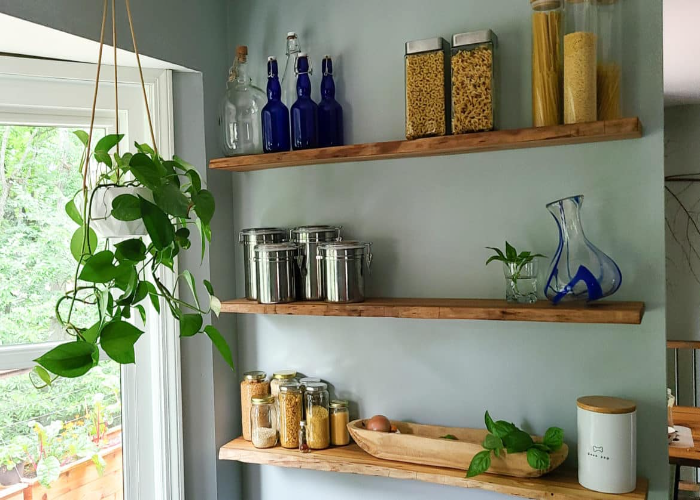 Floating shelves are a popular choice among DIY enthusiasts for their sleek and modern aesthetic. These DIY shelves appear to be magically suspended on the wall, creating an illusion of floating. With their clean lines and minimalist design, floating shelves can complement any home decor style. Whether made from metal, wood, or even repurposed materials, these DIY shelves add a touch of elegance and functionality to any space. From displaying books and decor items to organizing kitchen essentials, floating shelves offer versatility and a space-saving solution.
2. Industrial Pipe Shelves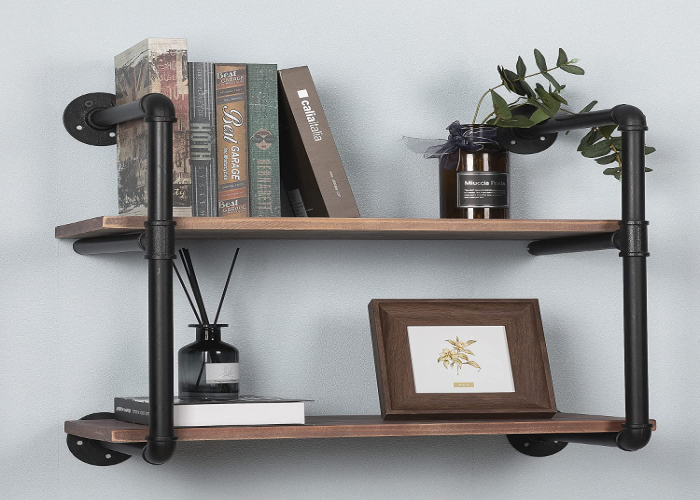 Industrial pipe shelves are a trendy and unique option for DIY enthusiasts looking to add an edgy and rustic look to their home styling. Made from pipes and fittings, these DIY shelves offer a rugged and industrial charm that blends with various styles, including contemporary, industrial, and eclectic. The combination of metal pipes and reclaimed wood creates a striking visual contrast and provides sturdy support for displaying books, plants, or decorative items. With their versatility and customizable design, industrial pipe shelves offer endless possibilities for creative expression.
3. Ladder Shelves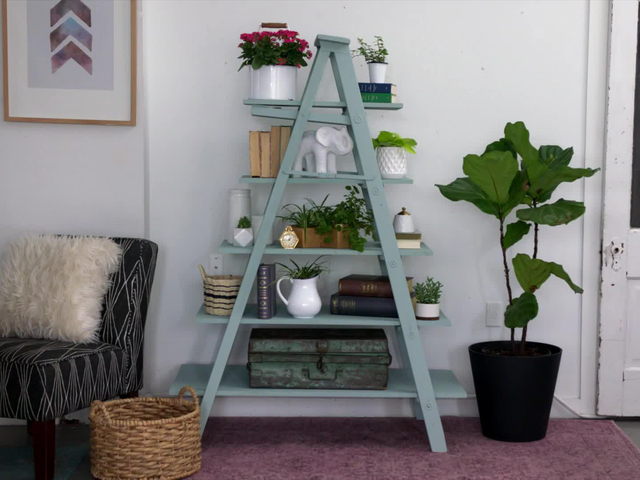 Ladder shelves are a prominent pick when seeking a multifaceted and compact shelving solution. These DIY shelves feature a ladder with horizontal shelves at different heights, creating a visually appealing and functional display. Ladder shelves effortlessly blend with various home decor styles, from rustic farmhouse to modern minimalist. Whether crafted from wood, metal or a combination of materials, ladder shelves provide ample storage space for books and decorative objects. With their open design and lightweight construction, DIY ladder shelves can easily personalize and move around, allowing homeowners to transform their living spaces with ease.
4. Crate Shelves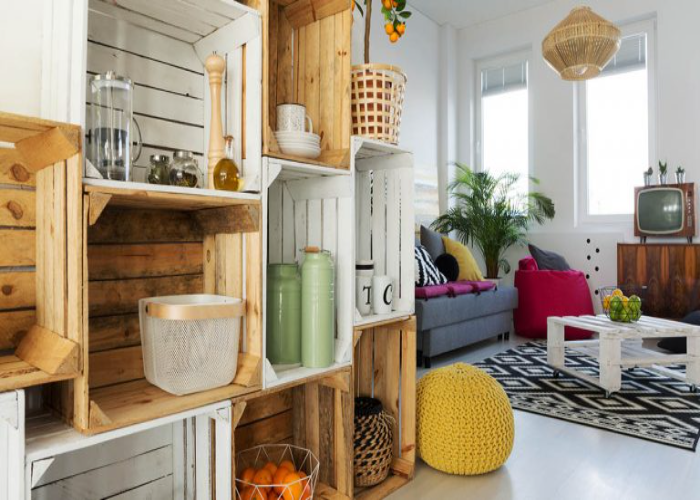 Crate shelves are a charming and resourceful option for DIY enthusiasts seeking a rustic and eclectic touch in their home interiors. These DIY shelves utilize wooden crates as the main building blocks, creating a unique and modifiable shelving unit. With their earthy appeal and natural texture, crate shelves blend seamlessly with different home decor styles, including farmhouse, bohemian, and vintage. The modular nature of the crate allows for flexibility in arranging and stacking them to suit individual preferences and spatial requirements. Whether used for organizing books, displaying collections, or showcasing plants, crate shelves offer a budget-friendly and DIY-friendly solution for adding both functionality and character to any living space.
5. Pallet Shelves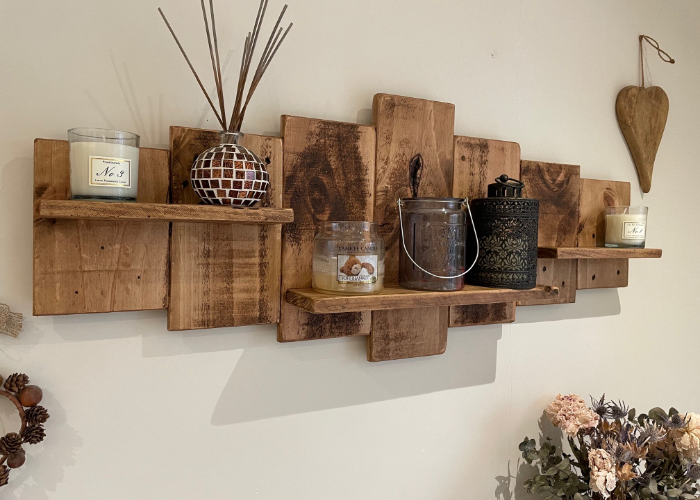 Pallet shelves are a preferred choice when looking for a sustainable and rustic addition to home decor. These DIY shelves are crafted from repurposed wooden pallets, transforming them into unique and stylish storage solutions. Pallet shelves exude an enticing and weathered look, making them suitable for various interior styles, such as rustic, industrial, or shabby chic. The versatility of pallets allows for personalization in terms of size, arrangement, and finish, providing homeowners the freedom to create a one-of-a-kind shelving system. From displaying books and decorative items to organizing kitchen essentials, pallet shelves provide a sustainable and artistic option for enhancing both functionality and aesthetics in a living space.
6. Corner Shelves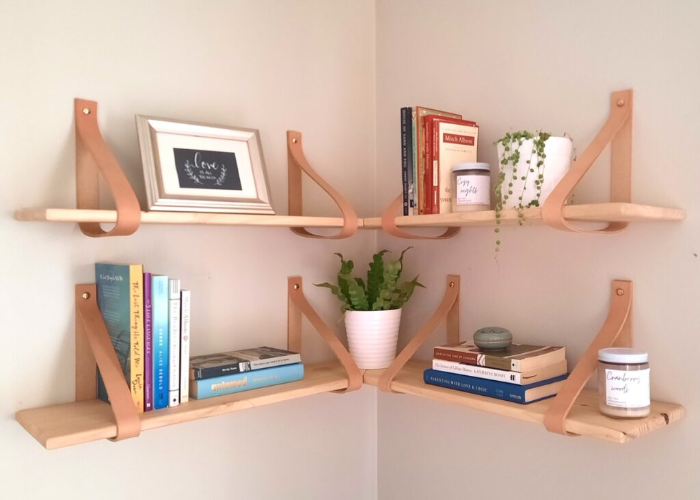 Corner shelves are a fantastic way of maximizing space and adding a touch of functionality to any home design. These DIY shelves are specifically designed to fit snugly into corners, making efficient use of otherwise unused areas. Whether in a living room, bedroom, or bathroom, corner shelves provide an opportunity to show decorative objects or store essential belongings. DIY corner shelves are practical and visually pleasing solutions for adding storage and visual interest to the corners of a home, making them an excellent addition.
7. Box Shelves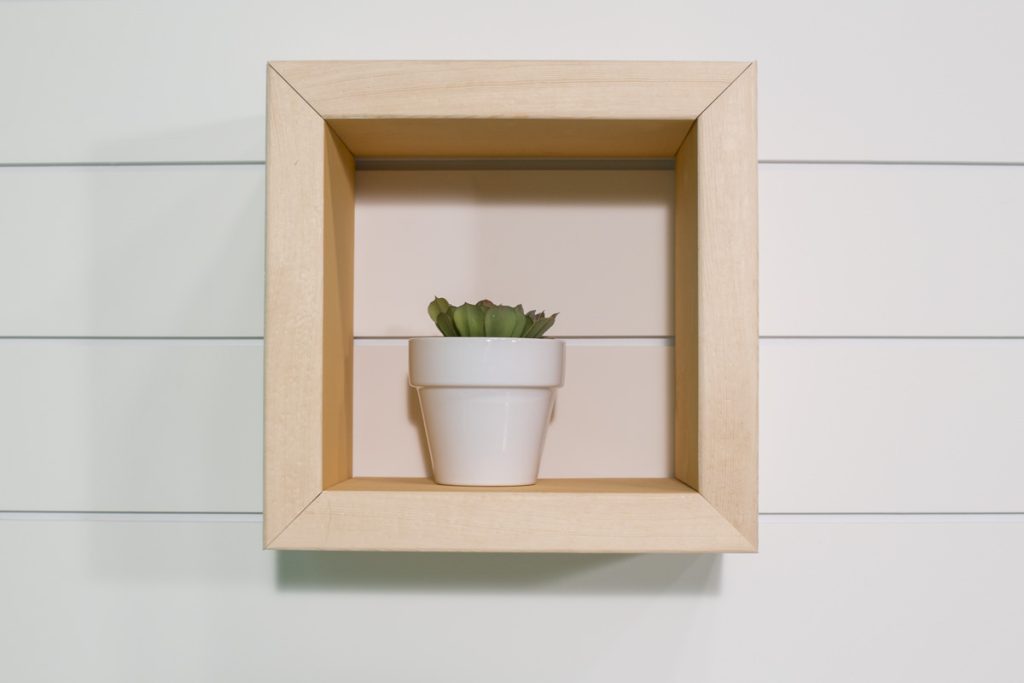 Box shelves are a diverse and stylish choice for DIY enthusiasts looking to add a modern and minimalist touch to their home interiors. These DIY shelves feature simple rectangular or square boxes; these can be shoe boxes that can be mounted on the wall in various configurations. Box shelves offer a sleek and streamlined look, making them suitable for a wide range of home decor styles. These DIY shelves provide operational storage space and create a visually interesting display of decor items, personal mementos, or books.
8. Barnwood Shelves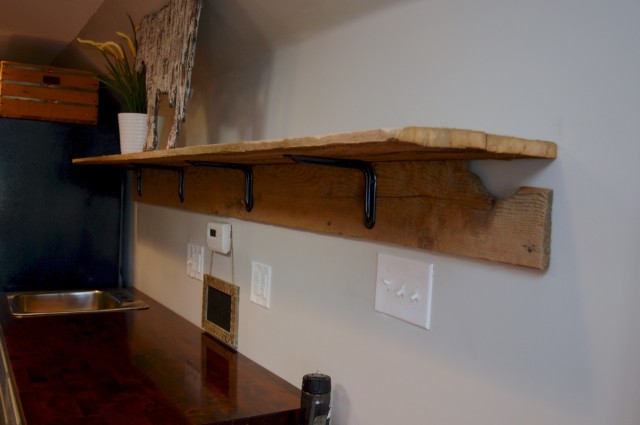 Barnwood shelves are a sought-after choice when seeking a reclaimed look for your home. These DIY shelves are crafted from salvaged or repurposed barn wood, lending a distinctive and weathered charm to any space. Barnwood shelves harmoniously merge with various home decor styles, including farmhouse, industrial, and rustic. The natural textures and imperfections of the wood add depth and warmth to the room. Whether used for displaying decorative items, books, or other essentials, barnwood shelves provide a nostalgic and eco-friendly option for adding both utility and a tinge of history to any living space.
9. Rope Shelves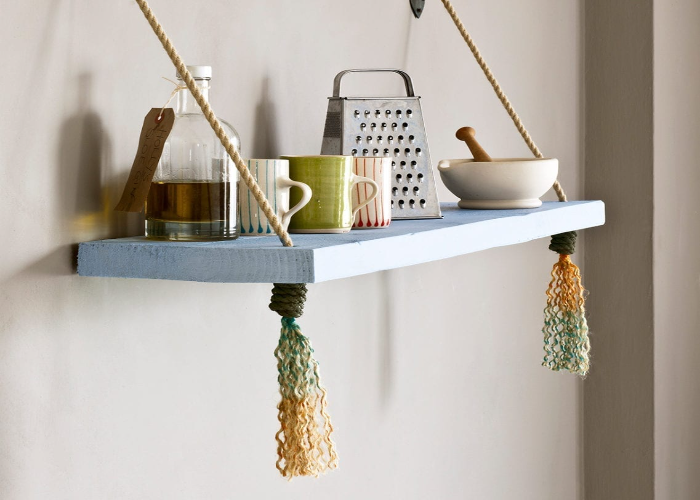 Rope shelves are a creative and unique option for DIY enthusiasts. Such shelves add a touch of coastal or bohemian charm to their home decor. These DIY shelves utilize ropes as a supportive element, creating attention-grabbing and unconventional shelving designs. Rope shelves can be shaped with various materials such as metals, wood, or repurposed materials, providing limitless possibilities for creative expression. Rope shelves are a resourceful choice that can complement a wide variety of home decor styles, adding a distinct and artistic flair to a living space.
10. Bamboo Shelves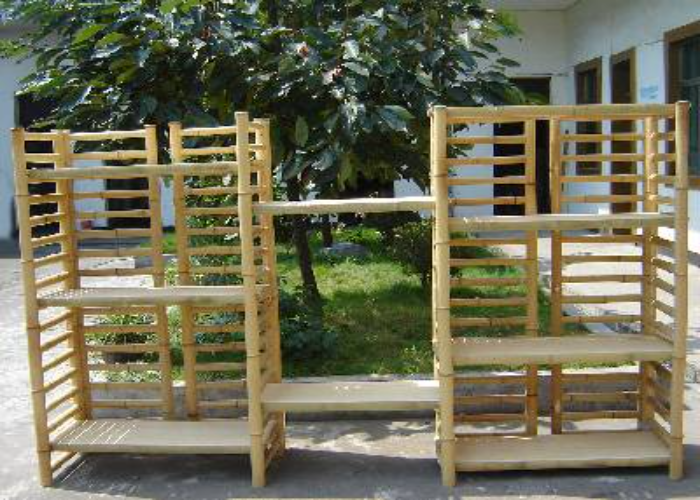 Bamboo shelves are a trendy option when exploring a natural and eco-conscious addition to home decor. These DIY shelves use bamboo as the primary material, offering a sustainable and aesthetically pleasing option. Bamboo shelves emanate a cozy and organic vibe, making them suitable for various interior designs such as tropical, minimalist, or Asian-inspired. From open shelving to cubbies, bamboo shelves provide versatile storage solutions for displaying plants, books, or other display items. With their earthy appeal and flexibility, bamboo shelves are a great choice for adding both functionality and a touch of nature to any living space.
11. Repurposed Drawer Shelves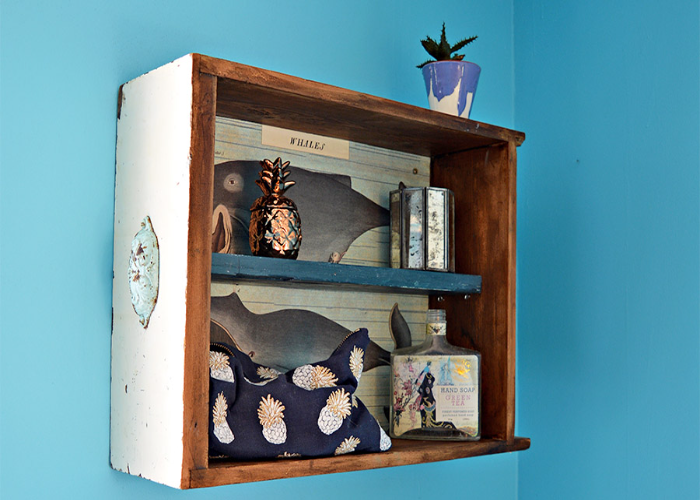 Repurposed drawer shelves are an innovative and resourceful option for DIY enthusiasts. These DIY shelves involve transforming old or unused drawers into classic shelving units. By repurposing drawers, homeowners can give a new life to discarded furniture and reduce waste. Repurposed drawer shelves offer a charming and eclectic aesthetic, perfect for various decor styles. The different sizes and designs of drawers allow for versatile arrangements, creating a striking and personalized display for books, decor objects, or even small potted plants. With their uplifted appeal and customizable options, repurposed drawer shelves provide an environment-friendly and creative solution for uplifting both style and organization in a home.
12. Tree Branch Shelves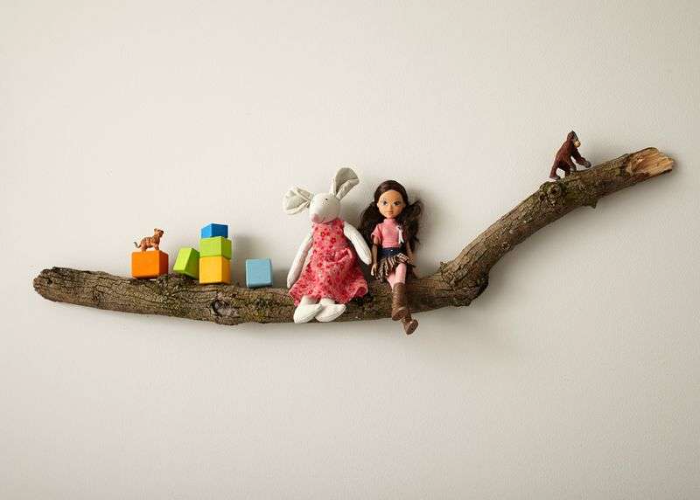 When it comes to adding a touch of environment and raw charm to your home decor, tree branch shelves are a unique and creative choice. These DIY shelves bring the beauty of the outdoors inside, providing a functional and eye-catching display for your favorite items. Made from sturdy tree branches, they can be modified to suit any home decor style. By repurposing fallen branches or trimming your garden, you can create a sustainable and eco-friendly shelving solution. The irregular shapes and textures of the branches add a distinctive appeal to any space, making each shelf a one-of-a-kind piece. Whether your home decor style leans towards modern, bohemian, or farmhouse, tree branch shelves can be adapted to suit your taste.
13. Driftwood Shelves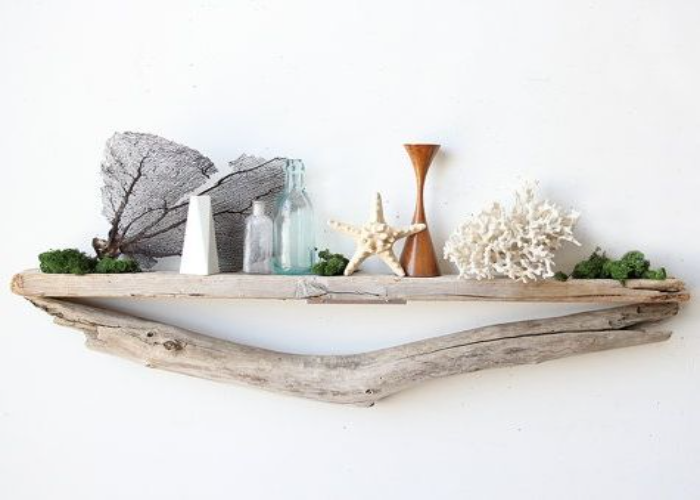 If you're seeking a coastal or beach-inspired touch for your living space enhancement, look no further than driftwood shelves. These DIY shelves made from weathered and worn pieces of driftwood bring a sense of seaside charm to any space while also offering efficiency and flexibility. Driftwood shelves are a fantastic way to incorporate natural elements into your home decor. You can leave the wood in its natural state for a more organic and beachy look, or you can paint it to match your color scheme and desired ambiance. With their natural beauty and adaptability, they can seamlessly blend into any style while providing a practical storage solution.
14. Copper Pipe Shelves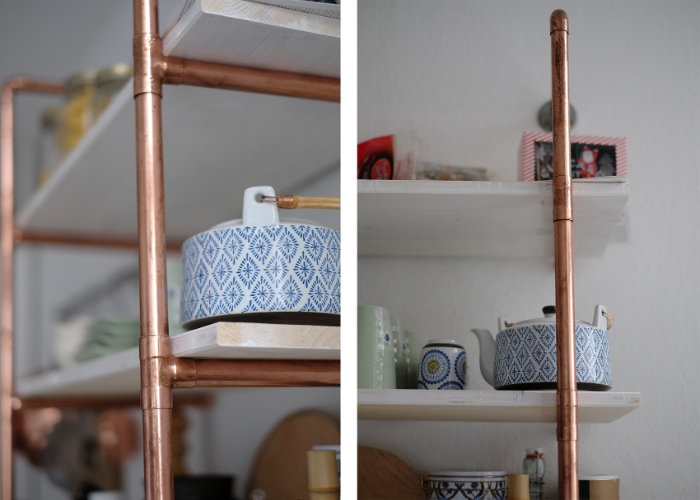 For an industrial and modern twist on DIY shelves, copper pipe shelves offer a sleek and trendy option that can augment any home decor style. Made from copper pipes and fittings, these shelves provide a remarkable display for your belongings while adding a touch of elegance to your space. The warm tones and metallic finish of copper pipes infuse a contemporary and sophisticated touch into any room. One of the advantages of copper pipe shelves is their functionality. The pipes can be assembled in various configurations, allowing you to create shelving units of different shapes and sizes to fit your space and storage needs. You can also add wooden or glass shelves to copper pipes for a contrasting material combination.
15. Leather Strap Shelves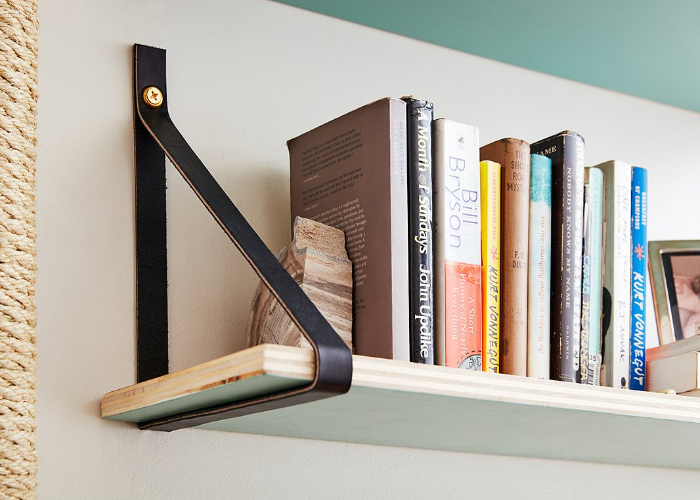 For those striving for a blend of rustic elegance and practicality in their home decor, leather strap shelves are a stylish DIY solution. These shelves, featuring wooden planks suspended by leather straps, impart grace while exuding an inviting ambiance. Leather strap shelves offer a fascinating alternative to traditional shelving systems. The combination of rich leather and natural wood creates a beautiful contrast that can coordinate with various interior styles, including rustic, farmhouse, industrial, or even Scandinavian. These DIY shelves can be easily modified to fit different spaces and storage needs. By varying the number and arrangement of the straps, as well as the size and shape of the wooden planks, you can customize the shelving display.
16. Honeycomb-Shaped Shelves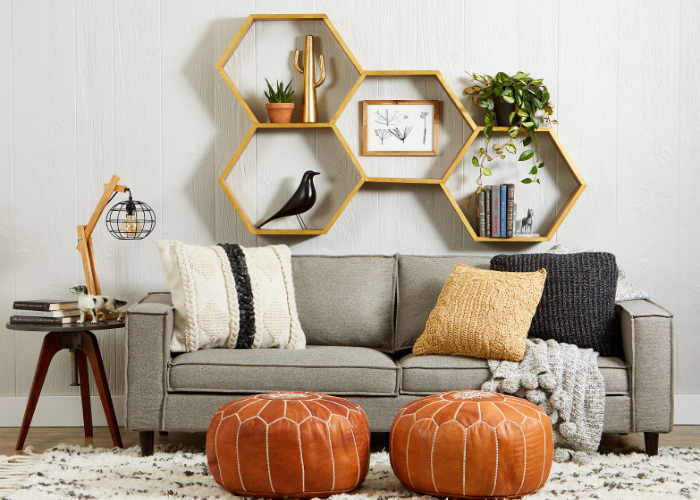 When it comes to integrating geometric flair into your home decor, honeycomb-shaped shelves offer an eye-catching option. These DIY shelves, inspired by the natural structure of honeycombs, bring a modern and stylish element to any space. The unique hexagonal design allows for creative arrangements, whether you choose to create a single honeycomb shelf or a cluster of multiple shelves. These shelves can be created using different materials such as wood, acrylic, or even metal. DIY honeycomb-shaped shelves are a modern and popular choice for adding a geometric touch to your home decor.
17. Vintage Suitcase Shelves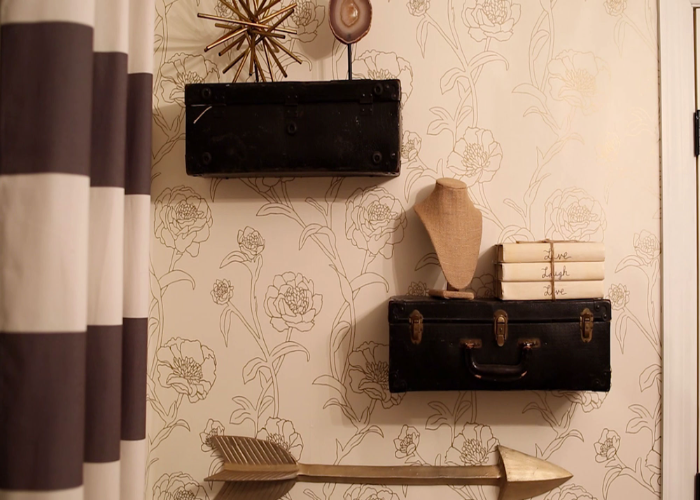 If you're a fan of vintage-inspired home decor, consider repurposing vintage suitcases into distinctive shelves. These DIY shelves instill nostalgia in your space and also provide a functional storage solution. These vintage suitcase shelves are versatile and can be adapted to a variety of home decor styles, including vintage, bohemian, and contemporary. The suitcases can be stacked, mounted on walls, or hung from ropes, allowing for creative arrangements that fit your space. DIY suitcase shelves offer an alluring and eclectic option for enhancing your interiors.
18. Acrylic Shelves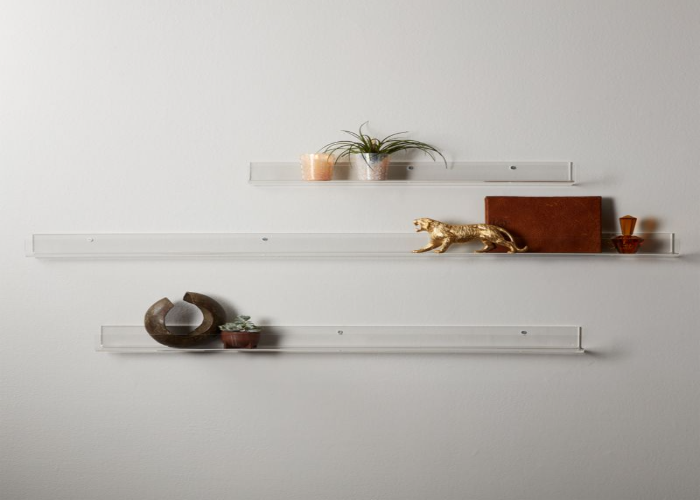 Acrylic shelves are a modern and minimalist approach to DIY shelves. Due to their transparent look and sleek design, these shelves effortlessly merge into any interior aesthetic. One of their main benefits is their adaptability, as they can gel well with any home decor style. They are easy to construct and can be arranged in floating or hanging style, as per your desire. Acrylic shelves are relatively easy to clean and maintain. Incorporating acrylic shelves into your DIY home decor offers a contemporary and modern storage solution for storage and display.
19. Wood and Metal Shelves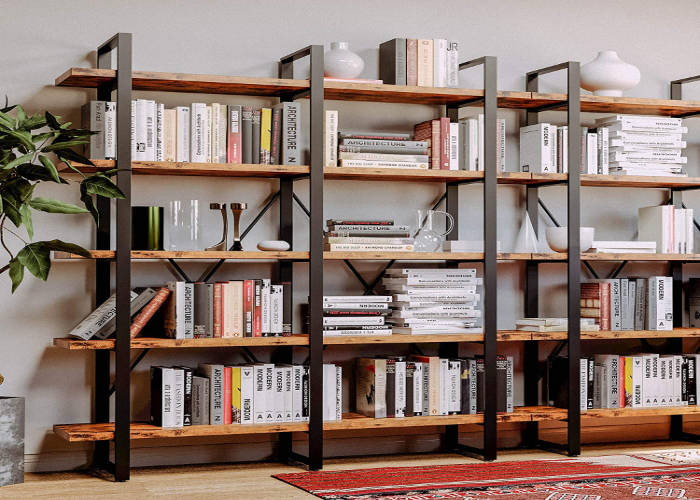 A combination of wood and metal shelves is equivalent to the perfect blend of earthy and industrial appeal in home decor. These shelves create an amazing storage option for any living space. The natural beauty of wood adds warmth and character, while the metallic frame adds durability. These shelves can be altered in terms of size, arrangement, and finish to suit your storage needs. Also, the design can be simple or complex, allowing you to display your craftsmanship. Wood and metal shelves offer a timeless and classic design aesthetic, elevating the beauty of your home.
20. Wine Crate Shelves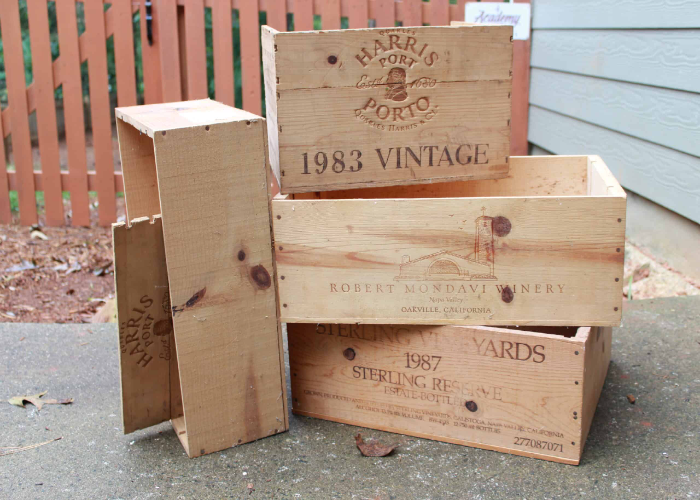 Wine crate shelves are a fantastic choice for a creative and sustainable DIY shelves idea. These shelves are made from repurposed wine crates, and they offer a charming indigenous touch to any home decor style. These shelves can complement various rustic and farmhouse decor styles, bringing a countryside and vintage vibe. You can either leave the crates as they are for a more rustic appeal or paint them in colors that complement your color scheme.
Summing It Up
All in all, we've explored the 20 best DIY shelves for any home decor style, from floating shelves to leather strap shelves and from wine crate shelves to honeycomb-shaped shelves. DIY shelves offer a wide variety of possibilities, whether you're looking for functional storage pieces or decorative ones.
We have gathered information about how these DIY shelves could be crafted from various materials, repurposed objects, or reclaimed wood. Whether you prefer a sleek and minimalist look or a cozy vibe, there is a DIY shelf idea to match your style. You can transform your living space with these 20 amazing DIY shelves ideas by using the right tools, materials, and some creative imagination.
So, roll up your sleeves, grab your tools, and begin the wonderful journey of making some cool DIY shelves with these versatile and inspiring ideas.