Did you also see the aesthetic fairy core rooms on TikTok gaining popularity these days? Influencers all around the world showcase their rooms in a not-so-subtle way with hanging vines and lighting, which makes us want to have them as well.
Most social media content around aesthetic rooms is related to a few aesthetics, such as goblin core, light core, as well as fairly core. But what exactly is a fairy core room aesthetic? As the name suggests, it's a fantasy-themed aesthetic roaming around fairies, which are known to have mystical powers. That's why the fairy core includes magic, mystical powers, soft bunnies, lights, and the overall vibe of spring, where flowers and trees are all over.
In this article, we will talk about this fairy core and how you can bring this aesthetic to your room. We will be talking about different ideas, and if you follow them, we can say for sure that your room will look like a fairy-core room in no time!
Let's get started!
Fairycore Room Decor Ideas
1. Incorporate Soft Lighting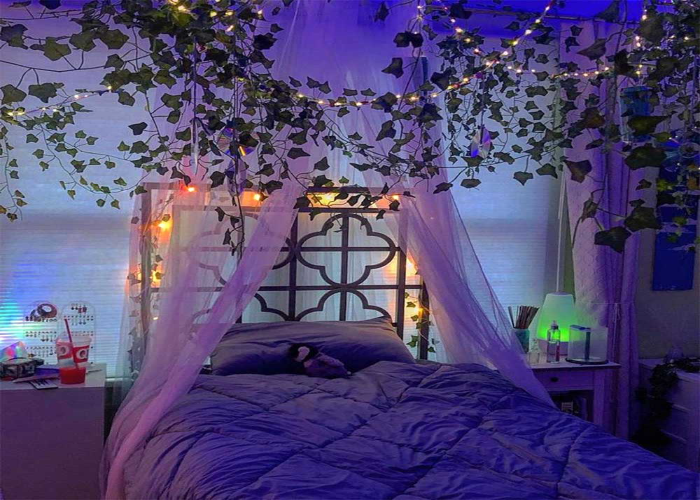 This is the foundation of a fairy core room. A soft illuminating light that is pleasing to the eyes without being too harsh. A pro tip to choosing the right light is to see whether you are squinting your eyes when you step into a room or feeling a sense of calm almost instantly without the light being unduly harsh on the eyes. The latter is what you aim for in a fairy core room.
To have this kind of light, you can browse through string lights, nightlights, lamps, or even vintage lighting pieces. It's always better to have hues of yellow light since it helps in making you sleep faster and deeper.
2. Plants and Flower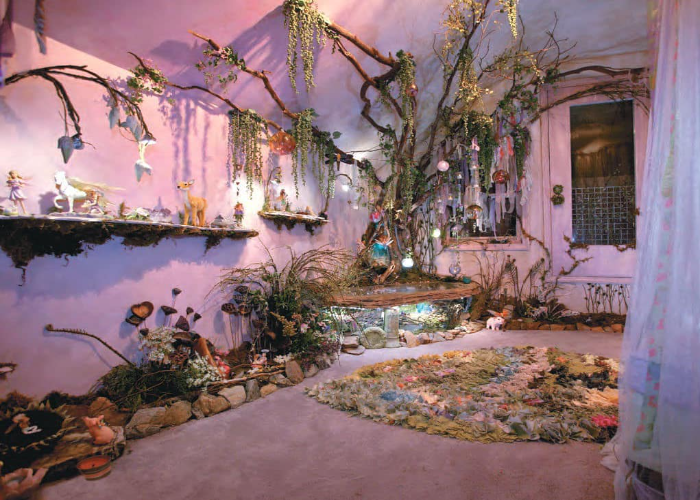 The fairy core aesthetic is predominant with natural elements like plants, trees, flowers, and soft animals. So this makes including plants and flowers a necessity in your fairy core room decor. Not only the ornamental benefits, plants and flowers also keep pollution at bay and keep your air fresh, helping you breathe cleaner air. Live plants are a great option if you love plants and can take care of them.
However, don't shy away from having decor plants in your room, as they don't require any care and will instantly elevate your room aesthetic. Green plants such as fern and ivy are the ideal choice for a fairy-core aesthetic.
3. Using Crystal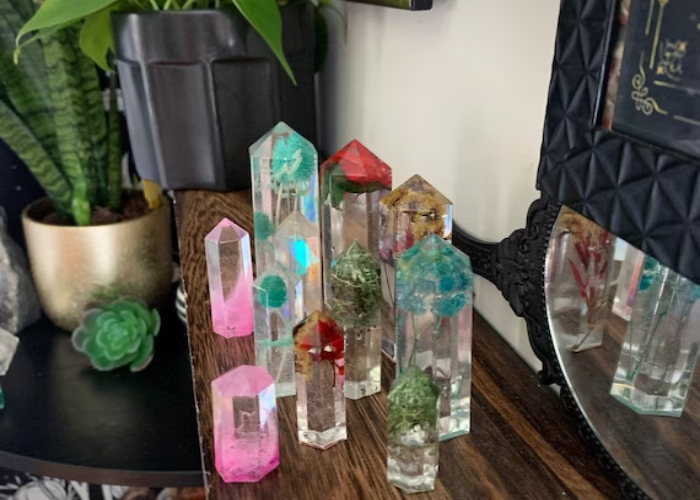 Fairy core aesthetic is about the mystical appeal, and nothing serves this purpose better than the presence of crystal in your room. It's not just crystal stones that enhance the aesthetic; you can also use crystallized lights, other crystal-made lamps, mirrors with crystal borders, and more.
But these items might be a little harder to get and will be on the expensive side. That's where crystal stones come into the picture. Not only are they easily accessible, but they can be arranged in the room quite easily. They are subtle yet an important part of the overall fairy core aesthetic. They also manage to create a down-to-earth vibe in your room, making you feel calmer and more peaceful.
4. Vintage Antique Items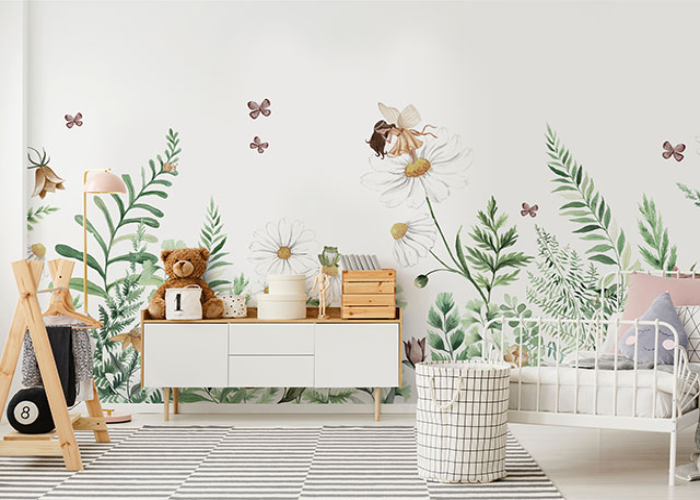 If you're into fairy core themes aesthetic, we are assuming you are into vintage items as well since they both belong together like no other. Not only commercial vintage items but also something which is passed down to you from your family in the form of treasured heritage. The reason fairy core aesthetic and vintage items go so well together is because of the combination of old and new elements bonded together. For instance, a vintage piece with a modern fairy-core aesthetic will elevate the appeal of your room.
Vintage items are not that easy to find, but they are easy to pair because they have their independent character and suit really well on various home decor.
5. Pastel Colors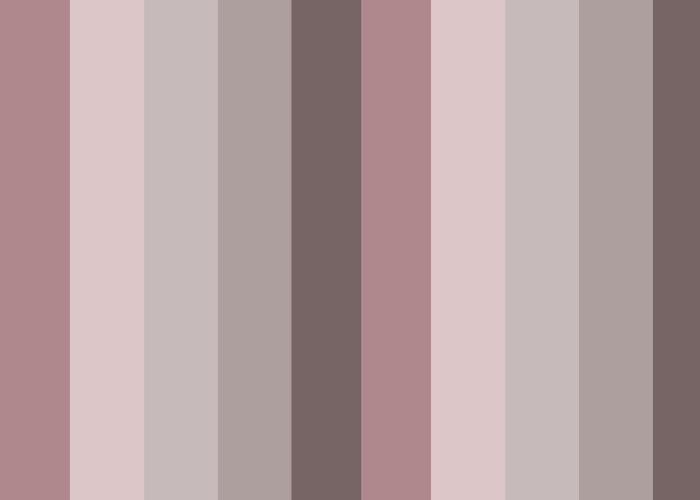 Pastel colors are the soul of the fairy core aesthetic. The pastel colors should be lighter shades and muted as well. Pink, green, blue, and neutrals all work well with the fairy core aesthetic; however, if you want to go for darker shades, aim for bold and dark shades of red and black.
These colors should be consistent in a fairy core room. You should have pastel colors on your curtains, bedsheets, even on decor items like lamps, fairy lights, and even on the color of the walls. This will make your room look well put together and will conform more to the fairy-core aesthetic that you are going for!
6. Hanging Draperies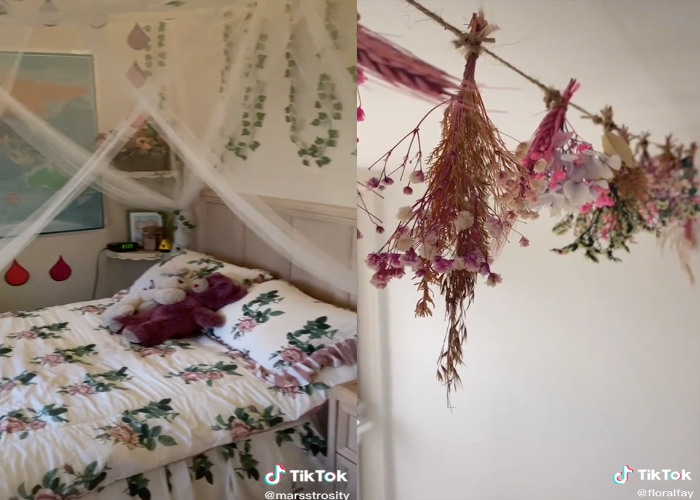 Draperies all around the bed seem intimate and make the bed more inviting. This cozy setup is a must for a fairy core room. The material of the drapery also plays a crucial role in the aesthetic. For instance, the white gauzy fabric goes pretty well with the fairy core aesthetic. This material itself speaks softness and calmness and brings a serene vibe to the room.
The fabric is see-through of just the right amount since it lets the light pass, making it look more dreamlike. The only point of concern is this gauzy fabric will look dirty and accumulate dust if not cared for well. This makes washing it after frequent intervals a necessity.
7. Showcasing Mushroom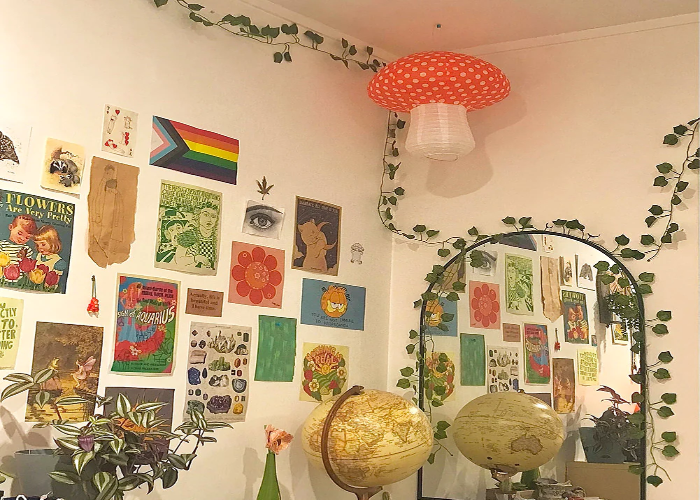 In 2021, mushroom decor became the talk of the town, and it has not been forgotten till today. Mushroom decor simply means using items shaped as mushrooms in various home decor items, i.e., windchimes, fairy lights, an art piece, etc. Combining fairy core and mushroom decor is a unique choice. In some cultures, a mushroom is known as a plant that has many psychedelic properties, and this is also one of the pillars of the fairy core aesthetic.
You can find TikTok user @growingjuju showing how mushroom decor perfectly complements the fairy core room aesthetic in the fairy core paradise series.
8. Bringing Maximalism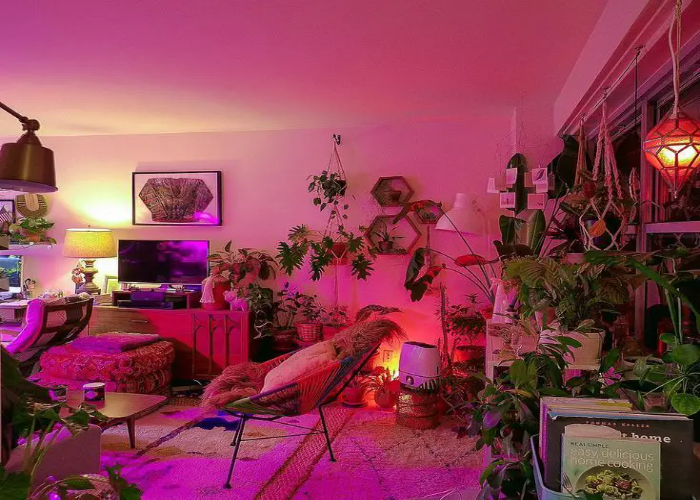 You must have noticed and realized by now that the fairycore aesthetic is really not minimalist. Minimalism in home decor simply means people who like to keep things at a minimum while still maintaining the aesthetic. At the same time, maximalism is the opposite of this. When it comes to the fairy core room, the decorations, wall sceneries, potted plants, hung draperies, highly decorated mobile, and mixing and matching patterns on the wall, all speak fairy core. So it's safe to say that fairy core is not for minimalist people.
A TikTok user, @lilgunky, appropriately shows what a fairy core room inspired by maximalism really looks like. The room is filled with the most unique and eclectic finds.
9. Hanging Chair Swings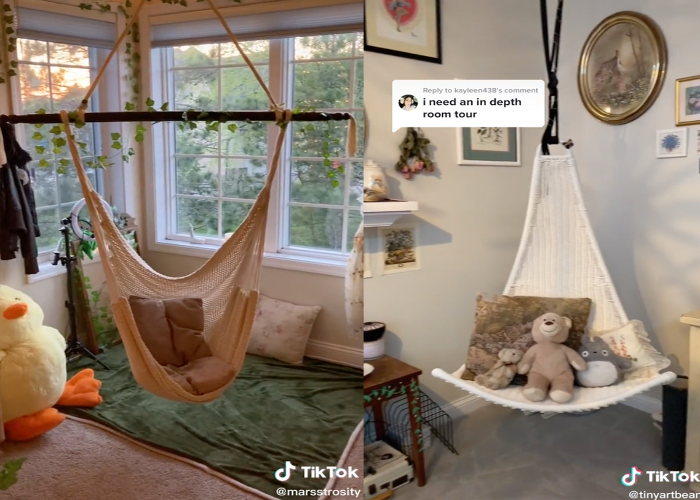 A fairy core room doesn't look complete if it doesn't have a hanging chair swing. Even though hanging chair swings comes in various aesthetics, be it minimalism, goblin core, etc. However, when it comes to fairy core aesthetics, the hanging chair swings should be a certain way to be truly called a fairycore. For instance, chair swings which are made up of beige color and cushions tied up with a knot at the top in a very old-fashioned way, seem like heaven for someone who appreciates fairy core.
Hanging chair swings can also become your peaceful zone where you can chill away your evenings and weekends with a book or a series to binge on.
10. Wood Furnishing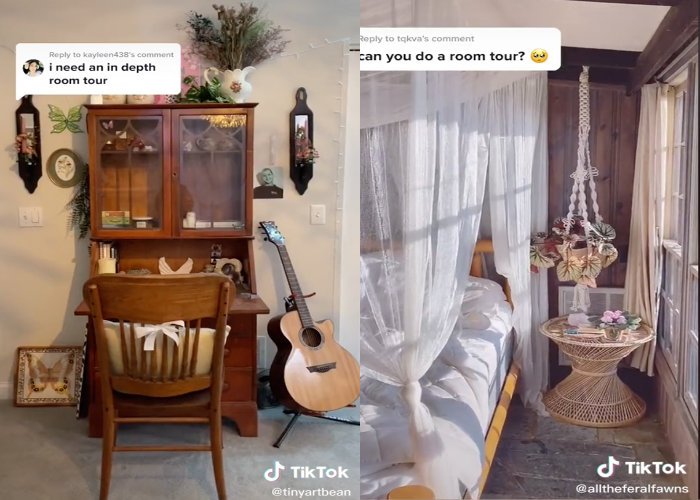 As we have already established that nature has a very pivotal role to play in the fairycore aesthetic. Different types of woods, such as rattan, bamboo, teak, etc., all enhance the aesthetic. The core of fairycore is to stay connected to nature and be in its embrace. For your fairycore room, you can include the bamboo type of furniture since it looks vintage and is durable at the same time. The furniture in your room should not look too artificial, with lots of polishing and a modern finish. It should look traditional, and if it's vintage, then nothing is better than that.
The fairy core aesthetic, in general, goes well with natural elements and neutral color tones. For example, avoid colors in your room such as yellow, bright green, etc, as they are not the colors as fairycore.
11. Fairycore Bedding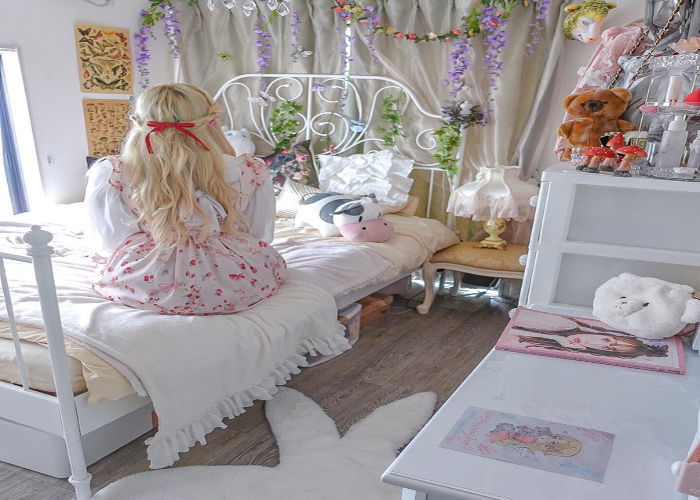 When it comes to fairy core bedding requirements, it would be best if you stick to pastel colors and vintage-looking beds. For this purpose, beds made up of bamboo and teak, which have a more rustic muted look, will give the best results as they will blend well with the overall fairy core room aesthetic. Your bed should be an extension of your room and not stand out in comparison with other furniture. If a bed is big enough with poles on all four sides, that can even help you hang drapery over it to give you a more dreamy look.
While selecting a fairy core bed, keep an eye out for floral and mushroom patterns as those are some of the themes fairycore is related with.
12. Patterns and Motifs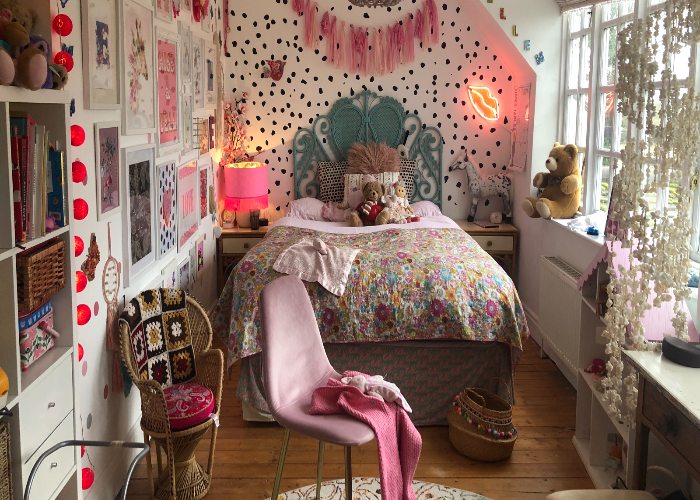 Patterns and motifs in a fairycore room hold a special place, as they are also the core of this aesthetic. Patterns and motifs pertaining to nature, like flowers, butterflies, flies, fairies, mushrooms, etc., all form a crucial part of the fairy core aesthetic. Not only this, many fantasies and folklore strongly identify as fairycore as well.
These patterns and motifs can be used on bedding, as we have already seen. Or you can also use them as artwork on walls, string lights made up of these patterns, and so much more. It depends on your personality and vision as to how you see your fairycore room.
13. Fairy Core Artworks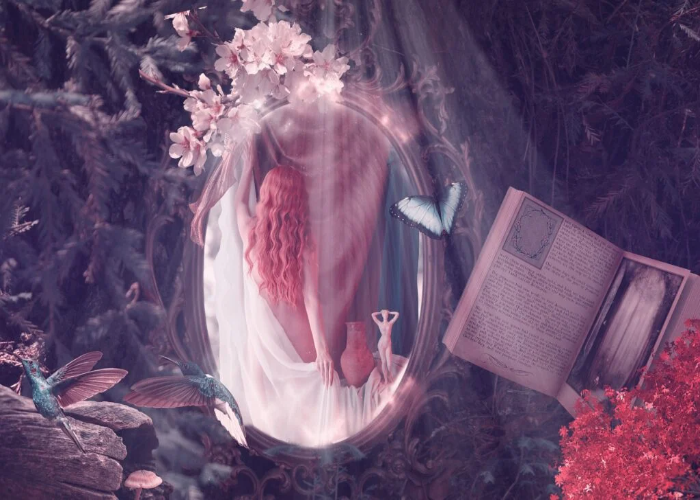 Artworks enhance the fairy core aesthetic and are highly responsible for the level of popularity it achieves. This aesthetic is all about what is possible and everything magical. So by extension, even artworks in a fairy core room will also speak the same language. The extensive use of glitter, florals, pastels, and mushroom decor.
The goal of fairy core artworks is to make your room dreamy. So choose an artwork that you can look at for hours, and you feel like you are getting lost in the magical land of fairycore. You can invest in potted plants, string lights, and antique decor without a thought, as they are timeless and will suit all decor, especially the fairy core.
14. Utilising Lace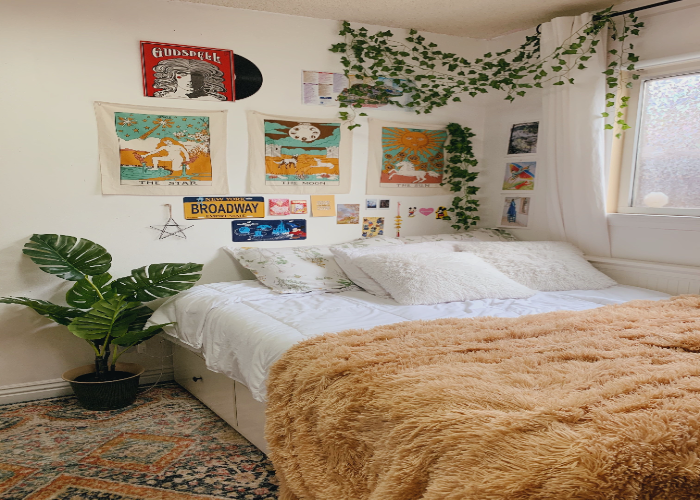 In contemporary times, lace is mostly used as borders on various clothing. It gives the cloth a more intimate and sensual look. However, it is not a ls popular as it has a connotation attached to it that its too girly. But using lace in a fairy core room can definitely enhance the aesthetic. We don't want you to go all out and have lace on the drapes, bedsheets, etc. Rather lace can be used in a very subtle way, like the borders of a cushion cover or sofa with a velvet touch. This is an underrated yet very effective element of the fairy core aesthetic.
Clothes which has subtle lace elements in them can also be worn by you if you're hardcore into fairycore aesthetic. Fairycore lace aesthetic clothes are usually cute because they try to re-enact the whole fairy aesthetic.
15. Keeping It Cozy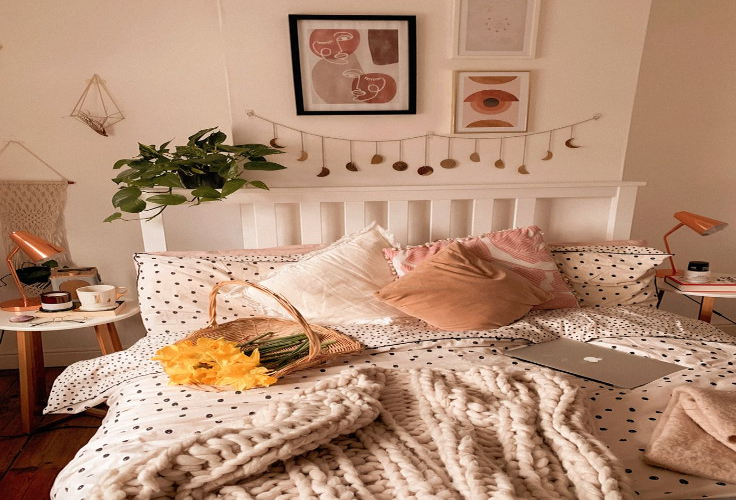 Overall, the fairy core aesthetic seems so comforting and cozy by default. This is because of the different elements infused together in a perfect way, like muted colors, hanging draperies, practicing maximalism, and natural elements, i.e., leaves, wood, fairies, and lights. Despite these elements, you can enhance the feeling of coziness in your room by purposefully having more comfy blankets and pillows. Add soft, muted colors to this mix, and you got yourself a cozy and intimate fairy core room.
To go the extra mile, you can use different kinds of string lights with yellowish and warmer tones. This will instantly enhance the coziness of your room and make you feel at home.
Final Thoughts
Fairy core aesthetic is all about mingling with nature and acquiring its characteristics as a way of life. Adopting fairy core as your aesthetic would mean enjoying subtle maximalism, enjoying nature, and a sheer likeness of vintage aesthetic items, various muted colors, and so on. To have your own fairy core room, you need all these elements in your room and ingrained in your lifestyle.
We have discussed extensively different elements of the fairy core aesthetic, and if you incorporate them, we are sure your room will look like those TikTok influencers and bring you much-needed comfort.
We understand that the fairy core aesthetic is not the easiest one to adapt since it requires changes in almost aspects of the room which is time-consuming and can also be economically draining.
However, let us assure you that it's worth it, so go ahead and try these ideas today!
Frequently Asked Questions
What Should Be in a Fairy Core Room?
There are many facets to the fairy core aesthetic, but there are some things that are fundamental to the fairy core, and you cannot miss them. For instance, muted pastel colors spread across your room, fairy lights, antique vintage items, and mushroom decor. Combining these elements with the idea of maximalism and natural elements is the core of the fairy core.
What Styles Are Similar to The Fairy Core?
Fairy Core is all about bringing elements of nature into your living spaces and into your way of life. So by default, all the aesthetics relating to nature are similar to fairy core. For instance, mushroom core, cottage core, and nature core all have some aesthetics adding up to the fairy core aesthetic.
Which Colors Are Used in a Fairycore Room Aesthetic?
The colors used in the fairy core aesthetic are deeply inspired by nature. And includes colors like green, creamy, sky blue, lavender, beige, soft pink, and classical white, to name a few. The idea is to have more pastel and muted colors in your room.