Are you a regular coffee drinker who is looking to create a coffee bar at its home? We also agree that it's a great idea to make simple things interesting, like drinking coffee regularly. Coffee bars have the same foundational principles similar to a real bar which has alcohol in it. In a coffee bar, the collection of different coffee beans, mugs, cocoa powder, luxurious coffee carts, and cabinets all play a role in how your coffee bar looks.
Let us make it clear that it's not at all difficult to build your own coffee bar. You just need to have sufficient space in your kitchen or at home and the determination to build the coffee bar cabinet that you always wanted.
In this article, we will talk about different coffee bar ideas that you can implement at your home. No matter what design you are aiming for, this list is versatile enough to suit all your needs.
Top DIY Coffee Bar Ideas for Your Space
1. Closet-Turned Coffee Bar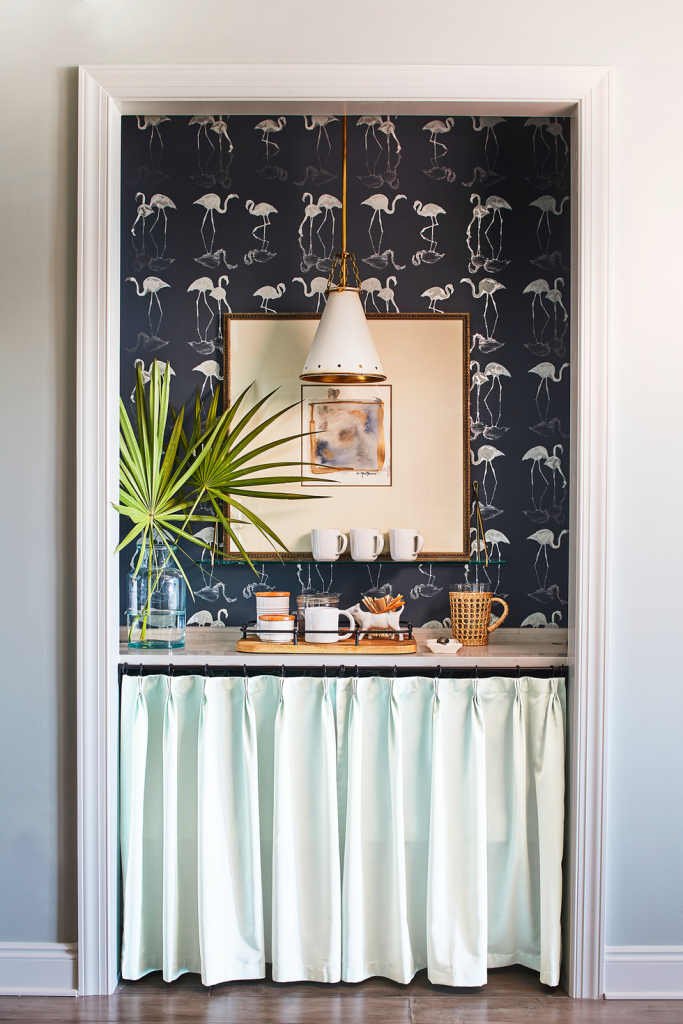 If you have a closet in your home that is unused and has shelves in it, there cannot be a better ready-made option for that than choosing it as a place for your coffee bar. A closet-turned coffee bar idea with shelves is perfect for storing coffee, mugs, etc. You can decorate the shelves and personalize them to your liking.
Just a few things to keep in mind is that the closet should largely be in a cool and dry place. Because it's crucial to maintain the optimum flavor of the coffee beans, and also, if moisture seeps into your coffee bags, it will ruin your coffee and its flavor.
2. Hideaway Beverage Nook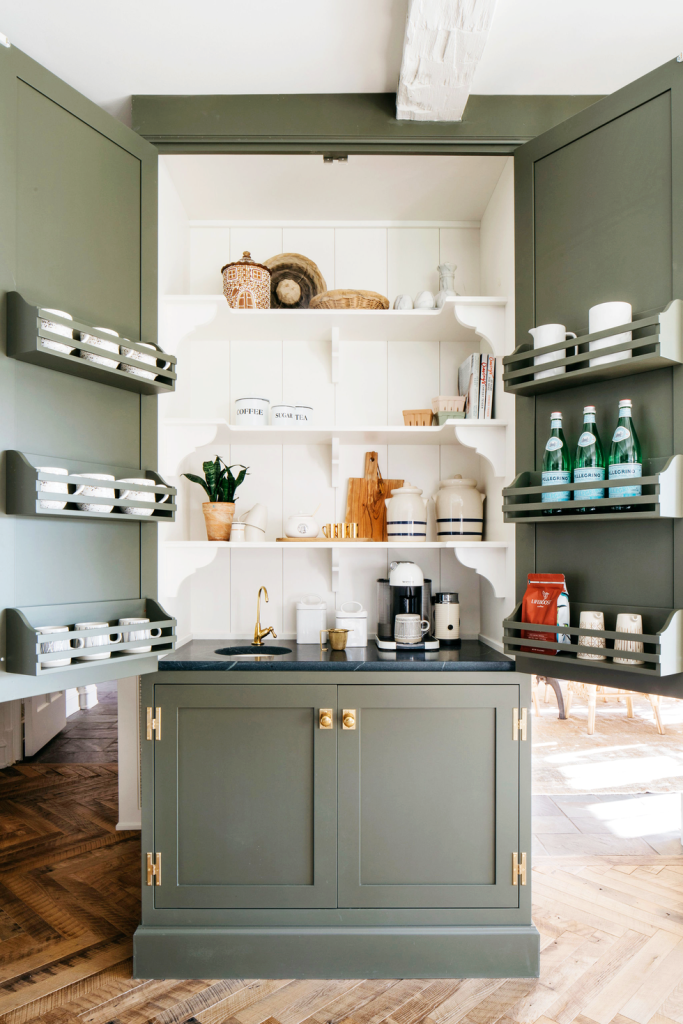 A hideaway coffee bar is a good choice for someone who wants to keep their coffee bar dirt-free space or wants to keep things organized. Also, you get the added benefit of hiding your exotic coffee collection from unwarranted attention. This coffee bar has shelves at its door where you can hang your best coffee mugs so that they are always on display. The shelves on the front are large enough to accommodate many items. Combining this with the timeless design of the furniture, this coffee bar idea evokes luxury.
If you're planning to have this hideaway coffee bar at your home, remember that the temperature inside should be optimum (neither too hot nor too cold), this helps keep your coffee afresh.
3. Bold Backsplash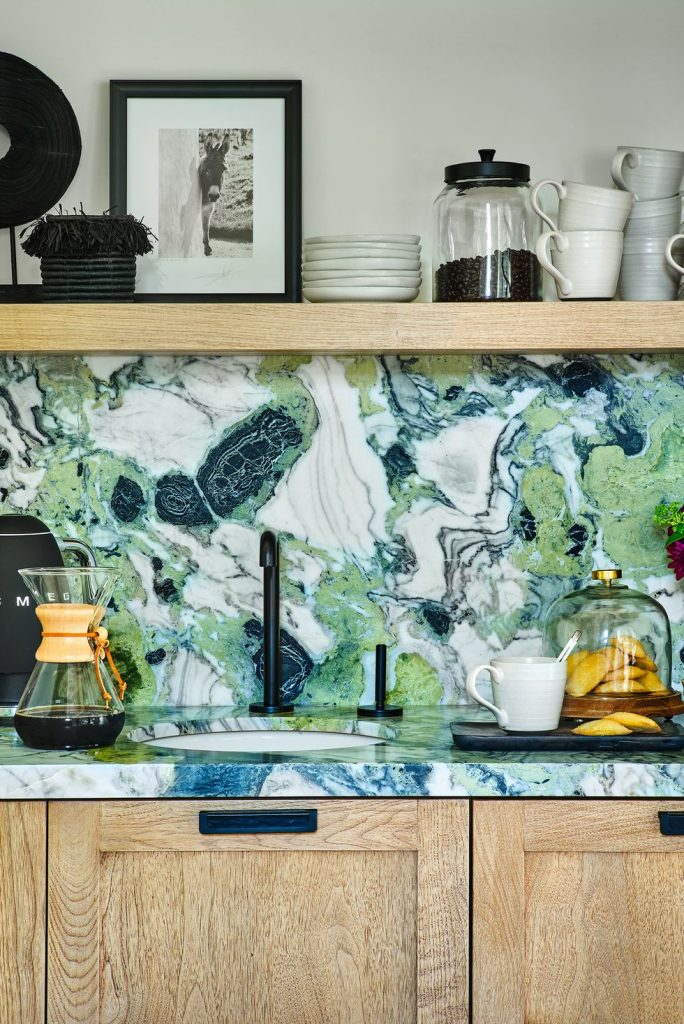 In simple words, the backsplash is the usage of glass tiles. In this idea, you can have a similarly patterned countertop as the back wall to have a one-of-a-kind look. A backsplash is eye-catching and will give a very luxurious feel to your coffee bar.
In the backsplash, you can choose a pattern that you like and truly customize it. Backsplashing a certain area will also enhance it and separate it from other parts of the room, making it your own. Glass tiles are also easier to clean and last much longer than normal tiles, even though they are a bit expensive. Your coffee mugs, beans, and filters will be highlighted even more against the backsplash walls.
4. Antique Coffee Bar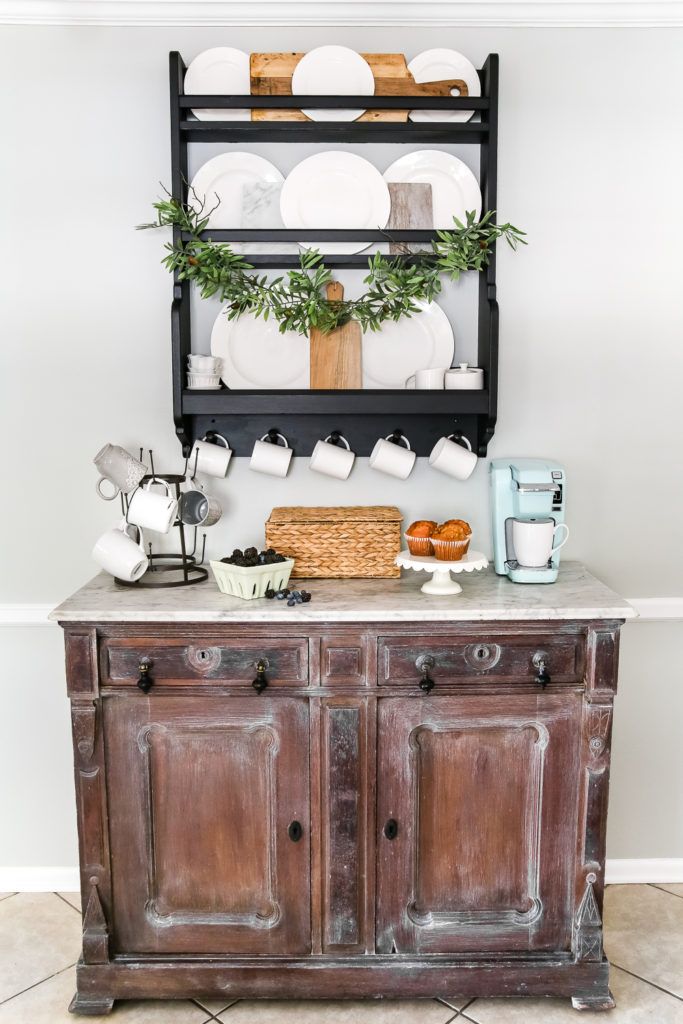 Nothing gives your coffee bar character more than the usage of vintage and antique furniture. This coffee bar looks rugged with its rust lic look and white color countertop giving a performance contrast to the furniture. You can put your mugs, coffee beans, and other accessories strategically in places to cover the imperfections.
Put a mug holder on top of it along with a coffee maker, and this will become your perfect DIY coffee bar idea at home. If you don't like the rough look of the cabinet, you can apply glossy paint that will give it a modern feel.
5. Floating Shelf Coffee Bar Idea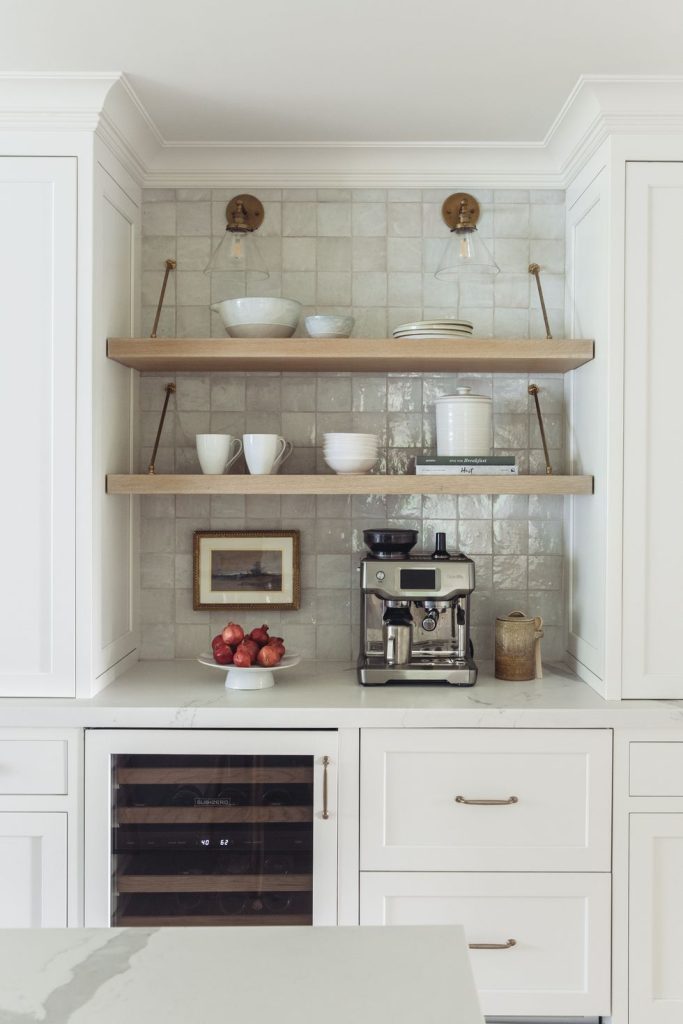 A perfect space saver with a clean and minimal look. The floating shelves are a great option since they can be easily folded in case you decide to wind up your coffee bar or want to use the space for something else. In other words, it doesn't require a long-term commitment like a dedicated coffee bar cabinet would want from you.
With two shelves and space beneath it, this coffee bar offers enough storage for your everyday coffee needs. You can put extra snacks on the countertop and put your mugs on display on the shelves.
6. Simple and Chic Coffee Bar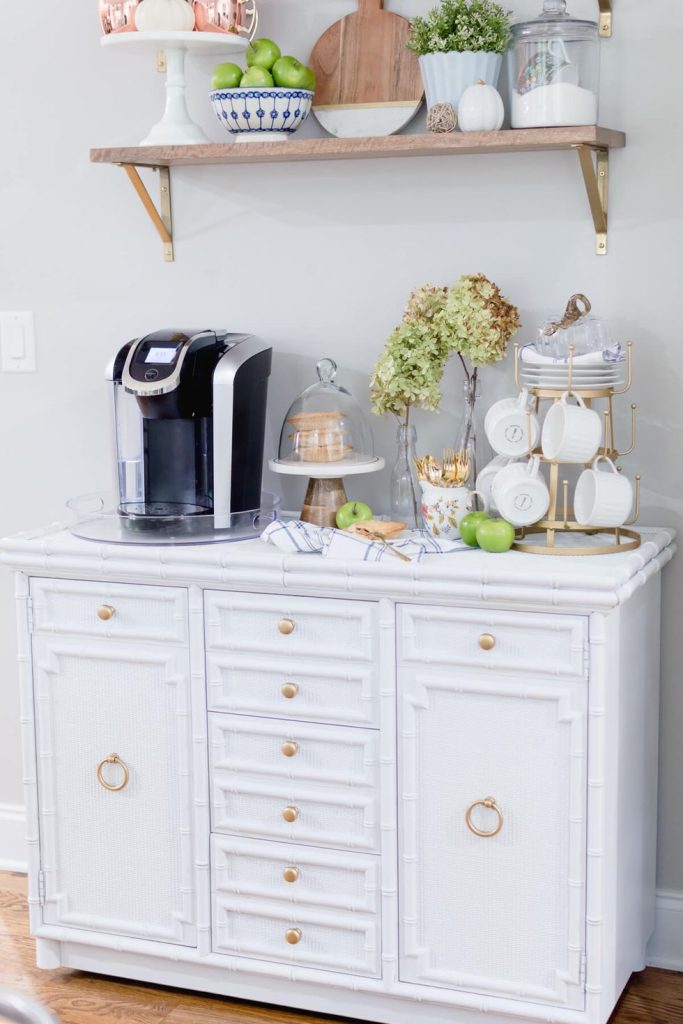 A very cute, chic, and refreshing coffee bar setup that will definitely put you in the right mood instantly. This coffee bar has a big cabinet that is white in color with golden handles. Moreover, it has a shelf at a considerable height bolted onto the wall. This coffee bar is highly thoughtful in its usefulness.
For instance, the drawers of the cabinets can be used for items you don't use daily or you want to keep clean and away from dirt. On the top shelf, you can put an artificial plant, fruit basket, etc., to enhance the appeal. While the countertop can be used for daily morning coffee needs like a coffee maker, beans, and a few of your favorite mugs.
7. Rolling Coffee Cart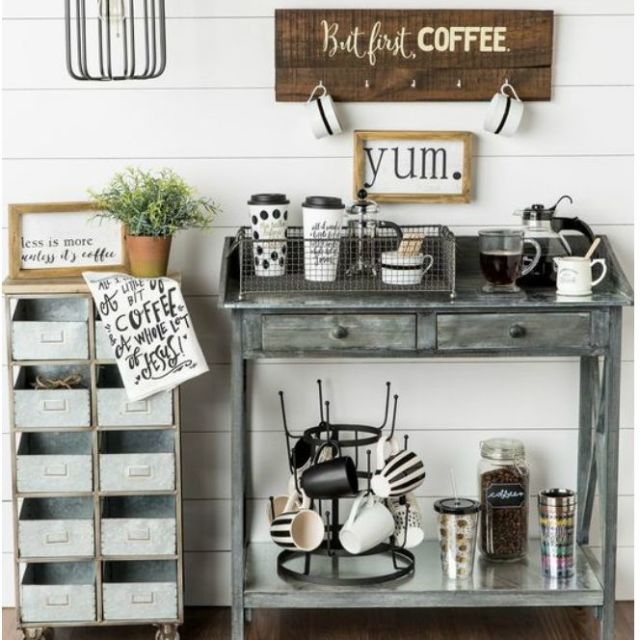 A rolling coffee cart as your coffee bar is an extremely innovative idea. This is true, especially if you love to enjoy your coffee standing on the balcony. In this case, you can simply move the coffee cart and pour yourself a cup of coffee to start your day right. Just be cautious of placing delicate items close to each other. As whole you are moving the cart, they might crash into each other and break.
This coffee cart has black wheels with white furniture having three shelves with borders. It is big enough to carry everything you need to make your coffee.
8. Five-Star Coffee Bar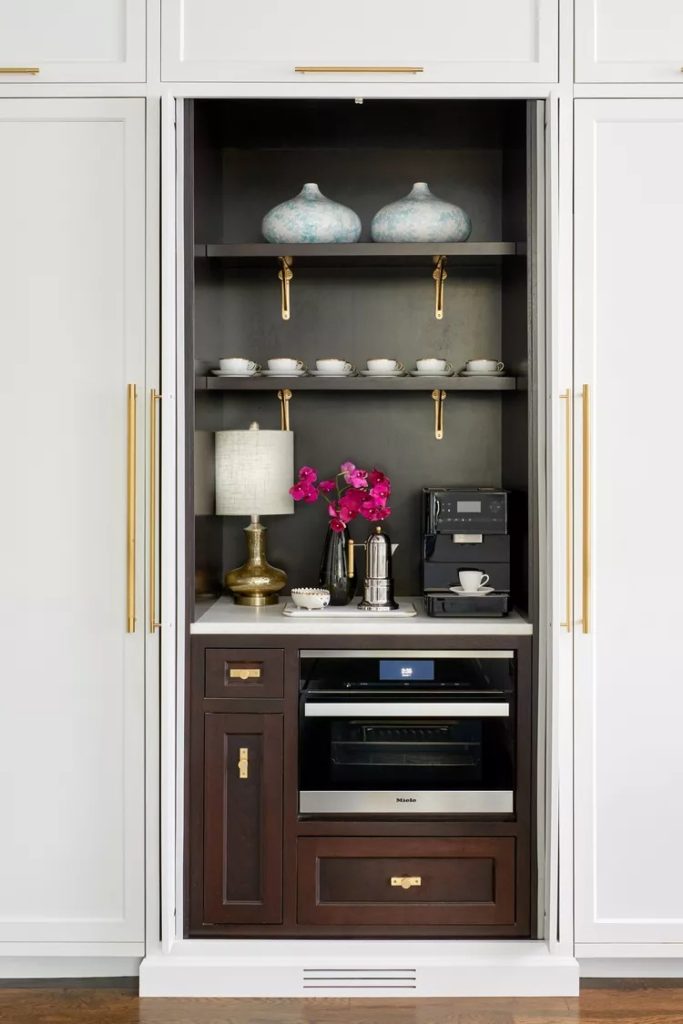 This luxurious coffee bar will blow your mind with its overall aesthetic and color contrasts. It gives a feeling of a five-star luxury hotel right at your home. The combination of dark wood, golden handles, white countertop, and matte black shelves and background makes this coffee bar idea a must-have if your budget allows it.
Adorn the countertop with the coffee maker, add flowers and your favorite mugs, and keep fresh flowers to experience the ultimate five-star coffee experience. We understand that it might run your budget up a bit, but let us assure you that it's going to be worth it.
9. Clear Coffee Containers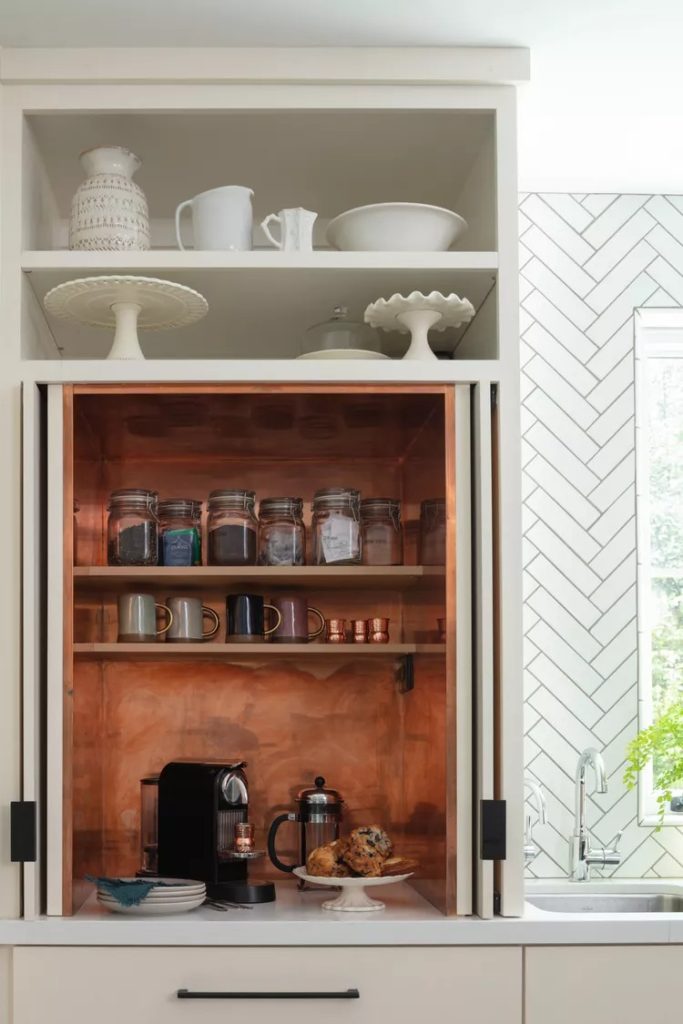 This coffee bar idea is very niche but can still play a major role in your overall experience. Clear coffee containers, as the name suggests, include containers that are transparent. The idea is to use the upper shelf to store coffee, cocoa powder, and coffee beans in clear containers, and they all have different color gradients. Similarly, lining up matching mugs on the below shelf will create a cohesive aesthetic and give your coffee bar a well-put-together look.
Having these containers at your coffee bar will also help you track your coffee consumption as well as help you restock your coffee when it's about to get over.
10. Open-Shelving Coffee Bar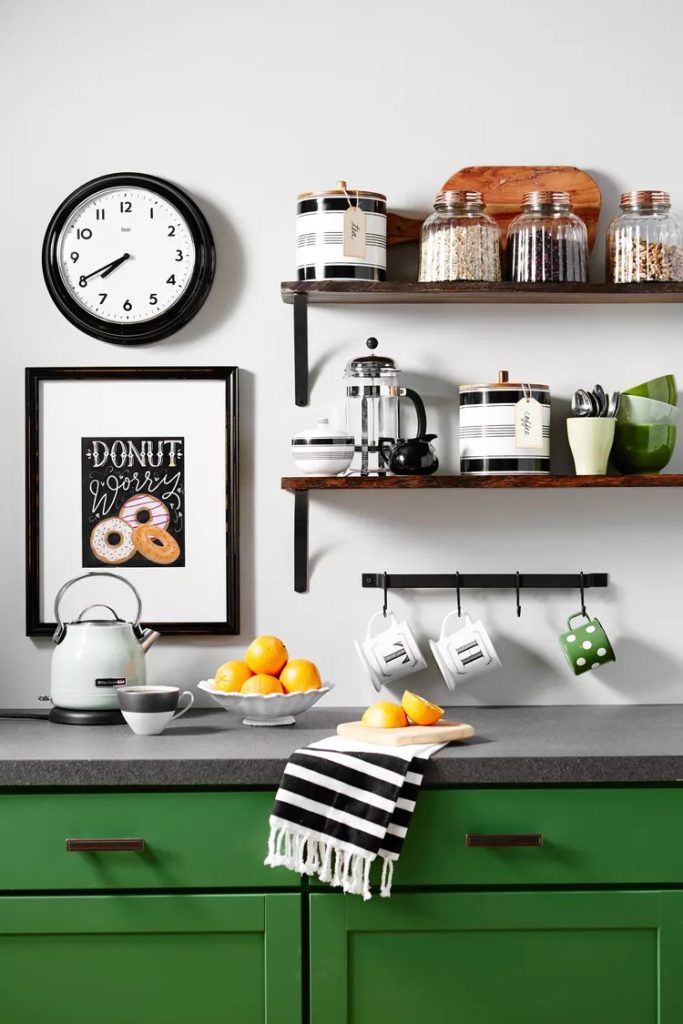 Open shelving your coffee bar is a nice idea to have a coffee bar at your home, even with less space. Open shelving will also mean that your coffee will be devoid of any risk of accumulating moisture and will keep your coffee fresh. Keep the shelves neatly arranged since they are out in the open. You can save some crucial countertop space with this open-shelf coffee bar idea.
Remember to choose the color of the shelves that goes with your overall home decor and blends in easily. It will accumulate dust faster than closed cabinets, so you might need to clean it more often.
11. Pantry Coffee Bar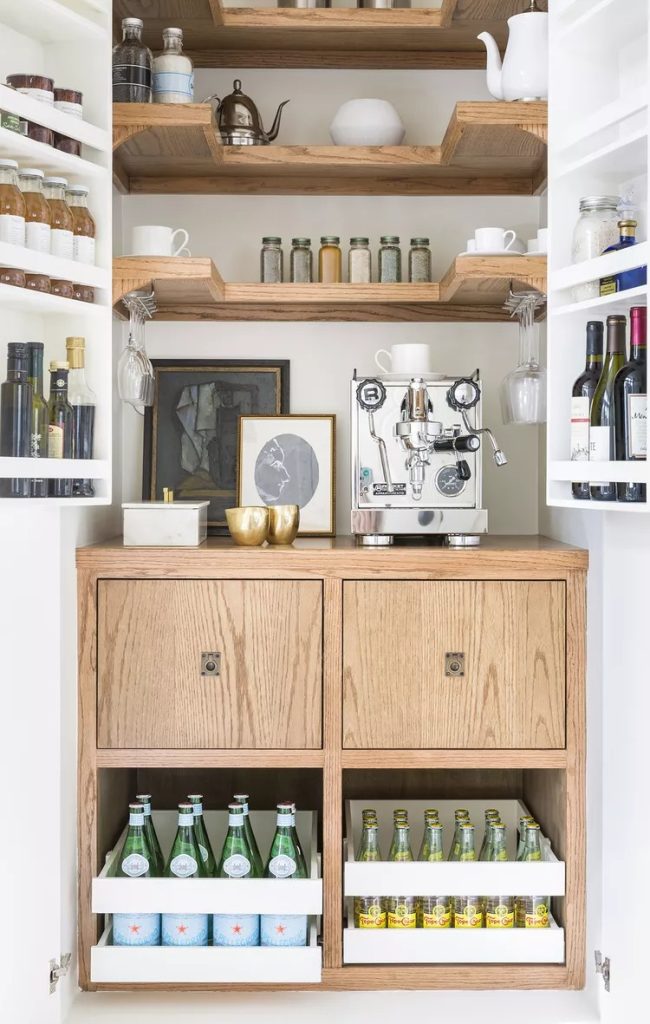 If you have a pantry room in your home, then you are in luck. It will help you keep your coffee bar separate from the rest of the house and will save up on crucial kitchen space. Having a coffee bar in the pantry will also mean that you will have all necessities in close proximity to you.
A pantry is usually a cool and dry place in your home. This will keep your coffee fresh. You can dedicate a large cabinet to all your coffee needs. Choose the cabinet which is closer to an electrical socket to power up your coffee machine.
12. Mobile Coffee Bar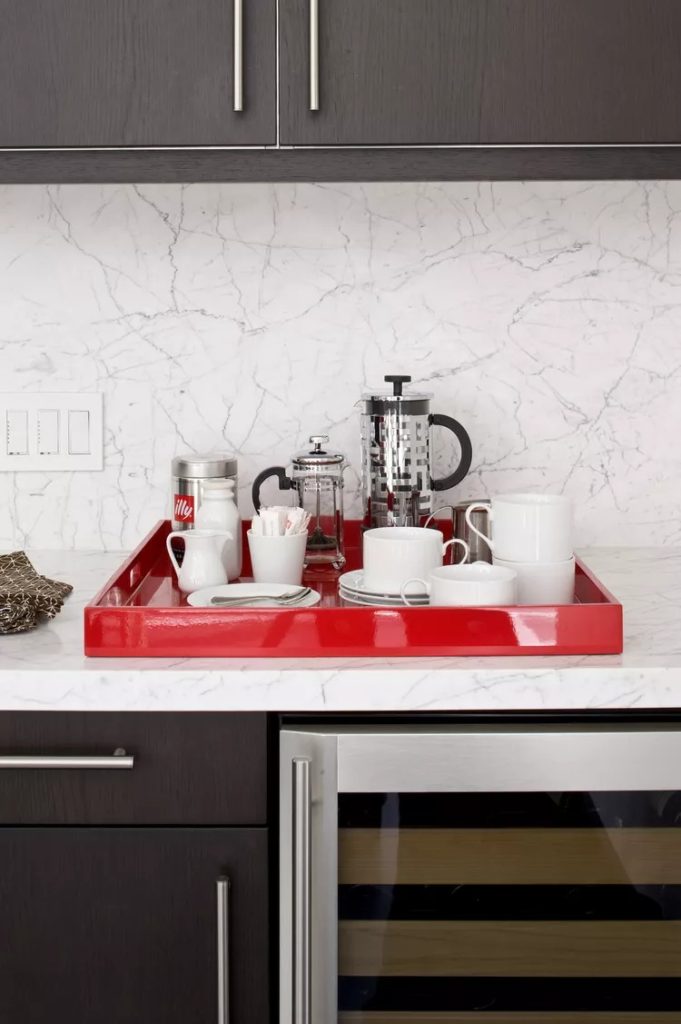 A mobile coffee bar is a way to go if you fall short on space but still want to make a dedicated space for your coffee. It won't be as big as dedicated cabinets, but with the essentials in place, it will serve the purpose well. This will also allow you to make your coffee anywhere you want in your home, keeping things flexible.
Moreover, if you have guests frequently over at your home, you can keep the mobile coffee bar on the table with a coffee machine. Ensure to keep the tray minimal to have a neat and sophisticated look!
13. Coffee Station in The Kitchen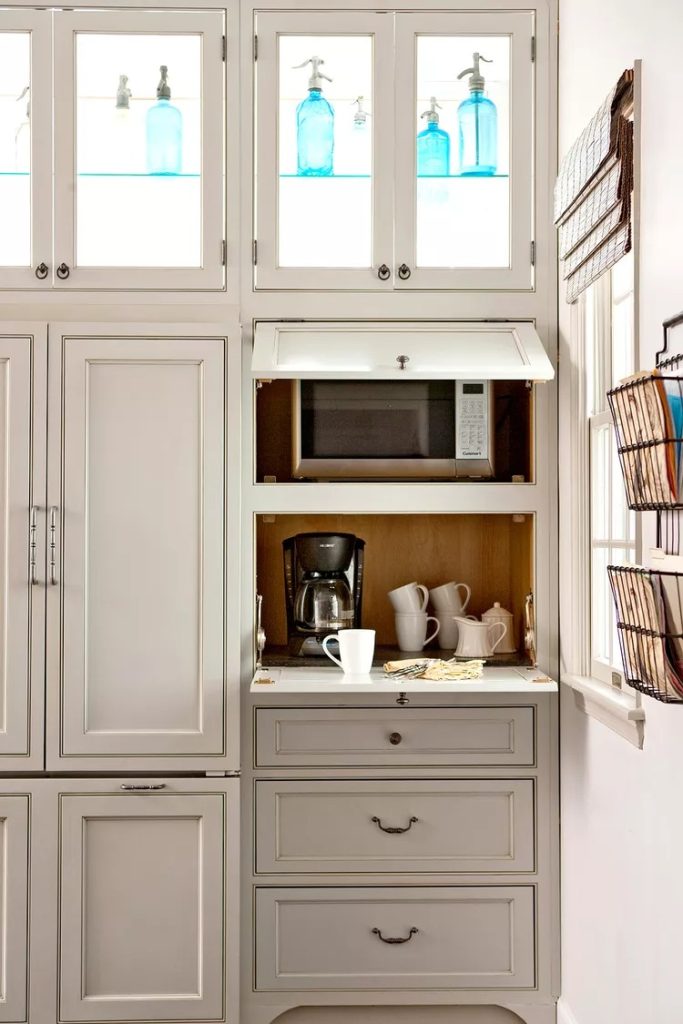 This coffee station which is in-built in the kitchen, is a good hideaway corner for all your coffee needs. With one drop-down door and three bottom drawers, it is big enough to store your coffee essentials. The drop-down storage can be used for tucking away your favorite mugs and your coffee maker so that they remain dirt free.
On the top shelf, you can easily place a microwave oven to hear your coffee without moving an inch. If you plan to build this coffee bar in your home, make sure you take accurate measurements of your coffee maker and oven to avoid having furniture which is either too big or too small for your appliances.
14. Pull out The Coffee Bar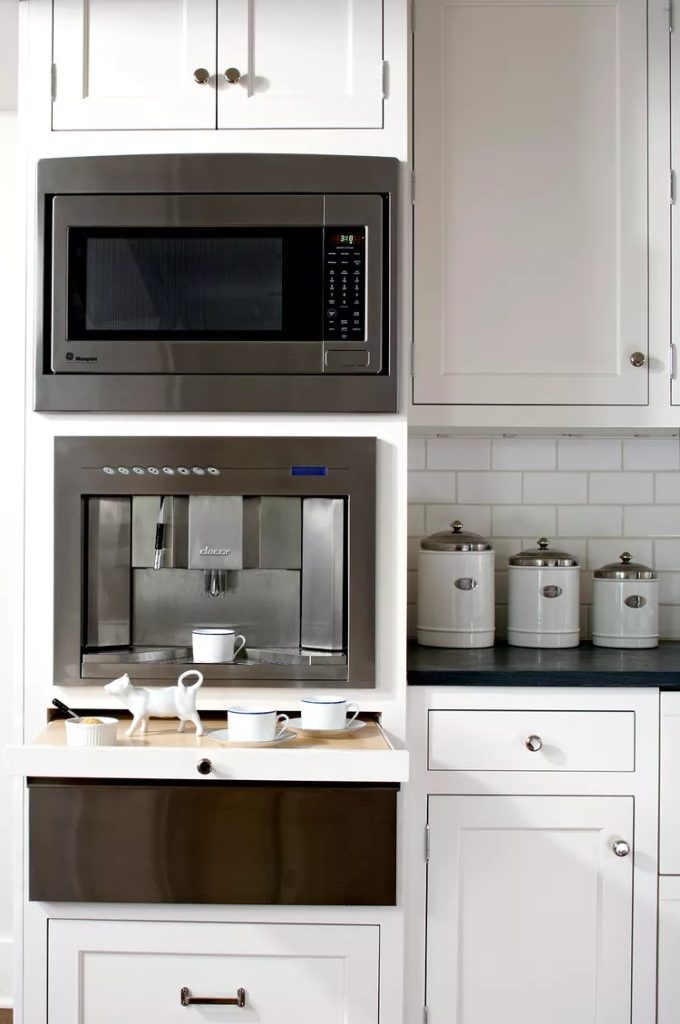 A fairly new concept, a pull-out coffee bar is basically a shelf drawing in and out on which you can make your coffee and enjoy it. It's a space saver as you don't need another dedicated table or countertop for making coffee. Not just the shelf but even the whole coffee maker cabinet can be built in, saving you space and keeping your walls leveled.
Pearl white color with coffee color wood finish looks absolutely ravishing, and the contrast calls out to every coffee enthusiast. Even though the color of your appliances should not be your first priority. However, do keep an eye out for gray/black matte-finished appliances.
15. Beige Coffee Bar Idea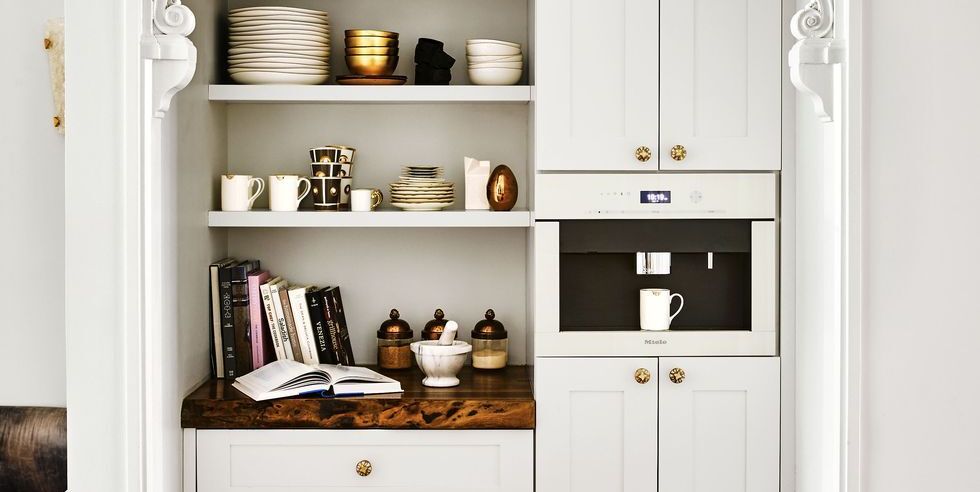 A beige-colored coffee bar gives a very rustic and vintage feeling to your coffee bar, making it stand out. Even a simple coffee table, with just the bare minimum necessities on the countertop, looks extremely eye-catching and neat. You can try matching the mugs, jars, and coffee makers to the beige-colored cabinet. This will help in creating a monochromatic look with your coffee bar. A simple bouquet holder on the top gives much-needed attention to detail to your setup.
If you are interested in bringing the coffee bar idea to light, remember to look for furniture which looks vintage other than just beige in color. Buy matching items as told above and have a well-put-together coffee bar right at your home.
16. Coffee Bar with Custom Coffee Signs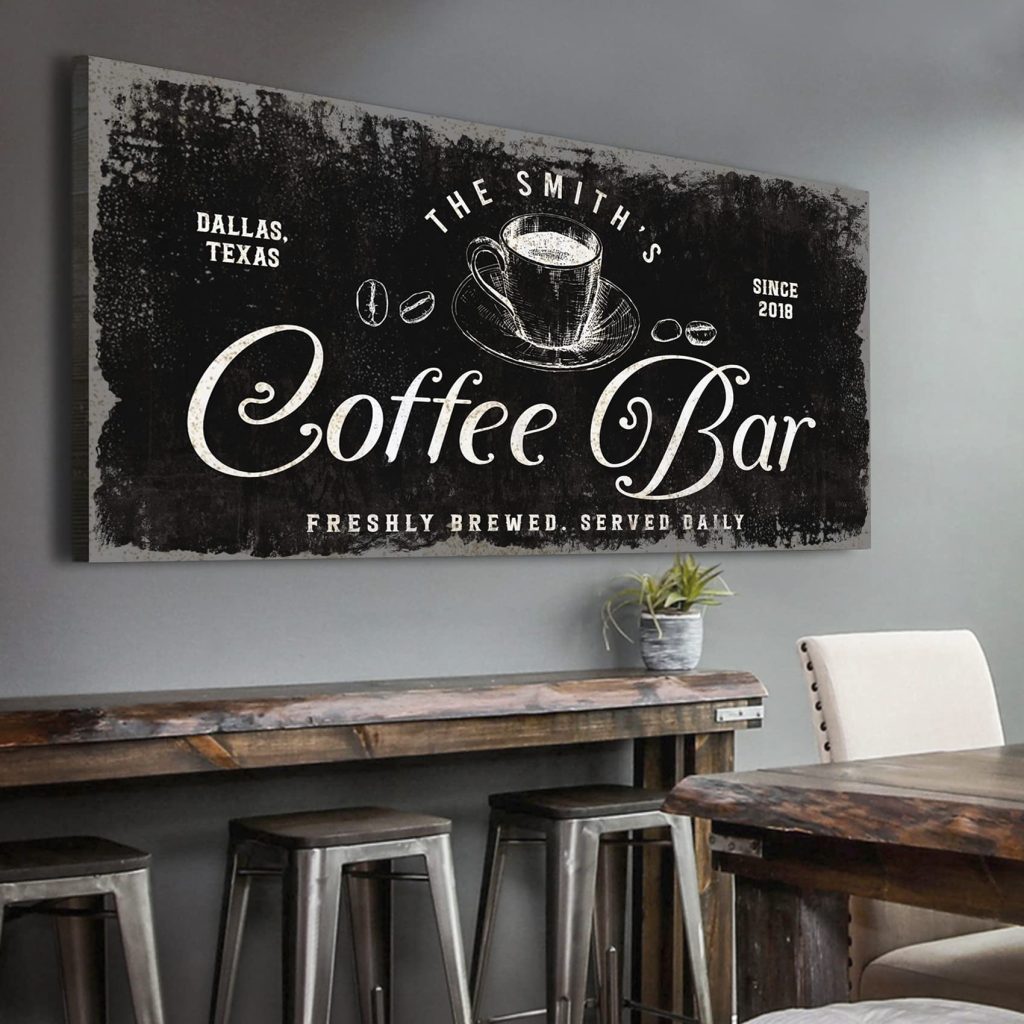 Want to personalize your coffee bar set up and truly make it your own? Then you should definitely consider adding custom coffee signs to your coffee bar. Other than making it look aesthetic, it will give character to your overall coffee bar setup. You don't need to invest in signs and hanging quotes as separate item. Rather, get creative and look for mug holders, coffee containers, etc., with signs and quotes already imprinted on them.
This is an easy DIY coffee bar idea, just make sure to choose the custom signs based on the overall aesthetic of your furniture, and it should reflect your own personality as well. Try a motivational quote you really believe in that will motivate you to work hard every time you look at it.
17. Corner Coffee Bar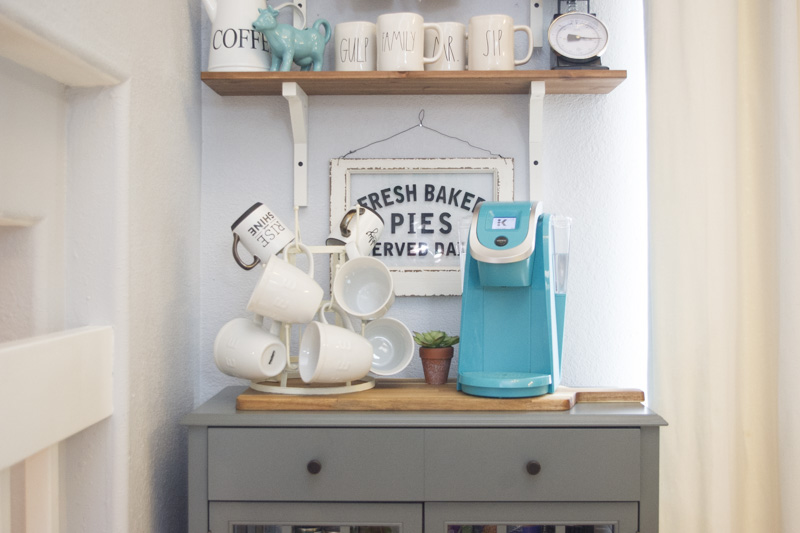 A corner in the house is the most neglected part of the house since you have limited options of furniture that you can use there. But what if we tell you that you can turn the corner in your home into your own personalized coffee bar? In this coffee bar idea, you might get a little less countertop space since corner furniture is mostly compact, but the additional number of drawers tips the scale in your favor.
Have a small lamp to illuminate the corner and bring a calm vibe to your coffee bar setup. Keep the countertop minimal and store mugs, coffee beans, and flavors in the drawers given below. This will help you achieve a clean and sophisticated look and will also prevent your mugs from accumulating dust.
18. Coffee Bar with Chairs and Shelves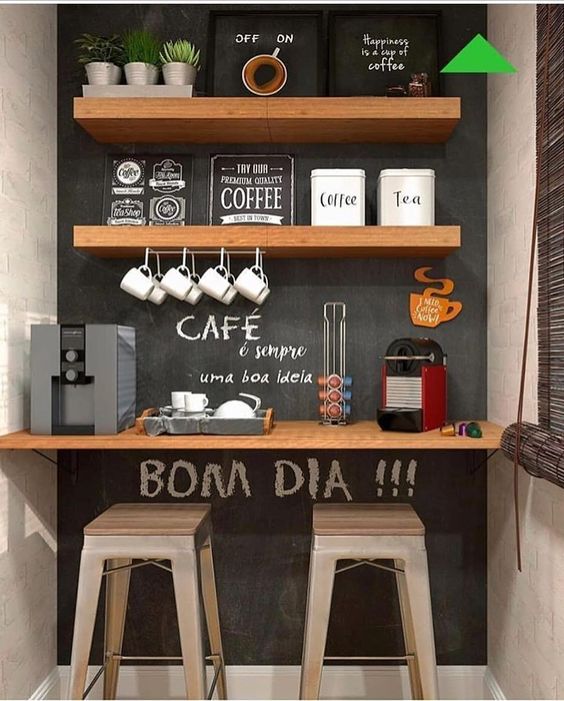 Of all the coffee bar ideas that you have read till now doesn't talk about one most important aspect, and that is the chair itself. The reason for not bringing this up sooner was not many people prefer putting chairs along with their coffee bar in their homes simply because it takes up too much space and also looks commercialized.
However, if you want to add a chair to your home coffee bar, it won't be the worst idea, and it will add to your comfort. If there is a little shortage of space, you can have space under the shelves dedicated to bar stools or chairs and slide them under them when not using them.
19. Minimalist Coffee Bar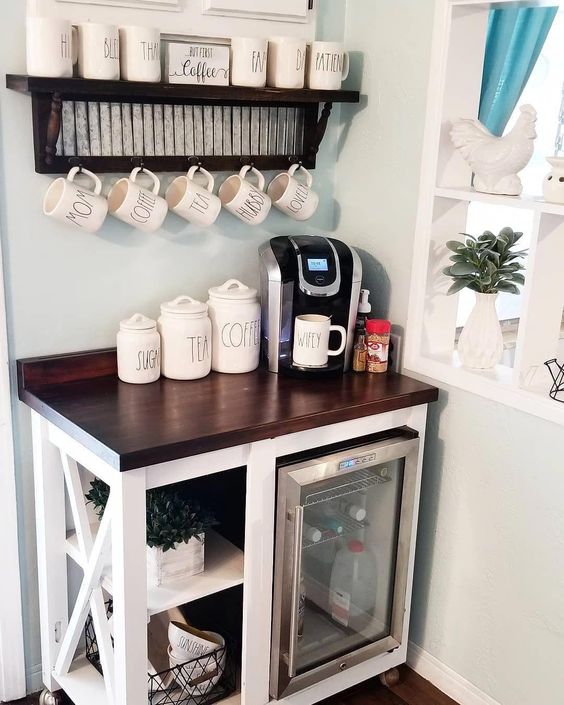 If you like things being simple and nothing too fancy, then definitely consider making your coffee bar minimalist. This coffee bar idea will not only make your coffee bar look neat but also would be really economical since you won't need to invest in multiple products. Just a pair of glasses, preferably plain, muted, and with a matte finish, will do just fine.
Select a cabinet with a lighter shade that doesn't draw too much attention but still looks sophisticated. Pairing it with dark mugs and a coffee maker machine, as we talk above, will give your coffee bar a pub-like feel.
20. Monochrome Coffee Bar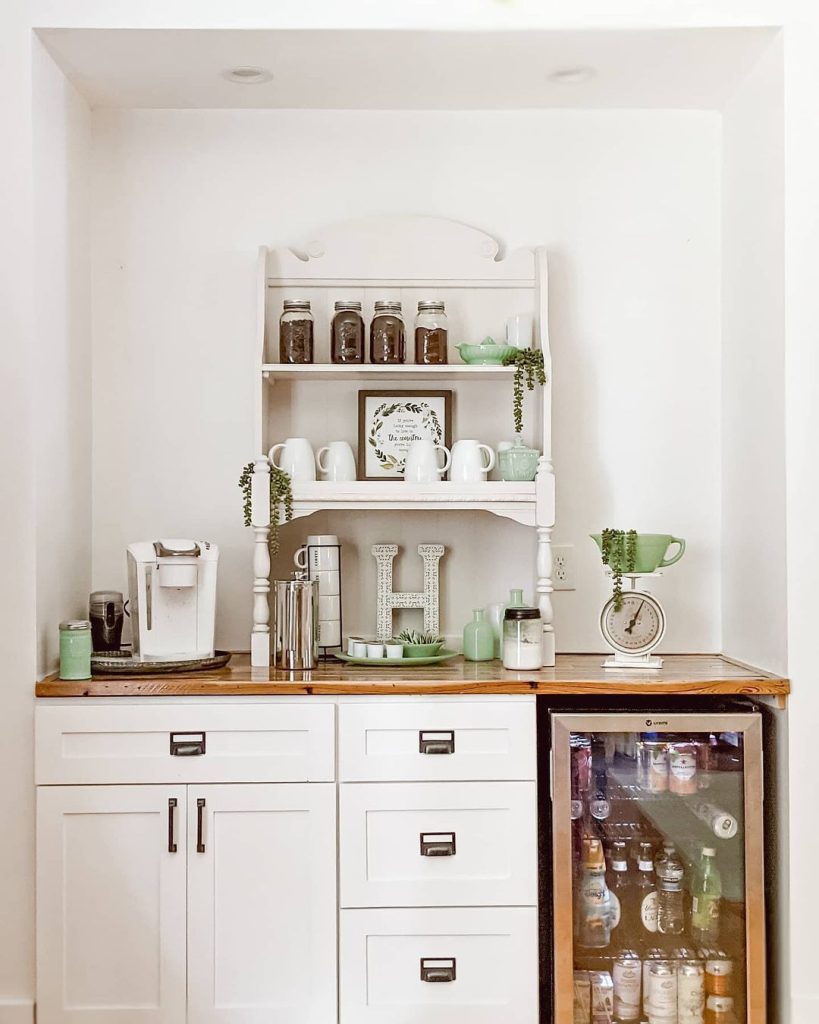 Monochrome is basically utilizing the same gradient or hues of color. So your whole coffee bar, from the cabinet's furniture to the coffee maker machine, mugs, etc., should consist of similar hues of color. If you monochrome your coffee bar idea, it will look more cohesive and well put together.
Ensure that your house decor also aligns with the monochromic theme. Or else your coffee bar will stand out. The color that you choose for this coffee bar idea should also be the same as other home decor. This is very easy to style and won't take much of your time.
Final Thoughts
If you enjoy coffee frequently and truly relish the experience, then having your own coffee bar will be a good idea. It is highly functional and saves you time since all the ingredients that you require to make coffee will be within your reach.
It also elevates the aesthetics of your home. Having a coffee bar at your home gives your home a pub-like feel. We have extensively covered the coffee bar idea keeping in mind the type of home decor and your requirements, and giving you tips on how to organize your coffee bar in an aesthetic way. Enjoying your coffee at the dedicated coffee bar will only make your experience serene.
Choose a coffee bar idea that reflects your personality and fits within your budget.