Looking for some innovative ways to transform your room decor with a Bohemian aesthetic? Then search no further; we are here to help you. Bohemian style and fashion are also known as Boho aesthetics. It is a beautiful blend of colors, textures, and patterns.
Today boho fashion and aesthetics are dominating the world, and more and more people are showing interest in it. So, you are not alone and want to incorporate casual yet comfy boho vibes in the room interior.
Boho fashion helps you explore the beauty of colors, patterns, and natural tones. It allows you to unleash your carefree and easygoing vibe and improve your room decor.
Also, you have plenty of options to design your room in boho style. You can buy boho-themed furniture, wall art, and other room decor or DIY some boho-themed room decor on your own.
Here we will discuss 15 incredible boho aesthetic room decor ideas to brighten up your space.
Boho Aesthetic Room Design Ideas
The boho-themed room decors have become a massive hit in current times. People love the free spirit and unconventional style of boho and adapt them to fashion wear, accessories, and room decor.
Below we will list 15 amazing ways to incorporate boho aesthetics into your room decor.
1. Bring in Vintage Furniture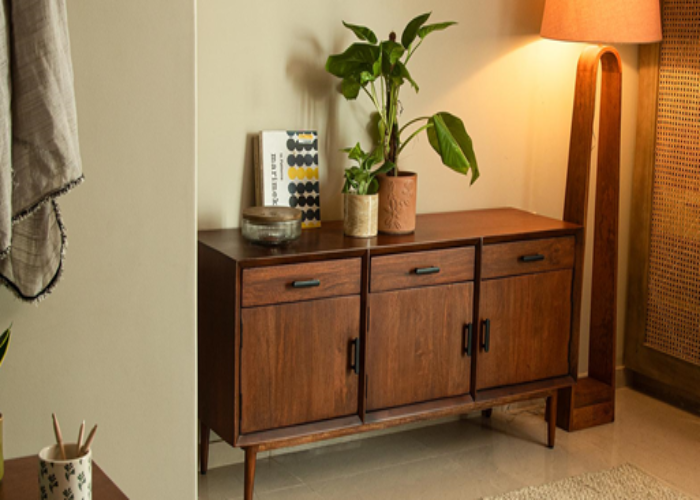 Bringing some vintage furniture into your room is one of the cost-effective and efficient ways to decorate your room in boho style. Vintage furniture is a strong element of the boho aesthetic and reflects a rustic farmhouse and carefree touch. Also, including vintage furniture in your room decor is an easy and budget-friendly option. You can repurpose your old furniture, like cabinets, chests, or tables. You can also buy vintage furniture from garage sales, thrift, and online stores. Create a less structured design, and you will get a truly eccentric and individualistic look for your room. Try T4TREAM Vintage Dresser Chests for a beautiful vintage vibe.
2. Mix Patterns and Colors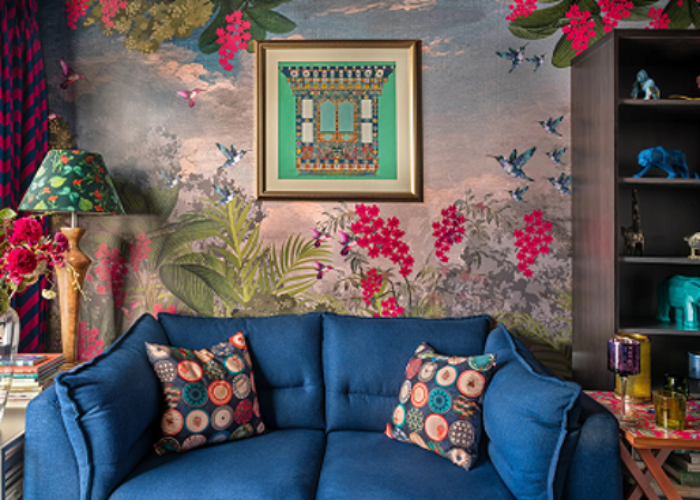 Another excellent way to embrace a boho aesthetic in your room decor is to mix colors and patterns. Bohemian fashion and aesthetics glorify the use of different colors and patterns to create a natural and earthy vibe. You can use different styles of rugs, tapestries, blankets, and throw cushions in your room. Featuring different cultures and fashion trends will help to create a boho aesthetic room decor. You can also mix vibrant colors in your room decor to depict organic patterns and colors. For instance, you can pair Persian rugs with minimalist or Victorian curtains and cushion covers for a boho feel.
3. Be Pro at Layering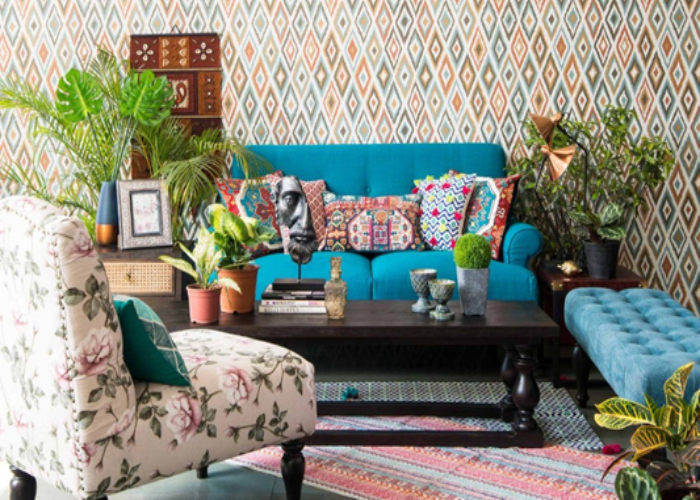 Layering is an inevitable part of the boho aesthetic, and you must excel at layering if you want to create a boho look for your room interior. You must try both textile and other forms of layering to get the ultimate boho vibe. You can use different styles, patterns, and textiles to create layers with textiles. For instance, you can choose a modern solid-colored bedding and pair a distressed rug with cotton-printed throw cushions and blankets. Also, you can contrast your window frames with curtains and chandeliers. It is easy to create beautiful freestyle bohemian room decor with layering. You must be mindful and keep it natural.
4. Showcase a Lot of Plants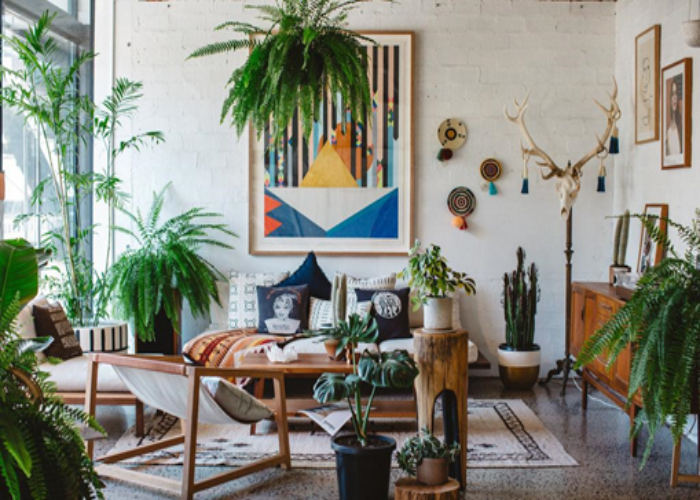 The Boho aesthetic is all about exploring a close tie with nature. So, what can be better than showcasing plants in your room to get a boho look? Also, adding plants to your room decor helps you include natural texture and colors. In modern interior designs, using indoor and bonsai plants is pretty common to improve room aesthetics. Modern interior designs also allow the use of minimal plants with prominent structures. But in boho-style room decorations, you can use off-beat plants in good amounts, as the primary motto is to display earthy tones of nature. You can try an amazing collection of 12 house plants by Plants For Pets.
5. Cultural Pieces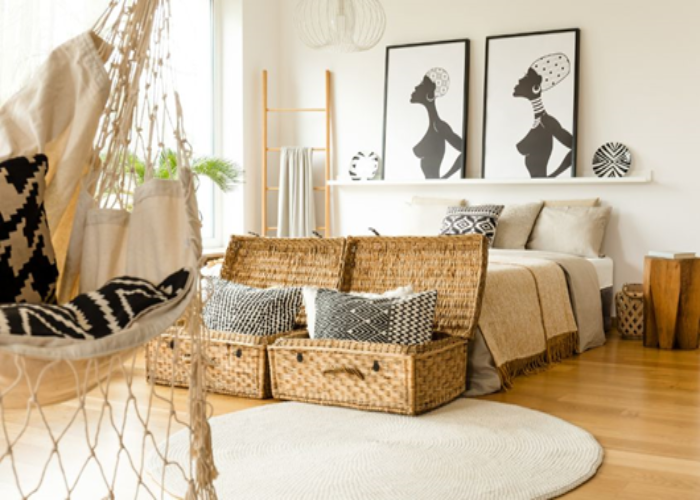 Using different cultural pieces is also a great way to redesign your room decor with a boho aesthetic. Bohemian aesthetics is an amalgamation of different cultures and fashion trends. And this gets reflected in boho-inspired room decors. So, you must be mindful of what you are representing while decorating your place as per boho style. Bohemian aesthetics has a deep connection with Afro-American culture. For example, keeping the Afro-American theme throughout your interior decor and furniture will help you create an Afro-bohemian vibe for your room. African and American cultural influences are quite evident in boho culture, and Tuyashua's Modern Black Woman Art Paints or Rayberro's African sculpture will bring you the desired vibe.
6. Sunbeam Mirrors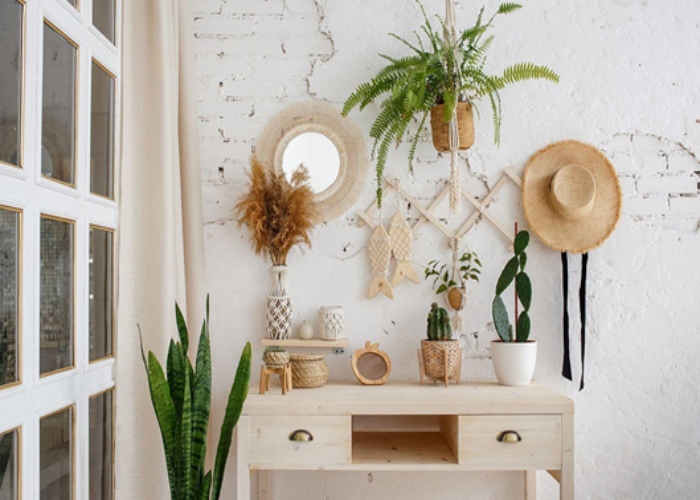 Mirrors are an essential part of any style of room decor as they have a versatile use. Adding mirrors to your room makes your room more spacious and comfortable and helps to improve your room's aesthetics. Sunbeam mirrors reflect the core essence of boho-style room decor and reflect a breezy and carefree vibe. The sunbeam mirror brings zeal to your room walls and displays a dynamic and engaging sight. They can help you create a beautiful Bohemian environment and add a true ray of sunshine to your space. TENEWEE's Boho Sunbeam Mirror with Macrame Circle can be ideal for any boho home design.
7. Textured Throw Cushions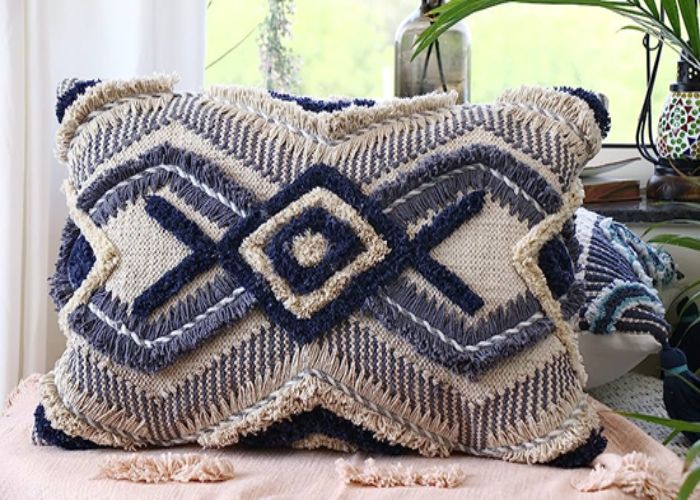 The texture is an important part of boho aesthetic room decor, and you must use every opportunity to incorporate texture in your room interior. Throw cushions are great for adding more texture to your boho room setup. Natural fabrics and textures are the best options to create a boho vibe. Also, It is easy to include natural texture with throw cushions. You can choose shaggy throw pillows or pillowcases with tassels, macrame, velvet, or truffles. They will create a beautiful and earthy feel for your boho-themed room. Try REDEARTH Textured Woven Throw Cushion Covers for a rustic boho feel.
8. Patterned Blankets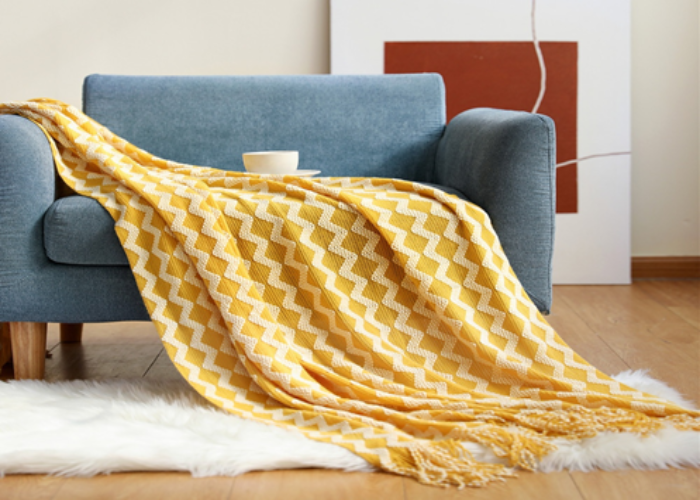 Decorating a room in a boho style means adding lots of contrasting patterns, textures, and colors. So, if you are searching for an easy way to add a boho vibe to your room decor, you must try blankets with vivid patterns. Patterned blankets are very popular in boho aesthetic room decors, and you can get plenty of beautiful options to choose from. Adding a patterned throw blanket instead of a minimalist solid-colored one helps you bring more patterns and contrasts to your room interior. Use Cozary's Patterned Woven Boho Throw Blanket that looks beautiful and vibrant.
9. Textured Colorful Rugs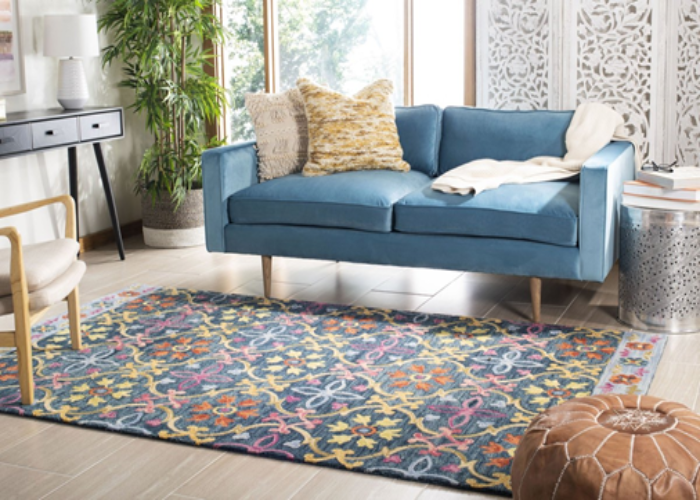 Besides textured throw cushions and blankets, you can also use textured and colorful rugs that bring a light and breezy boho vibe. Rugs play a vital role in various interior design styles; it helps to bind the overall room interior and create harmony. Textured or distressed rugs are popular boho room decor. They also have a colorful and rustic appearance making them ideal for Bohemian home decor. Adding a textured rug can help you create contrast and bring a free-flowing look. Antep offers Vintage Bohemian Distressed Rugs can be an ideal option to give your room a bohemian touch.
10. Woody and Rustic Touch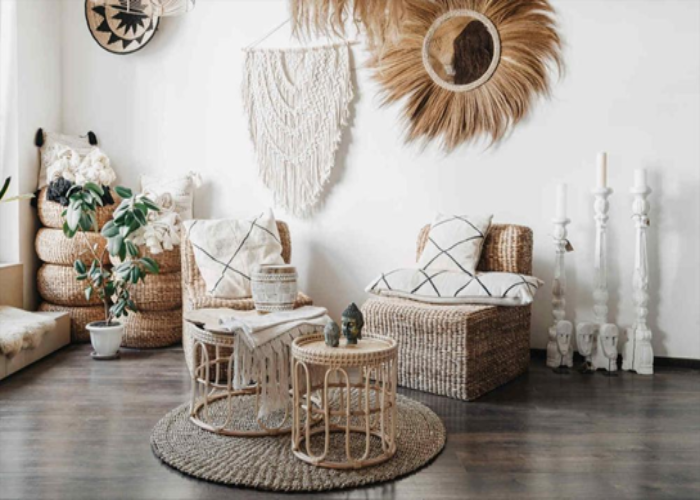 Rustic and woody accents are a major part of bohemian or boho aesthetics and fashion. So, adding a woody and rustic texture to your room is essential if you are trying to create boho room decor. You can use wooden furniture like wooden bed frames, chairs, bedside tables, curtain holders, and lampshades to create a woody environment. Also, you can incorporate rugs, bedcovers, and wall art with rustic and woody accents for a picture-perfect boho room. You can try WACASA's Mid-century Modern Accent Boho Chair for reading corner decor that gives a rustic boho look.
11. Let in More Lights with Sheer Curtains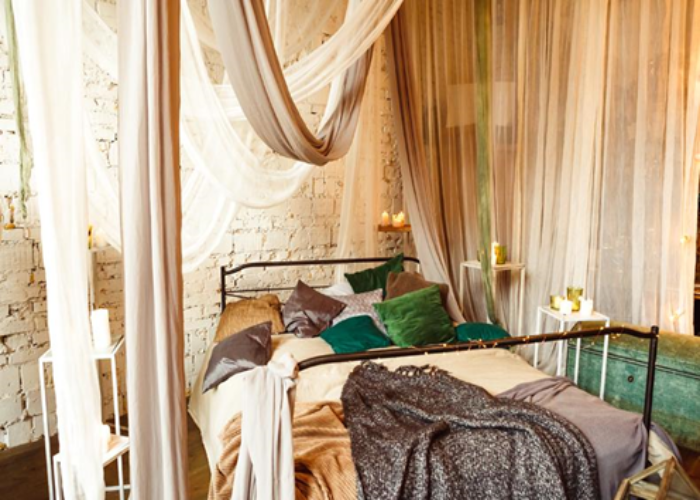 Unconventional patterns, vibrant colors, and plenty of bright and beautiful sunlight best describe the boho aesthetic room decor. And the sheer curtains can do wonders to create a boho ambiance for any room interior. The soft and transparent sheer curtains let in plenty of sunlight and create a luminous effect inside the room. They also make your space bright and spacious with filtered sunlight. Sheer curtains also complement your other boho room decor like furniture, wall art, and other items. NBTANGTEX Sage Green Boho Sheer Curtains are perfect for creating a bohemian, free-spirited interior decoration for your room.
12. Add a Reading Corner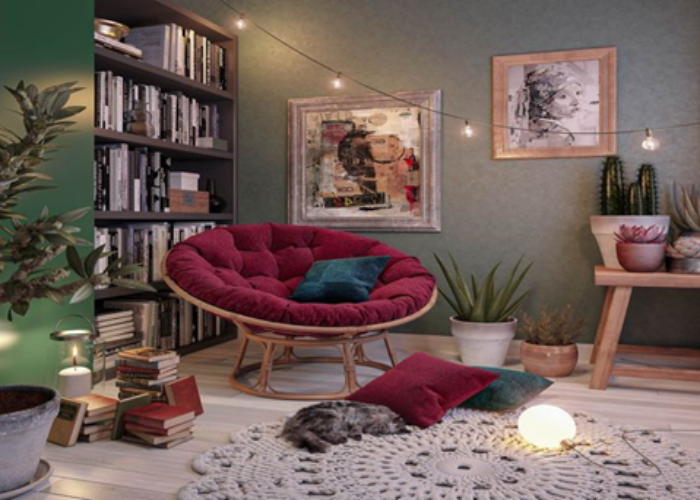 The Boho aesthetic is incomplete without a warm and cozy reading space. So, creating a beautiful and earthy reading corner can be an ideal option for redesigning your room with a boho theme. You can create a pleasant, rustic reading room with rattan chairs and tables. Rattan furniture is ideal for creating a bohemian look. They have a rustic and natural look and bring an upbeat boho vibe. If you like DIY projects, you can DIY rattan chairs at home. But if you do not have the time or energy to create, you can get one from online stores. Try Flash Furniture rattan chairs for a breezy boho reading corner look.
13. Boho Wall Accents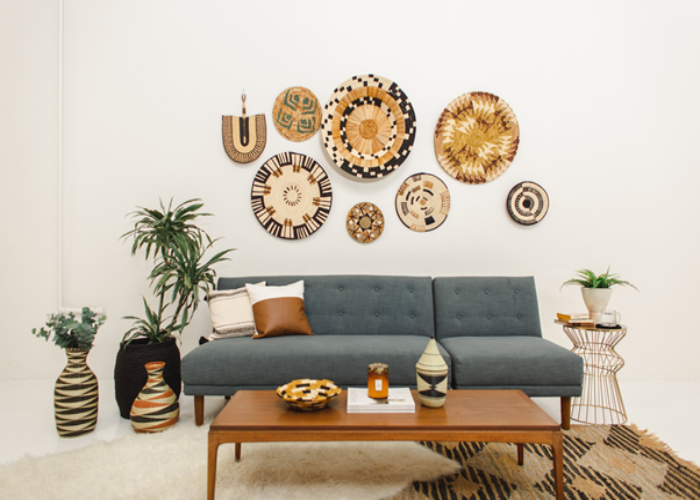 If you are looking for some creative bohemian wall decors to fill up the blank space in your wall, you can add boho wall accents. Boho wall accents have a rustic, earthy vibe and look natural. They can be made of wood, macrame, tassel, wicker, or anything similar that reflects the same vibe. Boho wall accents can help you fill up your blank walls with beautiful rustic wall decor and complement other boho furniture in your room. ALYBSOO's Handmade Boho Wall Accents can go well with any boho aesthetic room decor. They will compliment the setup with a rustic natural vibe and uplift the environment.
14. Add Boho Style Tapestry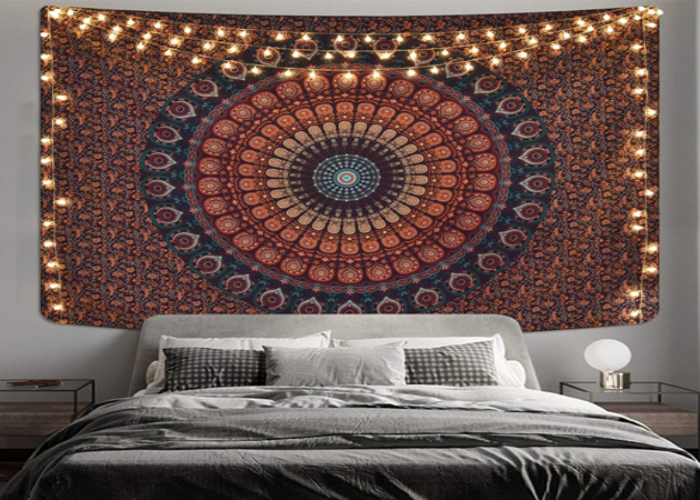 Tapestry is a type of wall art that is very popular in modern room decor. They add a charm to the room that works as a statement or centerpiece of any room. The use of tapestry in bohemian culture is very common. The boho style tapestry has a natural look and features several interesting boho motifs like mandala art, afro-american art, sun, flowers, etc. They help you decorate the wall with beautiful boho-style artwork and complement other room interior decorations. Also, using boho-style tapestry in your room helps you attract more attention to a specific place.
15. Stick to Simple and Minimalist Designs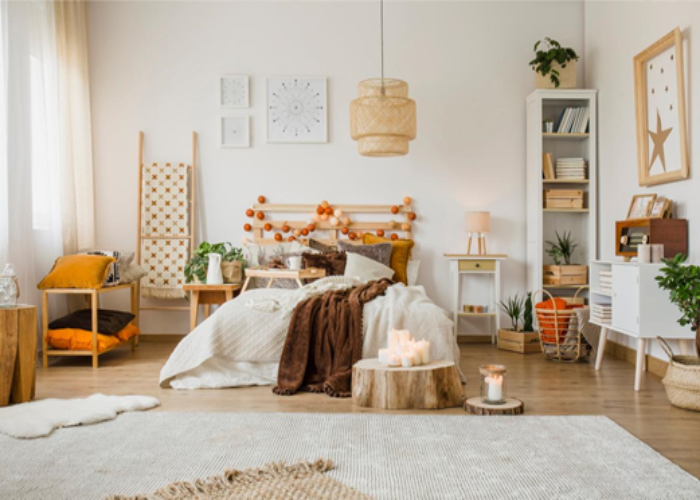 The Boho aesthetic is easy to create, and you can decorate your room in boho style without going overboard. The modern boho room aesthetic emphasizes simplicity and a minimalist approach instead of adding too much stuff in one place. Many tend to install all boho room decor in one place without planning about how they will balance all of them together. But in reality, you can create a beautiful boho room decor with minimal items without compromising on the look. All you need to do is be creative and thoughtful while placing room decor items.
Conclusion
All in all, boho aesthetics and fashion are ruling the world. Many people are upgrading their wardrobes, room decor, and lifestyle according to bohemian culture. Bohemian culture and aesthetics are a beautiful compilation of traditional design and rustic and earthy vibes.
You can incorporate an earthy, natural boho look in your room by using woody and rustic accents, bright colors, patterns, and textures. You can use patterns and textures in blankets, throw cushions, tapestries, and even rugs. So, are you ready to add a boho touch to your room decor?
Try our super easy and affordable boho room decor ideas to style your room interior with a boho vibe.
Frequently Asked Questions
What Colors Are Used in a Boho Room Decor?
The Boho aesthetic is full of life and free-spiritedness, and the colors also resemble the same earthy natural tone. The primary colors of boho room decor include whites, sunny yellow, wood brown, and tan shades. They also use green, blue, purple, red, and pink shades to create a rustic, bohemian vibe. Besides these, it can also include black, gold, and silver hues to create various boho art pieces.
What is Boho Decor or Room Style?
Boho-style room decor uses a bohemian aesthetic and reflects bohemian culture. Boho room decors are free-spirited, rustic, and natural. They often use wood and earthy accents and display an unconventional method of interior design. Boho room decor focuses on mixing different patterns and textures to create a beautiful blend of natural tones and a cross-cultural environment. In a bohemian room decoration, you can find various items that speak about different cultures and styles.
What Type of Furniture is Ideal for The Boho Style?
When it comes to selecting furniture for a boho-style room, you must pick woody and rustic accents like wooden or rattan bed frames, chairs, tables, and wall decors with bright, colorful rugs, throw pillows, blankets, and curtains (with texture or pattern). You can also add African wall art, sculpture, tapestry, and plants to finish the look. But remember to keep it simple and natural for a perfect boho vibe.