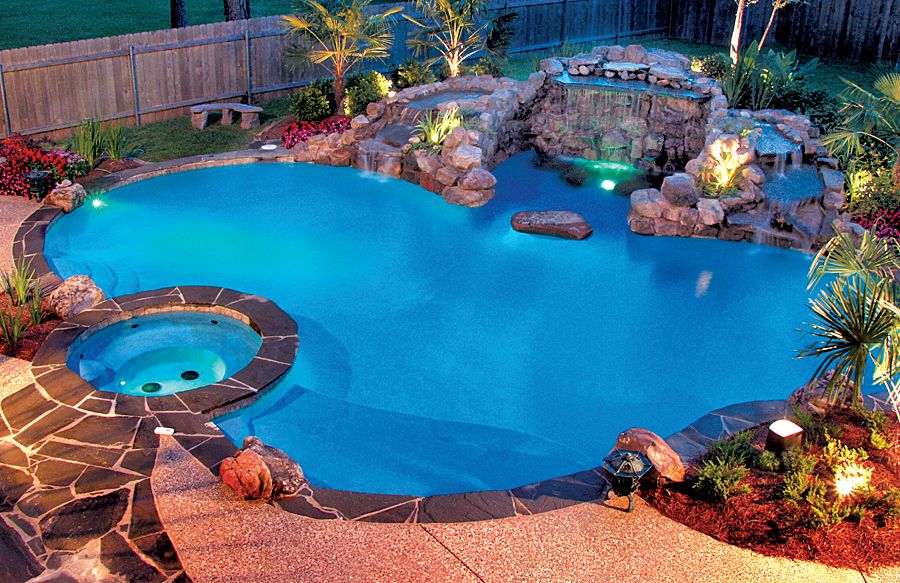 Summertime is at its peak, and we all know how much we love to get playfully drenched in water! The swimming pool has become our second home and the most crowded place too! We all wish to create a private pool area for our homes to enhance the comfort and beauty of our homes, and by the way, who wants to stand in those long queues, waiting for their turn to come, that too just for an hour or so? None of us, right? So why not make your own swimming pool with some cool above-ground pool ideas?
But most of us get stuck on the following things: Which design should I opt for? How is it all done? And where am I going to find the best deals?
Well, in this blog, you will get all of these queries solved with the best possible solutions summed up in the 15 refreshing Above-ground pool ideas!
1. Vibrant Above-Ground Pool Idea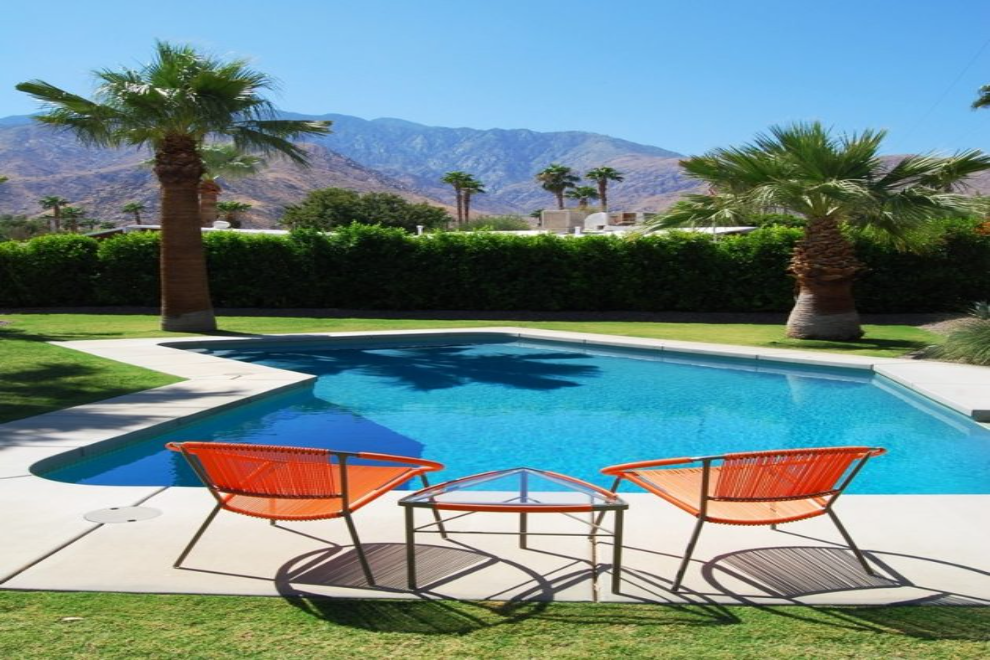 Who doesn't love the freshness of the vibrant colors around them? They are the best ones to cheer up your mood in the summer. If you are also a fan of vibrant, colorful vibes around you, then this above-ground pool idea is a perfect match for you! You can add up a table with the breakfast cutlery and plant some vibrant summer flowers; most important, you can opt for a vibrant-colored pool deck. And you can even paint your pool with some soothing color that is surely going to change the whole mood.
Sloosh Inflatable Lounger Floaties Summer
2. Circular Above-Ground Pool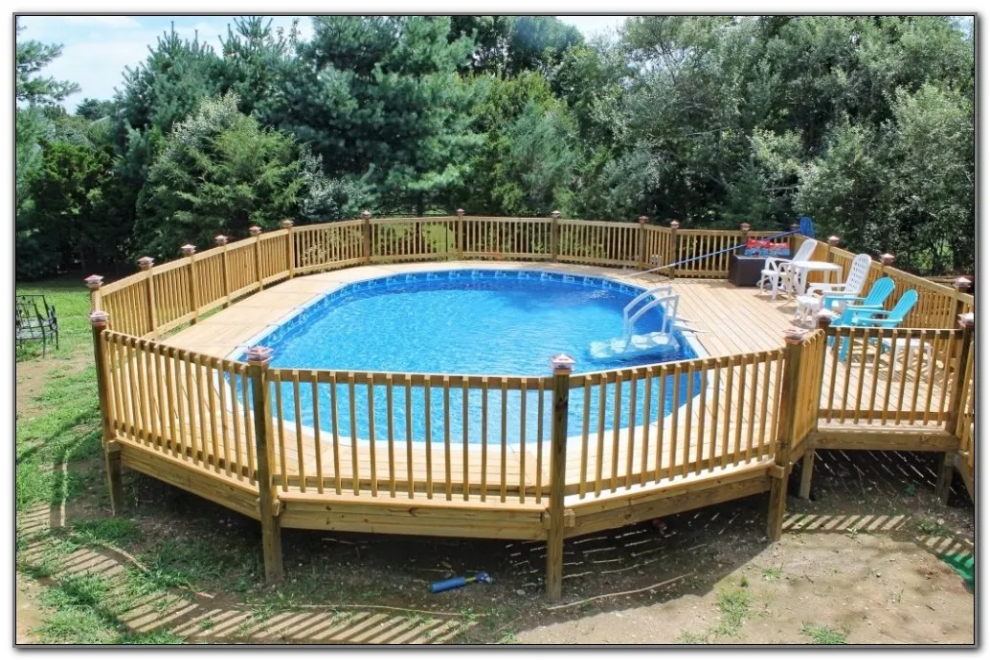 Well, an encircled above-ground pool is all that we need to get that perfection of the modest pool deck setting for your home pool. If you are one of those who like circular-shaped settings, especially when it comes to pools, then this is one of the best Above-Ground Pool Ideas. For this idea, you would need to have plenty of spacing either in the backyard area or in the garden area. You can add beautiful climbers to the railing surrounding this above-ground pool as a beautiful add-on.
3. Opulent Oval Deck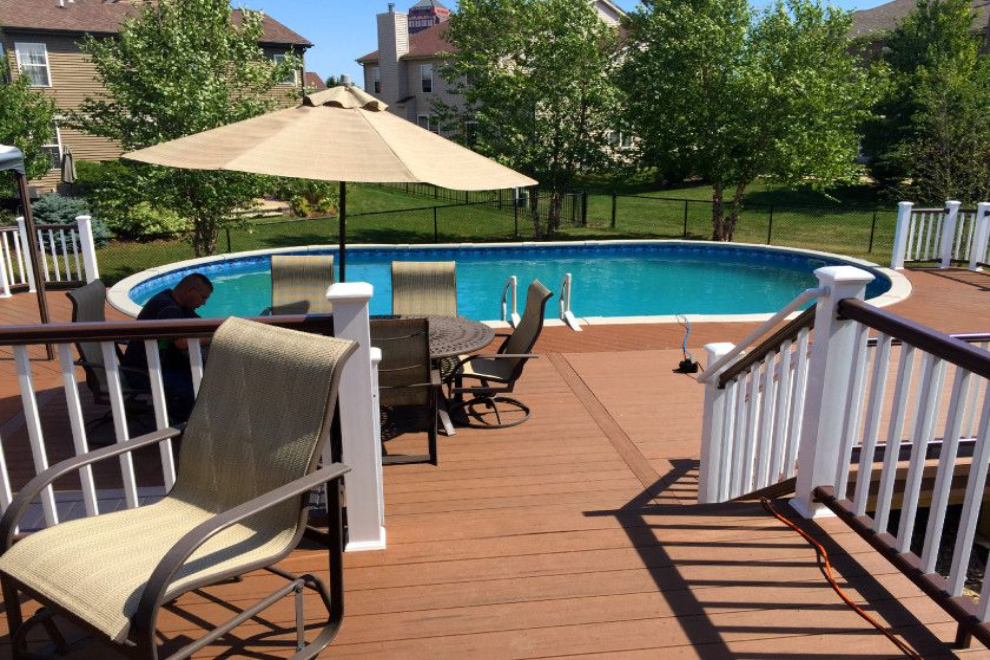 If you are a fan of luxurious, old-money style settings, then this Above-Ground Pool Idea is definitely for you! All you have to do is just get an oval-shaped pool built for your dream setting and then get an exquisite arrangement similar to that shown in the above reference image. You can add some potted plants and can add other rich-looking beautiful plants to add to this luxurious setting! You can even add an umbrella in the dining area so that you can beat the heat in a certain way.
4. Open-Side Landscape Pool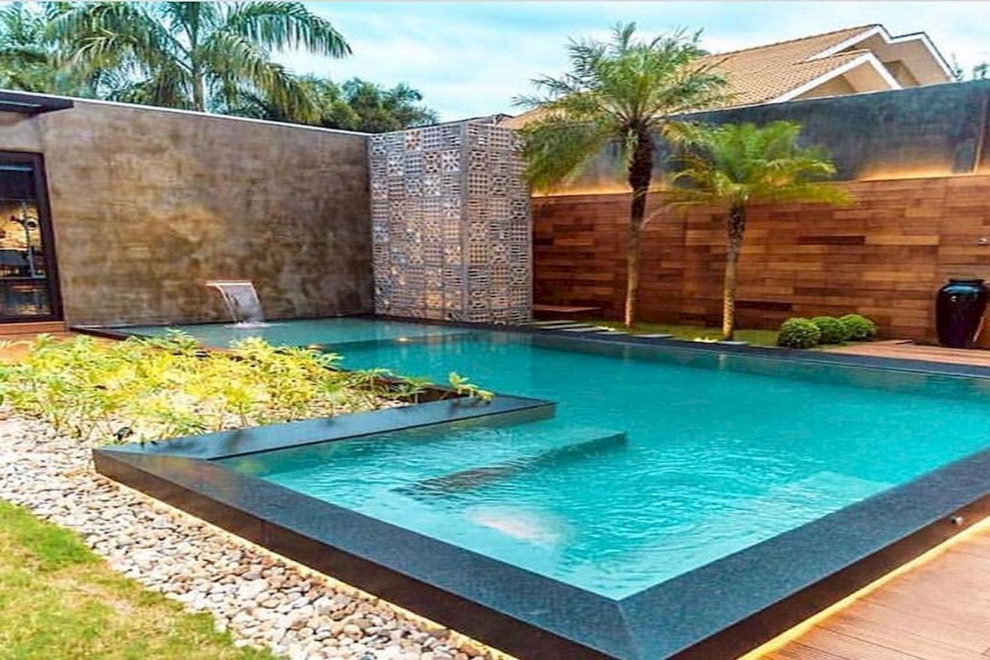 All you need to enjoy is summers with utter freshness with beautiful flowers surrounding the pool area, full of lovely flower smells and beautiful colors to see all around, a large deck, and an amazing outdoor dining setting. You can get this arrangement done for your house as well if you like to spend such cool times with your family and friends. This Above-ground pool idea is surely going to be a hit one for you!
1. Stones and pebbles for decoration
5. Multi-Staired Round Deck Rich Pool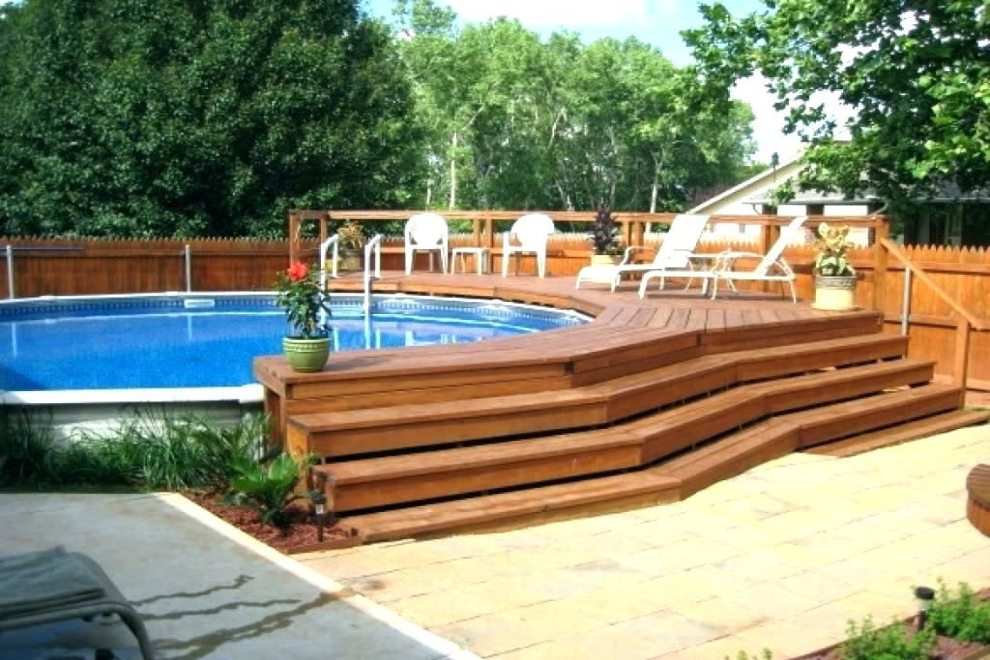 This Multi-Stared Round deck pool is one of the grand-looking Above-ground pool ideas that surely gives that huge summer pool vibe! Days are gone when you used to wait in those long lines to have your summertime pool fun, now that you have your grand pool with an amazing staircase that is surely going to add up a lot to the look of your backyard or garden. To give it a beautiful look, you can even add flower pots on the stairs that coordinate with each other.
6. The Spacious, the Sumptuous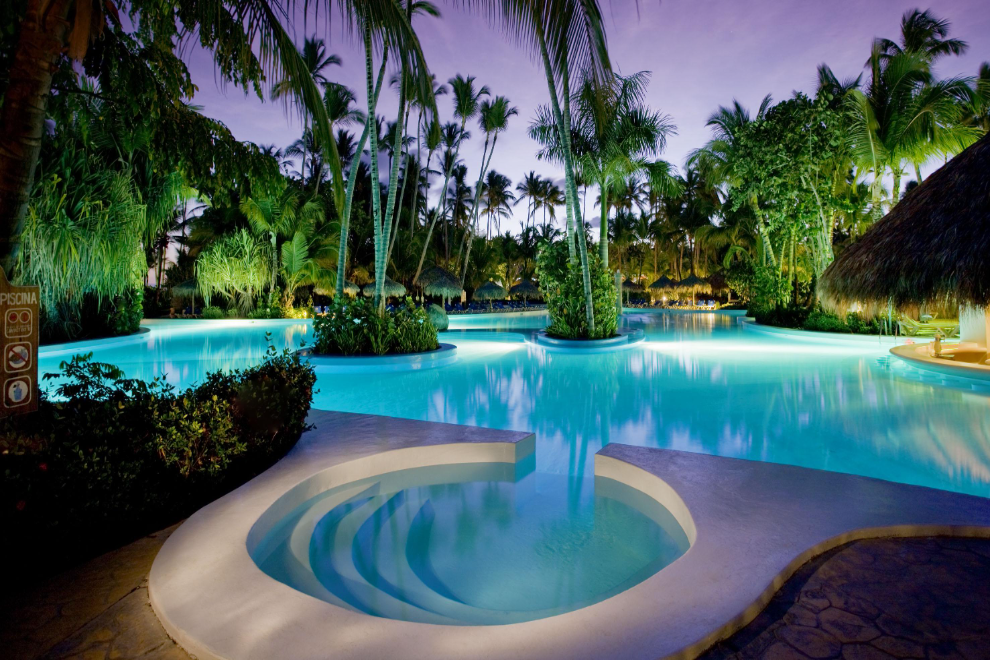 Are you a fan of big pools that can have your whole family at once to have fun together? If your answer is yes, then this Above-Ground Pool idea is going to be loved by you! The real luxury is when you can get what you want and how you picture it. The pools that we often dream of are those giant pools in which we can have unlimited fun and not just alone but with a bunch of our homies and friends. The Above-Ground pool idea shown in the above image is surely going to make you fall in love with it.
7. Cute Seating Setting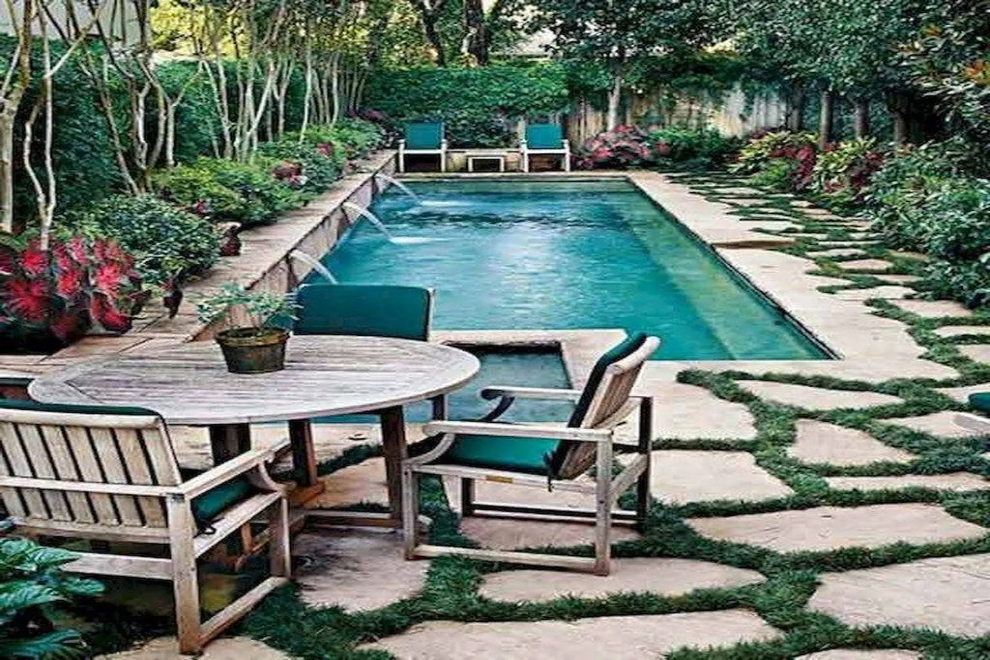 The cute seating arrangement can surely change the whole mood of your swimming pool area. You can add cute plants near the seats in the swimming pool area. If you wish, then you can even add the lights near the seating area of your swimming pool. The magic of the effect of the seating plan will surprise you, how the slight change in your seating arrangement can make your Above-ground pool much better and more peaceful than before.
8. The DIY Deck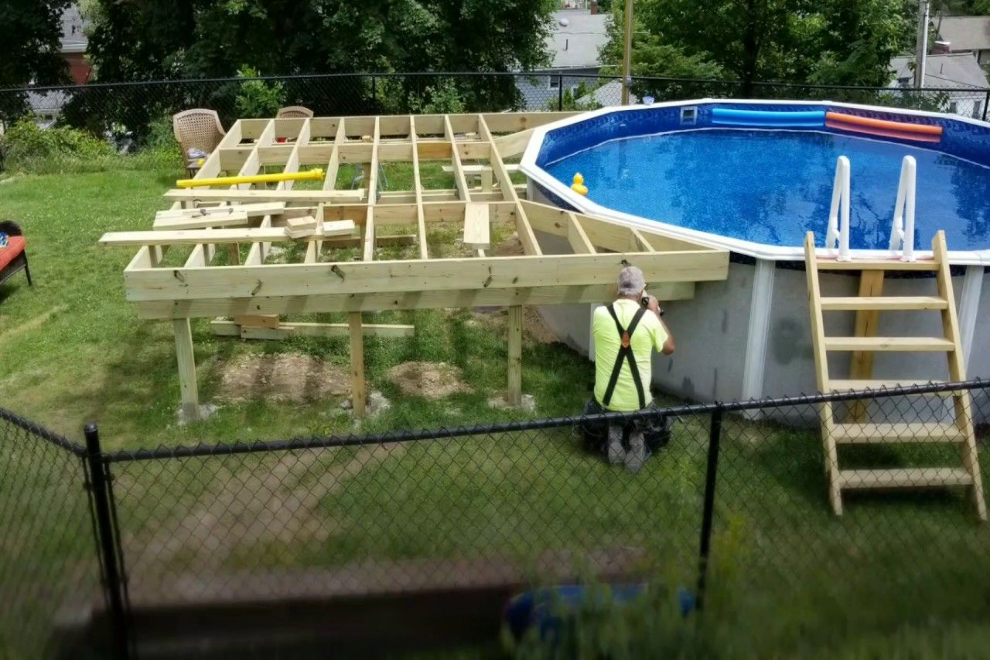 You can make a deck for your swimming pool by yourself in not less than a week. This creative Above-Ground Pool Idea is a super fun one for not just you. But for your family members as well since you all can indulge in this Deck-making fun activity and can create an amazing piece for your home decor together. All it is going to need is wood pieces based on your choice and availability. With that, you will need some construction essentials, and there you go!
9. Gated Pool Deck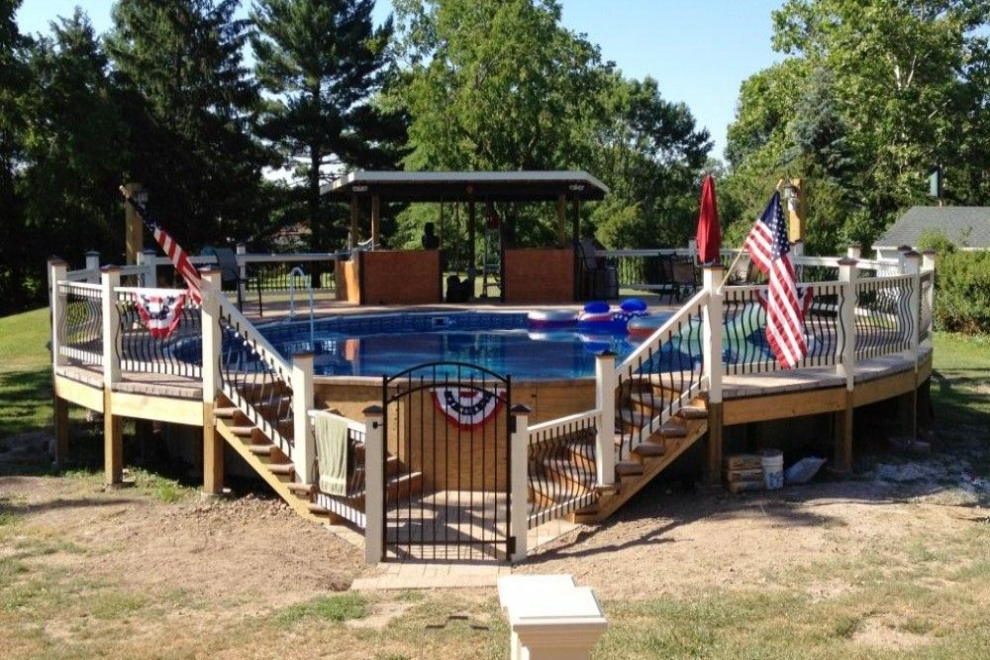 A gated pool deck is surely going to be the one that is completely secure and most beautiful. Have a look at the idea of this Above-Ground pool idea through the picture. Isn't it beautiful? You can also have the gated pool deck for your swimming pool area; you can decorate the entrance with beautiful hanging climbers or with some beautiful flower pots. And adding other specifications like the country flag or the other flags with different colors to make it look even better is always the right decision.
10. Plant Encircled Deck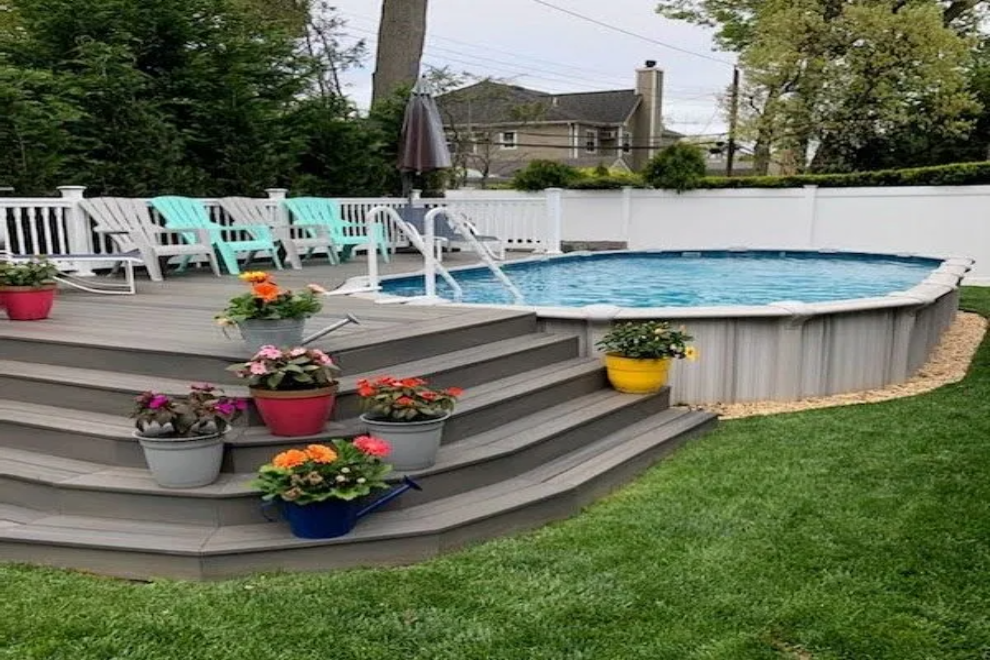 Well, the ethereal beauty of nature is no doubt an irreplaceable one! The smell of fresh flowers, those green leaves, and the watery mud heal the soul in a magical way. Some of us have some different connectivity with nature, and so we wish to have the beauty of nature around us. Well, what is more, better than having such green beauty surrounding your Above-Ground pool area? This Above-Ground pool idea is especially for those who really love this type of setting because being in the pool with the refreshing beauty of nature is a heavenly feeling.
11. The Terrace Paradise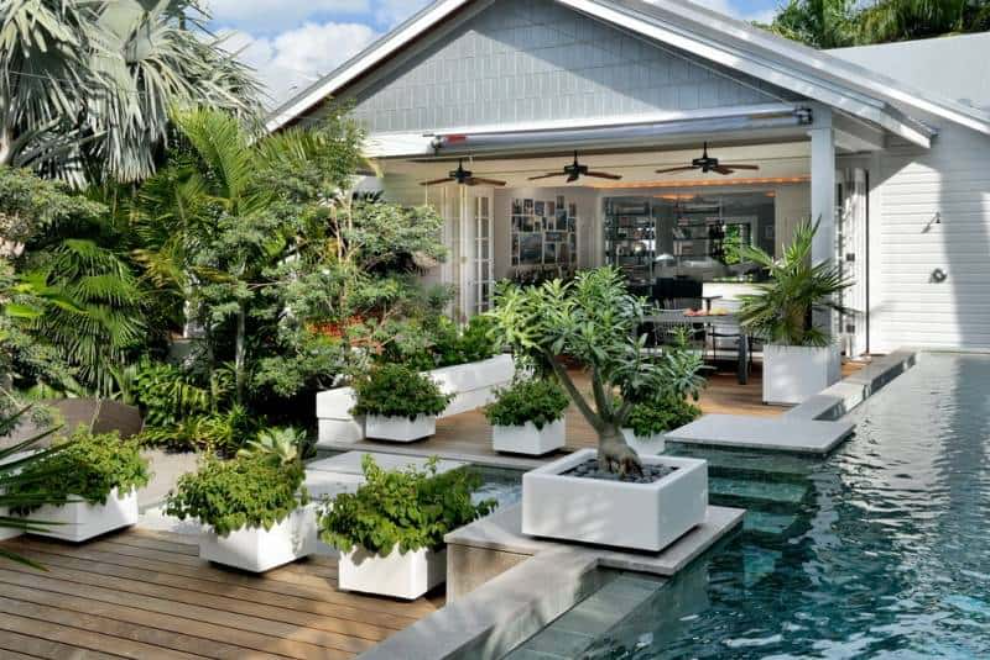 This is one more idea where you can stay connected to the immense beauty of nature. You can get the setting of your above-ground pool done either in the garden area on in your backyard. And that's the easiest way to have an environment echoing the swimming pool and deck setting. But what if you have or are planning to use your swimming pool on the terrace? Then how can you have the echo of the environment near your pool and deck setting? Well, we got you sorted! You can build a cute and soulful terrace garden with the proper directions of your gardener and can build your echo of the environment even on the terrace.
12. Fairytale Backyard Pool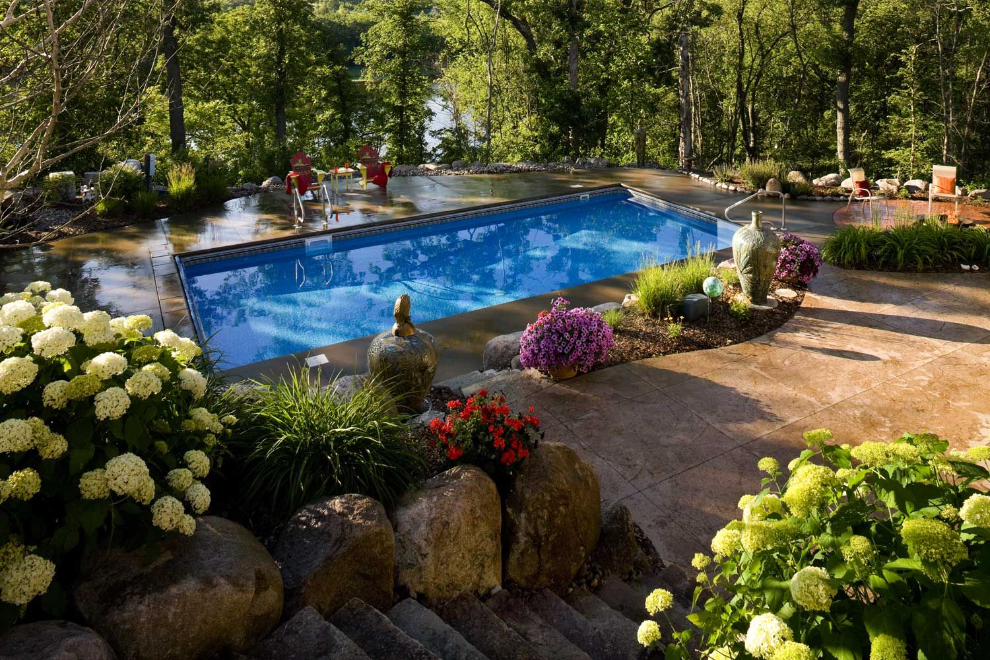 Are you a fairytale fan? Have you always dreamt of a fairytale, Above-ground pool ideas to recreate? If yes, then this look and idea for your swimming pool dream are surely going to make you feel like you are living your own fairytale for real! Those amazing stone setting in the pool and on the deck area with those dreamy flowers and miniatures is surely going to make you feel like being a mermaid in a Disney princess fairytale. The big white flowers, the hit of some purple flowers, the gorgeous red flowers, and the floor covered with mosses can really change the whole environment from normal to dreamy.
13. Escape from The Land Through Landscape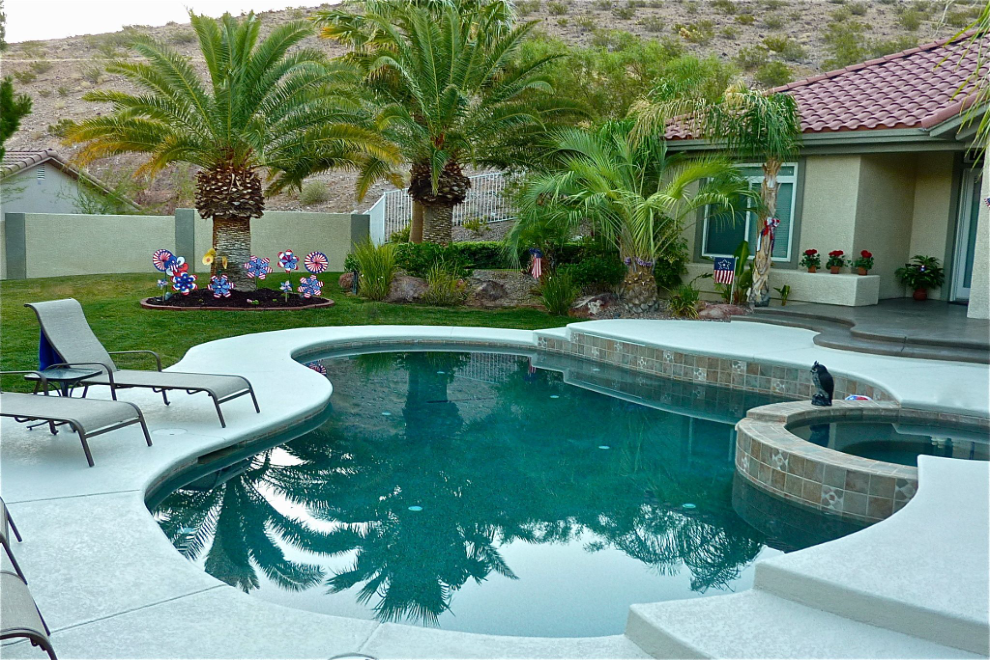 This Above-ground pool idea is based on how you can really escape from all the mess and day-to-day hectic life routine and can let it go all off with the flow of water. This beautiful landscape pool can be built in a way to be beneath the cool shadow of the beautiful, old, and tall plants that are surely going to make you feel like you are in heaven! This pool, if set up in the middle gallery of your house then, can look really rich and well-suited. But even if you set it in the backyard, garden, or terrace, it is completely your choice.
14. The Tropical Pool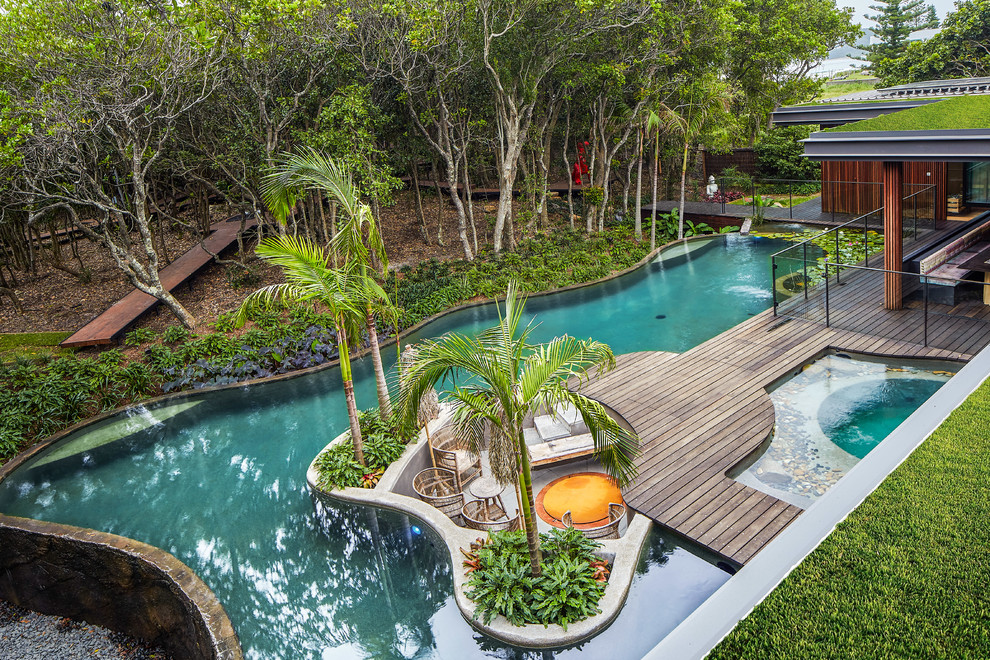 The tropical pool is an amazing idea for those who are a fan of those climbers and creepers that lie there in the garden to enhance its beauty. This Above-Ground Pool idea is surely going to take you on the refreshing ride of one of the most beautiful tropical forests in the world. You can get this pool for yourself either in your backyard or in your garden with the amazing love of nature by your side while you enjoy and relax in the swimming pool. After all, all we want is peace and calmness after long, hectic days, and we seek vacations to the remotest areas so as to get that hassle-free environment. So why not get it at your home?
15. The Splash of Freshness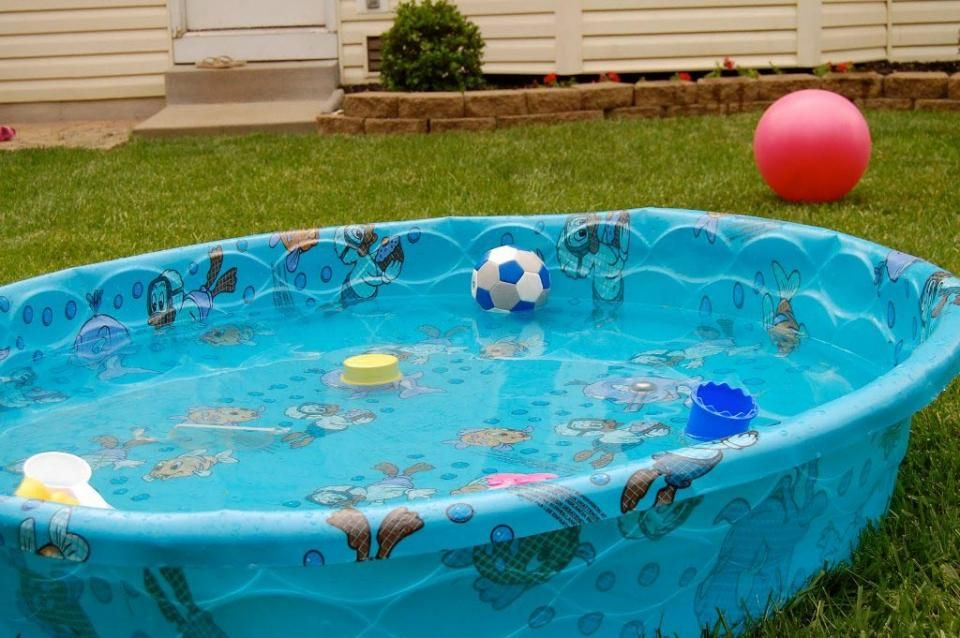 Well, this Above-ground pool idea is purely for the fun-loving party of your house that is sure your kids or maybe you yourself! If you also like those cold splashes of water on hot sunny days, then just go for it! It is going to be one of the most beautiful Above-ground pool ideas, especially for those who are looking for temporary swimming pool setting ideas for their home. All you have to do is buy a pool tub and a stand for it and arrange it in your garden or backyard. And this setting is surely going to keep your kids and plants super happy since your plants and saplings also madly love cold splashes of water, the same as you do!
Summing It Up
All in all, swimming pools are total fun, but only when they are properly set and arranged with essentials with beauty! Summers spent in the long line to have the fun of an hour in the swimming pools aren't justified at all. You can get your own above-ground pool in your house with just the proper setting, and there you go towards enjoying the rest of your summers with great fun with your family and friends.
To help you have amazing yet versatile ideas for your summer swimming pools, we have listed the top 15 above-ground pool ideas that are surely going to enhance the look of your summer swimming pools.
So, get ready to have your summers super-refreshing without any hassle for getting a swimming pool session because now you can have your swimming pool at your own pace. These unique and beautiful above-ground pool ideas are not just going to be convenient for you but also extremely sumptuous.