While designing a home, the options are limitless. But do you like to keep things simple and original? Or wants to keep the vibe of your house natural and grounded? In that case, you might find it hard to connect to a modern decor style as it might look artificial. Now, imagine stepping through a vintage aesthetic entrance of a room decorated with lace curtains.
The curtains are softly flowing in the gentle breeze that enters through the slightly cracked window. As the sunlight hits the weathered wooden floor, it lightens up the space. In such scenarios, the vintage aesthetics can be seen at its best. Even though vintage aesthetics is all about celebrating the past, it will never go out of style, even in the future. The old classic elements used in this style can be twisted to make them fit even a modern household.
With vintage aesthetics, you can step into a world where time stands still. Through this article, we have curated 15 vintage aesthetic room decor ideas through which you can fuse this old-fashioned charm with contemporary style.
Vintage Aesthetic Room Decor Ideas
1. Know the Vintage Color Palette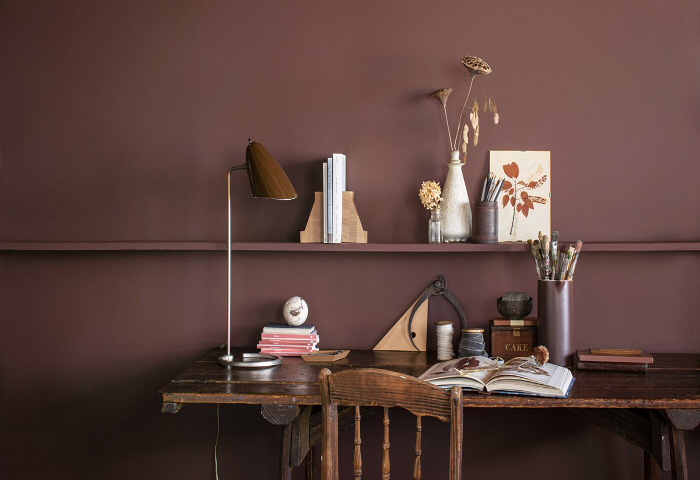 Colors like orange, blue, teal, and yellow are typically used in modern vintage aesthetic looks. You can categorize them as playful and young. These colors can be derived from album covers and other works of art. They are the best to achieve the groovy retro feel of the 1970s.
However, antique colors may be more muted as a result of how original colors gradually fade with time. Colors like cream, beige, and black are frequently associated with the old style. These neutral shades give more room to experiment. You can add darker shades like brown through wooden furniture like dressers, vanities, and frames. You can also add green hues from the charming indoor plants.
2. Identify the Textures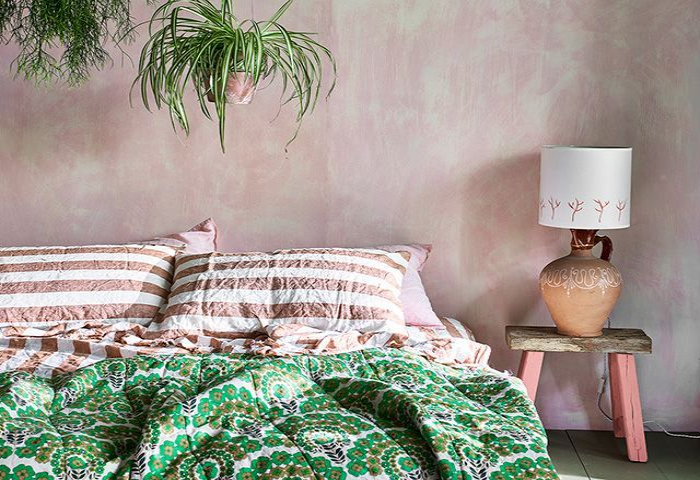 Texture refers to how something feels. Our brains can distinguish texture from touch and sight. But we can also recognize it through visual clues. We have noticed faded textures being misused/overused while achieving antique aesthetics. DIYers repair thrifted furniture using chalk paint and methods intended to make painted objects look worn and used. We would suggest you include these textures in a limit. It doesn't feel like a comfortable environment when every piece of furniture in the same room has the same texture. Using texture only to the right amount will create a perfect classic farmhouse vintage aesthetic.
3. Use Lighting's Aesthetic Role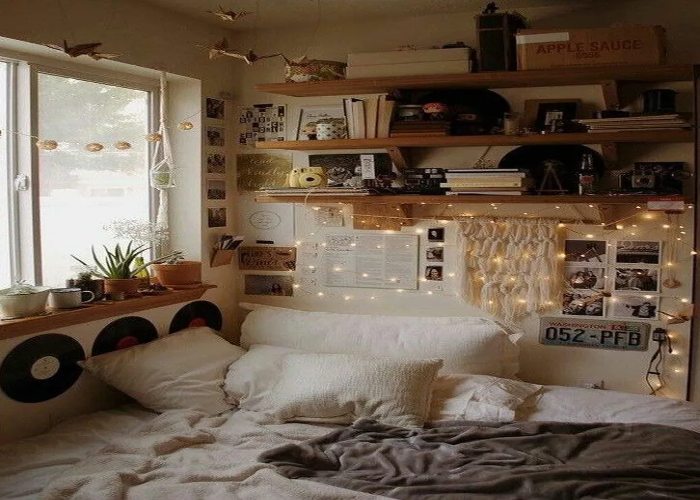 The finest lighting for a vintage space is natural light. Always try to keep your windows and curtains open during the day so that the sun can warm your modest home. It is recommended to take pictures of your room's antique vibe in the middle of the day when the sunshine isn't as glaring. If you don't get enough sunlight in your home, you can achieve a retro Victorian effect using hanging candles, an antique lamp, or even a tiny chandelier. For vintage aesthetic bedrooms with a more contemporary design theme, fairy lights are a fantastic option. They provide soft illumination without overpowering your historic space.
4. Vintage Positive/Negative Space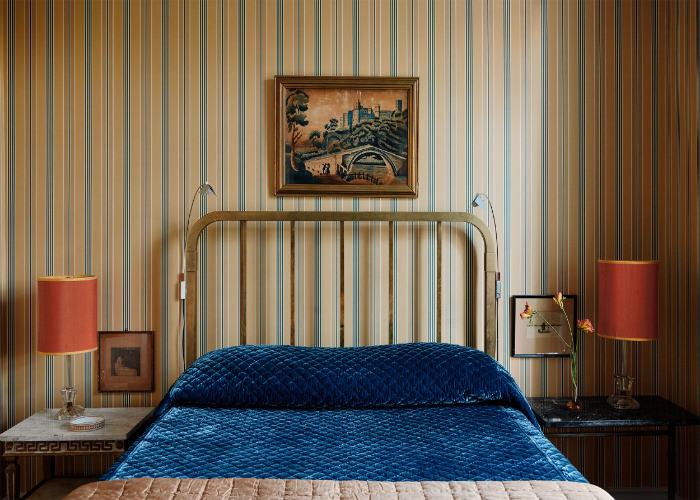 Positive space and negative space are the two notions that create a canvas for designers. Positive space is generally widely understood by the public. It's the space where objects are placed. For instance, the furniture you own, the artwork hanging on the wall, the antiques on the shelf, etc. However, negative spaces are often sadly ignored. It is essential to understand it is as important as the space where you place your furniture.
Like any other design feature, negative space can give the impression of movement, height, width, and length. It also draws the viewer's eye in the direction where the designer intends.
5. Walls of The Vintage Era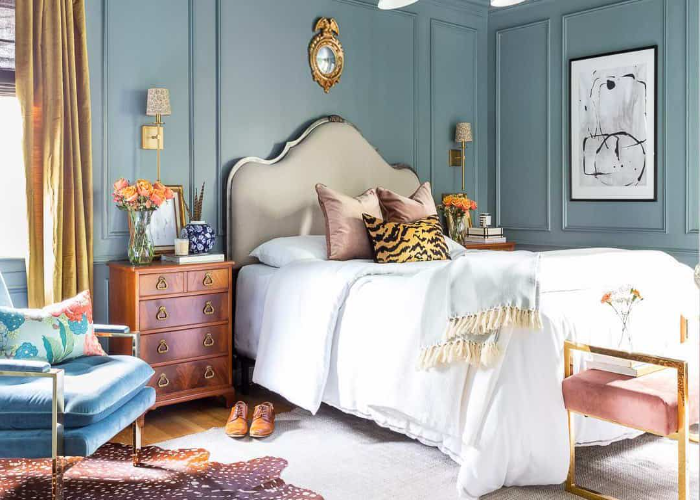 The design of the walls varies depending on the antique theme you choose. The general idea is to use details, patterns, and artwork to express yourself. You can choose a flowery, patterned, or embossed wallpaper for a classical vintage home. It will add an elegant touch to your room. Additionally, hanging elaborately carved wooden or gilded frames will look lovely in your space. Another timeless yet chic design strategy is to use chair rails, picture frame molding, or wainscoting to give a plain wall a dual-tone appearance. You may check out the interiors of English country houses for inspiration.
6. Vintage Suitcase Side Table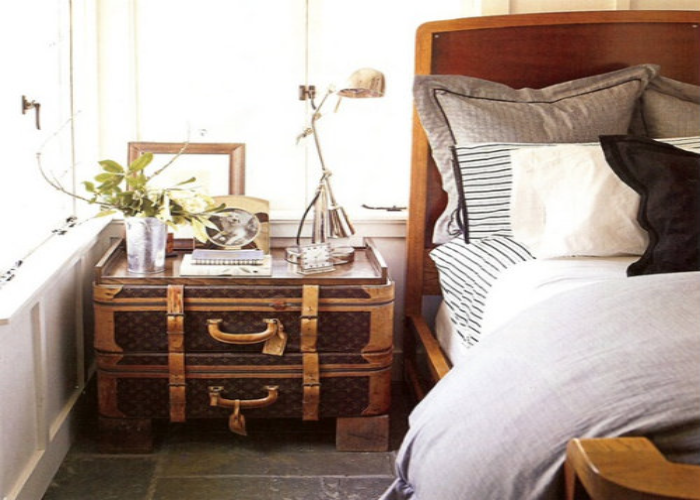 The vintage suitcase side table is a charming fusion of functionality. With its weathered leather exterior, aged brass hardware, and worn edges, it gives a sense of historical adventure. Its original purpose was carrying belongings on long voyages. But now it is repurposed as a stylish and eclectic side table. Its spacious interior offers storage for books, blankets, or other cherished items. On the other hand, its flat surface can be used as a table to keep a lamp or a cup of tea or to display small vintage decor pieces. A vintage suitcase side table not only acts as a centerpiece in a room but also serves as a conversation starter.
7. Decorate with The "Tear-Ups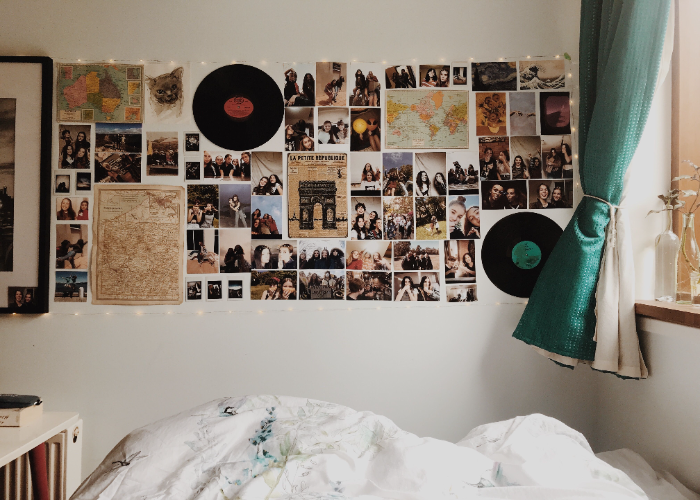 Wall collages are becoming a popular way to decorate a space. It's simple and cost-effective to implement in your own home. Besides, it also gives you an opportunity to make your decor personalized. You can choose each image of the collage based on a life experience or any ideology that you follow, or any places that you consider close to your heart. All you need to do is simply browse through your magazine collection, pull out the pages that inspire you, and hang them up. You can also surf the internet and take printouts of good quality. You should try to maintain a specific color scheme while selecting the pictures.
8. Rustic Mail Sorter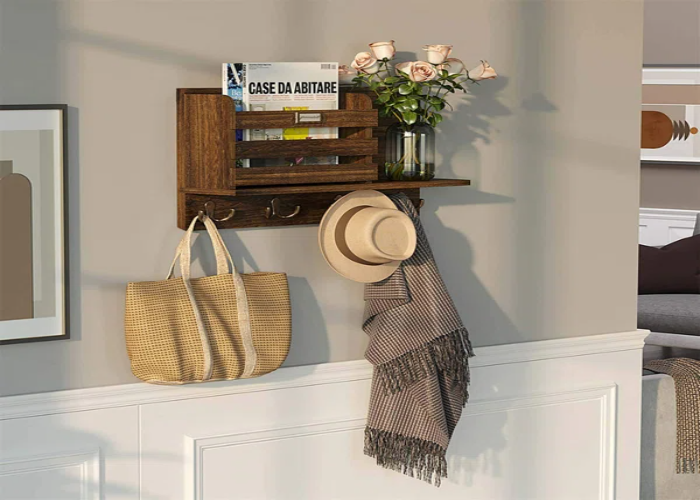 Even if your home is spanking new, you may add some elegant weathered elements to get a vintage feel. You can also DIY fake rustic items. A bruised wooden finished mail sorter can add a vintage look to your living room without any obvious effort. The best part is you can try to make a wooden mail sorter by yourself over the weekend with just some basic tools. It will give a cozy, grounded vibe to an entrance and keep the space tidy.
9. Color-Tinted Glass Bottle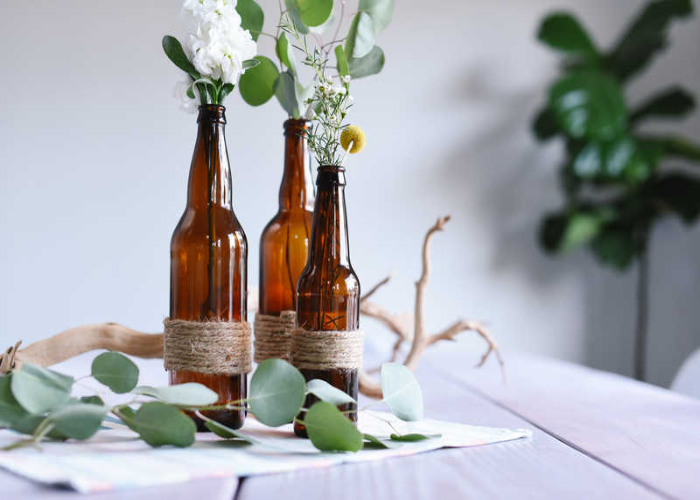 Are you seeking a few straightforward additions to a space with existing vintage furnishings? These easy-to-make vintage-looking bottles are the ideal way to give your sideboard or kitchen a weathered appeal. You can use tints on the fresh glass to resemble vintage glass. You need glass paints and a paint lightening medium to use as paint thinner. Apply the mixture of paints and thinner on the exterior of the glass bottle in long verticle strokes using a brush. Pour some of the mixtures inside the bottle to color the interior. In a few easy steps, you will have the perfect vintage-looking glass bottle in the color of your choice.
10. Corner Wardrobe Made from Distressed Door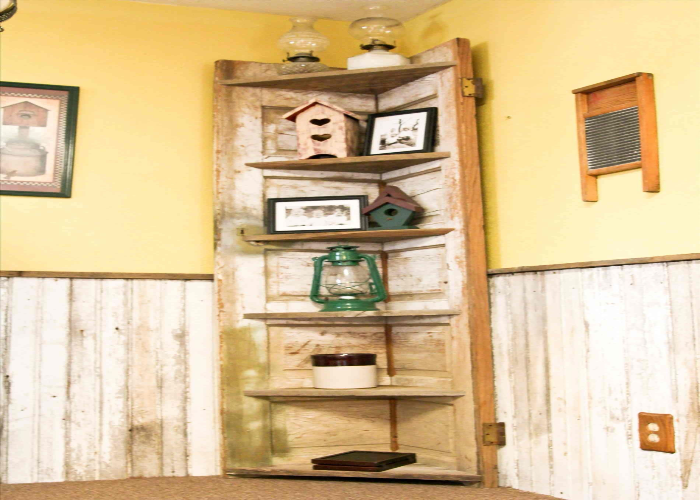 Building this corner cabinet with a vintage appearance can also provide additional storage space in your bedroom. Build a frame with doorframe molding using a pair of aged doors. On the molding frame, apply milk paint or whitewash. Attach the molding frame to the walls. Cut triangular pieces of wood for the top, bottom, and shelves. Fasten them to the moldings and the walls. You now have a new corner cupboard after hanging the doors' cutouts.
11. Ornate Picture Frames with Chalk-Paint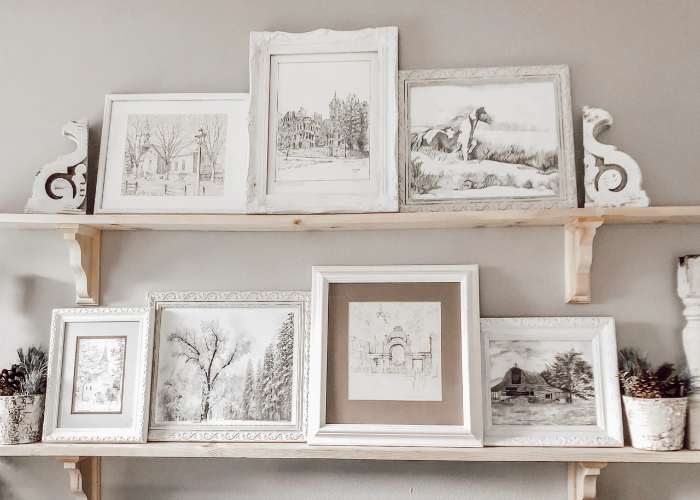 This concept would give the tabletop in your bedroom a lovely antique atmosphere. Purchase a variety of old frames in various sizes and forms. Apply a thick layer of chalk paint on them. Then set them up on a tabletop with their backs to the wall. You may place a few tiny tabletop frames with images inside in front of the display. You can choose to go with the classic golden vintage frame look. You can also experiment with rustic metallic colors to give a funky vintage look.
12. Reclaimed Wooden Headboard with Pretty Lights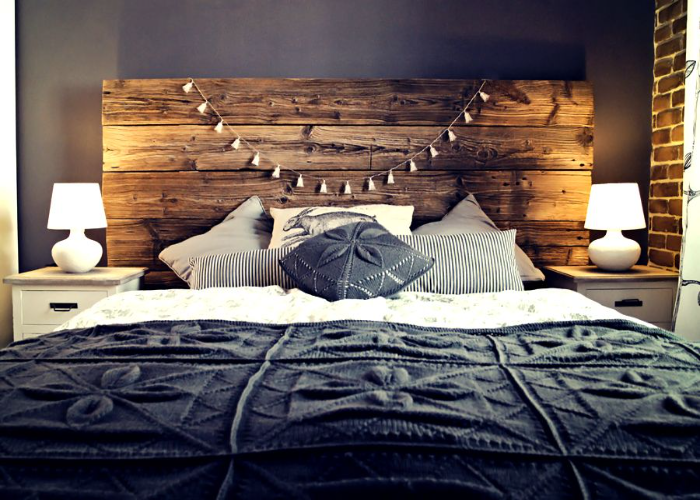 You can quickly create a rustic center point in your bedroom with this weathered wood headboard by simply mounting the planks to the wall. You may also use several accents on it. You can place reading lights on either side of the headboard. You can also decorate it with light string. The center can be decorated with a wreath, a family portrait, a wedding photograph, or initials. You will come up with more ideas as you give it more thought.
13. Utilise Wooden Crates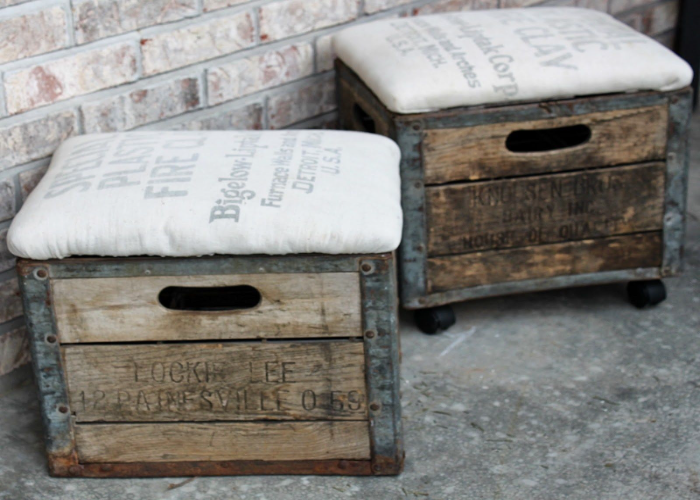 Distressed Wooden crates give a vintage vibe, especially if they have faded printing of a classic brand. These crates can be placed randomly in the empty corners of your room and can be used in multiple ways. Empty crates can provide enough space to store loose items while also adding to the vintage appeal. Besides, you can do a little DIY experiment by fitting a cushion on top of the wooden crate to create an Ottoman stool.
14. the Classic Vintage Chandelier and Wall Art for Living Space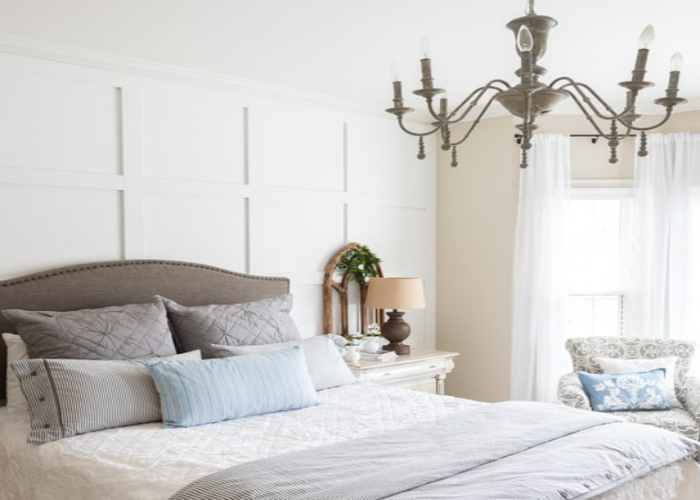 The easiest way to give your bedroom vintage aesthetics is through a chandelier. The ornately curved design of the chandelier balances the pointy legs and edges of the furniture. You can also add other elements like an antic chair, a dresser, and a nightstand. You can use rectangular-shaped wall art collages to enhance the decor further. To neutralize the heavy decor, you should use plain white bedsheets, some simple throw pillows, and a soft rug. This will make the bedroom look simple and chic at the same time.
15. Turn the Ladder Into a Nightstand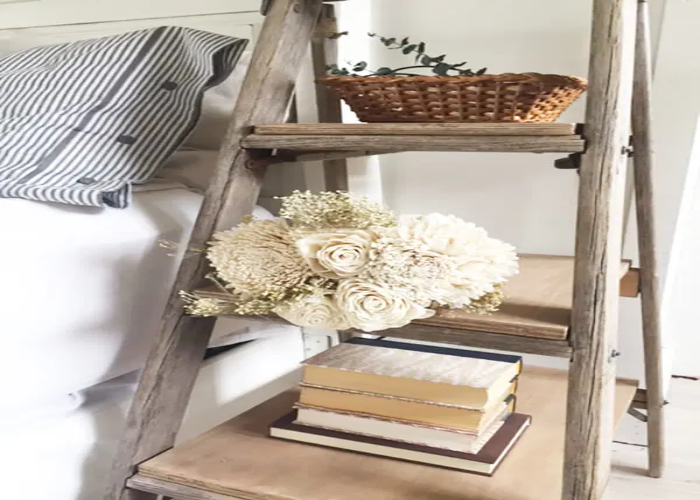 A Ladder can be cleverly repurposed into functional furniture like a nightstand with a little imagination. The best part about a Ladder nightstand is that it provides a much larger space to store things than a normal one. This can be a great DIY idea, especially for small living spaces. You just need to lay wooden boards on each step of the ladder to act as a shelf. Moreover, it also gives a quick vintage appeal to your bedroom while being practical and useful at the same time.
Other Vintage Room Decors You Must Try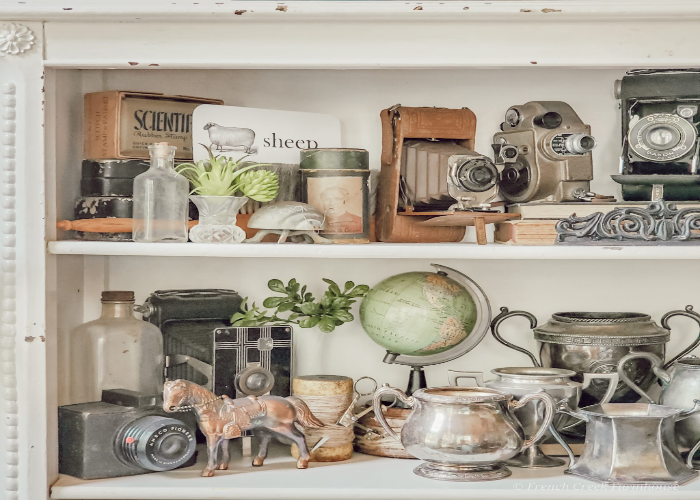 You can display various vintage or antique objects, like limited-edition Polaroid cameras and a working typewriter. Along with that, you can use stacked Leather luggage to fill an empty corner, as it takes up a lot of space. Additionally, you can stock your shelves with vinyl records to go with a classic gramophone which can be placed on a console table. For that vintage atmosphere, you can make use of cassette recordings and an antique telephone.
Hanging embroidery hoops, doilies, and ornate porcelain tea sets would be perfect for a Victorian-style home. It will be perfect for replicating a typical grandmother's house aesthetic.
Why Choose Vintage Aesthetics?
The best part of vintage aesthetics is its versatility. Since it contains everything from the past, you can choose styles from different periods of history and even try to mix them. Be it the ancient aura more than a hundred years ago to the retro vibe from the late 20th century. Vintage aesthetic guarantees to keep the atmosphere warm and welcoming irrespective of whatever time you choose. It gives a timeless elegance to your house effortlessly.
Vintage aesthetics gives you a chance to pour your personality into your house through the selection of such decor pieces. These elements will not only intrigue your guests but also incite conversations about the lost era.
Conclusion
All in all, in the world of vintage aesthetic room decor, we have explored more than 15 enchanting ideas that transport us to a world where time holds no bounds. From lace curtains and sepia walls to antique perfume bottles and ornate mirrors, each element adds a touch of old-fashioned charm and timeless elegance. The vintage aesthetic room can become a sanctuary of nostalgia. It is a decor idea that unites the past with the present.
With these 15 ideas as our guide, you can transform any space into a haven that breathes stories, exudes character, and evokes a sense of wonder!
Let me know in the comments which idea fancied you the most.