From sleeping to working from our bedroom has become our new life norm. So, rather than spending so much of your time in a dull basic room, why not turn it around? Bedrooms are supposed to have calming, cozy vibes with soft mattresses and blankets. So that one can enjoy a good night's sleep or work comfortably all day long in your pajamas.
However, when it comes to giving a fresh look to your living room, where you host parties and entertain people, it requires a whole different outlook as these will help you transform your space in no time and under budget.
So, take a look at these 18 aesthetic room ideas that include eye-catching bed setups to vibrant colored furniture for your rooms.
Eye-Pleasing Room Decor Ideas to Transform Your Place
Before checking out the list of aesthetic room ideas, let's understand what exactly aesthetic means. It basically refers to an attractive room style built according to the trends going on different social media platforms like Instagram or TikTok.
So, let's modify your room into an Instagram-worthy aesthetic.
1. Vibrant Red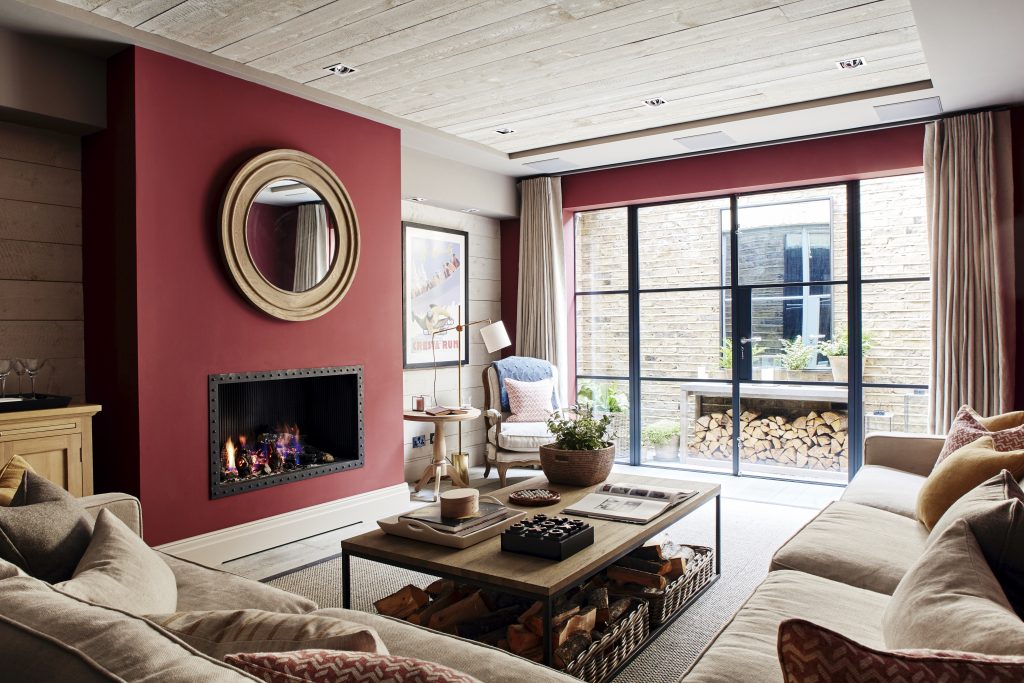 Going for vibrant red might seem like a doubtful idea, but it would look fantastic while transforming your living room's energy. It will give the space a welcoming and intriguing outlook. You can even choose a variety of red colors to paint from, like maroon, burgundy, or crimson red. When it comes to decor, go with vintage styles or a white and black combo, as it would enhance the look even more.
If you want a touch of radiant red in your bedroom, keep the room simple and elegant. And add a red Chesterfield sofa or red-colored blankets to bring a sense of whimsicalness and excitement into the equation.
2. Elegant Black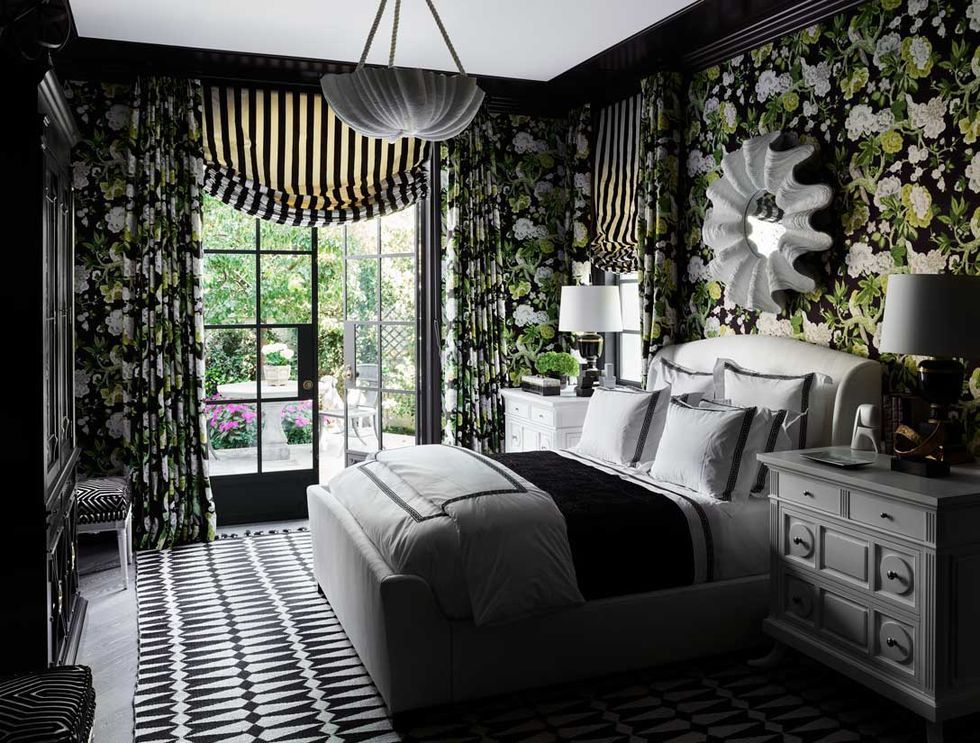 While everyone plays it safe with white or neutral shades, why not risk going for darker colors like black? Black is often considered an ominous color that will make your room look dull, but it is regarded as one of the most aesthetic room ideas. Choose a matte black tint providing an artistic and dramatic finish to the room, or add some white contrast for a modern and minimalist look.
You can opt for full black furnishings to bring out a striking appearance to the place. That way, when the sunlight fills the room with brighter lights, it will create an illusion of a mesmerizing look as it balances out the darker shade.
3. Cozy Bedding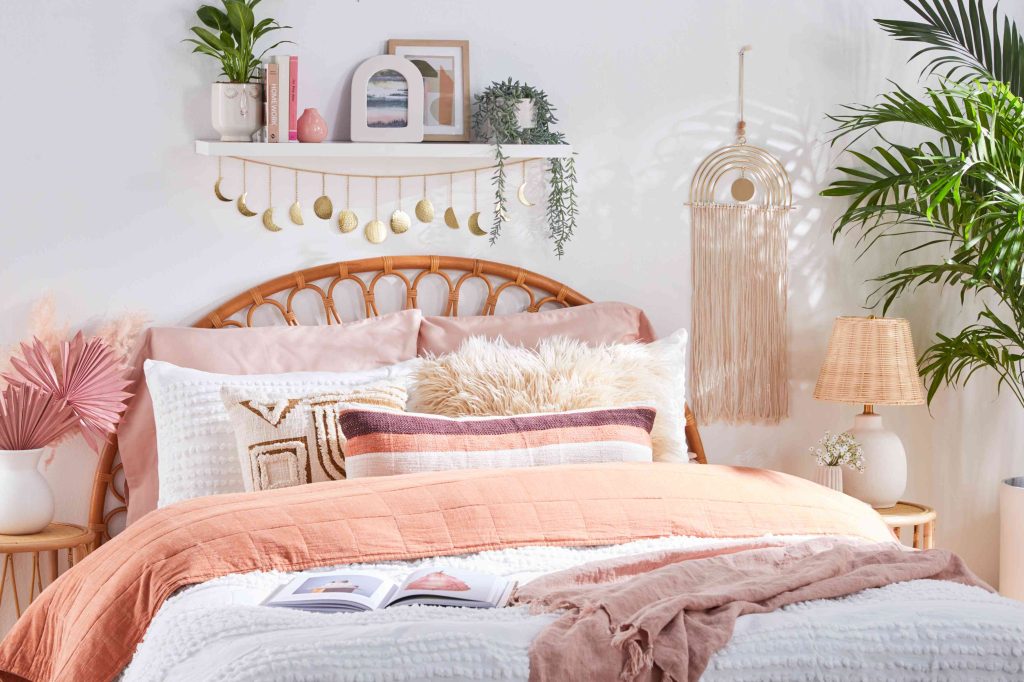 Nothing makes you get by something terrible than having a cozy nap. So, it's time to turn around your bad day by adding warm and comfy bedding to your bedroom. Go on full fuzzy with a traditional quilted bedding set, or you can make a statement with radiant-colored sheets like orange or neon. Having a textured headboard also helps incorporate an amazing aesthetic room vibe.
Adding some fairy lights or faux vines on top will make the space feel more dreamy and snuggly that you won't want to leave. Printed curtains on the side will help create a softer, more relaxing ambiance for sleeping comfortably.
4. Sage Green Aesthetic Room Ideas
Using a rich and elegant emerald green hue to paint the dining room or going for minty green color for your bedroom both seem like excellent choices. However, if you don't want to paint the place all over, simply add fresh and crispy sage green aesthetic decor items to liven up your space. Opt from wall art to wildflower tapestries to incorporate nature's look right into your room.
Apart from these, wooden furnishings with pastel beddings, antique mirrors or clocks, and vintage showpieces can help finish the final look. When you are thinking of turning your room into a neutral gardenish shade, you can't forget to add fresh and beautiful plants to the mix.
5. Golden Touch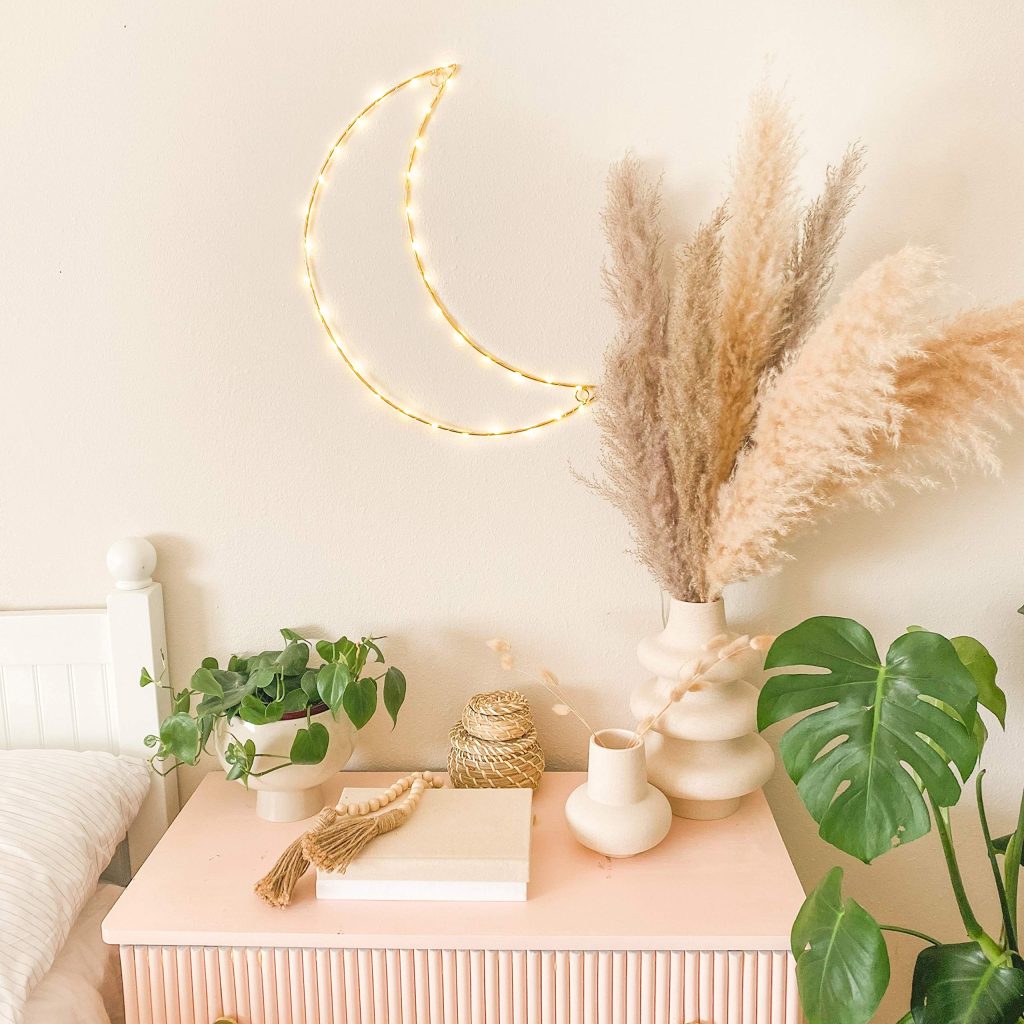 If you want to go overboard and give your room a bit of royal touch, painting the room with golden hues is undoubtedly one of the best aesthetic room ideas. You can mix it with lighter shades like beige or cream or paint the rich, natural tone over your walls for a classic look. Add on some elegant furniture, a chandelier, and crisp-bright curtains, and make your dining space a charming one.
You can keep it simple and elegant as well by going for neutral shades for your room. And you can add stunning gold pieces, like golden-metal wall artworks, astrological golden clocks, or gold-crescent moon hangings.
6. Mix-Match Fabrics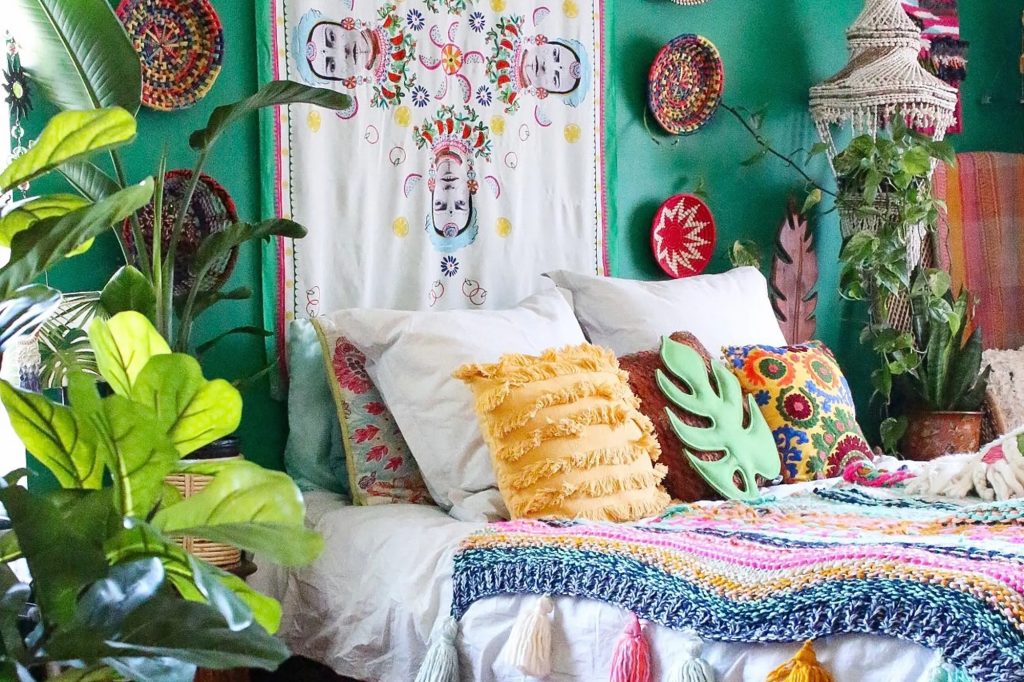 You can play with distinctive fabrics for your furniture, bedding, and ornaments according to your liking. Going for neon chairs, vintage furniture, mint-green curtains, or purple bedding sets can become the highlight of your room. In addition, some colorful throw pillows, quirky lights, and greenery will give the space a cozy vibe.
Soft fabrics can easily amp up your place, be it a dining area or a bedroom. When you mix-match distinctive materials, it can give a serene outlook to your home. So, build yourself a calm and composed room with suitable fabrics.
7. Stripes and Fixtures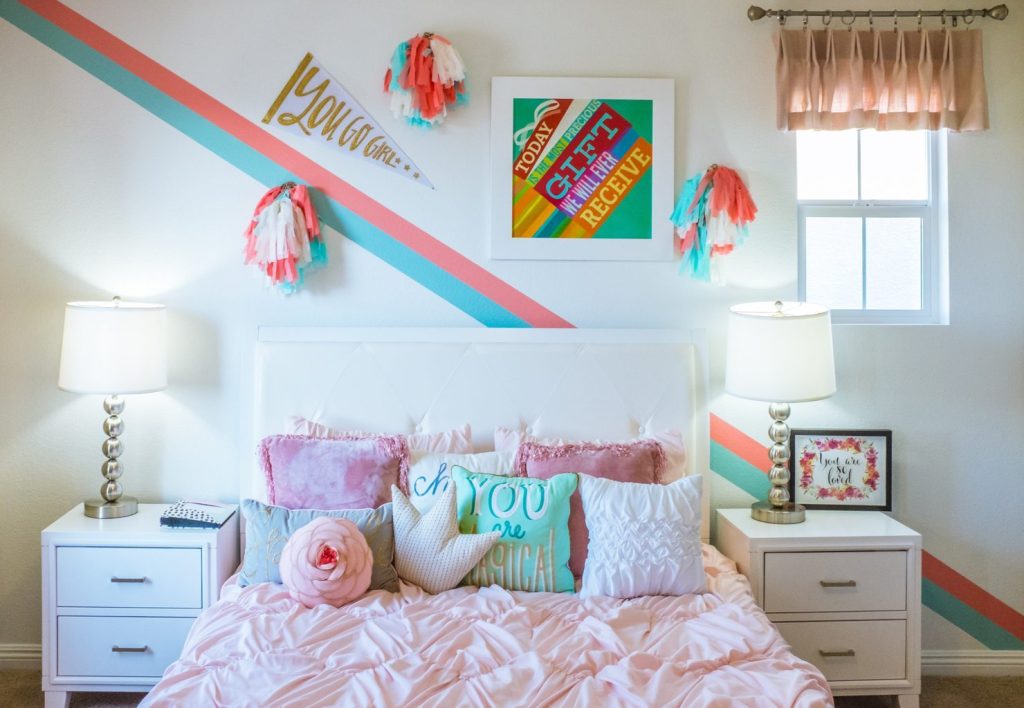 Everyone wants a distinctive yet sophisticated-looking living room that stands out. And trying stripes pattern for your walls is one such aesthetic room idea that can do so. Paint the wall with horizontal or vertical textures according to your liking with neutral shades like cream and blue or pink and gray. Hang some paintings or artsy decor items, and you're done.
Once you are done painting the room, determine which light fixtures you want to add to the wall. These fixtures will enhance the look even more, so opt for bright, stylish lights to finish off your room's transformation.
8. Fairytale-Inspired Aesthetic Room Ideas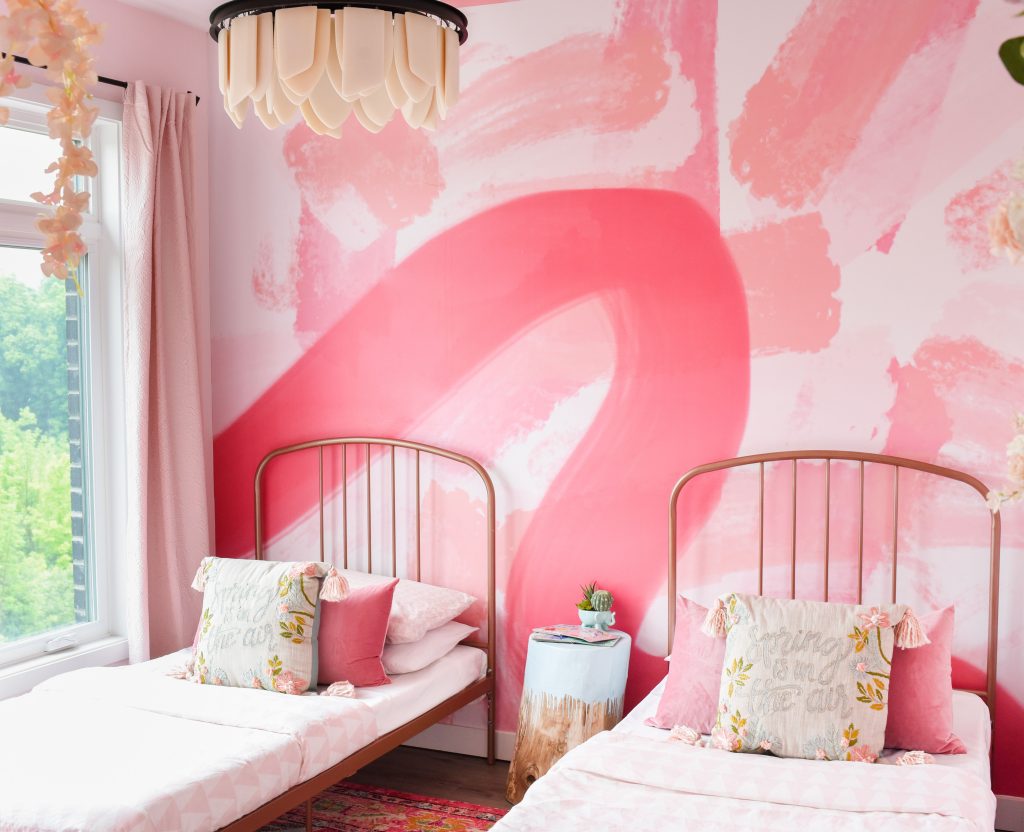 If you want a fairytale setting for your bedroom, painting the room with soft, effervescent shades of pink can help do that. Building this aesthetic room for your girls would be a great idea. Accordingly, you can set up a queen-size bed or twin bed with adorable princess bedding sets. Have cute wardrobes or painted shelves to store their personal things like clothes or books.
Else, you can opt for fairytale-inspired wallpapers or posters to give away a princess vibe. Top the look off with starry lights and adorable accessories like tapestries or dream catchers, and you have yourself a fairy house.
9. Warm Yellow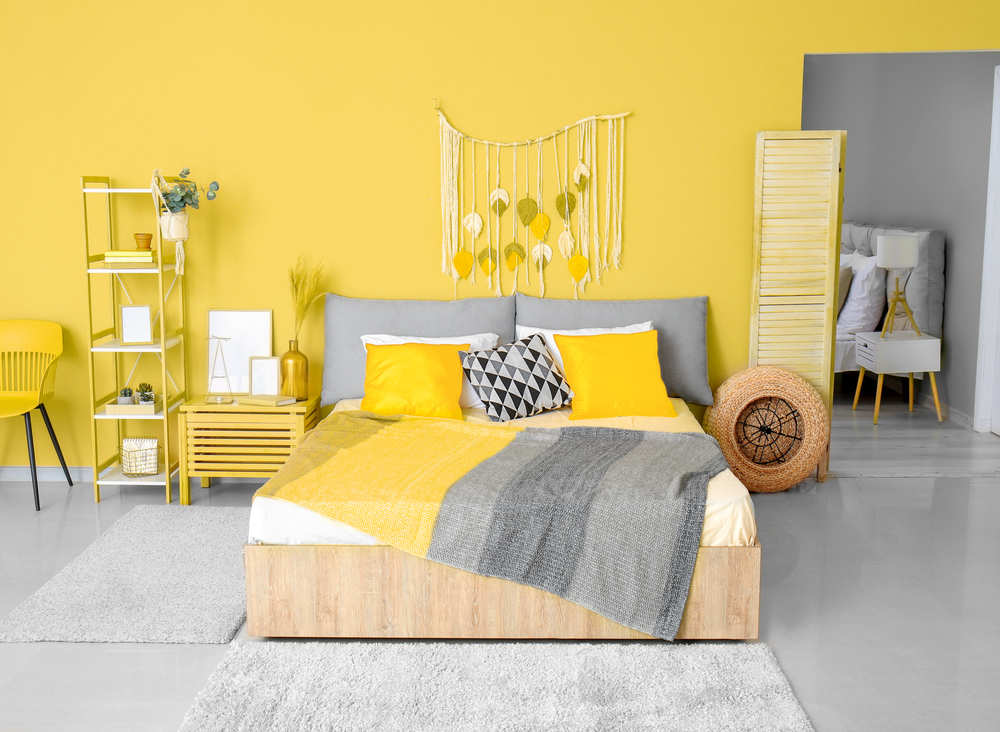 A cheerful yellow can bring amazing energy to your space like never before. However, you should probably give some time and thought when choosing the right shade for your walls so as not to dull the place. You can accentuate the place by mix-matching another hue with yellow, like white or green. And you get a chance to show off your creativity.
Use earthy-colored furnishings like a wooden dining set, several comfy sofas, and a coffee table to brighten the place. Adding light-shaded curtains, fresh plants, fluffy cushions, and throw pillows will help finish the overall look.
10. Go Minimalistic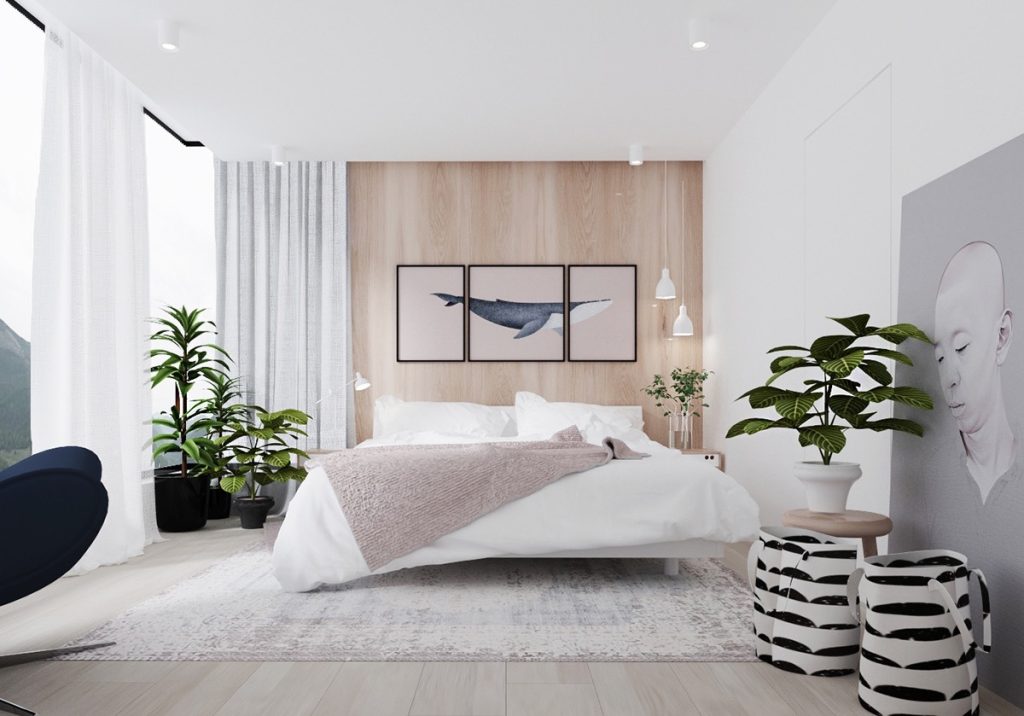 Being minimalist is trending nowadays, and building a simple and elegant space is clearly one of the best aesthetic room ideas. Instead of adding many items to your space, keep it minimal to give an illusion of space and modernization. Choose pastel colors like light blue, grey, or pink to paint the walls and classic furniture and artwork to decorate the room.
Sometimes the best design is the easiest and most effortless one. If you have a smaller space and a low budget, choosing this concept will help you build a clean, airy space for less money.
11. Classic Black and White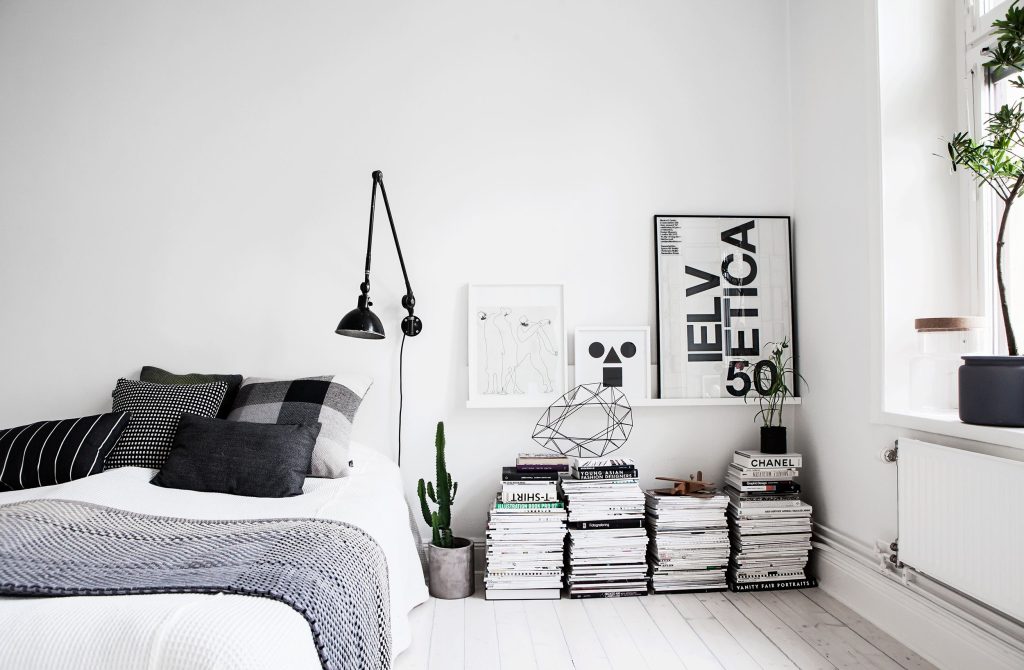 This traditional black-and-white combo is obviously the safest and most elegant aesthetic room idea out of all. There's something about an off-white background with black furnishings that feels lavish. You can play with tan and dark sofas in a bright white room filled with nature's light and greenery. Adding soft rugs with a low coffee table makes the place warm and inviting.
You can make up for a beautiful bedroom with a white bed with black bedding sheets on top, giving an elegant outlook. Add some healthy, beneficial plants like spiders or money plants to enlighten the room. Tag along with a few decor items like a round mirror, side tables, and light lamps to make the space more personalized.
12. Modern Aesthetic Room Ideas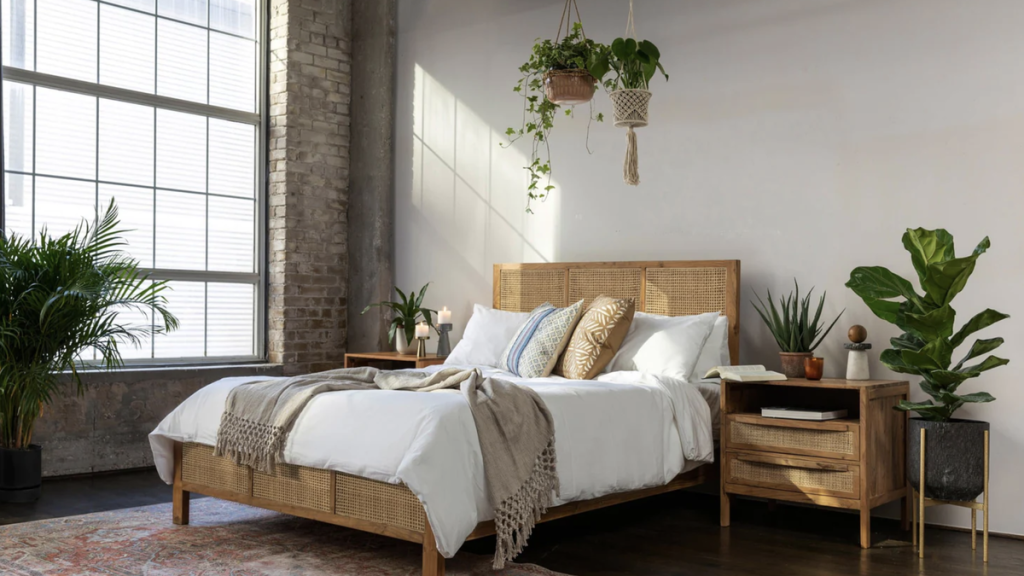 Bringing out a modern-day elegance with bright moldings, dark walls, and tasteful flooring is what you need for your house. Find a stylish dining table or pleasant sofa with a coffee table to match the modernized vibe of the space. If you have ample space, you can fit built-in shelves or cupboards to place books or showpieces collection for an added effect.
Give your place a great mixture of rustic and modern vibes with a wooden-metal headboard bed. It will take you back to a soothing, calming place every time you come back from a busy, hectic day. Throw in some snuggly sheets, hang art pieces and plants around, and your room is all set for a good night's sleep.
13. Quirky Colors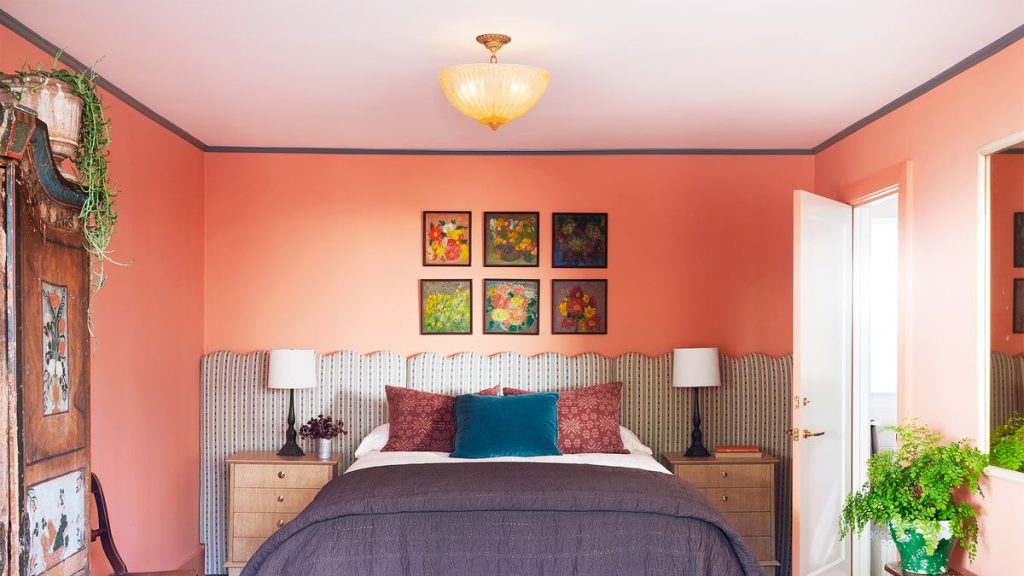 Building a playful, quirky environment in your house makes for great aesthetic room ideas. This design works best with an open space, as you can fill it with brighter, shinier things that feel welcoming. Pick out muted tones for painting the walls, or go big with wallpapers for your dining area. The more cuddlier the sofas, the more you can build up a soft, relaxing vibe for your space.
Hang out stylish lights from the walls or a traditional wooden chandelier and pot several plants for a natural glow. If you feel like something is lacking, go for shiny decorative items like gold showpieces or crystal vases to amplify the appearance even more.
14. Keep It Natural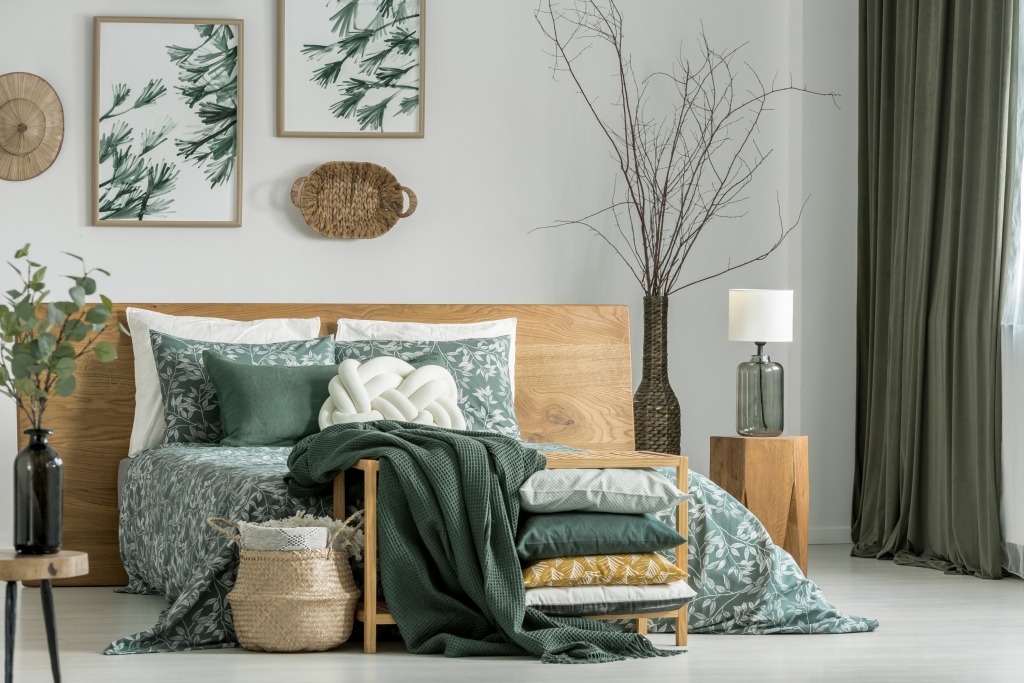 If you want everything in your bedroom to ooze comfort, selecting the correct color palette is very important. The Earthy or neutral shades like blues, browns, and greens offer a unique sense of calmness to your house. You can create a statement wall, too, if you'd like, by painting it ocean blue or deep brown hues. Else, you can go for lavish wallpaper to make the wall stand out in the room.
Your natural appearance will not be completed until you add some greenery to it. So, opt for different beautiful plants for a lush atmosphere. Add twinkly lights and pair them with nature-inspired candles or oil diffusers to fill the room with aromatic fragrances.
15. Dreamy Wallpapers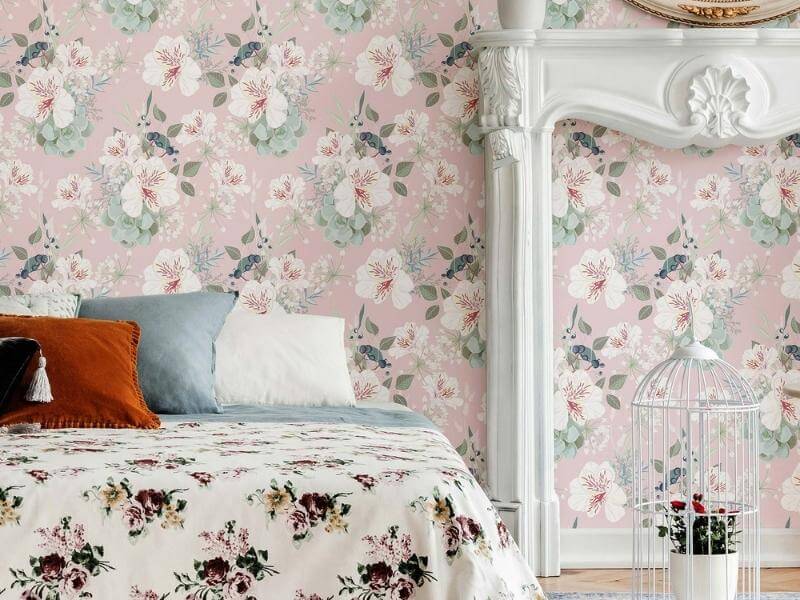 If you don't want to go through the long, hectic process of painting your house, selecting peel-and-stick wallpapers is a pretty good option. It doesn't matter whether you live in a small or bigger space; wallpapers can lift off your place very smoothly. You can even choose from many floral, vintage, bohemian, and patterned wallpaper themes, according to your preference.
Also, there are removal wallpapers too that one can quickly paste and remove without leaving any stains on the wall. So, shop online or visit a store, pick out a design, and voila, you have a charming room waiting just for you.
16. Bright Lights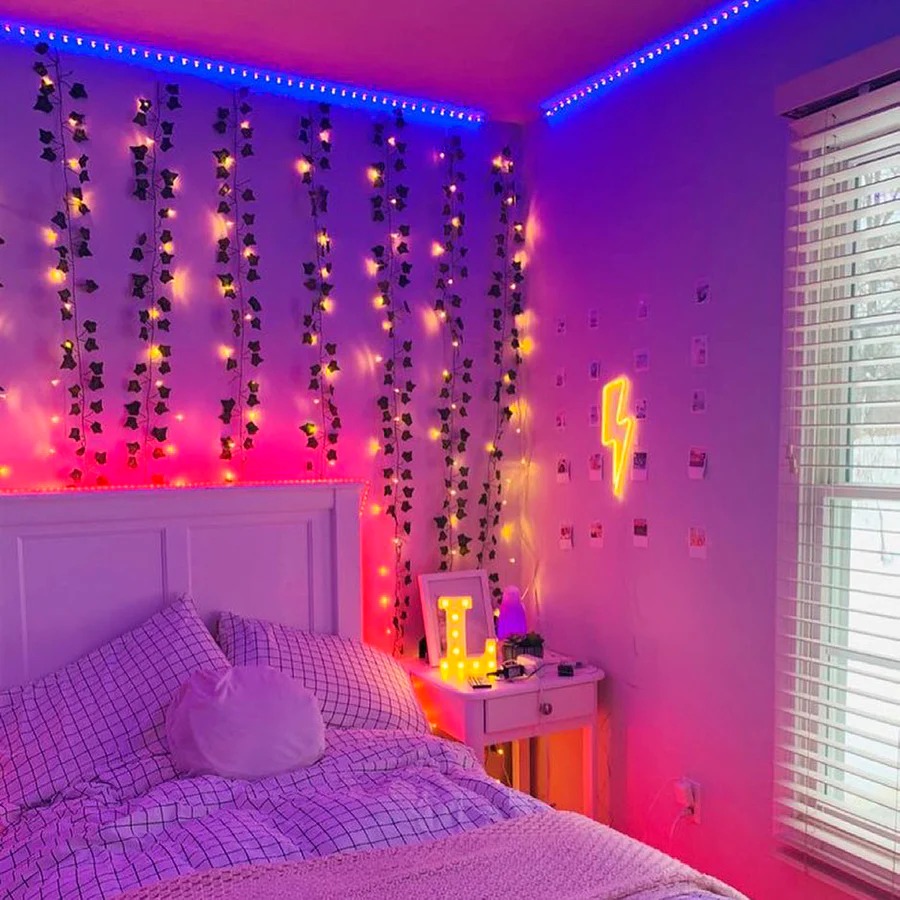 Lighting can make or break your room. Suppose you have painted your space with a light pink shade and set up a nice comfy bed with linen sheets. Have side tables, beautiful artwork, and faux plants. But picking out dull lighting will ruin all your efforts and money spent making the perfect room you wanted. So, choosing the correct lights is everything.
If you're space offers natural light, hanging a few lights on the walls would work amazingly. However, if you live in a darker place, putting brighter and more sophisticated lights would bring out the gracefulness of your space.
17. Faux Brick Walls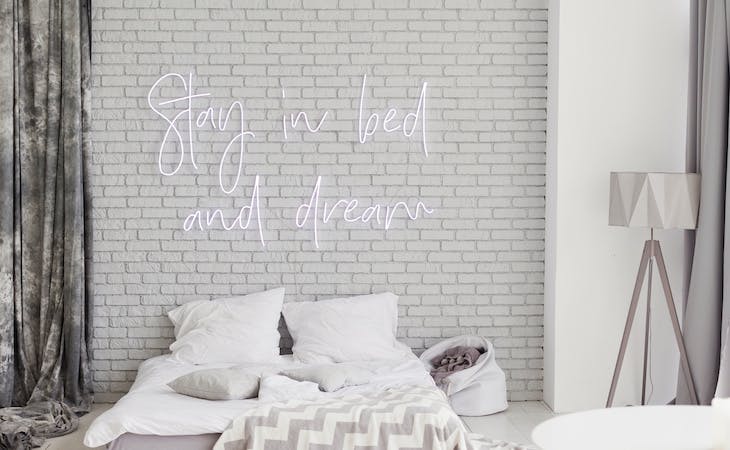 Do you want to pull off the aesthetic room ideas for a city apartment superbly? Try faux brick-accented wallpapers. Just like standard wallpapers, you can easily paste them, but they will give you a full-fledged brick wall feeling. You can choose the tinted wallpaper according to your room's shade or mix-match a little to enhance the overall outlook.
Hang out some string lights, frames, and paintings to add some character to the wall. Setup your bed with soft linens, throw pillows, and cushions. And, if you have some space left, add a side table or a wooden shelf to keep your belongings.
18. Build a Reading Corner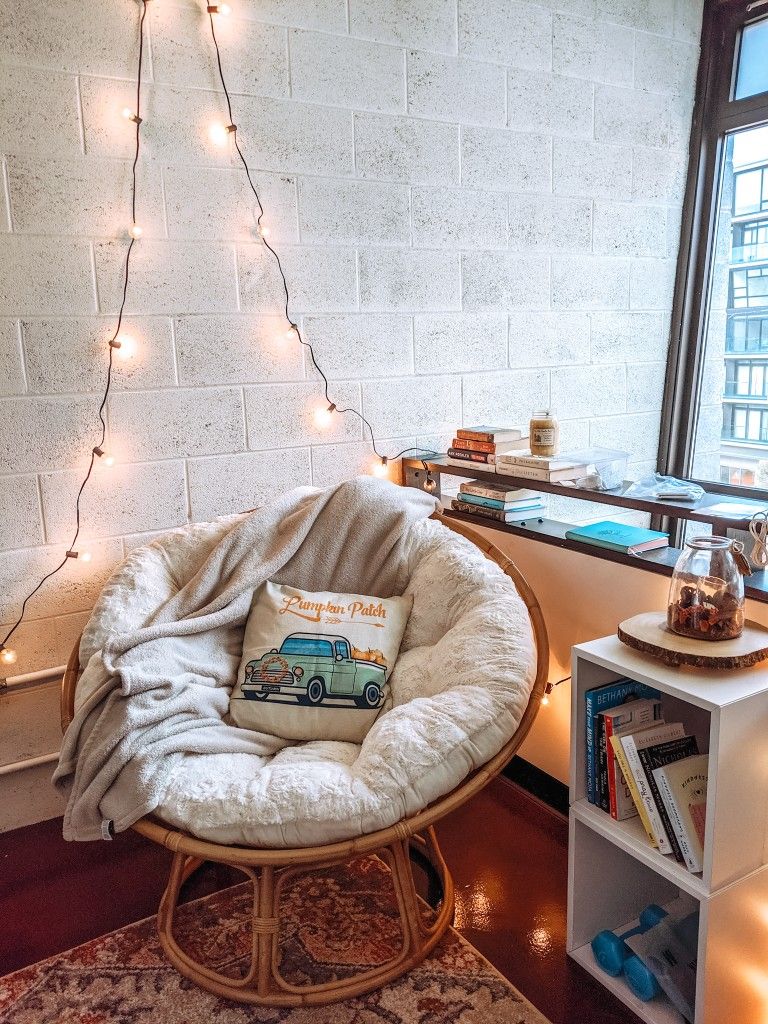 Opt for a reading nook to build a safe lounge space in your house. It could turn out to be a perfect spot for your kids or yourself to relax and enjoy a good book simply. Just buy a cozy sofa chair along with comfy mats to place on the corner. Throw on soft sheets and cute cushions for added pleasure. You can either just put a stack of books alongside the sofa and make it an adorable, effortless space.
Otherwise, you can add racks or wooden shelves on the wall to organize your books in an open space. You can even decorate the corner a bit with playful items like sun catchers or handcrafted woven hangings for a lively vibe.
Conclusion
All in all, redoing your dull room into an aesthetically eye-pleasing one is always the best decision. Firstly understand that aesthetic spaces mean a simple, spacious, easy-on-the-eyes room. So, you should avoid stuffing the place with bulky items.
Now, finalize what kind of setup you are planning for. Like do you want to paint the room with neutral shades or simply add a few decor items to spice up the space?
From affordable trending painting designs to adding brighter lights, this article includes many aesthetic room ideas to modify your space entirely. So, choose the concept that goes well with your personality and budget and get on with it.
Don't forget to take before and after-room pictures to see how the idea panned out.
Frequently Asked Questions
What Are Some Aesthetic Room Ideas?
There are tons of aesthetic room ideas you can choose from. Pick your favorite option from the list above, including Vibrant Reds, Sage Green, Fairy-tale-Inspired, Dream Wallpapers, and more. Adding even a small decorative item like a mirror or an art wall can make a difference.
What Colors to Use for The Children's Room?
Opting for bright and energetic colors like shades of pink or blue would look lovely for your kid's room. You can go for playful prints and patterns or hang fun art pieces or stickers on the wall. Cute bedding sheets and pillows with accented furnishings will brighten up the room.
How Do I Style My Room?
If you want to completely transform the space, paint the walls with neutral colors or go for vibrant wallpapers. Change the bedding with brighter sheets and soft cushions, and hang up colorful curtains. You can add string lights, cultural pieces, and artwork to style your room according to your preference.