Are you prepared to start a fun DIY project in your kitchen? We'll reveal a wealth of innovative and creative suggestions for kitchenremodeling that you can do all by yourself. Whether you're an experienced DIYer or a beginner, our selection of ideas will motivate you to make your kitchen a place that reflects your distinct style and satisfies your functional requirements. Roll up your sleeves, gather your supplies, and get ready to start a gratifying journey toward building a kitchen that is both beautiful and functional.
DIY projects are frequently less expensive than paying pros. You have the opportunity to select materials, colors, and design aspects that represent your personality and create a home that feels completely unique to you. DIY projects that are well executed have the ability to raise the value of your property. DIY kitchen modifications might make your home more appealing to potential purchasers if you decide to sell in the future.
Let's release your imagination and transform your fantasy kitchen one do-it-yourself project at a time!
Kitchen Tips You Probably Didn't Know About
1. Repaint the Paint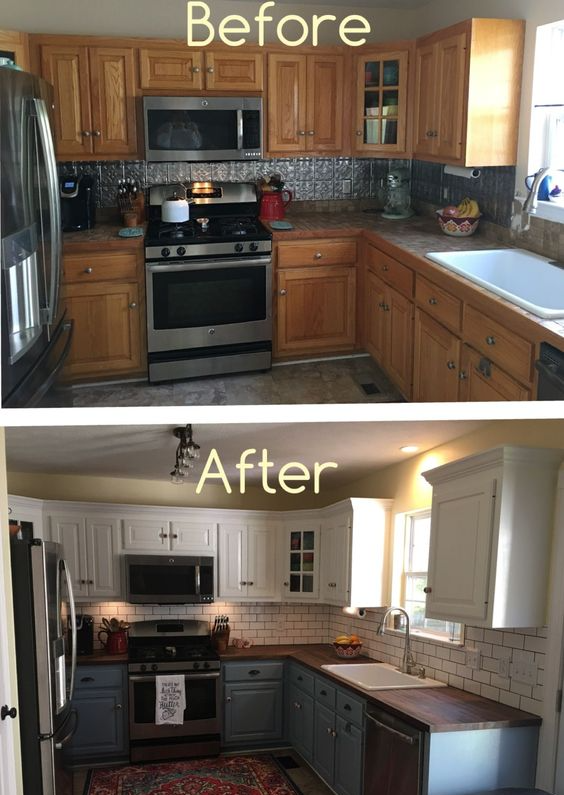 Painting your kitchen cabinets a new color or refinishing them to show the wood grain will give them a new look. Your kitchen's appearance will drastically improve with this DIY project. It's an affordable option to replace aged cabinets, revitalize the area and give it a brand-new feel. Paint is a great example of small efforts making big differences.
2. Self-Help the Shelf
Upper cabinet doors should be removed and replaced with open shelves. Open shelves not only give a simple storage solution but also allow you to showcase your favorite cookware, plants, and decorative objects. Consider painting or staining the shelves to compliment the color scheme of your kitchen.
3. Put a Show with Dado
Install a DIY backsplash from subway tiles, salvaged wood, or peel-and-stick tiles. A beautiful backsplash may add visual interest while also protecting your walls and spills and stains. A dado is a horizontal groove, or channel cut into a wall or cabinet that is commonly used to add design features or insert shelves. These tiles bring a sleek and stylish look to your kitchen. With a touch of class and finesse, you can make a great deal by merely replacing your tile work.
4. Do a Job with a Knob
Replace worn-out cabinet handles with knobs with new ones that compliment your intended look. Depending on the style of hardware you choose, this alteration can give your kitchen a modern and vintage appeal. Ergonomic and user-friendly hardware can enhance your kitchen's overall user experience. Cabinet knobs are a massive add-on to the look of your kitchen.
5. Highland on Island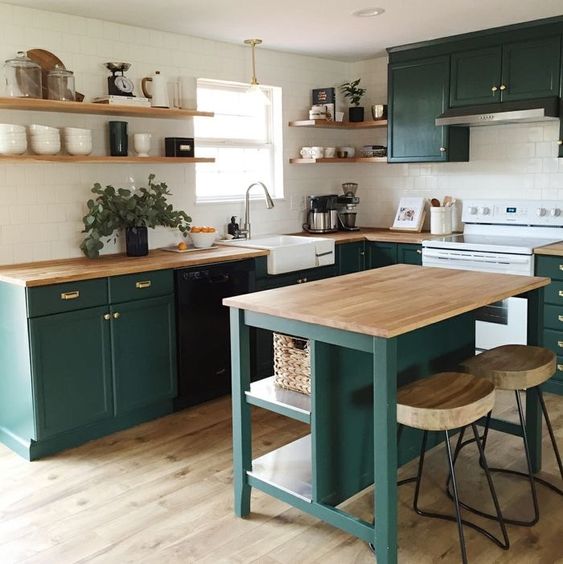 Consider creating a DIY kitchen island out of salvaged materials or stock cabinets if you have the space. This useful addition can provide extra storage, counter space, and a place for family and friends to meet. Building a kitchen island is a project that allows you to personalize it to your unique needs and design choices. Take pleasure in your DIY talents as you design a functional and elegant kitchen extension that will last for years.
6. Hook with The Pendant Look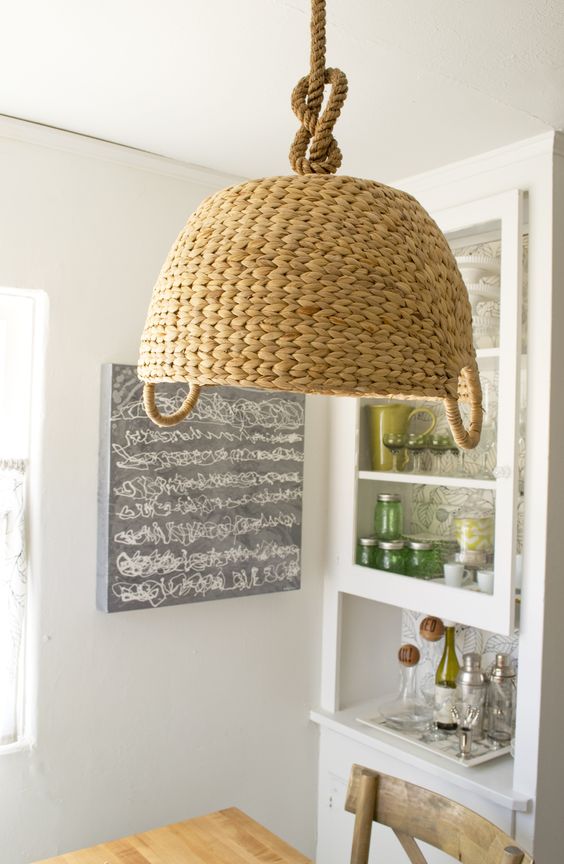 Pendant lights above the kitchen island or dining area should be used instead of regular ceiling lights. Pendant lights serve as both job lighting and ornamental focal pieces in the kitchen. Consider adding shades, beads, or ornate wire to the rope or around the socket to personalize the look of your pendant light.
7. Chalk It Black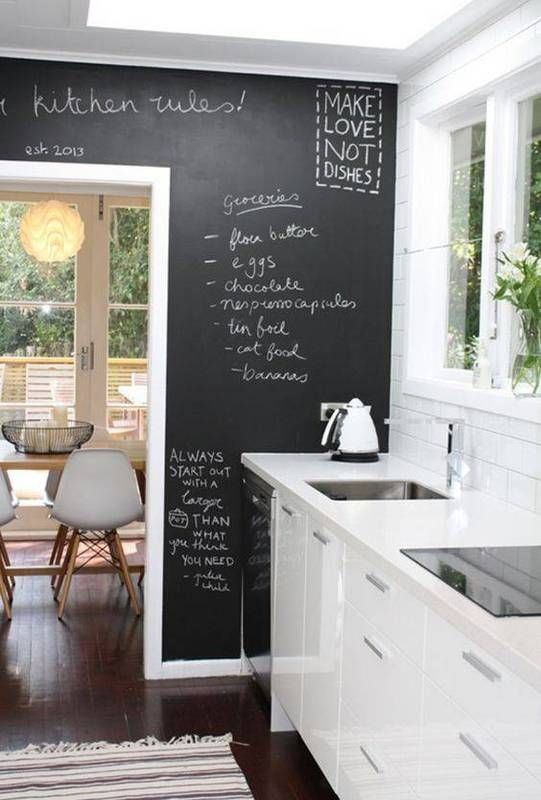 Chalkboard paints a part of your kitchen wall. This allows you to add a playful element to the room by writing grocery lists, leaving messages, or displaying creative artwork. To add weight to the area, use a blackboard structure as a design feature. This could be moved anytime.
8. Skylight for Twilight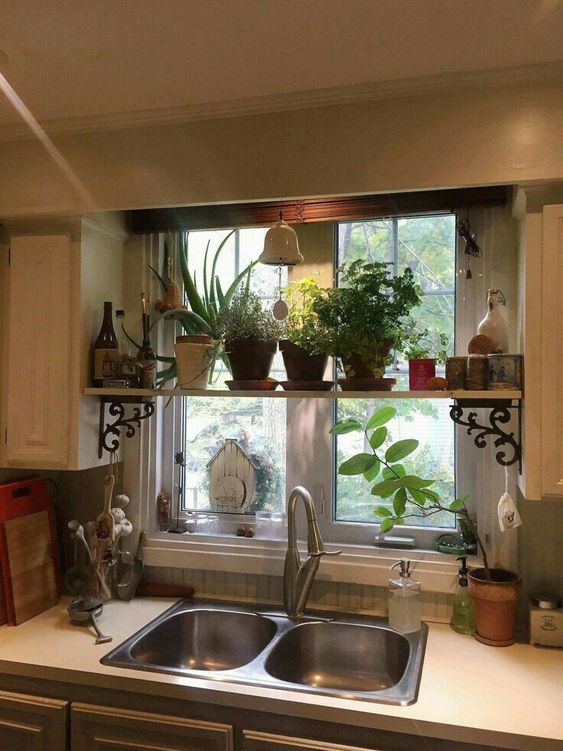 If possible, install a window or skylight to bring in natural light and create a brighter, more inviting kitchen environment. This project can enhance the overall ambiance and make the space feel more spacious. Add a shelf near the window to enhance the look and decor it with plants. You can use the old window to fix it in the new opening.
9. More Room for Food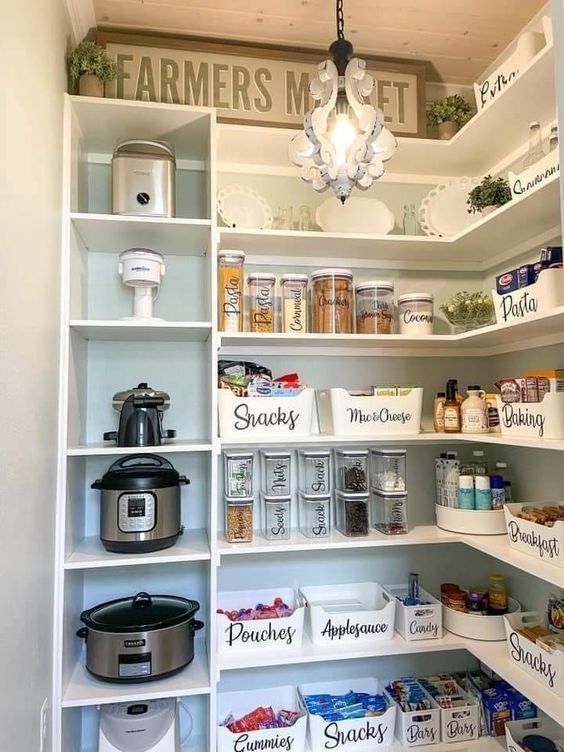 Utilize unused space by building a DIY pantry with shelving and storage solutions tailored to your needs. This can help maximize storage space and keep your kitchen organized. Install shelves, racks, or drawers according to the layout you've designed for your pantry. Include all the items in your kitchen, no matter the size or shape, while creating the shelf cabinet in order to make sure every object has a place to go.
10. Breakfast in Cooking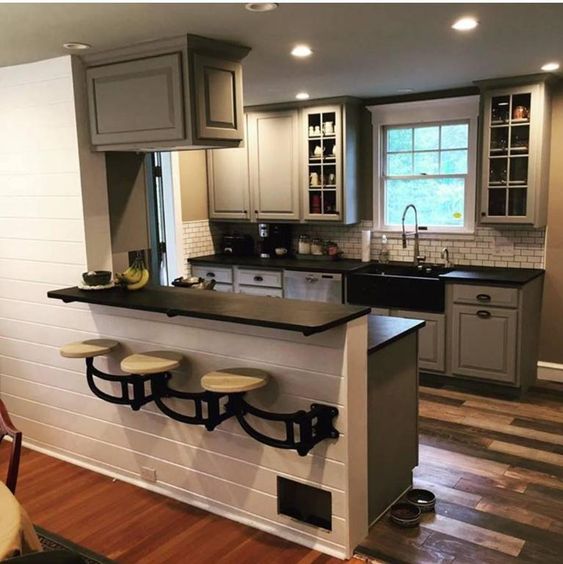 Choose a kitchen corner or wall that can accommodate the built-in breakfast nook. Think about things like natural light, proximity to the kitchen, and accessible space. You can create a cozy and personalized place that enriches your kitchen and makes dining a wonderful experience with careful design, exact measurements, and attention to detail.
11. A Hack for a Pot Rack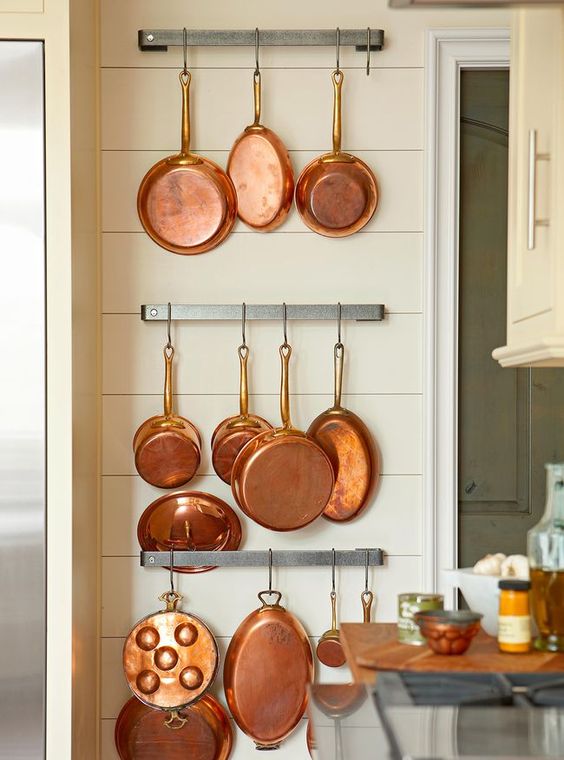 Making a DIY pot rack is a terrific way to add practicality as well as flair to your kitchen. A pot rack helps you organize and conveniently reach your pots and pans while also providing an aesthetic touch to your area. You can install the pot rack either on the ceiling or the side of the cabinetry. This is a brilliant way to find what you need immediately instead of scrabbling through the piles of utensils from the dishwasher.
12. Focus on The Morning with Coffee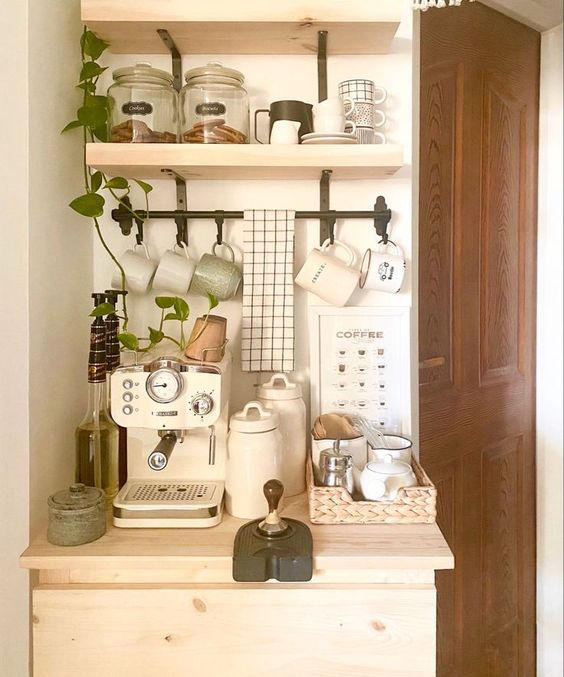 Create a dedicated coffee nook with a homemade table. Prepare the area by covering it with patterned wallpaper and accessorizing it with pots and cups. Hanging plants and frames add extra value to the design. This DIY allows you to keep everything you need for your coffee ritual in one place. It provides a touch of elegance and organization to your kitchen while also making your daily routine more fun.
13. Light Under for Wonder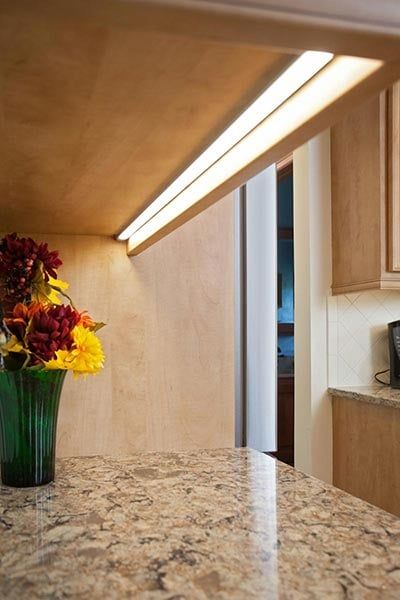 To increase the amount of light and volume in the kitchen, consider installing under-cabinet lighting with battery-operated lights or strip lighting. This effect will diffuse the light, producing a warm aura in the room. The presence will wash any amount of light, giving a soft tone effect on the backsplash. Using motion-censored lights help with navigating through the cabinets in a time of midnight cravings as well.
14. Chop on The Sink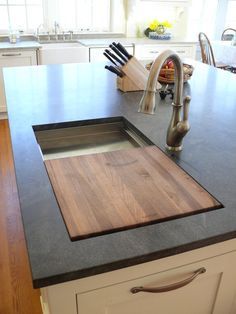 You may properly utilize your kitchen workspace and have a convenient location for food preparation by making a DIY chopping board on your sink. It frees up counter space while still providing a dedicated area for chopping, slicing, and dicing. Just remember to use a suitable material, take exact measurements, and maintain it properly for long-term use.
15. Peg Boards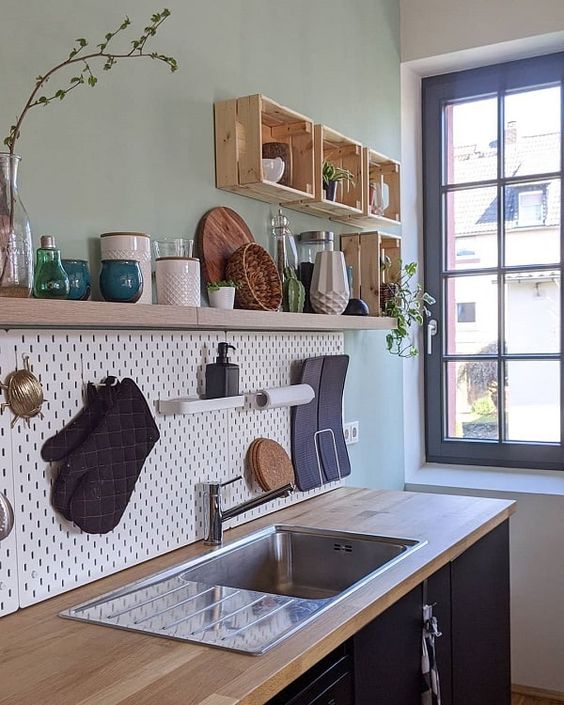 A DIY pegboard in your kitchen provides a versatile and effective storage solution for keeping your utensils and tools organized and within reach. It also gives your kitchen a stylish and personalized touch. Feel free to customize and expand your pegboard system as your kitchen needs evolve. Adjust the layout to optimize your organization by adding or rearranging hooks and accessories as needed to accommodate new tools.
16. Wine Rack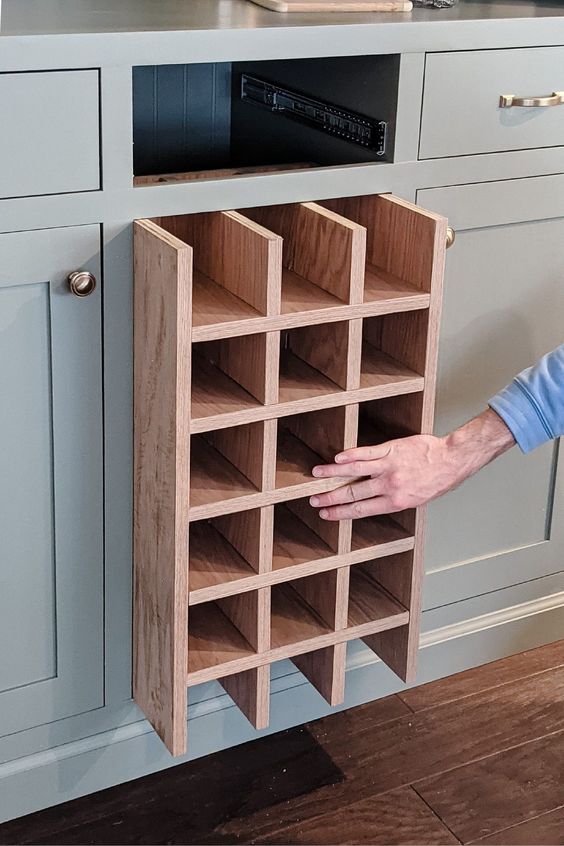 Choose the ideal placement for the wine rack. If it's a wall-mounted rack, fix it to the wall using the proper hardware and anchors. Check that the floor standing or countertop rack is solid and will not tip over. Making your own wine rack allows you to customize the storage and presentation of your wine collection while also adding a touch of craftsmanship to your room.
17. Spice It Up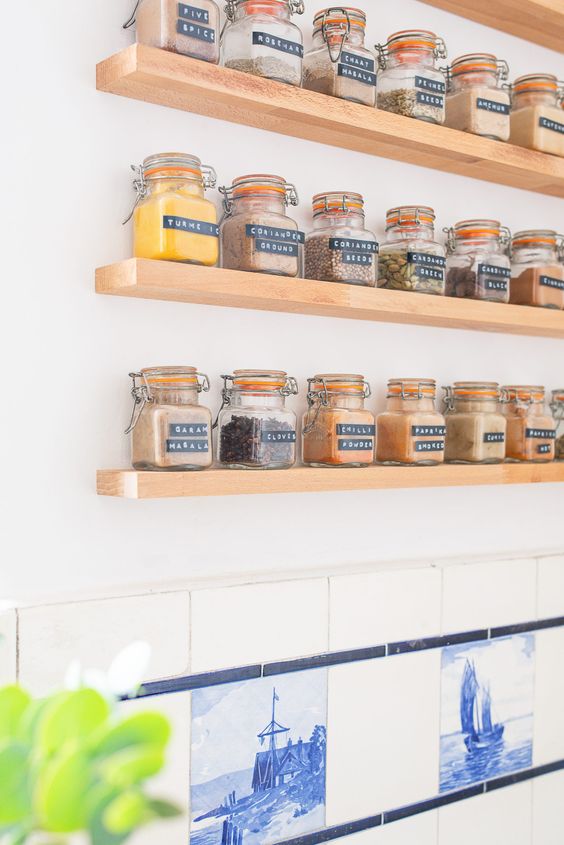 Spice jars can be useful kitchen decor as you can get quite creative with the designs you wish to accomplish. Make a plank structural frame for two to three tiers of storage. These jars make a big difference in the overall look of the kitchen, organizing the entire space based on the taste, craving, and mood of your day.
18. Change with a Range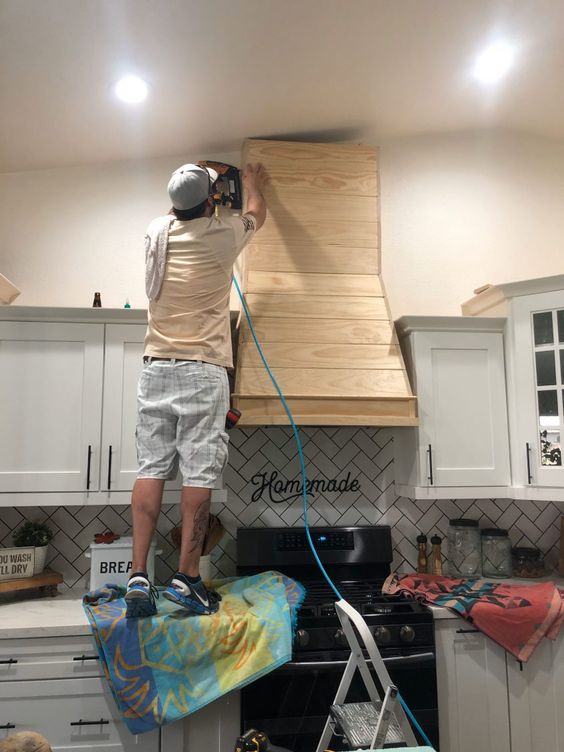 If you have an exposed chimney structure. Build a pine wood construction to cover it from the top, leaving only the bottom open. This design will include colors as well as shelf options. We can experiment with combining it to establish a focal point for the same. Masking the chimney only adds to the aesthetic look of the kitchen, giving it a clean and decluttered vibe.
19. Slide in a Door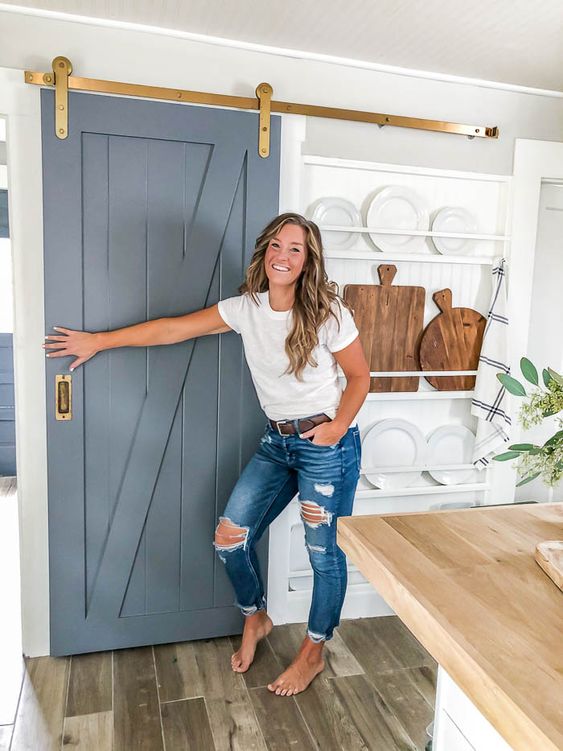 A sliding barn door can be used for functional as well as aesthetic functions in your kitchen. It can serve as a partition between the kitchen and other rooms of the house, conceal a pantry or storage space, or even be a clever solution to hide appliances. You will have a fashionable and useful kitchen addition that you can be proud of. It will improve the beauty and utility of your kitchen. It doesn't only offer a rustic look but also helps maximize space and create a distinction in the area.
20. Break with a Bake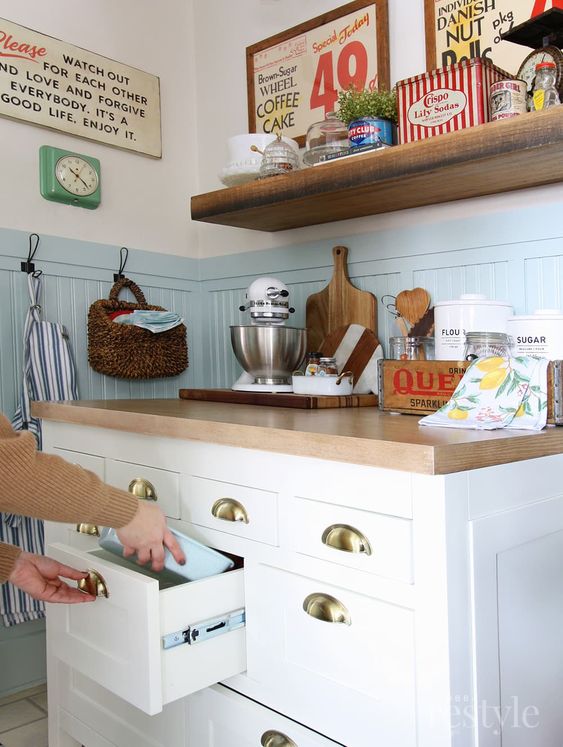 A homemade baking station is the ideal option. Having a separate room for all of your baking needs can improve your productivity, organization, and enjoyment of producing wonderful goodies. A DIY baking station allows you to tailor your workspace to your personal needs and design choices. A makeshift table and a few floating shelves on the wall in a wonderful pastel combination can complete the baking outfit of the kitchen.
Summing It Up
Finally, there are several DIY ideas for updating your kitchen and giving it a new, individualized design. You may turn your kitchen into a space that reflects your style and satisfies your needs with simple updates to more elaborate undertakings. Whether you want to paint the cabinets, add a new backsplash, upgrade the countertops and lighting, or create a coffee station, each project may significantly improve the overall look and functionality of your kitchen.
As you observe the transformation, you will feel a sense of success and happiness. You can create a room that not only reflects your style and personality but also satisfies your practical needs by tackling these DIY kitchen remodeling ideas.
These ideas can help you create the kitchen of your dreams, whether you want a comfortable farmhouse vibe, a sleek modern design, or something in between.