It's a chilly Saturday evening, and you wish to enjoy some drinks and barbecued chicken wings with your friends, don't you? Also, you have an open lush garden or a beautiful backyard, but you don't have a fire pit. So, what would you do? You have numerous ideas running at the back of your mind, but you are hesitant about shelling out excessive money.
Well, now you don't have to worry. You can simply use these creative DIY fire pit ideas and enjoy all your evenings. Did you know how fire pits came into existence? Well, many researchers and archaeologists claim that fire pits were an integral part of South African and Israeli cultures. The people back then used fire pits for celebrations and performing ceremonies. Isn't this fact fascinating?
Additionally, the Paleolithic period occurred around 200,000-400,000 years ago when the idea of fire pits became popular among the locals. And now everybody across the globe has got creative in designing DIY fire pits.
What Kind of DIY Fire Pits Can You Build?
Well, there are unconventional structures that you can assemble as per your whims and fancies. The conventional fire pits are round in shape. But if you want, you can have the DIY fire pits designed in any other geometrical figure. It could be in a rhombus shape or a trapezoid shape as well. Some artists or people with an aesthetic sense also opt for hexagonal-shaped DIY fire pits.
However, suppose you like designing your spaces with DIY artifacts and decor materials. In that case, you can use the following information to build your very own DIY fire pit with limited resources and at a reasonable rate.
1. The Large Rocks Fire Pit
It is a unique idea to have a DIY fire pit designed out of huge rocks. The best part about these rocks is you can place them in any desirable fashion you imagine. The large rocks fire pit could be triangular or square in shape. It won't just enhance your lawn area but also uplift its appearance and purpose.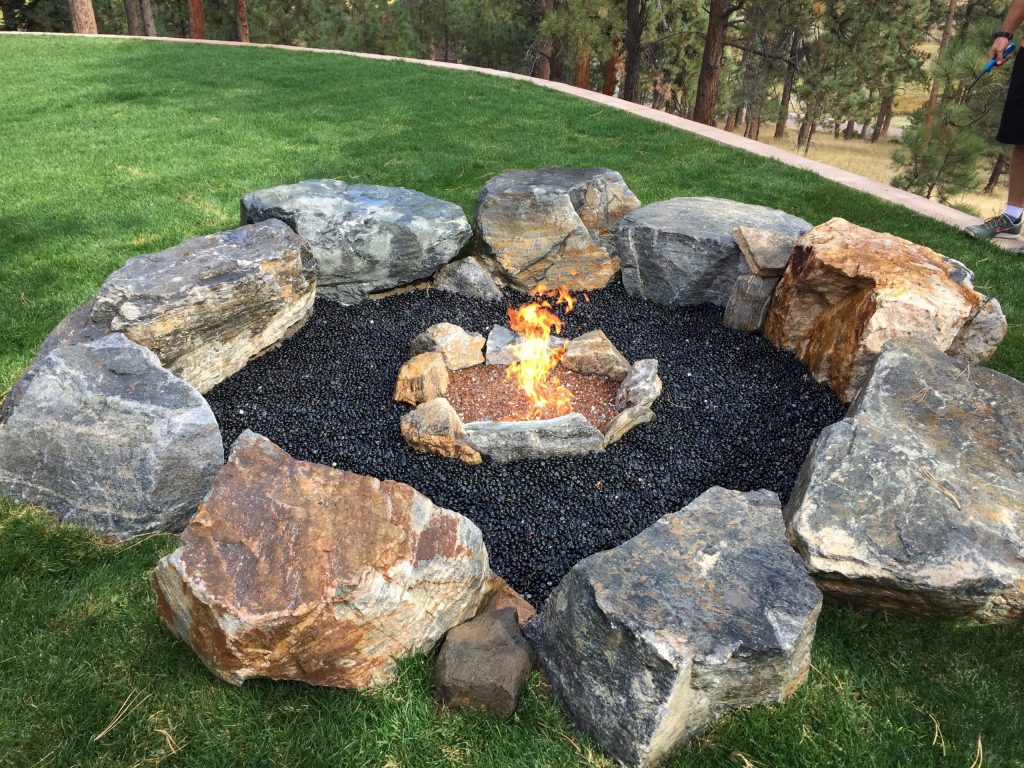 2. Roman Amphitheatre Styled Fire Pit
Get the rusty look to your backyard with this fine design. Place the blocks in a fashion that breaks the traditional look of your space. The blocks can also be placed in a vertical manner leaving some gaps to give the DIY fire pit an old structural look. The amphitheater-styled fire pit augments the appearance of your lawn area. It may require larger space, but it will redefine your fire pit experience.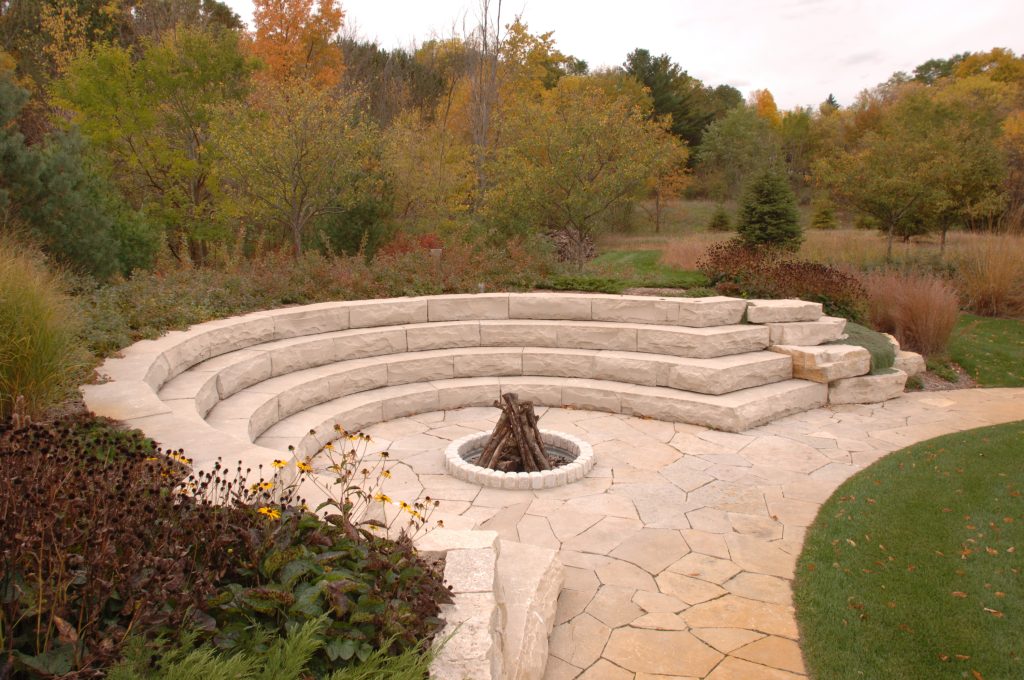 3. Paisano Bowl Fire Pit
In a mood to roast marshmallows with your friends? How about having a bowl instead of the regular-styled DIY fire pit? Here's a unique idea to have an elegant fire pit in your lawns. All you need is a gas pipe installation kit and a huge rock to carve it into a bowl. The Italian-styled bowl fire pit will make your evening exceptional by giving an aesthetic appeal.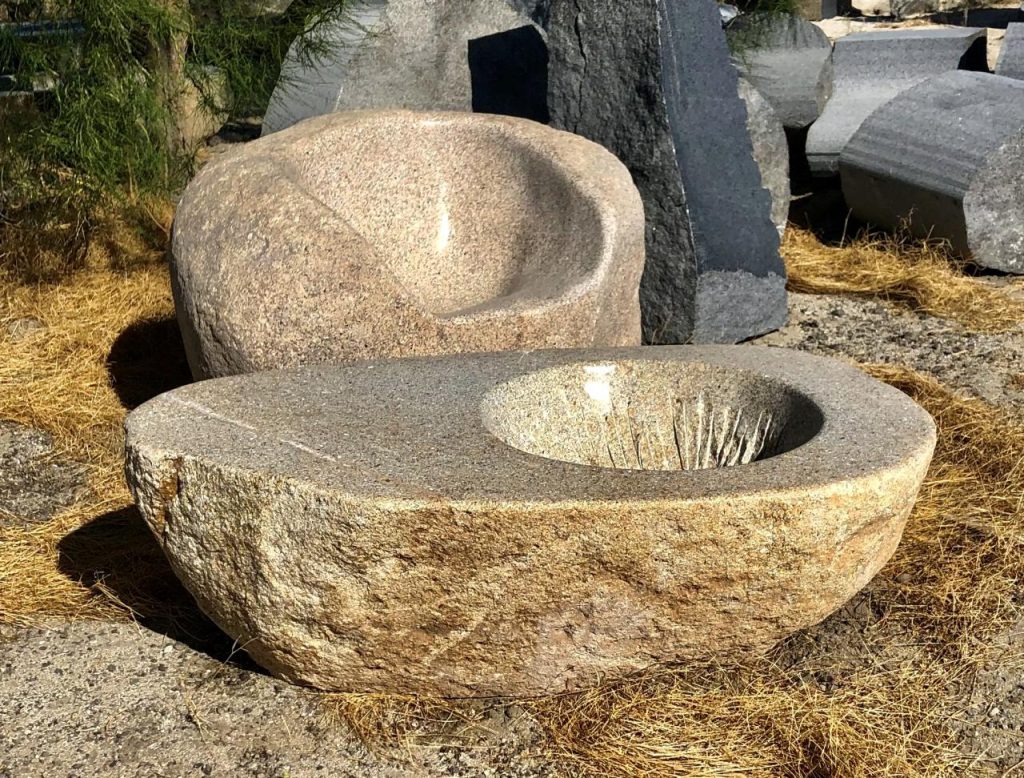 4. Barbeque Grill Fire Pit
Plan your parties with family and friends in the open spaces, irrespective of the season. You can have this barbeque grill placed in the fire pit and have it dismantled at your convenience. It is easy to use and easy to clean. Additionally, barbeque grill fire pits are portable and hence can be carried during camping and traveling.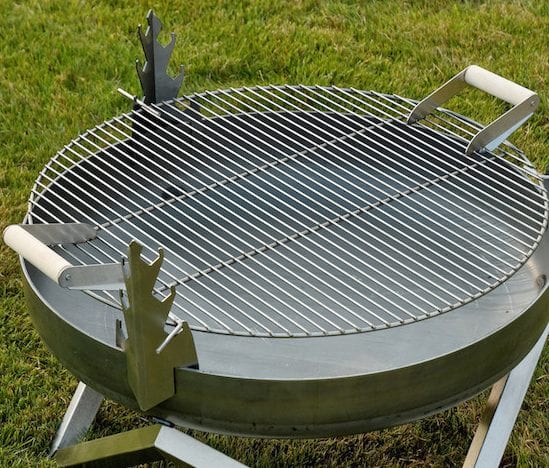 5. Rectangular DIY Fire Pit
Yes, try out an unconventional shape of the fire pit. Let's not stick to round ones every time. You may believe those round ones are easy to carve and install. But in reality, anything that you create or carve out of rock takes some effort to fit into the ground. Rectangular fire pits will look different and give a very subtle look to your backyard.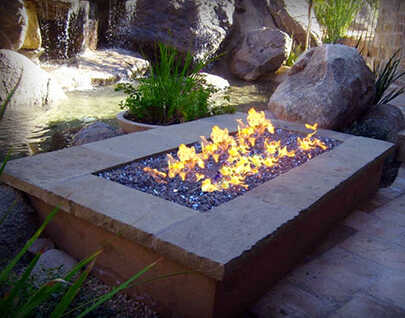 6. Pallet Fire Pit
These are one of the easiest and most affordable DIY fire pits. You can place them anywhere in the backyard. These pallet fire pits are portable and versatile in appearance. Also, the material required to build these pits is minimal. Their structures can be altered whenever necessary. The effective function of such pallet fire pits is that they can be raised from the ground to serve as a heightened fire pit.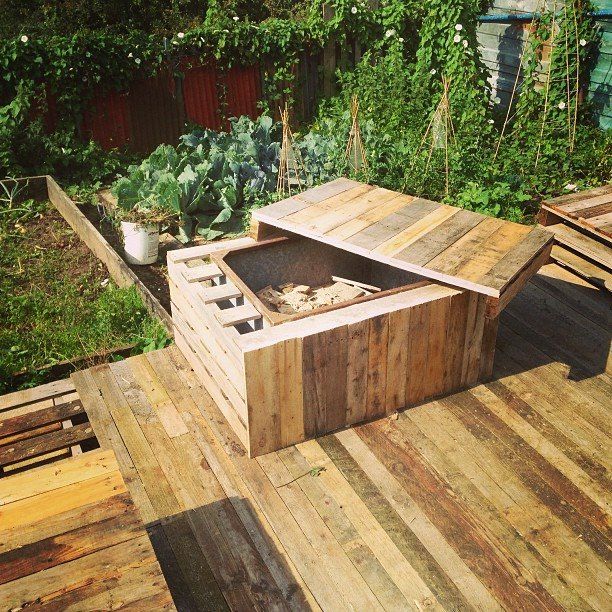 7. Underground Fire Pit
Doesn't it sound enthralling? An in-ground fire pit is the best suitable option if you have limited to no space in your backyard. Digging a large hole that is appropriate in dimensions as to your requirement would suffice. You can then place the blocks in circles to give the DIY fire pit a perfect finish. Just set the logs ablaze and enjoy your drinks next to the fire pit.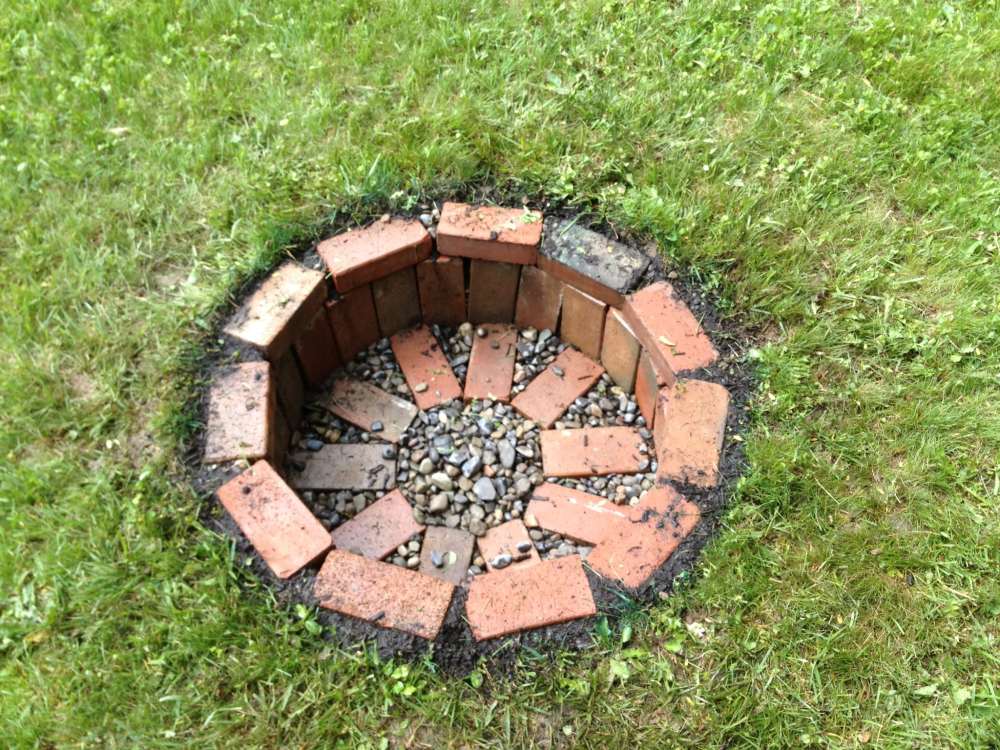 8. Washing Machine Drum Turned Fire Pit
When you are in need to host a party, use this finely polished DIY fire pit. And when you don't need this drum-turned fire pit, you can simply place it in the corner of a backyard and store the logs in it for the next barbeque party. You can get a broken machine drum from the scrap market. All you need to do is polish it thoroughly and use anti-rust paint in and out to make it look more pleasing.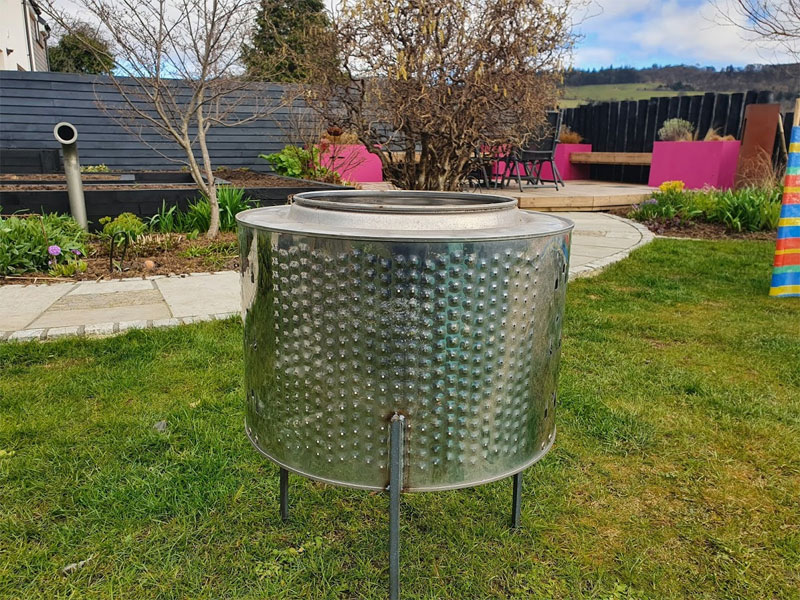 9. Metal Fire Pit
Any product that is easy to carry and placed when in need is perfect for an impromptu party. In fact, you don't even need a reason to call your friends. Make this metal fire pit and place it anywhere you like outdoors and enjoy your 'me time.' Metal fire pits are the most commonly used fire pits because they are easy to build. Scrap metal must be cast before you put it to use.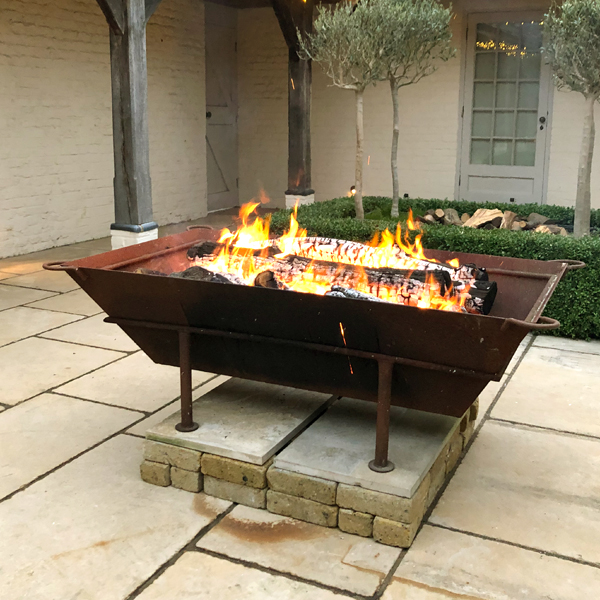 10. Board Fire Pit
As the name suggests, it is a square-shaped fire pit that will complete your backyard look. Such DIY fire pits are made from concrete blocks and among the lava pebbles surrounding them. You can paint the board fire pit in black and white as well to give it a chess-like finish.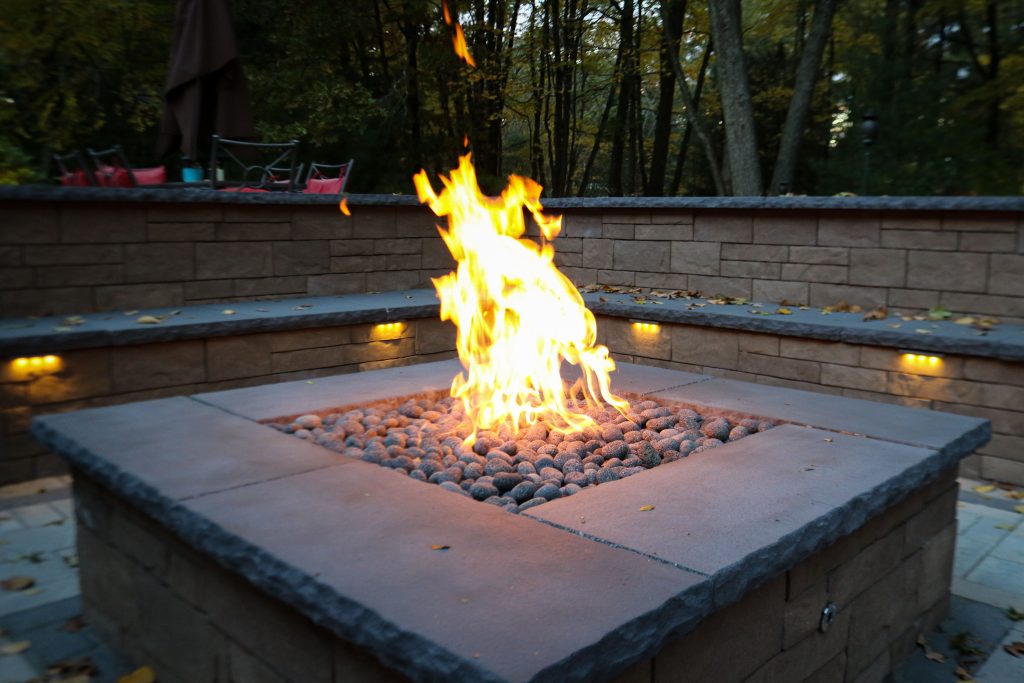 11. Custom-Made Fire Pit
You can either get a concrete fire or a metal fire pit and get it personalized as per your choice. Many prefer to get their hands imprinted on the concrete block as a reminder. Some also get an embossed design on their custom-made metal fire pit. So that you can keep reminiscing in the backyard under the soothing moonlight.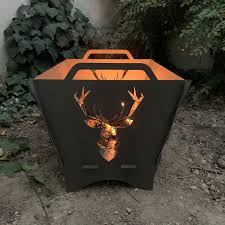 12. Fire Pit with Glass
You may have just redecorated your house, and you still feel that something is missing, then this type of DIY fire pit is the answer. Make your fire pit with the help of fire glass rocks. It will give an elegant and classy look to your decor. Fire pit glass is tempered glass and used as polished rocks to give the pebble effect. The most common use of these glass rocks is near natural gas fireplaces.
13. Ring Fire Pit
It may sound familiar to you. But it is a unique and beautiful design of a fire pit. It is suitable for large spaces, but even a small space can be redefined with this DIY fire pit. It is similar to the underground ring fire pit but with a sitting arrangement; hence the large space is the requirement.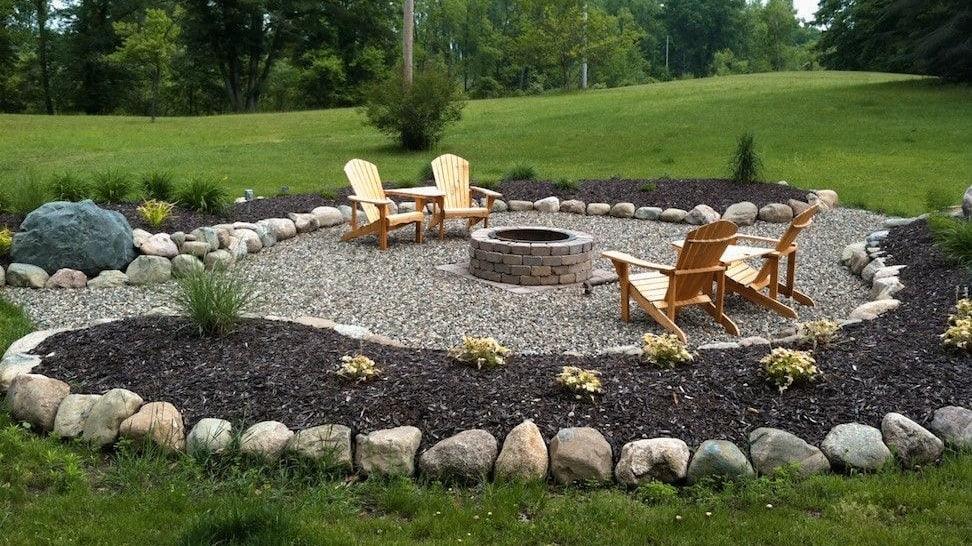 14. Half-Wall Fire Pit
Many seek a nice countryside look for their homes. But since the homes are smaller and the backyards aren't spacious enough, people choose to go for a modified version of fire pits. You can get a DIY fire pit done in this fashion and get the half-wall painted to give an unrefined look.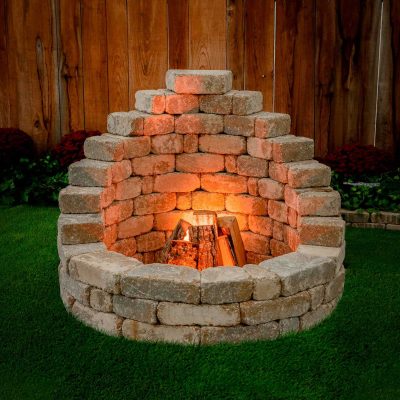 15. Truck Rim Fire Pit
Do you need an attractive and useful fire pit? Get a huge wheel rim from a dilapidated truck or a bus. Polish it to make it look clean, and place it in the center of the fire pit. You can use such wheels to insulate heat. The process of making a fire pit with a truck rim is similar to the machine drum. Source it, polish it, and place it in the fire pit.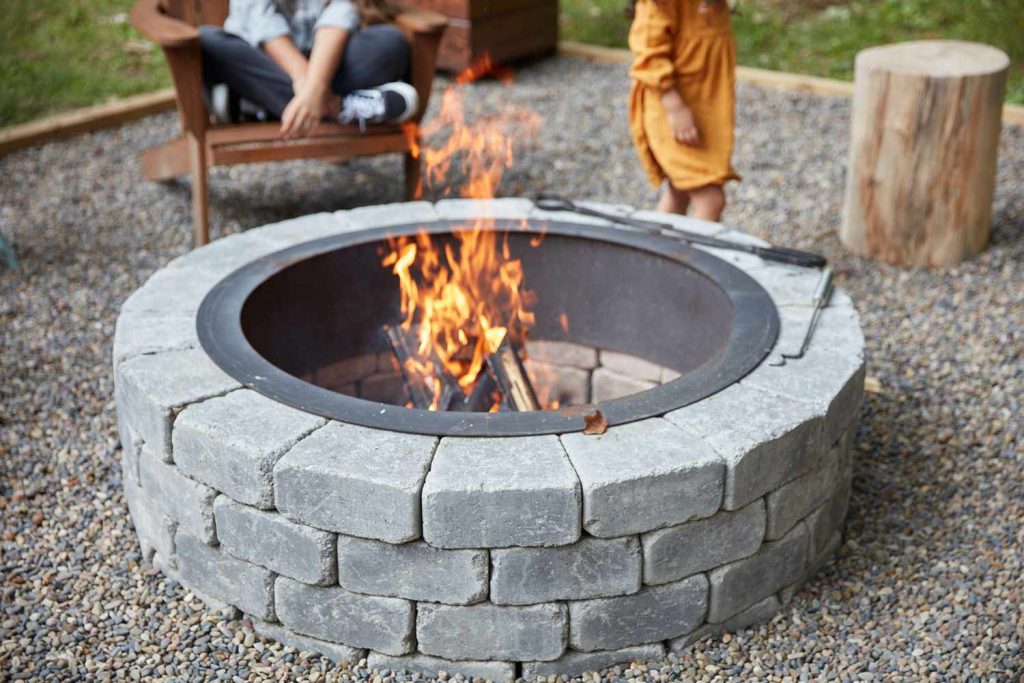 16. Wheelbarrow Fire Pit
The concept of the wheelbarrow itself is unique. It is mainly used to carry construction materials. But you can turn on your whimsical ideas and turn a wheelbarrow into a sleek and trendy DIY fire pit. Just ensure that the wheels are unmovable when lit up.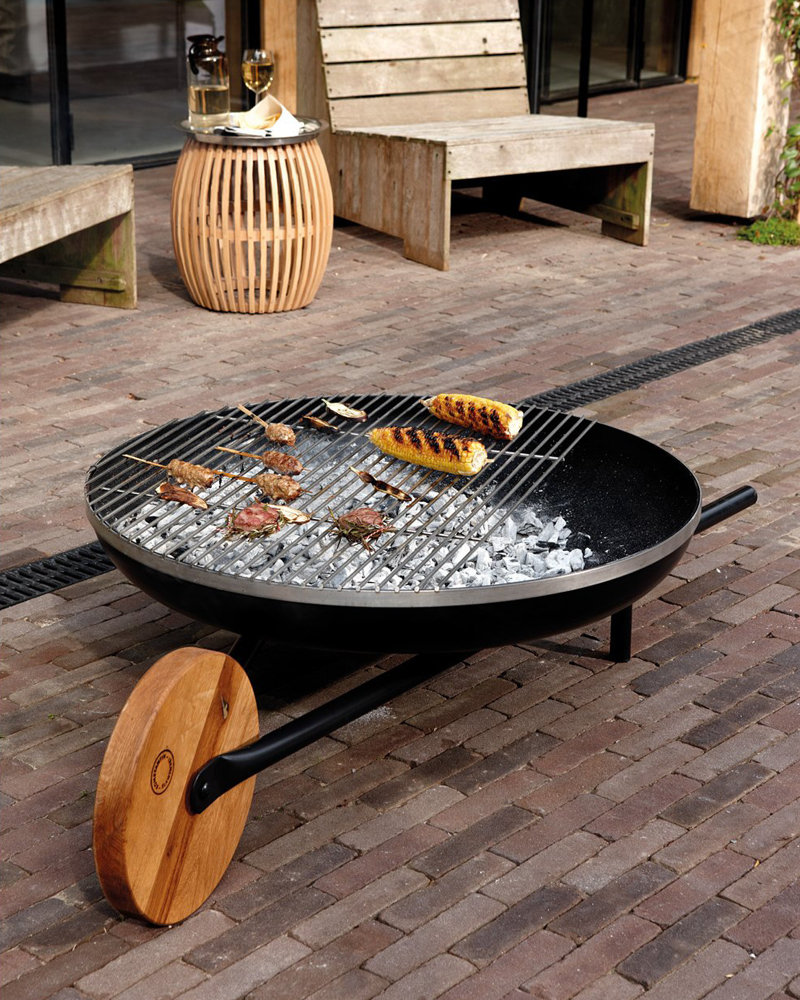 17. Serene Pond Fire Pit
You need to redesign this idea with a small pool. Either you can have a nice garden around, or you can plant shrubs. You have to replicate it with a faux fountain or pond to embellish your lawn esthetics. It is on a bit expensive side, but once you design your fire pit, you will have no regrets. Your night outs at the fire pit will help you get one with nature.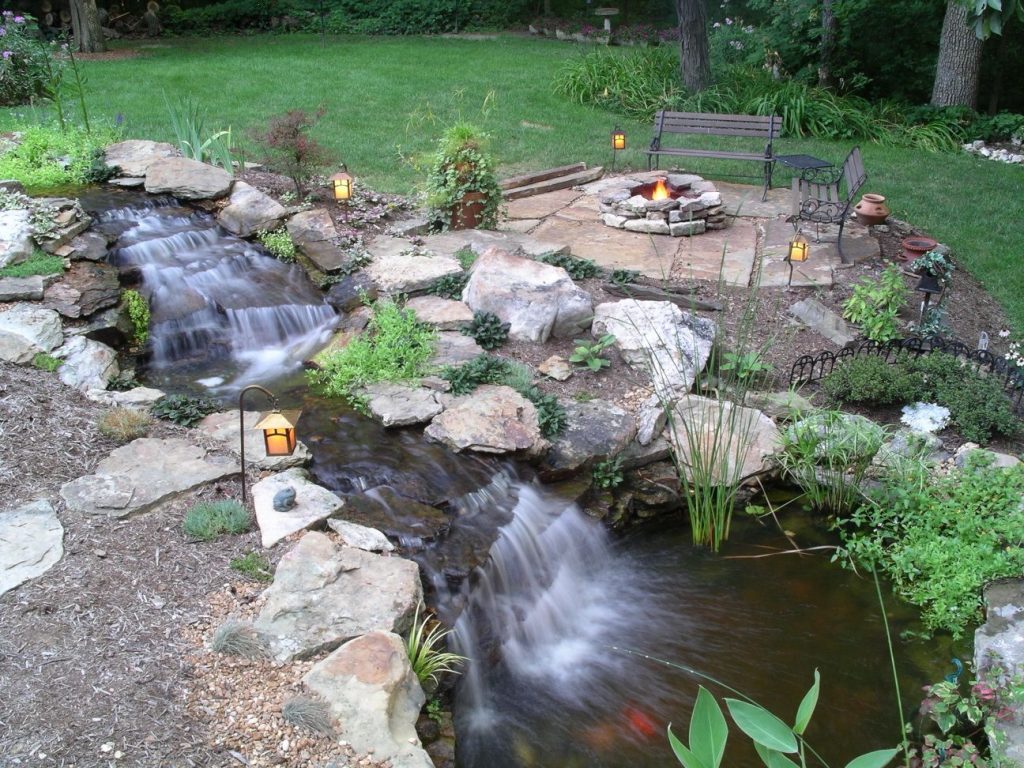 18. Tree Bark Fire Pit
It is a distinctive idea to have a tree bark fire pit. If you have a dead tree in your backyard, then you can convert it into an appealing DIY fire pit. Even if you don't have a dead tree, you can simply get one from the woods and axe it into half, fix a metal ring, and turn it into a tree bark fire pit. Voila! A creative piece is ready for your lush green backyard.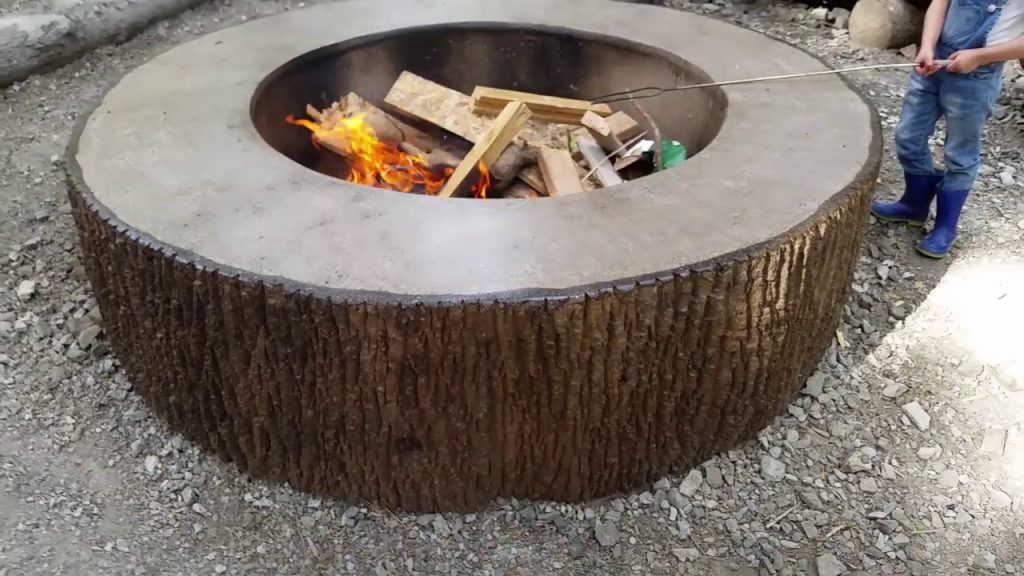 Things You Need for DIY Fire Pits
In simple words, you need some construction materials that withstand excessive heat and high temperatures. The insides of the fire pit should be of fire brick and fire-proof mortar. And to give a perfect finishing look to the DIY fire pit, you need to use poured concrete, stones, bricks, and masonry blocks.
Summing It Up
All in all, DIY fire pits don't just illuminate your spaces. They also bring magic and spark to your ambiance. Additionally, you can include them in your outdoor excursions with their light and portable qualities. You may also need other supportive materials like gas pipes, ash collectors, and insulating devices to make your fire pit run without any adjustments.
Before you jump into making one, study carefully how you can design a fire pit with limited funds. Take the help of the experts and build the fire pit to your taste.
Surely, you will enjoy the dancing flames and the woody smoke in the evening. Just ensure your safety and prevent fire hazards. Keep fire extinguishers and large quantities of water or sand handy for safety reasons. Get creative and run your wild fantasies when redesigning your homes.
You can watch many DIY fire pit videos online and learn which ideas are easy to make and affordable for you.